Villa in Capanes Sur, Benahavis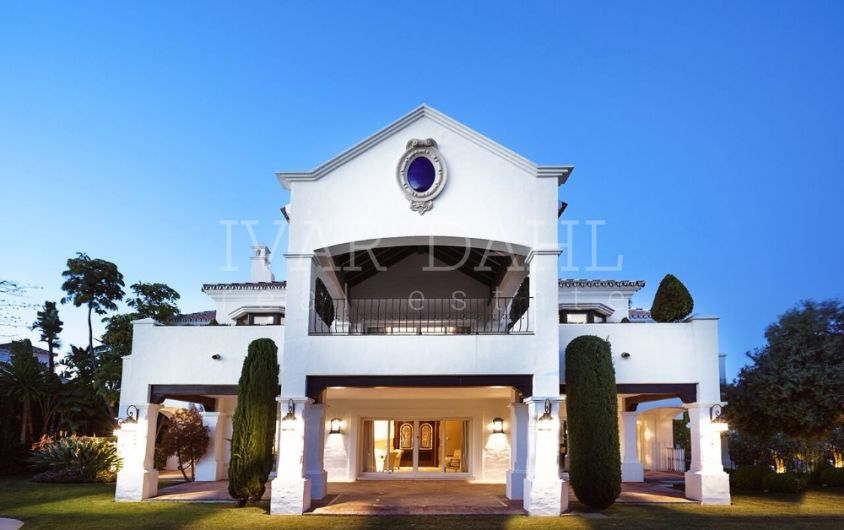 //media.inmobalia.com/imgV1/B8vEv5Xh8DZJ8zA8HsKlVQQovHvPS2nS1REiasNjjf37J7WfKOkiQxSIhRrnU2OBFkknCXNFUkYS7Hh9o9IZ_QJ9eIkyovF8VBGuVbC~tjIfmhbhIGf20cINvhdBCCr4egqHiRjuynMQ6YtAsQrAvdIEHuKWqYsMA6fVKX8pR0RyhQR27uBZu7ZVNT1eW1lpQTGK~1Hhc6iEPQGNM5r7xsZPmkO4U35f65_PnJMiAt58FyaT~DC4Sr6mUdXa4HXMqsh926nqshgsqbeACNf9whkk~oilsUqDE93~CWHG.jpg
//media.inmobalia.com/imgV1/B8vEv5Xh8DZJ8zA8HsKlVQQovHvPS2nS1REiasNjjf37J7WfKOkiQxSIhRrnU2OBFkknCXNFUkYS7Hh9o9IZ_QJ9eIkyovF8VBGuVbC~tjIfmhbhIGf20cINvhZ2sNjGJZ9W7Z7psa0tHHjrcTefRM6GLIyLqsO_hVZJXozGOvjg7~nSGSfXrMuRfaPFzLSscdOm4w1lZcvpTnPzByXlqzY2hSnpVrTvAjIYJzlnCWorAEdx9Gn1WSCORyah39YOZ8NEwf9Ijg4tjPfuVycX4syBiN9HGUN9FPzeTgY1.jpg
//media.inmobalia.com/imgV1/B8vEv5Xh8DZJ8zA8HsKlVQQovHvPS2nS1REiasNjjf37J7WfKOkiQxSIhRrnU2OBFkknCXNFUkYS7Hh9o9IZ_QJ9eIkyovF8VBGuVbC~tjIfmhbhIGf20cINvhmtcEj_dpSUHoUnQR78N~VxzopV4NUSLUqP4uE1g5eUY6BBt1CkGwInAi8wVd8F_jpjeD9xSy~c8agZSGDvMcRanXJvW_b~4hyy4Ya0whho63A1edD4igh1sngc0a6KxoQcsGihfYYXegAil111uJIYmmJDw3nKy~e4mOQm9rKsZuTf.jpg
//media.inmobalia.com/imgV1/B8vEv5Xh8DZJ8zA8HsKlVQQovHvPS2nS1REiasNjjf37J7WfKOkiQxSIhRrnU2OBFkknCXNFUkYS7Hh9o9IZ_QJ9eIkyovF8VBGuVbC~tjIfmhbhIGf20cINvhjDjQ9cAWXH9awXAS~BE1xZwNN94yK8CAu7bGcd5neHKo9hdpctg7BdIeao93G0XBNmzSNbBbZa_AVAwfeYO7EyFkVhoanWtIGK8hmG7Em0ALJv4XVFrWHsTlzhMmNqX4pl28eqfQ2QyQltHx5ZGBZkyxc1~ekfuXRpv6oZQaIlfjsg.jpg
//media.inmobalia.com/imgV1/B8vEv5Xh8DZJ8zA8HsKlVQQovHvPS2nS1REiasNjjf37J7WfKOkiQxSIhRrnU2OBFkknCXNFUkYS7Hh9o9IZ_QJ9eIkyovF8VBGuVbC~tjIfmhbhIGf20cINv57Pbox_DpXZBkdjYpoo9uJmgToUcmCkuNv4ZHNqaEB_gWUuwPTeUv6LgJj2_SEETKHlTIKa3~ItVhGldixJfF_Pp0Dm5LRrNIGRxLlJyyh8HeAR4dgIcLhMkRkt3LvYDrP9TyHZb1lcb_Nly~9USJZbIY3CzJm7~6dbcJuYw~Nbm_Qc.jpg
//media.inmobalia.com/imgV1/B8vEv5Xh8DZJ8zA8HsKlVQQovHvPS2nS1REiasNjjf37J7WfKOkiQxSIhRrnU2OBFkknCXNFUkYS7Hh9o9IZ_QJ9eIkyovF8VBGuVbC~tjIfmhbhIGf20cINv5__dAwSeAWNStMQBgcBalc6g3zYDDSuCtNR_CLIP2_w~rlPib3AbPeQHQKzEoP1qSHstCoFwtEb~PaxyssZtdMvvAdyG~g0gOMKXKOCpZKxqq7gFo5zL1eq7YwgzkDBhqy9a2lD6KighEd5zbttWdzh~yQoRFhQTucIuuAqfln9zLCY.jpg
//media.inmobalia.com/imgV1/B8vEv5Xh8DZJ8zA8HsKlVQQovHvPS2nS1REiasNjjf37J7WfKOkiQxSIhRrnU2OBFkknCXNFUkYS7Hh9o9IZ_QJ9eIkyovF8VBGuVbC~tjIfmhbhIGf20cINv5yR4fLcZob51clfmpJcvsQwXkzTEdO2N5B6qantMLOI7t2aOS~aR8I4eqpGBcCo1PADHdniXc8xEF6hm8WDC5fZvuagdSGmZ_aiR_GHqt3kSpwvia0Xy9v6dWL16IZ16wjPyYNqYu1ieWflP6v1IljArtOUONz_N3kBJFoCXVgEoct3.jpg
//media.inmobalia.com/imgV1/B8vEv5Xh8DZJ8zA8HsKlVQQovHvPS2nS1REiasNjjf37J7WfKOkiQxSIhRrnU2OBFkknCXNFUkYS7Hh9o9IZ_QJ9eIkyovF8VBGuVbC~tjIfmhbhIGf20cINv53CuqznfgiD0rglXfssECaX8nITsV4lGT4Ngiiu~NO3OaAND09cEdZI6uY7bOHGRbf7dAHkZ~4jfcIs9x_VNRAzhZzhZ7IYxXYrGeZYNcR0CwP~gCzTjSd4UvddC_XBJyllDltUtDarF9FJ5xC3Fxy7DPF8c9aQKzrGREZjdNv_DnZx.jpg
//media.inmobalia.com/imgV1/B8vEv5Xh8DZJ8zA8HsKlVQQovHvPS2nS1REiasNjjf37J7WfKOkiQxSIhRrnU2OBFkknCXNFUkYS7Hh9o9IZ_QJ9eIkyovF8VBGuVbC~tjIfmhbhIGf20cINv5peQoFytu6UEBurXbA3gIFT~If5y2w2n~svl1JP4kVyFnA_rL~RaUPRhG82i0zW8EH3c4VW_jEvXQbL9zVuyZNxzkZt_rK6V0UOOCIImn8lHN8kMeBooSG7_oW_eRg~pP3YqzAmN2HxH2fy0qs89satBfq_3PVEybp98Lbk5QO5taR8.jpg
//media.inmobalia.com/imgV1/B8vEv5Xh8DZJ8zA8HsKlVQQovHvPS2nS1REiasNjjf37J7WfKOkiQxSIhRrnU2OBFkknCXNFUkYS7Hh9o9IZ_QJ9eIkyovF8VBGuVbC~tjIfmhbhIGf20cINv5tYIY51ts6tGE2liiqh9SsLHl~R9BDhpDBdyGKmq55BlDtnr_ZDJDYyaIgixvpiOdGT3hysbrQhj_f4NM19OEd45xDtkhJ9FLgrvkotvtmMwj_Mgj6mgcguGwYEeM_bgw1KK6fRiPtX9ScV5tT1ifLr7urqpj8aatB4_jPQoUTrgpD1.jpg
//media.inmobalia.com/imgV1/B8vEv5Xh8DZJ8zA8HsKlVQQovHvPS2nS1REiasNjjf37J7WfKOkiQxSIhRrnU2OBFkknCXNFUkYS7Hh9o9IZ_QJ9eIkyovF8VBGuVbC~tjIfmhbhIGf20cINv5h0hF~rJKXgEIHW~CyfZweZqG7Wam6Jus_zippF4Yxm1C1vsKKjhs6RqKAkBRaAkStJHaSNUo5~m8rAsF~pJ6x1hEwdZC3O6lu9W1u5Bt40PB5ihpDNq30rTsI9LiyvfZ686R3cVWYZiJvzTceC69kVGml2dOBo_3pnvY3X6yBOSHCp.jpg
//media.inmobalia.com/imgV1/B8vEv5Xh8DZJ8zA8HsKlVQQovHvPS2nS1REiasNjjf37J7WfKOkiQxSIhRrnU2OBFkknCXNFUkYS7Hh9o9IZ_QJ9eIkyovF8VBGuVbC~tjIfmhbhIGf20cINv5nxlJtQMkwM7itwF~~qM3w6tGtC0I1bGkVlwVGTnZ3aK9lYP8xcMRed4PxWsnBZbGjMqU1C5wsPN7cjYto0iVw4hsooxrB8sLU1VxX_dA8doYGdk8Rux~FjofkP_wBpIDH0gP_JckMBiqkH8eCkrGcMsLJP_hSnu7mcfPiBcjok3z4P.jpg
//media.inmobalia.com/imgV1/B8vEv5Xh8DZJ8zA8HsKlVQQovHvPS2nS1REiasNjjf37J7WfKOkiQxSIhRrnU2OBFkknCXNFUkYS7Hh9o9IZ_QJ9eIkyovF8VBGuVbC~tjIfmhbhIGf20cINv5YMI8kQ0yq~rNS52DLQmP8XQ8CNiDEPt8UHXpgl6uhhjw47fhUkEQg4IHvEqaOl1M~bCBSmBk8O5t2eNNASjY24_meMMBCtg4xDwcipSbLir7l4dgi~frVdk~RhKsnHybPqFs8z9t8_L1bogNv9kWRBWRhF_TKqNRNCsnBiug5v0WW1.jpg
//media.inmobalia.com/imgV1/B8vEv5Xh8DZJ8zA8HsKlVQQovHvPS2nS1REiasNjjf37J7WfKOkiQxSIhRrnU2OBFkknCXNFUkYS7Hh9o9IZ_QJ9eIkyovF8VBGuVbC~tjIfmhbhIGf20cINv5eHG2pqr31kiYxOs~z_qAyFrYDJwAPOFrqwhT63odVM3OEuJvCnzPMkKwQjpCaoyAaUiQ6DhmsqZmceNnhYXCisdWjeS7rBS9vPlBRDwI6G9deRGlZOvIC3DtzSeOQdKSJUzfuqDrME6rNpXnFsLrDQ_O6pbJWdI2XTUn2UlFseYbRp.jpg
//media.inmobalia.com/imgV1/B8vEv5Xh8DZJ8zA8HsKlVQQovHvPS2nS1REiasNjjf37J7WfKOkiQxSIhRrnU2OBFkknCXNFUkYS7Hh9o9IZ_QJ9eIkyovF8VBGuVbC~tjIfmhbhIGf20cINvHsl0uKsk5SwkcHEtTjaTpTSR61bL~OxhOq~yU7hdstdud4ox_zTFIfABWA4SCQ4TeJGwu2JWfXV9dSLUPdwDJtB~Sw6dOpTDVPRa30fW3BPlRTYTkUzNDwnuyOwh_EkwH8NnAF5yve4MxbNwOrKuFN3EC4xfVPN1TdRG7OH0ZcpbrQ8.jpg
//media.inmobalia.com/imgV1/B8vEv5Xh8DZJ8zA8HsKlVQQovHvPS2nS1REiasNjjf37J7WfKOkiQxSIhRrnU2OBFkknCXNFUkYS7Hh9o9IZ_QJ9eIkyovF8VBGuVbC~tjIfmhbhIGf20cINvHrvojipYsuqA5ZQvrwDXSdEnMNW_q0NSMyZgYjOSaxwK82OTBa15r_CH2Lhps7dzZDsyrdNGO_B2f1dz~Aq6wdnNrjlnthD1anDSNARsC3C8RSZWqpi1WMQ1ug4GPxqg4mMl3Xnvv7APNUePJUcLWaPfKMlbwBTBUW_CbvLZ6hwjrcr.jpg
//media.inmobalia.com/imgV1/B8vEv5Xh8DZJ8zA8HsKlVQQovHvPS2nS1REiasNjjf37J7WfKOkiQxSIhRrnU2OBFkknCXNFUkYS7Hh9o9IZ_QJ9eIkyovF8VBGuVbC~tjIfmhbhIGf20cINvHkUlTJQd~YvC7H6RmofTCaF5B0XC8kNEArqstleLW6g2HrRcRFN7k8m6nmqHWltvW_Yyx12zaMhyXaR~fcOZb1GxJHlTp3o8DN40NNPikEs4wx~yfb~u_14yvg5BgzEQmkb2XVPlPp7M~tyFYT2aSRB8J6w1yPHIeF7o4VQdwTAJM7D.jpg
//media.inmobalia.com/imgV1/B8vEv5Xh8DZJ8zA8HsKlVQQovHvPS2nS1REiasNjjf37J7WfKOkiQxSIhRrnU2OBFkknCXNFUkYS7Hh9o9IZ_QJ9eIkyovF8VBGuVbC~tjIfmhbhIGf20cINvHgIs_MX4gADWzQfDBgfLns9wMq3i5qLfs6hjeb39tGVC88f2mhoYjlNnyy7acSUX~prMERqD7PxdhyrzVRE4Wj~3z68BK8F_YYIoxvLVmaaYzQm7LNzQB~iNSl5EFkWbyYHil84E5LY4p~x22jPLKhxIKgJ0P9WczZlzAlmfSgysE6s.jpg
//media.inmobalia.com/imgV1/B8vEv5Xh8DZJ8zA8HsKlVQQovHvPS2nS1REiasNjjf37J7WfKOkiQxSIhRrnU2OBFkknCXNFUkYS7Hh9o9IZ_QJ9eIkyovF8VBGuVbC~tjIfmhbhIGf20cINvH8mWj7rz6Z7QVpy9mFS1H4U6hKIJyJovHlVkOdPFhyErghdudrRYJTtMchV_H_QzM2uN1XjpHR0xqP1bL17Hu5bfTArUKNAHvJZIy2emI_6PQlOy1ROQpRhag4AsW3Xe0RQC8GOLnUy~2FPEiRSav_jPRFficUAD9kXDKvxcc9B4Y0o.jpg
//media.inmobalia.com/imgV1/B8vEv5Xh8DZJ8zA8HsKlVQQovHvPS2nS1REiasNjjf37J7WfKOkiQxSIhRrnU2OBFkknCXNFUkYS7Hh9o9IZ_QJ9eIkyovF8VBGuVbC~tjIfmhbhIGf20cINvH6UTRvbsmjtzHZw6mNJeyaY9yY5b_DrqY27WFa0ohwWRzjx2vuo6iCS6EQtUPC41Pi9hQFCDz76kunQHHbGYJtjbl4qi5N1hj84rB9uQHlwiRHizWXk3LiM1L~mTT16qU8hZO769ndrYy~UktDGYmOJ1cy1BwpPsmXsB5Kjx8Bids_Y.jpg
//media.inmobalia.com/imgV1/B8vEv5Xh8DZJ8zA8HsKlVQQovHvPS2nS1REiasNjjf37J7WfKOkiQxSIhRrnU2OBFkknCXNFUkYS7Hh9o9IZ_QJ9eIkyovF8VBGuVbC~tjIfmhbhIGf20cINvH2Ladld4AIc8HcDEEUoXIwjeFtKP7uryjWWr23aM1v8fmop1qa5Qg2mB07bYSt3YT~D_P_GylPxcNXW1CsEXDfk9nnEProtS0wsqa7oeUC1bnoSyJApf~5p_EE~PbYJdmmGmKhWazxYuD5upY5R2wweC_fM0Xag8IUBSP1KeKN9GUOP.jpg
//media.inmobalia.com/imgV1/B8vEv5Xh8DZJ8zA8HsKlVQQovHvPS2nS1REiasNjjf37J7WfKOkiQxSIhRrnU2OBFkknCXNFUkYS7Hh9o9IZ_QJ9eIkyovF8VBGuVbC~tjIfmhbhIGf20cINvHxiF309oxJx346Br74Ml20JWslIlp3vGve6M54TY9Xu~9Csbj7N2BlOK2d0oakwYqFMuwQV57UpZspFtzFDgJFnQjYdgpzXSY_6FtYMJvIngk0xnZSOyipJEw6xR16TjT8sapuGy~yDKvgGvOMgxkWBJ349A0gRqR1VJNlLglVLGGGA.jpg
//media.inmobalia.com/imgV1/B8vEv5Xh8DZJ8zA8HsKlVQQovHvPS2nS1REiasNjjf37J7WfKOkiQxSIhRrnU2OBFkknCXNFUkYS7Hh9o9IZ_QJ9eIkyovF8VBGuVbC~tjIfmhbhIGf20cINvHMWAUJKCJbakt9V25nrrePS0uJTUCbup~UfusqWyhPCSY9begec_nBg6p3s14zIBxpTNtm~fMbWIvqGaPvZGNdCcVdTlyKPKhxaIklX4q6ECmJipykCujwTpEGsqGojn0nQk2Kl6ccsukAU49_U6KA9svIimN5GCm2DG6_MmxCCTqfF.jpg
//media.inmobalia.com/imgV1/B8vEv5Xh8DZJ8zA8HsKlVQQovHvPS2nS1REiasNjjf37J7WfKOkiQxSIhRrnU2OBFkknCXNFUkYS7Hh9o9IZ_QJ9eIkyovF8VBGuVbC~tjIfmhbhIGf20cINvHK3L19hD1qekF6nAJdZZYjWVCDr2OKrVawyOAB0hl73QtGBiIIakNwLyQgS__d~tlJWy_YSJ4c~dqMuCD9KzCq4J_rfAX3AP3ZnVEvhxP9q~rJguORBvAzzcTGK3r2Ti9LfMhRQX24RX2ENNokoWOjmwW9hDseD7i4PxLzBBVaYsyPb.jpg
//media.inmobalia.com/imgV1/B8vEv5Xh8DZJ8zA8HsKlVQQovHvPS2nS1REiasNjjf37J7WfKOkiQxSIhRrnU2OBFkknCXNFUkYS7Hh9o9IZ_QJ9eIkyovF8VBGuVbC~tjIfmhbhIGf20cINvb9raJNGrz8Voj5COEUveX7nUhEbkk__5phSf_zj5__9zXySQZ8Nof9S6zuweYzsucPbSem3QY2UC6rA62_G9lspbw5KoUYOF~EUoXaIHC_kGiqZZI_kRFBlyy8bXNGGN7PO0EXDFkOt38SYSW1HHENM5XJ1TTIHBWWvs3WYnjKOpBqz.jpg
//media.inmobalia.com/imgV1/B8vEv5Xh8DZJ8zA8HsKlVQQovHvPS2nS1REiasNjjf37J7WfKOkiQxSIhRrnU2OBFkknCXNFUkYS7Hh9o9IZ_QJ9eIkyovF8VBGuVbC~tjIfmhbhIGf20cINvb5E4AZYw~m1ZRmADjc0FWA1udniXmbGx6FxvIa2fHs7iysG~wwxcIUojzPQuguZF5fGkbTlWJ3e74Mv9WO7C8lO1w6YjiloyV8g47Aqjucf2tiIam6jJg7qB__Qev2ABlablotYBVLvyoi_Z5uXPe9w~n465Ub9Q9SpLXBNtZgFsraY.jpg
//media.inmobalia.com/imgV1/B8vEv5Xh8DZJ8zA8HsKlVQQovHvPS2nS1REiasNjjf37J7WfKOkiQxSIhRrnU2OBFkknCXNFUkYS7Hh9o9IZ_QJ9eIkyovF8VBGuVbC~tjIfmhbhIGf20cINvb3Ezpfi6BE7INwEBW7EohJECzT3ajPvgEMuZh0WKrQoXg0bJRy3W6Pe3AbMwvjPUv6ZXyrubofdszVUWm~qhKTWpblyidoi1JbhbYd4mppyedV_ytJ22BRX14QDlZtbg14vFps0N3wlkSesN2L4FSYlD7f1j~Lhi5o9z~K8ooyXsMs4.jpg
//media.inmobalia.com/imgV1/B8vEv5Xh8DZJ8zA8HsKlVQQovHvPS2nS1REiasNjjf37J7WfKOkiQxSIhRrnU2OBFkknCXNFUkYS7Hh9o9IZ_QJ9eIkyovF8VBGuVbC~tjIfmhbhIGf20cINvbsLLgM446UgDiufRXW7QgdnRg9PnkeQEMo3baT5PcRTX_Z5ABw6OE9Ya_sf7DR8kCKmIqcdzBuwpGGBSSEL1tK15qZtb2Z9nYzTh4dMlTDF9JxL167oiGoUBN2fRE__Ifa1xtztmDMpOfeGL5KWYo_qxCO5n31GqwlEcU5H8~t83O84.jpg
//media.inmobalia.com/imgV1/B8vEv5Xh8DZJ8zA8HsKlVQQovHvPS2nS1REiasNjjf37J7WfKOkiQxSIhRrnU2OBFkknCXNFUkYS7Hh9o9IZ_QJ9eIkyovF8VBGuVbC~tjIfmhbhIGf20cINvbq8edO3wDlI0uDMg0ve5vYWBK3FMHCkpt_X3GwCkA17AvtjtW1gBV0I2NQe3lojDph6sS~hMvh_KJo5emxdJstI7KF8dis7Niwc0dwlVL9Hr9AsBkdoRyYsnt4Qo~3gq3SS2lccbSPZrmLZ68FzVDO_LEhuzskh4TbL2ixK52JaIu3Y.jpg
//media.inmobalia.com/imgV1/B8vEv5Xh8DZJ8zA8HsKlVQQovHvPS2nS1REiasNjjf37J7WfKOkiQxSIhRrnU2OBFkknCXNFUkYS7Hh9o9IZ_QJ9eIkyovF8VBGuVbC~tjIfmhbhIGf20cINvbm7p2E5ab~4ZpH9EYmZkR_py9EBgksOMG0esLkpoI30zNtdaLT4B9hfsLzVyOvU4V3KMsY~9Od0G8f2SrqbG_Oa8KdgETgQu2Znm0AAK7mS04Mw2JxnQ5v9wOb~6dEho_Y4ZtC6JPX3bQRJy4sXmoJlKYYzctgWGzamCVSopy5aT3it.jpg
//media.inmobalia.com/imgV1/B8vEv5Xh8DZJ8zA8HsKlVQQovHvPS2nS1REiasNjjf37J7WfKOkiQxSIhRrnU2OBFkknCXNFUkYS7Hh9o9IZ_QJ9eIkyovF8VBGuVbC~tjIfmhbhIGf20cINvbiTBs5ktsTNNuTxvrqshPhpDUcw8~9URSL7F_O1vi29cZF3H86org9vGqEoI~dJJN3msxe3M6MTI67uBlW75hpCzhqKPdPsQNjGMEovbt988o0StICk0LqjoJBqaUO2xK3HtwIA3mUBA7cymVAd57uoq9PAlr1vEvaOUKFhzfIFFx8Z.jpg
//media.inmobalia.com/imgV1/B8vEv5Xh8DZJ8zA8HsKlVQQovHvPS2nS1REiasNjjf37J7WfKOkiQxSIhRrnU2OBFkknCXNFUkYS7Hh9o9IZ_QJ9eIkyovF8VBGuVbC~tjIfmhbhIGf20cINvbfWXCWPTt7M40aZ4hXGz0Nobo5nSqymmRgwF4ZksH2tu9iKwpxw61bYWARol1RrdUWKHCg6VAevW1u8dY9loUt1MoGpH_KzL19e8krryFn1kDOUb~JTcNte3TpMN5Dj48gszOX8Ox2iDYpQDGk1VT0K0OC~89U7cNXF9rfCFxwDse_V.jpg
Price

2.500.000 €

Ref.

2333

bedrooms

5

bathrooms

6

Built

531 m²

Plot

1.539 m²
Villa in Capanes Sur, Benahavis
NEW QUALITY VILLA IN BENAHAVIS WITH SEA AND GOLF VIEWS! The Villa has an elegant entrance hall, large living room, separate dining room and sitting area with chimney, guest bedroom en suite, modern kitchen with breakfast area, guest toilet and large covered terrace. On the first floor master bedroom en suite with dressing room. 2 more bedrooms en suite. Open terrace. Large basement with laundry, wine cellar, sauna and Turkish bath with dressing area and shower, service quarters with lounge, bedroom and shower, garage for 3 cars and machine room. The house is beautifully furnished. Lift. Air conditioning hot/cold and under floor heating. Swimming pool and garden. Ground floor 171 m2, first floor 151 m2, basement 208 m2, covered terraces (porches) 121 m2 and open terraces 60 m2. Plot 1.539 m2.
Features
Utility room
Fireplace
Satellite TV
Alarm
Double glazing
Video entrance
Telephone
Water tank
Automatic irrigation system
Air conditioning
Central heating
Fully furnished
Similar Properties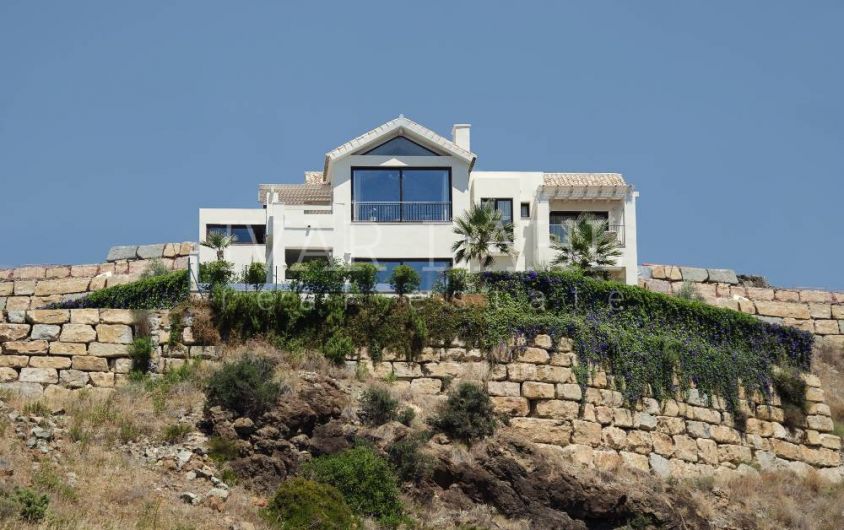 Benahavis, Marbella, Villa with panoramic sea and mountain views in an exclusive residential complex. 5 bedrooms, 5 bathroom, separate air-conditioning in each room, electrically heated marble floor, alarm ...
5

bedrooms

5

bathrooms

277m²

built

806m²

plot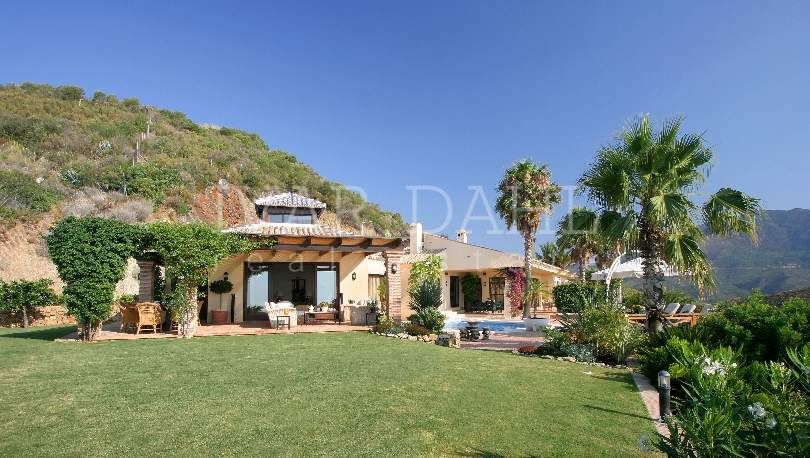 This estate is only 1300 meters away from the cozy village of Benahavis, and 6 km´s from the beach. A mountain- and countryside property on more than 11.000 square meters of land, about 275 meters above ...
4

bedrooms

3

bathrooms

327m²

built

12.537m²

plot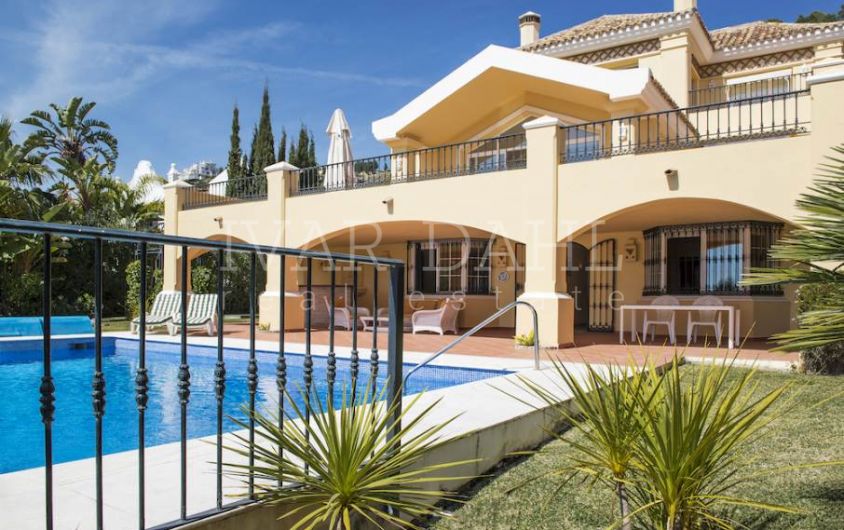 Frontline Golf, Large villa with garden and heated pool, aircon, underfloorheating etc. From the entrance, you walk into the large lounge with stunning golf and seaviews. Intergated office/piano area. Dining ...
6

bedrooms

5

bathrooms

503m²

built

1.000m²

plot