Villa in Benahavis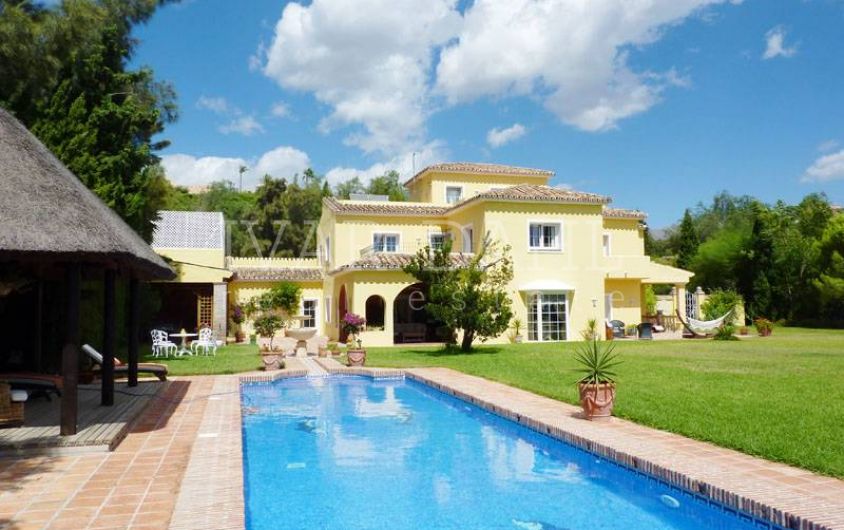 //media.inmobalia.com/imgV1/B8vEv5Xh8DZJ8zA8HsKlVQQovHvPS2nS1REiasNjjf37J7WfKOkiQxSIhRrnU2OBFkknCXNFUkYS7Hh9o9IZ_QJ9eIkyovF4Iji5NVe6wdQQbUQVtg2CrIBpQx7VCxuxdF8Igz7hgQCcigNgwVUEdglZGAoqWhnJ6jLD9pDk3QOQYYb_O_12pxfks314SPHNXP3w9nIIKWw2u~L~AyZ~YPDK6DSGdEFPek33gKSISGkOHx1RXmFbZIYWPMXxfqN0V6lXwIvdiJs64xSwmIq0ZT9WShq6h6Q_E0J4FNTH.jpg
//media.inmobalia.com/imgV1/B8vEv5Xh8DZJ8zA8HsKlVQQovHvPS2nS1REiasNjjf37J7WfKOkiQxSIhRrnU2OBFkknCXNFUkYS7Hh9o9IZ_QJ9eIkyovF4Iji5NVe6wdQQbUQVtg2CrIBpQx8~An55PpXRk6egVK2ctIJlbDEr9xgesD__nNu1kkzLHRQRyEjTtx_f6uIAYtJ3iIL9viHU9Yx24DsFQbpIIyeYm7NLtueIq9lVHuweMfiyeNuXOCm86D4vpbrMRwrdJan06OV6WtUXvQS41OhArxpb0lroHEumeb43guSPKKO_wy55.jpg
//media.inmobalia.com/imgV1/B8vEv5Xh8DZJ8zA8HsKlVQQovHvPS2nS1REiasNjjf37J7WfKOkiQxSIhRrnU2OBFkknCXNFUkYS7Hh9o9IZ_QJ9eIkyovF4Iji5NVe6wdQQbUQVtg2CrIu1TduHJZR1ndZfeGN9SgswYLghFAAZjZNE96EOs4of8zCoyos~qwiYb_lPSLPt5t4l8I86aQe1f688ScXCC2TGBLkSYbM9Kt6qPacS9hUxCqsbHf6IJPuS9joxQIJZx9F35SvVf8QVS20cse33pRwf_bF3l155y63o9HHUnHstHTOi9A43.jpg
//media.inmobalia.com/imgV1/B8vEv5Xh8DZJ8zA8HsKlVQQovHvPS2nS1REiasNjjf37J7WfKOkiQxSIhRrnU2OBFkknCXNFUkYS7Hh9o9IZ_QJ9eIkyovF4Iji5NVe6wdQQbUQVtg2CrIu1TdrF~QHEDuzsgqVx6ygRbswlaqTklRMCQgZCQoajhxBYmzG~zW6U1~V4ePlYaR3qckDpeyyb9GqHrgO_lXcylFl86cMwA8oho8dDzsjCbOFlo9B0FrSvAqAHrGk~~xGGUW96q9B75~0zS5CEaaaJDmH5zE4wOcbqP7Q10~EzNLqQLXmU.jpg
//media.inmobalia.com/imgV1/B8vEv5Xh8DZJ8zA8HsKlVQQovHvPS2nS1REiasNjjf37J7WfKOkiQxSIhRrnU2OBFkknCXNFUkYS7Hh9o9IZ_QJ9eIkyovF4Iji5NVe6wdQQbUQVtg2CrIu1TIGtoe1ELG5EEAQPTYRsstkq6p3Swhh8Sg21H2Iudxn0nMFSIh9hgF2NY3I5y1sn2VKeuxBlIi1VxaSbc9JTjILF0xa3VxzM3UKCkgyM1DhG09U65IqyE2WGxyiFuaIw7E4FhKdRPMt~UORasFuJQg1dggB68heoYmdnGfMXQ74BI6iw.jpg
//media.inmobalia.com/imgV1/B8vEv5Xh8DZJ8zA8HsKlVQQovHvPS2nS1REiasNjjf37J7WfKOkiQxSIhRrnU2OBFkknCXNFUkYS7Hh9o9IZ_QJ9eIkyovF4Iji5NVe6wdQQbUQVtg2CrIu1TIqVITDDjPpLqKBxC30CKlorrHbBwOHzCi92JpEkBvY5mEiuiGvyTmDIZJgtgF_SXkroM3MVSkCpg0PNs6pgsoY_znesG2u8hXox98u4gSdASXWu80igtrNc18s4QwOUVGUr7HBHhvRhPScJcVMDKRKZcnHKBPbzkPZWvQ9lzUkr9WoV.jpg
//media.inmobalia.com/imgV1/B8vEv5Xh8DZJ8zA8HsKlVQQovHvPS2nS1REiasNjjf37J7WfKOkiQxSIhRrnU2OBFkknCXNFUkYS7Hh9o9IZ_QJ9eIkyovF4Iji5NVe6wdQQbUQVtg2CrIu1TItvusyXXfYeAAWBhspC8qXjlaKfqaepD2aV10uqRyLb51z7krbi0TML2vzAwcceOsrpvce8QTRNL9R4DnHdaqbn~h71l2XCMEnkG2EllCp3p35My_TCkvgl2oLG3kyGpR4wbHNWCsKReALOfzDjeYpUH6xsnxibp4Lx93DDEG_wB6bW.jpg
//media.inmobalia.com/imgV1/B8vEv5Xh8DZJ8zA8HsKlVQQovHvPS2nS1REiasNjjf37J7WfKOkiQxSIhRrnU2OBFkknCXNFUkYS7Hh9o9IZ_QJ9eIkyovF4Iji5NVe6wdQQbUQVtg2CrIu1TI1rf5I~18y1zp4h~3TXxPs_emvypHEtH8Wt4_CyuuX_mKklDZ~HNP4W6UeLlFng~TYP67Dg4PcasD1_x5_bgz_KnKkTnecD1ncDA9ceUfe6g9r3pi2axqJ8M4wDFVNiIAvf1LUDT8KclrPNHPwmJ~bXqG7ok68G1TzOGT3CB9LmtkL6.jpg
//media.inmobalia.com/imgV1/B8vEv5Xh8DZJ8zA8HsKlVQQovHvPS2nS1REiasNjjf37J7WfKOkiQxSIhRrnU2OBFkknCXNFUkYS7Hh9o9IZ_QJ9eIkyovF4Iji5NVe6wdQQbUQVtg2CrIu1T36c4pxXdKWwIN4qoqXG_pj0vtInfJt1GezrkKxIKiFI~K3QqVTlKgOsDT5kOdye1T93XCCmbK1Tp11YvCoY05R9wjyKj53Rmsr2IRjQfRrqKghX~PCa1E9IeWhfz8d~Qfm1Mf62MMS5g2WjolKSvIRWdQ5ygoxlzn4e68i8bAqk6gQU.jpg
//media.inmobalia.com/imgV1/B8vEv5Xh8DZJ8zA8HsKlVQQovHvPS2nS1REiasNjjf37J7WfKOkiQxSIhRrnU2OBFkknCXNFUkYS7Hh9o9IZ_QJ9eIkyovF4Iji5NVe6wdQQbUQVtg2CrIu1T39~RW~w4uFx66d3CSJw1X4ki0WUAzhVCljLwE5R9JHRU4A3CWxq32~L~N4LlCBkc46iy_jjQ3B3IAKznLOB8S~D9lTJOIvLm1_JGSGcILYH41FQUOxEGs3mXNnmfAxheOFQBkAZ2yymLp7IiAIGXkzjzbuOGIxlvE9Y8XIXR_kgmJEn.jpg
//media.inmobalia.com/imgV1/B8vEv5Xh8DZJ8zA8HsKlVQQovHvPS2nS1REiasNjjf37J7WfKOkiQxSIhRrnU2OBFkknCXNFUkYS7Hh9o9IZ_QJ9eIkyovF4Iji5NVe6wdQQbUQVtg2CrIu1T3tAv3rqHe2ffAAOrIbgu1ogWd~Mz0r9NTeVeFbfacla3uq9WUSM8Pe~YNBKjzWu_9QHonKT2ZUj1NoPcbdLKZtFK9McqImU3T1Ed5vEzofhihMtWjtnLTAqEnPBUy4oEgmgWAXvoZrL465YEhuKA7aj_HcQVwuR5iaTwa1GTzt_zjNc.jpg
//media.inmobalia.com/imgV1/B8vEv5Xh8DZJ8zA8HsKlVQQovHvPS2nS1REiasNjjf37J7WfKOkiQxSIhRrnU2OBFkknCXNFUkYS7Hh9o9IZ_QJ9eIkyovF4Iji5NVe6wdQQbUQVtg2CrIu1TICV7pZ~NDXpounWY3GExNblNvmmPcr_u3XLFpfh2_sZN4PHExYsYUXpE~EX5gc5xtJpWsdAc_M4s7lkOW9H54VFN1xlG5wLd_kBaFHXuVBxKH158oN7BJMfmwbNKw6uYMtQvXo6RZoI1cBBVaQIypBp_fs1QmMC9xE0opsMn4d0cDEd.jpg
//media.inmobalia.com/imgV1/B8vEv5Xh8DZJ8zA8HsKlVQQovHvPS2nS1REiasNjjf37J7WfKOkiQxSIhRrnU2OBFkknCXNFUkYS7Hh9o9IZ_QJ9eIkyovF4Iji5NVe6wdQQbUQVtg2CrIu1TI9BOrPXuRMFqqFnx_h80svpXZ3WSbcRxkOFpSJEAiQ~kDYpSdTKWgl3hcMdZiV9c9zBEVgxixJ1E1FrYdcYEtNAGFJzIaCJUe3D6HJYaT6mDTOAAglPz68j513Xy6ONwf8Ty8BlFsg1C1VU63YrdGtvYn3aIolfOpUxznYruBt7FpYE.jpg
//media.inmobalia.com/imgV1/B8vEv5Xh8DZJ8zA8HsKlVQQovHvPS2nS1REiasNjjf37J7WfKOkiQxSIhRrnU2OBFkknCXNFUkYS7Hh9o9IZ_QJ9eIkyovF4Iji5NVe6wdQQbUQVtg2CrIu1TI4IpRV9LAfhNAgoCZPpHmKTu7~qUfYAeYlbVIPQLPHxKXzNnHEMWxIlcnBsuOEThii6aGUUMtQzvVto1uGdMJqxVr3_1iJd0jO7Tjv32ensgMOR0Xo1W~4475aJOGdXjTQyey52c3VCl8japW8MRVwT7sMp33lnC77gVarlZLaCDW7d.jpg
//media.inmobalia.com/imgV1/B8vEv5Xh8DZJ8zA8HsKlVQQovHvPS2nS1REiasNjjf37J7WfKOkiQxSIhRrnU2OBFkknCXNFUkYS7Hh9o9IZ_QJ9eIkyovF4Iji5NVe6wdQQbUQVtg2CrIu1TInBcyU~2L3Ya_aV_MCSMqYKlM2Zw0RSEQ~zo4XaqigBDqFyCdHbvs9kJegzwdcOsudmeb7hwt8k89jlzmVAHsRi6VKZZEWE~uH3sBs7J2faUUfVUK8Y~zo_god4qANO881DeX8YvTuQK8bpSnbDIyqjBrQMCCjWllCQ3_o2N6oBZ8x_.jpg
//media.inmobalia.com/imgV1/B8vEv5Xh8DZJ8zA8HsKlVQQovHvPS2nS1REiasNjjf37J7WfKOkiQxSIhRrnU2OBFkknCXNFUkYS7Hh9o9IZ_QJ9eIkyovF4Iji5NVe6wdQQbUQVtg2CrIu1TIzDqVmy1ReSvV5vCgIoWiyZ~0X8U3KR3ah~D1pB2GqiPGPtSC~pgF~1hS3P18NFmiotSb9NzSVbmD11Mqknla9AVIBGStltCtgyAdI_LYshy4zTrx6XcM3zu3XY82HWG4PxkkBsSeXy0pKhhmKUghVC~GtZOMTInrWv71Zo_xNTwMPO.jpg
//media.inmobalia.com/imgV1/B8vEv5Xh8DZJ8zA8HsKlVQQovHvPS2nS1REiasNjjf37J7WfKOkiQxSIhRrnU2OBFkknCXNFUkYS7Hh9o9IZ_QJ9eIkyovF4Iji5NVe6wdQQbUQVtg2CrIu1TIh6mUUmREQGxSIQ_97J5OTlwPUgdf26RI7RhvK2pUGB~gKLxfzluvguAt4uImbdjB2oCnUf9Vjz8MF9zYlDuKoGPjUlUpVNNRCzNyu0juj5~cuZAA53bdMMi_SQbenWi2QJg316aJwVGRUBwi6xxiCrRz8LmrZkT5kvEtUgcg2sRVBh.jpg
//media.inmobalia.com/imgV1/B8vEv5Xh8DZJ8zA8HsKlVQQovHvPS2nS1REiasNjjf37J7WfKOkiQxSIhRrnU2OBFkknCXNFUkYS7Hh9o9IZ_QJ9eIkyovF4Iji5NVe6wdQQbUQVtg2CrIu1T3wK0~bgGsqMPkoNmTCbFJDTxJZWXAQvjZ7rlCDm6ZjR3Qc19_xV6yoq2uYHDZF1uH6uZ9ogPeSSBcS0MiOPqvNCWsdQs9PMjFCP0BJJOTyiJaR3h7YTp_3bLfn5~dHjWSycT0ru_ZHqaaqvV9fx2rlgtCWQ27Ys~~WDW1E7DDQWB9QG.jpg
//media.inmobalia.com/imgV1/B8vEv5Xh8DZJ8zA8HsKlVQQovHvPS2nS1REiasNjjf37J7WfKOkiQxSIhRrnU2OBFkknCXNFUkYS7Hh9o9IZ_QJ9eIkyovF4Iji5NVe6wdQQbUQVtg2CrIu1T32~1rZML3l9gAlNBL4gRwJcHC7kI4KNNENHuIWhSIynbITyWVk37YHSaqSPhIKHQhNOjc6HtximLOK3DNxWSY9GdrGkQE4h7Ukmy1q5bholsNmpFHzEqcZuKUlrMtnmUCNNRXQkGMmlL~whonEMB8CXtDiEemBdt9QlkUC5RqD5NhDF.jpg
//media.inmobalia.com/imgV1/B8vEv5Xh8DZJ8zA8HsKlVQQovHvPS2nS1REiasNjjf37J7WfKOkiQxSIhRrnU2OBFkknCXNFUkYS7Hh9o9IZ_QJ9eIkyovF4Iji5NVe6wdQQbUQVtg2CrIu1T3mTHR_y~61POLfzp2lSajXv_FtIVxgo0AhcB_CP1ZVUvotYqDkiMvagLasYtR1GLy3dQquCVWlr641JoR0Soj3APt~b7uFqJd5nk54OvzWtZCfpaYc8ArdM73gZ5UudYBSl~HSqNg4vLwXs_PlTtV4~893rICXr3xEn1dyWBPX_~ek_.jpg
//media.inmobalia.com/imgV1/B8vEv5Xh8DZJ8zA8HsKlVQQovHvPS2nS1REiasNjjf37J7WfKOkiQxSIhRrnU2OBFkknCXNFUkYS7Hh9o9IZ_QJ9eIkyovF4Iji5NVe6wdQQbUQVtg2CrIu1T3pX4fNTJWTbxxWA7M6NHD9EzqcPK4m2li1ueDi115AA90LbesWSRSa33JJXHotBft4J4zN3~JJoKiGFmH~d8Pi800gtSY08JmiO30F12FqLeby2ihnnkRr708cCYHyfgyp~WzDbPMqUO0XO0f3Yaiw~FwZkqHGel166PEdV7BigZ5Ad.jpg
//media.inmobalia.com/imgV1/B8vEv5Xh8DZJ8zA8HsKlVQQovHvPS2nS1REiasNjjf37J7WfKOkiQxSIhRrnU2OBFkknCXNFUkYS7Hh9o9IZ_QJ9eIkyovF4Iji5NVe6wdQQbUQVtg2CrIu1T3S~6Dj8_CzxEhnm9pl57~Lww~c7MpHVbrMKaAeeWhviq50TWhC74DaM_XuGswYwxJPp2LTpSS9HAvjryOs8Ye6tSTuMBC2Zgkx3Jj618USCm~admhGvKaEmvNWr_Lq_8jobbempMUtuL38yTW63HmWclkBK86nTnI5kee6L8jkJZZlE.jpg
//media.inmobalia.com/imgV1/B8vEv5Xh8DZJ8zA8HsKlVQQovHvPS2nS1REiasNjjf37J7WfKOkiQxSIhRrnU2OBFkknCXNFUkYS7Hh9o9IZ_QJ9eIkyovF4Iji5NVe6wdQQbUQVtg2CrIu1T3UHOwLc2Uzz9SCsJ4eCZq1r0F5Xqw5qQKoOlbiLqEReD0aN40VO~6V4WWhXCZ95GxgFJr57Pw~HUCtxTXmQB6Ng4nKVShVVOh01wcqWvszNdmP2_X2hNEmpWzjDzPO7Lfc7GSzMRsxje38j~aevRihUniItdd92HbhPZ45qlkFG45G3.jpg
//media.inmobalia.com/imgV1/B8vEv5Xh8DZJ8zA8HsKlVQQovHvPS2nS1REiasNjjf37J7WfKOkiQxSIhRrnU2OBFkknCXNFUkYS7Hh9o9IZ_QJ9eIkyovF4Iji5NVe6wdQQbUQVtg2CrIu1Tocp9uQ3L8kEciIh4HRlcC_XK2c1d22YBRiUj~FFNwY445Tk5Dj75t8BAXWTK7Xlkx4A1r1qwniw87mx8IfVvFi3XOpkMKgcotlt5VJwE4fVd4TTOtuH1VP7BwtOsm45t0BDX4H6wwRHXK4~M7v0JsqVj2eIOon6hLxRn8YsPEXAm~hw.jpg
//media.inmobalia.com/imgV1/B8vEv5Xh8DZJ8zA8HsKlVQQovHvPS2nS1REiasNjjf37J7WfKOkiQxSIhRrnU2OBFkknCXNFUkYS7Hh9o9IZ_QJ9eIkyovF4Iji5NVe6wdQQbUQVtg2CrIu1ToYj2v0rvruRm1MRW_Mhsm3bzZms1Z_Gz2I6WT_FYuWKSKA9r9l7pLPh~h8_WLev0dPs2M7S~Si97_BAAmzdjv3qWfjHREheM7uZtH007s619KNS_vF86tz5gREmtYYnhrYToyu_~kQyHpPCS62ZB8p6SwaCkaKf4dlA0LbcwwCmukfa.jpg
Price

2.800.000 €

Ref.

2801

bedrooms

5

bathrooms

4

Built

700 m²

Plot

6.000 m²
Villa in Benahavis
FUENTE DEL ESPANTO. LARGE VILLA ON FLAT HILL TOP PLOT WITH PANORAMIC SEA VIEWS TOWARDS AFRICA AND GIBRALTAR. Ground floor: spacious entrance hall, guest toilet, living room leading out to covered terrace, fireplace room / library, dining room, one guest bedroom en-suite with dressing area and private terrace, Bavarian style breakfast room, big kitchen and utility room. Very large and flat garden with swimming pool, gazebo and outside covered dining area. 1st floor: master bedroom en-suite, children bedroom en-suite and another master bedroom en-suite with an adjacent study. Upstairs: attic room with open terrace and breathtaking views. All rooms are large and spacious. Under floor heating throughout and individual air conditioning in all rooms, alarm system, 50.000 l water deposit. Private drive way leading to double garage and open car park space for many cars. Service apartment consisting of living, kitchen, bedroom and bathroom. Possibility to build another villa dividing part of the plot. Quiet position surrounded by nature. Especially well indicated as residence for large families.
Features
Fireplace
Living room
Covered terrace
Air conditioning
Central heating
Similar Properties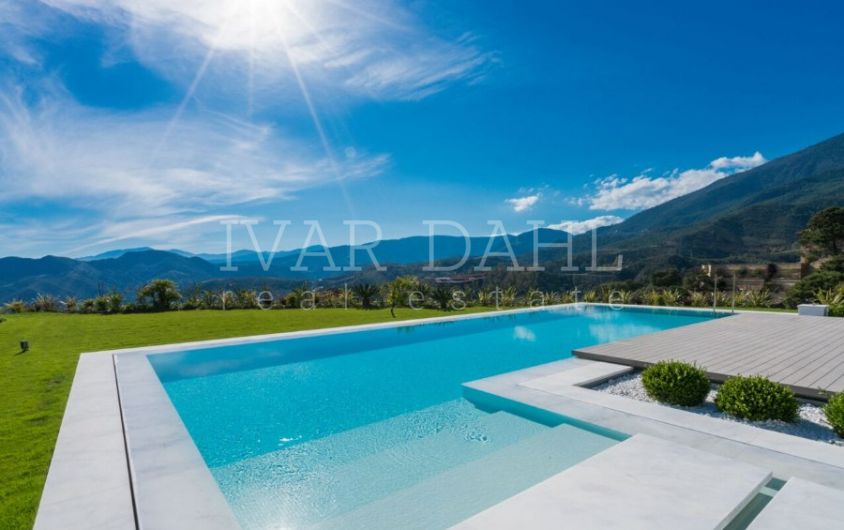 Stunning Contemporary Villa in La Zagaleta, Benahavis. This Contemporary architectural jewel is for those who seek a stunning house that has been designed to impress. Finished in 2016, this ultra-modern ...
6

bedrooms

6

bathrooms

1.145m²

built

3.316m²

plot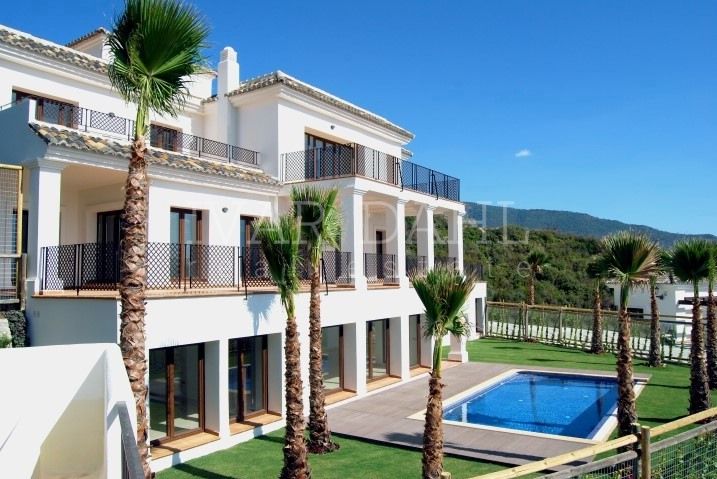 Benahavis, New Villas with breathtaking sea views, within secure gated complex with gym, spa, heated indoor pool, sauna, private plus shared outdoor pool and restaurant on site. Located in a privileged ...
4

bedrooms

5

bathrooms

757m²

built

167m²

terrace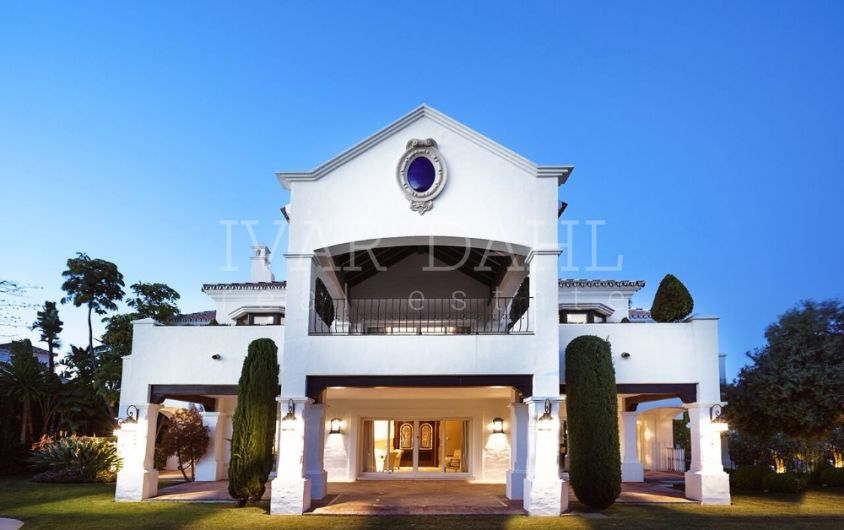 NEW QUALITY VILLA IN BENAHAVIS WITH SEA AND GOLF VIEWS! The Villa has an elegant entrance hall, large living room, separate dining room and sitting area with chimney, guest bedroom en suite, modern kitchen ...
5

bedrooms

6

bathrooms

531m²

built

1.539m²

plot