Villa in Monte Biarritz, Marbella - East Estepona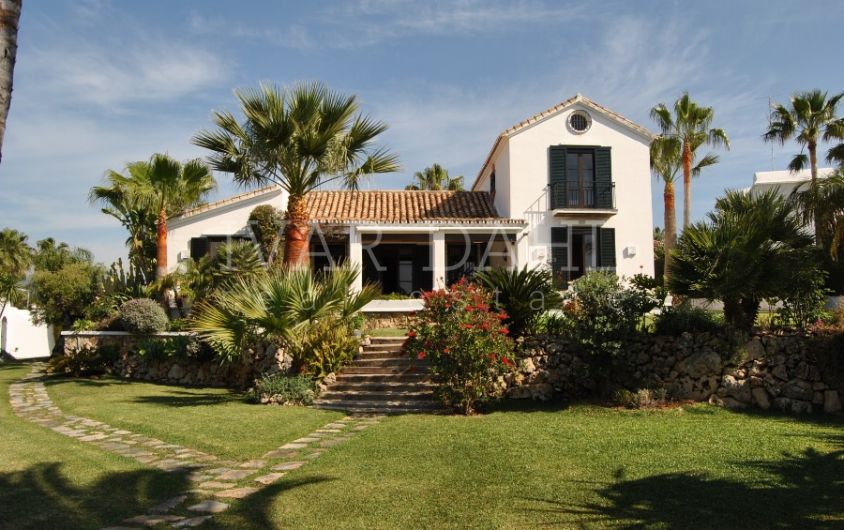 //media.inmobalia.com/imgV1/B8vEv5Xh8DZJ8zA8HsKlVQQovHvPS2nS1REiasNjjf37J7WfKOkiQxSIhRrnU2OBFkknCXNFUkYS7Hh9o9IZ_QJ9eIkyovD010ZqXRnaGP9GQey1jEwBL5mDPcQbeVWd1os3LC8CXHVVnW8pyZz4Hb_noqs_w2BH3J9aHFw3eBEBsVUH0EuAT8GTGEKuSeDZ7UB09rakGUhVLKQqsGmBh0aC0uNAcufuIuFRod9k2Hp6d9JmrYpA_Jbr69asWmQxR~9nicSezRnIVpO_CmRm6q_fUgmteDDWddOiZ0hS.jpg
//media.inmobalia.com/imgV1/B8vEv5Xh8DZJ8zA8HsKlVQQovHvPS2nS1REiasNjjf37J7WfKOkiQxSIhRrnU2OBFkknCXNFUkYS7Hh9o9IZ_QJ9eIkyovD010ZqXRnaGP9GQey1jEwBL5mDOV28WFAJdPdVlC5wfa9eL1oj1__FC_No3X_5EEpVxAJYCVBY3Fe4F5N0LwHFUbHicbgPAshvDxjuHPg5c_RRjueQddySis3rPpuFEnH8lTYZ61i_J6OT3YmD16m7y0InegL1Q83XvYowv~Ca~~vk6TRGAzaSaIAkpFU6YzRMIU6~Vw2l.jpg
//media.inmobalia.com/imgV1/B8vEv5Xh8DZJ8zA8HsKlVQQovHvPS2nS1REiasNjjf37J7WfKOkiQxSIhRrnU2OBFkknCXNFUkYS7Hh9o9IZ_QJ9eIkyovD010ZqXRnaGP9GQey1jEwBL5mDOmNHviIz3NcmvDUl_lvGiRvxDA9fRnfC_eWBz3A0u4ydaJtQzJ8w2bYWPhWoTuVsiQzYHcaFKBSwI4WzdgiCnfmfpLRPVfH_pOPFuALcmrBcpTrbX6VAL1LZFz8s616YQRQ3GN3cWqKTDVGE_DSN6JaW~z5ZFKKKHy1agPlq4NfOqXRq.jpg
//media.inmobalia.com/imgV1/B8vEv5Xh8DZJ8zA8HsKlVQQovHvPS2nS1REiasNjjf37J7WfKOkiQxSIhRrnU2OBFkknCXNFUkYS7Hh9o9IZ_QJ9eIkyovD010ZqXRnaGP9GQey1jEwBL5mDOMNhHAf6Y0YHWNQyG7PqJ31oLVStIz7xXM58R~V2XZPx~f_liWE1LqCP_OGr08FKJS4sGhVH3MS0rWt0UI9BJ_c7pgIOkctpZwydLdsBmxMLQysMp86x74ursED2UHrCVxoMYUAgTUZJhf_lwdD52b0X48PsQOZ2drMVQKEFohSMZ9~i.jpg
//media.inmobalia.com/imgV1/B8vEv5Xh8DZJ8zA8HsKlVQQovHvPS2nS1REiasNjjf37J7WfKOkiQxSIhRrnU2OBFkknCXNFUkYS7Hh9o9IZ_QJ9eIkyovD010ZqXRnaGP9GQey1jEwBL5mDP11yQOKx2wZyyjYis5nblrskWsAYxfWOgtU22IiKhy0iVaXBReckUInbNMGTdc93DphmXeEx_GuMZNgToOMqmvqEQnxN~bF2ZOdz0DZzJIWHb2~WSfckflx4BTr2jM9J0Zqfg6AyNTQuWqlW0pIJMgcAhUjPVWmXBgMII7kAbyGnecF7.jpg
//media.inmobalia.com/imgV1/B8vEv5Xh8DZJ8zA8HsKlVQQovHvPS2nS1REiasNjjf37J7WfKOkiQxSIhRrnU2OBFkknCXNFUkYS7Hh9o9IZ_QJ9eIkyovD010ZqXRnaGP9GQey1jEwBL5mDP1NBoW9kDIM~4kpbO8uS8RpXEPDjs~5dAi~Yq1GIWyX0ICmTkuctQ8snVUxuSHXrHP_kKH4y5QB2l4_Ix6IPOHVPC~ZLTR4pQc69Yxb967X43Vsp8UQnOF4KwUCMIsuqe2tX0OMBbmBKA0uG_rQyNMherL5QwYhzVCYRF9O_EnWiAeum.jpg
//media.inmobalia.com/imgV1/B8vEv5Xh8DZJ8zA8HsKlVQQovHvPS2nS1REiasNjjf37J7WfKOkiQxSIhRrnU2OBFkknCXNFUkYS7Hh9o9IZ_QJ9eIkyovD010ZqXRnaGP9GQey1jEwBL5mDPEnAoTb4ObUjKV04I~_TroGjoFkJI8ScAMWOi~StAuTb~UsITyl4x~KD~yE9_Lps1dffVoD63OlillvUEgDolJ_jki90I83AZMYSLwcbuVeDR3_Vjeh7ER9uuu2vkJ7iBEwXXtd5hqK0PpN~~IyyW7GmkgRAfSJrcF3zNW5GhGrZLmUx.jpg
//media.inmobalia.com/imgV1/B8vEv5Xh8DZJ8zA8HsKlVQQovHvPS2nS1REiasNjjf37J7WfKOkiQxSIhRrnU2OBFkknCXNFUkYS7Hh9o9IZ_QJ9eIkyovD010ZqXRnaGP9GQey1jEwBL5mDPEqihTWKO9o7Z_NZ47ZTRjxoihuajaQdXAzCXVpkoIUHWC0g9WvqsnuoViOzBYUvjgmSErieumsX0Mfqxg5jXDzoKbvx6iyuZ~2WjL2EouV4KalY0XXuOicsXKeFvm4SJxBGCCxECxn4CEHkw3FfpmtXnCdx7_qfsJuKd1EVUSQKjNp_.jpg
//media.inmobalia.com/imgV1/B8vEv5Xh8DZJ8zA8HsKlVQQovHvPS2nS1REiasNjjf37J7WfKOkiQxSIhRrnU2OBFkknCXNFUkYS7Hh9o9IZ_QJ9eIkyovD010ZqXRnaGP9GQey1jEwBL5mDPEsZAEEQodC0slCzlFntxxiM6Yu~UOVEG0e9AGi3bwLaRFWxFOhfTuvVL_wUHqwp3jIpL91fzXXg1lpKKaXDvsgRaSWrjiO5b7Y41eytWxa2b7jUd0CJwEmSkagyKtGZAhmtXp0PjsvBqT28MSmWaPaQfbaUdIfgeVAZQmrecco6dOOx.jpg
//media.inmobalia.com/imgV1/B8vEv5Xh8DZJ8zA8HsKlVQQovHvPS2nS1REiasNjjf37J7WfKOkiQxSIhRrnU2OBFkknCXNFUkYS7Hh9o9IZ_QJ9eIkyovD010ZqXRnaGP9GQey1jEwBL5mDPExWjxix11_S0JvxiN5TJkz~z5kR6UjjAKxMoGbaa8ikd3OibVRbQE7~Z1JqPno9wg5yBDt3lYly3ANsOKcAOABiJiMxTxizqjUG1oKUSZQw0bbU1D43FeH2VZEQPSrsYB3KaBsHaNmfyyTnrQpqPBRG~L~v33si2xUZCoGyF8MxpD3x.jpg
//media.inmobalia.com/imgV1/B8vEv5Xh8DZJ8zA8HsKlVQQovHvPS2nS1REiasNjjf37J7WfKOkiQxSIhRrnU2OBFkknCXNFUkYS7Hh9o9IZ_QJ9eIkyovD010ZqXRnaGP9GQey1jEwBL5mDPE08xI7VhgdKK8A1M87qxYV4fUr9mluKkPrBx~Yj1N3yOHbucYZC~EiVknDUfpsnZ_aBC~51D3uD27gyobjgJsFDhcYnrx4zMXQ23qvw_NlG12BB782v27FujUB4_YUHb68u8DJzeUdv5SJFEwiezIMvF3mwKv3pZhmcQxOQIJSoPmdN.jpg
//media.inmobalia.com/imgV1/B8vEv5Xh8DZJ8zA8HsKlVQQovHvPS2nS1REiasNjjf37J7WfKOkiQxSIhRrnU2OBFkknCXNFUkYS7Hh9o9IZ_QJ9eIkyovD010ZqXRnaGP9GQey1jEwBL5mDPE51lAq~VljCdFPZw6oFrZJJNJ9i1CYlOnOlmz3GAMFE_5ooE7PBXYBMhuvT0nmbLiucCDva6ROOJVhTWagr9OVdfdVB0JohZO1_hqAqMzt5eWQmN2mwjNEtIgiIbOn4EJKTlRHzubrgeED4QZh1O1svt~eZIIp9K6~w2aNJ91sw7u~N.jpg
//media.inmobalia.com/imgV1/B8vEv5Xh8DZJ8zA8HsKlVQQovHvPS2nS1REiasNjjf37J7WfKOkiQxSIhRrnU2OBFkknCXNFUkYS7Hh9o9IZ_QJ9eIkyovD010ZqXRnaGP9GQey1jEwBL5mDPcFCeRF~RwXiSQowlC0WDqN5btkuJS9SlM2WE5QLnZ5MXNqfgqPbxPDSIq459p0U8jNXfK54aHP5hel8Y~C9Z5gsoXJ5daH7wg0g1PQcAMbNEJkIl3FqdI2VPS3qbMsRITFZ5fNpOzWLcdcNyDq32zXzyy9r7dTans~mn624ymrpKMdF.jpg
//media.inmobalia.com/imgV1/B8vEv5Xh8DZJ8zA8HsKlVQQovHvPS2nS1REiasNjjf37J7WfKOkiQxSIhRrnU2OBFkknCXNFUkYS7Hh9o9IZ_QJ9eIkyovD010ZqXRnaGP9GQey1jEwBL5mDPcBP4bTGX7NOp90mMgkpE3ho6YtFDiHSEs9sL87EqudCzZQrLQkYRHk4EWjcdueJT1n7ASlPORAVxRxT7ObIylDGovi__UXrHxwLqWfOqIJFXsJzdrc_Qx4DGBOBMUjgmtwZvTNhckDt_FPHLeMBx5650cGT5ZbpgrdRwmec9~cav5pi.jpg
//media.inmobalia.com/imgV1/B8vEv5Xh8DZJ8zA8HsKlVQQovHvPS2nS1REiasNjjf37J7WfKOkiQxSIhRrnU2OBFkknCXNFUkYS7Hh9o9IZ_QJ9eIkyovD010ZqXRnaGP9GQey1jEwBL5mDPcOKjZu5GuR7jd~e85nhwtOukM3es5zCvmmOpx32LPI_UQfLgemN9Q4DnVbAW39lfG7CzgjGqTPcLeLsNphueih9JjMdSEu1xBlnOdKaXwUQC221NyxbSOIwG9yxW8Ge9oIBmkKSc88uMHthifgQ_LsAQ8u_Ik2q_Ku8CcER4fgGP6lG.jpg
//media.inmobalia.com/imgV1/B8vEv5Xh8DZJ8zA8HsKlVQQovHvPS2nS1REiasNjjf37J7WfKOkiQxSIhRrnU2OBFkknCXNFUkYS7Hh9o9IZ_QJ9eIkyovD010ZqXRnaGP9GQey1jEwBL5mDPcJeDBIEw2alxkN4wAxF6CVB4o34TpVaEn~86GMGP8f0eAdLGGNoLDN6teaoli7ZSiFYcoSCzf4K5QR2qv4FDHjHBRaTjrNdeU5Pryt_LMt~JdbpvQkVUEG3KtDu6SsjXzL174XQDOPf7KIbrEMflsMUaoFnJVgNmnNo7vk0g~tJvFYp.jpg
//media.inmobalia.com/imgV1/B8vEv5Xh8DZJ8zA8HsKlVQQovHvPS2nS1REiasNjjf37J7WfKOkiQxSIhRrnU2OBFkknCXNFUkYS7Hh9o9IZ_QJ9eIkyovD010ZqXRnaGP9GQey1jEwBL5mDPcexP5XE1xldE76ZtTcCLNZN3F~Cbrh0m2N2W86hR3~A3iVX_a~0N5IUxWbEUajixRHBqk0jFYVXcTc0dUaZ2jh4lbYHF6SSs9xFVAl~9yrEA9a4oJAgRRSQViHXR6Ie_R4xeR8sCTHP0sZMU~qaq4do9xoGZwS4YR24SZEmAAlwAuiM.jpg
//media.inmobalia.com/imgV1/B8vEv5Xh8DZJ8zA8HsKlVQQovHvPS2nS1REiasNjjf37J7WfKOkiQxSIhRrnU2OBFkknCXNFUkYS7Hh9o9IZ_QJ9eIkyovD010ZqXRnaGP9GQey1jEwBL5mDPcjp2ynXubC9a3mF6BL41ZLsDIWWqJch~yWqqOQPesrpuBbo~B2VOBP~8cAlg6~KELP4ZI4mTfxH7Nh48AjY_lNJYq4qeD8KC7_eoEmsQQpx8BBhUmpt5TSumcCqaj3hWEcXwmhnzS9j2OCZrKMw05hwvfqn~Olx9~chm9QLh~jAEzl_.jpg
//media.inmobalia.com/imgV1/B8vEv5Xh8DZJ8zA8HsKlVQQovHvPS2nS1REiasNjjf37J7WfKOkiQxSIhRrnU2OBFkknCXNFUkYS7Hh9o9IZ_QJ9eIkyovD010ZqXRnaGP9GQey1jEwBL5mDOmab_j2~jbxtsgHOh8oAMR6u_3qpPo548dDyM_coGptuRPHB9NWa4h65IuzspEFL3CkLOSr27uGyXa2pcUoJxoRtr2Cvy8yXBLBiPq~DUM3t2kGjO~vMFfjxmAfMuYR3YAlds1oE7_HsK57tQYwX93gWNYfmRSmHb42uLInOyTWuhfwu.jpg
//media.inmobalia.com/imgV1/B8vEv5Xh8DZJ8zA8HsKlVQQovHvPS2nS1REiasNjjf37J7WfKOkiQxSIhRrnU2OBFkknCXNFUkYS7Hh9o9IZ_QJ9eIkyovD010ZqXRnaGP9GQey1jEwBL5mDOmfE2XOELi56lPUITBjPVKIlXu0zsGLGt9Ytl66o8mJ~gPRDfA4nwBe4MmlHYn_1E0LUTItZkZA5CavhqeBVMygnxqj~RFWDtKXo6XazC5K74DzKY72cEiYz74ksJeK5ZZ~O9ugFycdJl03oJsVI6oxQtZTqAg9ZBZbXPb0V3h~7RWe_.jpg
//media.inmobalia.com/imgV1/B8vEv5Xh8DZJ8zA8HsKlVQQovHvPS2nS1REiasNjjf37J7WfKOkiQxSIhRrnU2OBFkknCXNFUkYS7Hh9o9IZ_QJ9eIkyovD010ZqXRnaGP9GQey1jEwBL5mDOmWRclXhBQepBCjWX1D~CaGRieXN3cyvw4~bgrmABVTdQYdVa1hipGNmpFfejCjpgcy9eMaDBakChnMgvOdnA94APeFsAbyDQ_US3_M96QhOZ_aCyqkWofDLXX62Bm5RWmbMrGz1xdRrv3wUoWwYES3~rRy06iJQi_zGqZisB20wyQiM.jpg
//media.inmobalia.com/imgV1/B8vEv5Xh8DZJ8zA8HsKlVQQovHvPS2nS1REiasNjjf37J7WfKOkiQxSIhRrnU2OBFkknCXNFUkYS7Hh9o9IZ_QJ9eIkyovD010ZqXRnaGP9GQey1jEwBL5mDOmAVTV~eOSaH_r7Php_lgYH1KgJSh8Ul3lrOeRvaz6xxoDosJ1~KxWf9~gX7CCm0zsoO0C~5kCuI2ItzpfyOasCldQlGWK0cAHvq6dFmz2Ciq91PU~SfxRrb6iuUF0G6sMvaCtc079GsyTripulq_OgZUP~~SPZn3n_AbxpDvT3IR9Ir.jpg
//media.inmobalia.com/imgV1/B8vEv5Xh8DZJ8zA8HsKlVQQovHvPS2nS1REiasNjjf37J7WfKOkiQxSIhRrnU2OBFkknCXNFUkYS7Hh9o9IZ_QJ9eIkyovD010ZqXRnaGP9GQey1jEwBL5mDOzizbge_6M8y_ArNMrooAAoIrX41ekDPcMCzyhrbYNkaKM_0FtiRRyUS7M~852p~I_zYcDSDsCaVN7Ua~z7eC7X1VDaV7vze6hR0ZmJkGDPP6tnLOslagtH9L5IV~1~0OtX2u7ACc6Ds0ruOzz5poVazy3h3mSn_oPLHMJshbd3ZcFHt.jpg
//media.inmobalia.com/imgV1/B8vEv5Xh8DZJ8zA8HsKlVQQovHvPS2nS1REiasNjjf37J7WfKOkiQxSIhRrnU2OBFkknCXNFUkYS7Hh9o9IZ_QJ9eIkyovD010ZqXRnaGP9GQey1jEwBL5mDOzbilcWgY8aDEHspgHBctvA2GjViklSN~yh6JF9KFblcNLfp2MlbhlqEcc5ZfZZwuwYBIzZ~9rIY_qi5csqHMYQ249WpoJCrcS__0m_ACwg2PfZBhS7UQjaZ3oC_27OnLtRhKUijWvJq7rNII7F7ALdLiSC18eIm52AoHBtt70ZZAIWC.jpg
//media.inmobalia.com/imgV1/B8vEv5Xh8DZJ8zA8HsKlVQQovHvPS2nS1REiasNjjf37J7WfKOkiQxSIhRrnU2OBFkknCXNFUkYS7Hh9o9IZ_QJ9eIkyovD010ZqXRnaGP9GQey1jEwBL5mDOzfTs_kij9FSx5iByA82d0uQ3vAsjuV9nopOJj3ayjFqSm9~kWjwQb1nxOeNxocobSIGaHYExxyF3w_vl~fXwvRVPnQEk6e4~S84BOilRxi9~I4FfqZGcXTnrmcnIvLataNaCKcEOo~_18A3u17X6Vl5jAEOe0d5ViuuEOikxnmN824l.jpg
//media.inmobalia.com/imgV1/B8vEv5Xh8DZJ8zA8HsKlVQQovHvPS2nS1REiasNjjf37J7WfKOkiQxSIhRrnU2OBFkknCXNFUkYS7Hh9o9IZ_QJ9eIkyovD010ZqXRnaGP9GQey1jEwBL5mDOMqloEJTh7ifYTy9DlAjJ7GSGSNHn91mBjVvLV31Mk4xX_RrqGQKaas5SOsJLYpInfDuUwqF7eWkJTS0TpDusHomUG174iosy1DtFqic8YJZFsYmgDVv~lywOotSBXs7YeTH6fSS50XR3N6HZPQY3yBaGwnrefEPUQSomBqNPvB06b5A.jpg
//media.inmobalia.com/imgV1/B8vEv5Xh8DZJ8zA8HsKlVQQovHvPS2nS1REiasNjjf37J7WfKOkiQxSIhRrnU2OBFkknCXNFUkYS7Hh9o9IZ_QJ9eIkyovD010ZqXRnaGP9GQey1jEwBL5mDOMz79Ss~hPmzNpqMuFv0N4Zd7Ihr8~m9K8FxHFyzAAM91tm4IKs7VvGHkDZANl6xYLBFe_VTNmHsswkq6WBCCNVlpMrzlDcLRQJZ9IaNJNaLmzGuBiVlKE4ke~WefN8YCY0y1c_BXJqvXi82mhDkCNEy5rRvUp5KvC4mAFyZr6y1InbE.jpg
//media.inmobalia.com/imgV1/B8vEv5Xh8DZJ8zA8HsKlVQQovHvPS2nS1REiasNjjf37J7WfKOkiQxSIhRrnU2OBFkknCXNFUkYS7Hh9o9IZ_QJ9eIkyovD010ZqXRnaGP9GQey1jEwBL5mDOVjl7p9XB3OKastRox~IwPZ22reLDYjRET~uddxrilwMkEKXz4OQIca_qqCuLxcaiGeApbVJ8e9gGM0x5nuqlUUK2lO6hnsdKU5ylF_rg738F0wnEKUXBX5Z8J5n61RT5IbPTjR5WJcqKsv4D69UaavWMV0ZMItCu93Qy93SrYYgTUgv.jpg
//media.inmobalia.com/imgV1/B8vEv5Xh8DZJ8zA8HsKlVQQovHvPS2nS1REiasNjjf37J7WfKOkiQxSIhRrnU2OBFkknCXNFUkYS7Hh9o9IZ_QJ9eIkyovD010ZqXRnaGP9GQey1jEwBL5mDOV9MBM_6uTveIG~hGa9ye10yZxVXQ1D21bKXaU1KYSu6cDJtTgz1KdminIiEZZRTMsIOhaugHbPhCEskpLe~7~ncnDkZtV2DcVfF_cutlvZNyCgEasOGAMyTkPg7FeYimHObYtVQagGZ4MClLcBZJkuaQs8BT9vF_peyU5qwFI~0tARb.jpg
//media.inmobalia.com/imgV1/B8vEv5Xh8DZJ8zA8HsKlVQQovHvPS2nS1REiasNjjf37J7WfKOkiQxSIhRrnU2OBFkknCXNFUkYS7Hh9o9IZ_QJ9eIkyovD010ZqXRnaGP9GQey1jEwBL5mDNm6A~90sgSyI3r0pCYonoKdyHiG8gv7_Tm66Y1n~mu5gF~NHFdW76GfklyN~V4SE9~ST3URdDLTyxmSpDLEQJmnhbMcxZTYsfxRJQj5hTv0TBX~KCXfWtFkx4N9AKc8lDTrBhX3lFbUqRV8POJZr40V0xTtmqRSH9d3v8Rdv1kWmjtgu.jpg
//media.inmobalia.com/imgV1/B8vEv5Xh8DZJ8zA8HsKlVQQovHvPS2nS1REiasNjjf37J7WfKOkiQxSIhRrnU2OBFkknCXNFUkYS7Hh9o9IZ_QJ9eIkyovD010ZqXRnaGP9GQey1jEwBL5mDNm_0wyoArIH9t5B2jBKIOliaYw0DvKiBG6qP6_zCu0uc17g2Bevt14iCT7qYNoDn8__RYSfrRkZrHyblAD~dVZ~5SSbRTBgraDkT9He6yxmuaZ87ruDBbW4GL0Jv6I~hWgzNF1s8DF6irsgRq6~KrPXqWXCMtwzUPwd9VPnzIIN8XKhR.jpg
//media.inmobalia.com/imgV1/B8vEv5Xh8DZJ8zA8HsKlVQQovHvPS2nS1REiasNjjf37J7WfKOkiQxSIhRrnU2OBFkknCXNFUkYS7Hh9o9IZ_QJ9eIkyovD010ZqXRnaGP9GQey1jEwBL5mDNmYZ5iVXtAClMQYYyQv0hTlJMUmYjwQIH1g_bfZDBkyFyJUKWj6vU07mjB_eL5eWPDxGMwzG5JCXc7_JuQTJX4Os1JCs1uFKjvWrfdjGmwjsjpnBqn4wO2cniiC3Wh0s8XB9_vwm3DkZSXa9rUoRcXIbatkjABGDN~gP~wAr8G0r2ZHL.jpg
Price

695.000 €

Ref.

4015

bedrooms

4

bathrooms

3

Built

308 m²

Plot

1.246 m²
Villa in Estepona
Villa in Monte Biarritz, Marbella – East Estepona. Rustic but elegant style villa designed by renowned architect. Situated in quiet residential area. 5 minutes drive to golf courses, shopping center Guadalmina, restaurants and beach. Villa distributes as follows, ground floor: entrance, spacious lounge living/dining leads into the living room with hich ceiling and fireplace, one bedroom with bathroom en suite, second bedroom and second bathroom, fitted kitchen with utility room, food storage and boiler room. Covered terrace with dining and sitting area leads out to immaculate maintained large garden with swimming pool and gazebo. Upstairs: 2 bedrooms both with high ceiling, one shared bathroom, one balcony with open views and a big roof terrace. Central Heating. Garage.
Features
Utility room
Fireplace
Alarm
Central heating
Similar Properties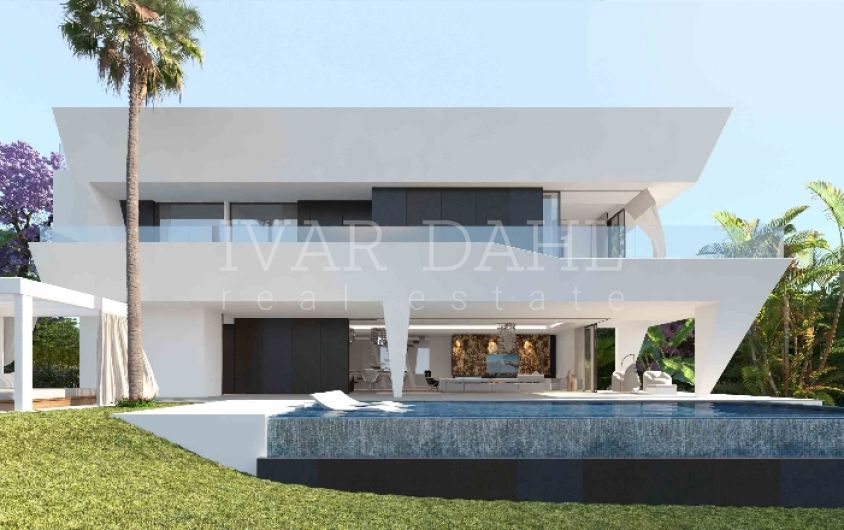 Detached villas that can be set from 2 to 7 bedrooms and 4 to 6 bathrooms. With individual swimming pool and 24 hour security.A project where you can design your home by customizing it without limits as we ...
4

bedrooms

4

bathrooms

364m²

built

552m²

plot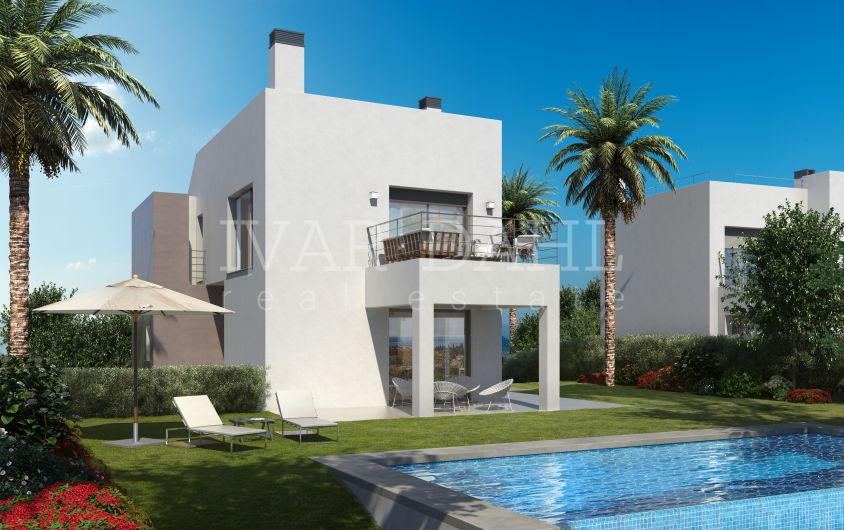 New modern Villas in Golf area of Estepona. Villas of 356 m2 average, built with top quality materials and finishing. All opposite the 7 and 8 hole of the golf course. Plots from 612 m2 to 766 m2. Modern ...
3

bedrooms

3

bathrooms

356m²

built

612m²

plot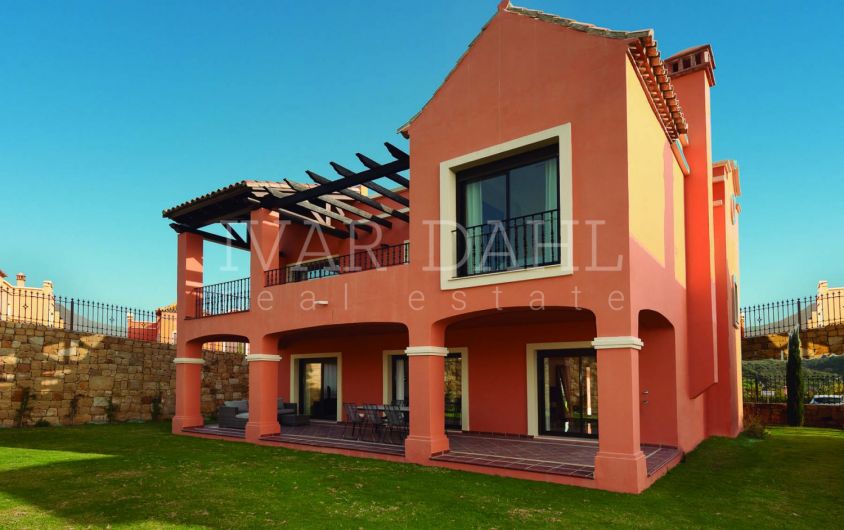 This is a new residential complex composed of 45 detached and semi-detached villas in a unique location, surrounded by lakes and greens. The design of the houses is the expression of style and modern living. ...
3

bedrooms

3

bathrooms

231m²

built

418m²

plot