Rio Real, Marbella, new Villa project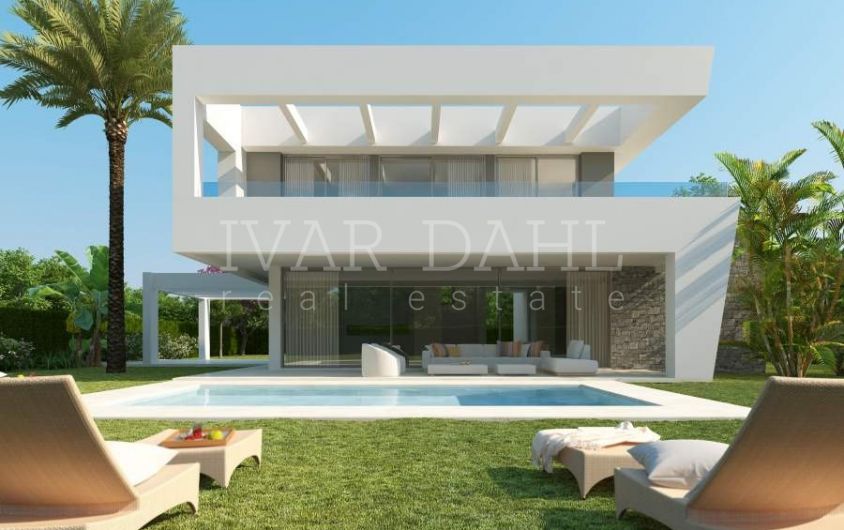 //media.inmobalia.com/imgV1/B8vEv5Xh8DZJ8zA8HsKlVQQovHvPS2nS1REiasNjjf37J7WfKOkiQxSIhRrnU2OBFkknCXNFUkYS7Hh9o9IZ_QJ9eIkyovD3LtH2KijRju~9rxHoL9Y0MFIYHNvuVwcvL2J93Rd2ge_2_VBloa7Bbg6WWfxloYihWZfc04qUagSefHS4SArysBIK_o7EMkZiipk2~NEGC_EhEc_mKtFgRHujmdWcUrJvjS7v_xnTFN_BXKGM10P6wEKhFIM21LH9Te2zevKqKjWp7K3UUhe1sF2toc0Iqa0LRJGWhPSg.jpg
//media.inmobalia.com/imgV1/B8vEv5Xh8DZJ8zA8HsKlVQQovHvPS2nS1REiasNjjf37J7WfKOkiQxSIhRrnU2OBFkknCXNFUkYS7Hh9o9IZ_QJ9eIkyovD3LtH2KijRju~9rxHoL9Y0MFIYHalgJlMEFECVeU4i260C6gWNEKEKObJZH51pV~dbHpr_L1J~T4Bul4mBEDhzFWRifTjZOcTCWfCtp4tFos0AoMiJPZHL~OnMn3NtaVDKLBBeGQjO305WWda8NKhCr90awdeO5bHA98eXU108fjVHX7NJF_ULVmZfroZNbK8fpmq~QLL1.jpg
//media.inmobalia.com/imgV1/B8vEv5Xh8DZJ8zA8HsKlVQQovHvPS2nS1REiasNjjf37J7WfKOkiQxSIhRrnU2OBFkknCXNFUkYS7Hh9o9IZ_QJ9eIkyovD3LtH2KijRju~9rxHoL9Y0MFIYHNzoTg_nsuYuo~DjLExoKtm19JI5Dw4VkF9__pqoq2WCUDOaEETw69nQ5YT0sZQ_nHcbw_0tHZCjmJu8Budd~KHJoP9ybRv00_p6gDYppcyw~oYyOs1rwDH37RV3cJUqy9a4jJ5tyo1PfNwkBu_YRrklg9BvlcGnQmmcK75YfJL8nmHS.jpg
//media.inmobalia.com/imgV1/B8vEv5Xh8DZJ8zA8HsKlVQQovHvPS2nS1REiasNjjf37J7WfKOkiQxSIhRrnU2OBFkknCXNFUkYS7Hh9o9IZ_QJ9eIkyovD3LtH2KijRju~9rxHoL9Y0MFIYHNBCda7FEgRt4v86LrhzM0T3oD1fO7Nh8WDeuu8HswIFNaWn3ozU~GdYSlULQqtxnuLbd~knJ~3T33DXyErhGtrMATGj~VJBNEngXxFIOibWjI0IACj7ZEByv8xaIrckUXtQkoNvcwGlxKhnqiHPKAq7KYezUbE5a2FAimoj1C4EM~xU.jpg
//media.inmobalia.com/imgV1/B8vEv5Xh8DZJ8zA8HsKlVQQovHvPS2nS1REiasNjjf37J7WfKOkiQxSIhRrnU2OBFkknCXNFUkYS7Hh9o9IZ_QJ9eIkyovD3LtH2KijRju~9rxHoL9Y0MFIYHN9JiwaHwXr7N~3rIS_MnbGEVziFHOK_IbM~meG6wBj_2mu63lRBqgZxc34VWFD43FjZYuM_F5UX9oTPtS2MkE7kzubQPdzTRLY2FwshSneMAw1FIN4mzd7efHWShsrpgIdwXhmQ0MOIsjh9fZzjyQOrLGW1r9JSkdY0zzrSiUp2su9k.jpg
//media.inmobalia.com/imgV1/B8vEv5Xh8DZJ8zA8HsKlVQQovHvPS2nS1REiasNjjf37J7WfKOkiQxSIhRrnU2OBFkknCXNFUkYS7Hh9o9IZ_QJ9eIkyovD3LtH2KijRju~9rxHoL9Y0MFIYHafF2Q4OzNNdyCM1kIFh0jO_09v5VTf7gkeKa9~cwKJImAAplU9PQ32eiBPYaaAhLH46Jnqvtg4CYJE7rrNPE2VtsPmeCBjfcl1OS9HqzycpNm7QiIwLrf5iZBjgE6Xh9y8tS8VE8gKG2_BvGf_ZIiACfrsc9ZYQTM0yLcFo1oTeFcYL.jpg
//media.inmobalia.com/imgV1/B8vEv5Xh8DZJ8zA8HsKlVQQovHvPS2nS1REiasNjjf37J7WfKOkiQxSIhRrnU2OBFkknCXNFUkYS7Hh9o9IZ_QJ9eIkyovD3LtH2KijRju~9rxHoL9Y0MFIYHabpHQ9zfrtWNOxTCOdV5D6If5h_oQ5OMzC_C0XrR1k3zGHvupNmaUsA6_n3bynUVUgPpYcX2HuWGIsAJbNIGCo3mCjaYOJs5QlYLk~3HMCScDWpjWQMfPYAlN2aprj_T7x3mcptOhbyf3p_OtdcjBSn31lBsuwp00cL1ilTP8Tkqgzz.jpg
//media.inmobalia.com/imgV1/B8vEv5Xh8DZJ8zA8HsKlVQQovHvPS2nS1REiasNjjf37J7WfKOkiQxSIhRrnU2OBFkknCXNFUkYS7Hh9o9IZ_QJ9eIkyovD3LtH2KijRju~9rxHoL9Y0MFIYHazeOfHiUEdBEbObkHw9LpaHVcMj81o2GkgDwmuSm7Yahml1Nl5gNlvVs_6si2IpjDf3AvWrItF711VPE3OeyV7su5N2d63JEJIFrABOKmyTidC6Dbe~zp6Y3rKkEDdAjQh0rAubQxxuB0EVGHmItV9Jt~QBG~k_aQ412zcJ8Jt18ccs.jpg
//media.inmobalia.com/imgV1/B8vEv5Xh8DZJ8zA8HsKlVQQovHvPS2nS1REiasNjjf37J7WfKOkiQxSIhRrnU2OBFkknCXNFUkYS7Hh9o9IZ_QJ9eIkyovD3LtH2KijRju~9rxHoL9Y0MFIYHagHVopp58OUydVBH3SWW7i5waoTbtzmkctyG25PbvUOxrsGZLCt192SE4krwlPlkOlnuancl4_c0vn6OdMPAwh6DIzDqsPUrdUfbCv2izPJoHuI7lesVzcVnGULUXvFXSA8fFONVqqiN_HrCIeA57vYz14KealkoHor1GzJ1X7Pd4fh.jpg
//media.inmobalia.com/imgV1/B8vEv5Xh8DZJ8zA8HsKlVQQovHvPS2nS1REiasNjjf37J7WfKOkiQxSIhRrnU2OBFkknCXNFUkYS7Hh9o9IZ_QJ9eIkyovD3LtH2KijRju~9rxHoL9Y0MFIYHao8FKCfT_e1AlEc6qIVkL_ad_Pg0yvblSsbhQ5075P0JcJ4R7TGIsxnMhKHBePJeYGn9WhKQlXjiYlyniVA37gA275GSdxUx6zFl5AtdyPSkNlJftHsuZrIq1Jfy2Ze0pzlqcZXi_BjIJZzFT4bobSSIKIVFeaRDL7JEPxuVKmJrY0w.jpg
//media.inmobalia.com/imgV1/B8vEv5Xh8DZJ8zA8HsKlVQQovHvPS2nS1REiasNjjf37J7WfKOkiQxSIhRrnU2OBFkknCXNFUkYS7Hh9o9IZ_QJ9eIkyovD3LtH2KijRju~9rxHoL9Y0MFIYHav9puGHay8QGQWAlcDnco90~58TL3vhmvbgwCwvcAGmDvXe5dFIt~63IezD9aC8Ywhb_eVWd3aCGFQiN119C0SLTLGAi3NuScj6fa8bK_clnftqeaipMhoQNS0vRunjPDqfn8kMUPedKrjUHIcqtzeG4MS5njWtE0_DEUeycpwZpwXX.jpg
//media.inmobalia.com/imgV1/B8vEv5Xh8DZJ8zA8HsKlVQQovHvPS2nS1REiasNjjf37J7WfKOkiQxSIhRrnU2OBFkknCXNFUkYS7Hh9o9IZ_QJ9eIkyovD3LtH2KijRju~9rxHoL9Y0MFIYHNovTHxyrCgTNyZTO~cmmniRjVNVtZ2REpJwvTOK6QhWqy_K~K_ezKnmR3UxRkl36z2Rgr_X4qMkwIpg_HJ1U6NvZyo1adA9Kd6a40P1OK4MSHEnDhvkJQc704iYaac4EP2xlehbgnK9mHKRX_5AV45jw27AnVaYXAUbqVyiHrrSwEcX.jpg
//media.inmobalia.com/imgV1/B8vEv5Xh8DZJ8zA8HsKlVQQovHvPS2nS1REiasNjjf37J7WfKOkiQxSIhRrnU2OBFkknCXNFUkYS7Hh9o9IZ_QJ9eIkyovD3LtH2KijRju~9rxHoL9Y0MFIYHNl2HcCKSVt5cjg_HIOtdmVqpsg2O79JGMdLRlewLIth3~ewX0dCNKVSt9yRw4_2G_mKgGlwzl3keIsWSTbonh1tp6eha7~R2mNNJBSFljM~nuyCMXcG45z0Jb0Zn1ueZHja_~esfiItoImg1SnenNaRWbs1iGFwjCIA69d10RSCCQ7B.jpg
//media.inmobalia.com/imgV1/B8vEv5Xh8DZJ8zA8HsKlVQQovHvPS2nS1REiasNjjf37J7WfKOkiQxSIhRrnU2OBFkknCXNFUkYS7Hh9o9IZ_QJ9eIkyovD3LtH2KijRju~9rxHoL9Y0MFIYHNgD4IKAHkbu3qhcJ1eElrxg3yEiBmvTMbc5JWr681jkwru8BcDb4lg9ip1pCaL9tRp7Y4ExgLWIURUXzRlfbwGTzKDe~tY73unPbbJ_X3UAb6uNyFFG8H4RO7e99lPrablTvZo0XM_To1UjxCHORPcM88TIZnP8c6LAFFd32qITCoVq.jpg
//media.inmobalia.com/imgV1/B8vEv5Xh8DZJ8zA8HsKlVQQovHvPS2nS1REiasNjjf37J7WfKOkiQxSIhRrnU2OBFkknCXNFUkYS7Hh9o9IZ_QJ9eIkyovD3LtH2KijRju~9rxHoL9Y0MFIYHN7Qeb6kCU2S8LZBKSMjpPQBSrxtcc~2xdZBY1T_Pels1wmYchS22qKo8h~F1Mg7asF8XJ20ZXJC_Al1OyMYTcnCTYx08rxmD0JCTkac1AYIYU_jX0TZUK7LA7hp9CZAJeceX0~vKzXlMhR6NXZUbrRrfNPa8N0PD52u9BFn5EIO8lov.jpg
Price

1.375.000 €

Ref.

4064

bedrooms

3

bathrooms

3

Built

340 m²

Plot

517 m²
Villa in Rio Real, Marbella East
Rio Real, Marbella. This new Villa project just east of Marbella town in a peaceful residential area dominated by gentle olive and pine-clad slopes, golf course, beaches and dunes. This location has the distinction of being highly central and peaceful, thus endowing the private community of villas with the best of both worlds. The choice of modern contemporary styling may follow the latest market trends, but it is also an integral part of the vision behind the project. It is designed to combine a sleek architectural language with a tranquil natural setting surrounded by olive groves. In blending nature and modernity we wish to offer a perfect combination of both, as in the case of a location that is peaceful and secure yet also central and convenient. Modern, stylish interiors, natural light, spacious bedrooms and large terraces are at the heart of this concept. There are a variety of kitchen layouts available which allow you to personalise your living area. This project is more than just an idea. The concept is the result of years of accumulated experience in the real estate market; the highs, the lows, the trends. It bridges the gap between apartments and townhouses on the one hand and Marbella´s opulent villas on the other. It combines the freedom and lifestyle of a villa with the practicality and cost of a smaller property in a way not achieved before.
Features
Utility room
Fireplace
Double glazing
Brand new
Dining room
Security service 24h
Private terrace
Kitchen equipped
Living room
Amenities near
Sea view
Transport near
Laundry room
Covered terrace
Air conditioning
Garden view
Pool view
Close to Golf
Uncovered terrace
Similar Properties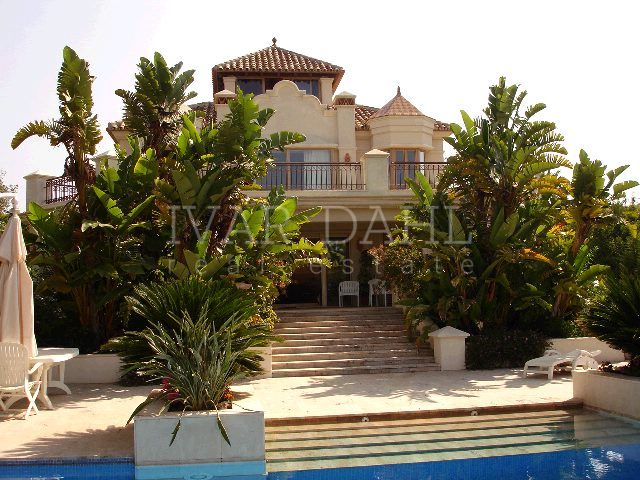 Las Chapas Playa, Marbella. Prestigious Villa, 250 meters away from sandy beach. 4 bedrooms, 4 bathrooms, 1 guest cloak room, spacious living room with fireplace, separate dining room, chill-out or reading ...
4

bedrooms

4

bathrooms

382m²

built

1.000m²

plot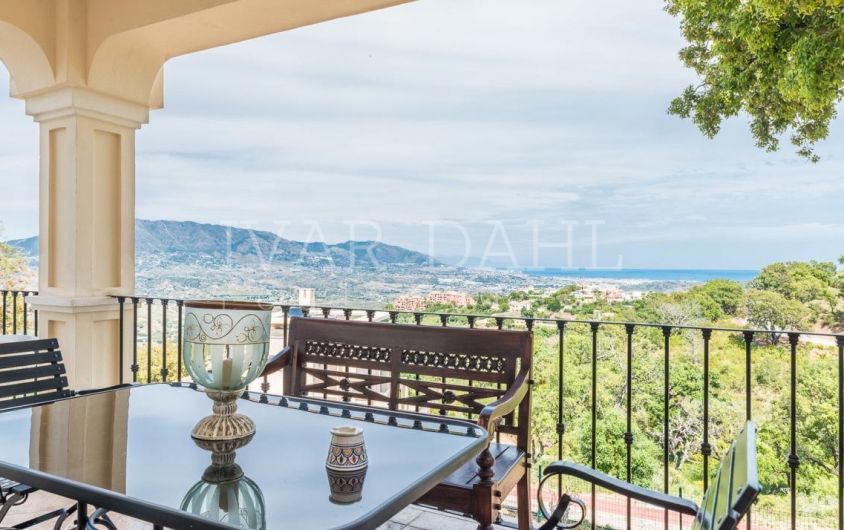 Villa located in beautiful La Mairena at Elviria and on the East side of Marbella, this majestic 5 Bedroom and 6 Bathroom Villa is simply superb.It oozes style, charm and class, from its magnificent hill top ...
5

bedrooms

6

bathrooms

798m²

built

3.000m²

plot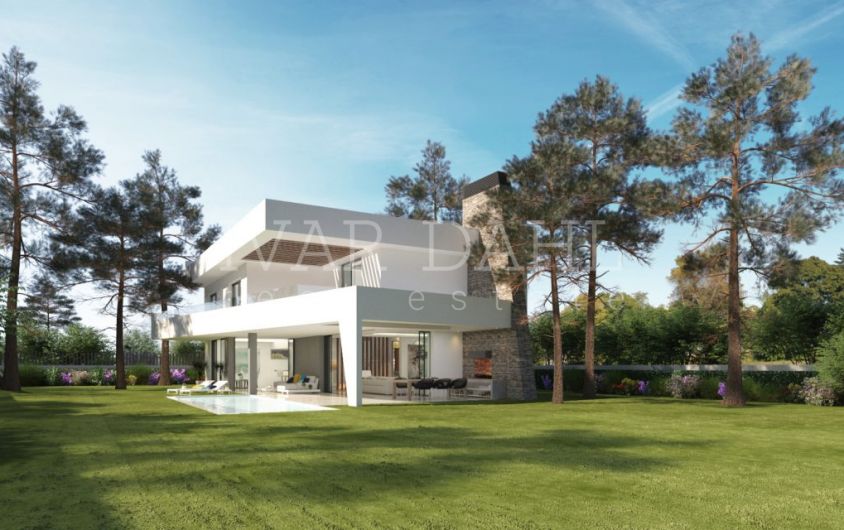 The Villa is wonderfully designed and feature 4 Bedrooms with 3 bathrooms, large open plan living areas that connect the best of interior and exterior living spaces by the use of large windows, natural stone ...
4

bedrooms

3

bathrooms

450m²

built

1.091m²

plot