Luxury Apartment for sale in Jardines del Principe, Golden Mile, Marbella
//media.inmobalia.com/imgV1/B8vEv5Xh8DZJ8zA8HsKlVQQovHvPS2nS1REiasNjjf37J7WfKOkiQxSIhRrnU2OBFkknCXNFUkYS7Hh9o9IZ_QJ9eIkyovD3KRrqfX2~Xj2ZMiYwaF4pnt3DWZsHE2SbMrcITqklWjJySdrt7lEQVlqT7dRFguI~EHgSEQXKetveRXLJNQUQF_eRXeTNHx439bDOFlcSHdPVZ1TTKmcYeI3x9aQxOkR9p8mEeDFdsTMK6ZjJ1jiIp5jDYvU3neKJeWgmPnepp1HbXuSvwgbltGOffvl3fikzPA3lmDLg.jpg
//media.inmobalia.com/imgV1/B8vEv5Xh8DZJ8zA8HsKlVQQovHvPS2nS1REiasNjjf37J7WfKOkiQxSIhRrnU2OBFkknCXNFUkYS7Hh9o9IZ_QJ9eIkyovD3KRrqfX2~Xj2ZMiYwaF4pnt3DWZQ9OoCCWHtoKJGf3wUxqwtiSot7vmPUZJh8puW2lB3bztrfHo313e1fzHZRqphYsRr9Q6nqGICXaVM9PHZoatPEH6SGXFLYhi5tzUbIOd4sz1TOFo9Q5J2QRiMvNbf4GcJ3KTwbX~4kUUxwFM4pg2~D~Z54sHuJgXtG7V_RkcslB_16.jpg
//media.inmobalia.com/imgV1/B8vEv5Xh8DZJ8zA8HsKlVQQovHvPS2nS1REiasNjjf37J7WfKOkiQxSIhRrnU2OBFkknCXNFUkYS7Hh9o9IZ_QJ9eIkyovD3KRrqfX2~Xj2ZMiYwaF4pnt3DWZW4OWOxLsqJ4CYJQjwJilTmuC6qUXlEvyPP501MgmcV~aU5re37FxhohM4kK4Na9DxCMSnNsrCTJRKjgbwgeFOPHRsDWL6hW11e8LHJ27rQLh1_tkYJKZTEsYpgkvvPoyvKquDnLLLZGcrn~1gZ_aqlCQClO__WbiI3FjmCU9fPX_mz.jpg
//media.inmobalia.com/imgV1/B8vEv5Xh8DZJ8zA8HsKlVQQovHvPS2nS1REiasNjjf37J7WfKOkiQxSIhRrnU2OBFkknCXNFUkYS7Hh9o9IZ_QJ9eIkyovD3KRrqfQRL~cQeu8W2bjrh7WlqvwGS3SyoP6tZb98rUqFAjTqz~LWZ1YED4rQyoDENtuXxu4yvsnkGL~Kz9ICP4PDLJX9jNjx9yxahTC~~aqX94CeWeSukFZaBlMIc492d8j6sb8gnOpWaJIYW6RYsaTM~nRvEyMgi31Pibf6dlxGzEkI5V4fMGeInz2iLGFOpsbBRWPXb~qDL1TN_maBNNJ3zFJ4e2hbB_8c-.jpg
//media.inmobalia.com/imgV1/B8vEv5Xh8DZJ8zA8HsKlVQQovHvPS2nS1REiasNjjf37J7WfKOkiQxSIhRrnU2OBFkknCXNFUkYS7Hh9o9IZ_QJ9eIkyovD3KRrqfX2~Xj2ZMiYwaF4pn4tJMh1350sbQ1FIcr_Kw8SVDRD5CsyAb3m6bN1WnQ3QoZsuZfQOX1zC2YM3RKejBMf_bSYWvnuMcElPFMYVdEKPfRTRzY55WNIbx1M3JhXu2h_NBJp608XMLf6Ild4HWxBWLZHYwZgmPANqepM_Rwh19EvPnWx7vaV_y8dn3eOx3mdXe_JD.jpg
//media.inmobalia.com/imgV1/B8vEv5Xh8DZJ8zA8HsKlVQQovHvPS2nS1REiasNjjf37J7WfKOkiQxSIhRrnU2OBFkknCXNFUkYS7Hh9o9IZ_QJ9eIkyovD3KRrqfX2~Xj2ZMiYwaF4pnt3DWZiEmDd3nXnnV1U~7z9ADJPmV5kkq9z9CyTTC9bjdoDZ~M1jScbM6cSzLEOX437nktlDVXqRFrnAnj_IqSl0hhvSs7qMs5VJZxuoJ9AxfxdF9PsFEA~I0_eBUlZLFPOuSNKNC4gdst4Zwjb9Qw9DA1pbRmtaWV1RuAd9yvkY1K_y682v.jpg
//media.inmobalia.com/imgV1/B8vEv5Xh8DZJ8zA8HsKlVQQovHvPS2nS1REiasNjjf37J7WfKOkiQxSIhRrnU2OBFkknCXNFUkYS7Hh9o9IZ_QJ9eIkyovD3KRrqfX2~Xj2ZMiYwaF4pnt3DWZpL393F1y~oGJEolGY~khBGoPbf596Hcy3wtIT0uLNiE6c8DY5vO9HmCANaWLc0axVYqtCxUajU9s5UH2yJCXUu87uYeGAppCAUHyZOrmgcIsnqrCpli4Y3Mig14Pd8FF0xhnbm3q9sWvO2xIgVO~4xrbjA43BUHawq0JREruZdrrFA.jpg
//media.inmobalia.com/imgV1/B8vEv5Xh8DZJ8zA8HsKlVQQovHvPS2nS1REiasNjjf37J7WfKOkiQxSIhRrnU2OBFkknCXNFUkYS7Hh9o9IZ_QJ9eIkyovD3KRrqfQXWn1wbjXoEmY10mOGibLqEbwC99OGgD8cw1OND6HdfVgyc2LW165q1409XrdaM_NfdtkvkDCXqTFEnJ5ab~i~ENZSLBHxqSLG2pEDXUzbXd0QlqSgrF0uBq3H2QyLLo~0LE1uYPAug4eH3vT5SZsM0W_p8IHWO02I8sJuFXHhNRDVYVhk9VuEW3z~A81E5rTmgSJs0F323qXiOKF3IMlGBN6tCrCc-.jpg
//media.inmobalia.com/imgV1/B8vEv5Xh8DZJ8zA8HsKlVQQovHvPS2nS1REiasNjjf37J7WfKOkiQxSIhRrnU2OBFkknCXNFUkYS7Hh9o9IZ_QJ9eIkyovD3KRrqfX2~Xj2ZMiYwaF4pnt3DWHvoOU3rpYJnC_mQJkYYCetujjikA_Q1dU8MyRDqqiVY8L_YPjWCk9lWVI1Tcs5pzvng2gmYX31zEauasmxLR2nP5IxtiswD~HehSWwmd8el13YbNAR5rxSo90yWm40kox11HDE5Upl_0bW6uNCwoWT1Abc12QnekmT6r_JipcNFQCqd.jpg
//media.inmobalia.com/imgV1/B8vEv5Xh8DZJ8zA8HsKlVQQovHvPS2nS1REiasNjjf37J7WfKOkiQxSIhRrnU2OBFkknCXNFUkYS7Hh9o9IZ_QJ9eIkyovD3KRrqfX2~Xj2ZMiYwaF4pn4tJMh6j16TLHT_2vwMb7rCrrIlVLJhuIzpONleShIFD_D8~V2BqZ_rVK_XQLy4fHorkrrMxBYH8MqKeVG8tOqiHtydO5_5P9OgUqQhboNRwnTmSTpbpYDiK~8YKyCMj~zL~va~KAfLwiV8Wya_T_zz7dA4mwt7e9ROZm8WEufaao6HJcqPP.jpg
//media.inmobalia.com/imgV1/B8vEv5Xh8DZJ8zA8HsKlVQQovHvPS2nS1REiasNjjf37J7WfKOkiQxSIhRrnU2OBFkknCXNFUkYS7Hh9o9IZ_QJ9eIkyovD3KRrqfX2~Xj2ZMiYwaF4pn4tJMhkOv21mPVDHsDa_FZCRrWqNKzZe34B1BCheWeb8UOAEOkxR2L9jxcHbvJ2jAKA2gDT9gT2ExDEP1n1ziMDfMR7f9gFjMB2AhNUDAiv2AX34ApzildB7fdGaQA0l4knnsqQdw828XCMquguvoFlhGKnyaBIrD3i9fQls0n3PeHQsFDAA.jpg
//media.inmobalia.com/imgV1/B8vEv5Xh8DZJ8zA8HsKlVQQovHvPS2nS1REiasNjjf37J7WfKOkiQxSIhRrnU2OBFkknCXNFUkYS7Hh9o9IZ_QJ9eIkyovD3KRrqfX2~Xj2ZMiYwaF4pnt3DWZ9oYo_PYGDD0UsTqNWzuVuCDnCMfl8y9_OwTpTBKpyk4NWwfjJbry8wNBDc4w2W~8ZWlWKzOfHsYJUVz9Q8TZd5KLwKriEyCLWxn0cUKZu_4M1aUUSNb8sNFsjddJVJwCmtkRf3qiaHVNCe1eTz9BtTi85hctHd56aJ4wGeBkgA81p2.jpg
//media.inmobalia.com/imgV1/B8vEv5Xh8DZJ8zA8HsKlVQQovHvPS2nS1REiasNjjf37J7WfKOkiQxSIhRrnU2OBFkknCXNFUkYS7Hh9o9IZ_QJ9eIkyovD3KRrqfX2~Xj2ZMiYwaF4pnt3DWZ5jr6hq7jJ~O7XEusZn4w3AToHuRFVUibMRzyKhBaSvg2bD_WbjEWg9Mirnrd6SMvD~nJSb6eelXdh37svQYh6YPU5RiaIr8BAO2JExjNw28OL89X0GZut0LaeqVPKkVNDfYT5gN_qY5~wrihpUgAM6Cz~iWR57LC8x78~GNJnXmd7v.jpg
//media.inmobalia.com/imgV1/B8vEv5Xh8DZJ8zA8HsKlVQQovHvPS2nS1REiasNjjf37J7WfKOkiQxSIhRrnU2OBFkknCXNFUkYS7Hh9o9IZ_QJ9eIkyovD3KRrqfX2~Xj2ZMiYwaF4pnt3DWHrNCH54DJnVnOzzko56jLgArLhfwqGMQk~myUOC9PLj~oMaMICeTonLbGW1KGnxZrWEVlxhAlAJ9Hl7QSqPRDuqIHFsZrazvBMVrIjC_Ir9QpyB2FkVUZwY_vKNoluW17ECBbHezEl6Jq73~saLOSdMOyQdjdlF1kMnPfvOonsxun6J.jpg
//media.inmobalia.com/imgV1/B8vEv5Xh8DZJ8zA8HsKlVQQovHvPS2nS1REiasNjjf37J7WfKOkiQxSIhRrnU2OBFkknCXNFUkYS7Hh9o9IZ_QJ9eIkyovD3KRrqfX2~Xj2ZMiYwaF4pnt3DWHnAs91HuhTVOdNxFR9HqlRQJeDK9Gqrb08DhLiDANIiS~X2xs4T9TwYWgObiI0gAy1PZKAl4tTBFXtLQqp9h8DLGXmF370BVNoiTT9XmRLdLUgUUbkuhVgkYbDMwXxk7iTGw4HE6SK9kTdXtjMWQBMK~Lcz~opj_exFPBMcRnoLGk6H.jpg
//media.inmobalia.com/imgV1/B8vEv5Xh8DZJ8zA8HsKlVQQovHvPS2nS1REiasNjjf37J7WfKOkiQxSIhRrnU2OBFkknCXNFUkYS7Hh9o9IZ_QJ9eIkyovD3KRrqfX2~Xj2ZMiYwaF4pnt3DWHjTRRA12nAi7TdGQLqTTTZBwUvvHEk7PZE8vOkATAAzWfaOV7ZDM6Nk9sDrdEbOvfujCGukDjCaeCfjINaWrVZBJWrMLmSq1Rwu8mq9~sZzUsc_onSU13ucwbY~D4U7hiJxVGzJ6~BVIaPRUyw7KbxB9OTeKi88FlaVTjr56PSOkMCO.jpg
//media.inmobalia.com/imgV1/B8vEv5Xh8DZJ8zA8HsKlVQQovHvPS2nS1REiasNjjf37J7WfKOkiQxSIhRrnU2OBFkknCXNFUkYS7Hh9o9IZ_QJ9eIkyovD3KRrqfX2~Xj2ZMiYwaF4pnt3DWH~UnKjMpiOj5ypifsf2qqZoCNVzAMGDnAXIcAIQ54mdaD2KjX6EZbZrT5wROxfkOz6WyucG3Xx8O6wgQVFtzFO24wGxr_1mYqRXSlDmNE494IQxUZpyTIpHTMpTY5t4ZekkUplalLJxOqPOvrvCD3fa6QEkk8E8QLssbj7PRXedcy5p.jpg
//media.inmobalia.com/imgV1/B8vEv5Xh8DZJ8zA8HsKlVQQovHvPS2nS1REiasNjjf37J7WfKOkiQxSIhRrnU2OBFkknCXNFUkYS7Hh9o9IZ_QJ9eIkyovD3KRrqfX2~Xj2ZMiYwaF4pnt3DWH2j55Mt~WZdclNbxZEUyxcHOVJoR48HJjTsV9nAepU~HRetdI02f3aEouQZXWggDWiW1fUCFgNHlZjw8GtxwP6OJJ7Rmj0l9O2ZKk84o_4PlTKGGOt9xMsjyY2PAKSrEsYrKOXLGVUn6ROhK_8098t3bUS6_2H3yIfzccDPfGHi_uCX.jpg
//media.inmobalia.com/imgV1/B8vEv5Xh8DZJ8zA8HsKlVQQovHvPS2nS1REiasNjjf37J7WfKOkiQxSIhRrnU2OBFkknCXNFUkYS7Hh9o9IZ_QJ9eIkyovD3KRrqfX2~Xj2ZMiYwaF4pnt3DWHxsUh7mlQhDfsTaXHW2q2FWlO5nzWnu90vVA1J~EYPILGCcFdGSlErfjyxrDH4sO~ARqqJKDvkV6eKVrQl2L_VKQmyJAVzI1w3m6XCyP083ZwDzCx8kGvMuJo49_3kr1594xzyRCnAu2xujKPm4KKJqLSRM3CfRyHr20pgwzXn8OAP0.jpg
//media.inmobalia.com/imgV1/B8vEv5Xh8DZJ8zA8HsKlVQQovHvPS2nS1REiasNjjf37J7WfKOkiQxSIhRrnU2OBFkknCXNFUkYS7Hh9o9IZ_QJ9eIkyovD3KRrqfX2~Xj2ZMiYwaF4pnt3DWH7kKlRlQ2N9s4O0p9SBa_N7Q1V9TlppCtwvrwpETuVwadYUebKj9msG5S9u_sIuXUQ14o7~cjP8d1WjOa9tx_C5Sy7umgJemU5OvH9M6o9o29UCEyMVCZYT3dyygmgN2ft5GUZSQDpZQlLNFDwf1m_QNI9dDrnIlhjRvLTiYR3VCOQI.jpg
//media.inmobalia.com/imgV1/B8vEv5Xh8DZJ8zA8HsKlVQQovHvPS2nS1REiasNjjf37J7WfKOkiQxSIhRrnU2OBFkknCXNFUkYS7Hh9o9IZ_QJ9eIkyovD3KRrqfVlXA7hDzqGios0Vkek~IZzh2nyjS28jl7jOsSt60ZhzNOj5M880mtheLUI~sUZKAkeaw1VsMmBy24Tlho6RZBbUb1Z8K7KERhRVoW3LuwfKm~SEEVvfr2Bn0aCyxjJ_zHT1Gpt5ZNMobRtOg_7d9QOVvt0lT4WVb~SIQJhHXErX2QoFC4ssYhtx1RtEFFOExpRkvsLcRV8bI~LCbv2Ed~K6YcQx_h8-.jpg
//media.inmobalia.com/imgV1/B8vEv5Xh8DZJ8zA8HsKlVQQovHvPS2nS1REiasNjjf37J7WfKOkiQxSIhRrnU2OBFkknCXNFUkYS7Hh9o9IZ_QJ9eIkyovD3KRrqfQxClUP_kEi8VJ7RsRw0FyEZdRWp6UL1yMYRaoF8aQGO2RdRVqQJiQnNIFZTqbvp6KE9GtcKnYeig~7oMxrAUEpCvTylWpJkBk1CkxeWtiNhzgPq7wFjCqILQUjEdnZloqjlAM5rRuLbrxhvzS_lmsc9Pl3WxNvXua1dXPpKLzdqGBqgsi7C85IrDw0IWF4iYr8rYZuu_ZuPLEpnl9jGkBeaeJSJMJU-.jpg
//media.inmobalia.com/imgV1/B8vEv5Xh8DZJ8zA8HsKlVQQovHvPS2nS1REiasNjjf37J7WfKOkiQxSIhRrnU2OBFkknCXNFUkYS7Hh9o9IZ_QJ9eIkyovD3KRrqfX2~Xj2ZMiYwaF4pn4tJMh9GJMNe4d3VlRFOAGyyKcjHrdDu_QBieAVzgcUhyNy0_MXXy4YvE9qL8RNUdL5zfxL5EE09m8kWJCFCPDgMhcbmcgU9NWeR_naoE7oKC8d9ndbYOLCM5Nw9Uj2te7YGvykJVZviNwkjFITGVDXMl8SfnK20_izATqUSY5029d0xQ1j_.jpg
//media.inmobalia.com/imgV1/B8vEv5Xh8DZJ8zA8HsKlVQQovHvPS2nS1REiasNjjf37J7WfKOkiQxSIhRrnU2OBFkknCXNFUkYS7Hh9o9IZ_QJ9eIkyovD3KRrqfX2~Xj2ZMiYwaF4pn4tJMhjYNesLO8oCOrM7XDbrfNwfUcwkcfITgmyuR1QZpkxR2weHkQamGaMvueP0xfo~jKOptiTAARVIVM4WkfN6BbtNK9~Jq41qBHeO7dOfYc1VKXLjdmFox77AKz4DLPl~lG5D_4XBoVNmBjWRx4X~~y2oIx8jS5s5aZ8hqx7oNre5~qNc.jpg
//media.inmobalia.com/imgV1/B8vEv5Xh8DZJ8zA8HsKlVQQovHvPS2nS1REiasNjjf37J7WfKOkiQxSIhRrnU2OBFkknCXNFUkYS7Hh9o9IZ_QJ9eIkyovD3KRrqfX2~Xj2ZMiYwaF4pn4tJMhzp01Sk00A3D5PTTCDjZhV_7FVkQpLhnItmx_ZyWilKcB3PKvfOvCPj3~bmZYfgV7MQxGGHK4VfFFWOqwTD7eAO1A0ZJPoYJHBE6P9VPqXdeOEEQrEsX1hmu0S2nFgFh4WWcaq7w0LhEtX4uVYOXP~xk5TfjlfAzAamApp8nAJrLWW9.jpg
//media.inmobalia.com/imgV1/B8vEv5Xh8DZJ8zA8HsKlVQQovHvPS2nS1REiasNjjf37J7WfKOkiQxSIhRrnU2OBFkknCXNFUkYS7Hh9o9IZ_QJ9eIkyovD3KRrqfX2~Xj2ZMiYwaF4pn4Xxn4D7~HQ1CSX~eYvywpp2eIIJAKbFT6SXolvg07Mw38Q69ZjTUO1N_w82M1H6V5tHNCCDeonz03CfAjZmhEXyJhI51diS9RKSFruL1zwe9VbY9~qF_FgEHfYss78BRGC_W6hZLWw33Sbl7mVdTeDgSHJ6ywppCIJ0FKooUxeuG56KkF4C.jpg
//media.inmobalia.com/imgV1/B8vEv5Xh8DZJ8zA8HsKlVQQovHvPS2nS1REiasNjjf37J7WfKOkiQxSIhRrnU2OBFkknCXNFUkYS7Hh9o9IZ_QJ9eIkyovD3KRrqfX2~Xj2ZMiYwaF4pn4Xxn4L0gqpyNTKj0DQcVe899YOgnWB5P_ZDPZMjXeKV69IJXRyu3Br~UYOprhGDm0lkwWY_Xl9NojEy7YFtnJgmREI9uKJrvHn~40zFL6rxHjAuaLu~6XVip1hIrgX5Qby9g2VvgXSK4qKe7Ys4zm34tnFT5KCTiBQxRn0DB0XYGt_yRBr6.jpg
//media.inmobalia.com/imgV1/B8vEv5Xh8DZJ8zA8HsKlVQQovHvPS2nS1REiasNjjf37J7WfKOkiQxSIhRrnU2OBFkknCXNFUkYS7Hh9o9IZ_QJ9eIkyovD3KRrqfX2~Xj2ZMiYwaF4pn4Xxn4M_siz0wzx7B9q4v5TTsctt~F_V1JHp8YEr5Y39Yq8_1QVBS4GzMfOF~q~HqJGjH1E7yLOSLRhM1tw5SewC0HH3nSeMWlFPbsE~NCRMsyWZ7BDX5Mr1NxVRCm3rd3y5~3hPY1o9IbR4yqBobERI76TvFi7dk4V8j5JvhJvgndrMj3Qn.jpg
Price

749.000 €

Ref.

4109

bedrooms

3

bathrooms

3

Built

185 m²
Apartment in Jardines del Principe, Marbella Golden Mile
A beautiful corner apartment in centre town Marbella. One of the most exclusive and prestigious areas with 24 hour security in the heart of Marbella. Here you can enjoy all that this city has to offer without having to drive – the beach, shops, restaurants are all within walking distance. Set in a private residential community designed to enjoy the peace and quiet and disconnect from the stresses of daily life. Luxury property of 3 bedrooms with 3 bathrooms. Finished to high quality standards; Electric blinds, shutters, Air conditioning, under floor heating in bathrooms, domotic system, high speakers, central vacuum system… Elegantly furnished. Ready to move in. Set in more than 6.500 m2 of communal gardens, sun terraces, swimming pool and gym. 2 parking spaces and storage room.
Features
Satellite TV
Double glazing
Video entrance
Security service 24h
Living room
Amenities near
Transport near
Covered terrace
Electric blinds
Air conditioning
Central heating
Fully furnished
Similar Properties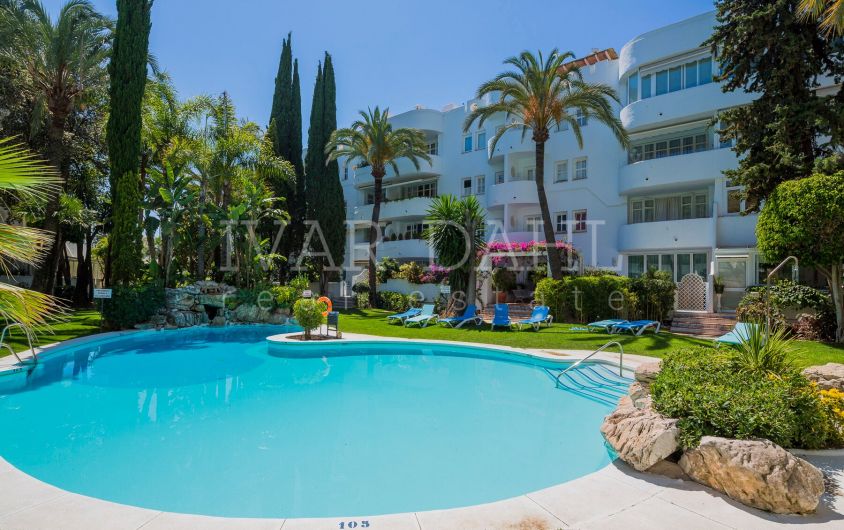 Top floor Apartment in Marbella Real, Golden Mile, Marbella. Lovely South facing 2 bedroom luminous top floor apartment with sun roof close to all services and the beach. The property comprises a bright ...
2

bedrooms

2

bathrooms

110m²

built

58m²

terrace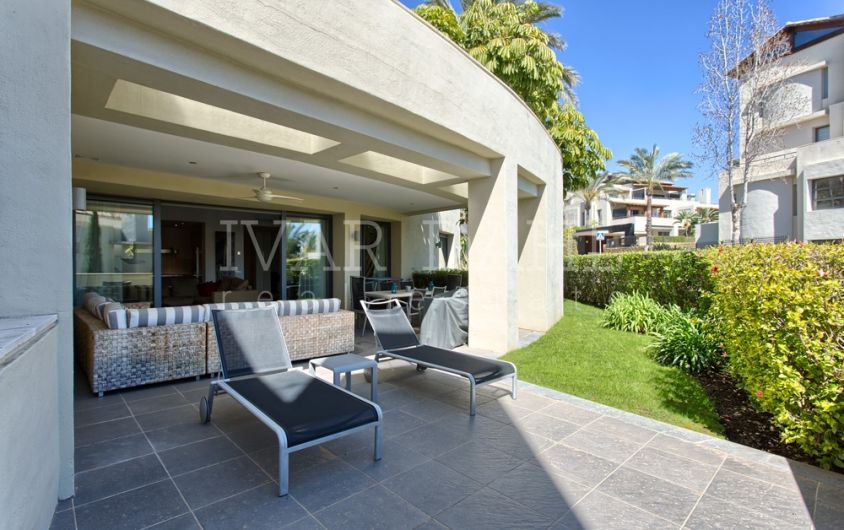 Spacious, luxury groundfloor apartment situated in a quiet and private complex. Community swimming pools, beautiful gardens and saunas.Located close to Marbella town center, beach promenade and just below ...
3

bedrooms

3

bathrooms

200m²

built

53m²

terrace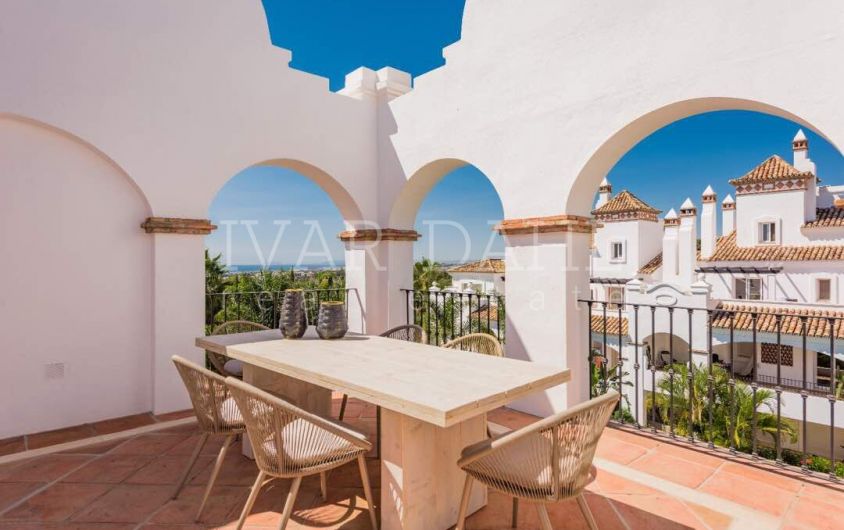 A privileged, unique spot from where you can enjoy unbeatable views to the Mediterranean, Africa and the Straits of Gibraltar. Contemporary, elegant style. This is a residential complex composed of sixty three ...
3

bedrooms

2

bathrooms

236m²

built

33m²

terrace