Town House in Sierra Blanca, Marbella Golden Mile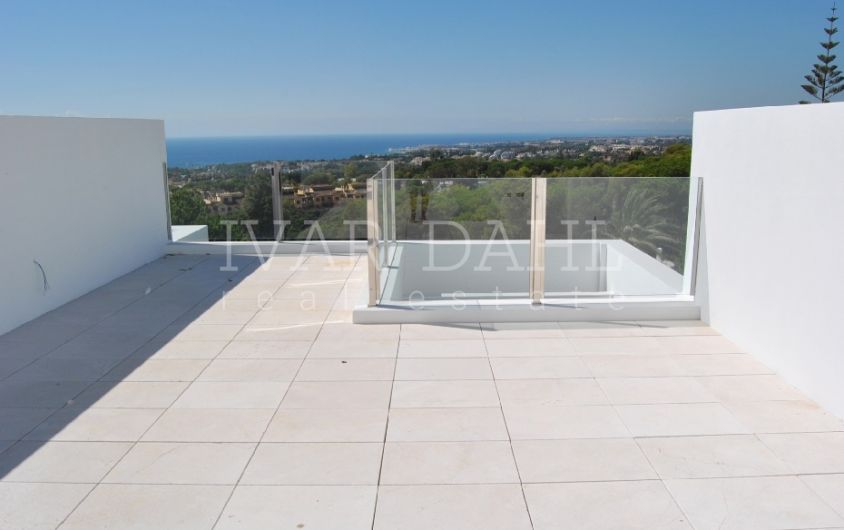 //media.inmobalia.com/imgV1/B8vEv5Xh8DZJ8zA8HsKlVQQovHvPS2nS1REiasNjjf37J7WfKOkiQxSIhRrnU2OBFkknCXNFUkYS7Hh9o9IZ_QJ9eIkyovF9kvw9pJ7gH8~KiKpd4igPCVROmNffc35ASAATmkYCZUATbWcKKAHz3GLG4hOhNIvjW71WhSg8vz~~YQmWcGBcPRQ_c_i2gOshWTJsXLSzVJZapR5XgHK3dibpYOew3pUvtD4Ev4BuehBNutC~zUCCW_5UGbvFCHJZa2Ms8TmhNo1b1I_Q46O4wb8DYsxPZH_GMjZi210e.jpg
//media.inmobalia.com/imgV1/B8vEv5Xh8DZJ8zA8HsKlVQQovHvPS2nS1REiasNjjf37J7WfKOkiQxSIhRrnU2OBFkknCXNFUkYS7Hh9o9IZ_QJ9eIkyovF9kvw9pJ7gH8~KiKpd4igPCVROmNX2w5oPtAqfnQmk1IC0VF_U~Kmubu6TBkP9GtcBafBbhD8F96v6ghwiNhEB36FA41YBzF4MDu8yfsTYYSyqcFCKKm275srkGuQYdfynRjp2SxxueIT5IgdtPBWSq1YjQNAssYKmyax4Rzmy~ha1dJNxkF~XxKiZsUAfYL~R88IdnoTd.jpg
//media.inmobalia.com/imgV1/B8vEv5Xh8DZJ8zA8HsKlVQQovHvPS2nS1REiasNjjf37J7WfKOkiQxSIhRrnU2OBFkknCXNFUkYS7Hh9o9IZ_QJ9eIkyovF9kvw9pJ7gH8~KiKpd4igPCVROmNaDS3xrpeqyIQD0XYu8McJ99mkY6T_LKNI3QS7APL4_bH06CqL7AWJAFZoWk8iAUOaOB69ylZJlQneKd_zeLjNwig6lEkZTYNgNo0C3Ld~xY9RbOyAk8Wwte6G_W6ImEZRLqrI625e5hLCv4kWrZOTSRT45SqSFF~6KUsDt2Re0xDRk.jpg
//media.inmobalia.com/imgV1/B8vEv5Xh8DZJ8zA8HsKlVQQovHvPS2nS1REiasNjjf37J7WfKOkiQxSIhRrnU2OBFkknCXNFUkYS7Hh9o9IZ_QJ9eIkyovF9kvw9pJ7gH8~KiKpd4igPCVROmNQ4SJObZcanTkfLLYRXql3X_JL4qFx3tN_XU9XIIfG7T~Rb1nmu_VPbYMdoK_BGoB3o0dprC1OQG4bjOTxkDWpQ4mztVXl6LwEsqv11JCpMiqwDkjh3o7BjlJf5PQOiFIrwXtsBDGryq_JszoT25LIF02sFkGGGswXW42zLRgCXTbC9.jpg
//media.inmobalia.com/imgV1/B8vEv5Xh8DZJ8zA8HsKlVQQovHvPS2nS1REiasNjjf37J7WfKOkiQxSIhRrnU2OBFkknCXNFUkYS7Hh9o9IZ_QJ9eIkyovF9kvw9pJ7gH8~KiKpd4igPCVROmV6NIeAekQLBL1HqDpWzsVlJ7OPyvEVELFjVwCKcYgqhZm1kg15mKUuRJ7Q5eXwHs91E3yXUaYtWtg3IAI3ZIPJFwdPLjqjOeuizE4lVdlfCSBV3ljdjXbd3Zri~uhfoJXDjTFq5DKPRIBPz5zIVok0YzWZT6JdHQ2md10ZC1_Qg6rHL.jpg
//media.inmobalia.com/imgV1/B8vEv5Xh8DZJ8zA8HsKlVQQovHvPS2nS1REiasNjjf37J7WfKOkiQxSIhRrnU2OBFkknCXNFUkYS7Hh9o9IZ_QJ9eIkyovF9kvw9pJ7gH8~KiKpd4igPCVROmNG1tGKYihDUF4j6Tkc33tN3sMYlrGZKJNUQ4~7nwJbFmvCXHdP9QQYMPEcGPMGwlFArhuPV74WUkhN0hbXdaaydK3O5iR30CZJdA~GpPjKJkktunjwLLWC_bOJsFANa1Rg5OfTDdzGFzc2aYGNyoKL3VdIF9FkIBAxpWLIt4oLQhXuz.jpg
//media.inmobalia.com/imgV1/B8vEv5Xh8DZJ8zA8HsKlVQQovHvPS2nS1REiasNjjf37J7WfKOkiQxSIhRrnU2OBFkknCXNFUkYS7Hh9o9IZ_QJ9eIkyovF9kvw9pJ7gH8~KiKpd4igPCVROmNBgSVNLcAnVMaJx0QKjmgf06OCKjgBQ3dLu41bO8DN3H189jCW8PDBhBy~OVJ1ltVbg7XXoX5k9VpG52W5eschR0INO~BMXYr3hAwK5HPFNF39XA_uSUjXKhXg16aWj0wdFBNOSmCxugQUDSUiix0qSf59qTky8tnGE66FWvUKlR70V.jpg
//media.inmobalia.com/imgV1/B8vEv5Xh8DZJ8zA8HsKlVQQovHvPS2nS1REiasNjjf37J7WfKOkiQxSIhRrnU2OBFkknCXNFUkYS7Hh9o9IZ_QJ9eIkyovF9kvw9pJ7gH8~KiKpd4igPCVROmNI99ErKXaiRj_8RYw27QOtM726oggXnzsN6bwW8v28RiWYuruL3n5tXy_ZNVjjsUUgnQTLl~KGauVFNjwty~hl7dRAM3c_Gtvl8w0lUIe3RFVLjzM3qqBrv~jirk2wp0X6Vx~oq9mpXWFhOlXYTp1ZRejAJCH0ZzzrlxQR9N14O1876.jpg
//media.inmobalia.com/imgV1/B8vEv5Xh8DZJ8zA8HsKlVQQovHvPS2nS1REiasNjjf37J7WfKOkiQxSIhRrnU2OBFkknCXNFUkYS7Hh9o9IZ_QJ9eIkyovF9kvw9pJ7gH8~KiKpd4igPDmNUwwzj_XVe9mCZgW5qvvOD65VaPNLfRhqxVwb62SoDUHv37WWeHG_8NtfCF8Xyla6hc5I10lGKARO0L98s~leUJR4mE1fNu1DFElPBZGZTSeLZ7bBZC~VtDXWw0B8HuJsHDaoDmULBWIinbqCdJbVsR2EODLeu4nsenfmnjjjsmL4XZ7wJ.jpg
//media.inmobalia.com/imgV1/B8vEv5Xh8DZJ8zA8HsKlVQQovHvPS2nS1REiasNjjf37J7WfKOkiQxSIhRrnU2OBFkknCXNFUkYS7Hh9o9IZ_QJ9eIkyovF9kvw9pJ7gH8~KiKpd4igPDmNUwEAQuZsd3K5I~0Wnu~UEiTQnzKUBjh4FxebE55roCrhl9K7LGpqHba9j_qsqjnH0v_8hEtfOW8SzEofCtABgNODAetA1ZAvGg~ZBdUVf9UtMnCxYKLUpkkoM8~Ov2YauM8I3ACH8kurDSzD2_YD_n_lKTB7txVu_L1aEiU1o5~4pAc7l.jpg
//media.inmobalia.com/imgV1/B8vEv5Xh8DZJ8zA8HsKlVQQovHvPS2nS1REiasNjjf37J7WfKOkiQxSIhRrnU2OBFkknCXNFUkYS7Hh9o9IZ_QJ9eIkyovF9kvw9pJ7gH8~KiKpd4igPDmNUwEH6EfV5h4Qa3vNO2iupNo_C5U4RbM_kadiMy4xrKFs9zjiwB~Zf3L8kxB3Bi2lJ2o2v~8MMMuNFYHn1zlDoCECLRa3cq3IXduQ29NHrdLZR_66~OecD8xDzPRjRDwNzgHkWDxy5Z0EUUuTH4MF9Qt~On4im0eMo7yqBcoRIKkRFk9V4.jpg
Price

1.780.000 €

Ref.

4231

bedrooms

3

bathrooms

3

Built

260 m²

Plot

60 m²
Town House in Sierra Blanca, Marbella Golden Mile
Townhouse in Sierra Blanca, Marbella. A beautiful, small new complex with wonderful views to Mediterranean, Africa and Gibraltar as well as to La Concha Mountain. The property consists of 3 bedrooms, 2 bathrooms, living room with fireplace, dining area, fully fitted open plan kitchen, 1 guest toilet. In the basement there´s shower, multiuse room, storage and garage. Top floor sun roof with kitchen offering panoramic views. The house has all the comforts and highest qualities; lift, under floor heating in the bathrooms, air conditioning, alarm, video entry system, satellite TV etc. The house has a small private garden plus community garden and communal large swimming pool.
Features
Fireplace
Satellite TV
Alarm
Double glazing
Video entrance
Dining room
Living room
Automatic irrigation system
Air conditioning
Central heating
Similar Properties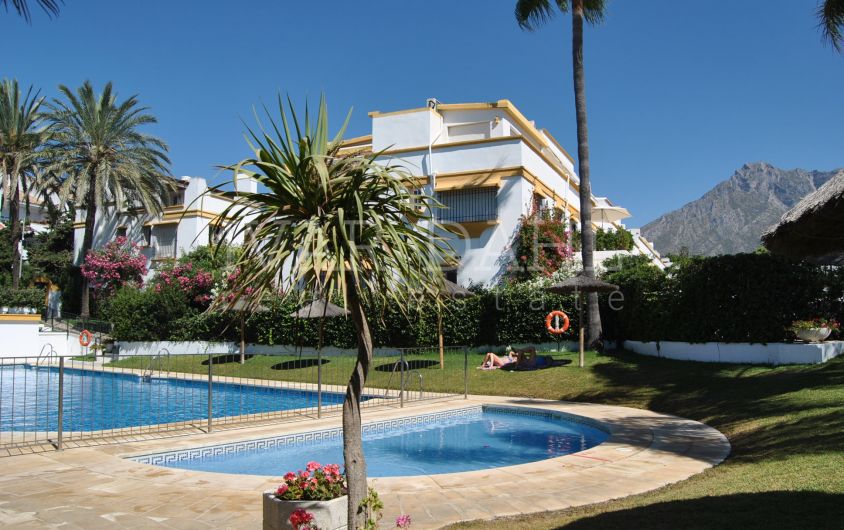 Like new , (totally refurbished) townhouse in an excellent, very popular and family friendly urbanization Marbellamar.Beach, restaurants, all amenities in walking distance. The community has llovely gardens, ...
5

bedrooms

4

bathrooms

225m²

built

69m²

terrace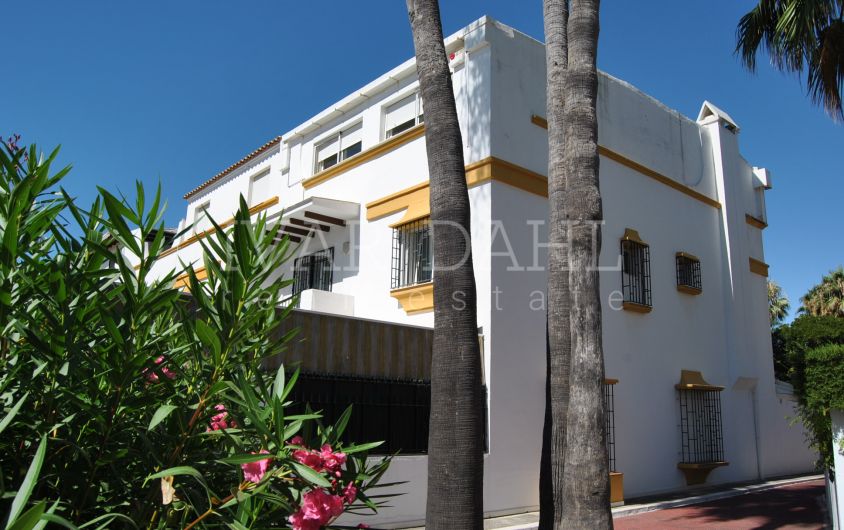 Townhouse next to the beach of Marbella, Golden Mile. Close to shops such as supermarkets, restaurants, etc. It is located in one of the corners of the urbanization. Ground floor consists of terrace with a ...
6

bedrooms

6

bathrooms

407m²

built

89m²

terrace