Beautiful Villa in Marbella East, beachside urbanization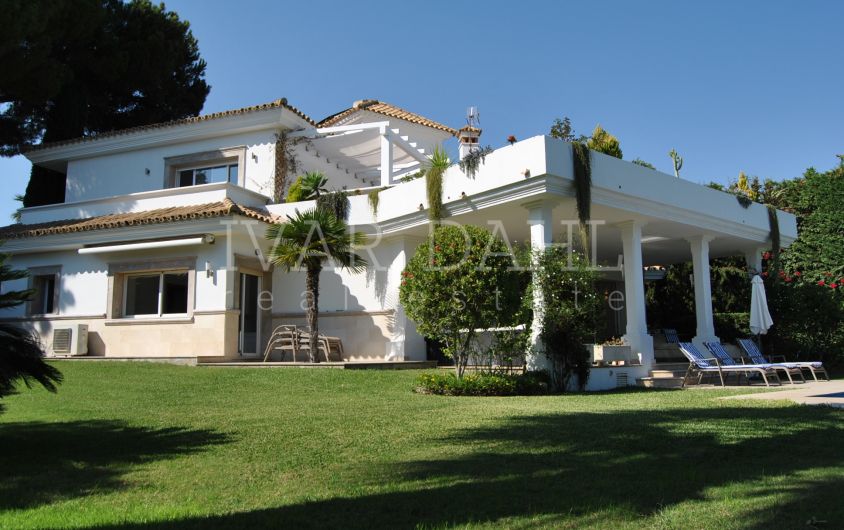 //media.inmobalia.com/imgV1/B8vEv5Xh8DZJ8zA8HsKlVQQovHvPS2nS1REiasNjjf37J7WfKOkiQxSIhRrnU2OBFkknCXNFUkYS7Hh9o9IZ_QJ9eIkyovD5YE9tB5V2SIxMReLT1ueo1z_hLmFjJE64Yys6g14m07Fnjgooe01lTqjSZOmuWte5kCRe71_x~PYhJ88uCrLrQfOnLOd5eT4fzvU7dSXRq3vxFPZekX6usdY7ocMSxdzYZznNDLTMr3y3MvHMCE0nbjy5vQZrwB4KCQUy1_wB8tg837OH3FOQ5iRIE18SQb8GdiDwugdkNEDGhoXagiHyd2AsEy5I3vrfgmA-.jpg
//media.inmobalia.com/imgV1/B8vEv5Xh8DZJ8zA8HsKlVQQovHvPS2nS1REiasNjjf37J7WfKOkiQxSIhRrnU2OBFkknCXNFUkYS7Hh9o9IZ_QJ9eIkyovD5YE9tB8UM7Bxo3or_Y7D3eR7TccstJrtonqCT4~yApecsYnHE7SBAzopwM1LbF6FMsWY1bmDMCsJp2zj9uAVs7DvK9sCHkgW6CvQ0H~EaL6tuMoP5PU7jIt7opQDa_Vfokw7SxsHzRDlxvc3j9ar1MREbHMkeIaXq8MyhrMe1Xxxz9j59ZC1dR4hmhzL74VJ~wh4tMrBDRiYPD0JQWJuWvOsnr2~EGGAkDaM-.jpg
//media.inmobalia.com/imgV1/B8vEv5Xh8DZJ8zA8HsKlVQQovHvPS2nS1REiasNjjf37J7WfKOkiQxSIhRrnU2OBFkknCXNFUkYS7Hh9o9IZ_QJ9eIkyovD5YE9tB8S33PYGPjSLkkGESPo9~mQiRPITjqQuXzxZI4yNDEFQ0si0hPvqQXQX59HK8YCvqGjq3hNaADkYYGfDKr77kmHHDeqQLSMrVVHcfo2ZPIwLlgTKmTX1mpPbNsaLZGaSEwUq2yDlIlkBk4RpKOlCmULO93VUclx743uOotieEuSg9yJmuybseq5q~VDwB~l1V0O7RQFgdSDFWduzzs~1~rwgGB8bbkU-.jpg
//media.inmobalia.com/imgV1/B8vEv5Xh8DZJ8zA8HsKlVQQovHvPS2nS1REiasNjjf37J7WfKOkiQxSIhRrnU2OBFkknCXNFUkYS7Hh9o9IZ_QJ9eIkyovD5YE9tB5JRyMSSvXkzjeWp8daCR8DE3_kj7BZ8KIMEQDqAzhMbWDESxNYTimQO62fkGNiSAzrorsLUi_1FrH~jL3ZIiwneW0p8vS4y_I42vNFMwvCws1AL5OO7cmLsBK63b68RoHhTmvp03KHEsGCG7pbmjF96XAQoi2sVCNDf7z2fX07dAV~QRVHxvs6lElT~d6puvzlkTtHpMB9A0~TJFX8c3tlm2rnMNUo-.jpg
//media.inmobalia.com/imgV1/B8vEv5Xh8DZJ8zA8HsKlVQQovHvPS2nS1REiasNjjf37J7WfKOkiQxSIhRrnU2OBFkknCXNFUkYS7Hh9o9IZ_QJ9eIkyovD5YE9tB8Tj2WHdhWW0IRwadOYQVcA3kySz1dVFLaxQee8DOWRvddE4dHYnNEVyvN9_EepBpQpevw35b~n4moOhfo8Ww9IYH9tWNc1AzoYIGSjly1lrwD42~OUQVhwsIQ6KbsKpImpfz~ShkWOJaBVr_KhSvVE24NNCbxehFY9gDm4bWPdW9d5M6Q1LJtAaL5mNww93ux0eDLCst9TRxU94wRyqAYwUB0mcMfc-.jpg
//media.inmobalia.com/imgV1/B8vEv5Xh8DZJ8zA8HsKlVQQovHvPS2nS1REiasNjjf37J7WfKOkiQxSIhRrnU2OBFkknCXNFUkYS7Hh9o9IZ_QJ9eIkyovD5YE9tB5Ugxzq0Li972l3RHyHkb9thS9gO4qIzuXQKelLGOeAG1HWB14ya9G~8hajHVno2hTZgPbFTl3oRhCZ5G~CRyT~5Iy77zGDdK0I_huxrf5OncH8cfTDf1sIuaDlvWG5AlQNL~l15X55NCqPy5eO6FoyDLjjJtiT5B5E_pZifu95S_O5EccwEhEtsplbdd~9R4w35JTMfhoLLH_r21_tEJ~ZOC2kpPjY-.jpg
//media.inmobalia.com/imgV1/B8vEv5Xh8DZJ8zA8HsKlVQQovHvPS2nS1REiasNjjf37J7WfKOkiQxSIhRrnU2OBFkknCXNFUkYS7Hh9o9IZ_QJ9eIkyovD5YE9tB5bhDC5jwInmfwIB157ieGVxlRnMVL8EJwuz0WWxT7jovkSCfV_MNX6Av2zwwSkUf62AJLYblV8_oNJC~LDNZpp7_fPSgHwroCEMUUeNmMvirlVqehY3Ya2DEGwIepcDjiF8cVPE4_cZwpom2LwH~vgHribhi14fmadrJcDuzBhZejI1zKYNnPKs~TNHAdemlK9yhavByZmyaev4WK_HZNKAdr1b21I-.jpg
//media.inmobalia.com/imgV1/B8vEv5Xh8DZJ8zA8HsKlVQQovHvPS2nS1REiasNjjf37J7WfKOkiQxSIhRrnU2OBFkknCXNFUkYS7Hh9o9IZ_QJ9eIkyovD5YE9tB5bnffVgwuluLd6Ea_RGj3q2tmFOg9zHugzJwlCEqUMkJ_RdcGbOjAx_iNR7sr_~5317Oux52hiB6pKbE4K5E0lde1VTqy7hXdxXcnpdNilC9zkO6qBl0XUkkuVfio4gqGYKhOb0YbikgZ_Sd7U~GYy0YjkopWpWjzYw9kiKWhtyXEPy649SLYwzH~MKwzlqIXHTZwIORnM208LiJLi1yVmGe4TXBLc-.jpg
//media.inmobalia.com/imgV1/B8vEv5Xh8DZJ8zA8HsKlVQQovHvPS2nS1REiasNjjf37J7WfKOkiQxSIhRrnU2OBFkknCXNFUkYS7Hh9o9IZ_QJ9eIkyovD5YE9tB8Lgw4UHYd_qR~bl2k_BnM_WEfsX6Wk1LaCf0kk283t0tTrZBOej44ulXOVVQAmI0QdZ96sqVRTTnB851MXovjiCse7zrlTBW5tYWuGSKCRj0AyluO~qrXgnAY73sDxSFo6gqqJXlPTU~7gXEZXpxUiyeMuyGw5Zfo21bZf1B~uk8cSy8OXfxPyt6sFC3SNuEeZBK5g~PPjVyb9U~Q6zoxqk6lhuedU-.jpg
//media.inmobalia.com/imgV1/B8vEv5Xh8DZJ8zA8HsKlVQQovHvPS2nS1REiasNjjf37J7WfKOkiQxSIhRrnU2OBFkknCXNFUkYS7Hh9o9IZ_QJ9eIkyovD5YE9tB5VxFYRFkbUKPan8med2noXQpeMCro7d~gbjKb1GT26idV~9qqhKse~3pWkU_~wtxC8TciGTuc2mr2tzjHUYodnfxJrXsTkxA_nVPu9CH00zHEhc~TxQIrFWQUlZC01yhGi0xvXWGvK5wMuwphD_JI_Zv2mc1og964gqg9S3fLkIzLz3Y9IoYN8uHPt_pxPTqGvSXebEwFvBCRl3c2k2JE536ZiYfp0-.jpg
//media.inmobalia.com/imgV1/B8vEv5Xh8DZJ8zA8HsKlVQQovHvPS2nS1REiasNjjf37J7WfKOkiQxSIhRrnU2OBFkknCXNFUkYS7Hh9o9IZ_QJ9eIkyovD5YE9tB801ZELVBL6KqFK2sxb0G7c5I2aNeZgFYMzwDPGZMqvpfsW~86omIj_sOGwFMOo_WA5dy~_l048IR7moNrXw8~SsGk5cJ~cAn85KpEaezBG1Kip~NsOLNJc8sKB9FjctJqimHV7VMhAlOkYLYMTS_PkOXU_21vv3VLBg8z_OuwmhGthBxpJ1lSy64iPqByIVEs4eK8t9AtBcNM8PnyCH5_owyHpDiGg-.jpg
//media.inmobalia.com/imgV1/B8vEv5Xh8DZJ8zA8HsKlVQQovHvPS2nS1REiasNjjf37J7WfKOkiQxSIhRrnU2OBFkknCXNFUkYS7Hh9o9IZ_QJ9eIkyovD5YE9tB8Lgl8N8lRQwYXf9FeAXJxEoaTdyJHhcNJ_FkgAezPyIjYlFyYyvpwG81cuROUWyJ7dmJikmcTzV0gVJ8nAFDV39AWntFII2cv4Mj560sh5k1x~0b_zkjYnxDaZziSG67C8mpDKPo0ZE2jCC~QkOYy4hzCc99ZxfK5Y99vH7k267QrV0xsqtc8pHF_7B7jB_UqJZnlN9IXSZwvBcPZxzftKRsGt~29E-.jpg
//media.inmobalia.com/imgV1/B8vEv5Xh8DZJ8zA8HsKlVQQovHvPS2nS1REiasNjjf37J7WfKOkiQxSIhRrnU2OBFkknCXNFUkYS7Hh9o9IZ_QJ9eIkyovD5YE9tB81lzbuClG5P6ifLdFID4_OHIg7MXGUMAyjc9bI89r6vC6CgpIvFY9ZrQ6fGu_n9TsJGwAg28ir~DNljKl_Dbm6Ooc0XeTKg0NHTpJeBP7xt5R4yxN4Dqirk6~og4ougOq2TptS9_vW7fTpkKm90L8Nexw0v3uop4gGDaEecTdnirxVBitJ8xfEFVhYgsEQ7r4DFmKQtdIuv~kM1uUaCmQATLdDFSh8-.jpg
//media.inmobalia.com/imgV1/B8vEv5Xh8DZJ8zA8HsKlVQQovHvPS2nS1REiasNjjf37J7WfKOkiQxSIhRrnU2OBFkknCXNFUkYS7Hh9o9IZ_QJ9eIkyovD5YE9tB8Orb00RDOLPP3FGCKhQfI2LBLbvUhGUuRVN1UVf~iqwGOFviHh7PWuXx_2M1oWP5oXG59O44jBWWyD9PggYHg3~APEvFSQumKOkZglO43Qam4E_HlfIPziaICJOWne_clWvgvkvOOumb2DR2Jo~_u8RK1D_aGdYMJQTuk1cq4X2ScrVDf~0Pbj_dLJE7gWCpOIzcHM~VgGZQsXgTaynaBZ0Xo1B_pU-.jpg
//media.inmobalia.com/imgV1/B8vEv5Xh8DZJ8zA8HsKlVQQovHvPS2nS1REiasNjjf37J7WfKOkiQxSIhRrnU2OBFkknCXNFUkYS7Hh9o9IZ_QJ9eIkyovD5YE9tB5F6fYeq6eREa8Afts7nMWoljMJP2HiOnZUo0nQuCQOFJqmr~nbHwxIyACtMd_VEvbtqjTpdaISfB9ox4wplqtblOk4x0TGL5~~S5pEIlbRolOrJM42yBaIOhbXJRyifquPuaOgyjTjx0LUstzbiQGxJN~HUszg_7thsL9W_SnldkpMppHGJmcQ_Kf~n2KxGtCu1LBRHF2e~__I74xYSmQlYn5h0IL4-.jpg
//media.inmobalia.com/imgV1/B8vEv5Xh8DZJ8zA8HsKlVQQovHvPS2nS1REiasNjjf37J7WfKOkiQxSIhRrnU2OBFkknCXNFUkYS7Hh9o9IZ_QJ9eIkyovD5YE9tB8epQz4~If3q~2Y8N82HfVm~nwgYsQ3ON2Q2mN7v129xqy6webgBiOrJZOKzo6v1uJbEMDXhwCA9Zv10lzMtiCRX7kHE2sKL9m5qANBbIKwLtTtMyyibpJ4Ai2ZiSnxHQWVkrUP6DcpIgqjvQ_mCaZozg4itvUTehsz_R3jtg12dwxDY7E85zOI7EBnTxBqaYpylfSiHPZ_8kYGRFJVBrc~nGBHvlGA-.jpg
//media.inmobalia.com/imgV1/B8vEv5Xh8DZJ8zA8HsKlVQQovHvPS2nS1REiasNjjf37J7WfKOkiQxSIhRrnU2OBFkknCXNFUkYS7Hh9o9IZ_QJ9eIkyovD5YE9tB5V3gP_GCJeRBCmkEeklwtpWdwBn2YoOBnsgfFMz3InjJjK7w7sKbR7RX04zJ0PzTE~VfQlNZvgSTe5CC83YEvlJMPn3Ci6ZNwGUlLAbQytO8fr_JnmWMvRhtTb8Y0W~awHWeaz4hZd2NzDQvdAqUn13pQpQI55y~zYPnren_RvX9KzP6XUgZ0bdQsY91mcP04A1yB4vzLRK~VFXXWoGRvEZkecDgNI-.jpg
//media.inmobalia.com/imgV1/B8vEv5Xh8DZJ8zA8HsKlVQQovHvPS2nS1REiasNjjf37J7WfKOkiQxSIhRrnU2OBFkknCXNFUkYS7Hh9o9IZ_QJ9eIkyovD5YE9tB8ZA98Y1WCHWWUOhVBvXBX_FG3n_F~8vE1vpAtGksD9C4GC9gRncOL6MPV6KDSYFVjeFIa6vBRYRnTgu5OOMtBqipZDAA6~0bV7oGZBs_l9fsMjNUNmNnYSfK7I1_TsOsfEkOWtH0pU0IqrlP3vd0dwAjgmc9TvA6nrTbE6a82tlvYbI~WT3tLzO8DZqjNS8lbdGELg2Mmo3BXrmFuPelx1U1ZO6NSI-.jpg
//media.inmobalia.com/imgV1/B8vEv5Xh8DZJ8zA8HsKlVQQovHvPS2nS1REiasNjjf37J7WfKOkiQxSIhRrnU2OBFkknCXNFUkYS7Hh9o9IZ_QJ9eIkyovD5YE9tB5JSQ6I1DIkqZSJzEL4Fxab1wXQJRmnwULuqLZbqTBLSzJEsdZw2U4fA3jhtWCVe5fAnABywQPQzL1Ti9TdvWokfaFSWQgrxy5dHRPgZCB8IZSNR3PLuLArPiFunrZnjVixMJ9NF8lgf4jyi2mbEfkXjPii89XXp2aOiMgau1bEbOmSNVdbDCoSvELPHhrcARgT06jOXT85yY66NoKatkc9Z2SfBUjs-.jpg
//media.inmobalia.com/imgV1/B8vEv5Xh8DZJ8zA8HsKlVQQovHvPS2nS1REiasNjjf37J7WfKOkiQxSIhRrnU2OBFkknCXNFUkYS7Hh9o9IZ_QJ9eIkyovD5YE9tB5JQmvNbjMDylkhc2i67yqe1imAoDbd0C0DrTjzHmv1u0UXplIgXZ46ter9MbZ1innkEFq1~C3SEdrwMK2wtPjqOfm0B72iSLAURR1Wmgo6eNFm_CKnVZaQTKsGH2X7vKTnE5F1uk410~R7mnkHBy9R~cJG~ff6UdWRX9_9EpqWLqMzutE53qDYgarhU7ws30JlOMTFpvVnEs5whe~SsRvPO8sfQbCo-.jpg
//media.inmobalia.com/imgV1/B8vEv5Xh8DZJ8zA8HsKlVQQovHvPS2nS1REiasNjjf37J7WfKOkiQxSIhRrnU2OBFkknCXNFUkYS7Hh9o9IZ_QJ9eIkyovD5YE9tB8Va5_2csyhj3DAcp5EJCtFKbjyWumHwDzLlEtopTdpcqSVixnWBStw_B5bt0TpJ6MR96e8PmiC4fwubu~VYeWC39uVKvaHOdhPLi8IvtN4lSfDQBO1VV4SdPu_GnJBR8ETOmEIuG9ad_9FmcPNyLmUIi99_XinG9yoB2KG9r8DgbsL_PJ4IB_U1ClcViyRYQ0O0tTjjG~6XqiTg25fk3c0XAHweeWs-.jpg
//media.inmobalia.com/imgV1/B8vEv5Xh8DZJ8zA8HsKlVQQovHvPS2nS1REiasNjjf37J7WfKOkiQxSIhRrnU2OBFkknCXNFUkYS7Hh9o9IZ_QJ9eIkyovD5YE9tB8SwW0Wo2_6yLP8fjBl0anmmVKY502C_W9EpjSjqC7RZ4P1jHkomRk60UP2inrVUEYQ~WhgnuJ6dy1hpNzHHYAp8ukfOGzEhx7NDoimAVGxQVVTNEunrmD5oiuzp54YEffvzBcmgKcXYJqaMsQBrxkMwfIWFCKatKO9~YD9~OcdFXzdAVHIIpZqTXRp2Mkg30_UtBc9mj6xUD9mk1SZTU86YnSZlBXw-.jpg
//media.inmobalia.com/imgV1/B8vEv5Xh8DZJ8zA8HsKlVQQovHvPS2nS1REiasNjjf37J7WfKOkiQxSIhRrnU2OBFkknCXNFUkYS7Hh9o9IZ_QJ9eIkyovD5YE9tB5UjaUvLgHhCNpsXWJA2ohirUetLnRZ5gmZEy3jcYtxuk26FiIw~8o8J5AI~rQxvZODHjSXiQogyc_1zwl7aMP_VxwdpoyycRVHSDAWIvmiYGUaEz6PQ0OU80UBOFCMVCAi_BFktIEg3d7CaI889B0niiWDDp0iI8mUpB8iU8TDRVgV_OHhQs3jdeRn8NhfQwwMSNz9Pnxb98vBsDU~aE~1wcdlKfuA-.jpg
//media.inmobalia.com/imgV1/B8vEv5Xh8DZJ8zA8HsKlVQQovHvPS2nS1REiasNjjf37J7WfKOkiQxSIhRrnU2OBFkknCXNFUkYS7Hh9o9IZ_QJ9eIkyovD5YE9tB8S32nR0J4~iz800P4g9vuQymY7DAMUSQbCmwMQKd6LQgVkDH2Xh1z6KI5QVz1GGihj2lP0~TGQvuXZAkWfIfxgXJWvNCWblX6PSZDIiIR1ZuCQs6pOJ11qdgeqV6cb12Ul3f~jtdNeX92ywo2LC_7Xe6ZlPm3ChPZqcEcWOApMLZFSuBAC3aEIfAm54ehrlFZeh0VzptCDsG5mRi9SPEz0UKCPXSUU-.jpg
//media.inmobalia.com/imgV1/B8vEv5Xh8DZJ8zA8HsKlVQQovHvPS2nS1REiasNjjf37J7WfKOkiQxSIhRrnU2OBFkknCXNFUkYS7Hh9o9IZ_QJ9eIkyovD5YE9tB8VVnN7S9R4yc4SDNCGIByUraRnyt0se0DzLFdCgTKlgO3eCJPapXjFHOw6aA1tmhq7nuKJ_FID2YCe9smMCIHrf_FTdeslnVVkA_sCPhRwv9aKvfBLZkjY5rMkrfib2aB2qc_yWqJ~gqDIKQsVmjoWIKqWiSmc3MkxAKW3Mo1ZkPZDr57hMM~BbHrjV8IN2852d044VAbYI9aBa4cqMxrdzuxP50SA-.jpg
//media.inmobalia.com/imgV1/B8vEv5Xh8DZJ8zA8HsKlVQQovHvPS2nS1REiasNjjf37J7WfKOkiQxSIhRrnU2OBFkknCXNFUkYS7Hh9o9IZ_QJ9eIkyovD5YE9tB80ydZARvoQMekexIeCA5wZNf2bphEn3BbpctdxHJIia79C3SIA~eftzDHS56n8r79rETSvl6F54xZUlDradNepEHtQFmefsWVPK3Edrxb0IESXuXEy4BiswECvpmMW3vpf_~x4F2TpZj6wZ~mF_TwMcnA4DqqlHB7jhPcmhTpB7P5czZ6vzhpZMlpFDc2N9k6AzYKB4dvo0_VT0iCzOMLFNJj86UyU-.jpg
//media.inmobalia.com/imgV1/B8vEv5Xh8DZJ8zA8HsKlVQQovHvPS2nS1REiasNjjf37J7WfKOkiQxSIhRrnU2OBFkknCXNFUkYS7Hh9o9IZ_QJ9eIkyovD5YE9tB5AFNBG0QrKWMqS7Q_wmoImzlNekXm0km1RrNVapBURl7tsEB4tRPSOlBxA8BZaJb9z84f3VWC7x3v8~3FP2WdwaGeVrkMFzvGErf_InWk~XvkUxURv4fj~SdMGDiLfKupRqFm3ovV7kXiRdDMFyAqcHc9egxk_LQMDF1RU8lSrNknROLOB7YJQp_E6tNlELI7tq6cfrt2Q0J36eGwE0SbiO9HPisYY-.jpg
//media.inmobalia.com/imgV1/B8vEv5Xh8DZJ8zA8HsKlVQQovHvPS2nS1REiasNjjf37J7WfKOkiQxSIhRrnU2OBFkknCXNFUkYS7Hh9o9IZ_QJ9eIkyovD5YE9tB5f4IRmX5XIaDTVrPXH8nfKZ8I~71rfxYOHEDxM9C3iDtXCDOx8A2iFc8z5Z52imLAIBLz6hamh5~OBEQ5uss2~HHHIiLCadn1~N3ym3pHRx~GCtmRQlXWPlrAIVfMiI8aZQC2gdYyNkFSDI_Mkpzd_mtOdBTqFTEk9lFu1q~_SuTi20ezmQCiuD_w7e3pyFckVcXeF7trmB4VlW3vEWDuS4hjeUBuU-.jpg
//media.inmobalia.com/imgV1/B8vEv5Xh8DZJ8zA8HsKlVQQovHvPS2nS1REiasNjjf37J7WfKOkiQxSIhRrnU2OBFkknCXNFUkYS7Hh9o9IZ_QJ9eIkyovD5YE9tB5EsiECjb9HcWFI2HVQ0rl0xJQLdtBvIpSZIwBrrmBv4_6mezpRNkvM4Kc8Pww4wWcLOU95BHE9_PHvKOPexdAyR0MY0vVNWIcIg38PDzGPz6H3wfJPJqvxKAhAfPzNTrk09KorlEJTKawkJGnVpAQddHlw_JNFgR~SThfIAz1mN6OtfwRODqfxqKFnZetzAOQo0qhId2j_U09_8I2UQhxTmB7n2gmU-.jpg
//media.inmobalia.com/imgV1/B8vEv5Xh8DZJ8zA8HsKlVQQovHvPS2nS1REiasNjjf37J7WfKOkiQxSIhRrnU2OBFkknCXNFUkYS7Hh9o9IZ_QJ9eIkyovD5YE9tB7U_mxpfBOBQKbUdPUixPva9ljGU1EAOU91NX_5enzCGR1zMEmtozLVhltOVla9wvT8eioaSu8rWsBBEb4C48STyNSEEvYHHKncSheU8LfnJOlQ93HEnpmm~Gx0_wSMjHuhqbd7ePKqjcDGmi9U2KMkeyKs6Zs7QiPLmTeKGWmSJITSk8Ce3Yy~hHjKXuUn1NeWH.jpg
//media.inmobalia.com/imgV1/B8vEv5Xh8DZJ8zA8HsKlVQQovHvPS2nS1REiasNjjf37J7WfKOkiQxSIhRrnU2OBFkknCXNFUkYS7Hh9o9IZ_QJ9eIkyovD5YE9tB8YbmAxAmAXd5K5cma~xcRYCssX3D33E96bqaZDAEFP_X_00Jc4zOfR0GpukSuZnooy~Q8ZB1Sc5rZAUN_WPMijbASf5jYmQowOAn7FkTPkbvXzwjzdm9ihr54BJeZFhP15_QmDvfOVKCYg1f~aumj4khMPXKYrugwygruvf9qb3eWuHmkoirBeporgzD228mSN7ZFPBv0ffbJJR4Z_asp6eiSA~LEM-.jpg
//media.inmobalia.com/imgV1/B8vEv5Xh8DZJ8zA8HsKlVQQovHvPS2nS1REiasNjjf37J7WfKOkiQxSIhRrnU2OBFkknCXNFUkYS7Hh9o9IZ_QJ9eIkyovD5YE9tB8K2dUQX5lWwH3LY4Hww315rgqAh0gtPEyszWqlTNacP4w~_0Or8U1dXV0KyaZYc1pi82qREHdYJlXh4YLSH8xgraFWMiKSan026rGk8BCblpQC2yq5WCujB4kdWJ0Y_KsETlzdBZkSpQXInRmYvE7qPKNhp2zXVGfIXjx1nyu32tkalVP1MImnDY07bRCl73SyAuQlLcKvXFtWvRqtDuvQ7Yl4Ur2A-.jpg
//media.inmobalia.com/imgV1/B8vEv5Xh8DZJ8zA8HsKlVQQovHvPS2nS1REiasNjjf37J7WfKOkiQxSIhRrnU2OBFkknCXNFUkYS7Hh9o9IZ_QJ9eIkyovD5YE9tB8VbppLsqgkhm6yqhdqA_hCZ3ct6aOxrEsYFj2RVRxza2A~kSAkpfWHolnuOdNQ2icM2_Gs2A6E~QUyiC8ga5qlsoWWHFBgmGfBNWphXhdu1nLUaFrdnTvkLjVORaR3ba4RlHcclk8bHN8HUSgY~eMoM8Wd0rHDaLUYwZfvyzWzLacjT_7xCAv1stZaHe2eiAtQXleo0EMgHaDtTmYScrqSIn42Twyo-.jpg
//media.inmobalia.com/imgV1/B8vEv5Xh8DZJ8zA8HsKlVQQovHvPS2nS1REiasNjjf37J7WfKOkiQxSIhRrnU2OBFkknCXNFUkYS7Hh9o9IZ_QJ9eIkyovD5YE9tB5IDN3ZyvY9UENEWRevbKXshiXDGqJOtvu2nPRECSWCXa4YDvV0cimz8JwhyFuYy2xiUpctxlwcfgYwhUaibEf3PcCXq2vJqUDu_UjAd5ipoOqIUwatLhd2JFPD4w1fLolguxrz~x255dj65Py3EeDKNBy9YvRiYwp9gtO0NIfDjYm9vkHzBBPmUJj4Xiyo8RnSBRCrUrX1_bvG0T3pyCP1NIirwyM4-.jpg
//media.inmobalia.com/imgV1/B8vEv5Xh8DZJ8zA8HsKlVQQovHvPS2nS1REiasNjjf37J7WfKOkiQxSIhRrnU2OBFkknCXNFUkYS7Hh9o9IZ_QJ9eIkyovD5YE9tB5a1uPGxlvxW1qVAqTtet8DTmeqD91F0jZiC2XUdmoz_kxXaFiQi6GwXDE6rQGaboyiJ3fE9dVZATXUF3nseZ4AG8k~PlIJe2SZgYT75f~hsDxAu6TTnz7ctIBr2cvJVK0ulF~SEQ1h_M1beJBqwQlYJDLI2NL8Fcz74O~ttVbi7zgqdjoH4f1yIk9lZRw9C~LBzjZw_sjdKTe78~TbeBt3J88hm0mk-.jpg
//media.inmobalia.com/imgV1/B8vEv5Xh8DZJ8zA8HsKlVQQovHvPS2nS1REiasNjjf37J7WfKOkiQxSIhRrnU2OBFkknCXNFUkYS7Hh9o9IZ_QJ9eIkyovD5YE9tB5f5HlIHPNBIyAkM2pPkJeal073NRxiJcV_4tu1fLFE982y_vOAWkp26me53CQbm7DiOn4DsiDYEnwbe4nNB5PzPllyMxzmWlb1pR6FjEZMi3dBYYMAkoMYK0ZI70yCkAap1CTDD4oz9u9NMjMvVeNjRIWXAuyBIXflPxmOXpCjKU8GGGI0P1zj2itcXXKtbuWmMn8ojrOUAnC1pv1xzC6qg1fWlbMQ-.jpg
//media.inmobalia.com/imgV1/B8vEv5Xh8DZJ8zA8HsKlVQQovHvPS2nS1REiasNjjf37J7WfKOkiQxSIhRrnU2OBFkknCXNFUkYS7Hh9o9IZ_QJ9eIkyovD5YE9tB5eudZowfDHA20dSVh_AIOpVTcvNrgMtt1yETiN1Jgc1y2MV9Mk2cnAPgOxTeHU_pYnCoITslgW9pSMMDrll0TJpuPz3_hMCafvnDHHLEXtr4Vg69TIIblNV6Nsq3~khuT~S472kyjx5IOPQP3Rz1zWpvJ812saxKPYhl~T3oIDRq98Vw0qMJ~s~aOfDCJmmfJwZvIATkyLnOfRUJVwuJOxqfBPKIQ4-.jpg
//media.inmobalia.com/imgV1/B8vEv5Xh8DZJ8zA8HsKlVQQovHvPS2nS1REiasNjjf37J7WfKOkiQxSIhRrnU2OBFkknCXNFUkYS7Hh9o9IZ_QJ9eIkyovD5YE9tB5f~_jQ5kEiAarCznXkxg77Uunkeh7OIms8xv_y8hKY6QvDjIZjiS_5Sh5gMJ2iwq~cIX_BJU1xyYNr62e3V~wuEHvYyyowJfeDXpJ0Fd6EvepbY8QsoxqnTeYE13K2RwTKSuvQPUBHfJgDmkT7HEDtQhujleHV25lfKXp3VTK8mT48~TVdFM_HRUQ5m8sGifYfeovorMGDAu10VTmpLyTkJYQNBAWE-.jpg
Price

2.150.000 €

Ref.

4570

bedrooms

4

bathrooms

5

Built

493 m²

Plot

1.215 m²
Villa in Los Monteros Playa, Marbella East
Beautiful Villa in Marbella East, beachside urbanization. Walking distance to the sandy beach.
Property with completely private walled garden & swimming pool. Totally reformed home.
4 bedrooms (one with large dressing room) en suite. Bosch open plan Kitchen. Large lounge. Guest Cloakroom. Fireplace. Downstairs Large Covered Terrace.
Large Upstairs Terrace with Sea Views.
Under Floor Heating in the bathrooms. A/C and central heating.
In the basement is a Sauna with bathroom, laundry room, room with shower and toilet.
2-car Garage. Machine room; solar panels (heat the water).
Features
Alarm
Double glazing
Video entrance
Security service 24h
Automatic irrigation system
Covered terrace
Air conditioning
Central heating
Similar Properties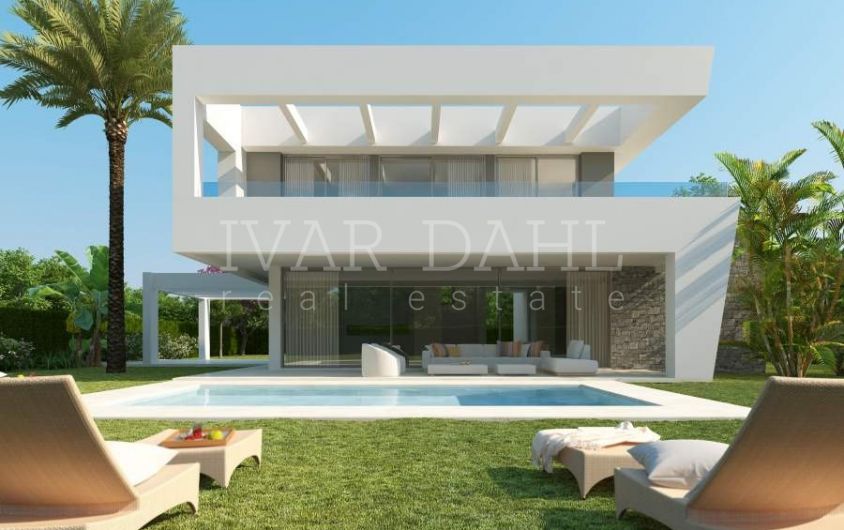 Rio Real, Marbella. This new Villa project just east of Marbella town in a peaceful residential area dominated by gentle olive and pine-clad slopes, golf course, beaches and dunes. This location has the ...
3

bedrooms

3

bathrooms

340m²

built

517m²

plot
Villa for sale in La Mairena, Ojen, Marbella.This magnificent modern villa was completed in 2008. It has 5 bedrooms and 4 bathrooms and is situated on a large corner plot within a unique vantage point and is ...
5

bedrooms

4

bathrooms

479m²

built

2.000m²

plot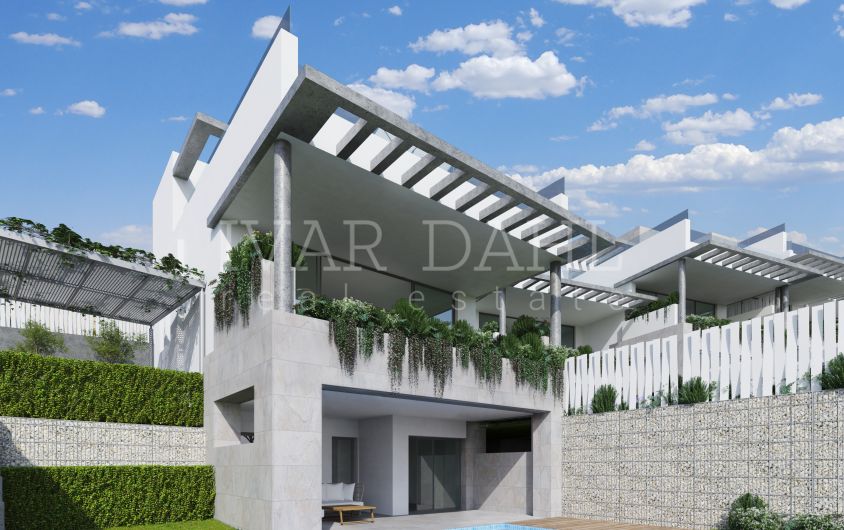 Villas with a view to the Mediterranean. This is an innovative residential project in Cabopino, Marbella, one of the most beautiful spots in Costa del Sol. The properties are situated in a front line golf ...
3

bedrooms

3

bathrooms

311m²

built

122m²

plot