Family Villa in Marbella, Urbanization Nagüeles, A beautiful, luminous refurbished Villa in a residential neighbourhood
//media.inmobalia.com/imgV1/B8vEv5Xh8DZJ8zA8HsKlVQQovHvPS2nS1REiasNjjf37J7WfKOkiQxSIhRrnU2OBFkknCXNFUkYS7Hh9o9IZ_QJ9eIkyovF9mQ6r8O706xGqIfvnW9O98hpxRoSYxDl37_g4NH7UauA2bHt2a4frpLl0MufJvwJFD~XDAaxqbfEb1lYkhyXeQA9ldtAVYbPM2wWsPsAFGkR4J80pdcL4frKix46uQ9xhQrYoLGAu3MROMvhua5weFpgEEgddMozvwc8MwljZNz~8m8Q5VVMMlMQtR7IGC~onmVmpex5y.jpg
//media.inmobalia.com/imgV1/B8vEv5Xh8DZJ8zA8HsKlVQQovHvPS2nS1REiasNjjf37J7WfKOkiQxSIhRrnU2OBFkknCXNFUkYS7Hh9o9IZ_QJ9eIkyovF9mQ6r8O706xGqIfvnW9O98hpxRC6daaaD8dbP~Lu6hDU4YAmpoCXZiSWPTL6iisIeWPEbnLKt9HApdmasJqxpYelvO8mvQcPdg87QwcpeDqhnxKCKjPTpGL9D6QBYd9uEcjanvYSlShGtTqTDhuhussUkL24llMvn4cppdptiLWe6I~2mfcvHGhpXU_OLpyUlT2ItQuPM.jpg
//media.inmobalia.com/imgV1/B8vEv5Xh8DZJ8zA8HsKlVQQovHvPS2nS1REiasNjjf37J7WfKOkiQxSIhRrnU2OBFkknCXNFUkYS7Hh9o9IZ_QJ9eIkyovF9mQ6r8O706xGqIfvnW9O98hpxRCHm~CzJOMYf7GK6Lz4oWYFfJpptQk9ra_QCnF5K2dPotf1DVz5t2IXQBh0VI8zR4ZtwwJB96pTieoP_gPoh4X8l7aawS2CEqNE~6ooHbDaX05TK6wj78N4_zjWCvaSbbITPd9uD_V8MrmoANi74y2LmAT8bLKlGCcxvEx7Ns4mPoauA.jpg
//media.inmobalia.com/imgV1/B8vEv5Xh8DZJ8zA8HsKlVQQovHvPS2nS1REiasNjjf37J7WfKOkiQxSIhRrnU2OBFkknCXNFUkYS7Hh9o9IZ_QJ9eIkyovF9mQ6r8O706xGqIfvnW9O98hpxRoEE9mQWQmtN119qU6bFbu7crmsMpysX7gijbFdBzA5fZ6CcfdS8EUjEjjBLtf8Si9zjj1_xDkaInBYTFL5KnHvjc2uJhcKzV2s2SMZkAuhE7AGvEmmijQgK9XezkUdMsI~pvmVQxh8xRu1Kc1QTqZ~Vw9tUrSk53_HTOkIMejhX~dVD.jpg
//media.inmobalia.com/imgV1/B8vEv5Xh8DZJ8zA8HsKlVQQovHvPS2nS1REiasNjjf37J7WfKOkiQxSIhRrnU2OBFkknCXNFUkYS7Hh9o9IZ_QJ9eIkyovF9mQ6r8O706xGqIfvnW9O98hpxRoYnhIvR4nNLZfiRz6GUWCA7cAhNZ7hahPrbrx80iPRuxiVuLASmq9rxeo2oGm3pQvUVsXFPbYj7RaTfBzZOOP_aeypn_ej6yTsqzpAsLulLyQE9oT6thfRtkZZoPL6fOMYE8iA7HmMbW86_QSfoPxgopTF_9~XAmNmHV_9n001RlNdI.jpg
//media.inmobalia.com/imgV1/B8vEv5Xh8DZJ8zA8HsKlVQQovHvPS2nS1REiasNjjf37J7WfKOkiQxSIhRrnU2OBFkknCXNFUkYS7Hh9o9IZ_QJ9eIkyovF9mQ6r8O706xGqIfvnW9O98hpxRC8cdNSAwPqZgLYGPw~nNAAcRnsPTrBCtLR2Wkve9UKTJH4UsmsHh2PwoCpogONoLTYsKBFtwHgLsK1uXshcFod7oD8Ijx0gGm19kjFzZTQKH7TKR5v42tSRSEyxoNSbqqNJ8gW~haSfKHvtXZZvnyIRrvqcAsnQVremOVbq0_R8AewA.jpg
//media.inmobalia.com/imgV1/B8vEv5Xh8DZJ8zA8HsKlVQQovHvPS2nS1REiasNjjf37J7WfKOkiQxSIhRrnU2OBFkknCXNFUkYS7Hh9o9IZ_QJ9eIkyovF9mQ6r8O706xGqIfvnW9O98hpxR8hCMM~rcu8ESIxVlRqH_uJyvIKdLgryvUwCh5t3LrZV~HNO2ueaQsi~rawd~Iqtp_lz9qCjZBFWldnoSVufMmONdwOtIwRnZuT5CwZkuTm~w5jc5SBnAfHxzMOvhB2uAZ3vvPWkU1563NzY7U7MdlwJMC47fExgGyThDwJsnmsB6B8S.jpg
//media.inmobalia.com/imgV1/B8vEv5Xh8DZJ8zA8HsKlVQQovHvPS2nS1REiasNjjf37J7WfKOkiQxSIhRrnU2OBFkknCXNFUkYS7Hh9o9IZ_QJ9eIkyovF9mQ6r8O706xGqIfvnW9O98hpxR89PKtNatKOlg38WE2NwCWsGEQcPckZufvv9im4vzjBcY1ye8CchVJnyOyZg0ENsgOv7_WuKZO0NFPBb2xxCbAYo9Lj8UbZ4S4_DZzjuDakFWrGvOaVl5uIjNiHx0sN0oqCrqRBXxGlyS1uCpz28IVLVD0Bu5cn9sGide8cqIEYHkGqv.jpg
//media.inmobalia.com/imgV1/B8vEv5Xh8DZJ8zA8HsKlVQQovHvPS2nS1REiasNjjf37J7WfKOkiQxSIhRrnU2OBFkknCXNFUkYS7Hh9o9IZ_QJ9eIkyovF9mQ6r8O706xGqIfvnW9O98hpxR84dZsMVuZ7Dz_fp6kRN5YwVfGX_sV7Tk1d6g98nI4L9mam880~iRhtHIBEl6K_iRSevakDaeZ0SP~6rGcbH24Ejfb2ni8z4l5d8IrVuTt5k6KqW25yJcem9LnGCbGvMX5~L3UKBVFEdUAwzV51TZ8Gl3WmJ0goVZjgg0zGkzvWcT4Kn.jpg
//media.inmobalia.com/imgV1/B8vEv5Xh8DZJ8zA8HsKlVQQovHvPS2nS1REiasNjjf37J7WfKOkiQxSIhRrnU2OBFkknCXNFUkYS7Hh9o9IZ_QJ9eIkyovF9mQ6r8O706xGqIfvnW9O98hpxR8l8wTeSWPe3bZS3dYqsZnSxmRv1FbvPcBD13pgxyQWawX6J4kzjDD0GcMmInrbcn~rIShEKInIy24LeIZj6z3pQpOPBrPzyskoZs15F4WMTQKnf3DeaynmNl6MQvJ8SPb7z_yMb1NwCa9szlHX5Zd~UWeIzjvJI~k4t0HKrjBr8igL9.jpg
//media.inmobalia.com/imgV1/B8vEv5Xh8DZJ8zA8HsKlVQQovHvPS2nS1REiasNjjf37J7WfKOkiQxSIhRrnU2OBFkknCXNFUkYS7Hh9o9IZ_QJ9eIkyovF9mQ6r8O706xGqIfvnW9O98hpxRovkWbIkjlaUAPETKiwS9EtkdMSMFUthZUG5PvMWJeXZ~4fqX_JAq~NnsQkUr5M2Zvz7heA1i1sfmBCdCsOkqN3Mu94wZowuRk9x0gVXwurHOSudkOs6TgzD_0j2fnL5seI9tHVxNkoe0sKlagDFsyXJpEw6QMVP1cK1qO3zMeey2GvJ.jpg
//media.inmobalia.com/imgV1/B8vEv5Xh8DZJ8zA8HsKlVQQovHvPS2nS1REiasNjjf37J7WfKOkiQxSIhRrnU2OBFkknCXNFUkYS7Hh9o9IZ_QJ9eIkyovF9mQ6r8O706xGqIfvnW9O98hpxR83MVZWffosGscIg~L2YlJ4pxGt2HAqpNEKS59SYNa~ExgczVNbPqJJfoCIW3eTu86top5KrBnAehJl1_dEGN3E9AtNQDWeoHID~~f8MqprDA5qSdkUq0vo1reEy83IUIuNYVNCm813rn~VA2tV6fhyvjzeKoPheHwY5B~cmHcwzipJa.jpg
//media.inmobalia.com/imgV1/B8vEv5Xh8DZJ8zA8HsKlVQQovHvPS2nS1REiasNjjf37J7WfKOkiQxSIhRrnU2OBFkknCXNFUkYS7Hh9o9IZ_QJ9eIkyovF9mQ6r8O706xGqIfvnW9O98hpxR8woOgUMx~wd9w7zsIeDIZez0BlPss1cUSVMeiTFU3kO6ARcJwUil_9swlLOsga1VmwkJ9Aj9w_FDoNjh5FBS8hyArj2iPGMzcPJrI5lLqgP~U1vUfT~9yDsME9mQUs1hq3SaiQrIV9hT1NXu~h848bLsXd_SPvAPlj_JHA3KnBbfwwM.jpg
//media.inmobalia.com/imgV1/B8vEv5Xh8DZJ8zA8HsKlVQQovHvPS2nS1REiasNjjf37J7WfKOkiQxSIhRrnU2OBFkknCXNFUkYS7Hh9o9IZ_QJ9eIkyovF9mQ6r8O706xGqIfvnW9O98hpxRoWTS0G6_5fn~FMxD9UdF_Su1h_a9Vd7QN5kLXq_cg6tS5JhXLV0TrEBmKaStB2R1W0DJm7fxauXXYh5IPeTQYqAe5MXvSpKuMN9Z_2oXJvTg14N~L05EuidM_I4vjlIYygZ5jF6g8TwALHfcqC55mJZSAostnNSufd3Mf8SQxgDNCs~.jpg
//media.inmobalia.com/imgV1/B8vEv5Xh8DZJ8zA8HsKlVQQovHvPS2nS1REiasNjjf37J7WfKOkiQxSIhRrnU2OBFkknCXNFUkYS7Hh9o9IZ_QJ9eIkyovF9mQ6r8O706xGqIfvnW9O98hpxR8t~wRi3_oJuznjvRvC5YI_d1KaXAAZWdapVEU1DBA4E5ewu6OoTCZjYquqA0FW398ZxY7fmNT8T~Fh5Mxm9OrGEkWefRR6_JeJBIt_Vaqb77y~A5sloKdpFQiPJ_tt5gAPISGvVqDTsIz~C4XeOTGrDt__OarxnXzP668sI7Ww2BwMN.jpg
//media.inmobalia.com/imgV1/B8vEv5Xh8DZJ8zA8HsKlVQQovHvPS2nS1REiasNjjf37J7WfKOkiQxSIhRrnU2OBFkknCXNFUkYS7Hh9o9IZ_QJ9eIkyovF9mQ6r8O706xGqIfvnW9O98hpxR8oWTshJrXUzcs7qib2GwpkhwZzeqc7rtOSL1j8uVD5ElbMHmsDbl0o160Y5oqFRl5E279__hW~vQ6K5la5X685tnEg9F_G4kdSybf98ZYCYbT3edMAuVFk341_3wDO1WPxb7fgPGZuxhPcMN5vf1ERukEVS5yAoYo9_OoWJ6fRIpYOG.jpg
//media.inmobalia.com/imgV1/B8vEv5Xh8DZJ8zA8HsKlVQQovHvPS2nS1REiasNjjf37J7WfKOkiQxSIhRrnU2OBFkknCXNFUkYS7Hh9o9IZ_QJ9eIkyovF9mQ6r8O706xGqIfvnW9O98hpxR8WB90qYX72ocQv3xYN6s57V6MDRTXl~rcJTqX7~L41iL5cb53mALY4PGXdJVvZP1lMy5qqXmGgqqzGF2vSmbaSHUYkauvpjmuoACBeWBRJf5C5S_Etawhe~RFS8RKf9JCU671KG3rdaqTeeU4JTXx6iyRDXXwcKFPrkNvzVPNRfDIQ2.jpg
//media.inmobalia.com/imgV1/B8vEv5Xh8DZJ8zA8HsKlVQQovHvPS2nS1REiasNjjf37J7WfKOkiQxSIhRrnU2OBFkknCXNFUkYS7Hh9o9IZ_QJ9eIkyovF9mQ6r8O706xGqIfvnW9O98hpxR8S3BRkdkfYnDwORPTzO~yUdZuTgVrP5Nb_6YlxjEFIbz3p3~IBrOnSk2QBs7ir17bnuAaXw985ljXoytSW21cViiI62~VaWzVKNLJcnEDOqup~k3w~uHbIRAyqH1x6K8Y17MKbr8QL8UuzvhlxX14SgOJ1I0dR88Sye0t6gP2A5fujc.jpg
//media.inmobalia.com/imgV1/B8vEv5Xh8DZJ8zA8HsKlVQQovHvPS2nS1REiasNjjf37J7WfKOkiQxSIhRrnU2OBFkknCXNFUkYS7Hh9o9IZ_QJ9eIkyovF9mQ6r8O706xGqIfvnW9O98hpxRCeNaq22gScFwmEqfufuoI0RHaveXjHc~mwXT4UuNW8csjX6g7bbOKxUr6_CO0WsRiFqDZoWgEpem_VTG~0JtC~qG75HmrlIJQpr9Ne6DPzVJ_slwbxh71nSjgmExHY_FJpZe74QFnNIJkM9tJLzj7Nl4ooIub4zuO5eOp9nYNyXuKBW.jpg
//media.inmobalia.com/imgV1/B8vEv5Xh8DZJ8zA8HsKlVQQovHvPS2nS1REiasNjjf37J7WfKOkiQxSIhRrnU2OBFkknCXNFUkYS7Hh9o9IZ_QJ9eIkyovF9mQ6r8O706xGqIfvnW9O98hpxRCZP9sPyUJ3S8yauRT4sP1BUyHZVmlMK0tcXJmuAlZ0IADvkQgi_8asZ2H~fDG1XdkzJ70gYwkQMpk7CfC5GVcEPTJgWg7PQyyRMIQ6TvhSzcCfQecFVP_wHx2ztRJqBJea54UG2Eev3SGWXwx6UGtDw65hucrMfy7fpM1Q~M5MacfFg.jpg
//media.inmobalia.com/imgV1/B8vEv5Xh8DZJ8zA8HsKlVQQovHvPS2nS1REiasNjjf37J7WfKOkiQxSIhRrnU2OBFkknCXNFUkYS7Hh9o9IZ_QJ9eIkyovF9mQ6r8O706xGqIfvnW9O98hpxRCU1mGwdd1FuKbOPNxwrOm7WD6FQVwkJ0GwmouRGC7sNjvyIBqsTTAg5eDO932MJoaombK3JRRHs0pf45_Y3hIzskmVcv29a4pRxhHATHXU_vHnCiqbW~1wwSMv1Cy_rl9KmRjRtPXEbhmiSKAVZXJiYWizhUKFuCARO12oS4bPotuub.jpg
//media.inmobalia.com/imgV1/B8vEv5Xh8DZJ8zA8HsKlVQQovHvPS2nS1REiasNjjf37J7WfKOkiQxSIhRrnU2OBFkknCXNFUkYS7Hh9o9IZ_QJ9eIkyovF9mQ6r8O706xGqIfvnW9O98hpxRCM1QZGhuz5mVvmHhaZsPio1MWWLr1Z1W~f2HXhpTTTyHMVp_GltIRWMSF0es09hsM99rxYzIX4aZBcTC6POJJaAVOQtC1jlm5XdkVGVyWJ~OhKtVEQeE8~tHBCJ15kPC7xTxT6zc23iHgzJeI~NdppNXjSHyss03Fhtc13irtMvtVzl.jpg
//media.inmobalia.com/imgV1/B8vEv5Xh8DZJ8zA8HsKlVQQovHvPS2nS1REiasNjjf37J7WfKOkiQxSIhRrnU2OBFkknCXNFUkYS7Hh9o9IZ_QJ9eIkyovF9mQ6r8O706xGqIfvnW9O98hpxRCSZ5fm4NjJETTaKjqMSe4PlwTmDzuqgZCknmh4h7EJuJD8nwbJHzBpGoYnGcF8QS_2qH5di1W73nDinB6r0m1taSVFtNuaMGAJiuSbPoG_H_YHm3x05MXPsMDa2~~DPhJulWonWXpDQ10eeawHXZvjvRlsq1s0i3NJ0iuowqKpR23CM.jpg
//media.inmobalia.com/imgV1/B8vEv5Xh8DZJ8zA8HsKlVQQovHvPS2nS1REiasNjjf37J7WfKOkiQxSIhRrnU2OBFkknCXNFUkYS7Hh9o9IZ_QJ9eIkyovF9mQ6r8O706xGqIfvnW9O98hpxRCJdgRGmO4Wo~250EtyZhxLd8abcbWUxZsj2nriQ3a5deU4aBfP1oLtYLJQVcR8Ko0fTncmy~p_lj6V3k34yl0On6f9rFJZLnnS6QxkGVoIN_p9lVYFde5jMYRSRvr7B82IyyVr~th74ing3SfF8PzQ7B0fdk4w9kSnOZZv_a2ZXIp_T.jpg
//media.inmobalia.com/imgV1/B8vEv5Xh8DZJ8zA8HsKlVQQovHvPS2nS1REiasNjjf37J7WfKOkiQxSIhRrnU2OBFkknCXNFUkYS7Hh9o9IZ_QJ9eIkyovF9mQ6r8O706xGqIfvnW9O98hpxRCCa2PxzcMqCoNiluSWFuBoRczjzlAqU0OqWjNjVEx3TWAH0k_7TG4sRRCQMFHPdXr~UOIe~NW7Ev5ndawMdj4FqP1LFO9UoaDFc2Ts2iT5m~RKR9ShgldclrQ~5U2NH2Mh4ve72Bla7fUM4bvuCyxbJlY6eF8SCtQ77kA~v7qEkS7xx.jpg
//media.inmobalia.com/imgV1/B8vEv5Xh8DZJ8zA8HsKlVQQovHvPS2nS1REiasNjjf37J7WfKOkiQxSIhRrnU2OBFkknCXNFUkYS7Hh9o9IZ_QJ9eIkyovF9mQ6r8O706xGqIfvnW9O98hpxRordofjSiqQxn0g8_RarCnBBnBhOXm9xweK3t9jQW1k21engfiD7I9oxx4qALCwaZXRQ~iVZcsJKHckBMW_BsvlVl2z9uU2oFeSUcX9k1FSqwW80~WkoNlYz0jtRfez3bO0Ywh~7z0kWyUL7DcOWJpevlPhmE2AvV8ak4RiUERu1UBgy.jpg
//media.inmobalia.com/imgV1/B8vEv5Xh8DZJ8zA8HsKlVQQovHvPS2nS1REiasNjjf37J7WfKOkiQxSIhRrnU2OBFkknCXNFUkYS7Hh9o9IZ_QJ9eIkyovF9mQ6r8O706xGqIfvnW9O98hpxRoeXNswGwFtHRUqqVDbYjn~YvusRGRtPA6HtAbASpA_BmJPa9odTh14KDajA91ZRvn5d4UhjanveiMsBrv743JcrS8~rQbL2sI9b0e7oBzJBbzOwuubCBM22hxvcyc7Y2zfxZdHUpT0g9l1gnO_1QK1uUlfYxCDAoUHS5Pe1NMcqzjx_.jpg
//media.inmobalia.com/imgV1/B8vEv5Xh8DZJ8zA8HsKlVQQovHvPS2nS1REiasNjjf37J7WfKOkiQxSIhRrnU2OBFkknCXNFUkYS7Hh9o9IZ_QJ9eIkyovF9mQ6r8O706xGqIfvnW9O98hpxRXbinP6pg~z5vRG6xp7wQw_hNd1TohS5VLXpqJSYK_XmhhzeJKyeY1r9g_4zAlTg4zthLZIYkyvY4kZxJk7RrXXXH2RjzF4QLLB62iIOOsm3lP7q6Gdx~3U8EJfLwpyX_ZpInRkHHIC4JqdlTg~nzep5bO4H~67tNwnfpi1IEwlxyGZu.jpg
//media.inmobalia.com/imgV1/B8vEv5Xh8DZJ8zA8HsKlVQQovHvPS2nS1REiasNjjf37J7WfKOkiQxSIhRrnU2OBFkknCXNFUkYS7Hh9o9IZ_QJ9eIkyovF9mQ6r8O706xGqIfvnW9O98hpxRXe8sSZSN_eBHW69br2XxDjsWpJ247Qa4khKd7UryywAzGchicyFUz7gVDEJ3R8MuRHh5Lv9ozfNPosBI09wjFoPKJMfra_4zQVsSelOj6gA0rnG9nGr4ey6FHGXBaakDLgptGNsq0MCbmgDfVf~xL_0p8bc9vd2XMmEqEp09EROCps~.jpg
Price

1.320.000 €

Ref.

4593

bedrooms

4

bathrooms

4

Built

278 m²

Plot

1.220 m²
Villa in Marbella Centre
Family Villa in Marbella, Urbanization Nagüeles, A beautiful, luminous refurbished Villa in a residential neighbourhood. Easy access to the beach, town centre, Puerto Banus and motorway. Sea and mountain views. Mature garden and a large swimming pool. The house consists of an entrance hall, living room with fireplace, dining room, fitted modern kitchen with highest quality appliances and with breakfast area, bedroom en suite, guest toilet, utility room and a large partially covered South facing terrace with outside dining, sitting and BBQ area. Upstairs master bedroom en suite with private terrace, second bedroom en suite with open private terrace, third bedroom with bathroom. Top floor room could be used e.g. as office/library/extra bedroom, access to open terrace with panoramic sea and mountain views. Central heating. Under floor heating in bathrooms. Master bedroom A/C, Alarm system inside and outside. Safe. Pure drinking water, water softener system in the bathrooms and salt system in pool. Garage and parking. Machine/gardeners room. Plot of 1.220 m2. .
Features
Close to town
Close to port
Close to schools
Utility room
Pets allowed
Fireplace
Marble floors
Alarm
Double glazing
Dining room
Barbeque
Guest toilet
Kitchen equipped
Living room
Water tank
Sea view
Mountain view
Automatic irrigation system
Covered terrace
Fitted wardrobes
Garden view
Pool view
Central heating
Underfloor heating (bathrooms)
Unfurnished
Close to Sea/Beach
Close to Golf
Uncovered terrace
Good condition
Similar Properties
RUSTIC STYLE, VILLA with a large plot of 2.900 m2. Wonderful garden and swimming pool area. The property situates in a residential area of MARBELLA, walking distance to beach and easy access to all directions! ...
4

bedrooms

4

bathrooms

480m²

built

2.900m²

plot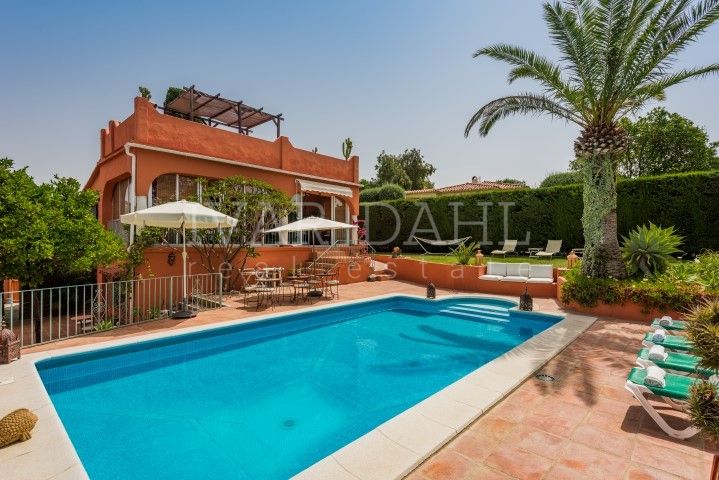 Charming hotel boutique in Marbella, 600m. from the beach,with all permits and authorizations to date. Number 1 onTripAdvisor and Booking.com note 8.5 in.It has 7 bedrooms,all with independent access and w.c. ...
7

bedrooms

7

bathrooms

150m²

built

1.000m²

plot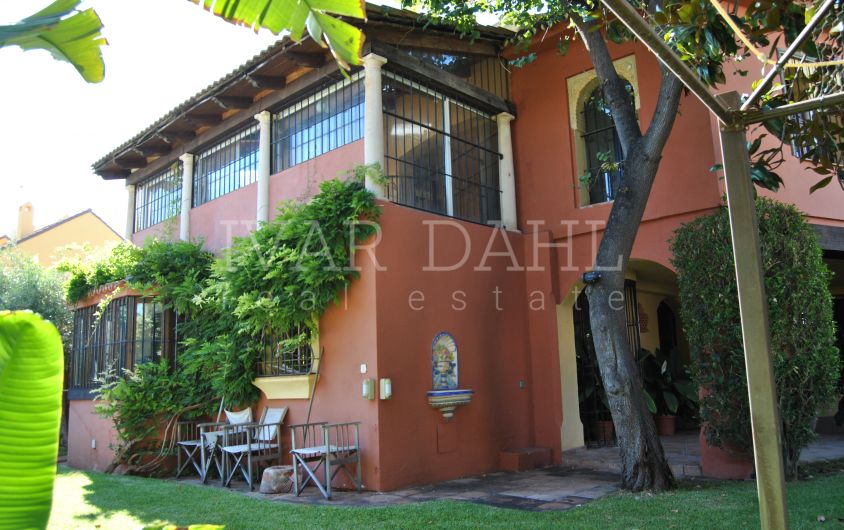 This is a unique opportunity to acquire a charming rustic villa in the middle of the center of Marbella, surrounded by all kind of amenities, shops, restaurants, pharmacy, schools. In walking distance to Old ...
4

bedrooms

3

bathrooms

268m²

built

590m²

plot