Villa in Cascada de Camojan, Marbella Golden Mile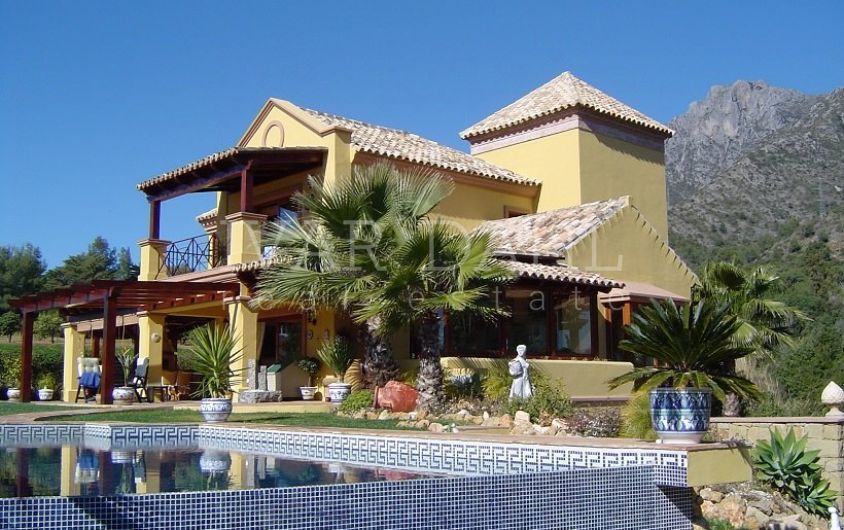 //media.inmobalia.com/imgV1/B8vEv5Xh8DZJ8zA8HsKlVQQovHvPS2nS1REiasNjjf37J7WfKOkiQxSIhRrnU2OBFkknCXNFUkYS7Hh9o9IZ_QJ9eIkyovF_2mf_9937ZO3KvjEtYrKnV~cewTvVr8lez~o_ByZlYpK_Wnw15Mn0C4Cq0VwYtiMZjJkCK79insA~9OBVPk0~YURKwPRJWufimu_rX0I8AuelidZstjoDUOjp3pdambp~VUgNkaHMfQSFH7gYHhhIMLuNoUqqdWw0JVjZPAR21ty1WSvikgGKYma2HXREIBBwYB9XKzdR.jpg
//media.inmobalia.com/imgV1/B8vEv5Xh8DZJ8zA8HsKlVQQovHvPS2nS1REiasNjjf37J7WfKOkiQxSIhRrnU2OBFkknCXNFUkYS7Hh9o9IZ_QJ9eIkyovF_2mf_9937ZO3KvjEtYrKnU1lbkS4DltSLKA5trIbq1MnB_idAXxnSUI~L4aRuUtKd~6B91ioGz6oz36tWXhWIugbSuSCoR2PctPaljQ0efyNDJOECHpSiC64flE9rYXk1UfFjrd8Y8dvZdv_maNtEtc07OOTndP8YdO~cawvUeOPPoRoX0s2hyZmvSwG_ONC403aEMNRI.jpg
//media.inmobalia.com/imgV1/B8vEv5Xh8DZJ8zA8HsKlVQQovHvPS2nS1REiasNjjf37J7WfKOkiQxSIhRrnU2OBFkknCXNFUkYS7Hh9o9IZ_QJ9eIkyovF_2mf_9937ZO3KvjEtYrKnU14m7SEqohW9BpLHql1nTeRhdrtPY6Mv_tX_7Re_iQ_TAInQMvea7D93VDwwz6WW~fUve5Spy42j_FRvPfBvvoQoO0OR8fQSbz5JxyBLoneTP8H5gIxAenxRJjQ4iMabXv~iV40_RndM~Buk4KiSOl_cyvKukAQFg~oQjZWM3kWWDnZ1uwTu.jpg
//media.inmobalia.com/imgV1/B8vEv5Xh8DZJ8zA8HsKlVQQovHvPS2nS1REiasNjjf37J7WfKOkiQxSIhRrnU2OBFkknCXNFUkYS7Hh9o9IZ_QJ9eIkyovF_2mf_9937ZO3KvjEtYrKnV~cewTZEdzLZELQfaKfoeE73lkEhpG7pQMkna8lsIL4hX7KYabxdLcQZzkK3Jso40_qfIOWVKGhLd0~y5zvrCMvb8cfLX7nxeVEFd40KvkR3O2ZQVz3Zpc5cuou3swbBM5vMfTuH1rlTT4ELNInLFQniohlNYIHQbMtw7kUdjEOgtbFu3Hce.jpg
//media.inmobalia.com/imgV1/B8vEv5Xh8DZJ8zA8HsKlVQQovHvPS2nS1REiasNjjf37J7WfKOkiQxSIhRrnU2OBFkknCXNFUkYS7Hh9o9IZ_QJ9eIkyovF_2mf_9937ZO3KvjEtYrKnU14m7GxhGZzwclgA8UNwxWD3SEF7AzCggXb3UBL6VNJf1VOUsz_fXab9O3b1wKdrvbEqxa1B7uJf9uLcFhCm0zaiGFUUhqfYWnOiYKuUnOvyPpvqbLJfiOWW1BBH4IINf~GpiY~nW6aHi9QSwVDrChsVPyTMJaD_BbSKY8FNYhqsKTL21QMV.jpg
//media.inmobalia.com/imgV1/B8vEv5Xh8DZJ8zA8HsKlVQQovHvPS2nS1REiasNjjf37J7WfKOkiQxSIhRrnU2OBFkknCXNFUkYS7Hh9o9IZ_QJ9eIkyovF_2mf_9937ZO3KvjEtYrKnU14m7ScZZdMCUNW7B2hVOdafNcqIxlG6wrdgqXTwcoLXHMUI4ZHw61aYp9KfBZDk73N~cyyRykaLR_DCKddxYbvLEQX1wcsa0DLZI~FPrlSlOOlSWw5OhFhttr9IEyIdy8~wq8xdY~zsViDXDx5tVvoGov1TIRf6hXX2KsP~XCiZ3ZFtKShr.jpg
//media.inmobalia.com/imgV1/B8vEv5Xh8DZJ8zA8HsKlVQQovHvPS2nS1REiasNjjf37J7WfKOkiQxSIhRrnU2OBFkknCXNFUkYS7Hh9o9IZ_QJ9eIkyovF_2mf_9937ZO3KvjEtYrKnV~cewTDnAwRzleOcTvR3QDrRZ21n9FdeVdRDGYIAs5ZlUiqcYKXfIQzdEXWcWBwcMrCJEn9dUuYVf1FbEFghooRCvT~ulz8D_ULReANgcAZFu8YssOTqVACtGSOOyhwtzp9MccQ1uh0O0bi5IR8RP4lpEmx0~V7B4zB1y8yU5wuQZ_Hf9pnF.jpg
//media.inmobalia.com/imgV1/B8vEv5Xh8DZJ8zA8HsKlVQQovHvPS2nS1REiasNjjf37J7WfKOkiQxSIhRrnU2OBFkknCXNFUkYS7Hh9o9IZ_QJ9eIkyovF_2mf_9937ZO3KvjEtYrKnV~cewTFFKl4gEYRzllBGs_KBhzJUg11yY8z9jIMfxE~DdlFU3nhjI2NMNuqsMfuFLc30jBE101UYQejBE0MkU0hDZlp8eFPNrxWroa3H7WqIc3vMCkzWRd1OqLdC9jFa7gRoI7SQDy_XW1a49zhXBcGy3mm13aDv7J47kzHwoaF6tikBZ7Ob.jpg
//media.inmobalia.com/imgV1/B8vEv5Xh8DZJ8zA8HsKlVQQovHvPS2nS1REiasNjjf37J7WfKOkiQxSIhRrnU2OBFkknCXNFUkYS7Hh9o9IZ_QJ9eIkyovF_2mf_9937ZO3KvjEtYrKnV~cewTRi0HnQrOQVeTfvJ~ThQzrpETqNl3vuSxIUbE8HBRMzQHEIcATNT6~pqoDekTXimhmWIu3Z9bYnpRCVV8iIqyr~d4fCoKxqJRM_GJv3mCMvSoAQCwHAkGDP1F4XDbfkcFsIL6t2RXdxal7HQWhHhI3OhpfAEAA4kGShidF52j_V7mKu.jpg
//media.inmobalia.com/imgV1/B8vEv5Xh8DZJ8zA8HsKlVQQovHvPS2nS1REiasNjjf37J7WfKOkiQxSIhRrnU2OBFkknCXNFUkYS7Hh9o9IZ_QJ9eIkyovF_2mf_9937ZO3KvjEtYrKnU14m47D_AC0O4hT_9YpHUx~SEhKS6ZkHocfYJuxJuS4Qg9F5asIWm71zK_hoVCzSvfzj_SHBfVvACwSvSVL3eUFMdNxd1RM2J1~ftPjkcGtER3SF8094TEpn9aSMLPO6w2dXRVGD6J1N6ZMJgszNa90bVANH4vO6kGni50RNQ~kdNmLiTvCc.jpg
//media.inmobalia.com/imgV1/B8vEv5Xh8DZJ8zA8HsKlVQQovHvPS2nS1REiasNjjf37J7WfKOkiQxSIhRrnU2OBFkknCXNFUkYS7Hh9o9IZ_QJ9eIkyovF_2mf_9937ZO3KvjEtYrKnU14m47~miPBX7Wm~H0MgRrtuZr18t1CVZVzhXRpWgkbjfD4hNeUQBHeYNMCwwspESTHuIFSfXzP8OaHl5rDxkI1dQm7MOjSZeELRkV0fTR9ybYnlSUww1yF30~qPwagwb~A5D_Di5_rBUPaBZ8P5AuH1k25g67~2_Z6AYYeXr6kZGh1a23cD.jpg
//media.inmobalia.com/imgV1/B8vEv5Xh8DZJ8zA8HsKlVQQovHvPS2nS1REiasNjjf37J7WfKOkiQxSIhRrnU2OBFkknCXNFUkYS7Hh9o9IZ_QJ9eIkyovF_2mf_9937ZO3KvjEtYrKnU14m7G8_bggLcmdtRq~iihMNTGF8pk0~bM5hhwSXXlPouqvFsvmsrW60XEbLhCg1liAQbe6tbQaY_TL0rnj8yNxOG2NDLiSykM3bqfYgFIUuDfWKNmER6qXghn9xeGoz9GlEzI6QyLvd~D5sPrOrK69bXoQVUH4TrTyk7KsewW22LpUKd7uu.jpg
//media.inmobalia.com/imgV1/B8vEv5Xh8DZJ8zA8HsKlVQQovHvPS2nS1REiasNjjf37J7WfKOkiQxSIhRrnU2OBFkknCXNFUkYS7Hh9o9IZ_QJ9eIkyovF_2mf_9937ZO3KvjEtYrKnU14m7SOGStOTAxVNfbPL9nPwbchpIMqEF9MaPr7ReZ8OE36pRJ~IO76E1AuUGv8XS5QrSBE9kqCzo_hUzby4jYKAV_LsZBWI5njhjTIifTuJqBk38pDx_gGvcBOEdSowUcX5prkr89jG7Miei39_1yBbOP3nGKEiDqew4wsd896tLGMY9eKX.jpg
//media.inmobalia.com/imgV1/B8vEv5Xh8DZJ8zA8HsKlVQQovHvPS2nS1REiasNjjf37J7WfKOkiQxSIhRrnU2OBFkknCXNFUkYS7Hh9o9IZ_QJ9eIkyovF_2mf_9937ZO3KvjEtYrKnU1lbkSEiKNnQulGR1L8BHN1DTsy8Cj2sEDWCNRyddRmoxh_D~GpyYz86SUcPiIpz7yqnMQ0YNniUSMIQ28WSUVRDzGAM6ZY4bb87P_DkMi7x5b09WbhstvoC~x2xw8WhcDzUJ5SfLAUtPadq4c9otoqB5jQwpTG_l5X6uDanBMvNoGsV8ODT.jpg
//media.inmobalia.com/imgV1/B8vEv5Xh8DZJ8zA8HsKlVQQovHvPS2nS1REiasNjjf37J7WfKOkiQxSIhRrnU2OBFkknCXNFUkYS7Hh9o9IZ_QJ9eIkyovF_2mf_9937ZO3KvjEtYrKnV~cewgPpV5~qqr6y62CZXGJQAtsdgEvAaMMMxdTj56tqbqCFMX0Hkyn6EI_iogdT1tKNhBsAz7VMT4FlUVa~Sch~kgPYMDJzAlPStEZ52qc~qeeJvagqlhTRv0nLFqe93PEZiYeEUbRr71VoMcJCKTG2IfG7V6rn5SBTK8zZiLi_KqcdTbl0.jpg
//media.inmobalia.com/imgV1/B8vEv5Xh8DZJ8zA8HsKlVQQovHvPS2nS1REiasNjjf37J7WfKOkiQxSIhRrnU2OBFkknCXNFUkYS7Hh9o9IZ_QJ9eIkyovF_2mf_9937ZO3KvjEtYrKnV~cewTeKv2Cb8GXEq9YYbPYzx3H4JDNP5Ll6O9Wm6uwNXKHd6anp5h2SDB_KBthAyEKaQ548TApsnJGl6pdG2VsQ7Dv_gEDQpqLP3sVnniZM7aYwBkRAoJeADv44_P4eN2K84C3m1otj9LF9KKGU~gglht2zLVeJtxNwUgC4Um_13UiFnjij.jpg
//media.inmobalia.com/imgV1/B8vEv5Xh8DZJ8zA8HsKlVQQovHvPS2nS1REiasNjjf37J7WfKOkiQxSIhRrnU2OBFkknCXNFUkYS7Hh9o9IZ_QJ9eIkyovF_2mf_9937ZO3KvjEtYrKnU14m7SST_qYHZvEPBLey5Xp2QJNb2YsGi7BQtspY~2aLMxn_6Ymxd4GzIgSnxVH88hkLd~YPR8E1cb0PhFIZhh_1S5dJcNweFlg~Fn3A5bGhX8QCVU3FTrpa3gq1plNgJaEYo80z9IGGS4nQ0YcWIUifzW145XEsMNBSKxF9u8TLgz6qmZj0.jpg
//media.inmobalia.com/imgV1/B8vEv5Xh8DZJ8zA8HsKlVQQovHvPS2nS1REiasNjjf37J7WfKOkiQxSIhRrnU2OBFkknCXNFUkYS7Hh9o9IZ_QJ9eIkyovF_2mf_9937ZO3KvjEtYrKnV~cewTrcMRJvjysVw6227GXqxdyU_gnSlosD8nkyaUkyuPzOydT25Ui7zDnynXp6hF_Xnxq5GfSLyPNvaYfK7nahhb29MjYHQjlhH9fTypruQPFWrT9UY9t3kKgsrAb9iIXmwawG0oYm9d~ok1y64IrKI13zZQTWc0nt5QNC_FeoPovJzB0b.jpg
//media.inmobalia.com/imgV1/B8vEv5Xh8DZJ8zA8HsKlVQQovHvPS2nS1REiasNjjf37J7WfKOkiQxSIhRrnU2OBFkknCXNFUkYS7Hh9o9IZ_QJ9eIkyovF_2mf_9937ZO3KvjEtYrKnU14m7GjuNzayccEwPQbtDIqXsPMmUKtpk8Za_1MOtccS5YaqJtE~Jsi~RORwbQg~fp46QH4zuSvPt8djF0rCaJiaoJlIoMhAV1eE3_B3s5KRNaR39uYNAaOlg8Z9hokN0mdVb4XcZ47itbsk0hIFYpxMBk1RND5O_dVtMJ3GSUWKP0LbGKJZ.jpg
//media.inmobalia.com/imgV1/B8vEv5Xh8DZJ8zA8HsKlVQQovHvPS2nS1REiasNjjf37J7WfKOkiQxSIhRrnU2OBFkknCXNFUkYS7Hh9o9IZ_QJ9eIkyovF_2mf_9937ZO3KvjEtYrKnU14m7GWS_Fkrp_z7p~tHeKDBv25AO6xjAseGqi7YZeIeJNn1jujNEC7mG6jFZXaarb22NS1zzah7ahfzv4iQ428DXXfr5r1x46vRfCzf~k7v2B2lfNMRb8BsUitsER1eH~PB8PanWbYIgxW0CqSAPBl5k4n_MgYTjFpV5LQjVZ884Thxi31j.jpg
//media.inmobalia.com/imgV1/B8vEv5Xh8DZJ8zA8HsKlVQQovHvPS2nS1REiasNjjf37J7WfKOkiQxSIhRrnU2OBFkknCXNFUkYS7Hh9o9IZ_QJ9eIkyovF_2mf_9937ZO3KvjEtYrKnU14m7SLWEwXqodk2_O8uoaJXPqlkumLndzGegHBphTOaB4rFGwSgBIqt63diT98548zV232Xoeokaql76gT37UM7lk2LlQRjavmrQEc0VG__q7mqdI_1L2kpDlzmPq8R5iKNOxi8oXgpjcf4kiLR6usTHP2AYAPhk8Rd04ytiMm4tz2ZttSh.jpg
//media.inmobalia.com/imgV1/B8vEv5Xh8DZJ8zA8HsKlVQQovHvPS2nS1REiasNjjf37J7WfKOkiQxSIhRrnU2OBFkknCXNFUkYS7Hh9o9IZ_QJ9eIkyovF_2mf_9937ZO3KvjEtYrKnU14m7SZTJfcTFskxoNHP_GBF7zvC0NWN1YARjdbPa7ZOOtKQqWLsS7wg7WfASnDZI4e~YFWbgBg6MiX0WzdQY~85KaOL8UYoGunhFwoel1hN2aqmDIg1O7V7cYkArhKkgEmSSQM~cUp~on5svzFF6qQvpOT0~ECkc5yBxMkH0~z2T31X34zU.jpg
//media.inmobalia.com/imgV1/B8vEv5Xh8DZJ8zA8HsKlVQQovHvPS2nS1REiasNjjf37J7WfKOkiQxSIhRrnU2OBFkknCXNFUkYS7Hh9o9IZ_QJ9eIkyovF_2mf_9937ZO3KvjEtYrKnU14m7SX7WlyJoauk7TcyeCkvqWrYtqBaz9a0rC1Ei_xrGBDzXJxTH1SEV_P5BGtpRV8mtsaVlh8jAV77XuqnldJVonsLh92Iko9axFvedVZj4yjKTjeQCHHrHG0zAxOagkwY64oK03uWSOCmWRy~7PEsjROu7iOBJgywW9LRmaek0ku32YUo.jpg
//media.inmobalia.com/imgV1/B8vEv5Xh8DZJ8zA8HsKlVQQovHvPS2nS1REiasNjjf37J7WfKOkiQxSIhRrnU2OBFkknCXNFUkYS7Hh9o9IZ_QJ9eIkyovF_2mf_9937ZO3KvjEtYrKnU14m7SrKr48WhsdGPgEXT1pem1mtGNSniE~Uqq~wfP15ADXEEBxAjeEq1ID3ZGqbhWDZrgXqjici02kFbNNnvaHBmN3gVfgCroqwc_iG5fHTIku92PyzPMF6zXNmGZh0pbW_QG7psqmgJmIGI23iZC_X3ISXOrG769L9MvQglFzVEFU7FWhh.jpg
//media.inmobalia.com/imgV1/B8vEv5Xh8DZJ8zA8HsKlVQQovHvPS2nS1REiasNjjf37J7WfKOkiQxSIhRrnU2OBFkknCXNFUkYS7Hh9o9IZ_QJ9eIkyovF_2mf_9937ZO3KvjEtYrKnU1lbkSZ7GsbmKmTqsPYXRSgFsdF3Uo7~Sx1fGLXRRjQwlmoNv5Gx2ITEZRRoHDBrV4ClvhxP9xysY9qsnyeO6ICpApT12DnBNYs6oE3fdbAUpntkUaa742wX5KfqfNycQzpdoCe__P~OYmyJMVl5OP7GAFs~mWpwDPIvbjlsD_R5FB7dkVqw.jpg
//media.inmobalia.com/imgV1/B8vEv5Xh8DZJ8zA8HsKlVQQovHvPS2nS1REiasNjjf37J7WfKOkiQxSIhRrnU2OBFkknCXNFUkYS7Hh9o9IZ_QJ9eIkyovF_2mf_9937ZO3KvjEtYrKnU1lbkSd4hR1yPjH1VdbD7xKu2X4RpK0y3tAIh5Txs7x1ob6egERrsHydRLcLmVKfwtPzCmlSOsK3OvyK304ruvBBAZdqoKKoY1qpoXc~m57xPhH67AM3Iuu_R__DDa1FE4LQ~hdtoGJGxnAPNH4Y6sWP0j0SDqOS1dG00gyIcNutgOo5rrqc.jpg
//media.inmobalia.com/imgV1/B8vEv5Xh8DZJ8zA8HsKlVQQovHvPS2nS1REiasNjjf37J7WfKOkiQxSIhRrnU2OBFkknCXNFUkYS7Hh9o9IZ_QJ9eIkyovF_2mf_9937ZO3KvjEtYrKnU1gkHqQjfIOIwr0yPK_~rCuPZeZTDVpHTNKzYZMIVP1PeEnuJvrhGPpmguk0rFSJllkbJ18Yoj~CWJwJNBLN1bKJocITrTau2GOCVcHTg31Jon6hySZ4OqtBXdod0QWjm2WX003KAjwqH2xbM44u5j9LFIMW5r90upkm8_zZZ53ftDpNZRmz.jpg
//media.inmobalia.com/imgV1/B8vEv5Xh8DZJ8zA8HsKlVQQovHvPS2nS1REiasNjjf37J7WfKOkiQxSIhRrnU2OBFkknCXNFUkYS7Hh9o9IZ_QJ9eIkyovF_2mf_9937ZO3KvjEtYrKnU1gkH~Rp6kwRGR3GrONg_Qkq4VNHJLAlwZ10QWhI2hqrBuif_8bDuhw7oH9aNysiPKVX2vM4bl5FtXGIppkMc9NmjYwT4043GVlbDVq9xarUQznSgRcLAgB5yBbQxmFPWG~EY8lusNcpaXGDS5lt~gcO0fdui3xnDngzMj4_CLDTnhUqLHmr.jpg
//media.inmobalia.com/imgV1/B8vEv5Xh8DZJ8zA8HsKlVQQovHvPS2nS1REiasNjjf37J7WfKOkiQxSIhRrnU2OBFkknCXNFUkYS7Hh9o9IZ_QJ9eIkyovF_2mf_9937ZO3KvjEtYrKnU1lbkSQZY85EEWmGAAOmwfsxizLJ1tCSmOCT7QGpjX0QD5H8bpanNvDhKHCRarZCwbcd0Mx18cR~YARK9sQJ65c1U1toqxcp~8VMIAyrNTbG5WcWvSeo9nIXJC1pYSsJt7IllCSCzGtKDflQnphqgnElmp4P_gX1IyAZP1TvWWoarKfMHfjO.jpg
//media.inmobalia.com/imgV1/B8vEv5Xh8DZJ8zA8HsKlVQQovHvPS2nS1REiasNjjf37J7WfKOkiQxSIhRrnU2OBFkknCXNFUkYS7Hh9o9IZ_QJ9eIkyovF_2mf_9937ZO3KvjEtYrKnU1gkH~W40cKsSxWQa_oACXXdXWcNW6V1JfAdeut~w_JvqaFXu5vlBOSSgYWTQ2TV1qiTlJjaIg8z~CD0zB80jr4_viPltUY~W3xzSGd0MCi7ZvOoOcmRIhgPa6CV7dYI8NDqWo4nnTZ~Np6AhpM2sm8~f9~67dUNlijGuVBgDqWV2IuKyk1a.jpg
//media.inmobalia.com/imgV1/B8vEv5Xh8DZJ8zA8HsKlVQQovHvPS2nS1REiasNjjf37J7WfKOkiQxSIhRrnU2OBFkknCXNFUkYS7Hh9o9IZ_QJ9eIkyovF_2mf_9937ZO3KvjEtYrKnU1gkH~eTLqbD5WbinEDI5wYQdxNWCgPyQiemX5M4IGp9yXseoUC3OgAKnEEgEENSykOLH5NVUjuGGq7hSJRniBxWMVBpE6RM_7j_mGjZsgvXuFS0R7l5IRqh8rDpIBL7Xu3M2KXyHlu9FvaNSXyYnOz5TKZk4OfSjycaqTXjgS6wWDC2erBw.jpg
//media.inmobalia.com/imgV1/B8vEv5Xh8DZJ8zA8HsKlVQQovHvPS2nS1REiasNjjf37J7WfKOkiQxSIhRrnU2OBFkknCXNFUkYS7Hh9o9IZ_QJ9eIkyovF_2mf_9937ZO3KvjEtYrKnU1gkH~C42BldCif896mCqiKejpsDRVWDrkblJN6vEczWEgb6mqXeWktYxbwFS4ZsOp6xtiFxB4LUP5h4k4Dq03TPjedJ72TnXZwiaEnNIcgMD0xLoxJmgGVztqUpQpm8S1RwaiJEQONaQRsUh8_PyNI8prIKDCJMPmv7f5l71YPmjfOaL7T4.jpg
//media.inmobalia.com/imgV1/B8vEv5Xh8DZJ8zA8HsKlVQQovHvPS2nS1REiasNjjf37J7WfKOkiQxSIhRrnU2OBFkknCXNFUkYS7Hh9o9IZ_QJ9eIkyovF_2mf_9937ZO3KvjEtYrKnU1gkH~EYZoVAF0fTBzviCEsXLBYtcOlBPdqiSnP2I1b13dbnt4tapKCTlhC2kPY41GTUhaSMMbC2_x0ACWp2FzgdFGVNcOBvu1cT09lBEybRWkHH6eOby4r5Hb0o7082krrR0xLwZHWllNqGwbp~xpiIdrvj_MmnH_2MJ~araC~mWVG7VKD8.jpg
//media.inmobalia.com/imgV1/B8vEv5Xh8DZJ8zA8HsKlVQQovHvPS2nS1REiasNjjf37J7WfKOkiQxSIhRrnU2OBFkknCXNFUkYS7Hh9o9IZ_QJ9eIkyovF_2mf_9937ZO3KvjEtYrKnU1gkH~JzP1MZyrRyFr5~DlNy4gCuaWcFu7dVMdUCk3Z54VrDXOJT25XbadXVAW5Ue9cYcVohYchYQpQuAPt_LLvk_SnIdLNtdxIuikTReMslC48PgTC8bYQU2jd2LKXT2KTFzrJ__06LVTtAAQmU_dCRwFp29LMwfaPhGHlskrhOuY~JyC~0.jpg
//media.inmobalia.com/imgV1/B8vEv5Xh8DZJ8zA8HsKlVQQovHvPS2nS1REiasNjjf37J7WfKOkiQxSIhRrnU2OBFkknCXNFUkYS7Hh9o9IZ_QJ9eIkyovF_2mf_9937ZO3KvjEtYrKnU1gkH~MByMC60QmHGl0MKpGYl_BHGCPwCt0_P0SBd96D0yed5wn00OFK0xFoDHf833ESNG0CWdHixdDN3SEXqCWJTJUXj6EFG_AsKLwlTf0lEqod3JanL_VrIYcwRMsVASYjFMGq3v8WWuvFqgIu1PKSFuwAIn2wPcr6lTM4z0LT7jAgkAAu.jpg
Price

2.280.000 €

Ref.

4601

bedrooms

4

bathrooms

5

Built

564 m²

Plot

1.500 m²
Villa in Cascada de Camojan, Marbella Golden Mile
Cascada de Camoján. VILLA ON THE HILL SIDE OF GOLDEN MILE IN MARBELLA. South facing with sun all day. Ground floor: hall, 1 bedroom en-suite, fitted kitchen with utility room and own entrance, living room with fireplace, sitting area and separate dining room, half covered terrace with sitting area and bbq area leading on to beautiful maintained garden with many details and swimming pool. 1st floor: master bedroom en-suite with two dressing rooms, fireplace and open terrace with open sea views, another bedroom en-suite. Lower floor: garage for two cars, two storages one with wardrobes, guest studio en-suite with own entrance, bodega with proper wine storage, party room, Sauna, toilet and shower. The villa has underfloor heating throughout and air conditioning. Water storage. Quiet area. Surrounded by nature.
Features
Fireplace
Security service 24h
Living room
Water tank
Covered terrace
Air conditioning
Central heating
Similar Properties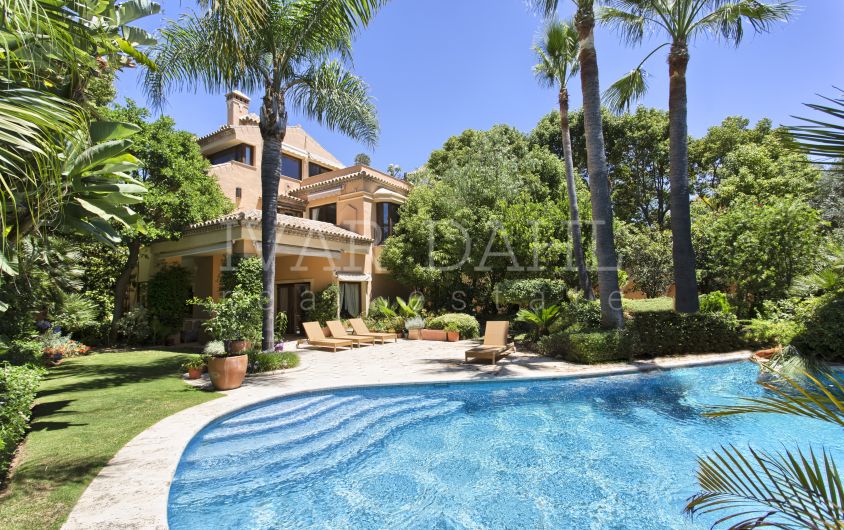 Villa in Urb. Altos de Puente Romano, Golden Mile, MarbellaBeautiful, classical style Villa, build to the highest standards. Located on the Golden Mile, sought after location and close to all amenities, ...
4

bedrooms

4

bathrooms

1.012m²

built

821m²

plot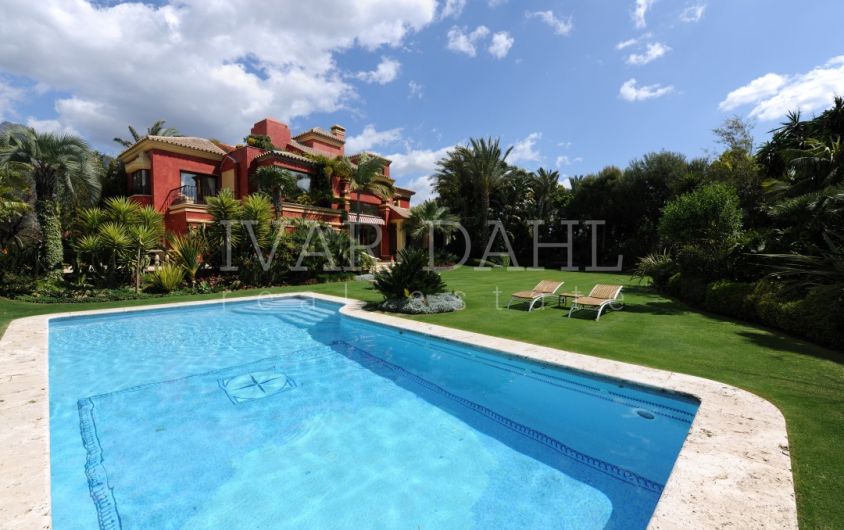 Luxury Villa on the Golden Mile, Marbella. A beautiful, exceptional property. Large plot 2029 m2, 5 bedrooms en suite, outdoor and inside swimming pool, winecellar...
5

bedrooms

5

bathrooms

1.229m²

built

2.029m²

plot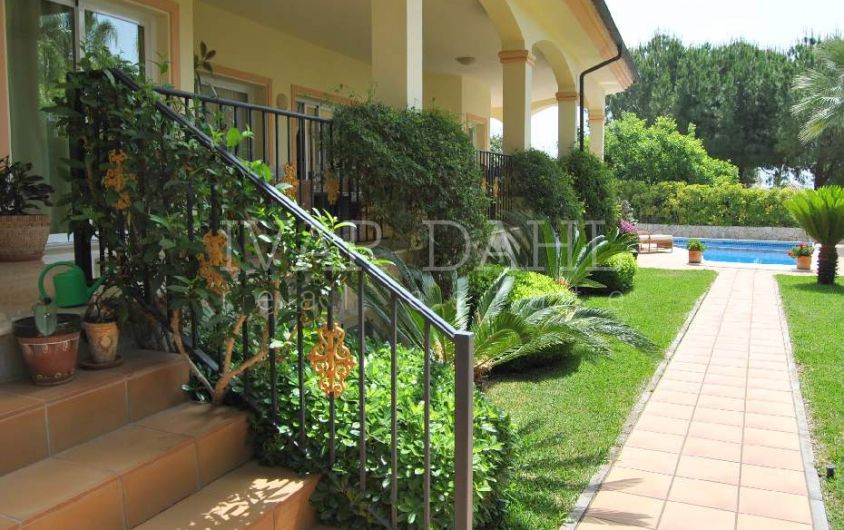 A beautiful South facing villa situated in a gated urbanization, 24-hours of security. Park like community gardens with paddle tennis and small children´s play ground. The Villa consists of entrance hall, ...
5

bedrooms

5

bathrooms

540m²

built

1.042m²

plot