Grand villa with sea views for sale in Sierra Blanca, Marbella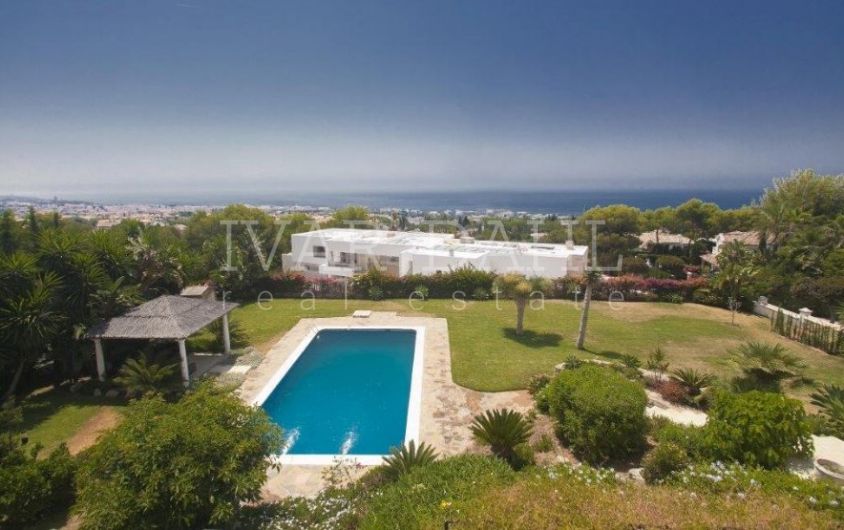 //media.inmobalia.com/imgV1/B8vEv5Xh8DZJ8zA8HsKlVQQovHvPS2nS1REiasNjjf37J7WfKOkiQxSIhRrnU2OBFkknCXNFUkYS7Hh9o9IZ_QJ9eIkyovD5Z~_id1iBpXn_i~rxHzLvmvLyd91kKSJ~BFRsiivweI_b9E73UoF~Af8JM2xdglEKCApgXhz88iHjkbTYLLWY5zc~d83PjLGhqNzSNUrGaydwp78H3QWYJKKZpyzF1HtRmZNkRLtE9zGDhoDm8MK01WRT6tyRDbmchQVAUdksuVoEQzL9uBH_ycn4~4lnviQcHws1TXgv.jpg
//media.inmobalia.com/imgV1/B8vEv5Xh8DZJ8zA8HsKlVQQovHvPS2nS1REiasNjjf37J7WfKOkiQxSIhRrnU2OBFkknCXNFUkYS7Hh9o9IZ_QJ9eIkyovD5Z~_id1iBpXn_i~rxHzLvmvLzi5GaDxE1qJqFj5R81yfA8xKEAtGHhbGdW~ZRvKUIjv13_xqIhIgd8IIrbDNGJtrF35cyuLNqbB4sODC4bpK6SdWDfUdqnCmfRAKSOD3853HrK5Cf0KfGXNGneTx1Bqn3bJwA3APVxM7N8f0v_AaUK7b8FpuVhvc2qoWWt2sVl9s4DI0f.jpg
//media.inmobalia.com/imgV1/B8vEv5Xh8DZJ8zA8HsKlVQQovHvPS2nS1REiasNjjf37J7WfKOkiQxSIhRrnU2OBFkknCXNFUkYS7Hh9o9IZ_QJ9eIkyovD5Z~_id1iBpXn_i~rxHzLvmvLzih~77L0R0Ht5c1i7yI_7TS1zCVOOro_RnKeacFXlGMBUm3v1_3vxKK_zmteGmwIUNNx6z9BlGB3LjjX4gaE0siiuKs~v~G_OhoDRZG38skRxUAnmPZKzPUk2Vrw~mVtQcb42VVpVy_JLm3MZ5jAPwDLhHuMaY6dgYibgy_adznMfTbyy.jpg
//media.inmobalia.com/imgV1/B8vEv5Xh8DZJ8zA8HsKlVQQovHvPS2nS1REiasNjjf37J7WfKOkiQxSIhRrnU2OBFkknCXNFUkYS7Hh9o9IZ_QJ9eIkyovD5Z~_id1iBpXn_i~rxHzLvmvLydamEi~A3Q6sZ729WXjESMYbehtWqRGHJY6LL6cNV4isL8hejxOE8wDnrl9h2_yUgj5RqC03DRUCbGVTYKuB29Arj2PIz74hkvV7HMvUW_TNnS6cEcn0bQkBZeve0PeGtWIt1ODXXLA~11X~WTI9LMamsLvG1eBNp8V8k74Npjj7JgP1S.jpg
//media.inmobalia.com/imgV1/B8vEv5Xh8DZJ8zA8HsKlVQQovHvPS2nS1REiasNjjf37J7WfKOkiQxSIhRrnU2OBFkknCXNFUkYS7Hh9o9IZ_QJ9eIkyovD5Z~_id1iBpXn_i~rxHzLvmvLydBm~ukQQvlJXFE9Es~KCxw0aFt0IRSTO4ffv~6XjN5SLTQFwXAJKdJwClc3SZRjfLwUUGrHs7SxUVL4faB9KhtJ4PPsfr~AJmKzg6IOqEkW3NvgYd4KESaUnUQ~twI3oTH9OnBDwStzbW9~UVEcx54ZPkHDctTET9glL1i8L92D2~Q2v.jpg
//media.inmobalia.com/imgV1/B8vEv5Xh8DZJ8zA8HsKlVQQovHvPS2nS1REiasNjjf37J7WfKOkiQxSIhRrnU2OBFkknCXNFUkYS7Hh9o9IZ_QJ9eIkyovD5Z~_id1iBpXn_i~rxHzLvmvLydr1i~mpA2cLELSDCbBZWE1NFPRVj59bmYL8ko0ruAk2PdFhN0WnVMEILhlL7z4D4FTIXYoBgnY7bts3HKSHcC~yrm1XqIxA7sHqV3vUAhyZF7Pyl2mMsOLNsPOOwdNENG9HKG8ojp6qw~l4IYXj_mH5GMB1DToaT1jHOWMiDMzWdvgfm.jpg
//media.inmobalia.com/imgV1/B8vEv5Xh8DZJ8zA8HsKlVQQovHvPS2nS1REiasNjjf37J7WfKOkiQxSIhRrnU2OBFkknCXNFUkYS7Hh9o9IZ_QJ9eIkyovD5Z~_id1iBpXn_i~rxHzLvmvLydr7hnjItJJAahk5y3qfvgC6t2w68V51ahayO__OLu2R_qgDWhc_TJrdQVf62qssAQwAzvBdBpWlChVICIliKKTrEb4oCbX9PeOPKpfs5bqqbmmoBWfYLMji3_sTuNnZhngLPWYD9qCqN2XClMoIt2dAXHY1JV1h~8eVokGkQezm41OgS.jpg
//media.inmobalia.com/imgV1/B8vEv5Xh8DZJ8zA8HsKlVQQovHvPS2nS1REiasNjjf37J7WfKOkiQxSIhRrnU2OBFkknCXNFUkYS7Hh9o9IZ_QJ9eIkyovD5Z~_id1iBpXn_i~rxHzLvmvLydro1xWgpDXEQEvutj89y2~khtdBNqUAIIaYxbJ97bCJccX6qIiHTbP3j~YBhrEKYukpgAa~Tem4fzIeX1xEydXoGjGQTZs_V~nXc9A1IN3OquKcQUkZVCenVVK_8yMFGBkw9tuWm4vRQl~dkpGcMVMzGOhyAf2s8AD~TQZzbf26Nm~sB.jpg
//media.inmobalia.com/imgV1/B8vEv5Xh8DZJ8zA8HsKlVQQovHvPS2nS1REiasNjjf37J7WfKOkiQxSIhRrnU2OBFkknCXNFUkYS7Hh9o9IZ_QJ9eIkyovD5Z~_id1iBpXn_i~rxHzLvmvLydrPZyDb0IyNWnf6k2yiUGhSJ4UCTbhal3atwCBKQdmdsSuicQbQ0AxFRimRz0P5UxqH6fl5o9Lqv3bw6IghH7ukrVo4bp16h3MAwL0M7AVdfK28RkF3P4rGSGEpZntsXO2SxFfBcnoyA743lcxUnbDXK1HSspD9VNUudLT7TDvAefaqL.jpg
//media.inmobalia.com/imgV1/B8vEv5Xh8DZJ8zA8HsKlVQQovHvPS2nS1REiasNjjf37J7WfKOkiQxSIhRrnU2OBFkknCXNFUkYS7Hh9o9IZ_QJ9eIkyovD5Z~_id1iBpXn_i~rxHzLvmvLzih1m1lyclhUJu4leJhi~yw5qTPR4PXoNM97j~KXMQoE7QBpnvz37uumgsoplvwdSs0MzAbVWCVS0hYjDeRtmcv41aggBAaZ2B9PrAbxEsKfYH3rYb9qcbEfbTdCm2KcmWVHN_E7bjHGP8xL1VdlK~O0~7n5AkyDKUkhb2GhtPgHdZ1Sc.jpg
//media.inmobalia.com/imgV1/B8vEv5Xh8DZJ8zA8HsKlVQQovHvPS2nS1REiasNjjf37J7WfKOkiQxSIhRrnU2OBFkknCXNFUkYS7Hh9o9IZ_QJ9eIkyovD5Z~_id1iBpXn_i~rxHzLvmvLyd9tbb1barNyL_tPPb63~Sz4wFMh1bz7hoIyiRkkzkV_tR8SvXqV0DBguVUAt5u4JW04M6OzISABG4ClJDeHMvbe9ATiZOIA6NIMT22PJbtbN85BC~12dihOeeG5aTGNREYFplG87PbzWaSUPy~KJf78TI1ZkPOLLchg2KyStkPCGf0jA.jpg
Price

4.900.000 €

Ref.

4603

bedrooms

8

bathrooms

8

Built

1.094 m²

Plot

3.118 m²
Villa in Cascada de Camojan, Marbella Golden Mile
Stunning villa situated in one of the most prestigious estates above Marbella´s Golden Mile, in Sierra Blanca, in a privileged position offering breathtaking views to the mediterranean sea. 7 bedrooms, 7 bathrooms plus a separate apartment. Extras: Air conditioning, Sauna, jacuzzi, indoor pool, heated pool, gym, cinema room, barbeque, fireplace. Area with 24 h security service.
Features
Fireplace
Barbeque
Separate apartment
Air conditioning
Similar Properties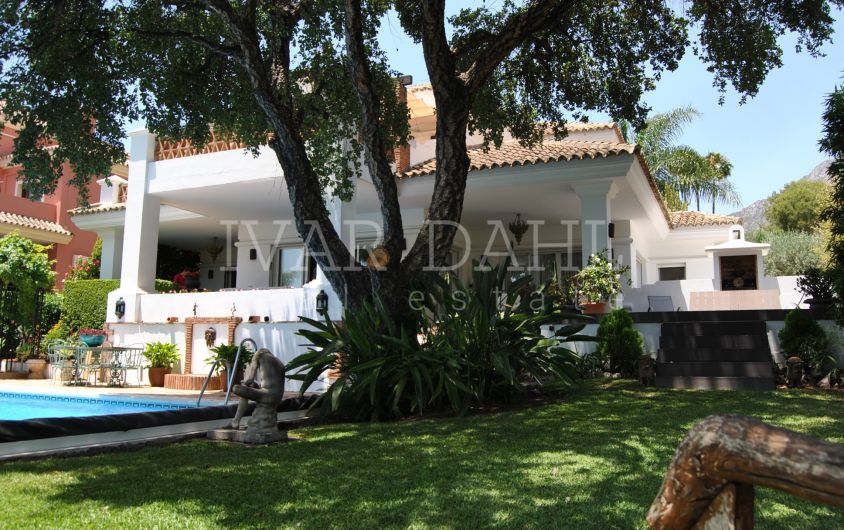 A beautiful Villa in a prestigious , gated Urbanization, cameras around perimeter. A single entrance with 24-hour guard. Green area of 30,000 M2. Paddle tennis and playground. 5 minutes to the center of ...
4

bedrooms

3

bathrooms

520m²

built

912m²

plot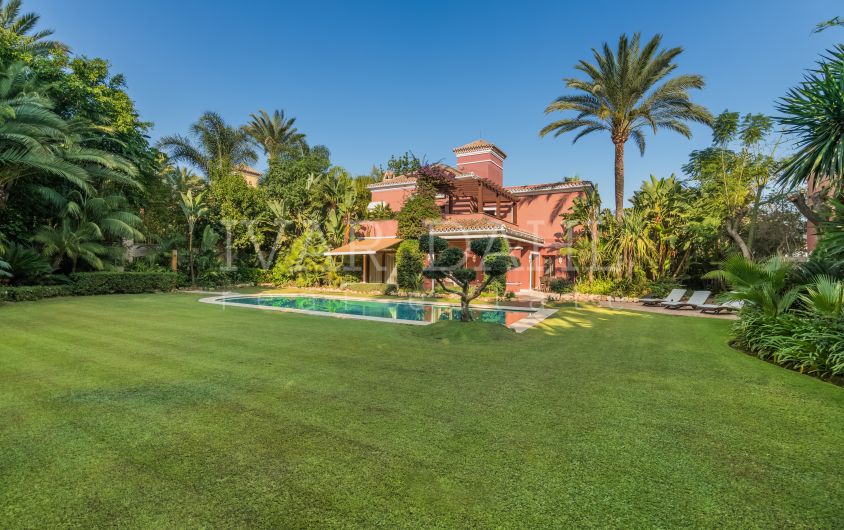 This is not just a magnificent property set in prime location with exceptional sea and mountain views. It is a privileged Mediterranean lifestyle in the fascinating natural environment.The architectural beauty ...
6

bedrooms

6

bathrooms

918m²

built

1.365m²

plot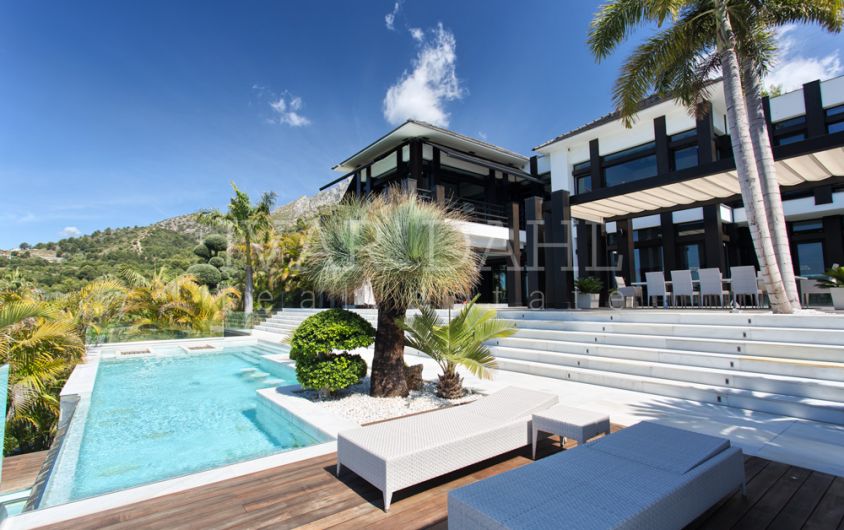 Wonderful property with excellent sea views, very private and quiet area and surrounded by nature. Top quality modern design, nicely situated on an elevated plot. The Villa is located in one of the ...
8

bedrooms

7

bathrooms

635m²

built

2.169m²

plot