Villa in Cascada de Camojan, Marbella Golden Mile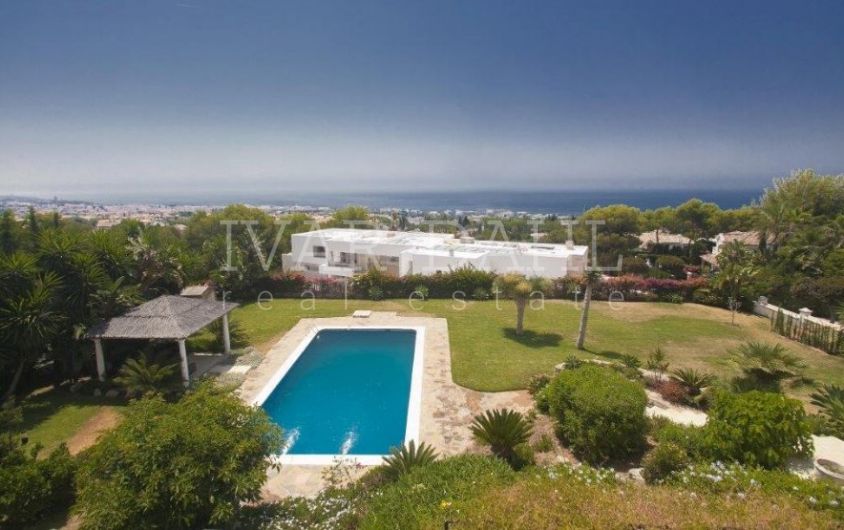 //media.inmobalia.com/imgV1/B8vEv5Xh8DZJ8zA8HsKlVQQovHvPS2nS1REiasNjjf37J7WfKOkiQxSIhRrnU2OBFkknCXNFUkYS7Hh9o9IZ_QJ9eIkyovD5Z~_id1iBpXn_i~rxHzLvmvLyd91kKSJ~BFRsiivweI_b9E73UoF~Af8JM2xdglEKCApgXhz88iHjkbTYLLWY5zc~d83PjLGhqNzSNUrGaydwp78H3QWYJKKZpyzF1HtRmZNkRLtE9zGDhoDm8MK01WRT6tyRDbmchQVAUdksuVoEQzL9uBH_ycn4~4lnviQcHws1TXgv.jpg
//media.inmobalia.com/imgV1/B8vEv5Xh8DZJ8zA8HsKlVQQovHvPS2nS1REiasNjjf37J7WfKOkiQxSIhRrnU2OBFkknCXNFUkYS7Hh9o9IZ_QJ9eIkyovD5Z~_id1iBpXn_i~rxHzLvmvLzi5GaDxE1qJqFj5R81yfA8xKEAtGHhbGdW~ZRvKUIjv13_xqIhIgd8IIrbDNGJtrF35cyuLNqbB4sODC4bpK6SdWDfUdqnCmfRAKSOD3853HrK5Cf0KfGXNGneTx1Bqn3bJwA3APVxM7N8f0v_AaUK7b8FpuVhvc2qoWWt2sVl9s4DI0f.jpg
//media.inmobalia.com/imgV1/B8vEv5Xh8DZJ8zA8HsKlVQQovHvPS2nS1REiasNjjf37J7WfKOkiQxSIhRrnU2OBFkknCXNFUkYS7Hh9o9IZ_QJ9eIkyovD5Z~_id1iBpXn_i~rxHzLvmvLzih~77L0R0Ht5c1i7yI_7TS1zCVOOro_RnKeacFXlGMBUm3v1_3vxKK_zmteGmwIUNNx6z9BlGB3LjjX4gaE0siiuKs~v~G_OhoDRZG38skRxUAnmPZKzPUk2Vrw~mVtQcb42VVpVy_JLm3MZ5jAPwDLhHuMaY6dgYibgy_adznMfTbyy.jpg
//media.inmobalia.com/imgV1/B8vEv5Xh8DZJ8zA8HsKlVQQovHvPS2nS1REiasNjjf37J7WfKOkiQxSIhRrnU2OBFkknCXNFUkYS7Hh9o9IZ_QJ9eIkyovD5Z~_id1iBpXn_i~rxHzLvmvLydamEi~A3Q6sZ729WXjESMYbehtWqRGHJY6LL6cNV4isL8hejxOE8wDnrl9h2_yUgj5RqC03DRUCbGVTYKuB29Arj2PIz74hkvV7HMvUW_TNnS6cEcn0bQkBZeve0PeGtWIt1ODXXLA~11X~WTI9LMamsLvG1eBNp8V8k74Npjj7JgP1S.jpg
//media.inmobalia.com/imgV1/B8vEv5Xh8DZJ8zA8HsKlVQQovHvPS2nS1REiasNjjf37J7WfKOkiQxSIhRrnU2OBFkknCXNFUkYS7Hh9o9IZ_QJ9eIkyovD5Z~_id1iBpXn_i~rxHzLvmvLydBm~ukQQvlJXFE9Es~KCxw0aFt0IRSTO4ffv~6XjN5SLTQFwXAJKdJwClc3SZRjfLwUUGrHs7SxUVL4faB9KhtJ4PPsfr~AJmKzg6IOqEkW3NvgYd4KESaUnUQ~twI3oTH9OnBDwStzbW9~UVEcx54ZPkHDctTET9glL1i8L92D2~Q2v.jpg
//media.inmobalia.com/imgV1/B8vEv5Xh8DZJ8zA8HsKlVQQovHvPS2nS1REiasNjjf37J7WfKOkiQxSIhRrnU2OBFkknCXNFUkYS7Hh9o9IZ_QJ9eIkyovD5Z~_id1iBpXn_i~rxHzLvmvLydr1i~mpA2cLELSDCbBZWE1NFPRVj59bmYL8ko0ruAk2PdFhN0WnVMEILhlL7z4D4FTIXYoBgnY7bts3HKSHcC~yrm1XqIxA7sHqV3vUAhyZF7Pyl2mMsOLNsPOOwdNENG9HKG8ojp6qw~l4IYXj_mH5GMB1DToaT1jHOWMiDMzWdvgfm.jpg
//media.inmobalia.com/imgV1/B8vEv5Xh8DZJ8zA8HsKlVQQovHvPS2nS1REiasNjjf37J7WfKOkiQxSIhRrnU2OBFkknCXNFUkYS7Hh9o9IZ_QJ9eIkyovD5Z~_id1iBpXn_i~rxHzLvmvLydr7hnjItJJAahk5y3qfvgC6t2w68V51ahayO__OLu2R_qgDWhc_TJrdQVf62qssAQwAzvBdBpWlChVICIliKKTrEb4oCbX9PeOPKpfs5bqqbmmoBWfYLMji3_sTuNnZhngLPWYD9qCqN2XClMoIt2dAXHY1JV1h~8eVokGkQezm41OgS.jpg
//media.inmobalia.com/imgV1/B8vEv5Xh8DZJ8zA8HsKlVQQovHvPS2nS1REiasNjjf37J7WfKOkiQxSIhRrnU2OBFkknCXNFUkYS7Hh9o9IZ_QJ9eIkyovD5Z~_id1iBpXn_i~rxHzLvmvLydro1xWgpDXEQEvutj89y2~khtdBNqUAIIaYxbJ97bCJccX6qIiHTbP3j~YBhrEKYukpgAa~Tem4fzIeX1xEydXoGjGQTZs_V~nXc9A1IN3OquKcQUkZVCenVVK_8yMFGBkw9tuWm4vRQl~dkpGcMVMzGOhyAf2s8AD~TQZzbf26Nm~sB.jpg
//media.inmobalia.com/imgV1/B8vEv5Xh8DZJ8zA8HsKlVQQovHvPS2nS1REiasNjjf37J7WfKOkiQxSIhRrnU2OBFkknCXNFUkYS7Hh9o9IZ_QJ9eIkyovD5Z~_id1iBpXn_i~rxHzLvmvLydrPZyDb0IyNWnf6k2yiUGhSJ4UCTbhal3atwCBKQdmdsSuicQbQ0AxFRimRz0P5UxqH6fl5o9Lqv3bw6IghH7ukrVo4bp16h3MAwL0M7AVdfK28RkF3P4rGSGEpZntsXO2SxFfBcnoyA743lcxUnbDXK1HSspD9VNUudLT7TDvAefaqL.jpg
//media.inmobalia.com/imgV1/B8vEv5Xh8DZJ8zA8HsKlVQQovHvPS2nS1REiasNjjf37J7WfKOkiQxSIhRrnU2OBFkknCXNFUkYS7Hh9o9IZ_QJ9eIkyovD5Z~_id1iBpXn_i~rxHzLvmvLzih1m1lyclhUJu4leJhi~yw5qTPR4PXoNM97j~KXMQoE7QBpnvz37uumgsoplvwdSs0MzAbVWCVS0hYjDeRtmcv41aggBAaZ2B9PrAbxEsKfYH3rYb9qcbEfbTdCm2KcmWVHN_E7bjHGP8xL1VdlK~O0~7n5AkyDKUkhb2GhtPgHdZ1Sc.jpg
//media.inmobalia.com/imgV1/B8vEv5Xh8DZJ8zA8HsKlVQQovHvPS2nS1REiasNjjf37J7WfKOkiQxSIhRrnU2OBFkknCXNFUkYS7Hh9o9IZ_QJ9eIkyovD5Z~_id1iBpXn_i~rxHzLvmvLyd9tbb1barNyL_tPPb63~Sz4wFMh1bz7hoIyiRkkzkV_tR8SvXqV0DBguVUAt5u4JW04M6OzISABG4ClJDeHMvbe9ATiZOIA6NIMT22PJbtbN85BC~12dihOeeG5aTGNREYFplG87PbzWaSUPy~KJf78TI1ZkPOLLchg2KyStkPCGf0jA.jpg
Price

4.600.000 €

Ref.

4603

bedrooms

8

bathrooms

8

Built

1.094 m²

Plot

3.118 m²
Villa in Cascada de Camojan, Marbella Golden Mile
Stunning villa situated in one of the most prestigious estates above Marbella´s Golden Mile, in Sierra Blanca, in a privileged position offering breathtaking views to the mediterranean sea. 7 bedrooms, 7 bathrooms plus a separate apartment. Extras: Air conditioning, Sauna, jacuzzi, indoor pool, heated pool, gym, cinema room, barbeque, fireplace. Area with 24 h security service.
Features
Fireplace
Barbeque
Separate apartment
Air conditioning
Similar Properties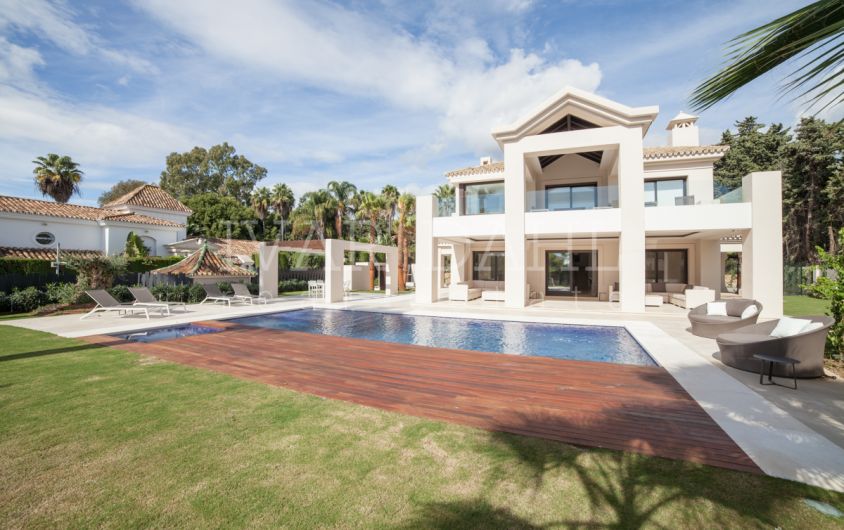 New luxury beach side property situated with in an exclusive gated community known as Las Torres, Marbella, Golden Mile. The south facing villa consists of 6 double bedrooms, 6 en-suite bathrooms a guest ...
6

bedrooms

6

bathrooms

581m²

built

1.158m²

plot
5101
Price

Price on application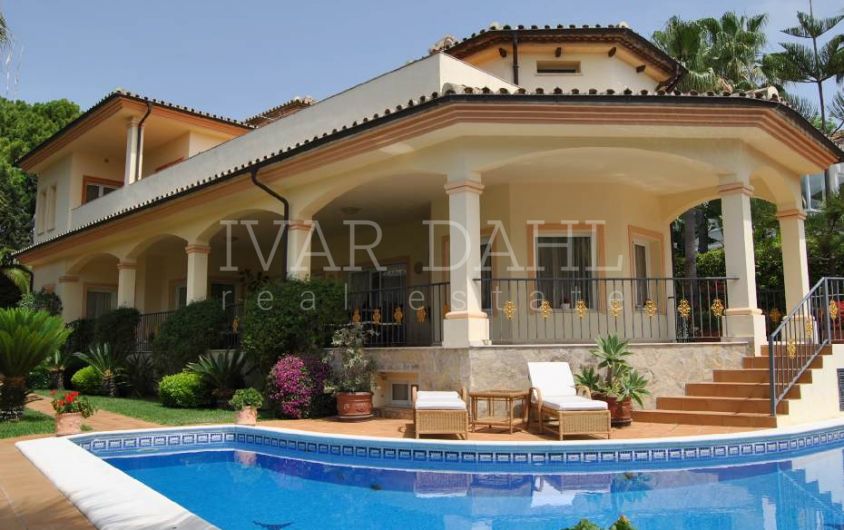 Marbella, Urbanization Altos Reales. A beautiful South facing villa with sea views. Gated urbanization, 24-hours of security. Community gardens with paddle tennis and small children´s play ground. The Villa ...
5

bedrooms

5

bathrooms

540m²

built

1.042m²

plot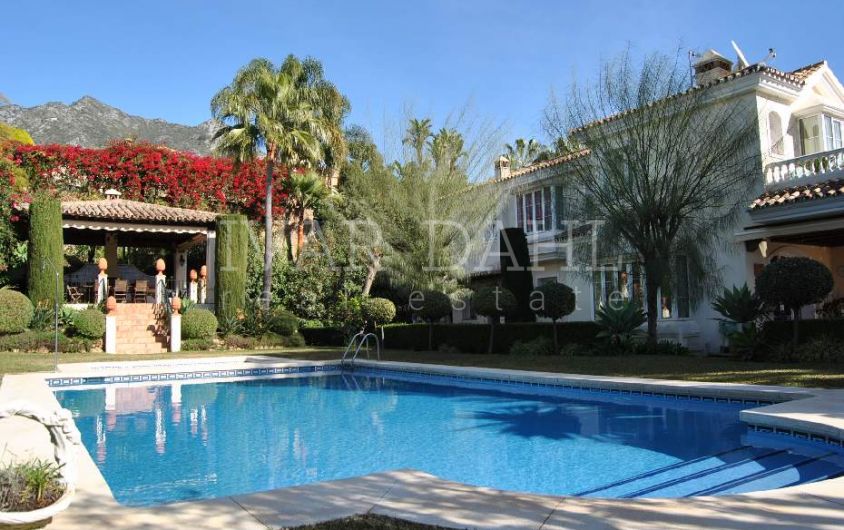 Elegant villa with sea views in Urb. Sierra Blanca, Marbella. Urbanization has 24-hour security. The Property is accessible from a wide driveway leading to a large carport and garage for 7 cars in total. It ...
6

bedrooms

6

bathrooms

1.058m²

built

2.357m²

plot