Villa in Sierra Blanca, Marbella Golden Mile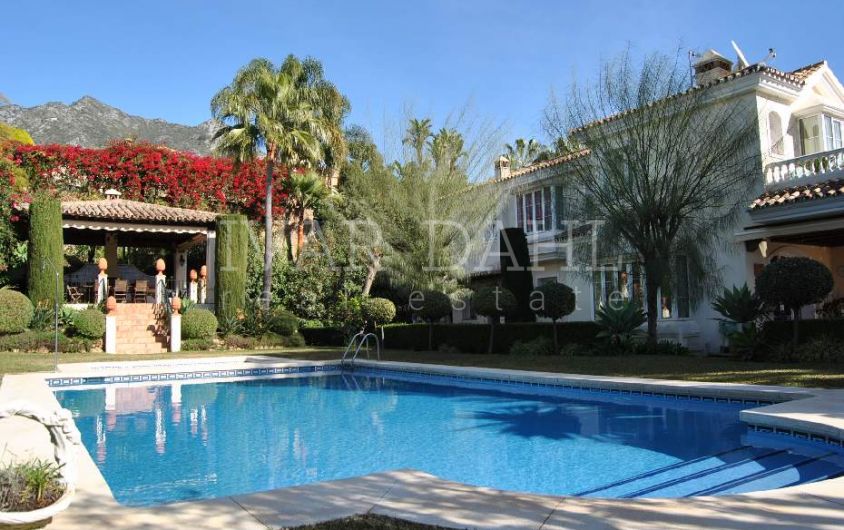 //media.inmobalia.com/imgV1/B8vEv5Xh8DZJ8zA8HsKlVQQovHvPS2nS1REiasNjjf37J7WfKOkiQxSIhRrnU2OBFkknCXNFUkYS7Hh9o9IZ_QJ9eIkyovD5ZKb40fyZ8KOVvOmZ2IYT7mT1HeAsOBXUmsE8iqhvFZw4SGBrduFSvWI0rN70hw_Jro4fFKN4vB8edFqRsIQE7patVL0TDbsJ5Ud1B6RGQvX6VEWntbEJsv8voFlR5c9rLDietgzwylwtTHwwCcnAPp7urSW6P9gN9RFDfhrGLoZd8jdIwzoFj2S~COUNXI2bSRroutuE.jpg
//media.inmobalia.com/imgV1/B8vEv5Xh8DZJ8zA8HsKlVQQovHvPS2nS1REiasNjjf37J7WfKOkiQxSIhRrnU2OBFkknCXNFUkYS7Hh9o9IZ_QJ9eIkyovD5ZKb40fyZ8KOVvOmZ2IYT7mT1G0eqftzn5b0Q~XpCTICshkIeeUVS6DKNTk4snekZBDB8Y60XALsAYyeNMm06DF0NIUB3_wNP6LEhztVFnJBcM4GeCHg3kR4gbElHGvGwDVpdG2ZIodWWop63w_fnFbFXsfGQoZr8QDWs~3izQctWehmMEweWKXAYIbfl1bdInCYxxd2P.jpg
//media.inmobalia.com/imgV1/B8vEv5Xh8DZJ8zA8HsKlVQQovHvPS2nS1REiasNjjf37J7WfKOkiQxSIhRrnU2OBFkknCXNFUkYS7Hh9o9IZ_QJ9eIkyovD5ZKb40fyZ8KOVvOmZ2IYT7mT1HenRFP8jq5K00CBGT9jE2AC_rj~YG0rbEac0YJjYJyeDWAsp7GoeWjz3tvJZRPSEUkkvLJSlH43~_Bi~oy9Cpayt~oYK30uJsBpF6CKQhTfYLm41aeu__S13zstrsoaUZbzwiix_5MfYvC6vq4RvG8ISavMIiGJMH_GPCagKLzJBouxB.jpg
//media.inmobalia.com/imgV1/B8vEv5Xh8DZJ8zA8HsKlVQQovHvPS2nS1REiasNjjf37J7WfKOkiQxSIhRrnU2OBFkknCXNFUkYS7Hh9o9IZ_QJ9eIkyovD5ZKb40fyZ8KOVvOmZ2IYT7mT1HeYF8B~1lLlaYLKibLqs~_bXtK7CIemxD6evobmKDX4xCrKQfi_HOhRSLU3UQhO1UFrByLtJBHvPJRpO5SsopnCqEikb5f5akr8HISOD1eEC_jjRZLdPv_K~IT_uZB2eyhpFGF9_wdsptSviU2tTZM5R2iWpuVoyytxIHBG7FAsqdmel.jpg
//media.inmobalia.com/imgV1/B8vEv5Xh8DZJ8zA8HsKlVQQovHvPS2nS1REiasNjjf37J7WfKOkiQxSIhRrnU2OBFkknCXNFUkYS7Hh9o9IZ_QJ9eIkyovD5ZKb40fyZ8KOVvOmZ2IYT7mT1Hegy084HY7vrlmfuvo16RN6n_AC2qSEAQiNQflTC0OKB7coLWu6okkjhFdsWjt~jvImg1172C8TvguzgnfH1sCUilfAKQTk3K0ZflibxLY~64n96GPgY2ahaB2B0k8O3po~3y7zK9Sh5~mDeIZL6cCO9IvhdSs7p7FaRlj5Yh0vQ2xYB.jpg
//media.inmobalia.com/imgV1/B8vEv5Xh8DZJ8zA8HsKlVQQovHvPS2nS1REiasNjjf37J7WfKOkiQxSIhRrnU2OBFkknCXNFUkYS7Hh9o9IZ_QJ9eIkyovD5ZKb40fyZ8KOVvOmZ2IYT7mT1HFfcNF5IL9z2kVT9_GC_SKJS3CPErP8t4Arsyp_cpHOxi9Vfl4fwCMCNOzM~40ZqgkCz~t8YmKiq4GxWQBF6uxfvjE81i_GRyidvOqYlqbDIdfzLWwLUbTIaW_BmgLE97AnfS92rzJVb9uFjGkoF9ftbGCXKr4HRBIAuoThTMVeyAgxE.jpg
//media.inmobalia.com/imgV1/B8vEv5Xh8DZJ8zA8HsKlVQQovHvPS2nS1REiasNjjf37J7WfKOkiQxSIhRrnU2OBFkknCXNFUkYS7Hh9o9IZ_QJ9eIkyovD5ZKb40fyZ8KOVvOmZ2IYT7mT1HeF24WVkUqb0bc120TWznRadwQpO8uLHBT1QARqCG1ilnopvqEZDVKnR_NuW0kROAm7Z6w_Pj6It_SB0nXr_JZ~FehVdtd8qg_FkA2BXEt7BLnxUN9t6NqChD0OhQbQp217z9A7SF~qNT_34fi4Zf_en5lyqxTFyKuTLITiyq_Sc8vyG.jpg
//media.inmobalia.com/imgV1/B8vEv5Xh8DZJ8zA8HsKlVQQovHvPS2nS1REiasNjjf37J7WfKOkiQxSIhRrnU2OBFkknCXNFUkYS7Hh9o9IZ_QJ9eIkyovD5ZKb40fyZ8KOVvOmZ2IYT7mT1HFMzJY4YZ64uuUnjPGCesyq4fwFr43Bo8q_WSsTyxFbUuYgl1WXfPR7RYqaGKY~h8nv8Yrv3z9v683ckGV0zUoSKjLMiSsudYSmCPtg7PJh9~e1hyjc9Ew0Ltoz3SVkZVjq1oBPLMQ9qivu_G9vbZzYVWhi505nMRJZDVnwjAUc68gw7.jpg
//media.inmobalia.com/imgV1/B8vEv5Xh8DZJ8zA8HsKlVQQovHvPS2nS1REiasNjjf37J7WfKOkiQxSIhRrnU2OBFkknCXNFUkYS7Hh9o9IZ_QJ9eIkyovD5ZKb40fyZ8KOVvOmZ2IYT7mT1HeTB6s_BxPBWbzo2Q_NcJtbile_pMApoLsi0_TGdvEzreNItFCcBUheeGXMSmHvy9QWdmOKBQYTRKzdCSUDl3IMNmUeuLsSwzrWCVeaiqoXKM7VnswdteaKFb_jdl~GNT8X4GPpmxSRD~NdhIGsD8l9_zPr5ApupZy7p6sZKJ6Uy612v.jpg
//media.inmobalia.com/imgV1/B8vEv5Xh8DZJ8zA8HsKlVQQovHvPS2nS1REiasNjjf37J7WfKOkiQxSIhRrnU2OBFkknCXNFUkYS7Hh9o9IZ_QJ9eIkyovD5ZKb40fyZ8KOVvOmZ2IYT7mT1HeXXByRsctTyD~oYl3BAaLOHkgeZJplQntdQ8AeawQLG4IBD7CiAyzlw0a2lAUbpWHo~DRdegq48YbACP2FudHVowpenvIXkA1Q04NL7N3XDN4yiRTCOx~jqu6nvuWBMmCCj9o~k3iCrp4s2VyDQJgy_wXKqrIu8ewnypYcRem3Gv5YC.jpg
//media.inmobalia.com/imgV1/B8vEv5Xh8DZJ8zA8HsKlVQQovHvPS2nS1REiasNjjf37J7WfKOkiQxSIhRrnU2OBFkknCXNFUkYS7Hh9o9IZ_QJ9eIkyovD5ZKb40fyZ8KOVvOmZ2IYT7mT1HFrRf80aQ9AT2NwiPkhcUyU58nzVfEKo4QbsmrWW3yw39PaaaFZ6DfDzbPQOZr58NifUaduN779uKTC6Ra6io~beRjee65OTba0fajtdJmKGcCMJhA00GcqtpyJXoCZe9GQeNvJpO4_MbK7ZXRuN4FKjnWpiLChwqSs3z2IOXIeBboIK.jpg
//media.inmobalia.com/imgV1/B8vEv5Xh8DZJ8zA8HsKlVQQovHvPS2nS1REiasNjjf37J7WfKOkiQxSIhRrnU2OBFkknCXNFUkYS7Hh9o9IZ_QJ9eIkyovD5ZKb40fyZ8KOVvOmZ2IYT7mT1G0EwT7jrytwn2r~EUKcfQx2MNDgqn4yu8_AitvoeGhZQj7Zvha7sI_tb5iRUfl1HvZn7QgA2VZ9qzi4qTUwx6VWnBjesG8nvgpkh~kULduSrUXdxCvom1E758gARXwXeXsSWFsaE7pOe2tKbZPyf1Pf~Yo8lklshwjh95WShzds6ibsF.jpg
//media.inmobalia.com/imgV1/B8vEv5Xh8DZJ8zA8HsKlVQQovHvPS2nS1REiasNjjf37J7WfKOkiQxSIhRrnU2OBFkknCXNFUkYS7Hh9o9IZ_QJ9eIkyovD5ZKb40fyZ8KOVvOmZ2IYT7mT1HFRvTyQ_jyj~J4u2J68zFzQ5taP13ZKinUZnk20TqJiLlMCOd1O17GFVl0Ns1DMT3jTRc8hNrsFoaGYVtoAenD1wI_jiFs7bkNlj_lC6vlalggy1kbPGC_s637Bcdz8~QtX7pV9RZIRlMQHg5FZNB9vcVtClFRuS9TV3HgzCQVaO~Qby.jpg
//media.inmobalia.com/imgV1/B8vEv5Xh8DZJ8zA8HsKlVQQovHvPS2nS1REiasNjjf37J7WfKOkiQxSIhRrnU2OBFkknCXNFUkYS7Hh9o9IZ_QJ9eIkyovD5ZKb40fyZ8KOVvOmZ2IYT7mT1HFs5noh5mUWkQtC5qSxyfNDm_gsINebtgZ5CjPPlBayC52h08dlfm35g_KW12oiBfhwxenDlQDPBuuJKV9~Ccw3qd08VK2C64zF0XGD1AIwum8PeibzzEWDu7qylWdxer5TACYhkt38ABk_mUm6X~ySBbqCdW7xfDp2chL2woruVYLMf.jpg
//media.inmobalia.com/imgV1/B8vEv5Xh8DZJ8zA8HsKlVQQovHvPS2nS1REiasNjjf37J7WfKOkiQxSIhRrnU2OBFkknCXNFUkYS7Hh9o9IZ_QJ9eIkyovD5ZKb40fyZ8KOVvOmZ2IYT7mT1HeLOPOg8yH7jJDVsVD13zyAqbY_hqts_yCQGXRC3RNNZgsMXmaV4qnA_qMmL31qeA0w7WZPddcKgh9gRGcU0nVTnJtcYUQYrQAqFo0T5yYbqKOXqLG3_~osxo~uzuy~BqHr0N8ujPVN67d419lo4kUYihMP0ImkMSCiuaMJnmKqqYnjW.jpg
//media.inmobalia.com/imgV1/B8vEv5Xh8DZJ8zA8HsKlVQQovHvPS2nS1REiasNjjf37J7WfKOkiQxSIhRrnU2OBFkknCXNFUkYS7Hh9o9IZ_QJ9eIkyovD5ZKb40fyZ8KOVvOmZ2IYT7mT1HeM~hK39QpRyXzg81qoiB3xQLXG1_zoJ5NZZVBJZsQBuIFzRtd0LTiN_gFWksPvRGxTntDDojo5RLb1Iq8z3m87wDrGDyfA~i5nPJNJqzEx4OemKM8v0V6qVpw~aYgZFTGp2ILHvNI6sx4rUOLeaPeFI3IKJZaQg~5AqS8g35zWOam1v.jpg
//media.inmobalia.com/imgV1/B8vEv5Xh8DZJ8zA8HsKlVQQovHvPS2nS1REiasNjjf37J7WfKOkiQxSIhRrnU2OBFkknCXNFUkYS7Hh9o9IZ_QJ9eIkyovD5ZKb40fyZ8KOVvOmZ2IYT7mT1HFKyp7SxSV21mW2IWD75ft0LDyVHU9hYcptUmMKFnP7T0MfXRSCZI05H_oLAH_YF4BZAszm4XM3X1KHW9FTuK9sZa2mm~ek2oWzwop1eNrwpzY7thSUywDHqlXtPjdtXDkK50h1FMCvYziZ19TTRj0tkwS0uwOJb4CKCveoUKIDDRyeF.jpg
//media.inmobalia.com/imgV1/B8vEv5Xh8DZJ8zA8HsKlVQQovHvPS2nS1REiasNjjf37J7WfKOkiQxSIhRrnU2OBFkknCXNFUkYS7Hh9o9IZ_QJ9eIkyovD5ZKb40fyZ8KOVvOmZ2IYT7mT1HFFM7v~XF_DKq891GjotEcM0JwN2~JEaY1Glbno9hZy4T4cP6g0aWeV6jXG~f9sfihxmB41MGEtoJmwgpemN3YrNlvMePVgwqMlrJ3onhNH321Efo1wvhS00RSf5ZcWc5HqNUsgVU72dDnHK_VN7RZq0S7Onm2UPBQoL868hyDf1VBXL.jpg
//media.inmobalia.com/imgV1/B8vEv5Xh8DZJ8zA8HsKlVQQovHvPS2nS1REiasNjjf37J7WfKOkiQxSIhRrnU2OBFkknCXNFUkYS7Hh9o9IZ_QJ9eIkyovD5ZKb40fyZ8KOVvOmZ2IYT7mT1HFChjspqFxF9XKU8qf0GXIeeX1H12PbeIQnfLOEMXHPveZEmND7tzBM9OsC_RZGjkRB5jz~optx3oFQKJuYFmt09sa4nqbwRcygy0UIQ~r1C7mpF24voLqHe1mFoyCVuozJuPdZhrYVu9oapkV266FpE0SVPdbBE4VomBFY_AvZZKrpL.jpg
//media.inmobalia.com/imgV1/B8vEv5Xh8DZJ8zA8HsKlVQQovHvPS2nS1REiasNjjf37J7WfKOkiQxSIhRrnU2OBFkknCXNFUkYS7Hh9o9IZ_QJ9eIkyovD5ZKb40fyZ8KOVvOmZ2IYT7mT1HqfaAyWK0iIglmVtC0S3i4WMyaAcvn~L9Gta3tGpf3X~KedWNeJanQwVsmh2xMx5YyZZ5IiSMgULLZyPkYfBQzwXL9yI4OGxgGYBqaONwXCBX7Kv9Y23~tTC7vTyeL~hrVyAPfF_zbYvBbiEvJGe15xkc6tFjZJAxhkGyvsUE1za2RA4.jpg
//media.inmobalia.com/imgV1/B8vEv5Xh8DZJ8zA8HsKlVQQovHvPS2nS1REiasNjjf37J7WfKOkiQxSIhRrnU2OBFkknCXNFUkYS7Hh9o9IZ_QJ9eIkyovD5ZKb40fyZ8KOVvOmZ2IYT7mT1HqbdJmqGcvEZVtnVUziYBH2p5J3rGHm5Ozy1pNuSEpeXhSIH4upWGPGYahl3skKb6ZGYqHGvmIT_2nhiqN60XWUbWlvzQDlxddOUCM~IXJQJ5VJK5SvGz~Fpgi3LIqzFxSujRYrgcx1GHLS4B3eIy7izXkxOBl_E9vyoQnETGwVPkdta.jpg
//media.inmobalia.com/imgV1/B8vEv5Xh8DZJ8zA8HsKlVQQovHvPS2nS1REiasNjjf37J7WfKOkiQxSIhRrnU2OBFkknCXNFUkYS7Hh9o9IZ_QJ9eIkyovD5ZKb40fyZ8KOVvOmZ2IYT7mT1G0QNG7EV7R5Y5g8K_yMeYcNT5WYEY7Lh4RaSAgT1ZeBRrmEsYA86AcWA4oV5FBRmXkLtoNAcy0SQOBg7BmW~YMNqtLYdYhD2GJ9WG_vjbj0qHNQh0N8Uvzfmolv4hAGqZNjstBbnXr8XhqoyhlHeY4sfFSj8ZXsDgUcx~JCYXQIuGGpI.jpg
//media.inmobalia.com/imgV1/B8vEv5Xh8DZJ8zA8HsKlVQQovHvPS2nS1REiasNjjf37J7WfKOkiQxSIhRrnU2OBFkknCXNFUkYS7Hh9o9IZ_QJ9eIkyovD5ZKb40fyZ8KOVvOmZ2IYT7mT1HFVPMndmV_zXul50R4AaLXWQ2qQGvn5B0HcAsPm0QUHGMuXmuAAxGBHEBj7CB7zs6cJ0hsqLpJPM5wCSFGLg2FtNU_LvowLK0S2D0pjaa3HeWJ3Wy6zpwOWlxEWfBpXYpRqaTqriAYEpSh1dwh4VwKZPqdvhkxHU3xORd9CjHGnubwXU.jpg
//media.inmobalia.com/imgV1/B8vEv5Xh8DZJ8zA8HsKlVQQovHvPS2nS1REiasNjjf37J7WfKOkiQxSIhRrnU2OBFkknCXNFUkYS7Hh9o9IZ_QJ9eIkyovD5ZKb40fyZ8KOVvOmZ2IYT7mT1G0NQli9e7hvHJg6F0jBWhEuJy8zawEL2oU1vFogtNrfy2Z25tZPqiHxnBG6JG65DbDeNWqXZL4_EIKLHZBhureUs_kpAMqM69JO_e3cg5eeofLX0yIo_vzyb0~6AwTHEZ1cz59dkt5PprM_iIkxOvZ6u9nEPoLynAZKlgBf6OjD2Kk40.jpg
//media.inmobalia.com/imgV1/B8vEv5Xh8DZJ8zA8HsKlVQQovHvPS2nS1REiasNjjf37J7WfKOkiQxSIhRrnU2OBFkknCXNFUkYS7Hh9o9IZ_QJ9eIkyovD5ZKb40fyZ8KOVvOmZ2IYT7mT1G0L6GHOfEgAtikjvfpUE4ewWIEPOrQm_aZtX6CLA2sntjjpDGcboo2y1vK2kqgCbrc5lPGpY2MuLzGybAgelQq_6ox3TMcKsKVJvOfdgRDl0YHTNz_nHPik09kRuW_PiTHVRxsybUAVd78vjvyn6F7mI53_yO4On~mqtiWvgQTjbtWcK.jpg
//media.inmobalia.com/imgV1/B8vEv5Xh8DZJ8zA8HsKlVQQovHvPS2nS1REiasNjjf37J7WfKOkiQxSIhRrnU2OBFkknCXNFUkYS7Hh9o9IZ_QJ9eIkyovD5ZKb40fyZ8KOVvOmZ2IYT7mT1G0UpBpe1GD~ojh0Pfd5rmbfeB9yFMo~XFXHb7xTrq1RAV03IvSL3ZOPIcnpLKWiBIXxPNPOpKZjv7yoinnOuEHAI~QpgiGmMzFv5O6Vb7hLtmbeZoL80xRu9xjc~2UzjoXZ_OVm_1BecuLm1z16EdT6iLz_2uSjYmuKu6DH6oIoxBE40.jpg
//media.inmobalia.com/imgV1/B8vEv5Xh8DZJ8zA8HsKlVQQovHvPS2nS1REiasNjjf37J7WfKOkiQxSIhRrnU2OBFkknCXNFUkYS7Hh9o9IZ_QJ9eIkyovD5ZKb40fyZ8KOVvOmZ2IYT7mT1G0ZTGpj77S1mw_K1HUJjSbPNevsV8qrwbPmgy9sbHJdDhkEsljBJU4LFln0O8cHawYFnSypBNu0cDFCylRhwkxP7aK8tXkLcWsr8iKpFogG6FAvdGfymD5_Qkgdi2HpwAZw1dHorYXNZWFZ9x8muIki5yx6tEUd9ajCJbyhBLf26NdB~.jpg
Price

4.250.000 €

Ref.

4612

bedrooms

6

bathrooms

6

Built

1.058 m²

Plot

2.357 m²
Villa in Sierra Blanca, Marbella Golden Mile
Elegant villa with sea views in Urb. Sierra Blanca, Marbella. Urbanization has 24-hour security. The Property is accessible from a wide driveway leading to a large carport and garage for 7 cars in total. It consists of six bedrooms ensuite spread over three floors of the house which offers spacious interiors, enjoys beautiful sea views and high quality materials. The house also offers a home cinema, a full bar with a discothek equipped with B & O, billiard room, sauna and a wine cellar with professional climate system. Art paintings of stucco in the impressive entrance hall, courtyard with fountain, bedroom for staff and underfloor heating throughout the house, besides air conditioning. Large covered porch on the ground floor giving access to a beautiful garden, the saltwater pool with Jacuzzi and gazebo with barbecue. Upstairs enjoys an open south-facing terrace with wonderful sea views. The property is sold including all the luxurious furniture and equipment.
Features
Fireplace
Alarm
Dining room
Barbeque
Security service 24h
Living room
Automatic irrigation system
Bars
Air conditioning
Central heating
Fully furnished
Similar Properties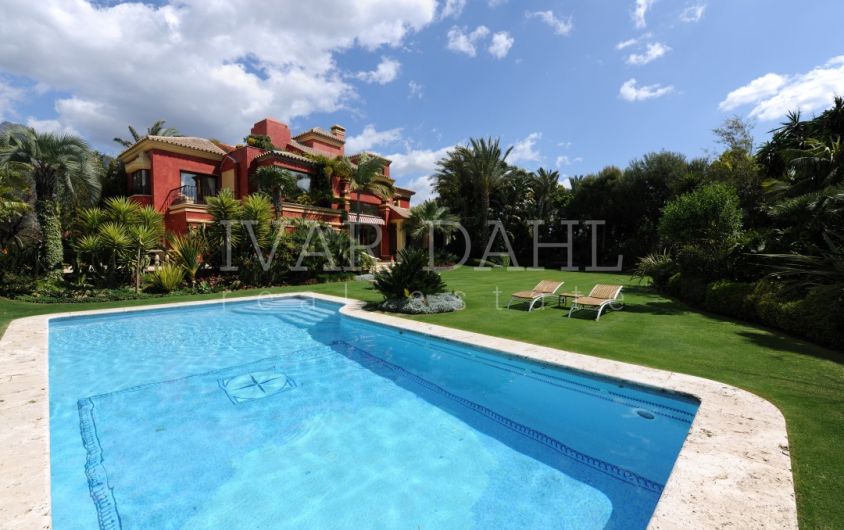 Villa for sale in Altos de Puente Romano, Marbella with 5 bedrooms, 5 bathrooms, 5 en suite bathrooms, 1 toilet and with orientation south, with private swimming pool, private garage and private garden. ...
5

bedrooms

5

bathrooms

1.229m²

built

2.029m²

plot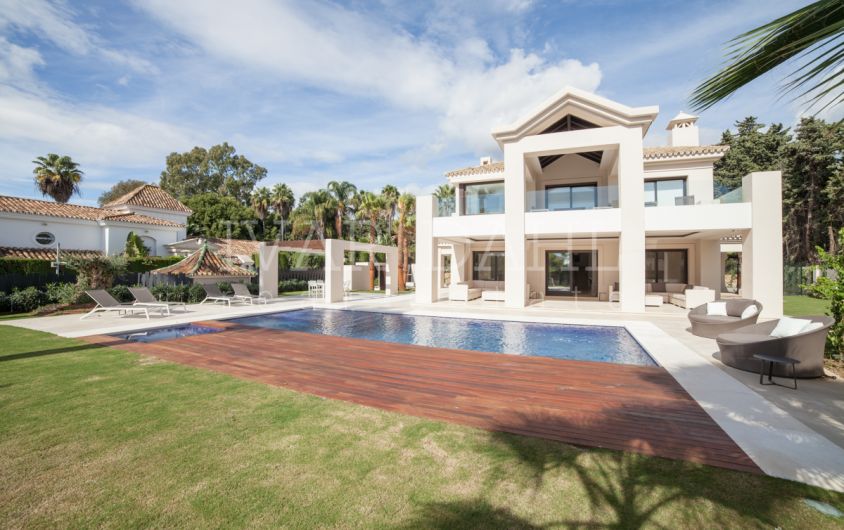 New luxury beach side property situated with in an exclusive gated community known as Las Torres, Marbella, Golden Mile. The south facing villa consists of 6 double bedrooms, 6 en-suite bathrooms a guest ...
6

bedrooms

6

bathrooms

581m²

built

1.158m²

plot
5101
Price

Price on application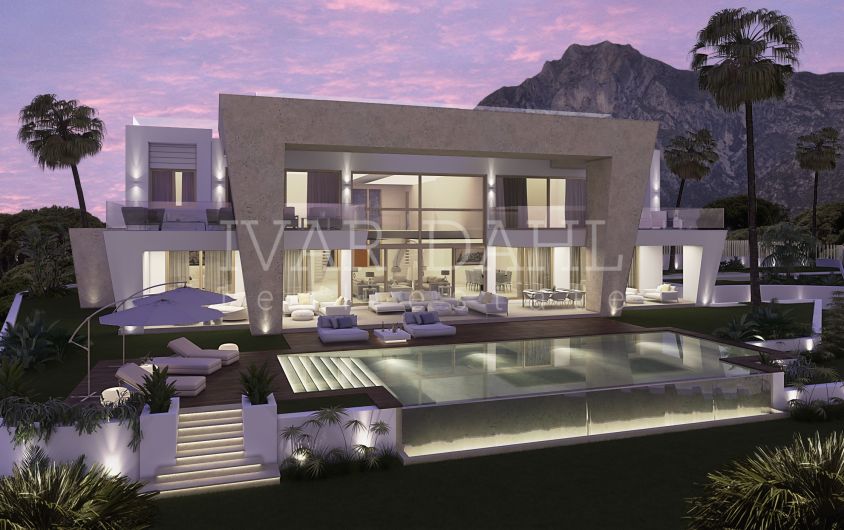 Modern, contemporary style Villa under construction in Urb. Sierra Blanca, Marbella. The property will be built to highest standard. Plot 2296m2. Built 1080m2, terraces 195m2, sunroof 581m2, air ...
5

bedrooms

7

bathrooms

1.080m²

built

2.296m²

plot