Villa in Marbella Centre
//media.inmobalia.com/imgV1/B8vEv5Xh8DZJ8zA8HsKlVQQovHvPS2nS1REiasNjjf37J7WfKOkiQxSIhRrnU2OBFkknCXNFUkYS7Hh9o9IZ_QJ9eIkyovF9l2TqT2UVLYu3ggLCI44ZdoJ9lO57funnxtXY74VPZkjA1cQMI8vIg2byLMzwKokn42pvX125as1PPsI5j48BMwEpB48JR4sv7be5sbI53e_heIWqJadUQUKsF59YNBZPh23LIu6HgLB7GPvCKtv698FmvajmHMpFZo6GcyTwc3WkIMyFg7NnrNP23v00BZzSdso6OaOQ.jpg
//media.inmobalia.com/imgV1/B8vEv5Xh8DZJ8zA8HsKlVQQovHvPS2nS1REiasNjjf37J7WfKOkiQxSIhRrnU2OBFkknCXNFUkYS7Hh9o9IZ_QJ9eIkyovF9l2TqT2UVLYu3ggLCI44ZdoJ9lOnqNNxXqkxVtN7IgImboTBotoKoyQcv1Z4JFHtlrIvb3KtgHxj4Ymkb45InoRBoKZciWr~fUmNcEiLLVEpPl73Dqkki5zY_NmDHTEBcgpGFeK77n8f8iToFPxVjZNRqXjRIHnwW55Y37JsEnmuaGDh2jkuStrXUB2RzMeznaq0zatNZ.jpg
//media.inmobalia.com/imgV1/B8vEv5Xh8DZJ8zA8HsKlVQQovHvPS2nS1REiasNjjf37J7WfKOkiQxSIhRrnU2OBFkknCXNFUkYS7Hh9o9IZ_QJ9eIkyovF9l2TqT2UVLYu3ggLCI44ZdoJ9lO3j5GWkkpMzij8xjpf~asqQI0ctZb4zVj3VEk_uUBXcsBwIxjPYQBRYCnDZ2YgEujCPoHE1Tu5eLsKCDm8N7GrRrTylREvWOi517vvEO35NMqijglmag7hZ4BZEMQwWOlzieg1fJiOUpRpZujLiD5bOfr9XpWePRKYBPaOSX1U53rcS.jpg
//media.inmobalia.com/imgV1/B8vEv5Xh8DZJ8zA8HsKlVQQovHvPS2nS1REiasNjjf37J7WfKOkiQxSIhRrnU2OBFkknCXNFUkYS7Hh9o9IZ_QJ9eIkyovF9l2TqT2UVLYu3ggLCI44ZdoJ9lOo8BX2vkyKR8u2uXJW1wwHquKvHrC4fB~Zmh0lvY9mSXHHtMqagfkYtrgG728hpfmz0aQBQ5ML9N1Hj5OVD3~MbiWVUOSRIz4gUoWt8i4GNU0lK49znjhNAEqGs8B_dInPzVZXC2FxWvIv0~sn49ksQ0L3edFq6kzCpCNYi15fHSJw9.jpg
Price

2.500.000 €

Ref.

4647

bedrooms

4

bathrooms

4

Built

480 m²

Plot

2.900 m²
Villa in Marbella Centre
RUSTIC STYLE, VILLA with a large plot of 2.900 m2. Wonderful garden and swimming pool area. The property situates in a residential area of MARBELLA, walking distance to beach and easy access to all directions! The Villa consists of entrance hall, living room with open fireplace, dining room, Large porch with BBQ area, kitchen with breakfast area, bedroom en suite, staff quarters (bedroom and bathroom) laundry and guest toilet. First floor master bedroom en suite with fireplace, dressing area and open South facing terrace with some sea views and two more bedrooms en suite. In the basement wine cellar. Sauna. Air condition. Central heating.
Features
Fireplace
Satellite TV
Alarm
Video entrance
Barbeque
Living room
Automatic irrigation system
Covered terrace
Air conditioning
Central heating
Similar Properties
Family Villa in Marbella, Urbanization Nagüeles, A beautiful, luminous refurbished Villa in a residential neighbourhood. Easy access to the beach, town centre, Puerto Banus and motorway. Sea and mountain ...
4

bedrooms

4

bathrooms

278m²

built

1.220m²

plot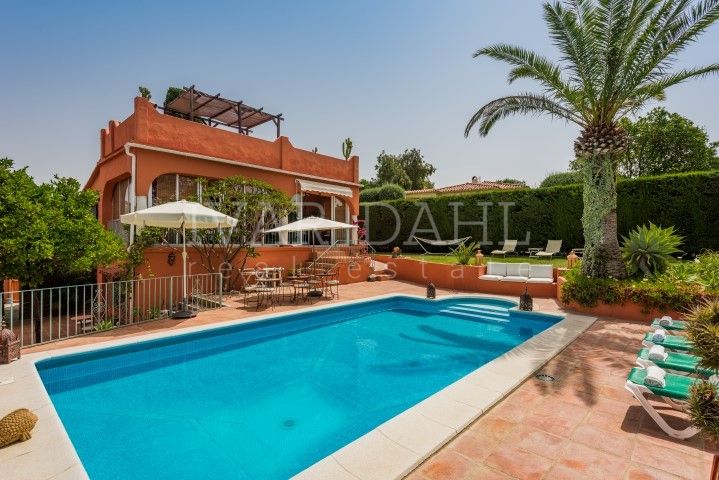 Charming hotel boutique in Marbella, 600m. from the beach,with all permits and authorizations to date. Number 1 onTripAdvisor and Booking.com note 8.5 in.It has 7 bedrooms,all with independent access and w.c. ...
7

bedrooms

7

bathrooms

150m²

built

1.000m²

plot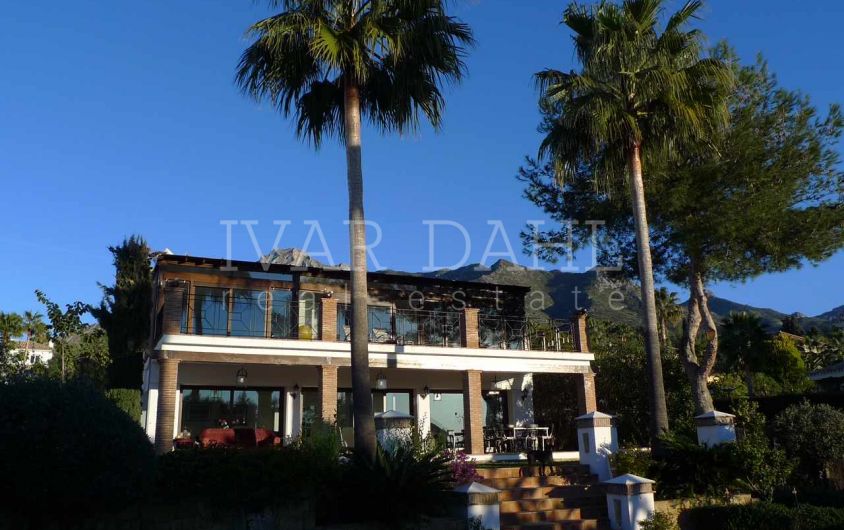 Villa in Urb. Altos Reales, Marbella. Villa with fantastic sea views from Marbella to Gibraltar and Africa. The house has 5 bedrooms including service, 4 doubles and 1 single. 4 en suite bathrooms, the master ...
5

bedrooms

3

bathrooms

436m²

built

907m²

plot