Villa in Benahavis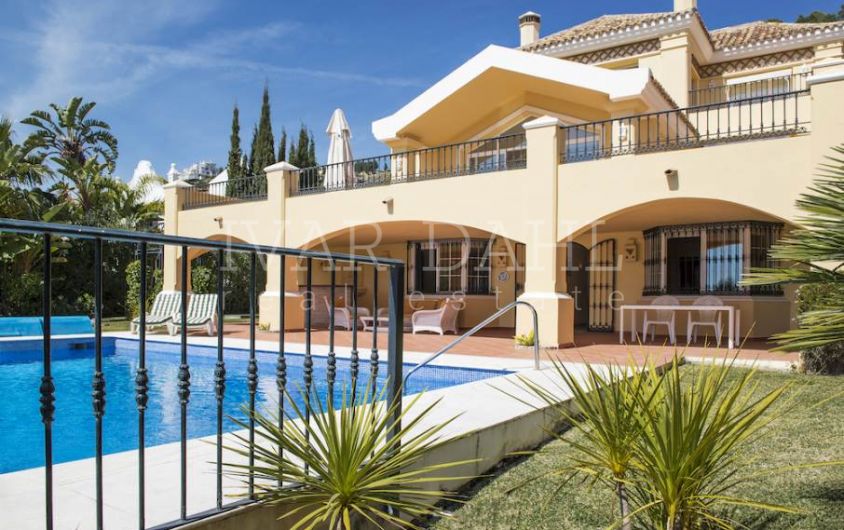 //media.inmobalia.com/imgV1/B8vEv5Xh8DZJ8zA8HsKlVQQovHvPS2nS1REiasNjjf37J7WfKOkiQxSIhRrnU2OBFkknCXNFUkYS7Hh9o9IZ_QJ9eIkyovD5aw391FbnUOPF61ncfpTHxQlHSaTPMPRDesYBcN2NzERBudfeodBa4DanUMfGB792AsAFWx6w1SBk1XMd7AUBNojW7CrFTR41HpUbLb9SAzijv1bATdnfRgTwtMCgeem7LXCsP~lZvgRdegvNMy5dgVPyktCa4BssdeiGVap2VbpjggtwBDN~CXeL5V4wNHkeJR08gyv8.jpg
//media.inmobalia.com/imgV1/B8vEv5Xh8DZJ8zA8HsKlVQQovHvPS2nS1REiasNjjf37J7WfKOkiQxSIhRrnU2OBFkknCXNFUkYS7Hh9o9IZ_QJ9eIkyovD5aw391FbnUOPF61ncfpTHxQlHSaXr~dECnkHbdl7nfpbMls2Eh~0~J4_kI2tF_josBdUSfHRD13TX9f69aoLZwnjJLZfwY8A~4Hl_wTjMYbFxZhXhusByX7JjQRKpnvuwjl4m0lynvuSOiLra2OEkSMY5DkeMty5nOFdqv3svUrTo1jKuLzbLzpadwwMaqxe_rZPVWDXi.jpg
//media.inmobalia.com/imgV1/B8vEv5Xh8DZJ8zA8HsKlVQQovHvPS2nS1REiasNjjf37J7WfKOkiQxSIhRrnU2OBFkknCXNFUkYS7Hh9o9IZ_QJ9eIkyovD5aw391FbnUOPF61ncfpTHxQlHSaaS3S2XPw~iajVNmO8qYgFqroV4UdwPqkFFO3ltt9v0wzTdmBuyKF57r9uwN0H2HRZldYnRKjaDeG_g_P1ZsSET4oK8c7RZL5~b1OgpXYmrvKIEqRF7htvziz_mr8S~vfHreW~2RLDw8D7uJMy3qb47Go7eJzJ2R3WqI44_0GpYwZQI.jpg
//media.inmobalia.com/imgV1/B8vEv5Xh8DZJ8zA8HsKlVQQovHvPS2nS1REiasNjjf37J7WfKOkiQxSIhRrnU2OBFkknCXNFUkYS7Hh9o9IZ_QJ9eIkyovD5aw391FbnUOPF61ncfpTHxQlHSadOpHeknKoVxAOFqkzOBBCTV~T_1wa28WtXLoHCmxv1ATtMjZS2t3iOeFaO6YQw3LsxiZ4llZGLJsqPB6tKtQ8mJz5Qt4dYHkzxpQyvpCbgvmtUhSthMeSk3GuoWpEMDIu_z8008Y3uUtneDb2W1zmDfcNtJistAdMFDL3_5cuBF3Eu.jpg
Price

1.995.000 €

Ref.

4649

bedrooms

6

bathrooms

5

Built

503 m²

Plot

1.000 m²
Villa in Benahavis
Frontline Golf, Large villa with garden and heated pool, aircon, underfloorheating etc. From the entrance, you walk into the large lounge with stunning golf and seaviews. Intergated office/piano area. Dining area (half open). From the lounge and dining acces to front terrace. Seperate kitchen with all appliances and breakfast table. Guest toilet. On this level 2 bedrooms with 1 bathroom. Staircase to firstfloor. Master Bedroom, XL size with terrace and luxury en-suite with bath, shower, double sink, toilet and bidet. Second bedroom with terrace, an-suite bathroom. On the lower level 2 more bathrooms, each en-suite bathroom, a large 4-car
garage. From main level and lower level there is acces to the garden. On the lower level is a large covered terrace and the Heated pool. Stunning views over La Quinta Golfcourse. Extensive terraces. Spacious, big rooms and high ceilings. Top quality Heated pool and underfloor heating, Electric blinds.
Similar Properties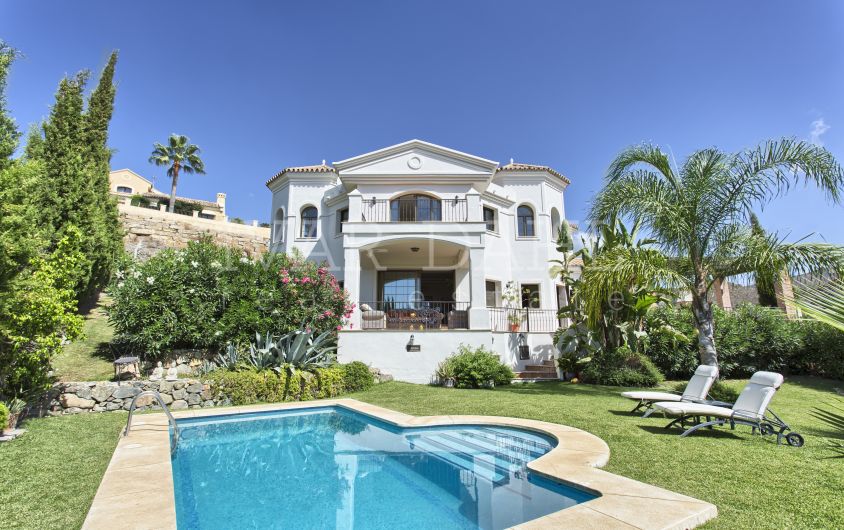 Villa in La Quinta, Benahavis. beautiful and well presented villa with 4 bedrooms and 4 bathrooms. Large covered and uncovered terrace with BBQ area and private pool. Nice views to La Quinta Golf and the sea.
4

bedrooms

4

bathrooms

293m²

built

1.100m²

plot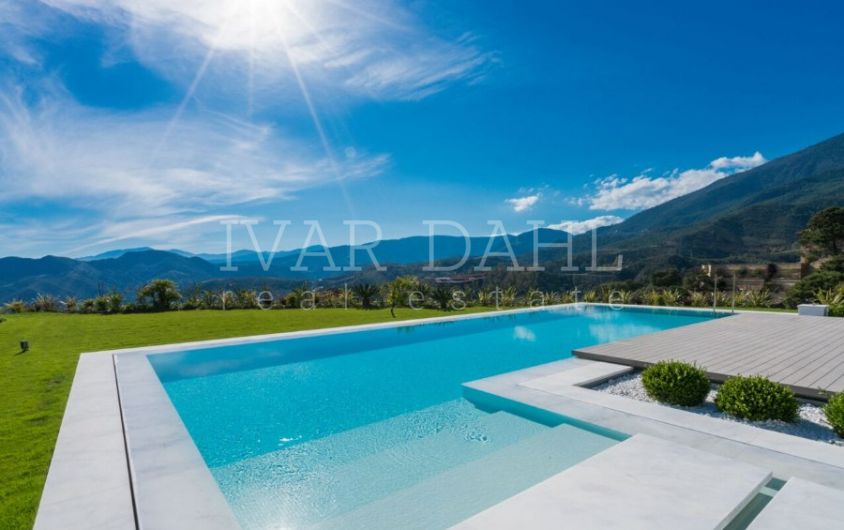 Stunning Contemporary Villa in La Zagaleta, Benahavis. This Contemporary architectural jewel is for those who seek a stunning house that has been designed to impress. Finished in 2016, this ultra-modern ...
6

bedrooms

6

bathrooms

1.145m²

built

3.316m²

plot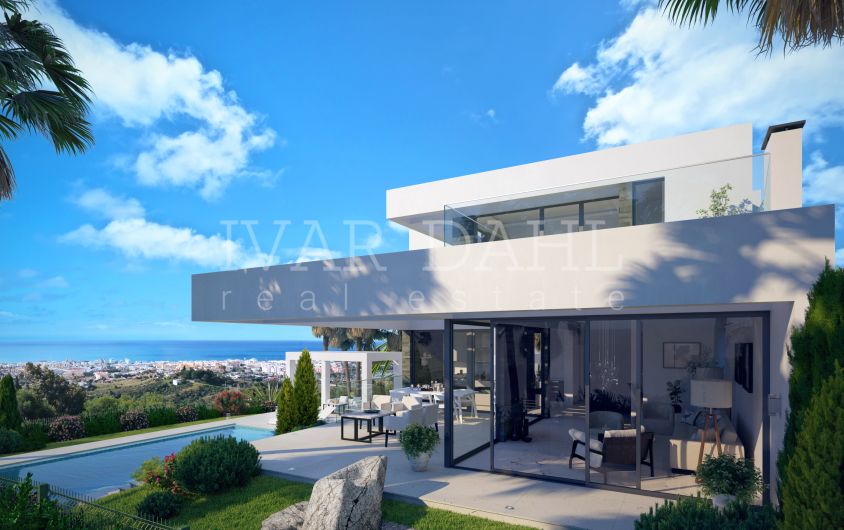 New Villa for sale in Mirador del Paraiso, Benahavis. Exciting project consists in construction of independent contemporary villa with stunning views to the Mediterranean Sea, green golf-courses and Gibraltar. ...
4

bedrooms

4

bathrooms

300m²

built

800m²

plot