Villa in Marbella East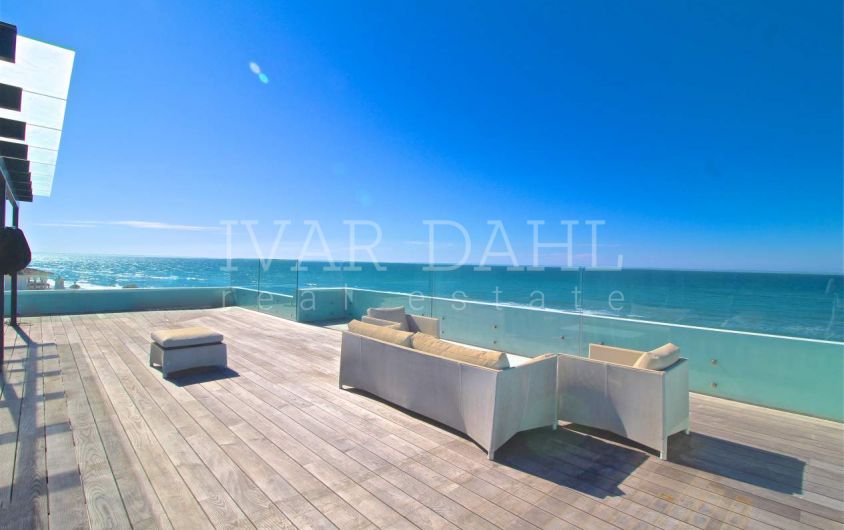 //media.inmobalia.com/imgV1/B8vEv5Xh8DZJ8zA8HsKlVQQovHvPS2nS1REiasNjjf37J7WfKOkiQxSIhRrnU2OBFkknCXNFUkYS7Hh9o9IZ_QJ9eIkyovD466_kbqnOBHqg6PtoUhzHbim2G64e2At59XDHkkV__QdTQ~gTDwufWjGMdJQuKJoZfxfrn1h6zt4Oo96lw6AeXbz~1DtxJ14DMVuJOdejZLRoEuuYh0aHYey7SBjXOKV1x3AkrKrNqRcAKS509APfiS7CYIb8MbmFw0VnNjTVQaIwS8z5VO1P4a5OIABgeKCgNo3AKx8A.jpg
//media.inmobalia.com/imgV1/B8vEv5Xh8DZJ8zA8HsKlVQQovHvPS2nS1REiasNjjf37J7WfKOkiQxSIhRrnU2OBFkknCXNFUkYS7Hh9o9IZ_QJ9eIkyovD466_kbqnOBHqg6PtoUhzHbim2G60hyP22QzZDtX5mpjaIXvs2KicOHgxsWkQ2UwCg4Oh7uQs6vNA5qCkLU33MKOWMlhacskNjP3NxUoFhVRPHmul6fFnKg7Jof2XHrNaCGNKKvsNqWL4czt23EcnBKp98msK7xczQVD~CXrxbNAp92Hp51gIRH5sIVX0vwGkSfgWn78i1.jpg
//media.inmobalia.com/imgV1/B8vEv5Xh8DZJ8zA8HsKlVQQovHvPS2nS1REiasNjjf37J7WfKOkiQxSIhRrnU2OBFkknCXNFUkYS7Hh9o9IZ_QJ9eIkyovD466_kbqnOBHqg6PtoUhzHbim2Gi1PtV0bO0G06f0iwBt0HY85N49IF~GrEn70ALne9jjkpoKaffEcl_i8IOjBUIofwZ3pBOhGE7isQImgqpoYhMY1IojEcfkZWWCoXlWAAsr2DIzTcd9n7ModGB0usfPOdGhOezKfMEZ5QR41WD3ELhoT5uC1bAzkU4erHtrECPLloeYp.jpg
//media.inmobalia.com/imgV1/B8vEv5Xh8DZJ8zA8HsKlVQQovHvPS2nS1REiasNjjf37J7WfKOkiQxSIhRrnU2OBFkknCXNFUkYS7Hh9o9IZ_QJ9eIkyovD466_kbqnOBHqg6PtoUhzHbim2Gio2NL3byyW60EG3uAwC0SOQoFOQoL5FuuYcX5bZKlOG7oB7UdQWI1mj3_w8T89DRtIhnVb091TMjJYOiPz5LYzeJcROfMxvZmRUIGqliJpiKF9jm5AahMpgWnC6Psju5nPD2MgZTIVXBiZLtFEYJCynlVIqS895rXAm5ldHLuVfSuVR.jpg
//media.inmobalia.com/imgV1/B8vEv5Xh8DZJ8zA8HsKlVQQovHvPS2nS1REiasNjjf37J7WfKOkiQxSIhRrnU2OBFkknCXNFUkYS7Hh9o9IZ_QJ9eIkyovD466_kbqnOBHqg6PtoUhzHbim2G6JpWTQc9HpqYdqfWAmGpwZdSx7umrXOgcNxcR9wcZFspqY2CBBC0jpczclbWCik2wdeLybwtqj5J2pKi~emcJ3FR8whKEKJ3A4eNgu4Lyye2HpYMbuYjF82E9XnrBPt1983eFhJSwtQAJo8FDK_toU72vwVn4B6uVzn6di0DP_NzdHo.jpg
//media.inmobalia.com/imgV1/B8vEv5Xh8DZJ8zA8HsKlVQQovHvPS2nS1REiasNjjf37J7WfKOkiQxSIhRrnU2OBFkknCXNFUkYS7Hh9o9IZ_QJ9eIkyovD466_kbqnOBHqg6PtoUhzHbim2GiiLZNykDgW3XeKQUZhEglQ3um_6wBqydhIhHEUxMpL~YSC3nsWk_4cPCWveT8E2hhSoQJ089AdPuSLxHB6r0ygrAHd_vE_icX~1z1Ck8Xz00MDDV_nhYE5zLccfyST8kfx5~mnEYiR9I5X6afev_1wBdUshUUmbKoR1jv5Zg717hygi.jpg
//media.inmobalia.com/imgV1/B8vEv5Xh8DZJ8zA8HsKlVQQovHvPS2nS1REiasNjjf37J7WfKOkiQxSIhRrnU2OBFkknCXNFUkYS7Hh9o9IZ_QJ9eIkyovD466_kbqnOBHqg6PtoUhzHbim2Gi6jRFht6w_McpNyxIObQI4lYEgJSD5d240oVorN_rVWgxzWhjoOr2HdDHiweFfdA7VzmqThGqrtvgBoe~mYvh~l0u_ud3caHO3GW8xBe0f8QtMdcaIkdyeQMXAy9fmg1xXFwOFquiWyyMmSjNANXvoVguuwVlqBM0GRSf~EUAulSdvd.jpg
//media.inmobalia.com/imgV1/B8vEv5Xh8DZJ8zA8HsKlVQQovHvPS2nS1REiasNjjf37J7WfKOkiQxSIhRrnU2OBFkknCXNFUkYS7Hh9o9IZ_QJ9eIkyovD466_kbqnOBHqg6PtoUhzHbim2Gix~Pcl2UxXNdl_ZeB9hWR1UmsOT~CrA50sDpn4nrpmo~7OexfSSo4bxgkD9D0mPamrChNwj2BUVHDBtgAHHe1SFL5yRHw8s17cY1rkbM_yFkCKEpFA~5q0weHrtyTV~n7~frp9HqaOKohi86~wtpOCyTul__m~zVLWoTrSSPbHviQDE.jpg
//media.inmobalia.com/imgV1/B8vEv5Xh8DZJ8zA8HsKlVQQovHvPS2nS1REiasNjjf37J7WfKOkiQxSIhRrnU2OBFkknCXNFUkYS7Hh9o9IZ_QJ9eIkyovD466_kbqnOBHqg6PtoUhzHbim2Gim8CNDj_G2CtGbGDUw9FxYhuquo3Ln3Hg10~Fm6AVzOF32NxnUbSQHo5N0HBe~akMpWhTK5rKWd_7H8IURjPEQbRui0ep6TSU0EyL8nl_g7_k6rJRavn12Hj9W0wGdgeKmaCaR~XTJy7iBpEslH0NpVIZrONOy0IB34vSxvExL9Vg2r.jpg
//media.inmobalia.com/imgV1/B8vEv5Xh8DZJ8zA8HsKlVQQovHvPS2nS1REiasNjjf37J7WfKOkiQxSIhRrnU2OBFkknCXNFUkYS7Hh9o9IZ_QJ9eIkyovD466_kbqnOBHqg6PtoUhzHbim2GisCB4vJVpwmxBE_~142FE28h9APV1dRG8PGyGjFGV2MlucJGpEP0wLHzau6holkk58f8e9BdGsc6fAEJpX3H~1jS5O6z0mVtnzDXF2_~gHhFMhvCORitjJ9p2kqolRMJISIjIRjehWbvhLJy4Jio0TPgC0S_LbkdX_toyA1_pSKwwiK.jpg
//media.inmobalia.com/imgV1/B8vEv5Xh8DZJ8zA8HsKlVQQovHvPS2nS1REiasNjjf37J7WfKOkiQxSIhRrnU2OBFkknCXNFUkYS7Hh9o9IZ_QJ9eIkyovD466_kbqnOBHqg6PtoUhzHbim2G6~vW~0JhT2C0cVZCFWrgdQewKMc~T9xtAMAV56HSGDQC_D7bQXRzonzXY8~cclrTp0_WHDFc~C_cg54eTY_~OfOePhju8Ncpx8s0LZLZB_g9Be6Sepc9Gn6OIKUEcCSX1N882uyrQ7FjUOtTR4rBdO9QtDAjHdaGrf~g8_inS5k2S84.jpg
//media.inmobalia.com/imgV1/B8vEv5Xh8DZJ8zA8HsKlVQQovHvPS2nS1REiasNjjf37J7WfKOkiQxSIhRrnU2OBFkknCXNFUkYS7Hh9o9IZ_QJ9eIkyovD466_kbqnOBHqg6PtoUhzHbim2G6PFGZa~xELAS9xHNqbwZcEcG_i0y_17Ed8BR_Gb2aJWZgnPk~~zHf8NUzamDBgmw04NrY2lzSsM66Aexb7HLF1IBY8b5jJYacV_tGK_NaM4e8nFZDjdLDrLjEZ9_2~h~k8mOmIpCqjY9dU9RhI5~gvwYW9sTHLVI1ECsYZd9ai0LvaY.jpg
Price

2.995.000 €

Ref.

4701

bedrooms

5

bathrooms

5

Built

430 m²
Villa in Marbella East
Frontline beach villa in East Marbella. This spectacular property is located right on the beach on the east side of Marbella. It is close to all the facilities of Marbella, and just a short distance from the city and airport at Malaga. The house faces to the south west, and so not only do you have the most amazing sea views, but you see every fabulous sunset from the terraces!
The house is newly built to the highest possible standards, designed by top Marbella architect, Jose Carlos Moya. The use of wood, glass, stone and concrete has created an outstanding family home. It is filled with the latest technology, such as solar hot water and under floor heating, heat recovery system, high efficiency heat pumps, VR air conditioning and automated control of every room, including the use of a Sonos wireless sound system. Top quality materials have been used, first quality aluminium doors and windows, first quality marble, oak wardrobes, natural oak floors through the whole house, top quality tiles, LED lighting and much more. The property is equipped with a lift, for ultimate convenience.
The layout of the house is as follows:
The front door opens in to an entrance hall, which leads to a large fully equipped open plan kitchen with separate side door to the driveway, and also to the extensive living and dining area. Doors from both the kitchen and the living room open on to a decked terrace and the heated swimming pool. The sliding doors have electric security blinds. A path from the pool area leads through your private sand dunes to the beach. Also on this level there is a guest bedroom with a walk in dressing room, and a bathroom with shower, toilet, and basin.
On the first floor, there is the master bedroom, with two sets of wardrobes, and next to this the master bathroom with shower, wide basin, toilet, and door to the terrace. There are also a further two bedrooms and one bathroom with shower, toilet and basin. Each of these bedrooms has access to one of two terraces facing the sea. One of the bedrooms is currently set up as an office.
On the roof, there is a fabulous open terrace with fitness equipment, a pergola, and a Jacuzzi, and, of course, great 360 degree views!
Finally, on the lower ground floor level, there are two further double bedrooms with fitted wardrobes, a bathroom with basin, shower and toilet, and a spa with Jacuzzi bath, steam bath, sauna and showers. Also on this level there are storage rooms. Although this is the lower ground floor, there are windows giving natural light. The control room is also on this level, with controls for almost every function of the house.
Each floor is served by the lift and a glass and marble staircase.
Location: East Marbella ,Distance from the sea / On the beach
Distance of Amenities: restaurants 50 m, shops 500 m
Type Location: Facing the Sea, south west orientation
Features
Front line beach
Double glazing
Video entrance
Automatic irrigation system
Air conditioning
Central heating
Similar Properties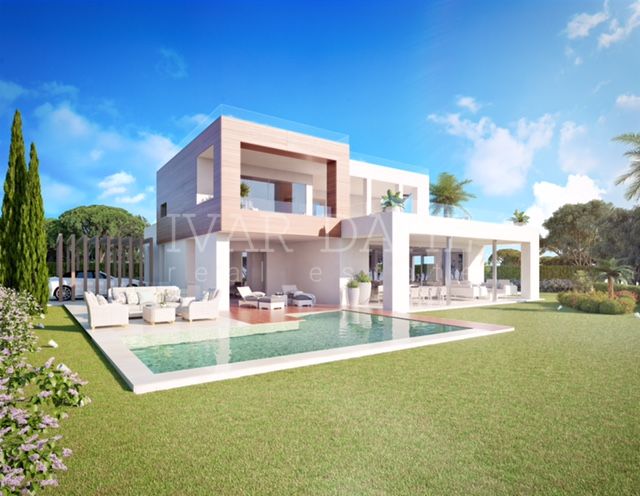 New modern Villa for sale in Urb. Elviria, Marbella East. Sea and the mountain views. The Villa is distributed in three floors: Ground floor: open plan living/dinng/kitchen with access to the large terrace and ...
4

bedrooms

4

bathrooms

357m²

built

1.000m²

plot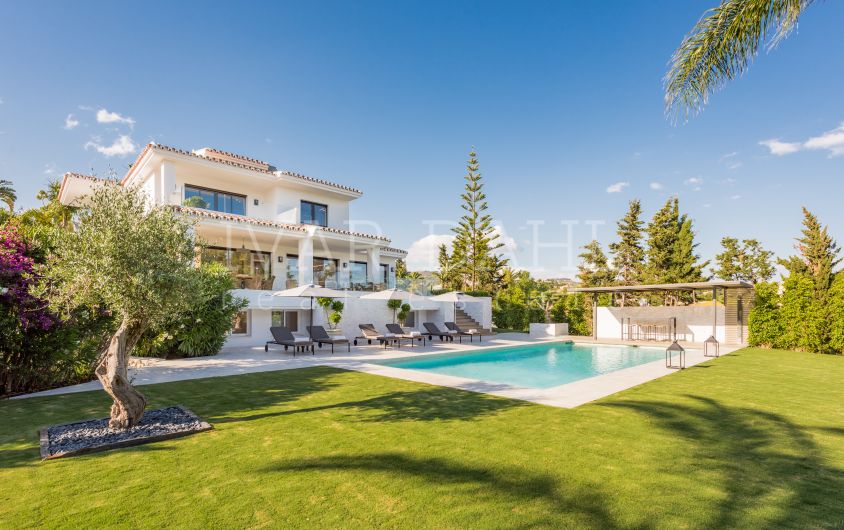 This Villa is immediately inviting and radiates happiness. The swimming pool is large – bordered by a decked chillout area, the plot allows plenty of room for an impressive garden. Quiet, residential area. A ...
5

bedrooms

5

bathrooms

467m²

built

1.780m²

plot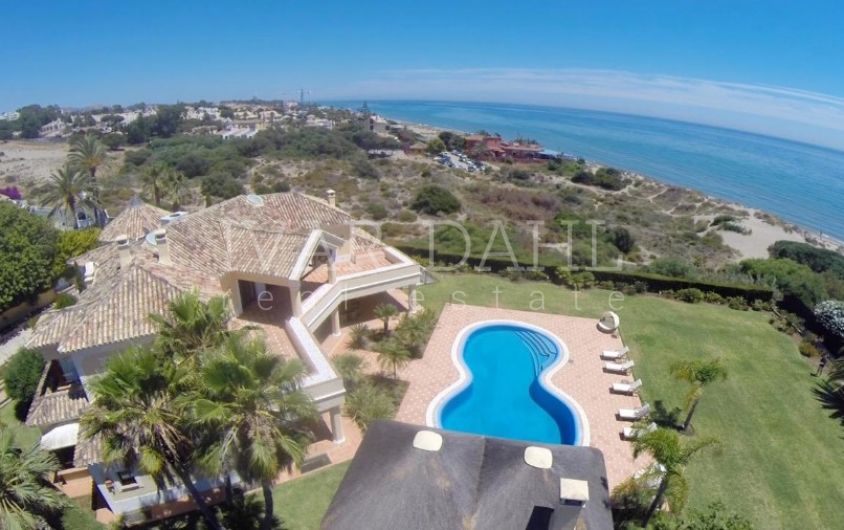 Marbella. Luxury VILLA on beachside. Prime location.Plot of land : 3.000 sq.mtrs.2 6 bedrooms Built area : 1.300sq.mtrs.26 bathrooms, 2 toilets Built on 3 floors with internal lift. Garage for 5 cars, Gym, ...
6

bedrooms

6

bathrooms

1.300m²

built

3.000m²

plot