New Villas in Golden Mile Marbella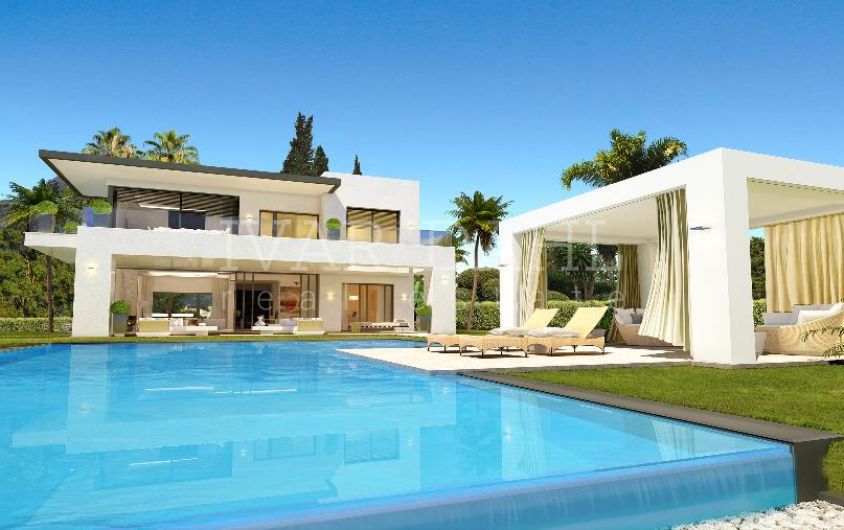 //media.inmobalia.com/imgV1/B8vEv5Xh8DZJ8zA8HsKlVQQovHvPS2nS1REiasNjjf37J7WfKOkiQxSIhRrnU2OBFkknCXNFUkYS7Hh9o9IZ_QJ9eIkyovD46V7vwN3Ij0Qp95uZzOams~J~4gTqfiwoWMOSZmgz7Fw4VMDeAkmSG7aMN8hy8d0ldSF6cbDZOCkfS~IaE1zmsFZFTjRcX8FF346xX1~jQLGcucp4aQAx2yJRlJfPsxRNrAjaVNwJIbF64S3UFoTNnfrIg9JZ2gZO3bYxnY02BTX8M2BcUQtPDYE7Chwjk2vDc_huymNh5mCc_BsShgnk7Bq8nmXjTnCqKpc-.jpg
//media.inmobalia.com/imgV1/B8vEv5Xh8DZJ8zA8HsKlVQQovHvPS2nS1REiasNjjf37J7WfKOkiQxSIhRrnU2OBFkknCXNFUkYS7Hh9o9IZ_QJ9eIkyovD46V7vwNnRWKKyBbZ4jCYtpE~WYGStxPrTT_IScuhtNE3qOFZW0mIGAuwVJX00Xd4dUZB9wv7vac9gnQ7bHICB6LViM~L7zMPbjKhM7iRL8t4yqv7NwNBnduGKhEdhoBWPO8DK_HtKU_RxxNM8ujOqNLWdieK~P2~tpeNUerLi2FwtKf9IpYNx85hXCedfHYfk5hRDNN_EEllK1B_lH_Bl1zR7j_s6gU2TLMg-.jpg
//media.inmobalia.com/imgV1/B8vEv5Xh8DZJ8zA8HsKlVQQovHvPS2nS1REiasNjjf37J7WfKOkiQxSIhRrnU2OBFkknCXNFUkYS7Hh9o9IZ_QJ9eIkyovD46V7vwN2f4~XgAUxeMin0ODhXBUPNjk3Qa557xOFSkrGW3_CJgVgob3UWEgK4znAmM~k9ygI~Q2XbqA1RWOVHt4oR73Av9Zb1ZFIcq4NXU_dmUf9kciXQe6TnlSEaw1Ca6pHotV6pPAZ3JdRd6YHI10BS4cOrSMnQUD2dBLHYF20PYM385k2ZzS7nrFlVfLrawlZW38fe~HNoiPduS3lTGFRxdsMrdpoLDFw-.jpg
//media.inmobalia.com/imgV1/B8vEv5Xh8DZJ8zA8HsKlVQQovHvPS2nS1REiasNjjf37J7WfKOkiQxSIhRrnU2OBFkknCXNFUkYS7Hh9o9IZ_QJ9eIkyovD46V7vwN~qzbxCG8sVN9as9Di7X14fwZc3D6_MSaV7kJwUBRSep1SRJlMugCzY7PktCvvJcbNvdkGZJppCrKoCjO0a~b__saxtaPaVi4qnKqlRh95yNwE9x39QYHumfgpCC6Hi5YcaojE1pO4AikvFq271IswW~WmywKYxf69QujrerGt_lVM~IUQvPHYIvXTHRF4HE_gVSL7srHaPYXV0wpQ28o8ofxFjM2Q-.jpg
//media.inmobalia.com/imgV1/B8vEv5Xh8DZJ8zA8HsKlVQQovHvPS2nS1REiasNjjf37J7WfKOkiQxSIhRrnU2OBFkknCXNFUkYS7Hh9o9IZ_QJ9eIkyovD46V7vwI64rfnoZeuiLSNgZ4HM1KZiwM0waxjpoYBZewMkbdKul0~YpIwirRgrf2j93qlQ9VxyisHqj6qdUa43e11b~73qThrY~UvR2RqB_rbCfjjStU0W5fKAmRB_yrilfNd7Gk4e6VSv6SFpFa4Afx5upihMSzEvB1LsEcMpgp~Wmojv7byJiMChh16DVV9C_wT_FN0a8F_ny9fw5jo_vXG0G3p6w1bcY3s-.jpg
//media.inmobalia.com/imgV1/B8vEv5Xh8DZJ8zA8HsKlVQQovHvPS2nS1REiasNjjf37J7WfKOkiQxSIhRrnU2OBFkknCXNFUkYS7Hh9o9IZ_QJ9eIkyovD46V7vwIgayBXQSB_ppgurWcYgv7RUshJBGHXghougE0hH~hSwWBA9yU1DNgFueO7QHxsgn7kzrig4viAncoeS6ut99oHYGvCk9mDmh1Nr7gZPwibnMa8t7DrxMQ563IRr45FR3GOSAhBjlgNngLvs39Kl0ogP05MSlMJjakkktcUlNEEhWN3WUNLF1Wv_6ar7pyN6UVqyTOTbKzYMgKaH~7uL2csB_sF9Ll4-.jpg
//media.inmobalia.com/imgV1/B8vEv5Xh8DZJ8zA8HsKlVQQovHvPS2nS1REiasNjjf37J7WfKOkiQxSIhRrnU2OBFkknCXNFUkYS7Hh9o9IZ_QJ9eIkyovD46V7vwNrMtySdia_afxUy2NC_RPCljoi0Q7H5YcjGMYZ3eiEblM7r6ylkpCqgGaPcpNM0ZdIXo0BnokQYFg3wolFRkTRqzRWTMxb7pdRbIlvPLypvNxZq6AaSPC6EnkChWEXV4lea3dvNi3YdgnT~Ijw042zW_3KMA__VRi58nCfA_8QAm9bi0aOYiJic~GJQGEOy83wsy_7o6M0h_ZOj67kjNDD~k6SeD5Q-.jpg
//media.inmobalia.com/imgV1/B8vEv5Xh8DZJ8zA8HsKlVQQovHvPS2nS1REiasNjjf37J7WfKOkiQxSIhRrnU2OBFkknCXNFUkYS7Hh9o9IZ_QJ9eIkyovD46V7vwN~urUB86hNFZZBCKLXLPkKNRAjq5NMYR5ES5P8oezBB_ATIyZMSpx9g4c8r6ySNHJYTSZaJAzv_Qb0tQdrU~BNmuRoJoUS46B~rH9lWFbdFz7Pi2Mq1Yk8qyJTlSfXRL4NWGMF~csqX~7Lp_HizKT7oiVOgsRWHHs7eC0HzUzjvFMGnt8t54hWQf8Q30nRBFwcOUld~NXtRNaHQoAidqkt3Hnbgf44-.jpg
//media.inmobalia.com/imgV1/B8vEv5Xh8DZJ8zA8HsKlVQQovHvPS2nS1REiasNjjf37J7WfKOkiQxSIhRrnU2OBFkknCXNFUkYS7Hh9o9IZ_QJ9eIkyovD46V7vwI1ud5gVpjRsazY5bE_TvpEiLbMk4RezkHsMEaPa1ftiO_U4dhUS4nLG5CKmBQV6hhwy_oMvnzDLeDC42QSm_VUf_Hx6hD2KbHy0oBlg7wy8rg0w1zuSISo6fqcMtOmdJLgi_kIWycBybCK4m~rDMO20BTC7A_IlKv_OtGUgbbl~agAA_gy0U8g0zcD5G9lRkbvJpI3LyytM97UMEgWtFioS3pyj054-.jpg
//media.inmobalia.com/imgV1/B8vEv5Xh8DZJ8zA8HsKlVQQovHvPS2nS1REiasNjjf37J7WfKOkiQxSIhRrnU2OBFkknCXNFUkYS7Hh9o9IZ_QJ9eIkyovD46V7vwNTh6oKmLtcCtF~mg_KYhB7Y4GLhbMQuLu~LNOoSGz6gh8rfkqDPdueSJgHfPPcO_hkz_Ihnme7PBUD52~sFjXv3WOHwfEHHhtC2x68Q85JtnEeNM8aEWn95TvIIi_fWEafPLE37bQ5NJuvXC2lUW~mWcJOJeJc_L8sG5U17dcrLlnHpp~~z1sjU_my3Fykk04I_OFZ8viVTNkVNLLMs4oF2wzMM8fI-.jpg
//media.inmobalia.com/imgV1/B8vEv5Xh8DZJ8zA8HsKlVQQovHvPS2nS1REiasNjjf37J7WfKOkiQxSIhRrnU2OBFkknCXNFUkYS7Hh9o9IZ_QJ9eIkyovD46V7vwNVZQb2BfzzkQ4uzypIKKfQ41v29Xhs9JJ2cSVG367XCGN33uNw8dxRpAbbTvrRvHQnBBydxkVWD5v71kXy0_eSWY5S~FAFgv31jodUHZVtWTVZ5L6jCRT4329O0xjPO1gnhG34ZIPTV_WB18JWc_3_v3xRGZxn5fQvpWs51w9oFfpn6cHwFRf6hHYmcWmmbZlMHAdwIfTw7wmDdajd7g~EiO_Ks6ac-.jpg
//media.inmobalia.com/imgV1/B8vEv5Xh8DZJ8zA8HsKlVQQovHvPS2nS1REiasNjjf37J7WfKOkiQxSIhRrnU2OBFkknCXNFUkYS7Hh9o9IZ_QJ9eIkyovD46V7vwN6i9c4P6mfw9syF~4aQOFz~FQL8p_dPURAiJkj9ytjBfwtFKYS692C~xWIZaT5jG2xeFBUhDLVIYCK139Ct1UFNiu7o6duO4IJR~xGJxZCpm4W8EtceJyRrycLlogLLaW6VBCrulmCdxbP2dq~qlIYPcNzAD6ioMQcCdOPPHb~rmQuTjmdSGZw3BGzvBPESNYHPRjjo3WqJxBKfDXTp~3SspB5wPtA-.jpg
//media.inmobalia.com/imgV1/B8vEv5Xh8DZJ8zA8HsKlVQQovHvPS2nS1REiasNjjf37J7WfKOkiQxSIhRrnU2OBFkknCXNFUkYS7Hh9o9IZ_QJ9eIkyovD46V7vwImJGJEBBsNmxDSe~28LbeXcHWFjMeiaz58SaWtz3vtK6CEClLIuRYKITnS7JlpafdFxjiB16K2TbtEnyVtgDbCXka6Bertgq0p8ilqZAHcL1YWHEb4GxM0QNEE4lSWw82c8NBLEfNw6r9Q4Vw5d3Y3MdqnCI0zVy~b_JPUXq56cX8sRMAhh0uwuY2ajdBYt8bac~yy3OLjz32aDg1nH5IuLCI2mJUU-.jpg
//media.inmobalia.com/imgV1/B8vEv5Xh8DZJ8zA8HsKlVQQovHvPS2nS1REiasNjjf37J7WfKOkiQxSIhRrnU2OBFkknCXNFUkYS7Hh9o9IZ_QJ9eIkyovD46V7vwN~meZB69dAxxbXPHX~33WvJ0PRVaL92INTcwAgY4MGRnr3S6Xe5ZW2jsveSWmq_BmIN1am6UJSip1TLkesatD3Lw0ioh~dtlbPx9h8t0QHaS_zYddwknjrz0qTjSAveb7i52Dljw8dDE8zC8drsWxPyiF9bp2C15CYUtF974rTWMB5dxQVUPyzdemqmVeQ7FZKCr1fBetBSF_J5FbxPOv2knKLUF5s-.jpg
//media.inmobalia.com/imgV1/B8vEv5Xh8DZJ8zA8HsKlVQQovHvPS2nS1REiasNjjf37J7WfKOkiQxSIhRrnU2OBFkknCXNFUkYS7Hh9o9IZ_QJ9eIkyovD46V7vwImJRSLynmtJ6s0cHpN3zqvDNQz9hBcm77Y6Yzme4T2Ej3jfQhUEmHA0o_uYjNYckual0GVkbMgCHNYODDP27tgN03GvxnIMnYslC9SzcfMIT8MUO7MvsQiEUe0eF95f5_mJ__st4ki5y5clbk3nxAv3Ogp1KQIY5uzmx6dR_fWQQyKsZXhuefLN1hMAh_6WJWzFv0VkzauyyxYFMKM8HzzEFwEdSkQ-.jpg
//media.inmobalia.com/imgV1/B8vEv5Xh8DZJ8zA8HsKlVQQovHvPS2nS1REiasNjjf37J7WfKOkiQxSIhRrnU2OBFkknCXNFUkYS7Hh9o9IZ_QJ9eIkyovD46V7vwNnZ5c7Ra4my1tnZIjkjKWKC9V8W95PVqzPDwg7fU72gB7dxPYlWr2PEvbHkuW~dZMzO7tuS9YIK54WESO7Z6a2H8HWF2ap8juXFiq8nAMKHosshaWchsi5TNsePOrchLh8w6W9h59QWL_90pqUFgaNrf3gxH7IUrDHhX24lCuu2paL3wp_MfPgqnYip0K6lP1Q_8jxh1fIwfmdT0SIbnTi~AsjnDqE-.jpg
//media.inmobalia.com/imgV1/B8vEv5Xh8DZJ8zA8HsKlVQQovHvPS2nS1REiasNjjf37J7WfKOkiQxSIhRrnU2OBFkknCXNFUkYS7Hh9o9IZ_QJ9eIkyovD46V7vwNrFsW9RBalMwy~EZ3uiGVow4C_tFgOKcAUA13lLVc~7refWo~Plt2MT4_edP9xPPxNEQNmG2hkDAVKY5Y~SPLlJijXqM9Dc_N4qA6rJXTAetjMkpVzGrFP25DnV2k7Jd4aN3KYeSEtZ1ms9Iwv3PaDEnuV9uL3IwhrQDb6iMlHeuMpjFzzhS1jvJDdbTpnTtfnkwl6YnMrQE1oUecrGba4JpHNPnbA-.jpg
//media.inmobalia.com/imgV1/B8vEv5Xh8DZJ8zA8HsKlVQQovHvPS2nS1REiasNjjf37J7WfKOkiQxSIhRrnU2OBFkknCXNFUkYS7Hh9o9IZ_QJ9eIkyovD46V7vwN72ddcbsjsNJ43AaaLS2OE9GC8GhnqHpexIOO0Bij0O4hnOd_6kLj86Dcm9ehBjRo35iwFi7f0zYVP1L9HpyTFedovLSViaE4yJru2Vno4cQvi1Zc0CNbxCI20WRFcy677f0zLpGbxJ0gwXzIBFvw_ZwNh4t0SUTjwGetdB4bHzmP81jQroXj5umgFhaX_LNuotBW2X4rREma5amqYEQlJE3MymOcc-.jpg
//media.inmobalia.com/imgV1/B8vEv5Xh8DZJ8zA8HsKlVQQovHvPS2nS1REiasNjjf37J7WfKOkiQxSIhRrnU2OBFkknCXNFUkYS7Hh9o9IZ_QJ9eIkyovD46V7vwN~nNIgDdGmraLlNl5q9j9xpfEmEX7DG~TcV5y179espGWs1wcUMUMr_V_4VlK8~4UpMFtQ9TzOEJI11dbK7FxmMTQhVO94l9uFEt6WrytExLQf5cr4SaumcPgaHu1GXwBMinLgSfqk4WYJtn6YF08OZ~0~d1mXs9R4MxsTfVfWyXLHazQk_PXMOK325EkAVWcCTaita~h80DaB9823F4bgBvHyLchE-.jpg
//media.inmobalia.com/imgV1/B8vEv5Xh8DZJ8zA8HsKlVQQovHvPS2nS1REiasNjjf37J7WfKOkiQxSIhRrnU2OBFkknCXNFUkYS7Hh9o9IZ_QJ9eIkyovD46V7vwIrLCH_0l3_9431kAVfvbfxe0nthui4jsD9KErMzjabSMegPXhqpImDKUjluUbkuQuASVzCNwnHRXErd7nVQ6G6IpfD6HajDO5~yEsaoXayWn9wRG3WKsAfjXJGI0maKFkGAx8iYoKrwke~VVaJR4cnRab1QExxKUyimOOIwa85LTadxA_L5Kq9tzhKIyVgaQ_KWLn4R8lrAbFm77lpauw08cWGj1aE-.jpg
//media.inmobalia.com/imgV1/B8vEv5Xh8DZJ8zA8HsKlVQQovHvPS2nS1REiasNjjf37J7WfKOkiQxSIhRrnU2OBFkknCXNFUkYS7Hh9o9IZ_QJ9eIkyovD46V7vwI8ZVP6FzoC22YsCz5TslP4XuK~QKoVfkiTBub6xbGIMOnOZvCBJqVVDakq_F1sfwQRaJrk7iG6q65Za_FNe1Xej_GtrukqNO_GSyJtdfvjD76JS2fhOEepCzOuC~b5NG3N7jXHWmXGWZXCzN7KCJ9BVT285JeLQEGSZW~ABq2FezgJR~fMV~QfhOS8e171bEx_W6zb5SImcOkD2XXtGKgHsF_wJU8M-.jpg
Price

3.750.000 €

Ref.

4726

bedrooms

4

bathrooms

4

Built

497 m²

Plot

1.000 m²
Villa in Las Lomas del Marbella Club, Marbella Golden Mile
Just off the palm-lined Golden Mile of Marbella, an exclusive community of luxurious villas is being created that combines the best of prime setting, exceptional style and modern luxuries.
Situated in a premium location surrounded by greenery and palaces, within walking distance to the sumptuous beach clubs and facilities of the iconic Marbella Club and Puente Romano resort hotels nearby, the eight private residences are within minutes of Marbella town, Puerto Banús, golf, luxury spas, shopping, fine dining and international colleges, yet also private and secluded.
24-hour state-of-the-art security ensures this gated community can offer its residents total peace of mind within a personal oasis at the heart of Marbella.
Lush subtropical gardens frame stunning Mediterranean Sea views in properties that provide total privacy, as well as unique architectural styling, free-flowing modern interior layouts and a level of luxury found only in the finest homes.
This palm-fringed avenue flanked by parks and sumptuous mansions links Marbella town and the glamorous marina of Puerto Banús, the most luxurious setting in the area.
In everything, from design and layout to construction, materials, technology, amenities and finishing, the eight magnificent new villas that form this select community offer an exceptional living environment in a prime Marbella setting on the Golden Mile.
Features
Utility room
Fireplace
Double glazing
Brand new
Security service 24h
Private terrace
Kitchen equipped
Living room
Sea view
Mountain view
Covered terrace
Air conditioning
Lift
Central heating
Uncovered terrace
Similar Properties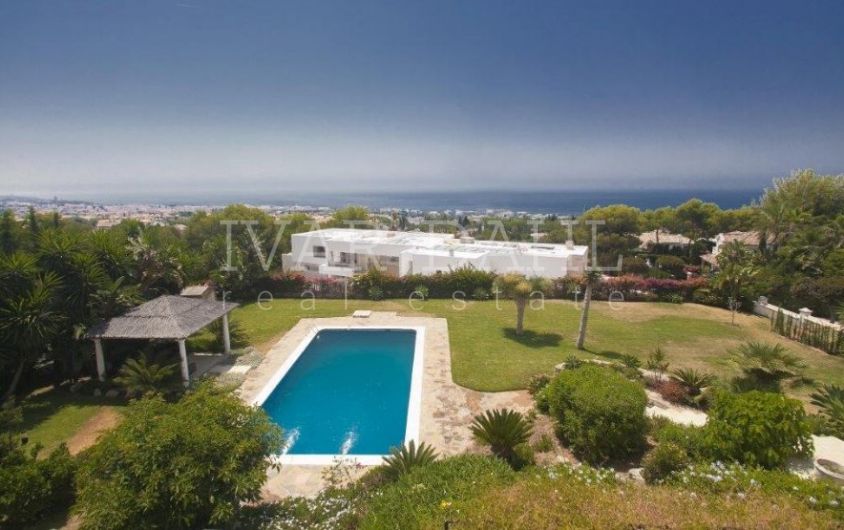 Stunning villa situated in one of the most prestigious estates above Marbella´s Golden Mile, in Sierra Blanca, in a privileged position offering breathtaking views to the mediterranean sea. 7 bedrooms, 7 ...
8

bedrooms

8

bathrooms

1.094m²

built

3.118m²

plot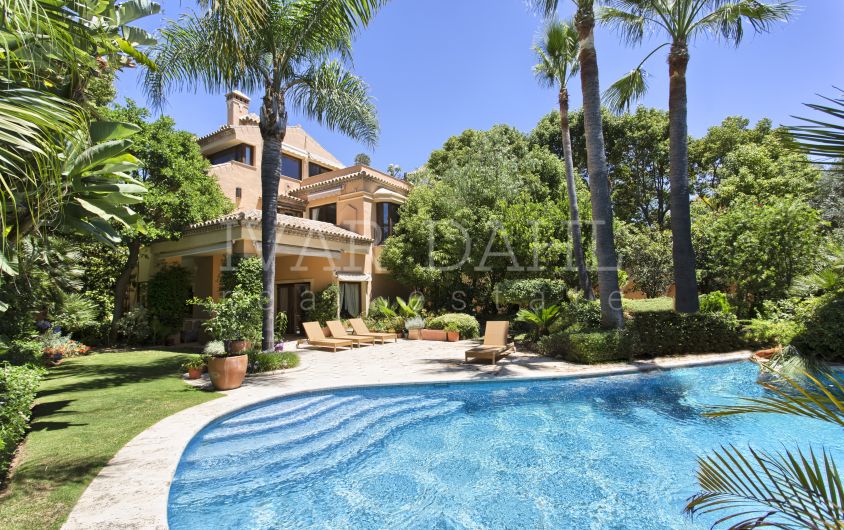 Villa in Urb. Altos de Puente Romano, Golden Mile, MarbellaBeautiful, classical style Villa, build to the highest standards. Located on the Golden Mile, sought after location and close to all amenities, ...
4

bedrooms

4

bathrooms

1.012m²

built

821m²

plot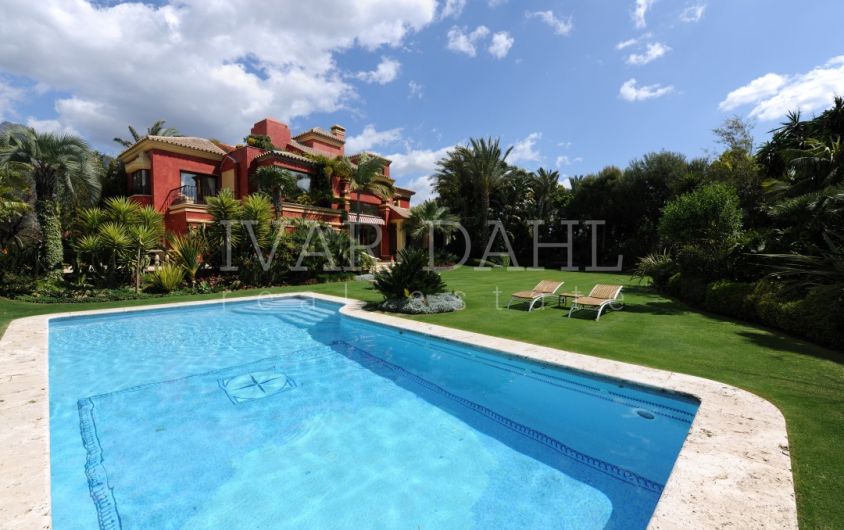 Luxury Villa on the Golden Mile, Marbella. A beautiful, exceptional property. Large plot 2029 m2, 5 bedrooms en suite, outdoor and inside swimming pool, winecellar...
5

bedrooms

5

bathrooms

1.229m²

built

2.029m²

plot