Apartment in Nueva Andalucia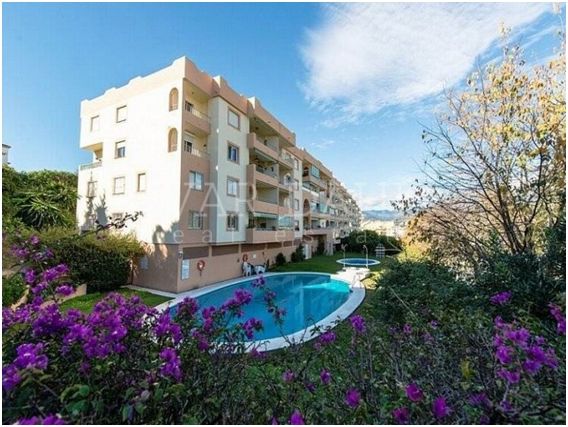 //media.inmobalia.com/imgV1/B8vEv5Xh8DZJ8zA8HsKlVQQovHvPS2nS1REiasNjjf37J7WfKOkiQxSIhRrnU2OBFkknCXNFUkYS7Hh9o9IZ_QJ9eIkyovD47AZn4Iq4G~qrnNxFhuh4yT8PE4xOhHTmHpobYx78Ib8VUvWWqXRXVW3IMC_vZe2jDypNA~fk8uwPApSJR9Qy0kK3T6mAjaE4bOcbfBNPgSc4venoAvCYTdQBnp1_~qYTQ2Hg_xo90AM2T9nXGU4voliQjLhI9sFr_EYl5Zkxat711tHkDDekusCdQRXAjimjjf62f26J.jpg
//media.inmobalia.com/imgV1/B8vEv5Xh8DZJ8zA8HsKlVQQovHvPS2nS1REiasNjjf37J7WfKOkiQxSIhRrnU2OBFkknCXNFUkYS7Hh9o9IZ_QJ9eIkyovD47AZn4Iq4G~qrnNxFhuh4yT8PE41YAYewB4uk5nT4OHbrba1TE_ydfLRSPW8imde1RRsZVYcNb31qL6z9akcTqtdUSoavM2sQ0NTSSP~hzuQISNG_r~7akHRbMjARHeBlK8LhxtxdFz6aZXxKieI6Fa0cTL9vCfdY~GscwEMFRWNw~xRpNEd5zIvXNK14ERenkRR3lj0t.jpg
//media.inmobalia.com/imgV1/B8vEv5Xh8DZJ8zA8HsKlVQQovHvPS2nS1REiasNjjf37J7WfKOkiQxSIhRrnU2OBFkknCXNFUkYS7Hh9o9IZ_QJ9eIkyovD47AZn4Iq4G~qrnNxFhuh4yT8PE4IBRsgfjjG8d19BBr2K2_CBB_Ps7tauidPlkXULXm93EnNL1Nbsa3TignnrZturyqJUZAx1fL1zLslNhe7WZV8509guMfpGp8B6Ho6rEWoIJGIXZiLFdQRMJg50l1s2sTvO9v8t3jDpcHKaGCgDj4rEI46GRvH2YHWfPzH7lUwNwBcn.jpg
//media.inmobalia.com/imgV1/B8vEv5Xh8DZJ8zA8HsKlVQQovHvPS2nS1REiasNjjf37J7WfKOkiQxSIhRrnU2OBFkknCXNFUkYS7Hh9o9IZ_QJ9eIkyovD47AZn4Iq4G~qrnNxFhuh4yT8PE4N5Cur0TOQ_0Tj2DzjARm1SAfggF~e3TghYGDwiiMKw_aaYgVj1oXG51bpztaYHf1aWomDjTmXpn6Auuoq04CZwZfuhWqC7oPDDLpe_YgncPonVuIajFKDuJGthDHHbRCU8r6SUIrM4ovShmIJ7I0HgY5iC60b88MWkh~F1jPt~xriT.jpg
//media.inmobalia.com/imgV1/B8vEv5Xh8DZJ8zA8HsKlVQQovHvPS2nS1REiasNjjf37J7WfKOkiQxSIhRrnU2OBFkknCXNFUkYS7Hh9o9IZ_QJ9eIkyovD47AZn4Iq4G~qrnNxFhuh4yT8PEDZuhbE8qez8WOItymfMHy00pQ4t6aFhOLeTtbNSaJynZ5qxk0P0M4RN0TstYp3zB0uJ3JxRRHPbI01bEsSB15Da39yLsteyE18eGHbRvSHiMn7IX2hfouLjJheAUjd6RiUu2A5stoxCjV7gVG_38LLY_Leykuo7yjo54XVBvshFxPLj.jpg
//media.inmobalia.com/imgV1/B8vEv5Xh8DZJ8zA8HsKlVQQovHvPS2nS1REiasNjjf37J7WfKOkiQxSIhRrnU2OBFkknCXNFUkYS7Hh9o9IZ_QJ9eIkyovD47AZn4Iq4G~qrnNxFhuh4yT8PEDIScGksgyGE_A_gKqDM0pA9bmO7CRvpkj4u1efAG_1k4a4lGagUvCOuGg7dL9dkdYJPhtv7Z~VvpDVgXWDhcKxZx1lPCLqXwjQwc8qCQiB8AWenC17mLYWiTZUBOuJuTHZvRCQC6kiO0b4gibmNX34A4qJaiIGknyVvNWw2KhiuUYiH.jpg
//media.inmobalia.com/imgV1/B8vEv5Xh8DZJ8zA8HsKlVQQovHvPS2nS1REiasNjjf37J7WfKOkiQxSIhRrnU2OBFkknCXNFUkYS7Hh9o9IZ_QJ9eIkyovD47AZn4Iq4G~qrnNxFhuh4yT8PEDeVC09waxzrNvPOyvUml_yUBWg6op85Sk4CpbTAuUgzgat_dxJlfZNaXEeA1kOfcH30nE8sAm_i~2AYmjixvhJTy22W8CBrIqc3AwUO1D4F6ds8B4fZxGeNTJZnLv0JHGcCQ9LoF~Y4vrpzU94cu3oGxWwVSheErcMK2Gj4Qj6Xb57Z.jpg
//media.inmobalia.com/imgV1/B8vEv5Xh8DZJ8zA8HsKlVQQovHvPS2nS1REiasNjjf37J7WfKOkiQxSIhRrnU2OBFkknCXNFUkYS7Hh9o9IZ_QJ9eIkyovD47AZn4Iq4G~qrnNxFhuh4yT8PEDSza~Yc5IlVg1oohkJGBe5LM0sxuwLgei_Sxx32KVwZTlxVJ56RpqguY7kYUElgqHXrlBbE1u7RLUKznA_RMrl92vLeX1VOH2dIodW2ETziMMzm013rIpCMISlN2clHeaWWcdG1wdZqgOEB~39WuNCctovUJQY4iwVWHBL~hGBMxtN3.jpg
//media.inmobalia.com/imgV1/B8vEv5Xh8DZJ8zA8HsKlVQQovHvPS2nS1REiasNjjf37J7WfKOkiQxSIhRrnU2OBFkknCXNFUkYS7Hh9o9IZ_QJ9eIkyovD47AZn4Iq4G~qrnNxFhuh4yT8PEDUUUZETGlFmwuyBAlBih5ZiaA5K3RURoVAfDPwaCeaI5PJ36h0YaRgJFd~WOABvAredU3pNqOcR8UD5FdjH~sHyBOh9DnI_YVlufie_8BoKB6wE0cLcAU6yV7lFTUVniWvCOaFUHRyMVWMQbWDEpfKTqXWJoeoNn2FHNioNGLqQn9Zs.jpg
Price

330.000 €

Ref.

4766

bedrooms

3

bathrooms

2

Built

117 m²
Apartment in Nueva Andalucia
Apartment in Nueva Andalucia. SPACIOUS 3 BED APARTMENT WITH MODERN STYLE AT AN EASY WALKING DISTANCE TO ALL THE SHOPS AND PUERTO BANUS!
The apartment is set within a development within an easy walking distance to Puerto Banus ,the beaches and also next door to the Centro Plaza shopping centre where you will find a selection of restaurants, shops, banks, beauty salons and more..Also at a mere 2 minutes drive to excellent golf courses:Los Naranjos Golf Club, Golf la Dama de Noche, Real Club de Golf las Brisas, Aloha Golf Club, still within a few minutes walking distance of the luxury and fashionable Puerto Banus .
The development benefits from 1 large swimming pool, community parking ,and beautifully maintained gardens.
This modern style apartment enjoys a spacious terrace with sitting area, 3 spacious bedrooms , 2 bathrooms,beautiful open views to the pool and gardens, well kept marble floors, fitted wardrobes, enclosed terrace with glass curtains,and a fully fitted modernised kitchen with separate laundry area.
With a superb rental potential either for long or short term, this is an outstanding opportunity to own a great home in the Spanish sun surrounded by all the local amenities!
Features
Living room
Amenities near
Transport near
Similar Properties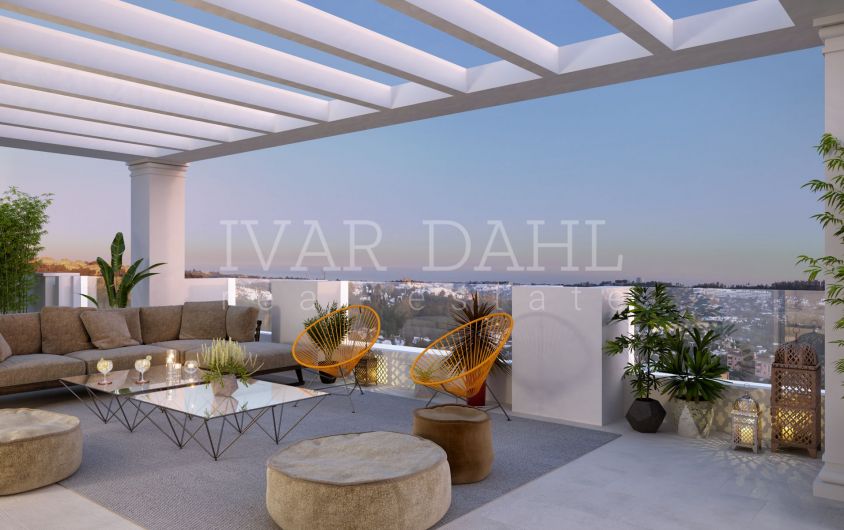 Exceptional , spacious apartments. Each of the nine blocks is home to between five and seven apartments, ranging from 90 sqm to 284 sqm. Several garden apartments include private swimming pools set among the ...
2

bedrooms

2

bathrooms

130m²

built

40m²

terrace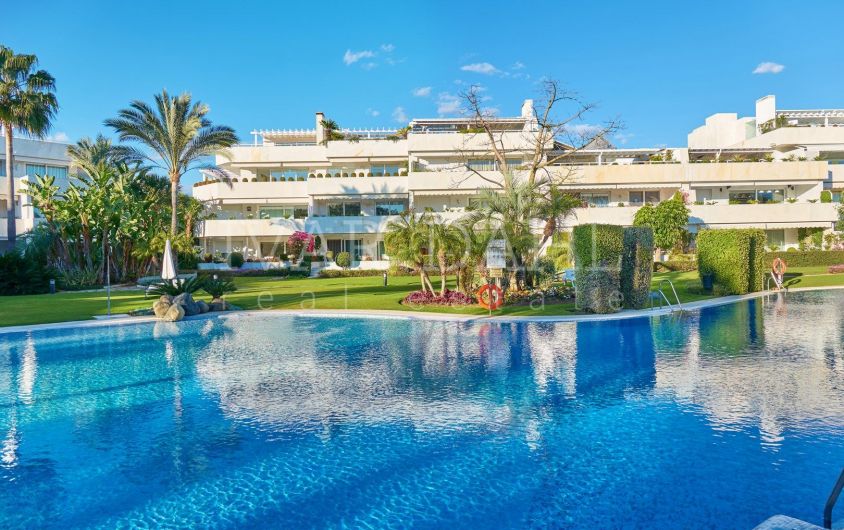 In Marbella, Urb. Nueva Andalucia, Las Brisas Golf situates this beautiful and bright apartment with west orientation .Within a secure residence in the heart of Nueva Andalucias golfers paradise, about 6 km ...
2

bedrooms

2

bathrooms

147m²

built

41m²

terrace
Nueva Andalucía, Marbella. Elegant apartment in a complex that situates close to Puerto Banus, golf course, golf academy, tennis club and restaurants. Supermarket within the complex. Master bedroom with en ...
2

bedrooms

2

bathrooms

95m²

built

15m²

terrace