Villa in Benahavis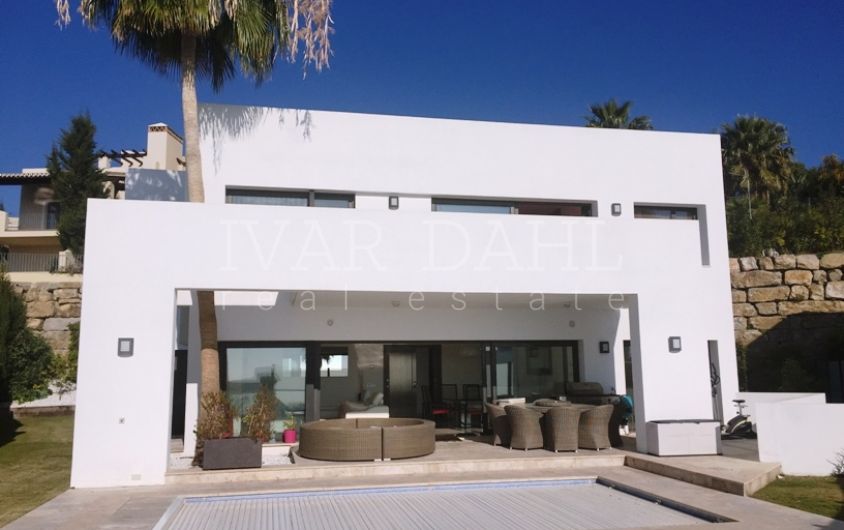 //media.inmobalia.com/imgV1/B8vEv5Xh8DZJ8zA8HsKlVQQovHvPS2nS1REiasNjjf37J7WfKOkiQxSIhRrnU2OBFkknCXNFUkYS7Hh9o9IZ_QJ9eIkyovF1lXYDHg9dKFHcSdvIIkcLGr2Tx4icAncZ74Ni5r9wA3kZD7Y5Ij49RbZ65~2eFNE5hovostWtG5Wl3sOq2nIe_V6LssXUfrw2Jgoqm~86jR6rUeEyi1abijxtiayug51tPNBcqk6uEGhwDsnMgOIMv0ohLIcd70P57aplAoSNL0dDcw0l0zt38aezEq02CZOSlyYVOL6F.jpg
//media.inmobalia.com/imgV1/B8vEv5Xh8DZJ8zA8HsKlVQQovHvPS2nS1REiasNjjf37J7WfKOkiQxSIhRrnU2OBFkknCXNFUkYS7Hh9o9IZ_QJ9eIkyovF1lXYDHg9dKFHcSdvIIkcLGr2QwEZlD0rd6uHFMewEqiXQjhV~ON6oS6JPXSzxpjkJqT4KYvppQNNOvuWpUINRJMgSQRUyBQcb26PJGPxXglaBLcRRc3ScZUj9dP2nGbaOMlO_ZTzNnBdxBYg8Kxbgfgu8q00132OHk55AES10t387s9l7Q~RY1KCswwO~IzzlzLgZ3jHv.jpg
//media.inmobalia.com/imgV1/B8vEv5Xh8DZJ8zA8HsKlVQQovHvPS2nS1REiasNjjf37J7WfKOkiQxSIhRrnU2OBFkknCXNFUkYS7Hh9o9IZ_QJ9eIkyovF1lXYDHg9dKFHcSdvIIkcLGr2QwEnGytO4N4wVpmZq1zSlio_86fxHzM6KHeVE2hGMg1kFQHEtzS9epLtTpm1cryuqLukVw~xBWVGPr6Sa6vPYLc790eJWIGx3b6Mllt2QQouPpqCCeI3SnxBapOUfI2v7bs6~MIUyTLvzEVKTq5tyDCF9M_qceY~GJseFPptdg4AIMnmB.jpg
//media.inmobalia.com/imgV1/B8vEv5Xh8DZJ8zA8HsKlVQQovHvPS2nS1REiasNjjf37J7WfKOkiQxSIhRrnU2OBFkknCXNFUkYS7Hh9o9IZ_QJ9eIkyovF1lXYDHg9dKFHcSdvIIkcLGr2QwEihD9RCR~GNyfn4BzJqvvqyPaARTiuz7fUzmMNudj0ngr9JxkguNOFPZIwp939eUkEF5d_JmXbA1kIGallE44Rhjo5BiCLCsOrX63SWJ5CUSHhfBiFdanyUhNQWYqai9L7h0rcl050E~vMokSD9z~DzrLjzDOOVizpm443EaMGd13JU.jpg
//media.inmobalia.com/imgV1/B8vEv5Xh8DZJ8zA8HsKlVQQovHvPS2nS1REiasNjjf37J7WfKOkiQxSIhRrnU2OBFkknCXNFUkYS7Hh9o9IZ_QJ9eIkyovF1lXYDHg9dKFHcSdvIIkcLGr2QwbuEJ0GtEXGG6G3WEl_oPA9oBEck0BZZJoBFUYrkcmtqGav3b0sYXEJjlS7QbmMJaaLNTxwJLrglxsGIxw2dxF~MuMhLgbpzUusRzLXXqLO73EDkLb1_c22q8UTpdbZ6WCWfsTg3bmuQDh3qgTOIIJspinHnLo2xSnw0hr1tErvIUDAU.jpg
Price

1.375.000 €

Ref.

4768

bedrooms

4

bathrooms

4

Built

245 m²

Plot

655 m²
Villa in Benahavis
Benahavis, close to Atalaya Golf course. New, modern style group of 15 houses situated on the first line golf gated complex. A distinct and exclusive product. The house is on three floors, main floor, first floor and basement. The luminous house consists of entrance hall, living/dining room with fireplace, covered terrace, bedroom en suite and fitted kitchen. First floor 3 bedrooms en suite and open terrace. Basement with 2 car garage plus open place for storage. Air conditioning, under floor heating in the bathrooms, heating/radiators, music installation, domotic, pre-installation for "home cinema" in the living room, marble floors, lift. Swimming pool (pre installation for heating), automatic irrigation system. Gated complex with security. ENCLOSED URBANIZATION. MODERN DESIGN AND HIGH QUALITY .
Features
Fireplace
Satellite TV
Alarm
Double glazing
Security service 24h
Living room
Automatic irrigation system
Air conditioning
Central heating
Similar Properties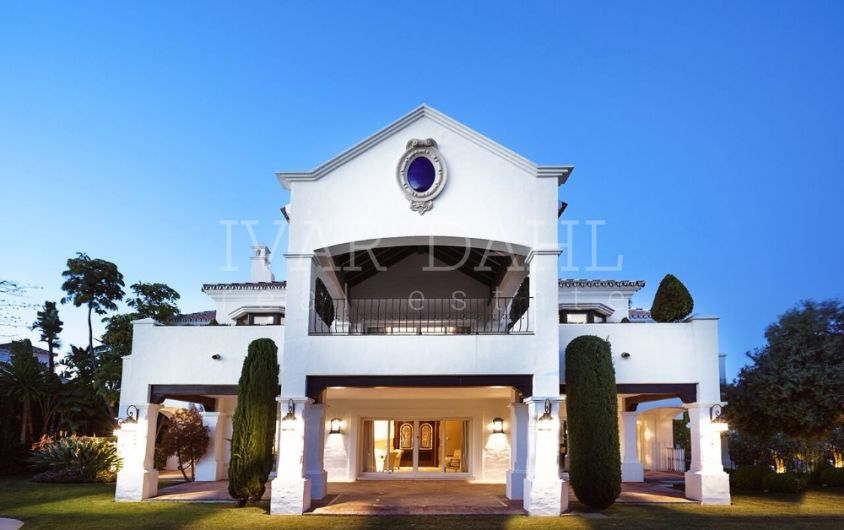 NEW QUALITY VILLA IN BENAHAVIS WITH SEA AND GOLF VIEWS! The Villa has an elegant entrance hall, large living room, separate dining room and sitting area with chimney, guest bedroom en suite, modern kitchen ...
5

bedrooms

6

bathrooms

531m²

built

1.539m²

plot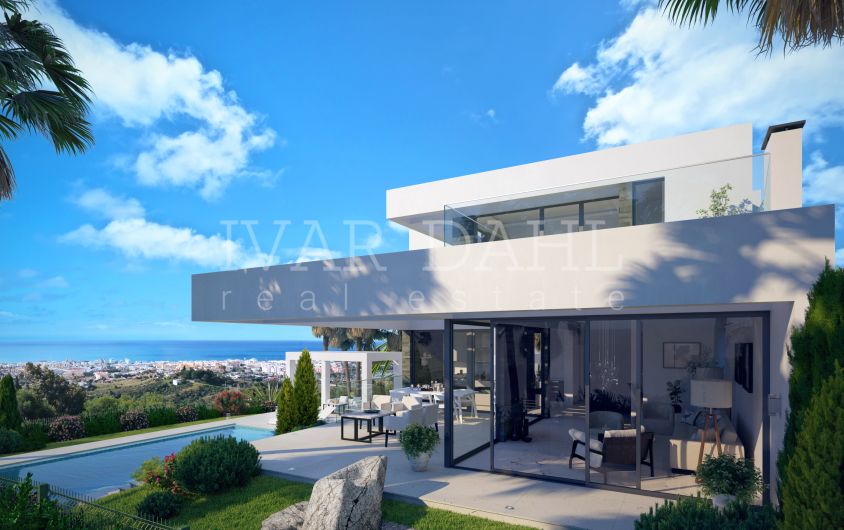 New Villa for sale in Mirador del Paraiso, Benahavis. Exciting project consists in construction of independent contemporary villa with stunning views to the Mediterranean Sea, green golf-courses and Gibraltar. ...
4

bedrooms

4

bathrooms

300m²

built

800m²

plot
West orientation villa under construction with wonderful views towards golf course, lake ,mountains and sea. Urbanization Los Flamingos offers highest quality services; Three18 hole golf courses, Hotel Villa ...
5

bedrooms

5

bathrooms

1.450m²

built

2.400m²

plot