New, modern 3 bedroom ground floor apartment in Benahavis
//media.inmobalia.com/imgV1/B8vEv5Xh8DZJ8zA8HsKlVQQovHvPS2nS1REiasNjjf37J7WfKOkiQxSIhRrnU2OBFkknCXNFUkYS7Hh9o9IZ_QJ9eIkyovD47AgGVWIHZlvuq8Ys__sGTk1IfGzmMJ3Bk32byDTZ3ofDPlg0RQFNqemDYoNLBxjpqye9N8JEbInPkdSXqu5j6G7m4FRt07lP5ab9Mh3sPAVPLAXQsinYgssjEUcB1i1UzV0KaVrl8Sr4VkGlaWgJSB2~rL~ncXGc7q36B~u0zy8YFK15AEw9avl_keNgfnhPv9yLCwNoduAkMNUX92E3ckukbL~XXUKNGF0-.jpg
//media.inmobalia.com/imgV1/B8vEv5Xh8DZJ8zA8HsKlVQQovHvPS2nS1REiasNjjf37J7WfKOkiQxSIhRrnU2OBFkknCXNFUkYS7Hh9o9IZ_QJ9eIkyovD47AgGVRHdjni4Hh2rPirlML_ODz~jh6~FhztDSEtp~tf6rfbjBhpUs7PNVaUkOfXACN7ta5ZjnZUqT3gkLI1FRXLBbu2_8OOOHIwH7a1exKGHWx~l7TeJ9vbksfwi80AEwYgyUKP5rtA5lD0agcYl~pKckwTDPQzuOyUniKvDWDz11iypKbEbc0hPhOjM3tjYT~pFMgbG.jpg
//media.inmobalia.com/imgV1/B8vEv5Xh8DZJ8zA8HsKlVQQovHvPS2nS1REiasNjjf37J7WfKOkiQxSIhRrnU2OBFkknCXNFUkYS7Hh9o9IZ_QJ9eIkyovD47AgGVWiOzO0LZEpU4Cjge5d3k_AC1lM3utczQadNb9hFWEf1P56ojnyGwtNHap8rJhgOrcJkIQJBf0z~4HmUoBWsBM8s6X_XEWYJhaqf3Fz5pBFsjUk~AlLBqLIWP_jSEBnJoU1YdQs_Mz6COEtGBsfy2EAv~w4sUxzloYjGWuQtKpkZrtV0BhqcmhQR0KmKi2vCt_qTzrtQIrX6s4NfDj5JGHqIZG0_X0A-.jpg
//media.inmobalia.com/imgV1/B8vEv5Xh8DZJ8zA8HsKlVQQovHvPS2nS1REiasNjjf37J7WfKOkiQxSIhRrnU2OBFkknCXNFUkYS7Hh9o9IZ_QJ9eIkyovD47AgGVWjcM7uZCWIGWDVdTUA0V1yxqfpQTKbQpmIcFMV3swTSUHJLFUwe7uklxm8v5xJKnIRbD0lsFlYfDJtn4A1idTuz9CX2uXK8NM5sZJNeuh8PvfqmXD_d8IQ7BCgDWmJer2K4pL9cvNHkDaYn0u4SzDNbzkRx2ANq5vp96oJxdPRBwxyC0DUijzJjuhof8GiDyHnfp6puf6jMqEORGUNWSqZeX2c7ZXI-.jpg
//media.inmobalia.com/imgV1/B8vEv5Xh8DZJ8zA8HsKlVQQovHvPS2nS1REiasNjjf37J7WfKOkiQxSIhRrnU2OBFkknCXNFUkYS7Hh9o9IZ_QJ9eIkyovD47AgGVWdb1VDtOppeWzvuyjhV6ie_kohUp6cgxIBXsi6RjQAq5R57~il5k7D~wOzsXgDl5A_oe3sv8Z9dmYvaGdQqKtjPqiB_bdP22cqRp8qE~MDFR6qv5H9ksCgaqkBW7d0OyCMiXi~BJxK0FmOIBluJf4GPXLBZ3aXfPKXMFH1dhLpBTsvoIcwwvJxXnF1vPP0wRVE4knM4d3p0oqjDhTkomMZbRxkQJnc-.jpg
//media.inmobalia.com/imgV1/B8vEv5Xh8DZJ8zA8HsKlVQQovHvPS2nS1REiasNjjf37J7WfKOkiQxSIhRrnU2OBFkknCXNFUkYS7Hh9o9IZ_QJ9eIkyovD47AgGVWM0oMVgZW24lYKB4CwYiDaGiIHsJqNZ_hx6OvJMh64G5oziMtOirrCLUYqB_FGEECjoj91Gpesf5fMCoQrNdnBjTKyu10uA2qOH09wGEJtjfwTICq4i9gwJ86rkWcIsIS2raStrehy1zbwQfDVVimDn_oj7Q1bQRkArTIf~rGuWkYiE42jqHQhoPvDv8J4TC8wyL0Z3ycQrf42UxsLQnAU~Vzd7DMc-.jpg
//media.inmobalia.com/imgV1/B8vEv5Xh8DZJ8zA8HsKlVQQovHvPS2nS1REiasNjjf37J7WfKOkiQxSIhRrnU2OBFkknCXNFUkYS7Hh9o9IZ_QJ9eIkyovD47AgGVRHdjni4Hh2rPirlML_ODr~adRGMDs4dLCVDEwZ9Itck1zc5g5i45Gba4kowSznzppkwjU~hORnabKD0gy_PIteCy7pRuR4wRbiGQYgDZFuZgn4qztdZ4Ui0BMp71CpQBG7OdCRVf2pz_V6EAG1P3RSQbXf_q3YGaRc4_36bKMYY_TP3Si~2IbWI9p_u43pkFDTp.jpg
//media.inmobalia.com/imgV1/B8vEv5Xh8DZJ8zA8HsKlVQQovHvPS2nS1REiasNjjf37J7WfKOkiQxSIhRrnU2OBFkknCXNFUkYS7Hh9o9IZ_QJ9eIkyovD47AgGVRHdjni4Hh2rPirlML_ODrWFBPf57QQ5Cl7Vs6Easq33gS8QQr04gG9A1vW~9n6JyBt71~mE3XJVdAilGQqGE9d_mupPODnTKo9xVJbN8suMzwymWac5TewZpT6evFLH~VJx_lXdnNSEszvdCvtyZQSJEpE9mzAkP98j53GF1kWjc_H5snFXV~vTgq6s4u0z4it_.jpg
//media.inmobalia.com/imgV1/B8vEv5Xh8DZJ8zA8HsKlVQQovHvPS2nS1REiasNjjf37J7WfKOkiQxSIhRrnU2OBFkknCXNFUkYS7Hh9o9IZ_QJ9eIkyovD47AgGVWiJnOiDLIh~waTE_OVHxHY~APEMhkSfZJX76k09vrgYZc3GXlFk0ZJhtwBevTE7eE57bmSQelbpAoByGPxvfrSIhNK4LKecLASFWr0GJnh~J8CDXGm4BqA0PS~bwpqXg5R7GeNoSV0mGwltRqrgXk9lUvMLguhpXpT1~3Zz04~OjZ9eeHGj_6gDcYDrOgyZce7gTxUgre7pb0AvZFU4kQYObwHHXwg-.jpg
//media.inmobalia.com/imgV1/B8vEv5Xh8DZJ8zA8HsKlVQQovHvPS2nS1REiasNjjf37J7WfKOkiQxSIhRrnU2OBFkknCXNFUkYS7Hh9o9IZ_QJ9eIkyovD47AgGVWjf1MqUS1xX4ZdWkMx6OEzVExznOIdn0reY14B6ihtgOmkZuu0P0G8G0W_YImTNKzkBsG~noX5q12LednrIj7HpthG758nbpdLNgNgTr~JIF_rj5WnWttO6GSJ89yMo8bXE7YgEER9HmXkz69oQd5vgFIJF97LjXxCTNfNeL0EHW2DSQmmUmfQl3icZaKJjg8SHdxjej~AGnY0n~WgXtf3sdjzyedU-.jpg
//media.inmobalia.com/imgV1/B8vEv5Xh8DZJ8zA8HsKlVQQovHvPS2nS1REiasNjjf37J7WfKOkiQxSIhRrnU2OBFkknCXNFUkYS7Hh9o9IZ_QJ9eIkyovD47AgGVWjbBlGW0phRr235lM2iZe7qYUcKhL5EVDkUl7bMiTR8OdSHNTX~abK~CZ73Dd7v9Rj94b_Pgml3yJMRi7RkeFLtv~JrxiCbS3bYNCOGzAGi10fWiqAUI~IV4cdUEsFZEzuvw~Trrd2wVMz3szwb2x8D1W4vGKB4GDU~PKU2cJC2REE~Xn8BNa2kadxasrRJYS2R9PGm7miVdGTSuWBu7Q6dHlRqgSw-.jpg
//media.inmobalia.com/imgV1/B8vEv5Xh8DZJ8zA8HsKlVQQovHvPS2nS1REiasNjjf37J7WfKOkiQxSIhRrnU2OBFkknCXNFUkYS7Hh9o9IZ_QJ9eIkyovD47AgGVTLZWornoX8ASyCQeuHtaw0HhNK2iJeNcGmqOSHf3u8O21MBU8dgQ1DC9sBtEDofreWA40NgsWAUIfdsNSgfu1IuHMV4R3RKJzVJHFHLQfrN6kI7MI~SvgKYt2dL16_y34lRpULCQOXrcLiZhXOC28zRFmaHhMTDF4UzVC4lEgGSDfWqaFDNw6Rzp_jyenz7AbT_aydiFL02pQSd_7OoZpzGwuaMPjA-.jpg
//media.inmobalia.com/imgV1/B8vEv5Xh8DZJ8zA8HsKlVQQovHvPS2nS1REiasNjjf37J7WfKOkiQxSIhRrnU2OBFkknCXNFUkYS7Hh9o9IZ_QJ9eIkyovD47AgGVTRPlXkmq7Tmo8G5wHfcwGVPi8421QsUNCQxV~EpcvTmd6~xO4YMAze2IYAj07bNEmK2R5HtEcj51ZB8lQOLnWHNsJusmH4L8DXrtTtNq2768Mf36xo9RPGMsXuQKR7byXcowoR3rpkBT7mahPSWSFwefitX4ZFsXUob_h9UR106IUdEyuNBuQFDDEXj8vYYc6o0c5lDNkopL9EeT0LJrLaZBWLEmVg-.jpg
//media.inmobalia.com/imgV1/B8vEv5Xh8DZJ8zA8HsKlVQQovHvPS2nS1REiasNjjf37J7WfKOkiQxSIhRrnU2OBFkknCXNFUkYS7Hh9o9IZ_QJ9eIkyovD47AgGVTEq4aXg6Of8I_D0xkWitgq_I2ILShwDXklqfW9OvACpFSIWglSlaaV48A5hyNB6sA6Dx9wIj6D3ZayUuZ_Pab1YwdatwbZex7u_gNoScy~9Q9NBc18svlsHprtdFhKzlIUeNBhoesAGi_hn_pGd7QSW_DZNb8ykI3nBYSdwPRGG0VT1JrqFpv1enx4awRkRkW8EFC5zZSJyuozZA7YtxdEf1CNfgx4-.jpg
Price

387.000 €

Ref.

4769

bedrooms

3

bathrooms

2

Built

134 m²
Ground Floor Apartment in Benahavis
New release. Apartments in La Reserva de Alcuzcuz, Benahavis.A unique residential development, created in accordance with the criteria of sustainability, ecology and bioclimatic architecture. The buildings constructed on different ground levels optimize the views and provide an exceptional panorama of the surrounding area.The gardened areas are a major part of the design, respecting the variety of species and indigenous trees in the area, with vertical gardens and green corridors that link each of the phases and envelop the residential buildings within a unique natural environment.The development comprises 92 bright and spacious 3 bedroom homes, with incredible large terraces, all south facing. The 4 storey buildings are crowned by spacious penthouses with a modern design and spectacular solariums from which you can enjoy the views all day long from dawn to dusk.These homes have been designed with spacious rooms, exceeding the current market standards. The modern distribution integrates the kitchen with the living room and terrace.Private garage space and storage room, included in the price.HIGH QUALITY FINISHES
These homes are delivered fully equipped with high quality modern finishes. Highlights include cream colored marble throughout, large tiles in the bathrooms, wide patio doors to the terrace, top of the range kitchen appliances and sanitary fittings, LED lighting, air conditioning and heated flooring in bathrooms, all as standard.Complex has been created in accordance with the criteria of sustainability and environmentally friendly architecture. These homes have a minimal energy consumption and protect the environment by using solar panels, high quality thermal insulation and sound-proofing and hold a "B" energy certificate.
Property typologies: Apartment, Penthouse, Ground floor Includes: Underground parking, Storeroom, Communal swimming pool, Lift, Communal garden, Air conditioning, Heating, Under floor heating.
Features
Utility room
Double glazing
Brand new
Dining room
Mountainside
Kitchen equipped
Living room
Sea view
Mountain view
Golf view
Fitted wardrobes
Gated community
Air conditioning
Lift
Unfurnished
Close to Golf
Open plan kitchen
Similar Properties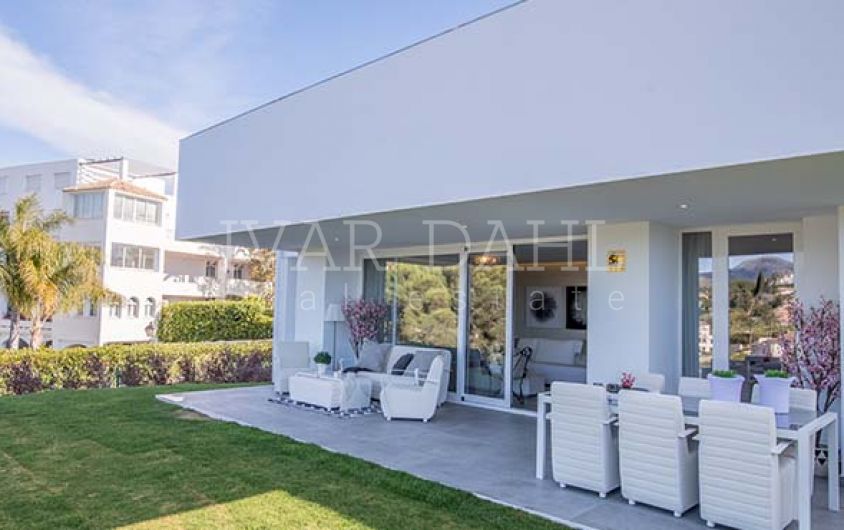 It's a fantastic opportunity to buy an off plan lovely garden apartment withexcellent views to the sea and golf in La Quinta Golf , close by Westin La Quinta Golf Resort and Spa. All apartments have 3 ...
3

bedrooms

2

bathrooms

132m²

built

65m²

terrace