House close to all amenities in a residential area of Marbella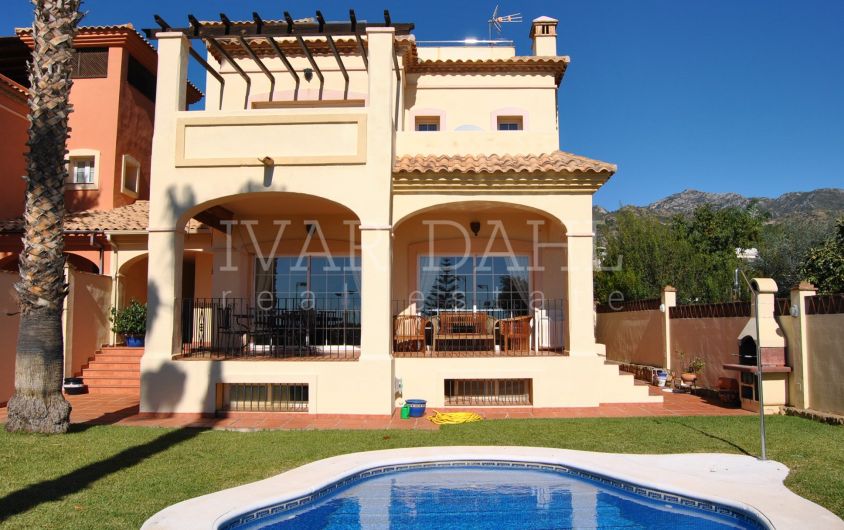 //media.inmobalia.com/imgV1/B8vEv5Xh8DZJ8zA8HsKlVQQovHvPS2nS1REiasNjjf37J7WfKOkiQxSIhRrnU2OBFkknCXNFUkYS7Hh9o9IZ_QJ9eIkyovD47eFd8oPEbW8i2bu8vbV4tK3TeHY8aNt9FaxMvcZvYNi1WaYPYoq9uy1ANKHkgEWnh67SNdU0VXmkz_fMknjPVhKJwQwFM2VKUi6a9pZipTFclqQ0nrBZRvE856ue7Nnd71GYwljErfm5gSFznhpPUsvRk_JmP2FLu3u2rFMH4rVqcxSSpcbtV2b0a0Xqe4bTPjzSHk7j.jpg
//media.inmobalia.com/imgV1/B8vEv5Xh8DZJ8zA8HsKlVQQovHvPS2nS1REiasNjjf37J7WfKOkiQxSIhRrnU2OBFkknCXNFUkYS7Hh9o9IZ_QJ9eIkyovD47eFd8oPEbW8i2bu8vbV4tK3TeHMvaf2lxdPJrlrf028~6iKdVMFks8WTjFHZBgeeL3V~MVmDLUHuU8x_5lyCg0UFm33hlwOyMwrtCbLmv56DwYL9VRAwK9KDPJJH2bsYAhnRK2FAEbPtdtnZx0N0pR1jcjGkGZkkzrbws4ASEDo5Xl4qfHn_Yo2pUWJ8zl5aTd3xi0vq.jpg
//media.inmobalia.com/imgV1/B8vEv5Xh8DZJ8zA8HsKlVQQovHvPS2nS1REiasNjjf37J7WfKOkiQxSIhRrnU2OBFkknCXNFUkYS7Hh9o9IZ_QJ9eIkyovD47eFd8oPEbW8i2bu8vbV4tK3TeHRyCjLJeg6R8LhQ_KpuX5022~sQ_najyXHZPozsb1Qnd29rmsCJBS~582CGJV7dkqeqSXEHjTDeb3K6DBDLSH1cb5hooU2g7GGagQdFmvuj4EVNDEyjzTKS6ek7wbKeo_Bc7jks9jNXA0Ws5LTlInTwUGgx_4Q4Onddxt3WDWuLyXLx.jpg
//media.inmobalia.com/imgV1/B8vEv5Xh8DZJ8zA8HsKlVQQovHvPS2nS1REiasNjjf37J7WfKOkiQxSIhRrnU2OBFkknCXNFUkYS7Hh9o9IZ_QJ9eIkyovD47eFd8oPEbW8i2bu8vbV4tK3TeHDGLWC5zEMZl386I5mHhMLN2JLWkXCNJBe10EpjcODRLEMoMtpiPFR4BvCyVjBLSFcpR79~991OAYoGQckOBVrszCqRuvi_I~VuOnU68rRbW19GTBNc4eRm_pqkh1dDjKBSvWmy5NF_UkpDFlVSXi9D~x3uFsBuvx~n6j1h7DWxFvta.jpg
//media.inmobalia.com/imgV1/B8vEv5Xh8DZJ8zA8HsKlVQQovHvPS2nS1REiasNjjf37J7WfKOkiQxSIhRrnU2OBFkknCXNFUkYS7Hh9o9IZ_QJ9eIkyovD47eFd8oPEbW8i2bu8vbV4tK3TeHHvHSNoCumQmpujlMEGxJqLw4EHLtXD3nlofl5czOXcte42zasXUFMSz67ynQzNu6LasFQe~8pC8d0MtTNnFW5qWgOG96QPTHa6SM~_pW_mxVhGvjEy3vFLcESoZ~hrBOuGNpNvKhs8vlXPvCuNnZsL6ME2PMODM88Ir~Yu7Ptkap5d.jpg
//media.inmobalia.com/imgV1/B8vEv5Xh8DZJ8zA8HsKlVQQovHvPS2nS1REiasNjjf37J7WfKOkiQxSIhRrnU2OBFkknCXNFUkYS7Hh9o9IZ_QJ9eIkyovD47eFd8oPEbW8i2bu8vbV4tK3TeHJfnuDqu8Pb7bXD6mbr9ql184bR~2B965MEr6~7ZC0HagH59wFzHw_otW4h5DJn6_IShHHZgPtPGIuBtlU~Q7117IlS4WDuVU5qcfpNbA2lx78TCMuMRcsAPyTVqazLJhSANs80OQQzk1PPfsC8oRd_kJFZ~omYcm8fOuCvbL89SGwC.jpg
//media.inmobalia.com/imgV1/B8vEv5Xh8DZJ8zA8HsKlVQQovHvPS2nS1REiasNjjf37J7WfKOkiQxSIhRrnU2OBFkknCXNFUkYS7Hh9o9IZ_QJ9eIkyovD47eFd8oPEbW8i2bu8vbV4tK3TeH65ie8y7Z7fXW8oPQW3AHOr148cGrxrFGy_y6JaC2SdOQdr3B1D002uWjHzuxYLqWOOpZvQnhamzp~kaDot7PzXqxFrGUOmcO5BWk7SwAWpNxjZURXMfzChgRSaPwlqrwrA6pm~WAFW0spKC0uEN6uJevKbGC5bhlir2GF4bCu71fWI.jpg
//media.inmobalia.com/imgV1/B8vEv5Xh8DZJ8zA8HsKlVQQovHvPS2nS1REiasNjjf37J7WfKOkiQxSIhRrnU2OBFkknCXNFUkYS7Hh9o9IZ_QJ9eIkyovD47eFd8oPEbW8i2bu8vbV4tK3TeH9uVorFYeIeONsVIDFyseQA3Xj0aoDt9f4t7VrfYiR9og6tbnlFOC3~hFqsS03JXCRcIc7lTN0A~qeQjyT_KiTjCNknXhn~lYl46QbP28ywzEX0Uv2jBUzNNOA44mpG~G2bklUCb8rqGLImbrUomd~hGF260Oao9Yh7LBuhre9UuI4x.jpg
//media.inmobalia.com/imgV1/B8vEv5Xh8DZJ8zA8HsKlVQQovHvPS2nS1REiasNjjf37J7WfKOkiQxSIhRrnU2OBFkknCXNFUkYS7Hh9o9IZ_QJ9eIkyovD47eFd8oPEbW8i2bu8vbV4tK3TeXjutDCtyoX7I~dbJsAEcryVKVlweqZOCpfa7FUxqgrvzxideQVH8ucu7c2i1y6wZolpil8tfn1eXZg~IbQLH5R0V406pqQqNSm0auTgxeGPUVmfLWVHpYuni4iP8tWSPaPCfJ53_8XjcFUi7TLXIQI2jp8rXwjX2GYbmsv~SkflV_6D.jpg
//media.inmobalia.com/imgV1/B8vEv5Xh8DZJ8zA8HsKlVQQovHvPS2nS1REiasNjjf37J7WfKOkiQxSIhRrnU2OBFkknCXNFUkYS7Hh9o9IZ_QJ9eIkyovD47eFd8oPEbW8i2bu8vbV4tK3TeHVP2m5Fm~Wm2OSvJBAiHvvCWXKjsnr1inr3IEhbipLdFNNT3Akgu5BjOtKFtkmq6aE~Vdje8TzX8TnedOIAfN20PJCYaiN4CINajKznnAUjZeamRl2jyQs4D2X1Ab4z7gb28xyg71rKTrwqWtHrZu5uWvYmBcBqNPoC54lPuJ6kjS7p.jpg
//media.inmobalia.com/imgV1/B8vEv5Xh8DZJ8zA8HsKlVQQovHvPS2nS1REiasNjjf37J7WfKOkiQxSIhRrnU2OBFkknCXNFUkYS7Hh9o9IZ_QJ9eIkyovD47eFd8oPEbW8i2bu8vbV4tK3TeXk3Q7NpQIqyGT4Gem8MkpLkwkShQO4zc3v0t4JtOIvz9f2hKZU0jXkAFPCrM6cPcfpMv~KVcHctTg0AYifUNXfR0tnVp89cLuy1UZUJZ9h0ih49QmZbb2w_S4C8jL1UhHPxvvjXqZDMeJ0Cb8gHLj4anQLv7fOuC7yTQm3zz_doPER8.jpg
//media.inmobalia.com/imgV1/B8vEv5Xh8DZJ8zA8HsKlVQQovHvPS2nS1REiasNjjf37J7WfKOkiQxSIhRrnU2OBFkknCXNFUkYS7Hh9o9IZ_QJ9eIkyovD47eFd8oPEbW8i2bu8vbV4tK3TeXaJNUHxf~aZ4pQndDnUTnroTEg2purdWbI97h~CWMukQ03xAiWaST7j04MJphe~ad9MQxeLlNHS8BnloEnRB~Tj~h~Lv3r~MlyYWeC4HwSa7FzYm_4tEcdnSFVeoalFuchP0D2TpHJ~YN8YPfbGyaPSQsS~D7e8tAzpJTcra9EnvreO.jpg
//media.inmobalia.com/imgV1/B8vEv5Xh8DZJ8zA8HsKlVQQovHvPS2nS1REiasNjjf37J7WfKOkiQxSIhRrnU2OBFkknCXNFUkYS7Hh9o9IZ_QJ9eIkyovD47eFd8oPEbW8i2bu8vbV4tK3TeXebd3ZSbjeGdLmxbt_eyTRRJIUnGfI5oQSL_c6KjczMGRSTbJVDDZ5252xNy3YE02CkRV81adc1nOQJBrbY8CNkxxtEuZ3GqeL1Ipf0ps_4RX~j6g5tH9z3WYVjnb1oBN0WfU2ao3TclC3qDGldvi5Kvz7pDEgGOlNIIzoa52l1pFDG.jpg
Price

690.000 €

Ref.

4771

bedrooms

5

bathrooms

5

Built

345 m²

Plot

533 m²
Villa in Marbella Centro, Marbella Centre
The house is built on three levels, 4 bedrooms en suite plus 1 bedroom and bathroom at the basement. Fitted kitchen. Living/dining room with open fireplace and having access to covered, south facing terrace. In the basement area for entertainment. Large sunroof from where sea and mountain views. Air condition. Garage for 2 cars. Private garden and swimming pool. House built year 2002.
Features
Close to town
Close to schools
Utility room
Pets allowed
Fireplace
Basement
Solarium
Dining room
Kitchen equipped
Living room
Amenities near
Transport near
Laundry room
Covered terrace
Fitted wardrobes
Air conditioning
Pool view
Street view
Uncovered terrace
Good condition
Urban view
Similar Properties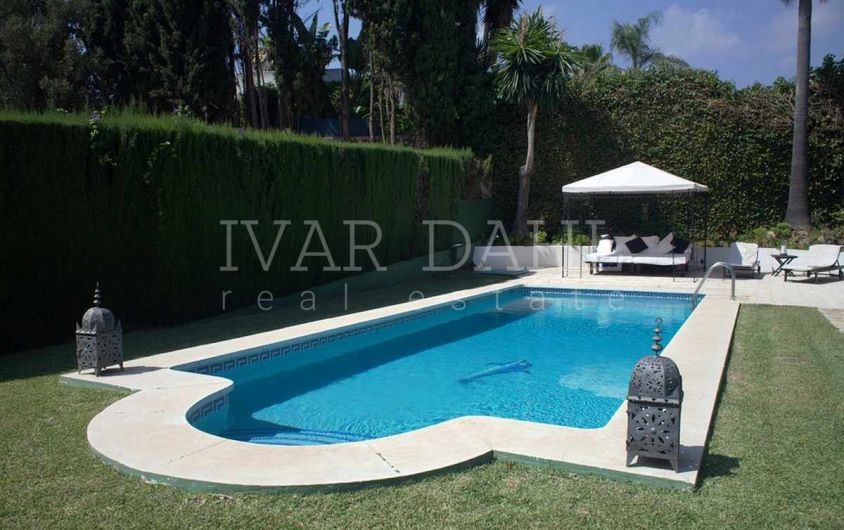 Villa in Marbella, Costa del Sol, Spain. 10 min walk from old town. Beautiful & immaculate villa in a privilege residential area 5 minutes walk from Marbella old town. Facing south overseeing Marbellas green ...
4

bedrooms

3

bathrooms

165m²

built

775m²

plot
Family Villa in Marbella, Urbanization Nagüeles, A beautiful, luminous refurbished Villa in a residential neighbourhood. Easy access to the beach, town centre, Puerto Banus and motorway. Sea and mountain ...
4

bedrooms

4

bathrooms

278m²

built

1.220m²

plot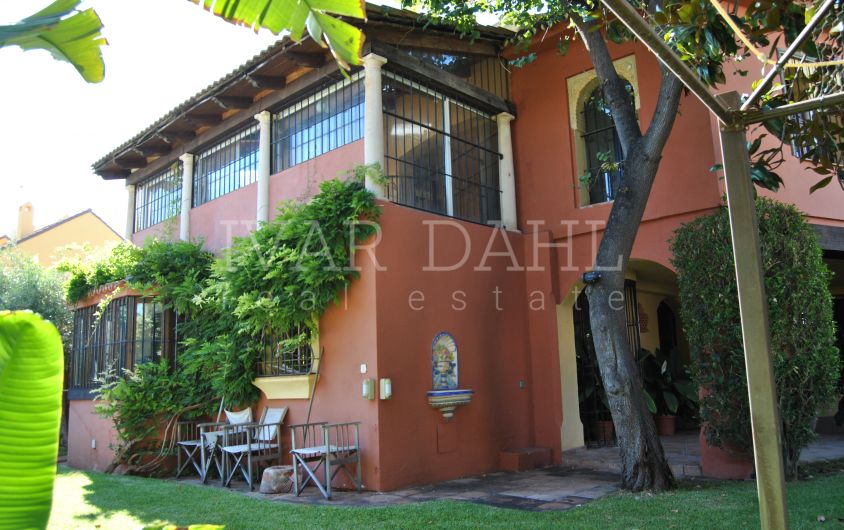 This is a unique opportunity to acquire a charming rustic villa in the middle of the center of Marbella, surrounded by all kind of amenities, shops, restaurants, pharmacy, schools. In walking distance to Old ...
4

bedrooms

3

bathrooms

268m²

built

590m²

plot