Apartment in Atalaya Golf, Estepona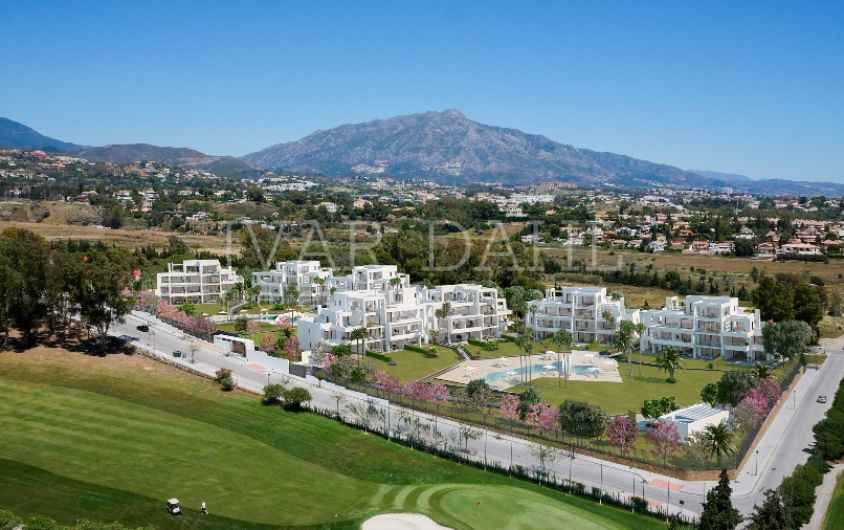 //media.inmobalia.com/imgV1/B8vEv5Xh8DZJ8zA8HsKlVQQovHvPS2nS1REiasNjjf37J7WfKOkiQxSIhRrnU2OBFkknCXNFUkYS7Hh9o9IZ_QJ9eIkyovD47eiQfckCNFLkdMSbrRtnfRe~v9ZlMffSiQnt_xF0mywMNcwhJbPTeqtH5GR48QUzIHYk2NuLP0uoWJWS33cmSiea~C77FP5o2ve3cDh_kkTyW0lhyb~vhVXTTojy9vHYwnAprGsDBruP2EZcRcQDZqH4YqP8lHzX68HicMWFOWUdgMwhmMbg2c0cz1WotWmLWbAoBYKp.jpg
//media.inmobalia.com/imgV1/B8vEv5Xh8DZJ8zA8HsKlVQQovHvPS2nS1REiasNjjf37J7WfKOkiQxSIhRrnU2OBFkknCXNFUkYS7Hh9o9IZ_QJ9eIkyovD47eiQfckCNFLkdMSbrRtnfRe~vuEwRVRFD4iRYIMJ8y1rPRzopBscIqsLtWcdwLaJkk_9SL8QgjuGxVZ0mvzdmHzS2ki1el9jwTYLwDftQrADSpW7e0q4zhaQh7i8xs8sySGPXxsyPalwRHFc1N6xQl~xM8LHTMf90l0tfTjm65cJrlU_foZFgOK9VYGOhWh_0gWvuhUu.jpg
//media.inmobalia.com/imgV1/B8vEv5Xh8DZJ8zA8HsKlVQQovHvPS2nS1REiasNjjf37J7WfKOkiQxSIhRrnU2OBFkknCXNFUkYS7Hh9o9IZ_QJ9eIkyovD47eiQfckCNFLkdMSbrRtnfRe~v9V50AJdhbc6pW51AR_071fvmEBjTsNzoCshBTsqn18fAPsXYSpTj4kgVuGEB9ZwRuJ3SHzc9C6LPYJrLWYa7vD2O4exM8ONS2~sSEGtALOk1BFrCtzG4LoT9IjS~GFWKRo1pc_CMUzreMOEPRLuWZvh1i_7vbwRhKRpL7FYxmAEGpN4.jpg
//media.inmobalia.com/imgV1/B8vEv5Xh8DZJ8zA8HsKlVQQovHvPS2nS1REiasNjjf37J7WfKOkiQxSIhRrnU2OBFkknCXNFUkYS7Hh9o9IZ_QJ9eIkyovD47eiQfckCNFLkdMSbrRtnfRe~v9yNj_BV4oeDs1feCmfQVvBDQWxFLYw2UwkT6bAtUPcOzty0x673d4xBF3ASMwDaeS9k_YrvYGzg4hi0Ck0p~3vhDAcz7U~b46dxkvimS3VY_HfAYIVHagRMQF~Cjitx_NVlE_srX~_tdCvOp8GbLX6vZjcESKM10FjMnqHSMoZ5A0To.jpg
//media.inmobalia.com/imgV1/B8vEv5Xh8DZJ8zA8HsKlVQQovHvPS2nS1REiasNjjf37J7WfKOkiQxSIhRrnU2OBFkknCXNFUkYS7Hh9o9IZ_QJ9eIkyovD47eiQfckCNFLkdMSbrRtnfRe~v9SZiF8DokLjnwpqejNTtT8hw3xnCJvRC_IdnXoHClOObU8DXY_Ofq52zDKThC063fMTPN~lPk3XeWEsV28g3wdZjyR345EC2bFLYrcl4k6hbVNTyofeOQgPNLIYTgkoGXNWB6C7zPx4XHrBqvR8ZdUQkD2MjX0082lfoVsuqxnMrALP.jpg
//media.inmobalia.com/imgV1/B8vEv5Xh8DZJ8zA8HsKlVQQovHvPS2nS1REiasNjjf37J7WfKOkiQxSIhRrnU2OBFkknCXNFUkYS7Hh9o9IZ_QJ9eIkyovD47eiQfckCNFLkdMSbrRtnfRe~v9eTYVFV9meABmo_4B78yOh1P6_iyiVomugW2DQxg4fzujfA2sMmaG93elGq649ovwvTVSh~oCBsaT~~KtPmQWyydjSgo1Bn8cv3rbmVf4grIbXNkTBlO5UNe2HoQx9CTUiQpDDvJv_dIPd9nYtgBAWXNw9_rr8AKu_h3j7BOGpApmnc.jpg
//media.inmobalia.com/imgV1/B8vEv5Xh8DZJ8zA8HsKlVQQovHvPS2nS1REiasNjjf37J7WfKOkiQxSIhRrnU2OBFkknCXNFUkYS7Hh9o9IZ_QJ9eIkyovD47eiQfckCNFLkdMSbrRtnfRe~v9A53OSG3VVxze8hlJw8IR2UjHiJ~rmoZRmNYtX9wv~9BYPZg1wWG8eeAX7pEx170ZDsFYBldSmotWLZB3IcTn6G9FyR~oCrXp2lf7Hwbag~PRMKQMD8qxGSrUH9Ih5~yergziPxnz6CWDH8Mp1z93ex_wB0POm3f~UPL_1kWteyCXkM.jpg
//media.inmobalia.com/imgV1/B8vEv5Xh8DZJ8zA8HsKlVQQovHvPS2nS1REiasNjjf37J7WfKOkiQxSIhRrnU2OBFkknCXNFUkYS7Hh9o9IZ_QJ9eIkyovD47eiQfckCNFLkdMSbrRtnfRe~v9FpzVClxA4KNPS9ZUBbbkCXrGyvVL~uj6gejLgsdsym9Ermm9w2lHRKP4_aMz1bER6mjcRpbks5AcMFT3noSR3N0FbMRrHOzrMqgiNDk2xSUoTY8ION~sWfKdW4Lp_jF9S0GOqEN9cjdE1Jzr79yiSMIcgM7D2Qv4kU0fJ3QWpK2w7c.jpg
//media.inmobalia.com/imgV1/B8vEv5Xh8DZJ8zA8HsKlVQQovHvPS2nS1REiasNjjf37J7WfKOkiQxSIhRrnU2OBFkknCXNFUkYS7Hh9o9IZ_QJ9eIkyovD47eiQfckCNFLkdMSbrRtnfRe~v9OH~mkSNeqXBSdkcefyVZa6JaqAdWkyKhXkABijrU8sGZSXIElnhaZQlioZBEaf170Z1X5h7BqR2ipzE89rII82wuOFzR9dv8~oNk0oQh4jwswriARyc13w9F8uuyDl4KTin1AFCDwO9cbTmO65IKdOTdq1Cql~8dkdvSDuiFfG1c8K.jpg
//media.inmobalia.com/imgV1/B8vEv5Xh8DZJ8zA8HsKlVQQovHvPS2nS1REiasNjjf37J7WfKOkiQxSIhRrnU2OBFkknCXNFUkYS7Hh9o9IZ_QJ9eIkyovD47eiQfckCNFLkdMSbrRtnfRe~v9KDu9X_fwDHxJgNshsSkDd7mfEQV_7TaBSf0CJmdIXXdA8QHbHDVZSMWf15pkXov3UMrB3piDfy3bmFjLcVuOKVnDI~APnf7rIYorPgjGNz4E2BK~TIsqXdyVkoSmO09K47Js2RHAVXlJQGVUB6YYZxSiPynUdalnNRsM_XCqBoa2Pe.jpg
//media.inmobalia.com/imgV1/B8vEv5Xh8DZJ8zA8HsKlVQQovHvPS2nS1REiasNjjf37J7WfKOkiQxSIhRrnU2OBFkknCXNFUkYS7Hh9o9IZ_QJ9eIkyovD47eiQfckCNFLkdMSbrRtnfRe~v93tIWKMfdRRA3uA1AX8L5DtowEA9Igc23VuQ_Vojj60mSuHUzhE8~zEo~nvAt7ToE0hNtRP~6ZI_uHNmF5vyh5WM7Krb~YehDOcZtdbBhnRaY9KM3BgRyur44znZAOSN_hKuMKntE2P4anCxJE7tDpBLoZBM7ssyMRnUvovePDd_aKf.jpg
//media.inmobalia.com/imgV1/B8vEv5Xh8DZJ8zA8HsKlVQQovHvPS2nS1REiasNjjf37J7WfKOkiQxSIhRrnU2OBFkknCXNFUkYS7Hh9o9IZ_QJ9eIkyovD47eiQfckCNFLkdMSbrRtnfRe_ESAaTMZa2jcKpDzGMRP6UqhhrXNl0s8q~Ogr_KcXsab4lP0J6Fk8w36w~mXvpwlZs8m6PY060lTxBAaE4Mv2DmOmc48HE9oaug5oIGVQST0vSIY8HFQYJYNgDvHYzvB8zlIETXWUHybnPlRkj7~chZ4y2Wp5QxFHxBrDkabOPNdZ92f9.jpg
//media.inmobalia.com/imgV1/B8vEv5Xh8DZJ8zA8HsKlVQQovHvPS2nS1REiasNjjf37J7WfKOkiQxSIhRrnU2OBFkknCXNFUkYS7Hh9o9IZ_QJ9eIkyovD47eiQfckCNFLkdMSbrRtnfRe_ESGvCpsVKlcZwKUSgGuSywDt~sgxGELWjobFsPBeWC9iKrZOwzqVNBbMftzT0RKtwrzP9LpWXc9DhBwtRj2cjjQXSCayqKum19EaUHo_rHosGHW5Di6MgWBB~qmezuCG7lB9Yme6vwxDUOyCoGyXFKoUhhfZxynTfiKokYtBpk~gX9uP.jpg
Price

398.000 €

Ref.

4779

bedrooms

2

bathrooms

2

Built

119 m²

Plot

46 m²
Apartment in Atalaya Golf, Estepona
Marbella – Estepona – Benahavis, a new-build development with 56 units, 2 and 3 bedroom apartments and penthouses, with modern and contemporary architecture, large terraces and solariums to get the most out of the south and south-west exposure, a view of the golf course, and some properties with sea views, open kitchen onto the lounge/diner, large windows, excellent quality and spectacular gardens, 4 swimming pools ( 2 adults and 2 children), 1 paddle court and a social area with a barbecue. The best flat and penthouse development in Atalaya Alta. Low density of construction, exclusive, quality and modern architecture in spectacularly beautiful natural surroundings, these are just some of the principle attributes. From its spacious terraces, 102.53m2 average living space in the 2 bedroom penthouses and 162.47m2 average living space in the 3 bedroom penthouses, you will enjoy absolutely outstanding views. Each one with views of the golf course and some with panoramic sea views.Bright and well-lit apartments and penthouses, with open kitchens to the lounge/ diner and fully-equipped with electrical appliances, air conditioning, house alarm systems, smoke detectors, etc. All the flats have a parking space and store room. And the penthouses have two which can be reached from the basement by the lift and directly from your apartment.
THE 2 BEDROOM APARTMENTS
28 flats: 14 ground floor flats, with a total built area of 109m², terraces of between 44m² and 47m² and gardens ranging in size from 46m², the smallest, to 126.32m². And 14 first floor apartments, with total built areas of 109m² and terraces of between 30m² and 38m².
THE 3 BEDROOM APARTMENTS
14 flats: 7 flats on the ground floor with a total built area of 124.67m², terraces of 63.79m² and gardens ranging from 45m2 to 84m². And 7 first floor apartment with a total built area of 124,67m² and terraces of 31.74m² on average.
THE 2 & 3 BEDROOM APARTMENTS
2 bedroom penthouses: 7 penthouses with an average total built area of 103.80m² and terraces 102.53m² on average. 3 bedroom penthouses: 7 penthouses with an average total built area of 148.38m² and with terraces of 162.74m² on average.
Features
Living room
Air conditioning
Similar Properties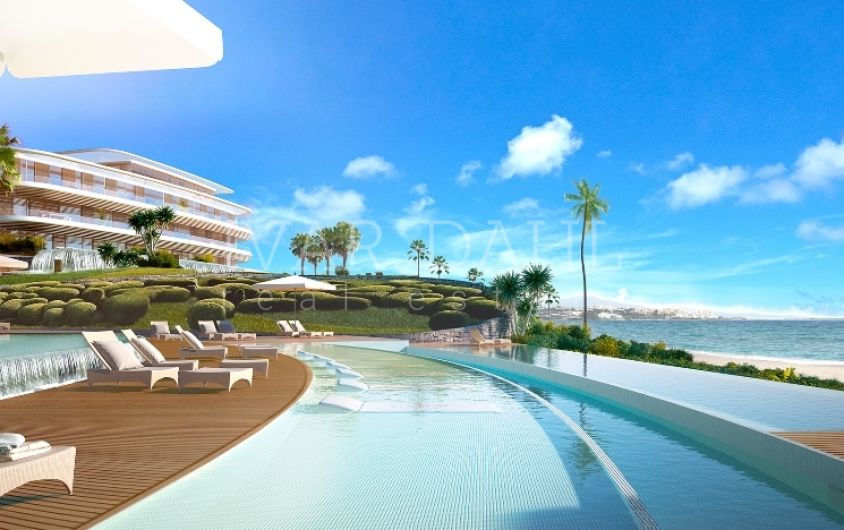 Estepona - Beachfront, New Contemporary apartment project. This is a privileged project of almost 10.000m2 in a unique beachfront space, where 68 apartments and exclusive penthouses and 2 unique and ...
3

bedrooms

3

bathrooms

104m²

built

90m²

plot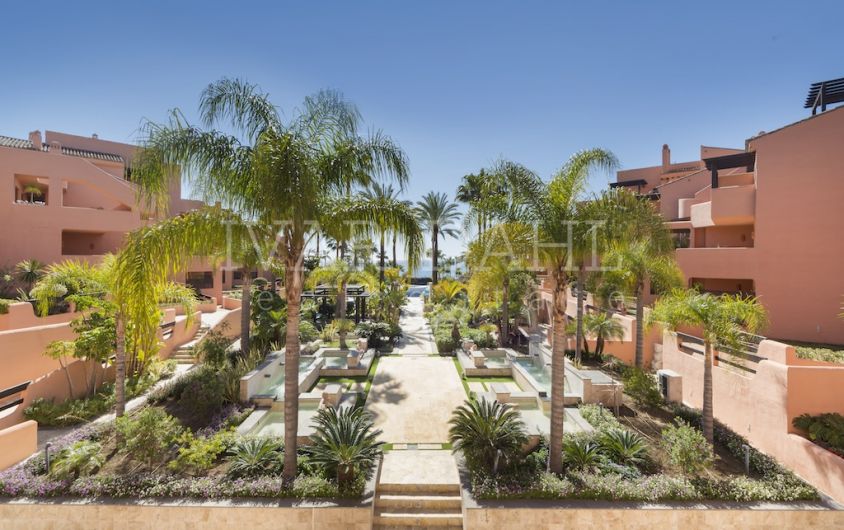 WAKING UP TO THE SEA!A truly beautiful complex, in a wonderful oriental-style oasis of peace and tranquillity. A residential area with direct access to the sea and joined to Estepona by a long promenade. With ...
2

bedrooms

2

bathrooms

167m²

built

36m²

plot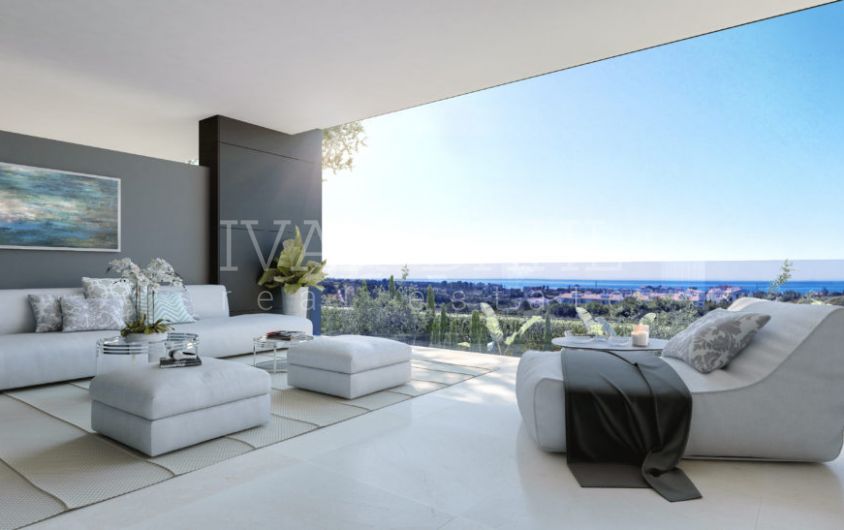 The new complex is a stunning masterplan of 281 modern apartments and penthouses set amidst ample green outdoor areas, social club, gym and various swimming pools and complemented by golf membership of La ...
3

bedrooms

2

bathrooms

153m²

built

33m²

terrace