New luxury modern style apartments in a beautiful setting, Estepona
//media.inmobalia.com/imgV1/B8vEv5Xh8DZJ8zA8HsKlVQQovHvPS2nS1REiasNjjf37J7WfKOkiQxSIhRrnU2OBFkknCXNFUkYS7Hh9o9IZ_QJ9eIkyovD44sLULtydwUoLwO6qMGqvMhYwsujj7D37EkPX5eIMW0ZVnJbFR_MHRNTSDIZgn5TLlqRibYRM8MRN19RrRtjoKlck8D7hr9sBlsNf6zB78XEuVWGLzxiu9OvFzGsKyG3Qlf5045ATsTJ2bgB2dZE_Mplw2vrSQj3aSk7P_nQCxI6efvS0EHPrj4eN8k59ACPzGUpKISb_.jpg
//media.inmobalia.com/imgV1/B8vEv5Xh8DZJ8zA8HsKlVQQovHvPS2nS1REiasNjjf37J7WfKOkiQxSIhRrnU2OBFkknCXNFUkYS7Hh9o9IZ_QJ9eIkyovD44sLULtydwUoLwO6qMGqvMhYws1DysLpXGYr64C5pUJWcD0GSiLau19R9hmEmQht5qIGw0COQPYyzKO3wJ9KvtdH8TAopDPo9hueErqWqvGRXGxm85gVo~AuJAjAH4Hsfn1OKgYi5SwOIPij6CQMiMqo43xeFwOMVn7my4BlzebzHOjXRleb6xX8oRlcMQzQOQjirdiuM.jpg
//media.inmobalia.com/imgV1/B8vEv5Xh8DZJ8zA8HsKlVQQovHvPS2nS1REiasNjjf37J7WfKOkiQxSIhRrnU2OBFkknCXNFUkYS7Hh9o9IZ_QJ9eIkyovD44sLULtydwUoLwO6qMGqvMhYws1NzPxsI0TFTGG93qktLnkJyuXfOnqgm6NlyfmXCjt4Lw24FHkKbDohF01tTYD2Wc6l4Huit3RKB2hzcUB2y2lPdBezSVq94HAoy9fUGv2Bhq7wV~joalFVXL2iIl_egFxhyv7DjPQHIMhOKJHTPdLHg_HmXVTXzKT7SDS~LjXmmgjqK.jpg
//media.inmobalia.com/imgV1/B8vEv5Xh8DZJ8zA8HsKlVQQovHvPS2nS1REiasNjjf37J7WfKOkiQxSIhRrnU2OBFkknCXNFUkYS7Hh9o9IZ_QJ9eIkyovD44sLULtydwUoLwO6qMGqvMhYwsucLy_Nb4Kvp4pj1vvWRZSC1JNl6UqctvmRtZ9DLllQGHjkJJD1oKOq4sCr_hGCJSXMzx_e0Io3Ozd79Pi1tCnjmaUiSNVphuo_2Eq~Q6ZzEHtcY2opf59c3yEWCxQW6BH_KJSmuZ7z0gevTLRm4JvPnak2H29eEG7iqAffODfS0NOER.jpg
//media.inmobalia.com/imgV1/B8vEv5Xh8DZJ8zA8HsKlVQQovHvPS2nS1REiasNjjf37J7WfKOkiQxSIhRrnU2OBFkknCXNFUkYS7Hh9o9IZ_QJ9eIkyovD44sLULtydwUoLwO6qMGqvMhYws1LJA5fPStnM~ixHL4qCCqWEYEsjpS0An0aRAgN05~J69Xzj2iCR7sZ9e8yG_tF~YwDLKI690nkG2om_rKig9IdCmXm46Jw_PzDiO8UhyNF75YK0nET3H4sKrVb3B~srnRFXZQPvGdZm1pdba9YTt9ebCAX_ATJ7macLzRQeqMsaG22t.jpg
//media.inmobalia.com/imgV1/B8vEv5Xh8DZJ8zA8HsKlVQQovHvPS2nS1REiasNjjf37J7WfKOkiQxSIhRrnU2OBFkknCXNFUkYS7Hh9o9IZ_QJ9eIkyovD44sLULtydwUoLwO6qMGqvMhYws1E8smfitnFGkcKhdT2jvUt9HLBScehLjuZOX2UPxCb8eFAbxIIt7soK5iEGf6NxmrDS0EgkpMXdOJU7ZojYRBLDSJvRiyqNwUxVLEDPKiadZJ1le25KEYfcYKbgy5w6A43VbqzmLzM~gLPteX2P3o4o3z9JG3GtjcNTQp~iFvmLY1Rk.jpg
//media.inmobalia.com/imgV1/B8vEv5Xh8DZJ8zA8HsKlVQQovHvPS2nS1REiasNjjf37J7WfKOkiQxSIhRrnU2OBFkknCXNFUkYS7Hh9o9IZ_QJ9eIkyovD44sLULtydwUoLwO6qMGqvMhYws1cG1qQ3LPhf4DQTlH~gdx6GbPIUm2~rR~Qv4yNjN3YbsWuXWlAJd0cKcXXMkQ6DF~7DRMXt~XefQLV_GEjjQAJaePPuiNIIxXDtoozkJ1JZzbKO1nuqK0bg5iw3YZsZWwKYoBL0g51GE4V030gSg8RNCip3zBHCpdFoUs3e1jBqn2oa.jpg
Price

308.000 €

Ref.

4783

bedrooms

2

bathrooms

2

Built

132 m²

Plot

47 m²
Apartment in Estepona
Estepona, new luxury modern style apartments in a beautiful setting. Luxury modern apartments that provide style, comfort and up-to-date luxuries, close to amenities, nature and golf course. Selected gated community, tasteful landscaping and quality public spaces. The apartments and penthouses here have been created for quality of life in a beautiful natural setting close to the very best the Costa del Sol has to offer. Today´s luxury lifestyles demand a fluidity of design that merges indoor and outdoor living spaces – enhancing quality of life by linking the living room and kitchen with the terrace. Designed to maximise natural light and views, these apartments and penthouses are fitted with top of the range windows and sliding doors that are soundproof and anti-glare. Surrounded by carefully landscaped gardens, this new complex offers two swimming pools – one designed like a beach – and the elegant chill-out environment of its own panoramic rooftop lounge complete with luxurious Balinese beds. From here the views across the surrounding greenery extend all the way along undulating ranges to Marbella´s La Concha Mountain and the Mediterranean Sea. This place is created from a commitment to quality, using the finest wood, stone, marble, glass and brushed steel finishes along with fully up to date technology and modern materials. Applied with taste and expertise, these ingredients combine to ensure that your home is not only practical, efficient and beautiful but also provides a visual and sensory experience to match.
Features
Amenities near
Air conditioning
Central heating
Similar Properties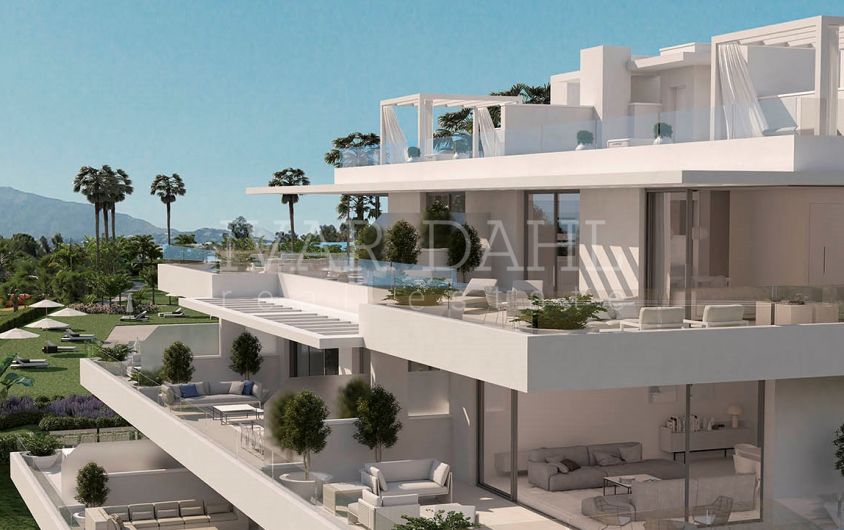 Luxury apartments and penthouses in a contemporary style in one of the best areas of the new Golden Mile on the Costa del Sol. Located between Marbella and Estepona, in the heart of Atalaya Alta, this new ...
3

bedrooms

3

bathrooms

191m²

built

78m²

terrace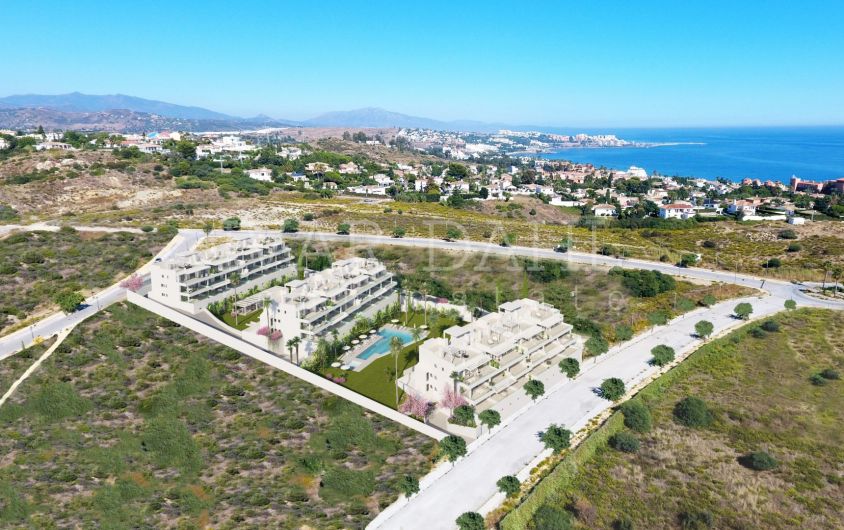 In walking distance to shops and beach. New stunning boutique development of 48 contemporary apartments located in a sought after Estepona address, one of the most desirable areas on the Costa del Sol. The ...
2

bedrooms

2

bathrooms

112m²

built

32m²

terrace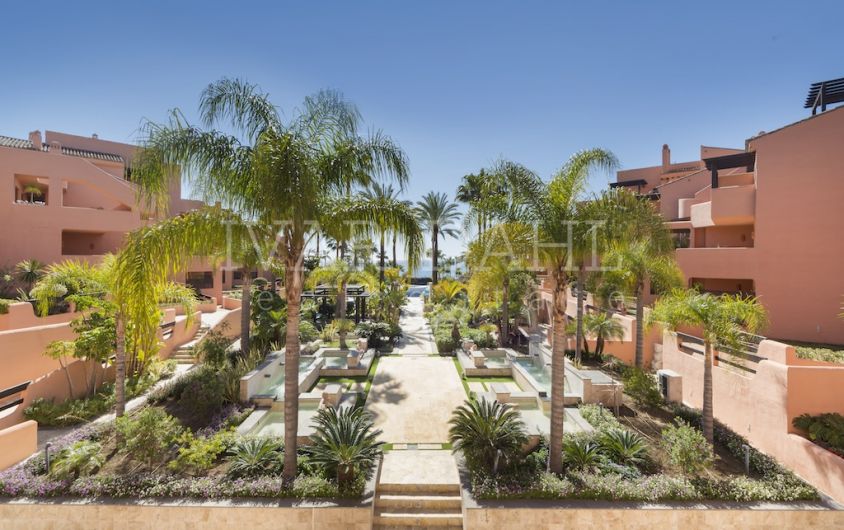 WAKING UP TO THE SEA!A truly beautiful complex, in a wonderful oriental-style oasis of peace and tranquillity. A residential area with direct access to the sea and joined to Estepona by a long promenade. With ...
2

bedrooms

2

bathrooms

167m²

built

36m²

plot