New contemporary Townhouses in La Cala de Mijas, Malaga, Costa del Sol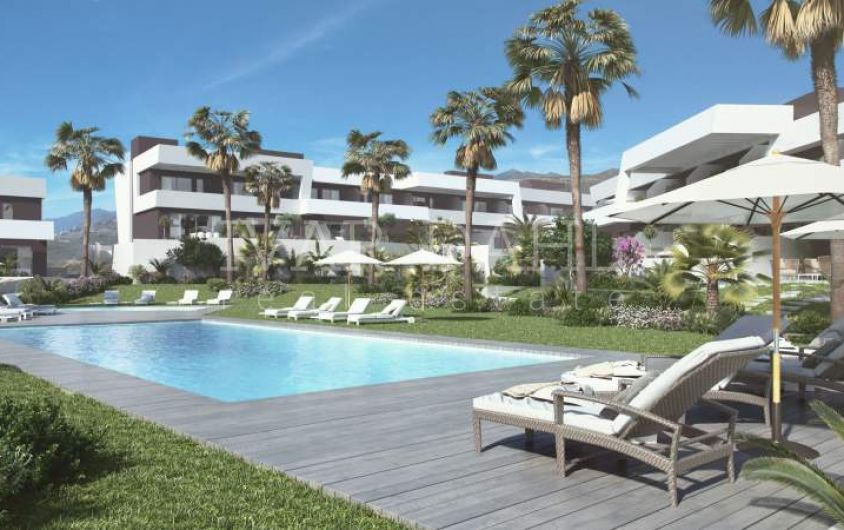 //media.inmobalia.com/imgV1/B8vEv5Xh8DZJ8zA8HsKlVQQovHvPS2nS1REiasNjjf37J7WfKOkiQxSIhRrnU2OBFkknCXNFUkYS7Hh9o9IZ_QJ9eIkyovD44srMVD2KGqaviiiNTL2gygj8~HcsRzRcqI2v~QJbbEWw6K6CLXchWjav_5CEoJKSq_r98xKlLDT~vPLGzDi~qP07Nf~CGo6Dfy1TlBw6X6MA2b4sRHyeW6th0biqSsN7sMuR4Cg~hUwuDtGz5Wc_DYM8ade1Y1oKcGOLrU6gA74f63c6lRk_65gQGynH7~8if8pZbN36.jpg
//media.inmobalia.com/imgV1/B8vEv5Xh8DZJ8zA8HsKlVQQovHvPS2nS1REiasNjjf37J7WfKOkiQxSIhRrnU2OBFkknCXNFUkYS7Hh9o9IZ_QJ9eIkyovD44srMVD2KGqaviiiNTL2gygj8_~rAD~E2DRSTM_rRJtePxICcc0RWtez8tkPlXz~9ZOlU5p73gZgTk8~Grpc6tFN2ScZ6q9lUYYGax1Sa_SNk5OeGGbuS92Ld~fMKhWTkg72XXUGM69lREEoXcrPjEwMjhyNmzGNBFz_vKYRDf2o4SLsaDy_xlYFPT145EBJ8jLIBRmOG.jpg
//media.inmobalia.com/imgV1/B8vEv5Xh8DZJ8zA8HsKlVQQovHvPS2nS1REiasNjjf37J7WfKOkiQxSIhRrnU2OBFkknCXNFUkYS7Hh9o9IZ_QJ9eIkyovD44srMVD2KGqaviiiNTL2gygj8~HBOPPvlM~CSQKndzXS9goHgGe_I27K~gQ6rO_wG30C1DcSYzUP2OYY~l~KQDSmHX5pbbhqvRH0kpVc9CogI~bZJjW39Ia4w8RUsMoDZKkaInYcH45ye9XstFWazo8Yd4tN5Ysaz00_J9Co1djaI9zRvyC86hOKH2WNSZ921vEmwLnIM.jpg
//media.inmobalia.com/imgV1/B8vEv5Xh8DZJ8zA8HsKlVQQovHvPS2nS1REiasNjjf37J7WfKOkiQxSIhRrnU2OBFkknCXNFUkYS7Hh9o9IZ_QJ9eIkyovD44srMVD2KGqaviiiNTL2gygj8_~l3LF~o0yl4G2wuDEIR7GDyptaDbA1uOQL44kQuPEWIKshsdxCwQ6KYtrKg9SJLaMyTPPlnvzXXutsJoRb8MFpX9WZ7XPA89McRFPPLBbDWlhW2TgdKGHPXcffMQnv7OdWpkNkMLLTRCa9yMb7EdN9rV1VZbbfDCFHq004bbU7RjlWK.jpg
//media.inmobalia.com/imgV1/B8vEv5Xh8DZJ8zA8HsKlVQQovHvPS2nS1REiasNjjf37J7WfKOkiQxSIhRrnU2OBFkknCXNFUkYS7Hh9o9IZ_QJ9eIkyovD44srMVD2KGqaviiiNTL2gygj8~HG27p1KSvncgpInYj4byIY6K~KtkjdEKkM7qmkkEjXB8EJNRJD8XBT_O9j1aIoQnr3TssQT6fvBvbbuQBufyVr4r8BXqiRrIYgwQ5WzSitIiKT1vThnZhR7wk095GdyoIa3pWD01e4WR_Tn7OPiUVjk4_Esc3VeDp4eNl1vMV2LFVFQ.jpg
//media.inmobalia.com/imgV1/B8vEv5Xh8DZJ8zA8HsKlVQQovHvPS2nS1REiasNjjf37J7WfKOkiQxSIhRrnU2OBFkknCXNFUkYS7Hh9o9IZ_QJ9eIkyovD44srMVD2KGqaviiiNTL2gygj8_~ixmeW~_CH9G2m3XDwBaLOG6raDjySey4GYeeBwZs_6eqEI~yVfpybo2Zl0Hv0jePzI8q7a0LZkPOLELp4RM~RAmS5Zl__7GfgnD~QI866IXG1MTa9xUmW_f3Fz1vBLYP0CYiDPwLUsvpuYK~johhyFDmD~5PavixgMEhUnuNepuwjy.jpg
//media.inmobalia.com/imgV1/B8vEv5Xh8DZJ8zA8HsKlVQQovHvPS2nS1REiasNjjf37J7WfKOkiQxSIhRrnU2OBFkknCXNFUkYS7Hh9o9IZ_QJ9eIkyovD44srMVD2KGqaviiiNTL2gygj8~HUOzUFMmKvHeeBwbDMvKJ0U~UgYwwzUIsj7xNLnfOEERgS_6phyZiBWxlPpsiejT9vyGYHyrxezGlmp5dIlJVXWyuOv6fwJYShMbB_AQGCqAalUx7zjl4ALTkrevvwugXh7QFl50OyHCBQoMz~Y~CavVaCTSzyLDqFHOBTuMCSStjFE.jpg
//media.inmobalia.com/imgV1/B8vEv5Xh8DZJ8zA8HsKlVQQovHvPS2nS1REiasNjjf37J7WfKOkiQxSIhRrnU2OBFkknCXNFUkYS7Hh9o9IZ_QJ9eIkyovD44srMVD2KGqaviiiNTL2gygj8_~fbZ5sT5WgevNzmvePtRI23GXuSf~QJdLd8C8S4EQbF8DDFG1fGPF6kzeme~amJ_oNd_6S1~iokxzWgAbSEQ3b5yP_hXPkxRD_HLTLvNjvNUhg1GhcaqtgG0g4BKlXYK03y9I1lqMfhD3HV3nRXLOyXyWGuLCnF2yDeN8xoZHEundzr.jpg
//media.inmobalia.com/imgV1/B8vEv5Xh8DZJ8zA8HsKlVQQovHvPS2nS1REiasNjjf37J7WfKOkiQxSIhRrnU2OBFkknCXNFUkYS7Hh9o9IZ_QJ9eIkyovD44srMVD2KGqaviiiNTL2gygj8_~YtnHLOiVS38jaFJ3PAsCyN9Fcr4N5JiBWU0pEfF5TyJNlksS0LSPh1tXGHYFpFxsWF6I02XprcamNCd5l55cygd4ukuEMd0sxbcx~y2OBEQVKEsyLjIFULx3NJIPbpWfaZeNxwWCKwc4LomGgG5NBxbTqxYzm~bBCvJ4yVo429YFFz.jpg
//media.inmobalia.com/imgV1/B8vEv5Xh8DZJ8zA8HsKlVQQovHvPS2nS1REiasNjjf37J7WfKOkiQxSIhRrnU2OBFkknCXNFUkYS7Hh9o9IZ_QJ9eIkyovD44srMVD2KGqaviiiNTL2gygj8~HOQUZB9A7mtOS3wwAhJhBDv9jMzxfN6P9voQ2LHvCtJON7ry9XEIltQkJYwNywHLSqVuYK7Qmb9hnEnde_xcNRQc1sFK0NMp4nxCtEqKmNz7mQK1KZaYwFst3C4ri_qhWlaJCZvclIEy6xjnNlTu8BS2_PFJqlfEV~2YJnVWGmAzeCR.jpg
//media.inmobalia.com/imgV1/B8vEv5Xh8DZJ8zA8HsKlVQQovHvPS2nS1REiasNjjf37J7WfKOkiQxSIhRrnU2OBFkknCXNFUkYS7Hh9o9IZ_QJ9eIkyovD44srMVD2KGqaviiiNTL2gygj8~HLY_2esufqob6fflumjLuHUTX13pumPW8AP8jNP3Gq45QFWgRNgD70wK2f3O9tX_ZQOaeZSMjJvYsC6bSJ0zqO93mGQiD4mry3hKK_KjY3brJBT3oHJFEF_txSTNHkqdTtx~knG~QmjK6AE_GM_ktXqmLKUWmArMp2gnUosxt_XBcV~.jpg
//media.inmobalia.com/imgV1/B8vEv5Xh8DZJ8zA8HsKlVQQovHvPS2nS1REiasNjjf37J7WfKOkiQxSIhRrnU2OBFkknCXNFUkYS7Hh9o9IZ_QJ9eIkyovD44srMVD2KGqaviiiNTL2gygj8~Haxj6UKGy2xpYf0ayT2Hru4UUFCwe0mSdHvatmPnL3ewrrY1Rpq~Vo7770I2bhRl6p5cA3xWJkJ~lo83namMDoQnGgqMjpHOcpPgZxcP21CIN9yeemMNXDP3wHKhczJ3cBYm56etCns7lkusJUGnMdDgYKQizx~E6E5nZXbzqDO8ZeA.jpg
Price

560.000 €

Ref.

4792

bedrooms

4

bathrooms

3

Built

180 m²
Town House in Mijas Costa
New contemporary Townhouses in La Cala de Mijas. 2/4 Bedrooms – 2/4 Baths.
This is an exclusive modern project, situated in La Cala de Mijas, walking distance to the beach and to the village, beach promenade and all amenities. Many of the houses have beautiful views of the sea and surrounding mountains. The properties are spacious and bright with open plan living spaces and offer a variety of layouts to suit your family´s needs, with 2, 3 or 4 bedrooms. Contemporary styling in this traditional location and the development offers cutting edge design and superior quality. This gated community offers modern style, luxury and practicality, and an enviable location well connected to all of the amenities that the Costa del Sol has to offer. Luxury townhouses laid out on 3 floors, with the addition of a rooftop solarium with private plunge pool and dual aspect to maximize views to the sea, mountains and countryside. The properties have been carefully positioned so each looks towards the central gardens with ample decked sunbathing area surrounding 3 stylish communal pools. The development is gated and secure, with private underground parking for 2 cars and basement storage rooms.
Features
Utility room
Storage room
Solarium
Double glazing
Brand new
Dining room
Private terrace
Kitchen equipped
Living room
Sea view
Mountain view
Laundry room
Gated community
Air conditioning
Central heating
Uncovered terrace
Balcony
Similar Properties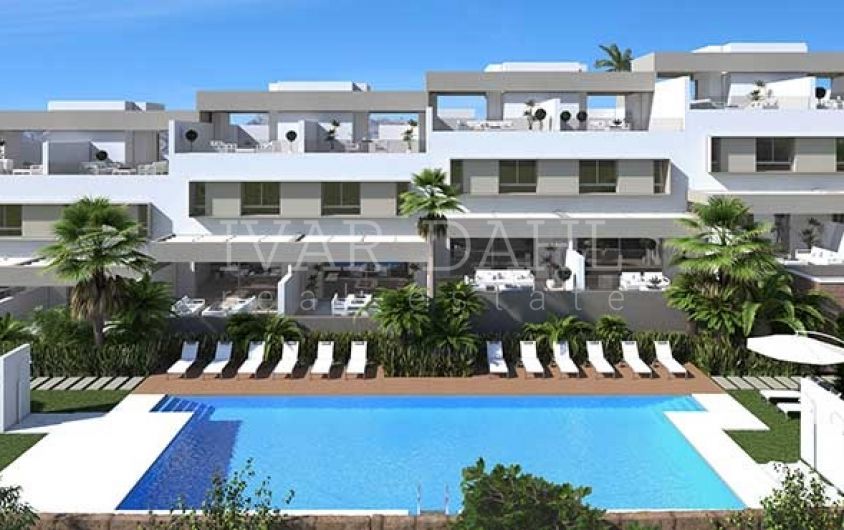 This new complex is situated in La Cala Golf, in the Valley of Mijas. It has 55 ample terraced homes, with 3 bedrooms, 2 bathrooms and a cloakroom, with panoramic views over the golf course and La Cala de ...
3

bedrooms

2

bathrooms

268m²

built

91m²

terrace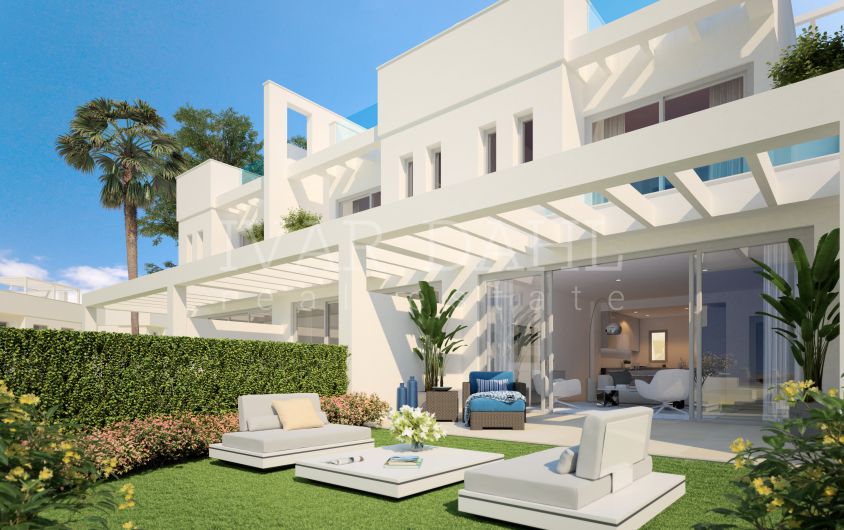 This is an exciting new development of 48 modern, contemporary townhouses, the first new build project of this type and scale to be built right in the heart of Calahonda in many years. The properties are ...
3

bedrooms

3

bathrooms

236m²

built

21m²

plot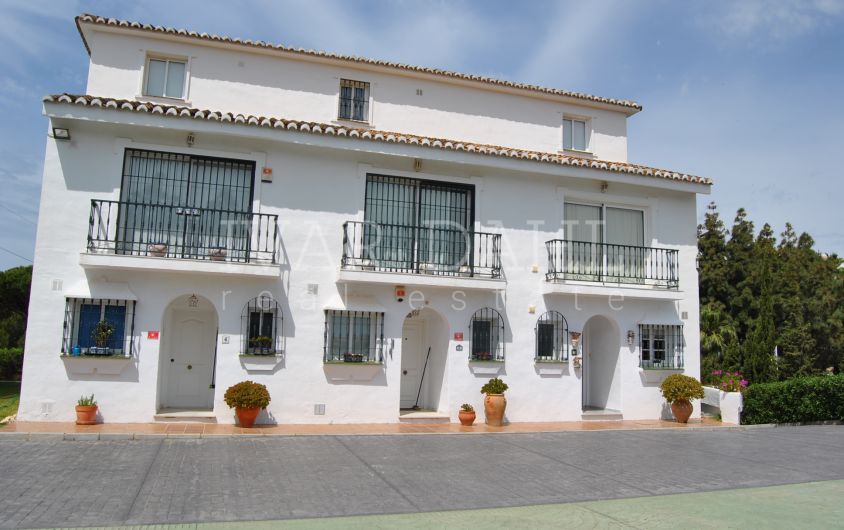 A beautiful townhouse situated in a small complex of 6 houses. West facing with sea and golf views in Mijas-Costa, Urb. Sitio de Calahonda.A luminous house on 3 stories. Ground floor ; Living/dining room with ...
3

bedrooms

2

bathrooms

114m²

built

41m²

terrace