Villa with sea views for sale in La Mairena, Marbella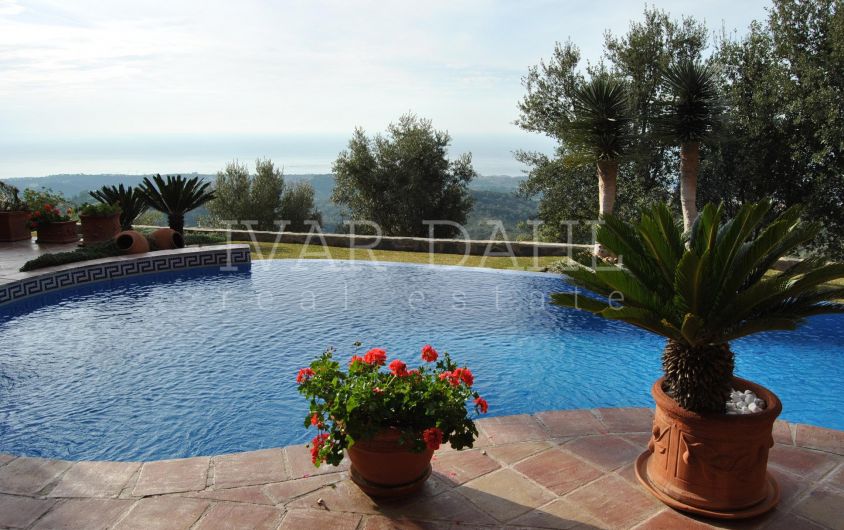 //media.inmobalia.com/imgV1/B8vEv5Xh8DZJ8zA8HsKlVQQovHvPS2nS1REiasNjjf37J7WfKOkiQxSIhRrnU2OBFkknCXNFUkYS7Hh9o9IZ_QJ9eIkyovD5ZvICAoAfAtfh3R9SGml7OQS3Ri_k3~FedG2IqhIcuqLg1qxuDJAQjncxx6UUJ9vimgmicQoqLeRMJc6PC2DqJ7m0L5Ddd~p00itHPKg6VFqLlh_n8vSW8UAbF6zdj6IPnLGk5DdRfiS~oZl0kTrYUu~~VKKPh8rIZVH_Y96h5XS5INPF38eZ5YaU73j5W~vGNx80pyRW.jpg
//media.inmobalia.com/imgV1/B8vEv5Xh8DZJ8zA8HsKlVQQovHvPS2nS1REiasNjjf37J7WfKOkiQxSIhRrnU2OBFkknCXNFUkYS7Hh9o9IZ_QJ9eIkyovD5ZvICAoAfAtfh3R9SGml7OQ8iqmADe3SSb7g5p1zYO3MMBUB2CXXE7XsUZZETcKQuH~3Yprpz_G1Uqze7HEdSX0BTco~qDLfpuVLSz20LZGvpik24OoNx26VBE6Qo1~oVxkxGjduGS64k0jnoiLZSG08HUUGlAAGCGbGq2EyK7thhEWQqWWPc48zQhX3_R8KuDRFKi5Z3.jpg
//media.inmobalia.com/imgV1/B8vEv5Xh8DZJ8zA8HsKlVQQovHvPS2nS1REiasNjjf37J7WfKOkiQxSIhRrnU2OBFkknCXNFUkYS7Hh9o9IZ_QJ9eIkyovD5ZvICAoAfAtfh3R9SGml7OQ5U5~FNaVtYZueiaXiVW~Np5ghmE6O3Bg3D8ptixfXHJLkgLDu_zxz~XXwRWkq0oBWZUoa3rm0eds8ExcgT5ZktuoydgL1K6CtZAJpPESyBmnKDt9~dd4uog53GFvPuDJ931MEByTDTA1bxGw~bsinHylGnsZBOoHAIkDZZHEhqxlQWnCuD.jpg
//media.inmobalia.com/imgV1/B8vEv5Xh8DZJ8zA8HsKlVQQovHvPS2nS1REiasNjjf37J7WfKOkiQxSIhRrnU2OBFkknCXNFUkYS7Hh9o9IZ_QJ9eIkyovD5ZvICAoAfAtfh3R9SGml7OQ5U5vzNufAMoo_om71seE_S_KI7EeswDYdm_REkdNmjlF9ikaGVGfY7xh~tWyi1kM8gJ55M2fRQerZM~PzegnxeEAfKzdnkB3ComDENeVY_s_ZORASQ198bbTDo1oRjuMqn9G7L8X9vNzyowoYMyvncx83uiaFP6uRKdNovEQTvIF~hpTaL.jpg
//media.inmobalia.com/imgV1/B8vEv5Xh8DZJ8zA8HsKlVQQovHvPS2nS1REiasNjjf37J7WfKOkiQxSIhRrnU2OBFkknCXNFUkYS7Hh9o9IZ_QJ9eIkyovD5ZvICAoAfAtfh3R9SGml7OQ8iqmGHjukSeCVfz9Ee4eK5cmFFF_5~oad_1Cf76MhOQQQHuwsQXvqlKkpQNVjdQFb3MVsrZH0Lk3YlHCypCG2LVpPrvWKbJO3gqmCT3vhqDV1y5vj7Ekb3x42l7oYjdh_E0L4j4Jd_3bZQJohZZpB11CaYqa1yHyfluCb8zU~t11CF7IyD.jpg
//media.inmobalia.com/imgV1/B8vEv5Xh8DZJ8zA8HsKlVQQovHvPS2nS1REiasNjjf37J7WfKOkiQxSIhRrnU2OBFkknCXNFUkYS7Hh9o9IZ_QJ9eIkyovD5ZvICAoAfAtfh3R9SGml7OQ8iqmzYbGCi3ZrWCpcpFOVgEyELdY5hTnk4qt83_QvuE6v7Pcre3cXLdksKKYrnZOfTF0_ya_mwmVBI9SYDJO1dCShlcfsaDeNjrU0BYhCA3lphm9kQBHskrYZY4A5ZYLg8aRiR1hPVx8~RHsocMq01JPCA2gz6sRSJieJGhRdev5RUTe6p.jpg
//media.inmobalia.com/imgV1/B8vEv5Xh8DZJ8zA8HsKlVQQovHvPS2nS1REiasNjjf37J7WfKOkiQxSIhRrnU2OBFkknCXNFUkYS7Hh9o9IZ_QJ9eIkyovD5ZvICAoAfAtfh3R9SGml7OQ5U5~B_~Qwo60bB9HTSUwSurrXCaDRwGZRo0gyaf11DZkZOVwNwuB_5kgVncLDBlli5hX4Jw5JYnltEvACF48wvR2vNz4QthxWjigMN3tVw6rwsEUniZc7piK9z6V3tg9oV3hbckDH4nW5CYXnGhoF6GmlF82smgqahBBm5d0Xfimf2URJb.jpg
//media.inmobalia.com/imgV1/B8vEv5Xh8DZJ8zA8HsKlVQQovHvPS2nS1REiasNjjf37J7WfKOkiQxSIhRrnU2OBFkknCXNFUkYS7Hh9o9IZ_QJ9eIkyovD5ZvICAoAfAtfh3R9SGml7OQ5U5~LC0maiHgDFrp6xWBCSj_31y~sMsn7aTc8~ys_3pa2_EU~Jle_fTi8ga5L8uk7PWionAZ8rEgx9fTMsfyUXLwZ17u0n2KJ2akK4LNznizlRSXTmyc~DEKhgqdOBjemoz2wpHGfU5sy9FT3H_WhaO0DH_U8YmOvCctwEQuOP9iXyecM7.jpg
//media.inmobalia.com/imgV1/B8vEv5Xh8DZJ8zA8HsKlVQQovHvPS2nS1REiasNjjf37J7WfKOkiQxSIhRrnU2OBFkknCXNFUkYS7Hh9o9IZ_QJ9eIkyovD5ZvICAoAfAtfh3R9SGml7OQ5U5~TMZBsqQbowexbQ6RVtzAwOFm~eSD6RunZNf0wlhivXqn7ZOHx9oxkqRkYcLoC6uoe6WD1exiK768TMiPgRxkfDZqLDxxCOQkNoGxJxPVyfnHXntVwOjb8k_VMNbvNKk6J7nhaeEoP38mANpzJoCqaJVrG1mmTHsEWQcSLOKpuG2lYj.jpg
//media.inmobalia.com/imgV1/B8vEv5Xh8DZJ8zA8HsKlVQQovHvPS2nS1REiasNjjf37J7WfKOkiQxSIhRrnU2OBFkknCXNFUkYS7Hh9o9IZ_QJ9eIkyovD5ZvICAoAfAtfh3R9SGml7OQ5U5~mx1J4KpoHP05HKNvXsfCxuEYph0XA9RQpcMJOxVLiM_AaCGx~gpTiUnZnShnWzGqJ9PotQxjlTloyfJz5uRENE3Z5kNfE3PErXrgSJKhe_MVOg43p_r2s9fIF9WqB4rngmw4X6Piizt53_WEcxh7aHK6E6xx~MszAS4wqW8OWSidAK.jpg
//media.inmobalia.com/imgV1/B8vEv5Xh8DZJ8zA8HsKlVQQovHvPS2nS1REiasNjjf37J7WfKOkiQxSIhRrnU2OBFkknCXNFUkYS7Hh9o9IZ_QJ9eIkyovD5ZvICAoAfAtfh3R9SGml7OQ5U5v1s7sEQfPlAe~P6XG_WP12l30zfDwIFE2l5C~MITvFcdks~FHFF8qubM1XPY1~XSZSIcCORw0GdsaeB8EZkzZNiA5x~MouvXquqhqmKSs1Q_FSoUn65E0VB0X7TTEJebHirAeTNYlIOAxTSbRVqqZkBbIhhzhf1LZgfYH04oyO~ml6b.jpg
//media.inmobalia.com/imgV1/B8vEv5Xh8DZJ8zA8HsKlVQQovHvPS2nS1REiasNjjf37J7WfKOkiQxSIhRrnU2OBFkknCXNFUkYS7Hh9o9IZ_QJ9eIkyovD5ZvICAoAfAtfh3R9SGml7OQ5U5~iYjbwpDdAseXYLovalTch0A__x~G11CZxzLeHD0Zy1C8QKMvzMsTpwcbQpVaAOO97cmX4i4XBsoXCxV2GIbPcsFofYrygOf~HARr34Af_73yELFPCz0apb3FRAM~Sbn_ARYLNHhmZsMrKjgSlEuWcFJhXdPeMB3zzzZxL7~bItSThq.jpg
//media.inmobalia.com/imgV1/B8vEv5Xh8DZJ8zA8HsKlVQQovHvPS2nS1REiasNjjf37J7WfKOkiQxSIhRrnU2OBFkknCXNFUkYS7Hh9o9IZ_QJ9eIkyovD5ZvICAoAfAtfh3R9SGml7OQ5U5v8Zhn6U6hEUohb6FQMCdTNvuq30QM1ZGG31GwBbRKlHw6XbwOjw3rJheRnYpV1MTLVQus0fhAXx0QqlOevK2aPx3AzDuy7S8yfg30zMQ6p4pHwRi3h0IV0Qhq7A_wJ23AihfdRF2QLtgmVFrMAPxT6GwU0k3oJuhi0fY9xTEse7ovFH.jpg
//media.inmobalia.com/imgV1/B8vEv5Xh8DZJ8zA8HsKlVQQovHvPS2nS1REiasNjjf37J7WfKOkiQxSIhRrnU2OBFkknCXNFUkYS7Hh9o9IZ_QJ9eIkyovD5ZvICAoAfAtfh3R9SGml7OQS3RiSnXvJleklPWwauXT~xvVfoQzG5IYFxilaBSm6MPWvU6w2B9trEoecBoa1QKRHrL6g6eGIp93sU6ZWt7J2JnqoHy4FsO0WuckuRpekYN8jIE0eKNb9SQR9winlkOcnSPAj5~M9S5DICIS3EbC49Y79r7wu7xP2F1LHKn4WDPpDy9kH1.jpg
//media.inmobalia.com/imgV1/B8vEv5Xh8DZJ8zA8HsKlVQQovHvPS2nS1REiasNjjf37J7WfKOkiQxSIhRrnU2OBFkknCXNFUkYS7Hh9o9IZ_QJ9eIkyovD5ZvICAoAfAtfh3R9SGml7OQS3RfsXc325GvLQ_zqOuF0soG266663Q_KfqFEBaO5OYGRaXGiqcqt~_9CWNNpvV_AMjCQOnXRa7ZlDBfAmhcDzY4SbhltxLfxabiIdLzMRlDyLTB1l9OW653NzsR0EUAxmpajpdu2C3eaKab0YRXojD5QsbWj8uFXhC3vpo2kYSw2ChiNa.jpg
//media.inmobalia.com/imgV1/B8vEv5Xh8DZJ8zA8HsKlVQQovHvPS2nS1REiasNjjf37J7WfKOkiQxSIhRrnU2OBFkknCXNFUkYS7Hh9o9IZ_QJ9eIkyovD5ZvICAoAfAtfh3R9SGml7OQ5U5v7airrhId2KWP1v1pYBxOzJj_h_URD~3DsSNXtCFwkA8k4XFDUTp_HEQV9ogM0coKcsGivP9lf69VTtzoPBeq9Lj1shMqoBDZbSwCdJ6pEGjrGkLi7_4~LYuWB07M1lFTEQxtB66g56b78BYww0Om0qch~cX2~s~vKChpDQmb4tlBDz.jpg
//media.inmobalia.com/imgV1/B8vEv5Xh8DZJ8zA8HsKlVQQovHvPS2nS1REiasNjjf37J7WfKOkiQxSIhRrnU2OBFkknCXNFUkYS7Hh9o9IZ_QJ9eIkyovD5ZvICAoAfAtfh3R9SGml7OQ5U5vl5CQNVHzFNNCKhqg63zfQsWupoYhDuSfMJ9BHHd47WDpdZKGfCzApk1PIz6Whl4iL6T96vPdlROSmQOYAcIsag2JJp~F1jFtE0MieTUdyepKP_vWvssWDJyKTpDX4kZ8QmYKC_tWAwQMR0Xr~mqFViTPNdpgm4JmDrIxYHFGWTVorY.jpg
//media.inmobalia.com/imgV1/B8vEv5Xh8DZJ8zA8HsKlVQQovHvPS2nS1REiasNjjf37J7WfKOkiQxSIhRrnU2OBFkknCXNFUkYS7Hh9o9IZ_QJ9eIkyovD5ZvICAoAfAtfh3R9SGml7OQ5U5vt8x2nKVRP4T16T5e0rlQoH23Ajj98287uKVhMgZJGhuENy3G~dxpNfgsZ5lTE1Bca0xIgqT1C8y9wNoADPcZd4cT7hJRB~sQ52amsaeVnGQJn8eNhiD8PddUCR0eMWgN9J25Uerg5IDl5VdH8aopKy7opjCGmiOKip6GIb49axXxOi.jpg
//media.inmobalia.com/imgV1/B8vEv5Xh8DZJ8zA8HsKlVQQovHvPS2nS1REiasNjjf37J7WfKOkiQxSIhRrnU2OBFkknCXNFUkYS7Hh9o9IZ_QJ9eIkyovD5ZvICAoAfAtfh3R9SGml7OQ5U5vq1XI9QtPIX~aUB~k4KSwmUcwwjjsEEtkeRdmdnXKAJ69mtMhQXMb1ORXFgySuSyA7ZUnyA~YkMuPEPPH3B_IA4Fp9Z2m1wlSUPFjAVo1hKPctvXhyTvjquCcigQYtldpdHPZkh_pvR4wzwAUgJ_FjBrMq6EAaWcyg9m_X~KHASWO3m.jpg
//media.inmobalia.com/imgV1/B8vEv5Xh8DZJ8zA8HsKlVQQovHvPS2nS1REiasNjjf37J7WfKOkiQxSIhRrnU2OBFkknCXNFUkYS7Hh9o9IZ_QJ9eIkyovD5ZvICAoAfAtfh3R9SGml7OQS3RiV0uCvEvsqYOYnyxeWjbifY3HtxBGvLl0eP2XTtaWfoL5NiPm~TuX1Nc7h9BdVsaaNhMi88wvY6E9LyGswHZgz4BHMcageYuN9krJ9Xxlw7OEDqGIxI55F9yUaxqQpHBfuE1J~g9vCw4FpXG80SnnjCj0Ch6A7mpK29_qh_0e7J9Mv8.jpg
//media.inmobalia.com/imgV1/B8vEv5Xh8DZJ8zA8HsKlVQQovHvPS2nS1REiasNjjf37J7WfKOkiQxSIhRrnU2OBFkknCXNFUkYS7Hh9o9IZ_QJ9eIkyovD5ZvICAoAfAtfh3R9SGml7OQS3Rf6h4JKxjMHdflWa3Ou3uyfs1gNCU7xOXG3DMFOXDPyPC5FPbts1y3MlN9UXI_250~jqzkUO9xObJlonxmjFaxE0oGI8zH2ARkYp4HuN0YuneO01AfkZ3zLF9cUbl67hPUNucw74Gi2WgDVo19qwetTVh3LRK4q~AumcyQXK19MixJL7.jpg
//media.inmobalia.com/imgV1/B8vEv5Xh8DZJ8zA8HsKlVQQovHvPS2nS1REiasNjjf37J7WfKOkiQxSIhRrnU2OBFkknCXNFUkYS7Hh9o9IZ_QJ9eIkyovD5ZvICAoAfAtfh3R9SGml7OQS3Rf3gVreFa_ISjo3EZAqTQhq5aQwnvqhx3qbdSecDDI2C~KHMiWPLfXfouKequJCNrGfZr5ScoHPo1ojx4ViSxKYXQ0PbVgwCbXhs8WwUM4kIP8KJGD0Rq3uhdCI8BCqJGuXeDQHw7_sRoQT4ziWeEnwi3SRvRhLzlHOy3OBIqpEqfx2s.jpg
//media.inmobalia.com/imgV1/B8vEv5Xh8DZJ8zA8HsKlVQQovHvPS2nS1REiasNjjf37J7WfKOkiQxSIhRrnU2OBFkknCXNFUkYS7Hh9o9IZ_QJ9eIkyovD5ZvICAoAfAtfh3R9SGml7OQS3RiJQrWjr~wlJneMbVsNMYzMEju5eY04N_FLfGKLvcvY7ey_uTvzeP9dQVZi~Rbhg2wTU0ywmjlWxW_yWU2wJOnRmtf2SV68KByhVaAi56FdCDH7F8E7rt~eJtb8k66AytOhCCsTSukP1V7KK8alxY8KIxiSGlea62CqnsnKNHkSTRzwU.jpg
//media.inmobalia.com/imgV1/B8vEv5Xh8DZJ8zA8HsKlVQQovHvPS2nS1REiasNjjf37J7WfKOkiQxSIhRrnU2OBFkknCXNFUkYS7Hh9o9IZ_QJ9eIkyovD5ZvICAoAfAtfh3R9SGml7OQS3RfqFqZcgtFaQXosFsnfAx7Hyq7xW44Z7ddk7zCA99EZbzH3UXTgda_QX_zFLRgfvtFBJOZuf_C7Bcdl0vQLsbh_jnupKyCWKdsvSH7jhpOXT~cqjlBBGLga1Jr_za95D0BFCLWb8ALEuygkknn_FhDDoW~6mOmZrfHdKD8bBkRjOyQTG.jpg
//media.inmobalia.com/imgV1/B8vEv5Xh8DZJ8zA8HsKlVQQovHvPS2nS1REiasNjjf37J7WfKOkiQxSIhRrnU2OBFkknCXNFUkYS7Hh9o9IZ_QJ9eIkyovD5ZvICAoAfAtfh3R9SGml7OQS3Rf9hwm77_3h0Jyk2hT3u9xry7h4EZy92Lqqht5aYiNz3lNLIj0gU6qpxguQbAMszrIuZ2zSTf0ynLzPVNAYAAald68_IdsKDUyw_vUOYLN1xcO75fK_hKYFvfixIQp4_e6oWQR657aXt4n0ZvHi41osG0_sH9K3CU4eUnskK4xt7isgg.jpg
//media.inmobalia.com/imgV1/B8vEv5Xh8DZJ8zA8HsKlVQQovHvPS2nS1REiasNjjf37J7WfKOkiQxSIhRrnU2OBFkknCXNFUkYS7Hh9o9IZ_QJ9eIkyovD5ZvICAoAfAtfh3R9SGml7OQS3R0OyeTby2kNSZUpBq23xNMcRB71PCKPwptlAjbEYBtP5XPdXOPInIpAQyvIM2s6Jpb0rbM6t~QA6WND7WMCAAypHyUfY~yhkD~rrpTfv7gej3EiE3oMyL0sFXEm_vR7L1jqjlMoaESDauBPU~Xx0FsEb6V_PpkbC51mz1a1ThYZfZoPh.jpg
//media.inmobalia.com/imgV1/B8vEv5Xh8DZJ8zA8HsKlVQQovHvPS2nS1REiasNjjf37J7WfKOkiQxSIhRrnU2OBFkknCXNFUkYS7Hh9o9IZ_QJ9eIkyovD5ZvICAoAfAtfh3R9SGml7OQS3RifoNSY5IKULDkYMuyZ2wIOWl2O~WPhH3W4hh~uuqQzdn~YrXQi~nFR9pNwY4bw63ZzPsnrw~50EfNB57xhp3esh18Tou3y1YQ5R0b1w7Wn2cuTM8t2hcYHb4LN4LgB58d0kWxG06JVBecODyZBgOj83ZHlpNH_5J_Z8lO92DIuBz0Ol.jpg
//media.inmobalia.com/imgV1/B8vEv5Xh8DZJ8zA8HsKlVQQovHvPS2nS1REiasNjjf37J7WfKOkiQxSIhRrnU2OBFkknCXNFUkYS7Hh9o9IZ_QJ9eIkyovD5ZvICAoAfAtfh3R9SGml7OQS3RiMIq6Xpc8S7RzD4VQHWZkhaAZZsYLjxayIwbxBDnpS3Kmk~3QJ2oWL1BacE1Fk28vGyWI1SiUq3w~A3aZULZGAgaqrga~oTWwDmALyVd3HU8jAljcWI_Gt1o~OtJUNO62ohEB8HlmP5EWFuIF6L5iW59TamkBAfOlGXpYT76B2B3Qs_.jpg
//media.inmobalia.com/imgV1/B8vEv5Xh8DZJ8zA8HsKlVQQovHvPS2nS1REiasNjjf37J7WfKOkiQxSIhRrnU2OBFkknCXNFUkYS7Hh9o9IZ_QJ9eIkyovD5ZvICAoAfAtfh3R9SGml7OQS3RiCk6a5MrhWbmWrWa0FMHJXvdhh5CGlGo0_kU6BGE55eLoKkPgTDpgDnFXRsPwRWrcDQahKJP12WUE9q0juWwdsD2WrvWK0yG4Tb6p~TktwHbobM3p9_UJOx9PpQoGLtF0hGig~iJLL4NZ9jCjTvLotB0YJwqj52OAoOu9S71jxotSRI.jpg
//media.inmobalia.com/imgV1/B8vEv5Xh8DZJ8zA8HsKlVQQovHvPS2nS1REiasNjjf37J7WfKOkiQxSIhRrnU2OBFkknCXNFUkYS7Hh9o9IZ_QJ9eIkyovD5ZvICAoAfAtfh3R9SGml7OQ8iqmMHobfZ~mc4L2MOCzQUg4~_zTXohDbUZo7zkxrgcVJ7FdMACOI2nK5Wb5Gi4XBJ3VSjr18AKh_MUeXFb~vVrgzvm7sLkk97KUIulGeHRsNYrI7blTpfpHFKKVrlFT3pxr544sZJk2rae9IwnjluOnkNiTjxBYRZcsVH8483LJzf3qbu.jpg
//media.inmobalia.com/imgV1/B8vEv5Xh8DZJ8zA8HsKlVQQovHvPS2nS1REiasNjjf37J7WfKOkiQxSIhRrnU2OBFkknCXNFUkYS7Hh9o9IZ_QJ9eIkyovD5ZvICAoAfAtfh3R9SGml7OQS3RfkOZS49jRbCyj5WyfmrgRFRkX91RLAygU7Kk3TbpGbjWrxdYNZpzzVw3twmC7LZjTu7NvDjT9vTAXQ7X3~fS_d5nhA_qrYybS4IsxMfMdLfHNggBqeSAjwtwXqdStI1rK1LtXPgM4UYRnuQoJmOdXEx9G6bbymurs77wZSZmnqalknd.jpg
//media.inmobalia.com/imgV1/B8vEv5Xh8DZJ8zA8HsKlVQQovHvPS2nS1REiasNjjf37J7WfKOkiQxSIhRrnU2OBFkknCXNFUkYS7Hh9o9IZ_QJ9eIkyovD5ZvICAoAfAtfh3R9SGml7OQ8iqm3CKXeHdBe9kOvkf46IDrtiMUxyAtrB9lswur_q7bok58IobT2CnX0pnMxonZ2RpgNGNjOd_P0GpdG4GR~4ZMZ71owjR5b2Dzbhkwlj7FU0EE9nxouRAC7jH_FXz0HjW5D46o0lHskmFoqeAQLzcd_oGiHQI51EdYdoPU9iIVGCWNSX.jpg
//media.inmobalia.com/imgV1/B8vEv5Xh8DZJ8zA8HsKlVQQovHvPS2nS1REiasNjjf37J7WfKOkiQxSIhRrnU2OBFkknCXNFUkYS7Hh9o9IZ_QJ9eIkyovD5ZvICAoAfAtfh3R9SGml7OQS3RiZ6solQQ3OLdpSEPm0lt5QHpef6R1nKsJ1djYx6pEiEk2ygPovSHU_3_xlgZFESPioPRy08K2T4nlPhsreSKQKeRo5450V6BB5KzMr7W9H6czlFC2se5ECr58EPYxKkVyNCtbqU4w080KvC2epfY9PdInKwrp6pGkxT8rwfUJfJjqUb.jpg
//media.inmobalia.com/imgV1/B8vEv5Xh8DZJ8zA8HsKlVQQovHvPS2nS1REiasNjjf37J7WfKOkiQxSIhRrnU2OBFkknCXNFUkYS7Hh9o9IZ_QJ9eIkyovD5ZvICAoAfAtfh3R9SGml7OQS3RNTYhvuqtrPmYtySxwiFilDfKz5alKv6ATGHMVOzABpNQgrtDeSfFwgHgqr91IkO8G5jg8mO64ouNeDCJazLcsgtmcML7SUlLydxqUECTBrR42Rn57YdTXXzaWODWYXOnF19qk61LuXNSr9MXJRItb~1UBAw2p0nDL2vex7UkTAt1UE8.jpg
//media.inmobalia.com/imgV1/B8vEv5Xh8DZJ8zA8HsKlVQQovHvPS2nS1REiasNjjf37J7WfKOkiQxSIhRrnU2OBFkknCXNFUkYS7Hh9o9IZ_QJ9eIkyovD5ZvICAoAfAtfh3R9SGml7OQ8iqmKtZVLfUScHDCbL1qc7v1yQB9qihbJC4FKyw6rsYL7h6jzTPqxAQlfJXKNS~nsIkMiGPL08DmBsuhneOAst_7jaDgTBtWIWCaKF9BTL_liB_m5clJ_DbtX2hmzeORTQoY08OmqRvj4EjVVSyOTX3FTWzqf8TIgkNS58T9z~2LQRO3Rr.jpg
//media.inmobalia.com/imgV1/B8vEv5Xh8DZJ8zA8HsKlVQQovHvPS2nS1REiasNjjf37J7WfKOkiQxSIhRrnU2OBFkknCXNFUkYS7Hh9o9IZ_QJ9eIkyovD5ZvICAoAfAtfh3R9SGml7OQS3R0wj_SYwGv36N~I~7jJ4JGbiB5sPqhbUSU54OJMGBajzQm_2ANHDWLdQ0EDdrP8NLKR7gaBtTnIB4_F9GbnqVZLhNxzMSxsyB5yWeiMqR3Lgk766UH5bfmgH26dTq559r4osdc9ZRZ15mm0MeSbUA2~vx3DJLxqN5lz_q4mov2MEG0sM.jpg
//media.inmobalia.com/imgV1/B8vEv5Xh8DZJ8zA8HsKlVQQovHvPS2nS1REiasNjjf37J7WfKOkiQxSIhRrnU2OBFkknCXNFUkYS7Hh9o9IZ_QJ9eIkyovD5ZvICAoAfAtfh3R9SGml7OQ5U5~eBxohsVBe7kByZiKDX8IjiEb3e7ayFKBy2Z0Ph8D2M5wmAH1F~224iEkqjCVgo_Wn2yP73mdrsyWOD~D63N2Yk2qXPie5y_UVmLWbJLKsoHS~5P17co41mJh8muj6X6jF8jbE7JZD5idhMZhw_PdppMStNL_NtEWRBFhZRr2zIQGEp.jpg
//media.inmobalia.com/imgV1/B8vEv5Xh8DZJ8zA8HsKlVQQovHvPS2nS1REiasNjjf37J7WfKOkiQxSIhRrnU2OBFkknCXNFUkYS7Hh9o9IZ_QJ9eIkyovD5ZvICAoAfAtfh3R9SGml7OQ5U5~VgV2veFUswDJFCoW7GrWj4HXPGyhGvK2NKogHsIMvYt1tLkIPOIxhR37aoIk0PEQUYgfjEHVUgejCJV9mfUdcZZuZ1Z8TxAzR9iegBM5iYpzjY7t47Bg38s0JXLGCOarGCk3t1M4TTheENUUoOtBShQA5msNEEsbYRufJV69VJBI2T.jpg
Price

1.350.000 €

Ref.

4797

bedrooms

4

bathrooms

4

Built

500 m²

Plot

1.170 m²
Villa in La Mairena, Marbella East
Villa in La Mairena, Ojen, Marbella. Lovely family home with wonderful sea views. Peaceful area. Constructed year 2000. 4 bedrooms of which 3 ensuite. Luminous and large living room with high ceiling, dining room, fitted kitchen with breakfast area, utility room, laundry room, garden level BBQ covered area, sauna, toilet, machine room, "hobby room", various terraces with breathtaking views, double garage. Private pool (heated) and garden. Under floor heating with gas. Air condition in master bedroom. Alarm system. Automatic irrigation system. Solar panels.
.
Features
Utility room
Fireplace
Satellite TV
Double glazing
Living room
Study room
Automatic irrigation system
Air conditioning
Central heating
Similar Properties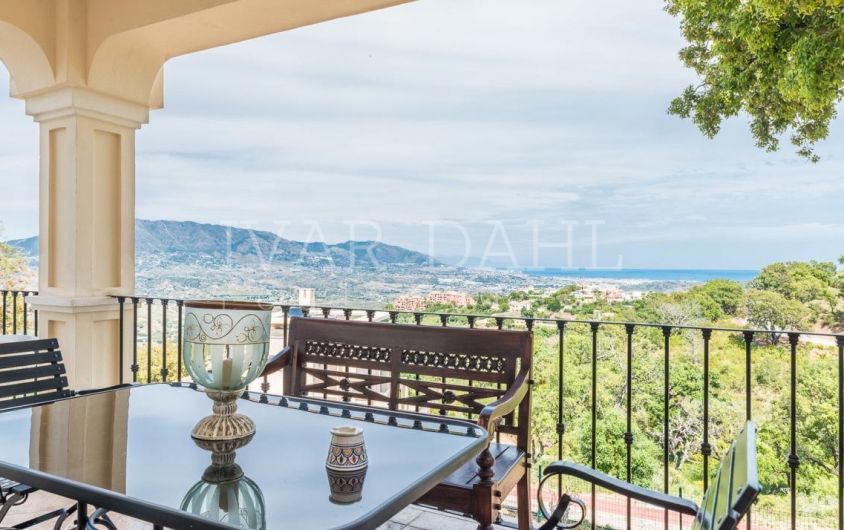 Villa located in beautiful La Mairena at Elviria and on the East side of Marbella, this majestic 5 Bedroom and 6 Bathroom Villa is simply superb.It oozes style, charm and class, from its magnificent hill top ...
5

bedrooms

6

bathrooms

798m²

built

3.000m²

plot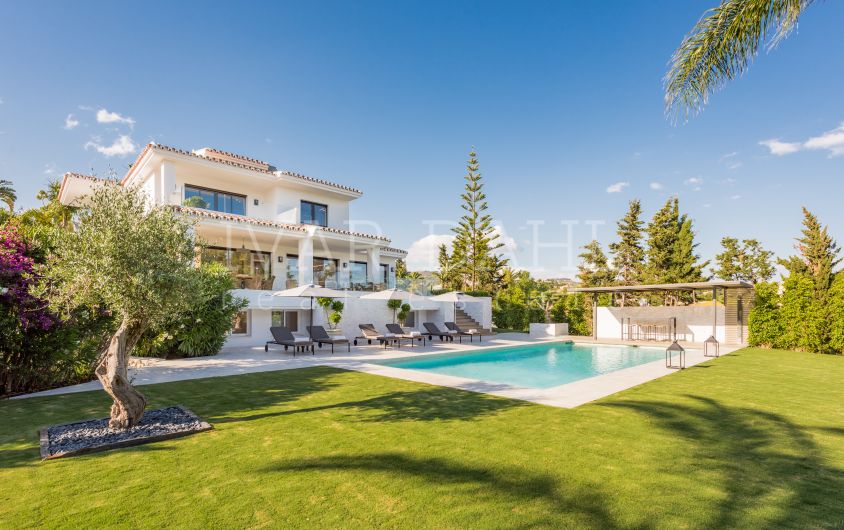 This Villa is immediately inviting and radiates happiness. The swimming pool is large – bordered by a decked chillout area, the plot allows plenty of room for an impressive garden. Quiet, residential area. A ...
5

bedrooms

5

bathrooms

467m²

built

1.780m²

plot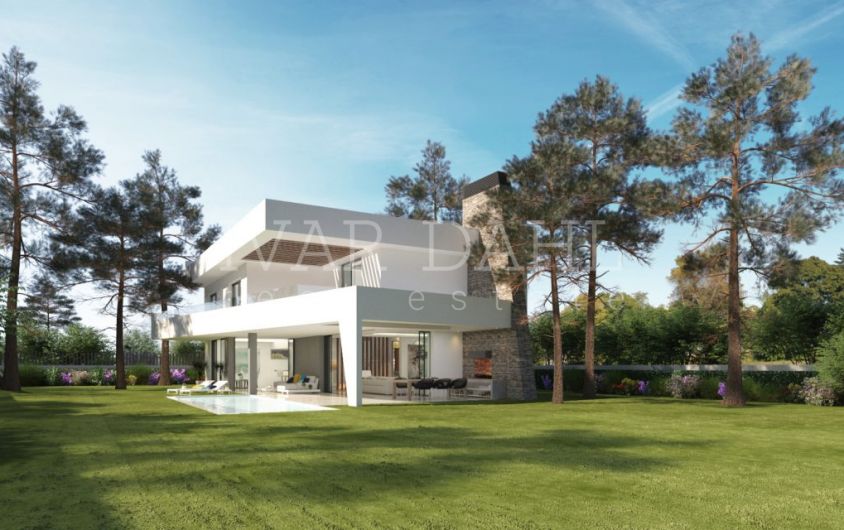 The Villa is wonderfully designed and feature 4 Bedrooms with 3 bathrooms, large open plan living areas that connect the best of interior and exterior living spaces by the use of large windows, natural stone ...
4

bedrooms

3

bathrooms

450m²

built

1.091m²

plot