Estepona - Beachfront, New Contemporary apartment project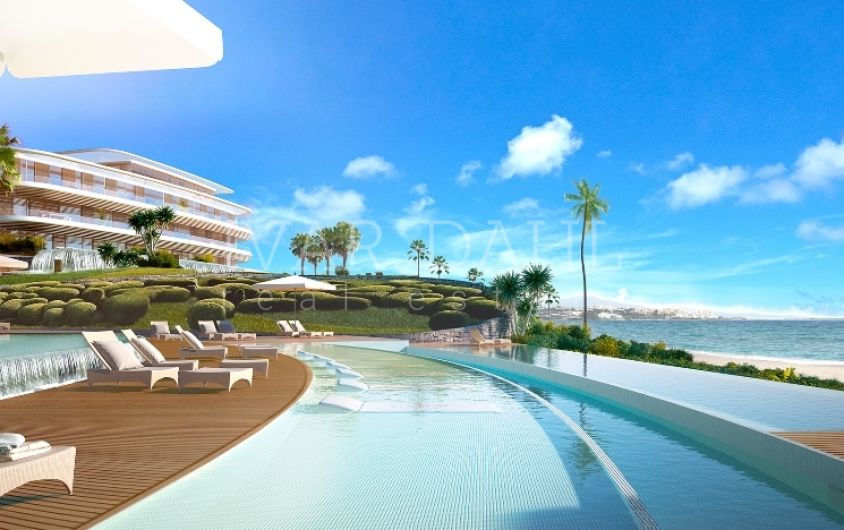 //media.inmobalia.com/imgV1/B8vEv5Xh8DZJ8zA8HsKlVQQovHvPS2nS1REiasNjjf37J7WfKOkiQxSIhRrnU2OBFkknCXNFUkYS7Hh9o9IZ_QJ9eIkyovD44z4rEeaA9_HfR9AZnakS4G0WlMDT8OfLcyPjZyJ~7Q0ZsyFfTfs1LrkXKUybzN534gLUbwlV3LzkRF2WlzOn99dT0JorqaH1beFqR~9mVMYdx0sCBLyGJ_nYGexUUkssInALYx02KnlVzNZs8NNAjcCSrVrj8IQwbxn2qF9kGvV3bD1_q1ZElVfxUv32lFkf4MCxwMId.jpg
//media.inmobalia.com/imgV1/B8vEv5Xh8DZJ8zA8HsKlVQQovHvPS2nS1REiasNjjf37J7WfKOkiQxSIhRrnU2OBFkknCXNFUkYS7Hh9o9IZ_QJ9eIkyovD44z4rEeaA9_HfR9AZnakS4G0WkJjNH~i1z3LOYhgLA4WM_gSRaIsQ7vJ20D_96iA3oKFh0FRaNN74xplcZUUuwRQlw748ff~E~1B4QbUPqmnX3wi7dFfGe~dmwFXdzFYUhwQ6pE12KOD4nqecI6SenN05Yzho~zgQj5mRf2t~zZoaEo08nWM6VYkUb1RPFFMjmfem8qTc.jpg
//media.inmobalia.com/imgV1/B8vEv5Xh8DZJ8zA8HsKlVQQovHvPS2nS1REiasNjjf37J7WfKOkiQxSIhRrnU2OBFkknCXNFUkYS7Hh9o9IZ_QJ9eIkyovD44z4rEeaA9_HfR9AZnakS4G0WkJlcJSMCGPv_cfhYhAPjF02tI2pfB2eFMnch127hXIzWPegdM4r4_~uIrQQWzkNXzLKaNFSWfrsfaRsI~~DYuKXgC4tmE9ESiL0GZL_tt11yrRuKSD9vodYvlFcXlUGDvbweqqgJZmht2FMDD0jY5eWAktc9KYAjdaw1Xb3FfFXUA2sl.jpg
//media.inmobalia.com/imgV1/B8vEv5Xh8DZJ8zA8HsKlVQQovHvPS2nS1REiasNjjf37J7WfKOkiQxSIhRrnU2OBFkknCXNFUkYS7Hh9o9IZ_QJ9eIkyovD44z4rEeaA9_HfR9AZnakS4G0WkbpHoqBe5QeSG8vvwROhBbWphlGBckHbirNpWFjsUH9vCwN_~deNatW_lloRXhLj3BzRdytj8IRdJOOSRcLTixLozlwhjuP51Od5d2fabp5wpaoviLu3xF7MTGjl5ETS9LJSgyj0~h4_HQEwJU7a73kPCKG7PoVspVMV8TgtdBz4I8m2.jpg
//media.inmobalia.com/imgV1/B8vEv5Xh8DZJ8zA8HsKlVQQovHvPS2nS1REiasNjjf37J7WfKOkiQxSIhRrnU2OBFkknCXNFUkYS7Hh9o9IZ_QJ9eIkyovD44z4rEeaA9_HfR9AZnakS4G0WlM8HQCLOpuLFnDmFNaA1mD9yvlbhI~2EUCxOboLZEeReiTFtvNmFMzMbZSZu724WK9V~2VaAR8CQEYqamS5CXq~8fHmM1u7DUPomxv~kztf8tOKTcS4yN9pSurTTv10w78xdtG9R1NVBV6gzGeQIk1z0pCJRdvIs_nIdbxo7ekjjm7ig.jpg
//media.inmobalia.com/imgV1/B8vEv5Xh8DZJ8zA8HsKlVQQovHvPS2nS1REiasNjjf37J7WfKOkiQxSIhRrnU2OBFkknCXNFUkYS7Hh9o9IZ_QJ9eIkyovD44z4rEeaA9_HfR9AZnakS4G0WlM6tuQ64KR1F7dHvui6E32AhjxqlRjQMlxMN3sXqWSFJVE2SRGUfwxH8Pc1pUNXkidtn7RxjnpULsqPfnX~1d4y~T~aOkPiIoNFgSsp3rBzLmNfCB3IEOCB1~~okeKEVzYQNljarU8L2N0PnOqpYUsFVNmbS55FGESAoiVPICMvoRL5m.jpg
//media.inmobalia.com/imgV1/B8vEv5Xh8DZJ8zA8HsKlVQQovHvPS2nS1REiasNjjf37J7WfKOkiQxSIhRrnU2OBFkknCXNFUkYS7Hh9o9IZ_QJ9eIkyovD44z4rEeaA9_HfR9AZnakS4G0WkbttkJMkNiOzt3AgXBvIyDaQs2vChk_sLeDU26jPddQnfdtlbg0RnwsFtkM7sTmBlZlEjTRdkANldgOwBHBXuIgr7h9zwiJvqub0PjVhIMGZ7pAI8i~Cw5M_SV4Q9WB3S9lffg5BoqDJsL0glZmKOIljpDISN5aAI~tAkjBdfNVUYOMW.jpg
//media.inmobalia.com/imgV1/B8vEv5Xh8DZJ8zA8HsKlVQQovHvPS2nS1REiasNjjf37J7WfKOkiQxSIhRrnU2OBFkknCXNFUkYS7Hh9o9IZ_QJ9eIkyovD44z4rEeaA9_HfR9AZnakS4G0WlMHj5XD8Hc24kcdKcE_4PxSuQGUDGKzeTZFdoszJ~vei60zkcsiagE4jJwG2PfbTS8o3NSB24imYcqY0Px7tZRwb7S4Yi4_Dh4DXXO27zVBbtLq~t09cOLNFXaP5m4FpX752MIOqS60uCWxcpjtncCtcOLAGyw6QTD44c8p7FgL5My4y.jpg
//media.inmobalia.com/imgV1/B8vEv5Xh8DZJ8zA8HsKlVQQovHvPS2nS1REiasNjjf37J7WfKOkiQxSIhRrnU2OBFkknCXNFUkYS7Hh9o9IZ_QJ9eIkyovD44z4rEeaA9_HfR9AZnakS4G0WlM1EPAYqhjosap2QeO6xjNC36fOd0E~1fYM3gbLCLcweqXrg2yMciOQUkXaw7V0cX233hIfzkK_QP0F8mI2XqRUTtUHeEfZ8Fo0hdGVhSAxjng3MqbiVqY4oxIRwJoIMKe5A_Fc94Gb45Jcxh9up2evj6ZGFAqNNKcO_h4VMU9Xot2Jl.jpg
//media.inmobalia.com/imgV1/B8vEv5Xh8DZJ8zA8HsKlVQQovHvPS2nS1REiasNjjf37J7WfKOkiQxSIhRrnU2OBFkknCXNFUkYS7Hh9o9IZ_QJ9eIkyovD44z4rEeaA9_HfR9AZnakS4G0WlcqtITuyKsPo0PWNagtgEAUC60dQgCpdq_5Ap~YsfPcB_oD2xc7FmkzTPdjh7eVAFfdxUjl~re3UHghbWFJkCUQQnkJspYfvnjdeTIquHh8zp450ZnlJBKCV7Q2I1dLwrdxsxyqNs46niluawCoSdJaqIcyIGfTviEZJOh8L60MW9mlQ.jpg
//media.inmobalia.com/imgV1/B8vEv5Xh8DZJ8zA8HsKlVQQovHvPS2nS1REiasNjjf37J7WfKOkiQxSIhRrnU2OBFkknCXNFUkYS7Hh9o9IZ_QJ9eIkyovD44z4rEeaA9_HfR9AZnakS4G0WlctIY~W3a~ncF319b_ou25PtGI9wz8n82tv8OZXpIx9qaN8XtYrUaL9Xo7pSXsrc0Wo1mhfgKbxxYGVhqL3w84NdOD1GFhJptmnyof2trkkzaOk6DPfAr6oYZKGGs2aLiEkX_HH4bZmHigj7NvwcB2G~yq9rE0PNorWNvu8DustHqmDP.jpg
Price

886.700 €

Ref.

4799

bedrooms

3

bathrooms

3

Built

104 m²

Plot

90 m²
Apartment in Estepona
Estepona – Beachfront, New Contemporary apartment project. This is a privileged project of almost 10.000m2 in a unique beachfront space, where 68 apartments and exclusive penthouses and 2 unique and magnificent villas are built with the best materials and finishes. A project conceived from the unbeatable qualities of the place where it is located, and designed for the people who are going to live in it. Large landscaped areas, large swimming pools and landscaped design. The buildings, of simple forms, have delicately drawn curves. In addition, a spa area and gym where you can take care of your body and your mind. And finally, no cars moving on the surface, always underground, so that the outer spaces are, indeed, for people. Magnificent views of sunrise and sunset, all year round from the terraces of the houses. Neutral environments, large spaces, noble and modern materials… everything inside has been designed with the utmost care, to turn every house into a home. Through its large glass windows you will have a constant reference to the Mediterranean light, the sea, the beach, the horizon and the distant views. The penthouses, with 3 and 4 bedrooms, have a large terrace with privileged views to the sea and with their own pool. The apartments have different distributions and measurements, of 2, 3 and 4 bedrooms and even with their own garden for those located on the ground floor. The villas. They are 2 unique houses with two floors, of 4 or 5 rooms with ensuite bathrooms, with their private garage and built on the sea shore.
Features
Front line beach
Security service 24h
Air conditioning
Central heating
Similar Properties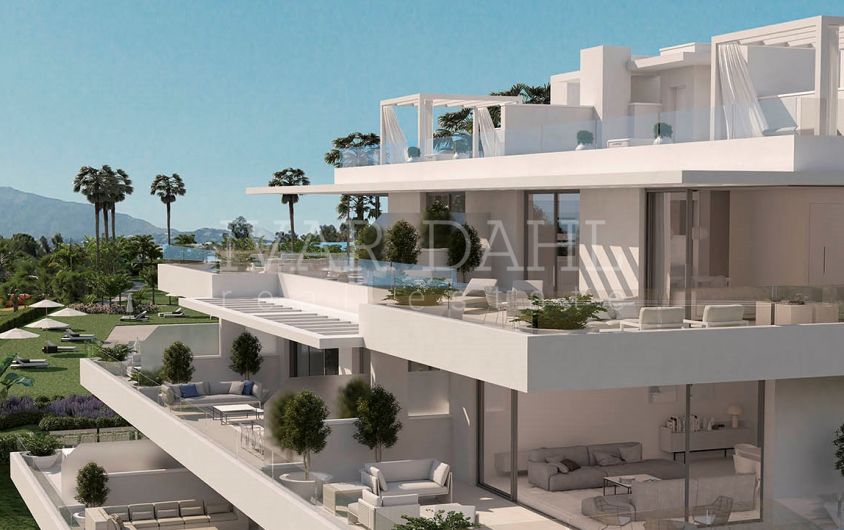 Luxury apartments and penthouses in a contemporary style in one of the best areas of the new Golden Mile on the Costa del Sol. Located between Marbella and Estepona, in the heart of Atalaya Alta, this new ...
3

bedrooms

3

bathrooms

191m²

built

78m²

terrace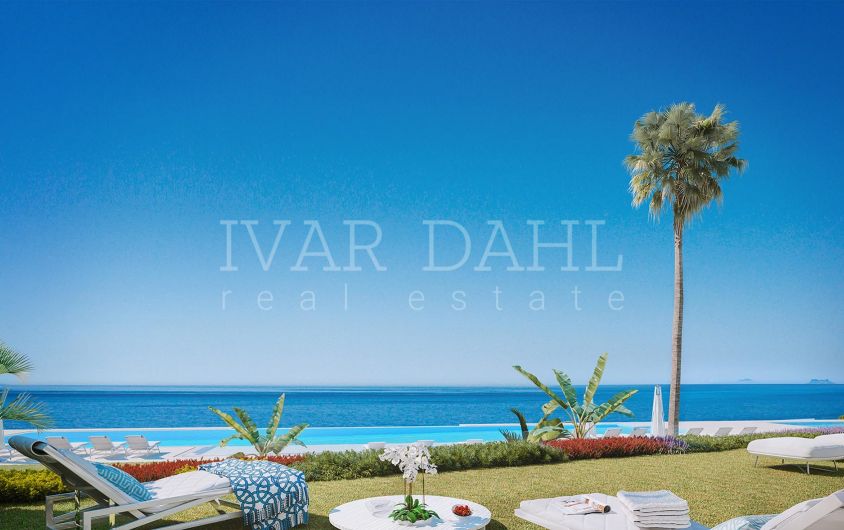 New Luxury Front Line Beach Apartments and Penthouses in Estepona. Only 28 amazingly large 3 & 4 bedroom residences on the front line of the Mediterranean Sea.They are the result of a team work, focused on ...
3

bedrooms

3

bathrooms

314m²

built

80m²

terrace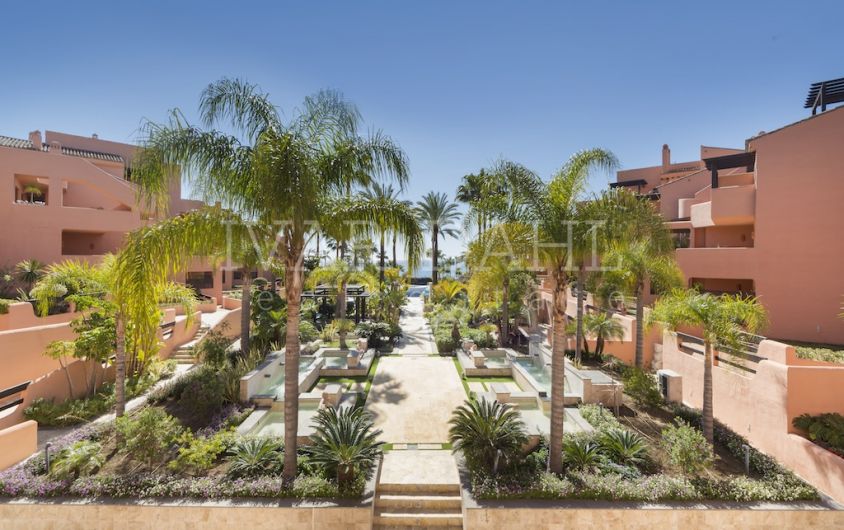 WAKING UP TO THE SEA!A truly beautiful complex, in a wonderful oriental-style oasis of peace and tranquillity. A residential area with direct access to the sea and joined to Estepona by a long promenade. With ...
2

bedrooms

2

bathrooms

167m²

built

36m²

plot