4/5 Bedroom3 Bathroom Ensuite/ 1 ToiletConst. M²: 986Terrace: 86M²Plot M²: 2132Clasical south facing villa situated high up over Marbella city in the prestigious Sierra Blanca Estate, only a few minutes drive from the centre. Built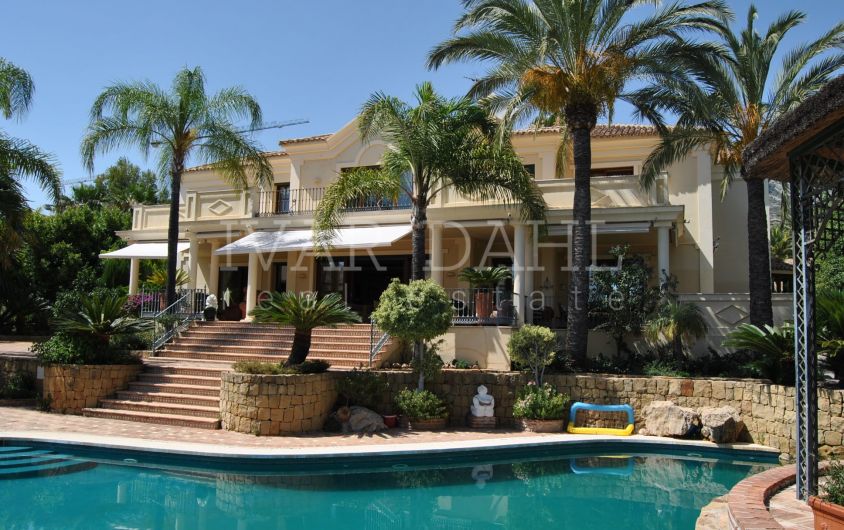 //media.inmobalia.com/imgV1/B8vEv5Xh8DZJ8zA8HsKlVQQovHvPS2nS1REiasNjjf37J7WfKOkiQxSIhRrnU2OBFkknCXNFUkYS7Hh9o9IZ_QJ9eIkyovPQxI87DzV08FSf6Jbw_N1OdvuPOyCGVOcAMPfa2bD8Fg9FJFDdTwjkaREpevJifiBSrT8KiSqyqFyYC1diOxYF8vLkYPYuPih40uGs086oEgRfbB1mFr0UiMIeYkQ6uA~MSVOOlkH5hKCK5Q2Kw84PxYh7_EWDD6hxGjcixGlavlSY8n6fTopuaagI4DpC49y4LdVdo2T_.jpg
//media.inmobalia.com/imgV1/B8vEv5Xh8DZJ8zA8HsKlVQQovHvPS2nS1REiasNjjf37J7WfKOkiQxSIhRrnU2OBFkknCXNFUkYS7Hh9o9IZ_QJ9eIkyovPQxI87DzV08FSf6Jbw_N1OdvuPNdQco1ARi~0JqUW50XP2lcPHOcH~ilcOXYkB~z1FNy08eN_zj_gmJ4XBwPhleAaI_KMY6Sgl2BVtSTrubuBRyB92TqoDYkXaJ4BI_tGQvDiO4fFuL0amFnGKjnucAw_Vg_AZy9x5Uw3vo57IDlcznpwrVnmUJ7SMn~hBhPPbtW2DatfP.jpg
//media.inmobalia.com/imgV1/B8vEv5Xh8DZJ8zA8HsKlVQQovHvPS2nS1REiasNjjf37J7WfKOkiQxSIhRrnU2OBFkknCXNFUkYS7Hh9o9IZ_QJ9eIkyovPQxI87DzV08FSf6Jbw_N1OdvuPNdFGDaYG0yeSj_QpzBJKjjhsHtf~ikuz2IbtjlkMTTiDMb946xPhRgFs3vI1C4LH3q0v4J5HgF2NcVlNaHJZePNoxRWGTQdAwTh1rebHj6BsvdsfDOfJuQgprlL39FgXeCDgvlZ52N1H6JX_B19D5yGM1scfSQhlSmlG76KJRgPPrqv7.jpg
//media.inmobalia.com/imgV1/B8vEv5Xh8DZJ8zA8HsKlVQQovHvPS2nS1REiasNjjf37J7WfKOkiQxSIhRrnU2OBFkknCXNFUkYS7Hh9o9IZ_QJ9eIkyovPQxI87DzV08FSf6Jbw_N1OdvuPNdBm1gThmzv27OiMSWsLfkVLOWvdQbMMxlrw9onUToutOx_vFq_4QRTB6G0wSmgyB~~ftHEjjAM6vVDxvXSZTephtf5DVsa4PIc_kHNSYdy4GLJkVWl2HY~99xMk2XYvy4XyjkxUUKgHaCX3EFHakEfrwwQZzNBidNvOpRd5vUuAZwk1.jpg
//media.inmobalia.com/imgV1/B8vEv5Xh8DZJ8zA8HsKlVQQovHvPS2nS1REiasNjjf37J7WfKOkiQxSIhRrnU2OBFkknCXNFUkYS7Hh9o9IZ_QJ9eIkyovPQxI87DzV08FSf6Jbw_N1OdvuPOORm~_IyYUHzajs6NAIC7qm62lghkWeeavHrhJVVzQLr4n9BxdTnNo3u56R3Y7PqwkKgyTfDrAcjVNdq1WR3MFeYi97iGCDHg404HcolVUyNVHyMV46kb3p8xcqJLILqaLTtK91rASlInYnGJ6bFfiWvyNvUrYNztr0UWkzOzZpJCpGa.jpg
//media.inmobalia.com/imgV1/B8vEv5Xh8DZJ8zA8HsKlVQQovHvPS2nS1REiasNjjf37J7WfKOkiQxSIhRrnU2OBFkknCXNFUkYS7Hh9o9IZ_QJ9eIkyovPQxI87DzV08FSf6Jbw_N1OdvuPNdOrYhD4AO2MB4L_MtRt6zHRRAi~tK~Uqf2XNAyhteHJI87KN3Rsnq4g42wdYhig~i8A7iP~ZFgfkADvKa_Ks_moavPSr_4Xd7y3Vwj809aYOSMplfDD~kpkpCRw0CsGkJ0KahSSF3LUquCLEtY2NJ~3gPPDQFpfXVOFALtAppPIdUle.jpg
//media.inmobalia.com/imgV1/B8vEv5Xh8DZJ8zA8HsKlVQQovHvPS2nS1REiasNjjf37J7WfKOkiQxSIhRrnU2OBFkknCXNFUkYS7Hh9o9IZ_QJ9eIkyovPQxI87DzV08FSf6Jbw_N1OdvuPOOtb2Duc~k2QPQi1sXlO~sDfC470L2jK8Gdhe9XHAOzCYo6fI9DogU3rL107HP2FGMcYrpmqrqIPpwK~HfBe~Jm47pF3zSdt9g0o_~6Fl3HK54luCSH3F0xmpnf8hsDrnW7DvmWGj3IxnvDO6o7jp8WBxp42SVpo6RqWx1d~6hSkeFK_.jpg
//media.inmobalia.com/imgV1/B8vEv5Xh8DZJ8zA8HsKlVQQovHvPS2nS1REiasNjjf37J7WfKOkiQxSIhRrnU2OBFkknCXNFUkYS7Hh9o9IZ_QJ9eIkyovPQxI87DzV08FSf6Jbw_N1OdvuPOOVP7IEESHmw6X4kmgtktOFLdZdzPYrSlRJ0irOGEEFkQa0doh6nBbj28oOpts26nrxGCtLJRxXcQXAzTqDIK_~GOctoXyF0iMXjZf_sKwtZ6shYZdaHs4240M5myprHTjGJZ0DkRxgth17VvM5uCTMk3SUfG6_83scWvjkUue5xz8WM.jpg
//media.inmobalia.com/imgV1/B8vEv5Xh8DZJ8zA8HsKlVQQovHvPS2nS1REiasNjjf37J7WfKOkiQxSIhRrnU2OBFkknCXNFUkYS7Hh9o9IZ_QJ9eIkyovPQxI87DzV08FSf6Jbw_N1OdvuPOyQEGpVANHY_lOHIzp5pLjTQrYf_oPtbODN~2Xjuq0o8JZZYrjBBY3102wDEFpvWUSsPkKrOInUS3f7HfPR7CS9ug8e4gAR9ZU2PCkVB~b0aFe7aPWyy5kz72TfruPE~JjqWLFli2t7bbAZ2Px74IBYVFl~~JzjVhURS8IaQGLUOcnCW.jpg
//media.inmobalia.com/imgV1/B8vEv5Xh8DZJ8zA8HsKlVQQovHvPS2nS1REiasNjjf37J7WfKOkiQxSIhRrnU2OBFkknCXNFUkYS7Hh9o9IZ_QJ9eIkyovPQxI87DzV08FSf6Jbw_N1OdvuPOyXEK6Om7WIX9IvXW6fqgQpgKwZ0j2LNREGRb6eLaaVuTjzFxuTo4cbWB_FPOP58prOUzCUsRVMyegGKDvDXIgOPDeHiiqu7tNqy9HaI5~KWlF4cGrSpCxRSOjgZShf5b8UgNbVuqO9e8kxaU802aOtBNMgtDkLUL3NeNh4phHcgxuKe.jpg
//media.inmobalia.com/imgV1/B8vEv5Xh8DZJ8zA8HsKlVQQovHvPS2nS1REiasNjjf37J7WfKOkiQxSIhRrnU2OBFkknCXNFUkYS7Hh9o9IZ_QJ9eIkyovPQxI87DzV08FSf6Jbw_N1OdvuPOiTZugu3aTJkOa_gk~Aa6UFK7O_H73BohZypZNe6Ed9vS8W3v4_mZK5dcnOg0hRo~GLMmHKtqq6fvHs~k~Vz_Jq67eK~8gO5xZ3BZvMmNwr_q~7~YLLDJM8F_eheAy__~vry7V~IJQDjHaw3NZKSfhlUQq6KFDoaQT68tDsCjCnUTJrt.jpg
//media.inmobalia.com/imgV1/B8vEv5Xh8DZJ8zA8HsKlVQQovHvPS2nS1REiasNjjf37J7WfKOkiQxSIhRrnU2OBFkknCXNFUkYS7Hh9o9IZ_QJ9eIkyovPQxI87DzV08FSf6Jbw_N1OdvuPOyGXTLtte1LAD6pL9YhIJKn4uwnGuT9QwPlMxv9si9lguNHvj9Zdg7m26Q7sfV8UsipkOPh9aIWzx5CkSg1VrXlPJ4dLZu1BhOrPhRL72WkhN4VJEpY6wl4xyIZv5KnZus0frp1zmEDl2YLRtHJuU~dAfUrajBKEJysjNjdI3kogaqDj.jpg
//media.inmobalia.com/imgV1/B8vEv5Xh8DZJ8zA8HsKlVQQovHvPS2nS1REiasNjjf37J7WfKOkiQxSIhRrnU2OBFkknCXNFUkYS7Hh9o9IZ_QJ9eIkyovPQxI87DzV08FSf6Jbw_N1OdvuPOyJKnG68x_XElUynRVIKqSDYK8DL2VXh3vTeVA7kCAHGyXidR2oC68l73ggOOCf71oOKb45XfTJhg~aX6VQOTNzZhUTARqtbXfzVZCNT3DD5HJlQvoCgfNHjdIsa3jOBYjI9vSExh2OeLxUp7u0sE_ixQ_mM1EZsS5GeZa_BRhxrbS47.jpg
//media.inmobalia.com/imgV1/B8vEv5Xh8DZJ8zA8HsKlVQQovHvPS2nS1REiasNjjf37J7WfKOkiQxSIhRrnU2OBFkknCXNFUkYS7Hh9o9IZ_QJ9eIkyovPQxI87DzV08FSf6Jbw_N1OdvuPOyMyrhAnjiyvKMFed~Kabm3d2PQH6kRHB_iiVHHseH8QidGmGnVzxNZI55MHdlsm6Fjm8aOWftsgIoMM8MXnXhn7E6FUv2LGZbnlifwLqDxCbLHXe0otjUpAbuucX45B86c0ZaYsfs56v1m~SHQMfyh5wB6hOvQ9LhJki~xJh3hcLxuW.jpg
//media.inmobalia.com/imgV1/B8vEv5Xh8DZJ8zA8HsKlVQQovHvPS2nS1REiasNjjf37J7WfKOkiQxSIhRrnU2OBFkknCXNFUkYS7Hh9o9IZ_QJ9eIkyovPQxI87DzV08FSf6Jbw_N1OdvuPOyxC5lQCPNtKQdmjPF5jnTP2ecb0NZfFSMN03yJcUUScCSZ99q6duqoxgkLN_Y7hMTUCqdDhq9aenfmRmQBWwlVdrbM9BghgvwoU6U4M~xHMvZTCR6iSekEKD2Tg0ryV~ZnfpZzFqEPaWDoerja_LsbhUvFoIWEiQFAnbz~UhFk2ZJB0.jpg
//media.inmobalia.com/imgV1/B8vEv5Xh8DZJ8zA8HsKlVQQovHvPS2nS1REiasNjjf37J7WfKOkiQxSIhRrnU2OBFkknCXNFUkYS7Hh9o9IZ_QJ9eIkyovPQxI87DzV08FSf6Jbw_N1OdvuPOy37~~n5IqMqNRKLQ1BT5q4oipA8Imd7gsiRnBmjW1vB_CPhCbxwkqcvgtwXSnQpN3MYFrHeJLApZDd4SqT_8JTKvF8xL7m2obzt85stHCTtOBfNtiIuToW5Wn9geYQGOcMvPzdliNiYQL~P6wFNf2RyMSpMWD40py2i_vZMNZpOCMAz.jpg
//media.inmobalia.com/imgV1/B8vEv5Xh8DZJ8zA8HsKlVQQovHvPS2nS1REiasNjjf37J7WfKOkiQxSIhRrnU2OBFkknCXNFUkYS7Hh9o9IZ_QJ9eIkyovPQxI87DzV08FSf6Jbw_N1OdvuPOycKrM_nHJKY4CAy_ex9EfqmHuWpeMID~jMeK9F3TO6Vlw7WNEA1G~QyNXRUHaLYxxfeKzpEmfs9dNCDA7Ry5RYlOZFMgqroF8aeB4jMokcf_hMofplRvJ9LhZUjJw6xLCS4GRh4Xv1SR3e2RiIB4G7ua9w5gTyJmoayiOz2RHW~vu7J.jpg
//media.inmobalia.com/imgV1/B8vEv5Xh8DZJ8zA8HsKlVQQovHvPS2nS1REiasNjjf37J7WfKOkiQxSIhRrnU2OBFkknCXNFUkYS7Hh9o9IZ_QJ9eIkyovPQxI87DzV08FSf6Jbw_N1OdvuPOyYpNHxtIasFz8L1sNPbt~gXIDT5BZjGyPB5SUwa8V3elLqtsfxpHyO_8VIB8LoRMejH~SUxPgkRUwxlJ7~esPU2dndQEnkqprMTbDEg9dDZis1GgUWhSZV1RFgY4u6T0slV9HIslrldfdzjdyf7SsPCeeYYSI5DRIJ0_FysvNOxOoqX.jpg
//media.inmobalia.com/imgV1/B8vEv5Xh8DZJ8zA8HsKlVQQovHvPS2nS1REiasNjjf37J7WfKOkiQxSIhRrnU2OBFkknCXNFUkYS7Hh9o9IZ_QJ9eIkyovPQxI87DzV08FSf6Jbw_N1OdvuPOiXxUokrwwWNiAl7Lhy1u5az6i587xdbbclFsUROzPqnyzmTr4JwQtq2yN4iSiWqW3m85eDyi1XiH5OH95wdaTXE3T4lzf7EbzpyATaAoX9t7zOYtlYltlPvAa0NoytSElJM8RxDZ6AxV4fdk~I8AtHg9CP9YZJbAcI~Ih1aXUvuW8vc.jpg
//media.inmobalia.com/imgV1/B8vEv5Xh8DZJ8zA8HsKlVQQovHvPS2nS1REiasNjjf37J7WfKOkiQxSIhRrnU2OBFkknCXNFUkYS7Hh9o9IZ_QJ9eIkyovPQxI87DzV08FSf6Jbw_N1OdvuPOiKSzhQz5G6EbwwZQwP7mwNYIgCTNMwV5oBN9nOUhfWbkne5rX_E58D8MSv7GcZIdbOwM5~AdpSzGEWBZhO4IaEpGU_xtxtavKehOlsgIfZeRuDoreTOIiSSidTDg_MywBdB3xGsOidxd8_OlXKObAbHlrqiyl7w6X7GNsVssS4fIGAZ.jpg
//media.inmobalia.com/imgV1/B8vEv5Xh8DZJ8zA8HsKlVQQovHvPS2nS1REiasNjjf37J7WfKOkiQxSIhRrnU2OBFkknCXNFUkYS7Hh9o9IZ_QJ9eIkyovPQxI87DzV08FSf6Jbw_N1OdvuPOiNWMJRIERcUAmNj8YppOC3tgXI4EPyqc3LN8kq8vFT1n2YLEGd~Aoubsov~1AUXLDQBEwztjFZ2DBemx_Cs8vRj2zVnUMA5kjWywOXryFAZgEYdgxFTHk8oAkw_jJJ4wSXWFxUdp6Y~VfmXMSuQ2nbg6b9nKDf3Bek9peHa9Se4dj~b.jpg
//media.inmobalia.com/imgV1/B8vEv5Xh8DZJ8zA8HsKlVQQovHvPS2nS1REiasNjjf37J7WfKOkiQxSIhRrnU2OBFkknCXNFUkYS7Hh9o9IZ_QJ9eIkyovPQxI87DzV08FSf6Jbw_N1OdvuPOiBiuohfQ6tgDWiM7mtZtTMqileRnYIMOBs~XLvH163yW_YDwPS5xIeB8~LSvnYfKkicxP2dm2h1T~K0goLG9HdbFN3bC4Xe9fCVDuzstHpkBozSB0_QEylmfwb517FhoTizQ7YzLwEXQODAHaGZiBrRtMoPDE~_KzKkNPmbyqBLVOME.jpg
//media.inmobalia.com/imgV1/B8vEv5Xh8DZJ8zA8HsKlVQQovHvPS2nS1REiasNjjf37J7WfKOkiQxSIhRrnU2OBFkknCXNFUkYS7Hh9o9IZ_QJ9eIkyovPQxI87DzV08FSf6Jbw_N1OdvuPOiFuoiKKyz23y3AlOkLabkAjszQe35TnjDPxbhllhUfVfLX_1PyLlosAVlv~A8GSGjA77WwIkKeaF6qsWAu5KHw_RTb_LyIUFR4IvTRFsdgHAP6ZAULK8ECk4aUwEuUEi0MwRUIEdHYAdB2sqHXkWQNtn8T_7~UwYpnn6XuQ_15_y_rY.jpg
//media.inmobalia.com/imgV1/B8vEv5Xh8DZJ8zA8HsKlVQQovHvPS2nS1REiasNjjf37J7WfKOkiQxSIhRrnU2OBFkknCXNFUkYS7Hh9o9IZ_QJ9eIkyovPQxI87DzV08FSf6Jbw_N1OdvuPOi8NfKHAayAry1QjRshwzSnDeCLfjTNbOYD8dsmoJZnOcO3naZATrWMmA_MKWhuEaIJyF6Cek2t1lWoc67Qqz~m1KnhnR3CBQ5jiiHb93_s8VBrflY4Kx65Bhai1aqJXtVOV4BNjP8hoEMPokvGAG43p8gDeLS3NtsIkf3eyX3IesYR1.jpg
//media.inmobalia.com/imgV1/B8vEv5Xh8DZJ8zA8HsKlVQQovHvPS2nS1REiasNjjf37J7WfKOkiQxSIhRrnU2OBFkknCXNFUkYS7Hh9o9IZ_QJ9eIkyovPQxI87DzV08FSf6Jbw_N1OdvuPNdUNZgV8zZLbhH9UOq0PLvq3VIvNdZKKT6n9tXKgx1TFEMhwjXiOBa7TOCMySKavZQe18zV7TySfE_CHQrMAQWLtQVHV2BY40XUwVvomm18qDW6o5FmtyWcuQBHBS_ZoNT5cA_AjvC4aap_syLjPDYgrrYPqdPnEPsl~~_K4vlMjuZGI.jpg
//media.inmobalia.com/imgV1/B8vEv5Xh8DZJ8zA8HsKlVQQovHvPS2nS1REiasNjjf37J7WfKOkiQxSIhRrnU2OBFkknCXNFUkYS7Hh9o9IZ_QJ9eIkyovPQxI87DzV08FSf6Jbw_N1OdvuPOibOVH3pOpSwdQ0sKy8KDhaGIystHYWKrIDPTdGG3ezJLbQVHvWYugDHrKoW0vJjioBWuz7p4PXQzVHlz~gf4ApWDJ~DQO2YwDGBx2y6uUhZKDba3ej4qxO4eAV4vMWR0BcfDDWLkyYJ4~WwoPYfwhTd3zpeu1CcxFBwebSwPgyPUu82.jpg
//media.inmobalia.com/imgV1/B8vEv5Xh8DZJ8zA8HsKlVQQovHvPS2nS1REiasNjjf37J7WfKOkiQxSIhRrnU2OBFkknCXNFUkYS7Hh9o9IZ_QJ9eIkyovPQxI87DzV08FSf6Jbw_N1OdvuPOifA8Z6fDyBmO9fzh1tP6DuzWT3qYw2hlnmhtkuNqRCbIuQwczdw50gv5FHaFgZL6NjkaPecB5XhvtzBKa5~GpbdkkXO6Y~3JoWG8Ka9b5unQpx~njuZtzVzvKhCEDdRyq9sOd09i1kk~1dBbvIBK3dQ3dTq_rs34_MLwM6yh~Ac7vZH.jpg
//media.inmobalia.com/imgV1/B8vEv5Xh8DZJ8zA8HsKlVQQovHvPS2nS1REiasNjjf37J7WfKOkiQxSIhRrnU2OBFkknCXNFUkYS7Hh9o9IZ_QJ9eIkyovPQxI87DzV08FSf6Jbw_N1OdvuPNdfjbsSTmU5el1R8DZnanx2DScpTbF6DOHLh10UKQ4XDJEs5BDYHHLkhp~EpBCdEpXPauTl60NZZhh63sB_wDu6zQBEpXQdjyaHNm2gl70q7bMOoDB9Rx8CUxMDlbMQMYMdw~uL0B2lu9A5jcW~PtHm7LDvIAJZsGAIl2tW_sC9uoXC8.jpg
//media.inmobalia.com/imgV1/B8vEv5Xh8DZJ8zA8HsKlVQQovHvPS2nS1REiasNjjf37J7WfKOkiQxSIhRrnU2OBFkknCXNFUkYS7Hh9o9IZ_QJ9eIkyovPQxI87DzV08FSf6Jbw_N1OdvuPNdZh9nlei_w5MJU3LI70QM~LFZqxyotuxFxppJTKY_OrLlplTFHCfgqnHtKAKWdKMOXtr4gkcfF_3E0RxmMEHEpMP07VZP5RzI3TINur1P0q3nD4LvCFJt0_v_ki1sTJ_wuRl114smmZ_iFtSdy1roe8JWTaW4TsG8V4YAaj6J9xxY9y.jpg
Price

3.950.000 €

Ref.

4807

bedrooms

5

bathrooms

4

Built

903 m²

Plot

2.090 m²
Villa in Sierra Blanca, Marbella Golden Mile
Villa in Urb.Sierra Blanca, Marbella Golden Mile. Excellent quality, family home. Community with 24-hours security.
House built on 3 floors. Main floor; large living area with open fireplace, dining room, lounge/sitting area with fireplace, office or bedroom, guest toilet, fitted kitchen with breakfast area and laundry, south facing terrace with views to tropical garden and pool. Upstairs 4 bedrooms en suite and open south facing terrace with sea views. Master bedroom with sauna. In the basement there´s a games area, gym, sauna, garage for several cars and machine room. Air conditioning and under floor heating. Beautiful tropical garden and pool area with gazebo.
Features
Utility room
Fireplace
Double glazing
Video entrance
Barbeque
Security service 24h
Living room
Automatic irrigation system
Covered terrace
Air conditioning
Central heating
Similar Properties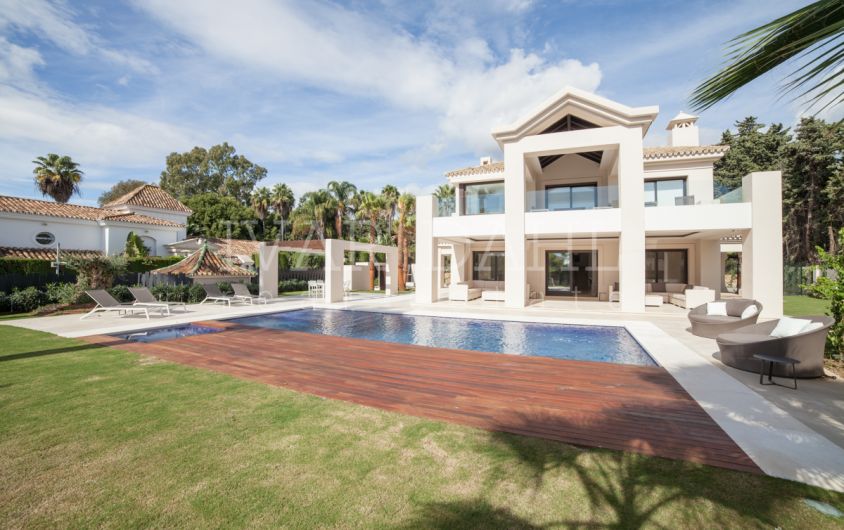 New luxury beach side property situated with in an exclusive gated community known as Las Torres, Marbella, Golden Mile. The south facing villa consists of 6 double bedrooms, 6 en-suite bathrooms a guest ...
6

bedrooms

6

bathrooms

581m²

built

1.158m²

plot
5101
Price

Price on application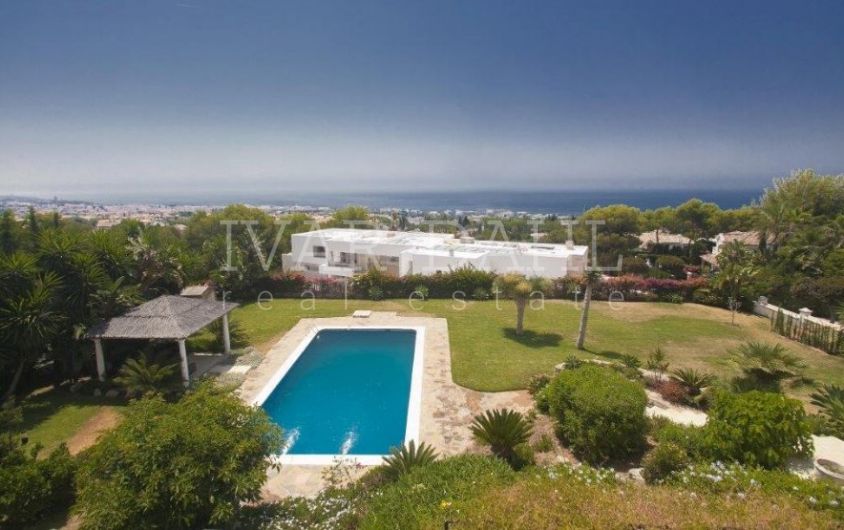 Stunning villa situated in one of the most prestigious estates above Marbella´s Golden Mile, in Sierra Blanca, in a privileged position offering breathtaking views to the mediterranean sea. 7 bedrooms, 7 ...
8

bedrooms

8

bathrooms

1.094m²

built

3.118m²

plot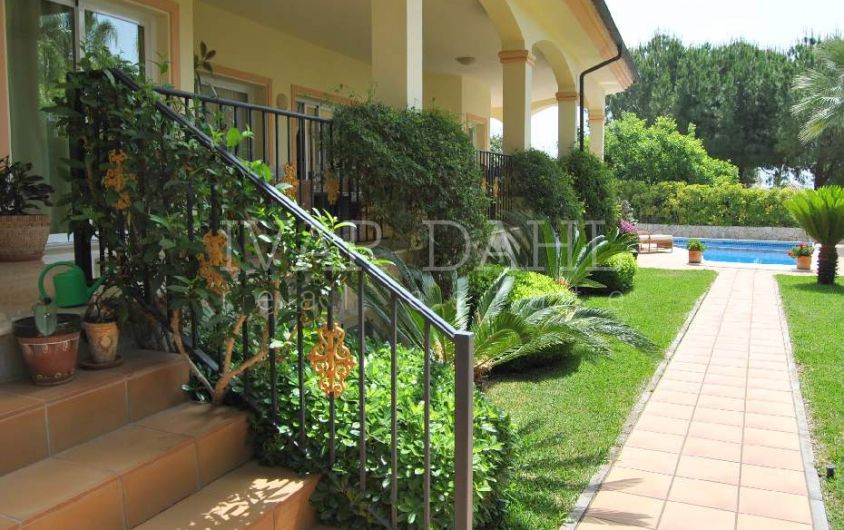 A beautiful South facing villa situated in a gated urbanization, 24-hours of security. Park like community gardens with paddle tennis and small children´s play ground. The Villa consists of entrance hall, ...
5

bedrooms

5

bathrooms

540m²

built

1.042m²

plot