A unique opportunity to buy a villa on Marbellas Golden Mile
//media.inmobalia.com/imgV1/B8vEv5Xh8DZJ8zA8HsKlVQQovHvPS2nS1REiasNjjf37J7WfKOkiQxSIhRrnU2OBFkknCXNFUkYS7Hh9o9IZ_QJ9eIkyovPQxI5EbqDAzbPm_0sp_G758mmjDY~ooHy0gEdpkT59Z0AZIaku2mOcIvD~QtOVuDobtbrZL_mSHq6Rq5q1ay1rYxS9o470VKGHQD0B7lY7YugmqwzgVRzhsbaOIikcnP3KpOaH7EDzCQoKrUNPLUTy8Rywwg8jYjMiPJRh3zyLeeSmjRrhodkywKG_5jhK_b8rhIlPB4Cl.jpg
//media.inmobalia.com/imgV1/B8vEv5Xh8DZJ8zA8HsKlVQQovHvPS2nS1REiasNjjf37J7WfKOkiQxSIhRrnU2OBFkknCXNFUkYS7Hh9o9IZ_QJ9eIkyovPQxI5EbqDAzbPm_0sp_G758mmjDYocQWMAO0YqVLe6gKBKxmF_c2I0QuSfbzUbPfPBdee~Ik3StaiSiObwpii5cl3iSWKiAPpa0HFvhXKP645NOvkw2CAg2_vAu_kKGnmzOzFylL2uWbsEloCHq~GUYWla6O652nh~wtAQJQVon~EDJM6ORw13Ko8QziHTgOgl40SkB77a.jpg
//media.inmobalia.com/imgV1/B8vEv5Xh8DZJ8zA8HsKlVQQovHvPS2nS1REiasNjjf37J7WfKOkiQxSIhRrnU2OBFkknCXNFUkYS7Hh9o9IZ_QJ9eIkyovPQxI5EbqDAzbPm_0sp_G758mmjDYxDpc3LSOfMjuqsrY5LnwkfBUPEDrWDbBimK2PDx4Sl1IHX~dYrG_4dwiKjKFNmkAOaPqoEbGGyDq_O2PHswOzMUf6nigFMM0ywvzuTUQ~3zgsxEZqqg~FlT6EgkTsy7WH8MPZ3hfR8lTI8PLEelFBegC0bISDdn_26w68HEZmn~Ylg.jpg
//media.inmobalia.com/imgV1/B8vEv5Xh8DZJ8zA8HsKlVQQovHvPS2nS1REiasNjjf37J7WfKOkiQxSIhRrnU2OBFkknCXNFUkYS7Hh9o9IZ_QJ9eIkyovPQxI5EbqDAzbPm_0sp_G758mmjDY1hl9Un1KlBc937b1Lk4z0pDfnKlYfwKSfurnI62vi6Zw8uNr9MsqJYmyGDoJjInCSsfiopT9jlTs3lLyJuL~g54hWyLCKT1kI9dX5fZ9gKk~LVRZEb5Jas4DzvqeXabklKhiH5PuHGidICEVB1_dYgGnui_eK7fqAPYIXm2sfs7gqz.jpg
//media.inmobalia.com/imgV1/B8vEv5Xh8DZJ8zA8HsKlVQQovHvPS2nS1REiasNjjf37J7WfKOkiQxSIhRrnU2OBFkknCXNFUkYS7Hh9o9IZ_QJ9eIkyovPQxI5EbqDAzbPm_0sp_G758mmjDYscYJodxHyQn9VoMIar2VSKQApTYh3T8ai4Lq3m_6KfeUzgjE5kzqM4lkOXRyxW4hbYHoNgo1j9ipvKFir12ermOB1Bzt3919T92wLGU_WqQUpk985VoYO27Q7H1ADr6okXdZKzhf8459J_uomupeX13vt8JgaV_7KVNYBdKmAxGh_a.jpg
//media.inmobalia.com/imgV1/B8vEv5Xh8DZJ8zA8HsKlVQQovHvPS2nS1REiasNjjf37J7WfKOkiQxSIhRrnU2OBFkknCXNFUkYS7Hh9o9IZ_QJ9eIkyovPQxI5EbqDAzbPm_0sp_G758mmjDMb2iHmBbdM61iTDrpVpEzF7Dbzjk7rRm3177L3f_MGRGPYocXY~7j_TuV96pPcjNDgna1CHT6357a1GoRNY5vBzcrLI50S8G1zZ~OwGAuMEFWUF5W7UzwzUP~stem1kEiAzi0uLmW_70Qg3lMYoy1Mx~cfKEXzOeucX6SdLttL95hPE.jpg
//media.inmobalia.com/imgV1/B8vEv5Xh8DZJ8zA8HsKlVQQovHvPS2nS1REiasNjjf37J7WfKOkiQxSIhRrnU2OBFkknCXNFUkYS7Hh9o9IZ_QJ9eIkyovPQxI5EbqDAzbPm_0sp_G758mmjDYlIE286QUEoNT8cUfEX_VouKHy9zvxsJQHjNHxiU0fcYz3SfVDDwlhRvhlgR7EU6fjfMCXBmpp0ii_3qRe8gzuB5Zfb7tBr3xcE30S8Lg9Q0U04kU~BNtABliyf70S7~pa3psDyI5NrVZwM2IWs71KSVvmV1O13_C3fI1EDhBV0yDdP.jpg
//media.inmobalia.com/imgV1/B8vEv5Xh8DZJ8zA8HsKlVQQovHvPS2nS1REiasNjjf37J7WfKOkiQxSIhRrnU2OBFkknCXNFUkYS7Hh9o9IZ_QJ9eIkyovPQxI5EbqDAzbPm_0sp_G758mmjDY6bdAOiKVmpmVKW3j5kFpexuyyj798v9ytmOx5x9OhKLAtkzVntvW1L75qxRwjy2ulG021eU_4nYjWq3QqOjlMbcMoCxJ4z8sA5l16LX_tqfRKc7I~WEy1vqGFZnRweYIvmIUk5A4y28F_NQW446uNDZGrffvTJwyt9dY5bgZumA_dL.jpg
//media.inmobalia.com/imgV1/B8vEv5Xh8DZJ8zA8HsKlVQQovHvPS2nS1REiasNjjf37J7WfKOkiQxSIhRrnU2OBFkknCXNFUkYS7Hh9o9IZ_QJ9eIkyovPQxI5EbqDAzbPm_0sp_G758mmjDYi6dovaFbvavaQAEIkNDNM_QKtD~3uEBXzKUDqhBk6ETakQ1wh4irEDFeOMtfHNbakDwPU1gD_4pmq6GBhgqwpneKJzG5Fi11L~MJDDRKdpsREclfhyg9y~xGxh9t_gx6ZGyUPNC5zm9VGq1yIK20jwkEgX1ESVeQaIwk3~Mo4dMIRd.jpg
//media.inmobalia.com/imgV1/B8vEv5Xh8DZJ8zA8HsKlVQQovHvPS2nS1REiasNjjf37J7WfKOkiQxSIhRrnU2OBFkknCXNFUkYS7Hh9o9IZ_QJ9eIkyovPQxI5EbqDAzbPm_0sp_G758mmjDMlQ9yGqMTOUt3xT3G~xdO7RptNVrZi4AUo6XY~6j7ge5Lk2EYgysDAMtuw1oNiN8aNWFhSchHJ3KA~VEtJAeUclJK2J~n~KfAyMNJTgt5G9y7mV6imBT_QK4aUyz3gZ_WmkVU5nNMg~sl5DlKAyVW5J_ZA16uTvTSt58A6Y~13xcbjZ.jpg
Price

2.400.000 €

Ref.

4808

bedrooms

6

bathrooms

6

Built

475 m²

Plot

618 m²
Villa in Altos de Puente Romano, Marbella Golden Mile
New villas situated in the gated community with 24 hours security withinh the walking distance to the beach. Villas offer a contemporary and functional architecture and design . High quality finishes.
Located in one of the most exclusive areas of Marbella, in the heart of Golden Mile, *****Hotel marbella Club and Hotel Puente Romano in easy reach, with direct access to the motorway, close to the center of Marbella and Puerto Banus.
These seven Villas include the most innovative technological trends to be fully domotized with supports via weifi for a comfortable and practical control of lighting, music, air conditioning and security.
The Villas comprise 5 to 6 bedrooms, all with bathroom en-suite, a large and elegant living room with large windows that give natural light. The fitting kitchen with appliances of last generation. It emphasizes a spacious and spectacular wood dressing room.
Each of these villas has a swimming pool in the garden. Also, you will enjoy a spectacular pool in the solarium taking pleasure in fastantic views provided by the surroundings.
Villas offer a new concept of housing in Marbella, a show of avant-garde, balance and functionality, with an unbeatable location and all facilities available.
Features
Fully fitted kitchen
Close to shops
Close to town
Close to port
Close to schools
Surveillance cameras
Utility room
Pets allowed
Fireplace
Basement
Alarm
Solarium
Security entrance
Double glazing
Brand new
Dining room
Mountainside
Security service 24h
Guest toilet
Private terrace
Kitchen equipped
Living room
Amenities near
Sea view
Mountain view
Underfloor heating (throughout)
Automatic irrigation system
Transport near
Home automation system
Laundry room
Covered terrace
24h Service
Fitted wardrobes
Gated community
Air conditioning
Unfurnished
Close to Sea/Beach
Close to Golf
Uncovered terrace
Open plan kitchen
Similar Properties
Villa in Urbanization Altos Reales, Marbella. A beautiful Southwest facing Family Villa with lovely garden, pool and mountain views. Gated urbanization, 24-hours of security. Community park/gardens with paddle ...
4

bedrooms

4

bathrooms

343m²

built

1.169m²

plot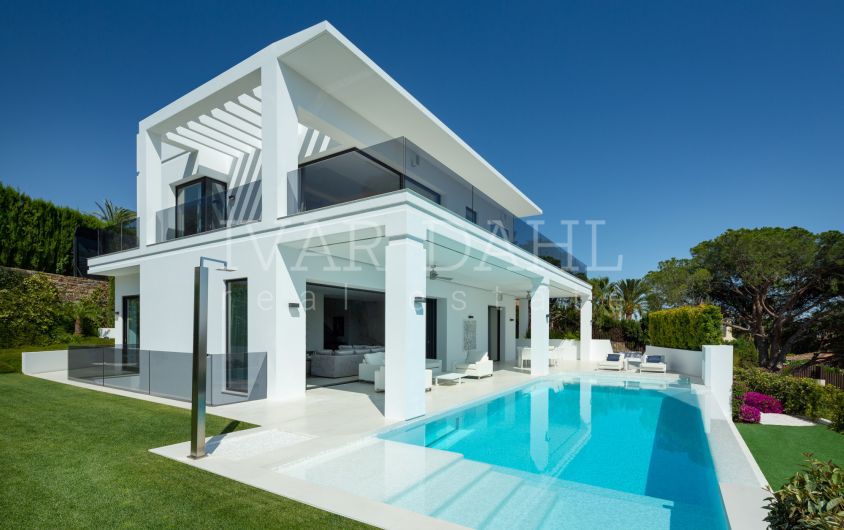 This excellent Villa is built to highest specifications with great attention to detail and using top quality materials and installations. Fantastic seaviews, Southwest orientation.The villa is distributed over ...
4

bedrooms

5

bathrooms

836m²

built

1.000m²

plot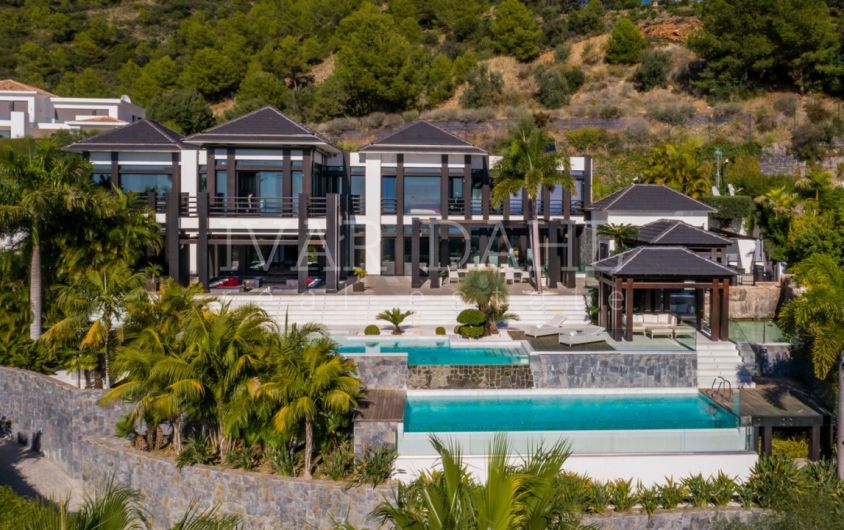 Wonderful property with excellent sea views, very private and quiet area and surrounded by nature. Top quality modern design, nicely situated on an elevated plot. The Villa is located in one of the ...
8

bedrooms

7

bathrooms

635m²

built

2.169m²

plot