Penthouse for sale in Calahonda, Mijas Costa, with panoramic sea views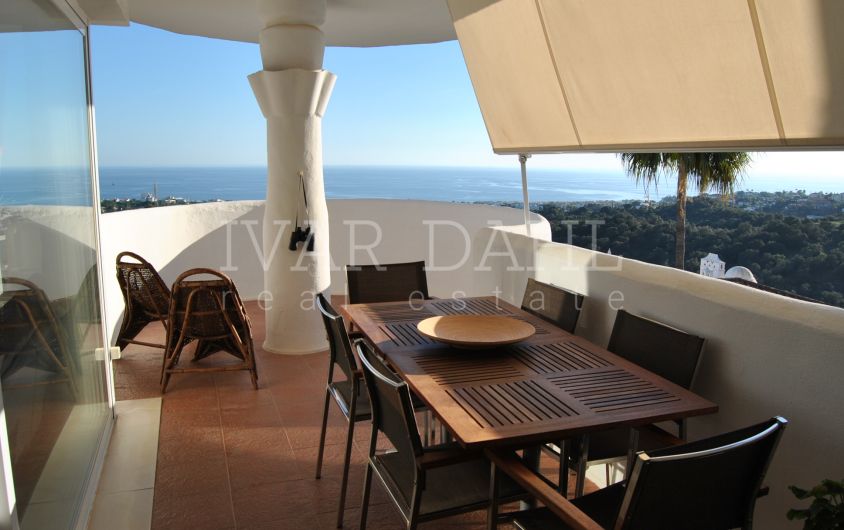 //media.inmobalia.com/imgV1/B8vEv5Xh8DZJ8zA8HsKlVQQovHvPS2nS1REiasNjjf37J7WfKOkiQxSIhRrnU2OBFkknCXNFUkYS7Hh9o9IZ_QJ9eIkyovF~1eItdSluu34ORCHHsagNYORvDnkpHHsqeCjs4AkEs5xVilQovgzhnbyc~sEtG7qe9q~JG~VkP10lgPCz6aNNzM07l4NC4qjnu0Jw2YQV4rYoSGoB8Rybwn~b4Ezm3OLd~2PwV8mE72tjA3C_26bvnAeXnm6rOdbhjZHE1RnXG69_K1Hbg2EuokqlDEhRub69mksyFaBkBEtyxnE3Fj5rRQrvtii1BLsVQDk-.jpg
//media.inmobalia.com/imgV1/B8vEv5Xh8DZJ8zA8HsKlVQQovHvPS2nS1REiasNjjf37J7WfKOkiQxSIhRrnU2OBFkknCXNFUkYS7Hh9o9IZ_QJ9eIkyovF~1eItdQoST0IYDJj4vFV8f9~v5bGfLKZj_GLURTVRkAk1CKTRTV_KuRX0RmdqMA6c8AL6hyBKlPBlY5Io8~HgbWFX6M5IHTIU7Zt8LFkv0mb0MVhMUEZtXvrE_x72leN3t2E8x9PG7vgnZNTU04VeLJCODLQ_izkcD_4ywllvdZoGfW0rQj9oEK5kDS2z5YpPAAAvcolu.jpg
//media.inmobalia.com/imgV1/B8vEv5Xh8DZJ8zA8HsKlVQQovHvPS2nS1REiasNjjf37J7WfKOkiQxSIhRrnU2OBFkknCXNFUkYS7Hh9o9IZ_QJ9eIkyovF~1eItdQoST0IYDJj4vFV8f9~v5L5kAWxIYr3VN9Suxdxbvfu4jLB5KcSA9dLT44U5wzDyyb7C78_Z2FmxZXxilFAFxY7sTwfB9JVCPsnDWG4EOUYi_MorG_6SKqK8VxLoUwjyosunRW5PINQLbLxGevFgOZ_IqeBcBwzaBZgIBFFxnk5BupsgzaNY3Qktg1WfhApI4PcG.jpg
//media.inmobalia.com/imgV1/B8vEv5Xh8DZJ8zA8HsKlVQQovHvPS2nS1REiasNjjf37J7WfKOkiQxSIhRrnU2OBFkknCXNFUkYS7Hh9o9IZ_QJ9eIkyovF~1eItdQoST0IYDJj4vFV8f9~v5bBq50MllN07X~MgTdtomomCVNEaJNzbjr5StgcxDRzsyCSk58uhhsZugBGY9t3HRmrgdgsC8nfPfoMVfcDPVjocxtOzCOBeqCuLaNOJLxpyBIcjY6Uh6ff5z3wqeapXw_UYQsmVvOXufiauTaL3RehWEMsriqwkss9KbFgSlx~Xctjg.jpg
//media.inmobalia.com/imgV1/B8vEv5Xh8DZJ8zA8HsKlVQQovHvPS2nS1REiasNjjf37J7WfKOkiQxSIhRrnU2OBFkknCXNFUkYS7Hh9o9IZ_QJ9eIkyovF~1eItdXJ36s0GTY35BMHG5oOfjO5sQbw61y1MtUT~WcXToJvN1U0czvmlcEBMomCd6Jo1gVwfbP3~VaPVAMtD3RhlUJOw9X9h8r6KCtD3E9Mosai3Lhyc8hyEIPLNS7H7lku1Sw3Msh4wBq4FXlOhLsHWX7peFdi3yP2Y3CxOpvO0Z8CItiL2AcD2ApAfVFWuT2fz1xz5FvHaO7ph7~uSqESAF8qhBsFujOs-.jpg
//media.inmobalia.com/imgV1/B8vEv5Xh8DZJ8zA8HsKlVQQovHvPS2nS1REiasNjjf37J7WfKOkiQxSIhRrnU2OBFkknCXNFUkYS7Hh9o9IZ_QJ9eIkyovF~1eItdSpjBigFcbuQJVc0YY9urglbt3K36bmCHypCof8qDUBGIrXfEIPKc1t7j~hXXEF5dCG08vY1BEs9rNnLF8ij2~1i8usY6208WPKcjdQvW6kVdZwTR85TO5GZJzomBkAMpCZFj3dMdlPLGjvQNL2UJvyQjAg5YXQSgfFWuIWEdROoGM1QSwiGvAFrpjPOFrMQMZcTQCTlduLWo3brYrCk7JtSGVFx0WE-.jpg
//media.inmobalia.com/imgV1/B8vEv5Xh8DZJ8zA8HsKlVQQovHvPS2nS1REiasNjjf37J7WfKOkiQxSIhRrnU2OBFkknCXNFUkYS7Hh9o9IZ_QJ9eIkyovF~1eItdSgQ5lmcPaQbclba66CHUVcJ4FKdokPIPdVSGUg7wZ~6BVqQF90K8ZMzM4UseQFFWvjB3gewfIYw73A1IXkN0hgqJuHHo9nHUlib1exk6GjqWrs0qtOHgzE1IIDOBNKdO9DnNauXnwIOBK1NuG9oaI2MPRJdyoduZPKD8sAUrpsqA7xAH37i8MU9ScSDuKSPgSydxlZV35Lf1swJo02iNgfLdpi~I2E-.jpg
//media.inmobalia.com/imgV1/B8vEv5Xh8DZJ8zA8HsKlVQQovHvPS2nS1REiasNjjf37J7WfKOkiQxSIhRrnU2OBFkknCXNFUkYS7Hh9o9IZ_QJ9eIkyovF~1eItdX4KBKhRee1OQjuaQ33MoIoaOZJYcyEyN8b4ng6~LeEp_2m44ONFzwN8j2aL4iTOfwKFr2~EOXYeUeb_h1KlFS9T8l7I1X8GVfti2FHS~A_aMu7DnYEmE9sS1zIIxWiO6loKF1MxULR0X2yzYuPe4PpQVCoXti4H_KAe~zSxeJwD0_Bg3Wh_Jk6JyVgfKdzoIKUxESQ1IO~DfDz~6FYKrZ2XjZFejis-.jpg
//media.inmobalia.com/imgV1/B8vEv5Xh8DZJ8zA8HsKlVQQovHvPS2nS1REiasNjjf37J7WfKOkiQxSIhRrnU2OBFkknCXNFUkYS7Hh9o9IZ_QJ9eIkyovF~1eItdS2hyWGWKI7Wib7~d9BripbbsX6SE8ZzAxsqbNVEKEU7jorrEO8J2_DQuN5xh4Qt_9jMoETIRZY8dmILud9aVpJlCKr8yP1T3hplCGmHD12TNyjt2RlDUXS8d_pT7YXpaSPiVP__vozFBopA42OT5y67Xn66I1WAr9Cp~ODZMahFMY81NSWT_3ZYONSo1cpvkHat5ZipwYR2AdJGTcAMpH3KwySdW3M-.jpg
//media.inmobalia.com/imgV1/B8vEv5Xh8DZJ8zA8HsKlVQQovHvPS2nS1REiasNjjf37J7WfKOkiQxSIhRrnU2OBFkknCXNFUkYS7Hh9o9IZ_QJ9eIkyovF~1eItdXszuA0PoKXUZVOv9eSPQXNtyFTn1VV1jJGUwm7__lUAlH8brSL6heSkrhw7of~MgeMYbvEQwpPT8gfD7Zv0iS1Jhfk7UV8Tid07cO_a7DXjFuhyWtc_U2qCR1TEzirThgh_RfS6~1zBRYlELbqvUbd_hydS~mqi5BHxpEPoSF3BLBUsxJc4etFpl3Dn3n3ZbOFyllCqqQES4uYy_dSIFWwyd5E4b8I-.jpg
//media.inmobalia.com/imgV1/B8vEv5Xh8DZJ8zA8HsKlVQQovHvPS2nS1REiasNjjf37J7WfKOkiQxSIhRrnU2OBFkknCXNFUkYS7Hh9o9IZ_QJ9eIkyovF~1eItdS2nqOB2TEpsdRntWufV~FLKrDHlh3XY8Yxg1vnKKbCcx5JkbcQ7oXess1UN8WINKQGtn0RfTRzw23UDuYaPQwYk92Bk4uInz1~sIKRcKq0Rhw4dtp3DxGhWxVbCVMD64L5Qu8vc8z4YSaUGCYs6NspXZ0jLXdrwagzRt0SUgONsc_gbmTWVDxo2vztzmDqE_ocL8Div1f3KJLqMA4ErNkHsOFqlfBI-.jpg
//media.inmobalia.com/imgV1/B8vEv5Xh8DZJ8zA8HsKlVQQovHvPS2nS1REiasNjjf37J7WfKOkiQxSIhRrnU2OBFkknCXNFUkYS7Hh9o9IZ_QJ9eIkyovF~1eItdS32LgV8UG1n3teI6udtryZ3bESmQkK91D_WkFtDjCa_CI_6PSv0aMURsTsjVAiGvxIY9xyHbI4C2jDb3hbs_kVOS4VCQHwYZZ2oDfREviUAd8oDAshVNJuN6GwTHG9AOHe0CkvDabp7uRNndVKsYsnVaHeGS7rBeM5uveaByr4Mvo8iwj9KFvlrE9nmN7OlmtYqWWp7LctFjqximXnyYfIPGUMnjbg-.jpg
//media.inmobalia.com/imgV1/B8vEv5Xh8DZJ8zA8HsKlVQQovHvPS2nS1REiasNjjf37J7WfKOkiQxSIhRrnU2OBFkknCXNFUkYS7Hh9o9IZ_QJ9eIkyovF~1eItdXiIRKtC5Z0sEaiTkt01FRTb93wfVU8O2B42YBfFcN4T4SBEUP1Nvt9ronwLeez1fRN7H0Hu3waXslxOFlCiYLUsFh6eYY1ieWiVwxIoCFF5ebP~auDr3uoBoBez7QWddyQ8aMqYFi84Thf6XQyWqndwqVDn8vV3hrm1JFLbvC0ELWeMzNnfAWxx4CJAe5GAddFP00XwW4C1h1AFGtqK1LIJrZo6Ydg-.jpg
//media.inmobalia.com/imgV1/B8vEv5Xh8DZJ8zA8HsKlVQQovHvPS2nS1REiasNjjf37J7WfKOkiQxSIhRrnU2OBFkknCXNFUkYS7Hh9o9IZ_QJ9eIkyovF~1eItdXqerXt0KU2UDIEoPitfc44YVZhS16UuUuloOPbhAruF4PfEiUlyspQ5gjZhVGYCmV_YMSQVDYFvi9rSk7I9rq9EsUDKyJXVJsCSP6NhephtETWziK2PFcedNU1n2GU2KKt18FMrrnrbDoSKXG3kQ_aCFpJFPsF2dN~4mMtK1HQ5bt8CMDz4eQhDk3KWqKhoBtX7Di8_5y05XnHxG~BLofRsgysqD5E-.jpg
//media.inmobalia.com/imgV1/B8vEv5Xh8DZJ8zA8HsKlVQQovHvPS2nS1REiasNjjf37J7WfKOkiQxSIhRrnU2OBFkknCXNFUkYS7Hh9o9IZ_QJ9eIkyovF~1eItdS9MKWIBIkZ2utFFRuEaFDchSGighuaWJQUogvnqOhU6yf5tpFzhwGuMWILnluwKOFKgIBmcjk3XCZtRDgEGj69Di1OuyK4Nf~6PK6K1~Sdfmw2Cf_qkuRQpQRKiqf6XVH19U2O~bfMGAfxqIRnop8B7v~61ROC~EkRhfJsLZGb3S57z3KO3FQVHjiSuh~XeHBRTTn6KReB~I_FCLy0ViGjlH2F7_aA-.jpg
//media.inmobalia.com/imgV1/B8vEv5Xh8DZJ8zA8HsKlVQQovHvPS2nS1REiasNjjf37J7WfKOkiQxSIhRrnU2OBFkknCXNFUkYS7Hh9o9IZ_QJ9eIkyovF~1eItdXwvnefBbYCFOdPHRDYzyOFqdkMOra7H4ogOI_hmY2YsJOlxybHVaGcG6JB2dPRsXGJ1TDE_ivT4Vt~mhFtmiwCzCYORIv3t6slD1O51aZ5GB0kTTnqOD8MbOVMp0GG~wFsMrxsQtvZ65wZvIa_wKigV1G1~FObf~u0bLtVH9k4bflfHLGFQncikQ2Ci7yY~A8uh9JBxYO3Ul~PdHnxCkdGuBAoR32s-.jpg
//media.inmobalia.com/imgV1/B8vEv5Xh8DZJ8zA8HsKlVQQovHvPS2nS1REiasNjjf37J7WfKOkiQxSIhRrnU2OBFkknCXNFUkYS7Hh9o9IZ_QJ9eIkyovF~1eItdX5dy1dOVltGSE29d8Q6Ng8lKssetD1E4cNzWveZEIidYLmENk72I6oWD1lTa8HMzbmspst4gmHOBXNcFVPtqzWIN5uQhLM5Vl~LatHHSe_xJzhkrqvnXChUWrzz0I6KO4YHs75aBXH3dhOYOYQbRc2CtpmstszMzqjLzrZU3qYiZXa67YBK4y0xWQBQDBgR0sPGSG5AvHP5MOCtLqV2AZWmuoFbXX8-.jpg
//media.inmobalia.com/imgV1/B8vEv5Xh8DZJ8zA8HsKlVQQovHvPS2nS1REiasNjjf37J7WfKOkiQxSIhRrnU2OBFkknCXNFUkYS7Hh9o9IZ_QJ9eIkyovF~1eItdXjfVja0okhMJ0mnQn3co30UB~CgAqb6bwny6py7GK8QFiW6BBc4SHFlEn8Ct_bXFLiyvs34iuKgmkEkCXWvigjcuKbH93DXVSs1B~zaN4x_08W3uGkICr1~NPQ3uPL3KELN2AP4wIsUCC9Sw03eyb7WZGooM4tQ5VGBA4T3KfiTDpookqK59RclhibGYA~ju~5KLTx5lfzPr51k1thiCq~o0tIx0UQ-.jpg
//media.inmobalia.com/imgV1/B8vEv5Xh8DZJ8zA8HsKlVQQovHvPS2nS1REiasNjjf37J7WfKOkiQxSIhRrnU2OBFkknCXNFUkYS7Hh9o9IZ_QJ9eIkyovF~1eItdXqTW5f1a0JcZnAuzwl5Ik2cP4BRG18GGf7Z9Gpx~1TbkoplqZT33CzthqTmfdh_rti6dE65gYGyUUdmeF~EKFPcOXT6wkBSZSICXuH0O~wrdXt4046yJQYSV2CePSy0_cueeNZi2CPFco4ccLdiq9daE7fw1STQ4tADAgVf57NyoGxsrWZzabn_~RinsK8_l7lzppLLLrQfJSYfj3GZTYLlk88wXtk-.jpg
//media.inmobalia.com/imgV1/B8vEv5Xh8DZJ8zA8HsKlVQQovHvPS2nS1REiasNjjf37J7WfKOkiQxSIhRrnU2OBFkknCXNFUkYS7Hh9o9IZ_QJ9eIkyovF~1eItdX5akTJM9CtH82cP_7ElHhsOPku7fvWEi6D4S4oAFJFlWFA1kTR_qJm0dGIh3mRRNWuzOBmPvkzK5NOWZ0zcqAKYWGiBUkoXX6nYsxeGPsgG3oGD3yNxUk65rKAy1DMgzQqKt1bJwV16P79NNOJgd~UMR_H9mg4mL70H8WLd0Ml1oRugfgE2pwmwJPIMAg7Y_e5~zcb6wb9KgtJoNY5ohDOQAUo2gvw-.jpg
//media.inmobalia.com/imgV1/B8vEv5Xh8DZJ8zA8HsKlVQQovHvPS2nS1REiasNjjf37J7WfKOkiQxSIhRrnU2OBFkknCXNFUkYS7Hh9o9IZ_QJ9eIkyovF~1eItdXwuEyBa58JHrpQEp9Fj4mpIeti5D5BNtIdPRpZRzRmVYxDi793Biuu9d4N01C6lnGS9Uc7NGU1JvsP3vn40yTK8uBZ3BIHvNDxVYRzl8kdHkvSn~HDzASVymzReXAQxu6RIC_2WSIrRobyPiCqetiVKUF6W5~UVtcvPE9YHaK35SPWao0tuRgSSHFILas6RcglBQp8Z6GobuGA~SKDCCT_T8yCXUYA-.jpg
//media.inmobalia.com/imgV1/B8vEv5Xh8DZJ8zA8HsKlVQQovHvPS2nS1REiasNjjf37J7WfKOkiQxSIhRrnU2OBFkknCXNFUkYS7Hh9o9IZ_QJ9eIkyovF~1eItdX0mvfNZLMgXMaic61Khy3HLSvFAZFgd9lsY16DlFyjUq8WIWc6KatUryXq4ZTibfC0szDh~giMVx6sRhZqz4jHFVXfmCTajIaPHjNdnrpDAULQ4M5MfaFNkB1qLOMy~JWV~KyeCCQWbFUUtwwB4GONpn6eP28tCaTVEPXNkdyIp5ba0zsvYNuP15CmNo1wdVbACUU~iIasQAV5m45~lzT6ptBuB70I-.jpg
//media.inmobalia.com/imgV1/B8vEv5Xh8DZJ8zA8HsKlVQQovHvPS2nS1REiasNjjf37J7WfKOkiQxSIhRrnU2OBFkknCXNFUkYS7Hh9o9IZ_QJ9eIkyovF~1eItdS364PVKuwPzNcvhl54Ap78Mz5CwupdZW4cSrl6S6oY6tj44DmF6Y4brAEIpAqXxlEkpXpub5qaS3yhjEGwDT76B7zRZNeTqs6C~~qkWvxKbJb8HKZ0vT60lZ9U7LRA1xcP65Yz3vw6CI4UVH0V5wpgWn3ecUgdWSxvTV9gPxdIdmPj~bt1u4dT7NtxtG_h4lcuyOIa45JrcuZnh125ckeuyV9_CYeE-.jpg
//media.inmobalia.com/imgV1/B8vEv5Xh8DZJ8zA8HsKlVQQovHvPS2nS1REiasNjjf37J7WfKOkiQxSIhRrnU2OBFkknCXNFUkYS7Hh9o9IZ_QJ9eIkyovF~1eItdSlpwNCRR2dUuA5rTfRS3y713GctuUbiNOR_PRMK0g29maEK5yMaAljM5jSme01IL2HU6EY5bOroJrxiw8nXRd9t4p73J3aJIbMR1fPJHhtc8I_lYVTQLPn7OSUbpyuNQI2eW7szfimc2naFVaKva~zczIT7~DC4LF0agptzp_NMZwRaby_StB098N7YQgHYwXkeJe4clTSYbpSRzKFJtAvx9dvlWko-.jpg
//media.inmobalia.com/imgV1/B8vEv5Xh8DZJ8zA8HsKlVQQovHvPS2nS1REiasNjjf37J7WfKOkiQxSIhRrnU2OBFkknCXNFUkYS7Hh9o9IZ_QJ9eIkyovF~1eItdS8fPgBBN2~Fm29iF8_bAarrXEj7VrlpPMhOgewkXlPH8Nal9_LCPNzbGy2lTQXgRTm4LLALCYGMB45lhfNB5UJZI0~IeC0S3JKA4i3AdlErFELDlhAFLQu0ufftbbekoallmqwL3t0r_TV1Nz483OL2_DBYejzvtsjuwHFuhdBP2x3cBnzekMsN1sgoBgt7MsV98hLMZ12Am3z~gZTOva7dGqCnXjc-.jpg
//media.inmobalia.com/imgV1/B8vEv5Xh8DZJ8zA8HsKlVQQovHvPS2nS1REiasNjjf37J7WfKOkiQxSIhRrnU2OBFkknCXNFUkYS7Hh9o9IZ_QJ9eIkyovF~1eItdS5Ye8~eq04QeW8GMCENxt6q14SPYFG5Y74TnKSysEbX5bgko772rPcpn8nbXhfDB3ZU~vnbKC9JC4Bj1_C4v46iAgI5Bo4atSup6ccqHAxSjbIYE1kfwqXma_e3H0muLsKxE6YO5VZKw~~O33swDqNifT4zgI8En4HQuQjRhwgcMLZeYHIX5N~igSYIsgrCpOwL3C7TRa90~2rL~CUT04XrG~2OgOU-.jpg
//media.inmobalia.com/imgV1/B8vEv5Xh8DZJ8zA8HsKlVQQovHvPS2nS1REiasNjjf37J7WfKOkiQxSIhRrnU2OBFkknCXNFUkYS7Hh9o9IZ_QJ9eIkyovF~1eItdXx8SOUSSRUjwyKsZVhoWBB~ZYpNVADhrTq2QkSA~2dbp7uDcAVWjQk~Hw8~dNjBJTazdIFv_fcLZIMOJ_SUraqg8A8m6lYwyhcu9omR1SXH2HODRWzTgmeIZYAY1y2wi0aAfMxReiyXPG6~3VEGhz3TS~BMXt7KuMSulQgpqr5xqmWvnCl61SGFMIPeM9QoP0ATrLaS0U4p97b6uAiTcKnr8PB4QPE-.jpg
//media.inmobalia.com/imgV1/B8vEv5Xh8DZJ8zA8HsKlVQQovHvPS2nS1REiasNjjf37J7WfKOkiQxSIhRrnU2OBFkknCXNFUkYS7Hh9o9IZ_QJ9eIkyovF~1eItdSk8nw_tuHwsPNR4WOQzsx7PPX22UIA~bAXSjVEHtMMnK8kKEyquHQ30Bxrt~qm3joRkyQUt9PqvX4xi4nWLe39514rPnAdFTLVhPVRmLYsfHd3f1ZixY1AYwUlEMcxke9Fgl2hKhZ~ucSYFNNYbiOgyQW9OqdI_GLGA~euK_lEeUwPPxAw3l1OvwZJ71T6fNYilCN18Ecv6oauQU~Nl618SLEeeby8-.jpg
//media.inmobalia.com/imgV1/B8vEv5Xh8DZJ8zA8HsKlVQQovHvPS2nS1REiasNjjf37J7WfKOkiQxSIhRrnU2OBFkknCXNFUkYS7Hh9o9IZ_QJ9eIkyovF~1eItdXMStJq3rQBg3YXlX9_kd09A4ExBz3kHHIUrSiTa6fmGXKEEEqdFc1GfWC4bKZPNBN~VH1ZQnGVyIhTXN4B7YqY8pYwrA6nX6xm1aRd0cVrhDDA0zzRU0xxF2VU2dQ63sltGzDrV2SFkBl3zua4JgwQgE5ey4zOji_CpWdPXUa8YrLZqvMgVOSN94qfhCPW8vTRZ8ccExLBVzUh_GFEgAfFf4UACrg8-.jpg
//media.inmobalia.com/imgV1/B8vEv5Xh8DZJ8zA8HsKlVQQovHvPS2nS1REiasNjjf37J7WfKOkiQxSIhRrnU2OBFkknCXNFUkYS7Hh9o9IZ_QJ9eIkyovF~1eItdXtiDT~jAS~qLb5_4kNugVCJLUD1B1HcCIpDXkQtno7rDzT1kKO_eGo8_GkYhBNgsRp0ZcNHGPqooP5AsnDLNK_GGQXpnXY8_Ggj9gC6SxCVWcph_grYSOu7E2IQd_wT2ED1l1GBviOBGFXRwHSoKRVufp4FMbslB6mtWJML~anw60x5n34OT9aPo3Hw9~vAW58MhRulnG~Dnbr3zj5m3b4n~LGcnrA-.jpg
//media.inmobalia.com/imgV1/B8vEv5Xh8DZJ8zA8HsKlVQQovHvPS2nS1REiasNjjf37J7WfKOkiQxSIhRrnU2OBFkknCXNFUkYS7Hh9o9IZ_QJ9eIkyovF~1eItdX4M6QIkV~kSINFXqIRicps9_VKy_M6gzU1D~IUjCHvzF5dhNKPsnhkgnG5ccj4pbZMwMlqzCKHUquIPUszE6LfKILWJ50ciKyPZu~Z~pdaaPGvmyGQXjAcqxNwQ16BVkSLRn3kp3Y5jxaDAGacwVGSeoawOp2V77540t87NGgn7TBUqcgkHoGn~AvSUA6KDrcB6VqFXRBThr9djwwQTiRlvB_wQRcw-.jpg
//media.inmobalia.com/imgV1/B8vEv5Xh8DZJ8zA8HsKlVQQovHvPS2nS1REiasNjjf37J7WfKOkiQxSIhRrnU2OBFkknCXNFUkYS7Hh9o9IZ_QJ9eIkyovF~1eItdXtj_6iq7Z8waVK3K6Ms832TTPAvzrD1LkpN_C3TUYLPl3_pAdAImW~rKDhaN0bQfWViglxI~EVwOenS8rWcrVhMgN85wahGB3q115dlI_8CLiVhV~lTURZX2zyURUdP2WudKrrCd2REfRX0m05c7xh5joA7_aH089KUgyiNaTZSJ~dYrmmlug7lKyjrv3EUO1IudvrxwJwcSN4QaZdYo2C9oBUovh8-.jpg
//media.inmobalia.com/imgV1/B8vEv5Xh8DZJ8zA8HsKlVQQovHvPS2nS1REiasNjjf37J7WfKOkiQxSIhRrnU2OBFkknCXNFUkYS7Hh9o9IZ_QJ9eIkyovF~1eItdS5bKxc_Ivj8yh5tFohoNDN4O3CZpO1BAjAI0q0YE~vwAjnXDTJtOBex6qT4sgfKEx1seETqCm37VbkjHjV7_pMPXeNyHSuL6~MS_HFSoEcz9MrRHwCXggN7QLYE4EaL4xB~XQwumCjpcOtUi_8mUpvjI2gZ65Vixh2EsM8udMv2kQWXvjGCBBxT0aFBwXOvNwVbL8OYfXji8sYzWyNewUUlwq3Ww0g-.jpg
//media.inmobalia.com/imgV1/B8vEv5Xh8DZJ8zA8HsKlVQQovHvPS2nS1REiasNjjf37J7WfKOkiQxSIhRrnU2OBFkknCXNFUkYS7Hh9o9IZ_QJ9eIkyovF~1eItdXqf9lH2RxwHqLQYJzhaBN84xHQ2UfQXA4GBKLAzstSwZHPFt7abR_1AKROpL9oFd5Xiv2t_goNTj~cwSeK27xE~4~mtglwk74to8RgfM1FY4MsOlJ5D01preqJxPbGN4M46SDSIWT1fRWXaemgyCB2vmgeWVQ6JtxKF0SQbae7chYXoq2lTXvQ00VOVeKoIirUD4CYAfOPVgxAyEILsqYjZI0Xwl3I-.jpg
//media.inmobalia.com/imgV1/B8vEv5Xh8DZJ8zA8HsKlVQQovHvPS2nS1REiasNjjf37J7WfKOkiQxSIhRrnU2OBFkknCXNFUkYS7Hh9o9IZ_QJ9eIkyovF~1eItdX8vVWza1eNH94ljwPJwFIbPTqyjRdTmJKa6IogkVhyXeePV~QvBIVy6H4xeY084VRMORQnXL6LuRlPiK37MHjOIpyKTAqJhRIZ~~mBfhLkYQR10~wnGRJtp_D_xL_m4bxNIBamhqllIsu5M0o2NEyEcyuQsXSdscvUN0~~Cn5dZtK9_AH1VWo7P8iK4swfNc8m_CuyjmNc6NyI2etwU9aw0e7xcHTQ-.jpg
//media.inmobalia.com/imgV1/B8vEv5Xh8DZJ8zA8HsKlVQQovHvPS2nS1REiasNjjf37J7WfKOkiQxSIhRrnU2OBFkknCXNFUkYS7Hh9o9IZ_QJ9eIkyovF~1eItdXJw~V8zhv~unIfFhDxxOqYp4Z~8kHOT_9~5uPiZFyvAYoUMyHzI31dAQGN45YBkPAjml1slUBi38jY9u5GqNmd07foFUOIvdGvYffwalQDH5ZDvF05oW2~ZVh7OaRh_97xbGhUzjk_rBCasUxhBX2mLFuum0K85pDicjg1pOeA3ya7EM03bZHQ_i0jx1Ba0XlpWQu9tIKHZEK3r5K6FyQeQBqx2Zb8-.jpg
Price

265.000 €

Ref.

4821

bedrooms

3

bathrooms

2

Built

154 m²
Penthouse in Calahonda, Mijas Costa
Penthouse for sale in Calahonda, Mijas Costa, with panoramic sea views, with 3 bedrooms, 2 bathrooms, 1 on suite bathroom and with orientation south, three communal swimming pools, communal parking and large communal garden. Regarding property dimensions, it has 154 m² built, 125 m² interior and 29 m² terrace. Has the following facilities heating, excellent condition, fully fitted kitchen, fully furnished, fitted wardrobes, fireplace, internet – wifi, glass doors, marble floors, covered terrace, private terrace, dining room, laundry room, living room, gated community, mountain view, pool view, country view, garden view, sea view, panoramic view, close to golf, close to children playground, mountainside, amenities near and close to shops. Sports club – Club del Sol (tennis, paddle,squash, gym) and 9-hole golf course near by. Marina Puerto cabopino and beach 5 minutes drive away.
Features
Fully fitted kitchen
Close to shops
Fireplace
Marble floors
Dining room
Mountainside
Private terrace
Living room
Amenities near
Sea view
Country view
Mountain view
Laundry room
Internet - Wifi
Covered terrace
Fitted wardrobes
Gated community
Garden view
Pool view
Panoramic view
Central heating
Close to children playground
Close to Golf
Glass Doors
Fully furnished
Excellent condition
Similar Properties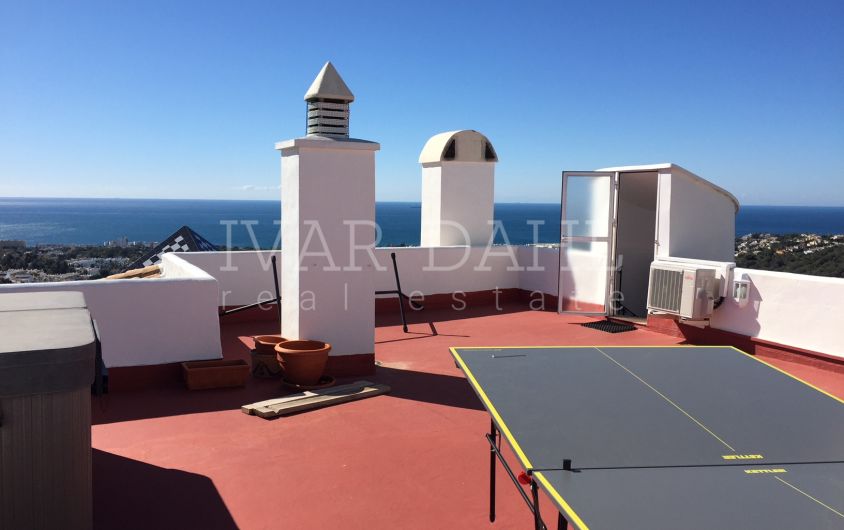 Penthouse in Urb. Sitio de Calahonda, Mijas-Costa. Corner Penthouse with fantastic views to Sea, Africa, Gibraltar and the mountains. This luminous apartment consists of a large living/dining room with ...
3

bedrooms

2

bathrooms

106m²

built

95m²

terrace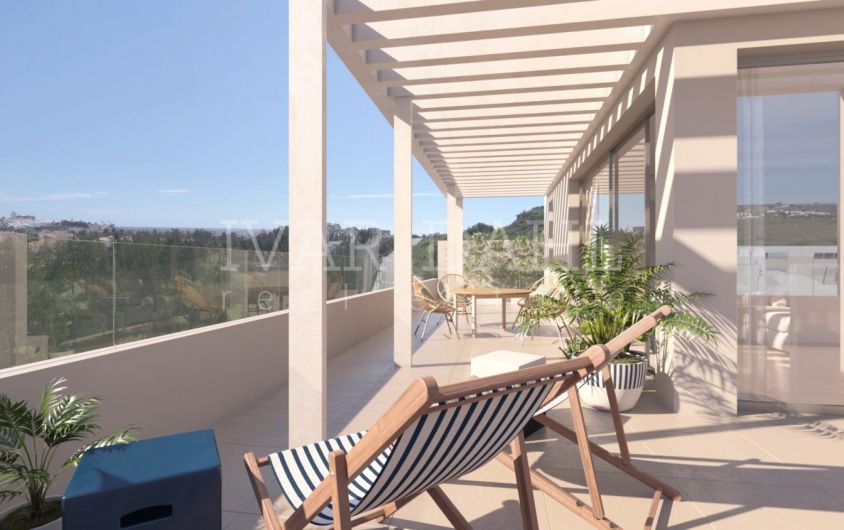 New residential complex situated in La Cala de Mijas, within few minutes walk of the beach and with views towards Golf course. 48 new apartments within an already consolidated gated golf complex. Excellent ...
3

bedrooms

2

bathrooms

196m²

built

56m²

terrace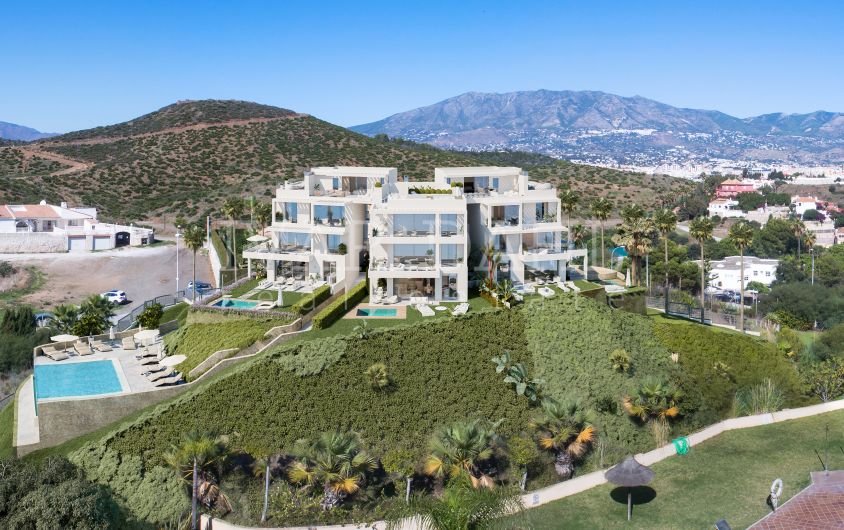 New modern apartments and Penthouses with sea views in Mijas-Costa, Malaga. Views and Privacy. Sea and coastal views. Duplex Penthouse, jacuzzi in the solarium with panoramic views of the Coast of Fuengirola ...
3

bedrooms

2

bathrooms

201m²

built

74m²

terrace