Gran Bahia, beach side apartment with sea views in Bahia de Marbella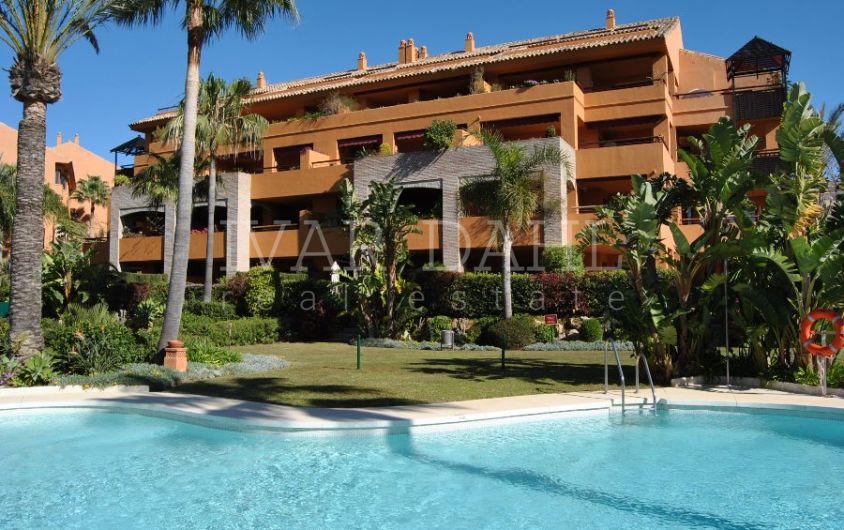 //media.inmobalia.com/imgV1/B8vEv5Xh8DZJ8zA8HsKlVQQovHvPS2nS1REiasNjjf37J7WfKOkiQxSIhRrnU2OBFkknCXNFUkYS7Hh9o9IZ_QJ9eIkyovD01bF4OYcTmgSKVCyiD2cpR_~6KVyaothQTV3f4IEOO1N9QPWfJo5wOtD~FeLRZq09tNDe1zWeW8~qiuMka7KwVJ8IeFSsay0MVEUW7Y~FlA_joEjOp4c~Cdw~1_v3ORKi0cXzQOdM_C4C1NlpgA3eDsGSKEdsm1~H4oviPKbqIYnaIJfeFw4Go0fnaucOqm0En13raKnp.jpg
//media.inmobalia.com/imgV1/B8vEv5Xh8DZJ8zA8HsKlVQQovHvPS2nS1REiasNjjf37J7WfKOkiQxSIhRrnU2OBFkknCXNFUkYS7Hh9o9IZ_QJ9eIkyovD01bF4OYcTmgSKVCyiD2cpR_~6KVtIxJX57tAq84ICJYY70DcZJY4RlL2MLamVEFpTppXgjzgM3g88dnVufR9pkBeXYQyBfYbMj_gd6x1J3VzYh7vwhHslbHvst~vBLhyJiqFQ6AfggdkaDSp3bm4XjsHjbB1htHEFFZlt5gONHFkxYmNgxj0vAv5dQjPoiCjMTLdWNOp~.jpg
//media.inmobalia.com/imgV1/B8vEv5Xh8DZJ8zA8HsKlVQQovHvPS2nS1REiasNjjf37J7WfKOkiQxSIhRrnU2OBFkknCXNFUkYS7Hh9o9IZ_QJ9eIkyovD01bF4OYcTmgSKVCyiD2cpR_~6Ly_Bd__sxOBRy8e9l~BaHKo_zHDPN_wo93V0enpD6jhibTXOPlLDj1ayQ5ae2brH882munqquOJeHO6iFRltTNzasyvSO~PEntrXDGNjHErujikDGZmMjU3MK1ChqUaryNE5QkKk_Aur1Ug04La2dvRd96KSGasPK9XjT8x27_JqRENL.jpg
//media.inmobalia.com/imgV1/B8vEv5Xh8DZJ8zA8HsKlVQQovHvPS2nS1REiasNjjf37J7WfKOkiQxSIhRrnU2OBFkknCXNFUkYS7Hh9o9IZ_QJ9eIkyovD01bF4OYcTmgSKVCyiD2cpR_~6LNiJJkxZE_ZULN9R3V75_Byoeb7PA6a1~p0r7zdgdxtwJNmibW9IAQCBiPp_Boxk5Z3MYHQ5MjMwy8rw_g4XUf66ceZphyG8hpcCuliSy79HJHf11mgmhGlgTabm6GsPkBknJyWQFnRrKFxdAUgxQGhkHTKWVa0wpe1xu9McOZneN4wF.jpg
//media.inmobalia.com/imgV1/B8vEv5Xh8DZJ8zA8HsKlVQQovHvPS2nS1REiasNjjf37J7WfKOkiQxSIhRrnU2OBFkknCXNFUkYS7Hh9o9IZ_QJ9eIkyovD01bF4OYcTmgSKVCyiD2cpR_~6KIHiYfNpY~uBkVVC~H~Iv6pnsRelGkgXJDSGOlQc0uKv9BTlTuQ7WtvoARpQXv54KaeESvCD1S~_UYQ8~xxf_pbQnYX1wt4ZxpOC01EsXTSDb4CE4jdtDMy_IR~rB8olhKNqNzCB9CPLqAFn1ZpuYMHfLurHfbgD0TiO3b4PMydHbYRB.jpg
//media.inmobalia.com/imgV1/B8vEv5Xh8DZJ8zA8HsKlVQQovHvPS2nS1REiasNjjf37J7WfKOkiQxSIhRrnU2OBFkknCXNFUkYS7Hh9o9IZ_QJ9eIkyovD01bF4OYcTmgSKVCyiD2cpR_~6LNRiswNE8noO6SxFJzXacME3oYPT9lHm0frYm99mz81rxd2J6fwwrVHasPyv6mNoNpdg0hwM92qnQOBZTBA2uzBR~31sXae21PCRxXKoKFV0EGIqt7lSPZNobvIGAFDpxLyEz4Qxm9A5ndI5WtBZhBp9A_rkTjC9frhzZCO873W~rjv9.jpg
//media.inmobalia.com/imgV1/B8vEv5Xh8DZJ8zA8HsKlVQQovHvPS2nS1REiasNjjf37J7WfKOkiQxSIhRrnU2OBFkknCXNFUkYS7Hh9o9IZ_QJ9eIkyovD01bF4OYcTmgSKVCyiD2cpR_~6KjH5iMXN0QVgeJ60QY1_AM0HtmN~i2UZr0uPTEch82gseFNQNUtmX4vjZsvfRp2Pnyup7~f~yXbrYtqnYsRjSmmHFUMbipQ3vkZ9nLWOqPcoqnK59tqqjEJwBZe1CpL0lBQBamF8cLjHTXMC6B0XBecw8H8Nd8Rzd0Xgl51IUZR8vy73.jpg
//media.inmobalia.com/imgV1/B8vEv5Xh8DZJ8zA8HsKlVQQovHvPS2nS1REiasNjjf37J7WfKOkiQxSIhRrnU2OBFkknCXNFUkYS7Hh9o9IZ_QJ9eIkyovD01bF4OYcTmgSKVCyiD2cpR_~6Lyhaz602FD2SMlV0DfB9RtBtylBi8TWQhBl7xKPr~xhobu417_UnfOIzDmhGpPSjogI8nfZyyuY5j63JOvJgryBcfV68oPQrO4J9zYxq2DR3Zz18q0rjYC5UvEzyvzy5D20QExBvOi3TAJVyMWsIutrm6~Tjlra4AR4neSqEki4v439G.jpg
//media.inmobalia.com/imgV1/B8vEv5Xh8DZJ8zA8HsKlVQQovHvPS2nS1REiasNjjf37J7WfKOkiQxSIhRrnU2OBFkknCXNFUkYS7Hh9o9IZ_QJ9eIkyovD01bF4OYcTmgSKVCyiD2cpR_~6LyUHCIXcft0WHzU3Pube81EuEaYR06D_sLZf0IPJWR6SMjkgxku1Rz48AMVHu0nd~NE9G9GjtqUygD4lqROzQX9g_4xxkF0VzbcK8R2oxzRm6eukeauKtOGXA52Dkhj8yt9eEsWOCTy_GXA52C~XDme_WWkKywHpiNeNvQsRm59rQax7.jpg
//media.inmobalia.com/imgV1/B8vEv5Xh8DZJ8zA8HsKlVQQovHvPS2nS1REiasNjjf37J7WfKOkiQxSIhRrnU2OBFkknCXNFUkYS7Hh9o9IZ_QJ9eIkyovD01bF4OYcTmgSKVCyiD2cpR_~6LNy3EbMDZeuRONiH9NpBMRrWpzmFSUy7SJfmD9u0QtPbVLGWiEuPtdxh_J51tcY~v69izzScCmcXziapDQ1s6vLUupkPTBCvcNRXwl9101DOKTnXOjouW69Ngz_wSqlIDXhKPqRsHRBeo7jbL2kjUBuRrbigLT3YwIlTdNlKOaT~guBl.jpg
//media.inmobalia.com/imgV1/B8vEv5Xh8DZJ8zA8HsKlVQQovHvPS2nS1REiasNjjf37J7WfKOkiQxSIhRrnU2OBFkknCXNFUkYS7Hh9o9IZ_QJ9eIkyovD01bF4OYcTmgSKVCyiD2cpR_~6LNU36bHBzgrUwtYlsoxv91tA3hd4Xp_hsn44EK1PBUK3yQUPzveHZOtny~A5pfFpSjXUCVQgmMnuEd3V6HBkO1KJHeoudsxj0c~3iAUxykU13KcCM3tmXFbYkEYMq6amNLh_eiG9Z1YnSKRTNV9jQ0ieiFcHOAjGl~8CXhkadqY8vUic.jpg
//media.inmobalia.com/imgV1/B8vEv5Xh8DZJ8zA8HsKlVQQovHvPS2nS1REiasNjjf37J7WfKOkiQxSIhRrnU2OBFkknCXNFUkYS7Hh9o9IZ_QJ9eIkyovD01bF4OYcTmgSKVCyiD2cpR_~6LZeSO90H_rOa~w7YiNMlr~0FN7DYos0xlo4PdHK1UPms1QJ77Z30NNIdaKnj8~QvO_CRR4rIeLiXRsAp15V6ReNaAShDhvwEYW1Wht3mLh5KBQ1tarApDFTen7Y7oZi~gjUCv1vCtg9i2giXXztfnVUHw8Bpgz3yctUFJtvEf3fJfRSi.jpg
//media.inmobalia.com/imgV1/B8vEv5Xh8DZJ8zA8HsKlVQQovHvPS2nS1REiasNjjf37J7WfKOkiQxSIhRrnU2OBFkknCXNFUkYS7Hh9o9IZ_QJ9eIkyovD01bF4OYcTmgSKVCyiD2cpR_~6LZXcpbfCAP7qHx7vn1IiDsGtHZHkxOClAv5cHCCcGLbsEH1b2V42fvW9Pyfbp49QYbKxxqI2IGD8az0Yv95yXbIHt6AnSrCr3UtMo~UG226UFvlRJsDmKHBbtn0WV8lYhSJCBNnJPP7I2GRv5G32DvQx6OGhGWW_qPawaLfCSVUMdbgu.jpg
//media.inmobalia.com/imgV1/B8vEv5Xh8DZJ8zA8HsKlVQQovHvPS2nS1REiasNjjf37J7WfKOkiQxSIhRrnU2OBFkknCXNFUkYS7Hh9o9IZ_QJ9eIkyovD01bF4OYcTmgSKVCyiD2cpR_~6LZqrpXboMsZNPrEWkn9i61As4YU2mqviZ65Tlot93O3yYG02RDJMYc5xR0jU6pRKa1QNxVMXuNP7nNuhYM~jDYafDaGs3QbrNqzpYFbP8x931U6wEPGMKsEtArNPNWoLSDr~Jds~u5ocoMENKiAI322VqVIu7X4dOFQ0g6UtTlpWm8aD.jpg
//media.inmobalia.com/imgV1/B8vEv5Xh8DZJ8zA8HsKlVQQovHvPS2nS1REiasNjjf37J7WfKOkiQxSIhRrnU2OBFkknCXNFUkYS7Hh9o9IZ_QJ9eIkyovD01bF4OYcTmgSKVCyiD2cpR_~6KjAlGDmIukf2FRRD2np4AAAFHqsYgxVU038M1TJmrc5KCR8m3hjAAPOi1OU93_yhVb0wl_q4VRdwLhLGXTJFxGI7UILp~bTNu6BkrMgeOD9PWOfwRJ7GzYu0BeJQgjsOMv1tbFpaLdeDYNf1jcDA0cvWQDCzy_ZC3JKxFPQY2mHmsfl4.jpg
//media.inmobalia.com/imgV1/B8vEv5Xh8DZJ8zA8HsKlVQQovHvPS2nS1REiasNjjf37J7WfKOkiQxSIhRrnU2OBFkknCXNFUkYS7Hh9o9IZ_QJ9eIkyovD01bF4OYcTmgSKVCyiD2cpR_~6KjMTOKX9XjCu1c91MCSpugxf7sAxYPGk6aOQiFYwij0VoPdgrd1wDkGMFUgeJ4VCn6vg1DZ3xyuopsxOm8lZGm66VW1TEdaREv57I2EvzR~hD4EFd7civIjBr0pZBm3QcJD8WHnKrX63ShfYE3DpoG68VMW5rJCovtavSWh2b2KG5G8U.jpg
//media.inmobalia.com/imgV1/B8vEv5Xh8DZJ8zA8HsKlVQQovHvPS2nS1REiasNjjf37J7WfKOkiQxSIhRrnU2OBFkknCXNFUkYS7Hh9o9IZ_QJ9eIkyovD01bF4OYcTmgSKVCyiD2cpR_~6KjIYySgSZ65sAqzzODfEzPC81Xw93~kvw92TQr~bWtNVgxjbjqjMyQ9I3B~gUWXfjU67lMEu3OcDgOSao433uTkYUbit34J2y2vcqX_LkgYimTV5AvKPRBzymeT17Xi27JsPMApBiCScmc8tBXRCpJqfquoPbjo1HA2TZfX9IWNfVQBx.jpg
//media.inmobalia.com/imgV1/B8vEv5Xh8DZJ8zA8HsKlVQQovHvPS2nS1REiasNjjf37J7WfKOkiQxSIhRrnU2OBFkknCXNFUkYS7Hh9o9IZ_QJ9eIkyovD01bF4OYcTmgSKVCyiD2cpR_~6KjeuZV1AE~k09ahTdA~yS4IxoYEX_DDAJ7ui9QhDU~inEDufK~I72Ak9MzvLtDCGT4XA_X0KcnnFnFTyXzAyYh~x5~Pb5OTXE85UucvWYDQoNnbylvtXKsDZcqMqW0buO0av7UCFrLcYcvD8XlbszZ_IK1lkYazDMldhLrsn9y_nchN7.jpg
//media.inmobalia.com/imgV1/B8vEv5Xh8DZJ8zA8HsKlVQQovHvPS2nS1REiasNjjf37J7WfKOkiQxSIhRrnU2OBFkknCXNFUkYS7Hh9o9IZ_QJ9eIkyovD01bF4OYcTmgSKVCyiD2cpR_~6KjkMwBOqJnN2D2iakXy6b_FBslx6wvy3IsYzXY60jhh2xTotTlFFyAzEQBR2UdYIsj5KON_vJi_YvbJQr2JGkVyMmFltAec4MsWRhqQ0kmhS4HIZnkGJ0LHuRXl4r5znPIWjfQOiAo2iOFCFQOiX7ioYW2a28H9O3FPBU7emPk3vALQr.jpg
//media.inmobalia.com/imgV1/B8vEv5Xh8DZJ8zA8HsKlVQQovHvPS2nS1REiasNjjf37J7WfKOkiQxSIhRrnU2OBFkknCXNFUkYS7Hh9o9IZ_QJ9eIkyovD01bF4OYcTmgSKVCyiD2cpR_~6K5_3fKrpMWy95lEEVvX~yrE5UvJ4dzqfA~xNnMAESAI_mGMvZEqPY1BenNY2O2odVNDzY74WaiDJUxOzRWjDK1TENoPDFWEksU~cFr2~Xbr78io0oe3oWjzhpdzwhYDYbyuJdYcY6jt1RsF7rZdm6Z1qb3KlnncypL74AFLjQaQVnAn6.jpg
//media.inmobalia.com/imgV1/B8vEv5Xh8DZJ8zA8HsKlVQQovHvPS2nS1REiasNjjf37J7WfKOkiQxSIhRrnU2OBFkknCXNFUkYS7Hh9o9IZ_QJ9eIkyovD01bF4OYcTmgSKVCyiD2cpR_~6K5gf4MCpIiCYjgqKH7~bpC~3ftsdfhY3Xwg2tIyR4jszUYzEOf5AG6YTyEn1ll0aLVbkYOp08zFqRqg6HQxy41~NvN~q1c0Iz5UFvMgSG7wm4mg6dI6kmu4t5UbTF_DeK1LHYIeIXrNVmE2PCATKBPfMIa7vzhReOt3kkSRkSEezaGQx.jpg
//media.inmobalia.com/imgV1/B8vEv5Xh8DZJ8zA8HsKlVQQovHvPS2nS1REiasNjjf37J7WfKOkiQxSIhRrnU2OBFkknCXNFUkYS7Hh9o9IZ_QJ9eIkyovD01bF4OYcTmgSKVCyiD2cpR_~6K5axpaseaoO6QU1YkPbPetYvstxsUgZ8YH5y5Y2_Y5JjRPLHPX3cI2j_l_vMJ_xfKZQfYTblA~JZVXLp52hO~IJeoXpKzK8~62e2EZGyhmLNllhA77Z4N3MMSkrWd_Ew7Y1Inj4wCkn7dk0BwKa1mw2_FITs5ejH~ZvG67B4QIMZkd9U.jpg
//media.inmobalia.com/imgV1/B8vEv5Xh8DZJ8zA8HsKlVQQovHvPS2nS1REiasNjjf37J7WfKOkiQxSIhRrnU2OBFkknCXNFUkYS7Hh9o9IZ_QJ9eIkyovD01bF4OYcTmgSKVCyiD2cpR_~6KIYNlsmf7G91M5MBCJX~BdmMUTyli7CggMsaMq29NiSZdC8eB~LWdprVXNUgxVa~owgVUDRBBGlqaIuPVp6mikSATgjTnzjvzyRpdbLAcctbC0_Z0F8dILbqwOhGSQgYilvFw2Hg7Og8PeHtid7Di18VePAbp2uo9wTqGjExF911zd8a.jpg
//media.inmobalia.com/imgV1/B8vEv5Xh8DZJ8zA8HsKlVQQovHvPS2nS1REiasNjjf37J7WfKOkiQxSIhRrnU2OBFkknCXNFUkYS7Hh9o9IZ_QJ9eIkyovD01bF4OYcTmgSKVCyiD2cpR_~6KVg4LlvkuzdaCJy7c0p3zOzpmhG2Y6GiZXZ6K9A9BxAjXLCAqL_nn13vQ~tKlQ4o9BwnQNLVMmkAf3toC4iff~WQ4ojoJFKYamNEVmswH09eNmQTV8w6NtHKfXySR2TvmiDLvjZqS_9IKlPvoe~3gzdjy5eUxY_UNtMssOUvlPeqxGiE.jpg
Price

585.000 €

Ref.

4834

bedrooms

2

bathrooms

2

Built

123 m²
Apartment in Bahia de Marbella, Marbella East
Beach side apartment with sea views in Bahia de Marbella.
This lovely 2 bedroom spacious apartment situates in the complex Gran Bahia, just a short walk to sandy beach.
This good quality apartment has a large living room with dining area with direct access to the partly covered, large terrace from where one can enjoy beautiful sea views as well views to the gardens and pool area.
The apartment consists of two bedrooms with bathrooms en-suite and 1 guest toilet. Fully fitted kitchen (oven and hob, fridge and freezer, dishwasher, washing machine) with breakfast area, air conditioning, heating through fitted low consume e-radiators, cream marble floors throughout the apartment. Furniture is optional.
There is 24 hours security service, one entrance to the complex. There are four swimming pools of which one heated (outdoors). Well maintained beautiful, tropical community garden areas. Apartment has alarm system. Lift. Underground parking space and storage room.
This property is ideal place to live permanently as a holiday home. Beautiful sandy beach, dunes, just few meters away as well as beach restaurant. Quiet, residential area.
For the golf players there's e.g. Santa Clara Golf course and golf Club in easy reach. Practice your favorite sport in the Costa del Sol, also known as Costa del Golf for having the highest concentration of golf courses of Andalusia. There are 63 golf courses in the province of Malaga alone and more than 20 of them are in Marbella where you can practice this elegant sport.
The one of the most popular shopping centers La Cañada is just few minutes away by car.
Bahia de Marbella is very sought after place to live, international atmosphere, 24 hours security at the main entrance to the area. The urbanization consists of apartment complexes, townhouses and detached houses. The "macro community" has well maintained interior roads, pavements, street lightning.
Marbella centre , Marina Puerto Banus short drive away. Los Monteros ***** Spa and Golf Resort Hotel close by as well as La Cabane beach club.
Air port approximately 40 minutes drive away.
Features
Close to town
Close to schools
Utility room
Marble floors
Alarm
Security entrance
Dining room
Security service 24h
Guest toilet
Private terrace
Living room
Sea view
Heated pool
Laundry room
Covered terrace
Electric blinds
Fitted wardrobes
Gated community
Air conditioning
Lift
Garden view
Pool view
Central heating
Close to Sea/Beach
Close to Golf
Uncovered terrace
Optional furniture
Good condition
Similar Properties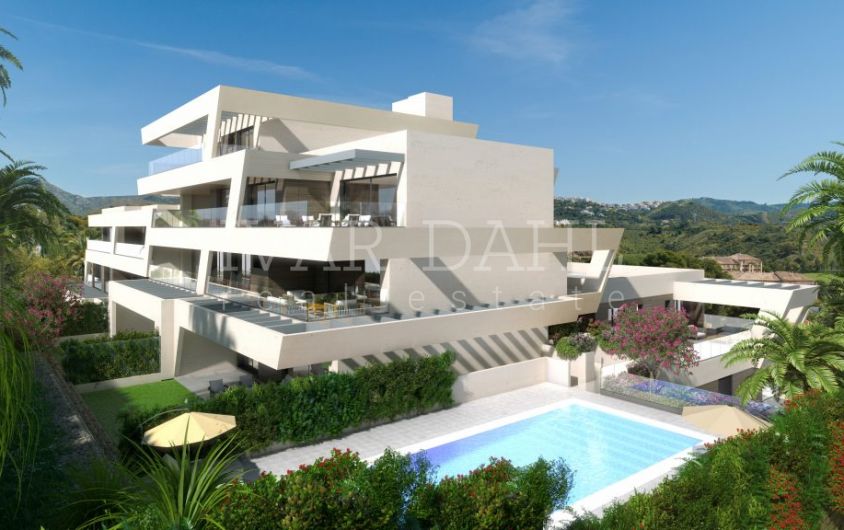 22 luxury apartments and contemporary style very close to the Golf Club.Located in the heart of the Rio Real Urbanization, well known Golf Club close by, a short distance by car from the town centre of ...
2

bedrooms

2

bathrooms

96m²

built

46m²

terrace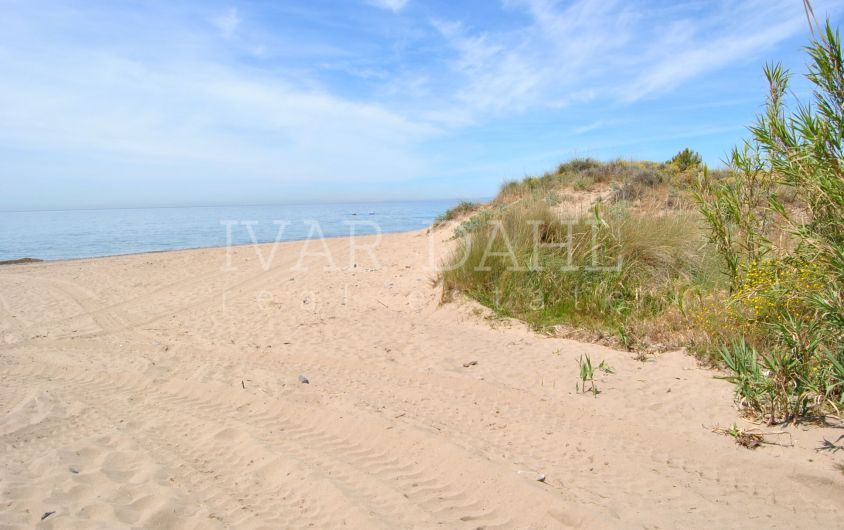 Beachside, garden apartment in Bahia de Marbella, Marbella East. Spacious 2 bedroom, 2 bathroom fully furnished apartment. Covered South facing terrace. Fitted kitchen. A/C. Marble floors.Lift. Garage. Walking ...
2

bedrooms

2

bathrooms

110m²

built

20m²

terrace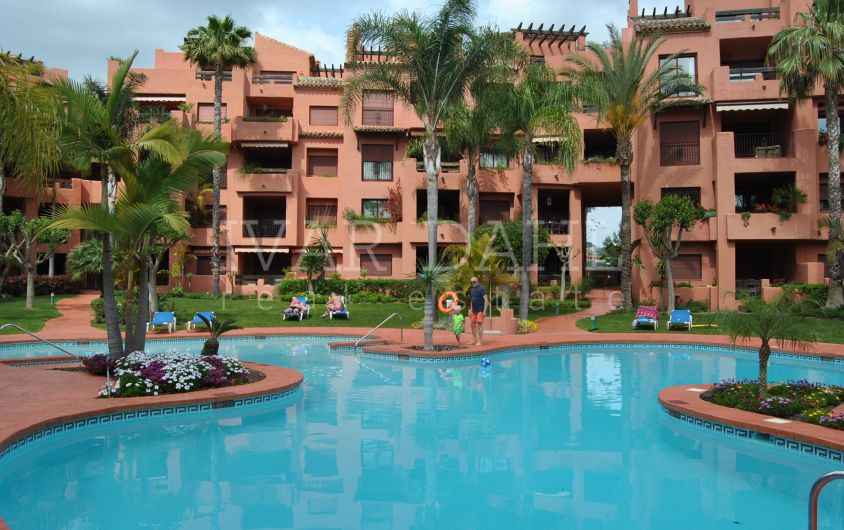 Spacious apartment in Alicate Playa, a complex located 350m from a beautiful sandy beach, 5 minutes drive from the center of Marbella. It consists of 3 bedrooms, 2 bathrooms, large living / dining room, ...
3

bedrooms

2

bathrooms

133m²

built

11m²

terrace