Gran Bahia, beach side apartment with sea views in Bahia de Marbella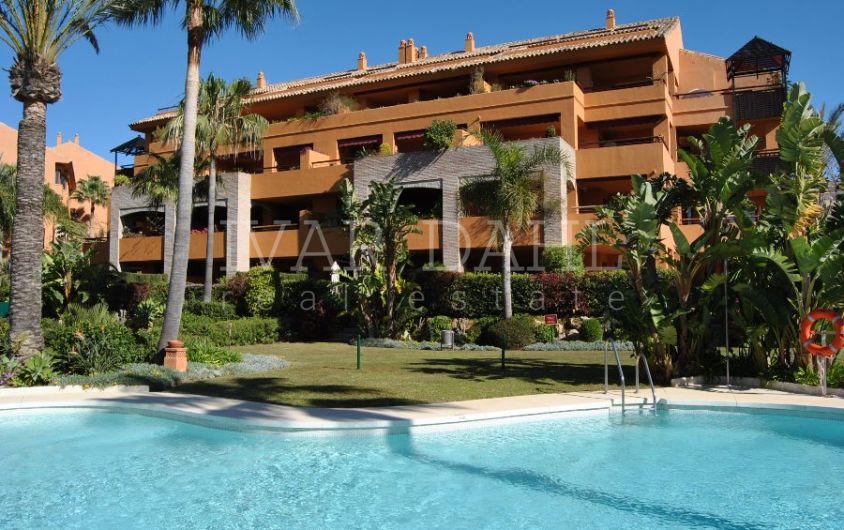 //media.inmobalia.com/imgV1/B8vEv5Xh8DZJ8zA8HsKlVQQovHvPS2nS1REiasNjjf37J7WfKOkiQxSIhRrnU2OBFkknCXNFUkYS7Hh9o9IZ_QJ9eIkyovD01bF4OYcTmgSKVCyiD2cpR_~6KVyaothQTV3f4IEOO1N9QPWfJo5wOtD~FeLRZq09tNDe1zWeW8~qiuMka7KwVJ8IeFSsay0MVEUW7Y~FlA_joEjOp4c~Cdw~1_v3ORKi0cXzQOdM_C4C1NlpgA3eDsGSKEdsm1~H4oviPKbqIYnaIJfeFw4Go0fnaucOqm0En13raKnp.jpg
//media.inmobalia.com/imgV1/B8vEv5Xh8DZJ8zA8HsKlVQQovHvPS2nS1REiasNjjf37J7WfKOkiQxSIhRrnU2OBFkknCXNFUkYS7Hh9o9IZ_QJ9eIkyovD01bF4OYcTmgSKVCyiD2cpR_~6KVtIxJX57tAq84ICJYY70DcZJY4RlL2MLamVEFpTppXgjzgM3g88dnVufR9pkBeXYQyBfYbMj_gd6x1J3VzYh7vwhHslbHvst~vBLhyJiqFQ6AfggdkaDSp3bm4XjsHjbB1htHEFFZlt5gONHFkxYmNgxj0vAv5dQjPoiCjMTLdWNOp~.jpg
//media.inmobalia.com/imgV1/B8vEv5Xh8DZJ8zA8HsKlVQQovHvPS2nS1REiasNjjf37J7WfKOkiQxSIhRrnU2OBFkknCXNFUkYS7Hh9o9IZ_QJ9eIkyovD01bF4OYcTmgSKVCyiD2cpR_~6Ly_Bd__sxOBRy8e9l~BaHKo_zHDPN_wo93V0enpD6jhibTXOPlLDj1ayQ5ae2brH882munqquOJeHO6iFRltTNzasyvSO~PEntrXDGNjHErujikDGZmMjU3MK1ChqUaryNE5QkKk_Aur1Ug04La2dvRd96KSGasPK9XjT8x27_JqRENL.jpg
//media.inmobalia.com/imgV1/B8vEv5Xh8DZJ8zA8HsKlVQQovHvPS2nS1REiasNjjf37J7WfKOkiQxSIhRrnU2OBFkknCXNFUkYS7Hh9o9IZ_QJ9eIkyovD01bF4OYcTmgSKVCyiD2cpR_~6LNiJJkxZE_ZULN9R3V75_Byoeb7PA6a1~p0r7zdgdxtwJNmibW9IAQCBiPp_Boxk5Z3MYHQ5MjMwy8rw_g4XUf66ceZphyG8hpcCuliSy79HJHf11mgmhGlgTabm6GsPkBknJyWQFnRrKFxdAUgxQGhkHTKWVa0wpe1xu9McOZneN4wF.jpg
//media.inmobalia.com/imgV1/B8vEv5Xh8DZJ8zA8HsKlVQQovHvPS2nS1REiasNjjf37J7WfKOkiQxSIhRrnU2OBFkknCXNFUkYS7Hh9o9IZ_QJ9eIkyovD01bF4OYcTmgSKVCyiD2cpR_~6KIHiYfNpY~uBkVVC~H~Iv6pnsRelGkgXJDSGOlQc0uKv9BTlTuQ7WtvoARpQXv54KaeESvCD1S~_UYQ8~xxf_pbQnYX1wt4ZxpOC01EsXTSDb4CE4jdtDMy_IR~rB8olhKNqNzCB9CPLqAFn1ZpuYMHfLurHfbgD0TiO3b4PMydHbYRB.jpg
//media.inmobalia.com/imgV1/B8vEv5Xh8DZJ8zA8HsKlVQQovHvPS2nS1REiasNjjf37J7WfKOkiQxSIhRrnU2OBFkknCXNFUkYS7Hh9o9IZ_QJ9eIkyovD01bF4OYcTmgSKVCyiD2cpR_~6LNRiswNE8noO6SxFJzXacME3oYPT9lHm0frYm99mz81rxd2J6fwwrVHasPyv6mNoNpdg0hwM92qnQOBZTBA2uzBR~31sXae21PCRxXKoKFV0EGIqt7lSPZNobvIGAFDpxLyEz4Qxm9A5ndI5WtBZhBp9A_rkTjC9frhzZCO873W~rjv9.jpg
//media.inmobalia.com/imgV1/B8vEv5Xh8DZJ8zA8HsKlVQQovHvPS2nS1REiasNjjf37J7WfKOkiQxSIhRrnU2OBFkknCXNFUkYS7Hh9o9IZ_QJ9eIkyovD01bF4OYcTmgSKVCyiD2cpR_~6KjH5iMXN0QVgeJ60QY1_AM0HtmN~i2UZr0uPTEch82gseFNQNUtmX4vjZsvfRp2Pnyup7~f~yXbrYtqnYsRjSmmHFUMbipQ3vkZ9nLWOqPcoqnK59tqqjEJwBZe1CpL0lBQBamF8cLjHTXMC6B0XBecw8H8Nd8Rzd0Xgl51IUZR8vy73.jpg
//media.inmobalia.com/imgV1/B8vEv5Xh8DZJ8zA8HsKlVQQovHvPS2nS1REiasNjjf37J7WfKOkiQxSIhRrnU2OBFkknCXNFUkYS7Hh9o9IZ_QJ9eIkyovD01bF4OYcTmgSKVCyiD2cpR_~6Lyhaz602FD2SMlV0DfB9RtBtylBi8TWQhBl7xKPr~xhobu417_UnfOIzDmhGpPSjogI8nfZyyuY5j63JOvJgryBcfV68oPQrO4J9zYxq2DR3Zz18q0rjYC5UvEzyvzy5D20QExBvOi3TAJVyMWsIutrm6~Tjlra4AR4neSqEki4v439G.jpg
//media.inmobalia.com/imgV1/B8vEv5Xh8DZJ8zA8HsKlVQQovHvPS2nS1REiasNjjf37J7WfKOkiQxSIhRrnU2OBFkknCXNFUkYS7Hh9o9IZ_QJ9eIkyovD01bF4OYcTmgSKVCyiD2cpR_~6LyUHCIXcft0WHzU3Pube81EuEaYR06D_sLZf0IPJWR6SMjkgxku1Rz48AMVHu0nd~NE9G9GjtqUygD4lqROzQX9g_4xxkF0VzbcK8R2oxzRm6eukeauKtOGXA52Dkhj8yt9eEsWOCTy_GXA52C~XDme_WWkKywHpiNeNvQsRm59rQax7.jpg
//media.inmobalia.com/imgV1/B8vEv5Xh8DZJ8zA8HsKlVQQovHvPS2nS1REiasNjjf37J7WfKOkiQxSIhRrnU2OBFkknCXNFUkYS7Hh9o9IZ_QJ9eIkyovD01bF4OYcTmgSKVCyiD2cpR_~6LNy3EbMDZeuRONiH9NpBMRrWpzmFSUy7SJfmD9u0QtPbVLGWiEuPtdxh_J51tcY~v69izzScCmcXziapDQ1s6vLUupkPTBCvcNRXwl9101DOKTnXOjouW69Ngz_wSqlIDXhKPqRsHRBeo7jbL2kjUBuRrbigLT3YwIlTdNlKOaT~guBl.jpg
//media.inmobalia.com/imgV1/B8vEv5Xh8DZJ8zA8HsKlVQQovHvPS2nS1REiasNjjf37J7WfKOkiQxSIhRrnU2OBFkknCXNFUkYS7Hh9o9IZ_QJ9eIkyovD01bF4OYcTmgSKVCyiD2cpR_~6LNU36bHBzgrUwtYlsoxv91tA3hd4Xp_hsn44EK1PBUK3yQUPzveHZOtny~A5pfFpSjXUCVQgmMnuEd3V6HBkO1KJHeoudsxj0c~3iAUxykU13KcCM3tmXFbYkEYMq6amNLh_eiG9Z1YnSKRTNV9jQ0ieiFcHOAjGl~8CXhkadqY8vUic.jpg
//media.inmobalia.com/imgV1/B8vEv5Xh8DZJ8zA8HsKlVQQovHvPS2nS1REiasNjjf37J7WfKOkiQxSIhRrnU2OBFkknCXNFUkYS7Hh9o9IZ_QJ9eIkyovD01bF4OYcTmgSKVCyiD2cpR_~6LZeSO90H_rOa~w7YiNMlr~0FN7DYos0xlo4PdHK1UPms1QJ77Z30NNIdaKnj8~QvO_CRR4rIeLiXRsAp15V6ReNaAShDhvwEYW1Wht3mLh5KBQ1tarApDFTen7Y7oZi~gjUCv1vCtg9i2giXXztfnVUHw8Bpgz3yctUFJtvEf3fJfRSi.jpg
//media.inmobalia.com/imgV1/B8vEv5Xh8DZJ8zA8HsKlVQQovHvPS2nS1REiasNjjf37J7WfKOkiQxSIhRrnU2OBFkknCXNFUkYS7Hh9o9IZ_QJ9eIkyovD01bF4OYcTmgSKVCyiD2cpR_~6LZXcpbfCAP7qHx7vn1IiDsGtHZHkxOClAv5cHCCcGLbsEH1b2V42fvW9Pyfbp49QYbKxxqI2IGD8az0Yv95yXbIHt6AnSrCr3UtMo~UG226UFvlRJsDmKHBbtn0WV8lYhSJCBNnJPP7I2GRv5G32DvQx6OGhGWW_qPawaLfCSVUMdbgu.jpg
//media.inmobalia.com/imgV1/B8vEv5Xh8DZJ8zA8HsKlVQQovHvPS2nS1REiasNjjf37J7WfKOkiQxSIhRrnU2OBFkknCXNFUkYS7Hh9o9IZ_QJ9eIkyovD01bF4OYcTmgSKVCyiD2cpR_~6LZqrpXboMsZNPrEWkn9i61As4YU2mqviZ65Tlot93O3yYG02RDJMYc5xR0jU6pRKa1QNxVMXuNP7nNuhYM~jDYafDaGs3QbrNqzpYFbP8x931U6wEPGMKsEtArNPNWoLSDr~Jds~u5ocoMENKiAI322VqVIu7X4dOFQ0g6UtTlpWm8aD.jpg
//media.inmobalia.com/imgV1/B8vEv5Xh8DZJ8zA8HsKlVQQovHvPS2nS1REiasNjjf37J7WfKOkiQxSIhRrnU2OBFkknCXNFUkYS7Hh9o9IZ_QJ9eIkyovD01bF4OYcTmgSKVCyiD2cpR_~6KjAlGDmIukf2FRRD2np4AAAFHqsYgxVU038M1TJmrc5KCR8m3hjAAPOi1OU93_yhVb0wl_q4VRdwLhLGXTJFxGI7UILp~bTNu6BkrMgeOD9PWOfwRJ7GzYu0BeJQgjsOMv1tbFpaLdeDYNf1jcDA0cvWQDCzy_ZC3JKxFPQY2mHmsfl4.jpg
//media.inmobalia.com/imgV1/B8vEv5Xh8DZJ8zA8HsKlVQQovHvPS2nS1REiasNjjf37J7WfKOkiQxSIhRrnU2OBFkknCXNFUkYS7Hh9o9IZ_QJ9eIkyovD01bF4OYcTmgSKVCyiD2cpR_~6KjMTOKX9XjCu1c91MCSpugxf7sAxYPGk6aOQiFYwij0VoPdgrd1wDkGMFUgeJ4VCn6vg1DZ3xyuopsxOm8lZGm66VW1TEdaREv57I2EvzR~hD4EFd7civIjBr0pZBm3QcJD8WHnKrX63ShfYE3DpoG68VMW5rJCovtavSWh2b2KG5G8U.jpg
//media.inmobalia.com/imgV1/B8vEv5Xh8DZJ8zA8HsKlVQQovHvPS2nS1REiasNjjf37J7WfKOkiQxSIhRrnU2OBFkknCXNFUkYS7Hh9o9IZ_QJ9eIkyovD01bF4OYcTmgSKVCyiD2cpR_~6KjIYySgSZ65sAqzzODfEzPC81Xw93~kvw92TQr~bWtNVgxjbjqjMyQ9I3B~gUWXfjU67lMEu3OcDgOSao433uTkYUbit34J2y2vcqX_LkgYimTV5AvKPRBzymeT17Xi27JsPMApBiCScmc8tBXRCpJqfquoPbjo1HA2TZfX9IWNfVQBx.jpg
//media.inmobalia.com/imgV1/B8vEv5Xh8DZJ8zA8HsKlVQQovHvPS2nS1REiasNjjf37J7WfKOkiQxSIhRrnU2OBFkknCXNFUkYS7Hh9o9IZ_QJ9eIkyovD01bF4OYcTmgSKVCyiD2cpR_~6KjeuZV1AE~k09ahTdA~yS4IxoYEX_DDAJ7ui9QhDU~inEDufK~I72Ak9MzvLtDCGT4XA_X0KcnnFnFTyXzAyYh~x5~Pb5OTXE85UucvWYDQoNnbylvtXKsDZcqMqW0buO0av7UCFrLcYcvD8XlbszZ_IK1lkYazDMldhLrsn9y_nchN7.jpg
//media.inmobalia.com/imgV1/B8vEv5Xh8DZJ8zA8HsKlVQQovHvPS2nS1REiasNjjf37J7WfKOkiQxSIhRrnU2OBFkknCXNFUkYS7Hh9o9IZ_QJ9eIkyovD01bF4OYcTmgSKVCyiD2cpR_~6KjkMwBOqJnN2D2iakXy6b_FBslx6wvy3IsYzXY60jhh2xTotTlFFyAzEQBR2UdYIsj5KON_vJi_YvbJQr2JGkVyMmFltAec4MsWRhqQ0kmhS4HIZnkGJ0LHuRXl4r5znPIWjfQOiAo2iOFCFQOiX7ioYW2a28H9O3FPBU7emPk3vALQr.jpg
//media.inmobalia.com/imgV1/B8vEv5Xh8DZJ8zA8HsKlVQQovHvPS2nS1REiasNjjf37J7WfKOkiQxSIhRrnU2OBFkknCXNFUkYS7Hh9o9IZ_QJ9eIkyovD01bF4OYcTmgSKVCyiD2cpR_~6K5_3fKrpMWy95lEEVvX~yrE5UvJ4dzqfA~xNnMAESAI_mGMvZEqPY1BenNY2O2odVNDzY74WaiDJUxOzRWjDK1TENoPDFWEksU~cFr2~Xbr78io0oe3oWjzhpdzwhYDYbyuJdYcY6jt1RsF7rZdm6Z1qb3KlnncypL74AFLjQaQVnAn6.jpg
//media.inmobalia.com/imgV1/B8vEv5Xh8DZJ8zA8HsKlVQQovHvPS2nS1REiasNjjf37J7WfKOkiQxSIhRrnU2OBFkknCXNFUkYS7Hh9o9IZ_QJ9eIkyovD01bF4OYcTmgSKVCyiD2cpR_~6K5gf4MCpIiCYjgqKH7~bpC~3ftsdfhY3Xwg2tIyR4jszUYzEOf5AG6YTyEn1ll0aLVbkYOp08zFqRqg6HQxy41~NvN~q1c0Iz5UFvMgSG7wm4mg6dI6kmu4t5UbTF_DeK1LHYIeIXrNVmE2PCATKBPfMIa7vzhReOt3kkSRkSEezaGQx.jpg
//media.inmobalia.com/imgV1/B8vEv5Xh8DZJ8zA8HsKlVQQovHvPS2nS1REiasNjjf37J7WfKOkiQxSIhRrnU2OBFkknCXNFUkYS7Hh9o9IZ_QJ9eIkyovD01bF4OYcTmgSKVCyiD2cpR_~6K5axpaseaoO6QU1YkPbPetYvstxsUgZ8YH5y5Y2_Y5JjRPLHPX3cI2j_l_vMJ_xfKZQfYTblA~JZVXLp52hO~IJeoXpKzK8~62e2EZGyhmLNllhA77Z4N3MMSkrWd_Ew7Y1Inj4wCkn7dk0BwKa1mw2_FITs5ejH~ZvG67B4QIMZkd9U.jpg
//media.inmobalia.com/imgV1/B8vEv5Xh8DZJ8zA8HsKlVQQovHvPS2nS1REiasNjjf37J7WfKOkiQxSIhRrnU2OBFkknCXNFUkYS7Hh9o9IZ_QJ9eIkyovD01bF4OYcTmgSKVCyiD2cpR_~6KIYNlsmf7G91M5MBCJX~BdmMUTyli7CggMsaMq29NiSZdC8eB~LWdprVXNUgxVa~owgVUDRBBGlqaIuPVp6mikSATgjTnzjvzyRpdbLAcctbC0_Z0F8dILbqwOhGSQgYilvFw2Hg7Og8PeHtid7Di18VePAbp2uo9wTqGjExF911zd8a.jpg
//media.inmobalia.com/imgV1/B8vEv5Xh8DZJ8zA8HsKlVQQovHvPS2nS1REiasNjjf37J7WfKOkiQxSIhRrnU2OBFkknCXNFUkYS7Hh9o9IZ_QJ9eIkyovD01bF4OYcTmgSKVCyiD2cpR_~6KVg4LlvkuzdaCJy7c0p3zOzpmhG2Y6GiZXZ6K9A9BxAjXLCAqL_nn13vQ~tKlQ4o9BwnQNLVMmkAf3toC4iff~WQ4ojoJFKYamNEVmswH09eNmQTV8w6NtHKfXySR2TvmiDLvjZqS_9IKlPvoe~3gzdjy5eUxY_UNtMssOUvlPeqxGiE.jpg
Price

585.000 €

Ref.

4834

bedrooms

2

bathrooms

2

Built

123 m²
Apartment in Bahia de Marbella, Marbella East
Gran Bahia, beach side apartment with sea views in Bahia de Marbella. Fantastically located only 200 m from Marbella´s best beaches. This very spacious high quality apartmenthas a large living and dining area with direct access to the half covered terrace from where one can enjoy beautiful sea views to the sea and the tropical pool area. There are two bedrooms with bathrooms en-suite, 1 guest toilet, high quality kitchen with breakfast area, air conditioning, heating through fitted low consume e-radiators, cream marble floor, 24 h security service, alarm system, Sat TV, heated outdoor pool; one of the best run communities and the most tropical gardens imaginable. This property is ideal for beach enthusiasts and golf players that wish to take advantage of the high class golf courses in the area. For sale fully furnished.
Features
Alarm
Security service 24h
Electric blinds
Air conditioning
Central heating
Fully furnished
Similar Properties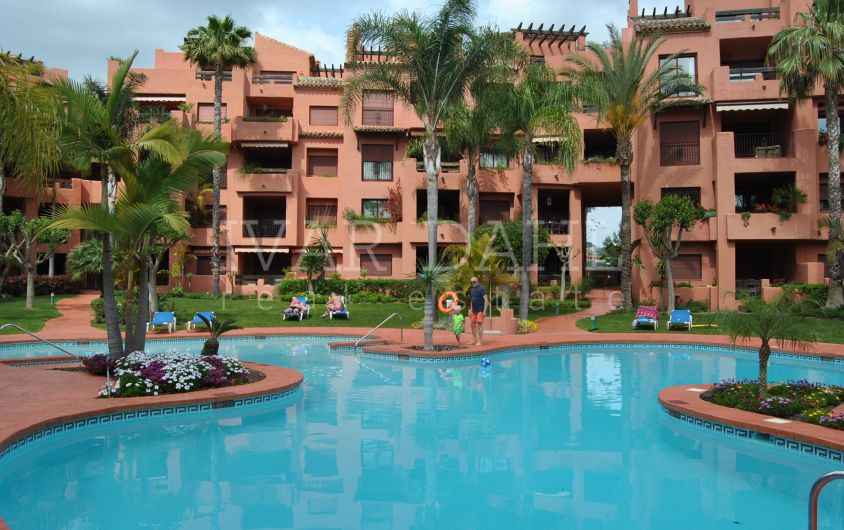 Spacious apartment in Alicate Playa, a complex located 350m from a beautiful sandy beach, 5 minutes drive from the center of Marbella. It consists of 3 bedrooms, 2 bathrooms, large living / dining room, ...
3

bedrooms

2

bathrooms

133m²

built

11m²

terrace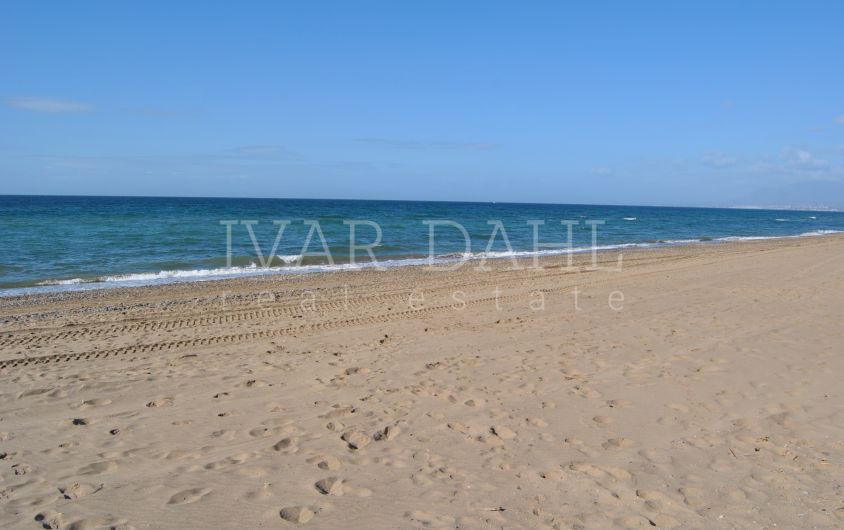 Bahía de Marbella. BEACH SIDE APARTMENT. 2 bedrooms, 2 bathrooms, living/dining room with fireplace, fitted kitchen, utility room, West facing terrace with sea views. Alarm system, Air conditioning hot/cold ...
2

bedrooms

2

bathrooms

115m²

built

23m²

terrace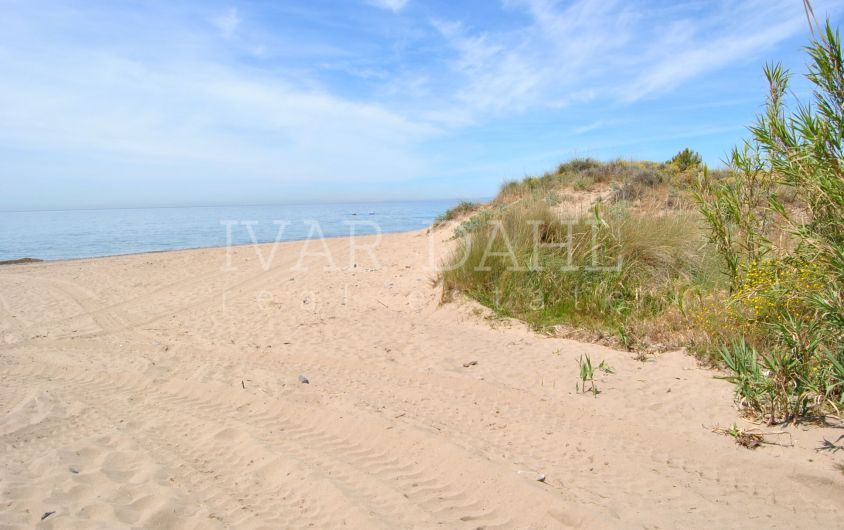 Beachside, garden apartment in Bahia de Marbella, Marbella East. Spacious 2 bedroom, 2 bathroom fully furnished apartment. Covered South facing terrace. Fitted kitchen. A/C. Marble floors.Lift. Garage. Walking ...
2

bedrooms

2

bathrooms

110m²

built

20m²

terrace