New modern villas in east Estepona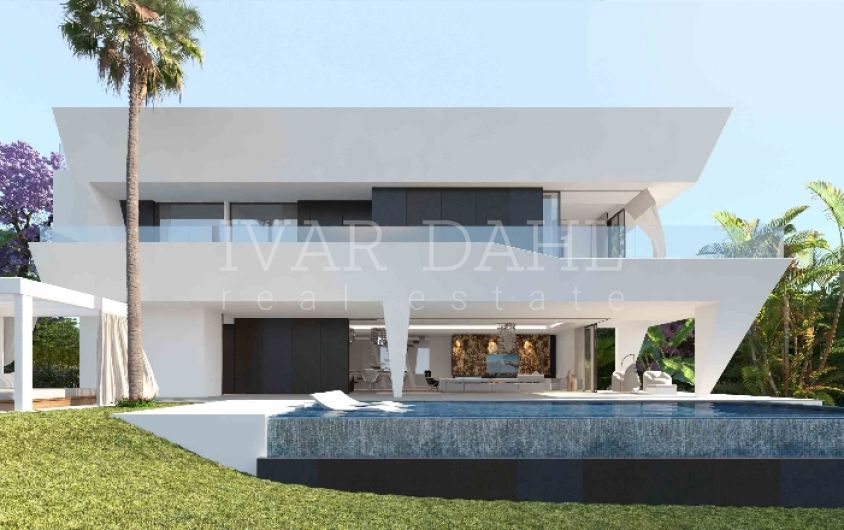 //media.inmobalia.com/imgV1/B8vEv5Xh8DZJ8zA8HsKlVQQovHvPS2nS1REiasNjjf37J7WfKOkiQxSIhRrnU2OBFkknCXNFUkYS7Hh9o9IZ_QJ9eIkyovPQxhgXumWfn3lwJvpJo6KrRzPR~FcLjA4BJVxBeY00Bvx08BHUaEte75jSBJlRefQAVCBTv__RnkzJar644nJuGXRKQVtn7syg6PohVoEDny9QczmtZ2xihQHKGte35saXhd1~eHEYwB7I2F_3TykHQt2lC_~1XEKy4SJxdyzUbdElQ_NeSyvTIpb6rJDJtLplOKSDL_RZ.jpg
//media.inmobalia.com/imgV1/B8vEv5Xh8DZJ8zA8HsKlVQQovHvPS2nS1REiasNjjf37J7WfKOkiQxSIhRrnU2OBFkknCXNFUkYS7Hh9o9IZ_QJ9eIkyovPQxhgXumWfn3lwJvpJo6KrRzPR~Fmek3rebnYspgOOix2RFdd7ZhTT3rqeor_j_NvvmY6wFKWHB4z26wnFeS_C28rj~~NVcBOn73pnXCCJKjGuXaFi6L5V~69D~pakVxiottODBOwXDjLKhiTLWyYEk9PmQI4cXi8bcqGbxukQTjqL9fkfCTj5ufx8dg0GPVynQThgUcB4.jpg
//media.inmobalia.com/imgV1/B8vEv5Xh8DZJ8zA8HsKlVQQovHvPS2nS1REiasNjjf37J7WfKOkiQxSIhRrnU2OBFkknCXNFUkYS7Hh9o9IZ_QJ9eIkyovPQxhgXumWfn3lwJvpJo6KrRzPR~WhqjSCBs8ILaRD3waBrfiLtSh7Euaax4BGjz7Jg4uO9JHgF81Nm0NOCQM6HOK3UH2nKAr22UjHfsi1iF6mcvt3z7aP4lUG7mVdGHZFNHaZtfF_a~H21kC3p1vUhu8MHWrA8oUD4Ur0CT_sb75B00uA_hRk1i4HABw1Iw2V4CS~REMxB.jpg
//media.inmobalia.com/imgV1/B8vEv5Xh8DZJ8zA8HsKlVQQovHvPS2nS1REiasNjjf37J7WfKOkiQxSIhRrnU2OBFkknCXNFUkYS7Hh9o9IZ_QJ9eIkyovPQxhgXumWfn3lwJvpJo6KrRzPR~WoB9TLlDyOSU9SOL~4hzdsL6QG0ED4HN1mbEdzX3T2foUZS2S7wlRLWgruX4o2xfcFcQtIpZJon5zjdgfsoCD9205KR5yMPzv_scnRZXDmXoOzuL22IUYPz08emTlM_92HYO20AL1tjOX62YmpSHk9o0g9uNsMZ~qHgfBNlezoDe_Eb.jpg
//media.inmobalia.com/imgV1/B8vEv5Xh8DZJ8zA8HsKlVQQovHvPS2nS1REiasNjjf37J7WfKOkiQxSIhRrnU2OBFkknCXNFUkYS7Hh9o9IZ_QJ9eIkyovPQxhgXumWfn3lwJvpJo6KrRzPR~W47U8okGJiptIEmu51kL0Y_5aa_GMkEGsY1HM560lE4SydLJTE0BiwnatZwZsE7YDrtfd_tnoX3stmLUcrwuKqS_ukFnTXMaTKwpYuB3MpSBVZBl9POcPc0d5f3h7~RN~kyXWu1Grywy0j1bUDl_2Q_a7icj27nlZiKeSsYzHKrZ3l~.jpg
//media.inmobalia.com/imgV1/B8vEv5Xh8DZJ8zA8HsKlVQQovHvPS2nS1REiasNjjf37J7WfKOkiQxSIhRrnU2OBFkknCXNFUkYS7Hh9o9IZ_QJ9eIkyovPQxhgXumWfn3lwJvpJo6KrRzPR~FbnkvdoxlHdY8NCwmg8MEgkyzK0dHpsCVmbOPeWy2PZch27ZSke3RNAfe30chf~C1dyp6WpftTK47~ZobsUqZCtbtb8OUREOQx_MO4_H748Oj6yL_yqVpOUtoR89q4sc_Otrzggnv_OnKo8mu5Am6OEXtMaJolKnwFT9btmG~x6zEF_.jpg
//media.inmobalia.com/imgV1/B8vEv5Xh8DZJ8zA8HsKlVQQovHvPS2nS1REiasNjjf37J7WfKOkiQxSIhRrnU2OBFkknCXNFUkYS7Hh9o9IZ_QJ9eIkyovPQxhgXumWfn3lwJvpJo6KrRzPR~Fg5DZQMys_UzxpmOW4y1AoSCfPeBfxZYlYzTuziyTZ38vqa4xxDF_rF~I71yA0c~rGulYJlQk7wu58yOUJnkMd8~iej7pMokxTJ1IZpDakJGeM0WOBJjJ~QsyBixdrtScOS~~I_AQ0zL0K60DUDM_Owratp2plAqXCG3mWxVdN87mV4.jpg
//media.inmobalia.com/imgV1/B8vEv5Xh8DZJ8zA8HsKlVQQovHvPS2nS1REiasNjjf37J7WfKOkiQxSIhRrnU2OBFkknCXNFUkYS7Hh9o9IZ_QJ9eIkyovPQxhgXumWfn3lwJvpJo6KrRzPR~Wnj3are4nxmkVQ5JVXI760BBQV4waIS4hWX61B0CDt3ndNXWiUwM53xnXZNUJM9zQyFZTT6FWOzEHxPdPbPoJbnYBV13krXCefi_sTqP0fRY4PMdWOtslBWQWk4~u5zqLjL08vlbQ08U~plwXKJn06hVWQ9vvQW3onfCLvY~INF9ubt.jpg
//media.inmobalia.com/imgV1/B8vEv5Xh8DZJ8zA8HsKlVQQovHvPS2nS1REiasNjjf37J7WfKOkiQxSIhRrnU2OBFkknCXNFUkYS7Hh9o9IZ_QJ9eIkyovPQxhgXumWfn3lwJvpJo6KrRzPR~WtM0FzL~5rI1V4liVlfx6z4_SboYyGzXQNhtP9T_sPuhubNwc81kGgoMU_9rvHq_92g1UCvL6XqVdzzKiCNlei1LaTrObzQOIobcIClhNLKyOaYE8dJRGLungFwJov9YDoUWGJ61jLFuBhqZ2c~BYlsaWOS0p_VDJRbrajg5_Lw2xhh.jpg
//media.inmobalia.com/imgV1/B8vEv5Xh8DZJ8zA8HsKlVQQovHvPS2nS1REiasNjjf37J7WfKOkiQxSIhRrnU2OBFkknCXNFUkYS7Hh9o9IZ_QJ9eIkyovPQxhgXumWfn3lwJvpJo6KrRzPR~WyVVUviy1Qq_V0UsVR_VA~OTNYlilHzmtBivHE~sXJlAsZ77POhGIAbwW3lMYkMWIgchc1WN92tR~znyqFk9iYtgE0gyM1doxo~Hco_9jfwz2jOV8YknO~9pN5h1_lbfOiyT~5F3zCu3TBVZ~6beoWUwxTOQIkdWF3QTSZS7q1vL3jz.jpg
//media.inmobalia.com/imgV1/B8vEv5Xh8DZJ8zA8HsKlVQQovHvPS2nS1REiasNjjf37J7WfKOkiQxSIhRrnU2OBFkknCXNFUkYS7Hh9o9IZ_QJ9eIkyovPQxhgXumWfn3lwJvpJo6KrRzPR~W2TMjM1hsVKiHbn34MNEjsmRtH_vrG9Pxcn~U9XA~u8wHlzRBxvczFaiPpUO6Chl42qCcE875K3Pp0kZbfPfA_48Fo3tYFLhgPUdpwjffKk7lJ2uWUd0ARghyM10w4iX7m2yc752~DP55KGVYOxMrook4_FFSLEm1w~KI2oeYXMbvwj.jpg
//media.inmobalia.com/imgV1/B8vEv5Xh8DZJ8zA8HsKlVQQovHvPS2nS1REiasNjjf37J7WfKOkiQxSIhRrnU2OBFkknCXNFUkYS7Hh9o9IZ_QJ9eIkyovPQxhgXumWfn3lwJvpJo6KrRzPR~W8xNNBFGscP9~QXvMrqGR0IMU~a_rtPlIMaEsgy3bY9fKVVIc5VLTE9zlF7HuyHmgqRc0~dukGYFCGrvDGq~zp3BnEzijqSx8slREZSDzwua7lXWBm62yZZbU4ZDgkaqkeYw36xf2GZkqs2xb8M7i3Hl9Uyhzi5J5IHHFFwGvnMObxd.jpg
//media.inmobalia.com/imgV1/B8vEv5Xh8DZJ8zA8HsKlVQQovHvPS2nS1REiasNjjf37J7WfKOkiQxSIhRrnU2OBFkknCXNFUkYS7Hh9o9IZ_QJ9eIkyovPQxhgXumWfn3lwJvpJo6KrRzPR~WD3lT7IlWodmuXtLjmkUy2leFy5o5WUgWu_kttXr3mVDRAeRanaoMZCZVP93YGgOBH4Cb3Uf1AucXMX_CHlyOk~krofW~srG7_wILp65DI9OSFShtMp2xJF0_q_mTG7w41hZhBezX5DIF5TaSPkobr7jnW6eNURyq3TpRj7F0fGZ0Nc.jpg
//media.inmobalia.com/imgV1/B8vEv5Xh8DZJ8zA8HsKlVQQovHvPS2nS1REiasNjjf37J7WfKOkiQxSIhRrnU2OBFkknCXNFUkYS7Hh9o9IZ_QJ9eIkyovPQxhgXumWfn3lwJvpJo6KrRzPR~WET6gpp9fLvV8HssII_FNg9Nav5FoT9ansQ2Jd6Z3aHd20AbdfBcaYYALWkkijVR8GagLYIrJEJTp8uSz5Y4NhgHdfClYpdH3v2PkcYqKlSNSZhkLKvayeiXNLYwX7O5heZww1utqNLKMtInmXl8873mjKCfNgyKNl6YvV_dZvbF0e0.jpg
Price

995.000 €

Ref.

4848

bedrooms

4

bathrooms

4

Built

364 m²

Plot

552 m²
Villa in Estepona
Detached villas that can be set from 2 to 7 bedrooms and 4 to 6 bathrooms. With individual swimming pool and 24 hour security.
A project where you can design your home by customizing it without limits as we have a wide variety of facades, plans of distribution of each plant and luxury materials for your free choice as well as a semi-basement with natural light where you can choose between different distributions And uses: heated pool, jacuzzi, gym, sauna, hamam, cinema room, multipurpose room, wine cellar, office, pantry, laundry room and iron and everything you can imagine. An architectural commitment to flexibility, housing can change according to the specific needs at each stage of life with much less effort than in a traditional home. There are views to the sea, golf and mountain, being 50 m from the golf course and clubhouse, where you can enjoy all its services: restaurant, cafeteria, chill out bar, gym and cardio room, outdoor pool and deck, jacuzzi , Sauna, hammam, body and facial beauty treatments, volleyball courts, tennis and paddle tennis, golf lessons and nursery. You will also find 20 different golf courses within a radius of only 7 km and a wide range of services: marinas, shopping centers, beach clubs, hospitals, bilingual schools, etc.
LIVE IN PEACE AND TRANQUILITY WITH ALL THE SERVICES TO THE REACH OF YOUR HAND AND WITHIN 5 MINUTES OF PUERTO BANÚS.
Features
Fireplace
Air conditioning
Central heating
Similar Properties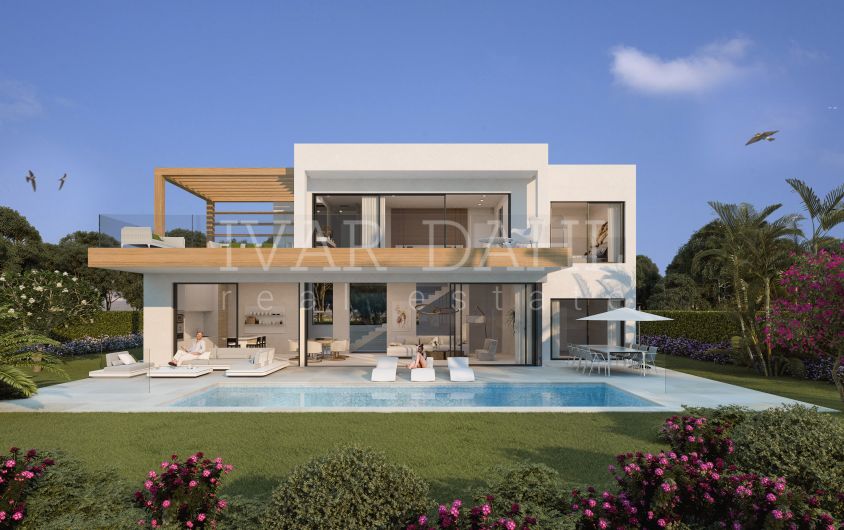 Estepona, new residential project of contemporary style villas. Providing 5 different types of villas, we allow diversity in size, style and use, while they all have elements in common to create harmony. ...
3

bedrooms

4

bathrooms

352m²

built

625m²

plot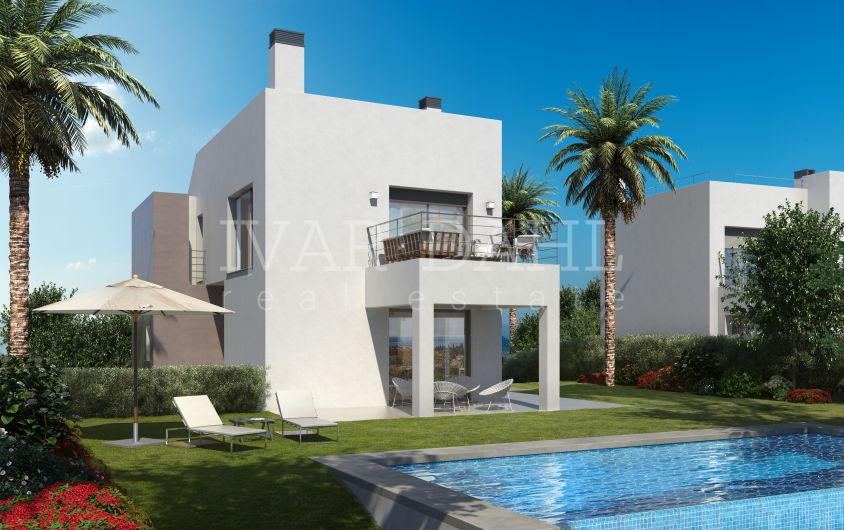 New modern Villas in Golf area of Estepona. Villas of 356 m2 average, built with top quality materials and finishing. All opposite the 7 and 8 hole of the golf course. Plots from 612 m2 to 766 m2. Modern ...
3

bedrooms

3

bathrooms

356m²

built

612m²

plot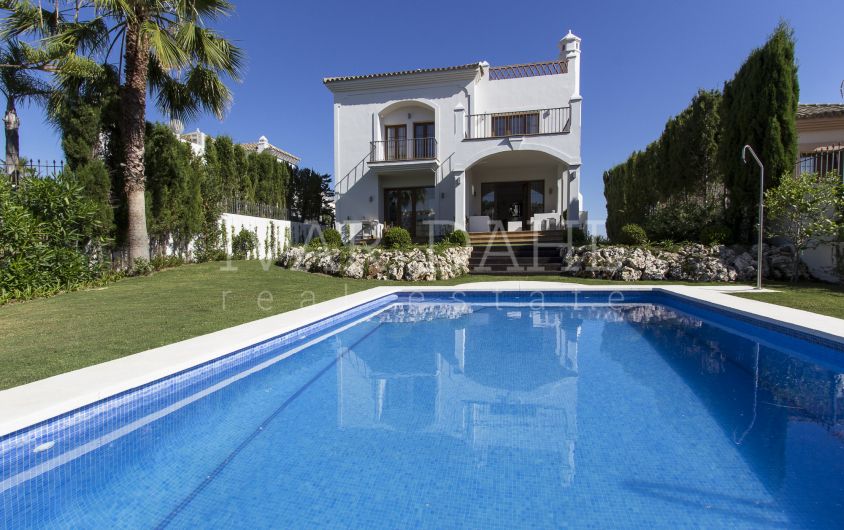 BRAND NEW LUXURY 4 BEDROOM VILLAS WITHIN A GOLF RESORT WITH STUNNING SEA VIEWS.We are pleased to present these brand new luxury appointed Costa del Sol villas located in the prestigious residential area of La ...
4

bedrooms

3

bathrooms

321m²

built

504m²

plot