New contemporary Villas in east Estepona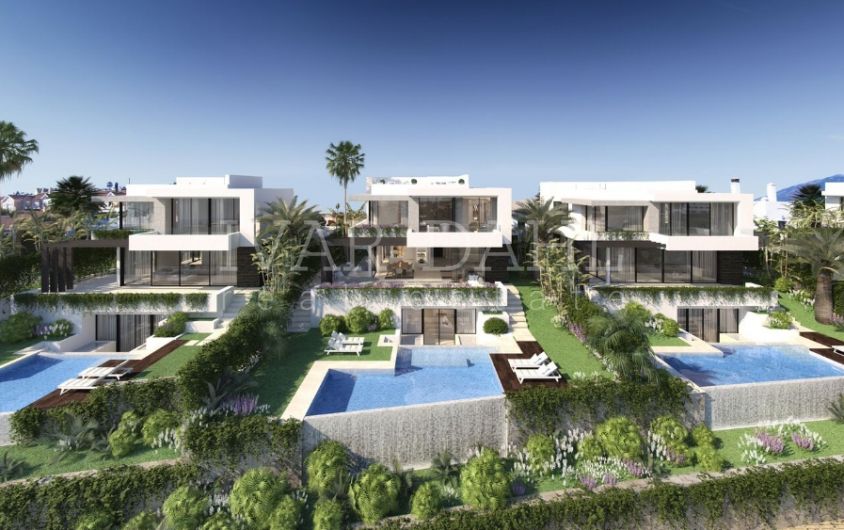 //media.inmobalia.com/imgV1/B8vEv5Xh8DZJ8zA8HsKlVQQovHvPS2nS1REiasNjjf37J7WfKOkiQxSIhRrnU2OBFkknCXNFUkYS7Hh9o9IZ_QJ9eIkyovPQxh3WDMFKc1aYfDI3BzWWVBd5CSbs6sNuGZ9KT~0QfQ0YxrZPt20fGpkGkNKsIbpNJ_pgHbmchjnNr73SVaFsja8hz1lrutX8_v622jdc3FHBjdttMAAYLKAMf7TyWcKnX0EaR8~vOoG6DQA4ITaU8XwoWZZFGUJUQ6inJdHpL4nOU2AwKLSziLWxddoXG2wn2u7lvh7c.jpg
//media.inmobalia.com/imgV1/B8vEv5Xh8DZJ8zA8HsKlVQQovHvPS2nS1REiasNjjf37J7WfKOkiQxSIhRrnU2OBFkknCXNFUkYS7Hh9o9IZ_QJ9eIkyovPQxh3WDMFKc1aYfDI3BzWWVBd5CKZkKwbAIXsyY7jO6DqtfToz_0PFRx34Z3pWz5326SbxHOdkXwFm4o4w63C7lHXWanCrcW4MZEad_RY9mZgOiuMLqsQ2rx8s_4IUacVzamYCZv36PAZx~WT18SNT7qk0DEb8ygtq1r7eQ7Jy3leG5SGTtTUiGrrT0rasP3uremcEvNj1.jpg
//media.inmobalia.com/imgV1/B8vEv5Xh8DZJ8zA8HsKlVQQovHvPS2nS1REiasNjjf37J7WfKOkiQxSIhRrnU2OBFkknCXNFUkYS7Hh9o9IZ_QJ9eIkyovPQxh3WDMFKc1aYfDI3BzWWVBd5CKKqA4fvASgOwA_MQIpPl6M_DJ~VrtIQvsD~oX0xrGWQ_NK~8tfb_z1ycQX9UzwqdImOedl6K598pw7yrMMHf19n4f6~Ii1oU5tcnA6Ank~ebWRIMDabgvrVcvvWaFHUxzGdMttHSHwMmcz6xiieQNIOhbo5m9Yn3f46wlnUd0Hkc4bw.jpg
//media.inmobalia.com/imgV1/B8vEv5Xh8DZJ8zA8HsKlVQQovHvPS2nS1REiasNjjf37J7WfKOkiQxSIhRrnU2OBFkknCXNFUkYS7Hh9o9IZ_QJ9eIkyovPQxh3WDMFKc1aYfDI3BzWWVBd5CKMnCNs9eKD4XZbFfdaDTuWBmn9i2Nx0Wctj2no4L_NKw6obngwGo5FpvCdGJ72jaLdrPu25ppI7LNtkzj_EMCWHW~NUWwvEhiotlpgPqLGHcSv5ozj4sX~2PVyXBgHPo_qSkaYh_SgsETw4lpcLjyD2EEy~OypcGFUilv4wHFHdIJwC.jpg
//media.inmobalia.com/imgV1/B8vEv5Xh8DZJ8zA8HsKlVQQovHvPS2nS1REiasNjjf37J7WfKOkiQxSIhRrnU2OBFkknCXNFUkYS7Hh9o9IZ_QJ9eIkyovPQxh3WDMFKc1aYfDI3BzWWVBd5CSn7ArvamNxrPmFzFwTuuIm~XbL7cUM_85~0d5~aN3WCxnFKFrl_6K6V41zWe9zuAv4OwL~TqEYflk9IRZg3JjueJvI1Mv92EU1mFY30Nu6kknnwVgPWjhdp9EplSgU7BvLypitzZwEA242xxlz_RbZigQ1B7IIx_B0mM9KrPIpylfgS.jpg
//media.inmobalia.com/imgV1/B8vEv5Xh8DZJ8zA8HsKlVQQovHvPS2nS1REiasNjjf37J7WfKOkiQxSIhRrnU2OBFkknCXNFUkYS7Hh9o9IZ_QJ9eIkyovPQxh3WDMFKc1aYfDI3BzWWVBd5CSguNx_3jAE_CKYqLHlq7tlvhhimFzq5gexSzpvzxd6z4WM4PuSea9FrxSqGN8YagW~TQwBf0GCCb7u6UuOQAcDx0niBCye7XShMDdzSWCSl7kIJCnHLLjQVjXJJP1keNZYd0pQHvAtBznrD2xQvlMverDq5rBFizKGJOcRtS~dqCZ~k.jpg
//media.inmobalia.com/imgV1/B8vEv5Xh8DZJ8zA8HsKlVQQovHvPS2nS1REiasNjjf37J7WfKOkiQxSIhRrnU2OBFkknCXNFUkYS7Hh9o9IZ_QJ9eIkyovPQxh3WDMFKc1aYfDI3BzWWVBd5CSdX9WcRnP8JDVabxg09hFZ67Pd21xXfOyZCCEGIFRoOIMdB~eckn4WqlCjJuzC~tmwy1RmzYuRptu8s2lWBRkTglelSHocEWEHqStyfZhAgwDlAu12Eb0NKcvxrU2wgWaBBq5snYEc4z~JkWI3MGx6rwV3_BX19MKXV9TPvwulEcXMb.jpg
//media.inmobalia.com/imgV1/B8vEv5Xh8DZJ8zA8HsKlVQQovHvPS2nS1REiasNjjf37J7WfKOkiQxSIhRrnU2OBFkknCXNFUkYS7Hh9o9IZ_QJ9eIkyovPQxh3WDMFKc1aYfDI3BzWWVBd5CKBC8qPmqVmoml7tl8gZ1F9ULnLTDYCwB~GLfGfyICPTrfBxZY6aF50OExJO9EQZNpO4tu~4w6kGBGm5aOBLZPPLRWIlPipoiI6Ydr2bWdhKU6ZRNC07JPG7mfWs7_LMQPM5UMdJpfeiX6_bLHwl0_ULVsuPGrqijZGHah86AboQS_ib.jpg
//media.inmobalia.com/imgV1/B8vEv5Xh8DZJ8zA8HsKlVQQovHvPS2nS1REiasNjjf37J7WfKOkiQxSIhRrnU2OBFkknCXNFUkYS7Hh9o9IZ_QJ9eIkyovPQxh3WDMFKc1aYfDI3BzWWVBd5CKHSUW45PF_8jlaFhsCVSlkxK3yEjN5l2UqRNPrQuH7nFN8xMtSned~8s~PBU5sRHoAQDkdQy1s4bqOszDmWwtbGXe_OTIckItKp1LRXhHarS~t3_Gdx2zjyrXsLox6Orhz2n3mfkCh5TtF2v1NU_jZbilNf8MY6RaODHjx0sQjO9NS6.jpg
//media.inmobalia.com/imgV1/B8vEv5Xh8DZJ8zA8HsKlVQQovHvPS2nS1REiasNjjf37J7WfKOkiQxSIhRrnU2OBFkknCXNFUkYS7Hh9o9IZ_QJ9eIkyovPQxh3WDMFKc1aYfDI3BzWWVBd5CKQ8MX9NgQ7Kpb7zP7sJtllMMcNHEv9XTWUJnXsH4XkzvTxNmNUNP5UQvcnGlJCwpq8q4ivCaiU80bRjDCcnAjMknWt1L7PvDjbsnGfgrcb~4fqu~D25Xgf_LdSB~qRJ2S29DfVVtUNe8a~N7r~aYDGJzxbLAQJ8q0p8nbp5jL8L3Qv4.jpg
//media.inmobalia.com/imgV1/B8vEv5Xh8DZJ8zA8HsKlVQQovHvPS2nS1REiasNjjf37J7WfKOkiQxSIhRrnU2OBFkknCXNFUkYS7Hh9o9IZ_QJ9eIkyovPQxh3WDMFKc1aYfDI3BzWWVBd5CKVtiUELf5QEX5fw27WcsIisUFPH2gAlZ8dr2AmwZs_IzY8Qe8mUrHw5NHg1qfFrsSLQEJ34a1ZG40ovE4aFf4RhwPTK1llXiAMqNS1l5mMWb8qcBV_v78I6VJwTQ~XtEoLku791p8D4Yv_0ts77Rfg5VQlG4vJJY40noNWMnnXH_8vd.jpg
//media.inmobalia.com/imgV1/B8vEv5Xh8DZJ8zA8HsKlVQQovHvPS2nS1REiasNjjf37J7WfKOkiQxSIhRrnU2OBFkknCXNFUkYS7Hh9o9IZ_QJ9eIkyovPQxh3WDMFKc1aYfDI3BzWWVBd5CKcyLi15d4Md~3A~OcnLagIeXATLQeP7QEOmsYSWpAQYto6LTgPsTRXjyg3WqR9~tZHzTHW52teLsEXRY2DDccLJbhU0Hpv72jxknEUBQxOSqvosx9l_7jYd5GM7gkBSYPK6C~s7CNehsg9G09PH5U0Ml86J4zT3wu4u~hgxSyUFqZkX.jpg
//media.inmobalia.com/imgV1/B8vEv5Xh8DZJ8zA8HsKlVQQovHvPS2nS1REiasNjjf37J7WfKOkiQxSIhRrnU2OBFkknCXNFUkYS7Hh9o9IZ_QJ9eIkyovPQxh3WDMFKc1aYfDI3BzWWVBd5CKhqqBLDgh9LlE_3cNdlnav0JOZ6GLtk6dE9QaT~oS0XeMoRf_sNAB5VUa2xbnYbKsqM40hA_btQT8_jvHaQSJrqESvN9C_wefy9ZXs21z5s_36~lLSqrtmKztsWUQj9InOEuMXpGJumgZO5iUADQs5FqjlHOBjUBLbAHLp~VQAyZT51.jpg
//media.inmobalia.com/imgV1/B8vEv5Xh8DZJ8zA8HsKlVQQovHvPS2nS1REiasNjjf37J7WfKOkiQxSIhRrnU2OBFkknCXNFUkYS7Hh9o9IZ_QJ9eIkyovPQxh3WDMFKc1aYfDI3BzWWVBd5CKmfjOoPMrnDyQeV7jzy3_zTp39xMERJAxi5fZfDPQ11Ds75LPZKyW6HhefPkoeHYZkOivowGce_McdhagSMTKFUJjBfoElHyapHkAOAs5WcF7JOav~SPPtvVxlElfHzpsECoDSU~xr4zkshEN0ZEF4KX9gRPExPBdm~QE74ydOmvoFo.jpg
//media.inmobalia.com/imgV1/B8vEv5Xh8DZJ8zA8HsKlVQQovHvPS2nS1REiasNjjf37J7WfKOkiQxSIhRrnU2OBFkknCXNFUkYS7Hh9o9IZ_QJ9eIkyovPQxh3WDMFKc1aYfDI3BzWWVBd5B8mVPW10e4plIBqeBAvXroDISO1SfCaCRaecKx6jCodpOkMpf1tPyPW~cLV2jyXCT_owknZtWZXRqyRvvU_5KELzrbMhNpXGrjZlqHZrgZCUv06kuBWLZid_so8x_r_rm~HWZL89rctcTyFyIFcGoQjXpilSr4W40IMKr4Wp3L~weFwk.jpg
//media.inmobalia.com/imgV1/B8vEv5Xh8DZJ8zA8HsKlVQQovHvPS2nS1REiasNjjf37J7WfKOkiQxSIhRrnU2OBFkknCXNFUkYS7Hh9o9IZ_QJ9eIkyovPQxh3WDMFKc1aYfDI3BzWWVBd5B8gQ239ZhDzMjD6sqpR9vHqWIJ~4Q0B8_ueNbihnZzX2W_JP1_i98rkVJ3tUgE4jSFH7bjnC4R~vDk_Ce0b3G4QqO52Ez9ukOi3Exxn4Q0MMih5El0a8tEy~T5I8a~xuAjZjmGsNLsweb3AQB03ZCkM8e1W9QZUPmv2FoAE7moU0YQOP.jpg
//media.inmobalia.com/imgV1/B8vEv5Xh8DZJ8zA8HsKlVQQovHvPS2nS1REiasNjjf37J7WfKOkiQxSIhRrnU2OBFkknCXNFUkYS7Hh9o9IZ_QJ9eIkyovPQxh3WDMFKc1aYfDI3BzWWVBd5B8v1MachKGK_scQqRhXgModQbQ_mj1WUBkUGrqfLN9HgBicN2CtdbUb7~anivgqKtCuZq44lBjNAdkn2gXO58GaR8MuILzeq3UzBZAfUr1IymsyKm5d2Wpb6n3uTD5eSoyY835UggReYqTUqrBb1GZrsWiVz48ZCzHrMTbzNVVe6lXJV.jpg
//media.inmobalia.com/imgV1/B8vEv5Xh8DZJ8zA8HsKlVQQovHvPS2nS1REiasNjjf37J7WfKOkiQxSIhRrnU2OBFkknCXNFUkYS7Hh9o9IZ_QJ9eIkyovPQxh3WDMFKc1aYfDI3BzWWVBd5B8rayt3uDhQuskkCvB2~wM0bvHR2kjHT9wr~vDnA78JsYsB4lG3nXanGVedidOt58WlDBrX2R1g7CPb711G8y5xf~iY48pm0_aZjtRFj9S3mIG48NsL9pv~LKAhul6wPSD8cY0aZenZUbnDzgwdL8juHdgfM7JxTfKc3YqJD1q83wHrQ.jpg
//media.inmobalia.com/imgV1/B8vEv5Xh8DZJ8zA8HsKlVQQovHvPS2nS1REiasNjjf37J7WfKOkiQxSIhRrnU2OBFkknCXNFUkYS7Hh9o9IZ_QJ9eIkyovPQxh3WDMFKc1aYfDI3BzWWVBd5B82FRoOEcJycykmWOrQyWcJtnaQqDUYgyjKQLjZjCTHxYGwEUOjjRaNUD8GlWTx7Zso1dGYI1sjgva5bgMMDktFJuZ0p~SJmA7m_zGOE1K~AKSDTUEa9TJ7mxOPVw2fmGqGfGe~tNPCG6wmWyQn9MSQtMC11g7MFXGEd~rPpS94Du2SN.jpg
Price

990.000 €

Ref.

4851

bedrooms

4

bathrooms

4

Built

391 m²

Plot

630 m²
Villa in El Campanario, Estepona
This small boutique project of 10 villas have been beautifully designed and are of a high quality finish. The Villas come with fully finished basements and solariums. The basement has full length windows that open up onto the pool area. These offer unlimited possibilities as the solarium and basements can be personalized to suit the owners personal lifestyle.
Features
Air conditioning
Central heating
Similar Properties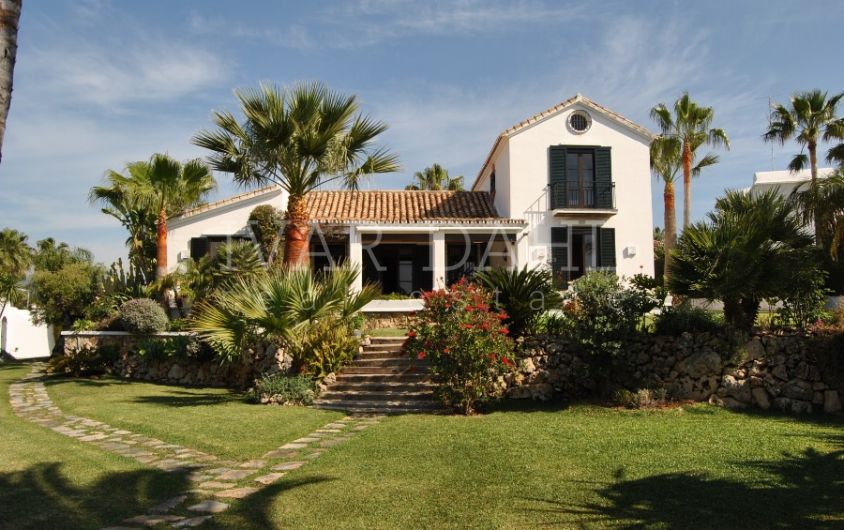 Villa in Monte Biarritz, Marbella - East Estepona. Rustic but elegant style villa designed by renowned architect. Situated in quiet residential area. 5 minutes drive to golf courses, shopping center ...
4

bedrooms

3

bathrooms

308m²

built

1.246m²

plot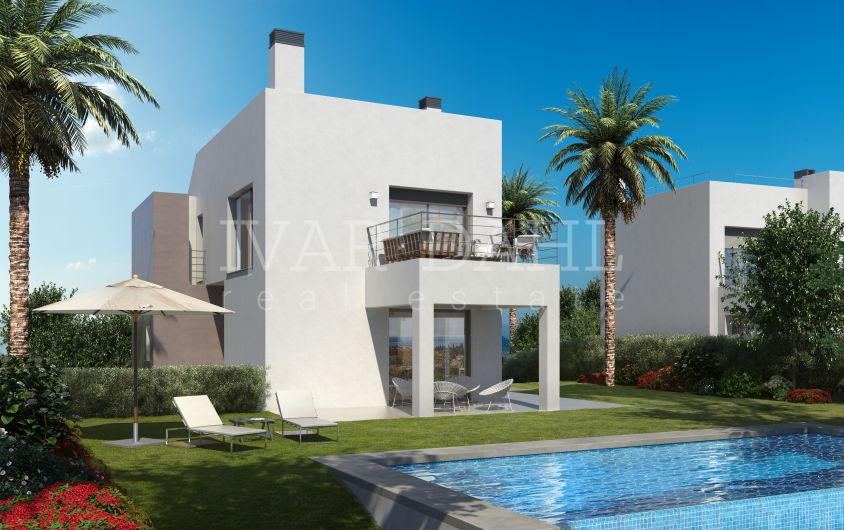 New modern Villas in Golf area of Estepona. Villas of 356 m2 average, built with top quality materials and finishing. All opposite the 7 and 8 hole of the golf course. Plots from 612 m2 to 766 m2. Modern ...
3

bedrooms

3

bathrooms

356m²

built

612m²

plot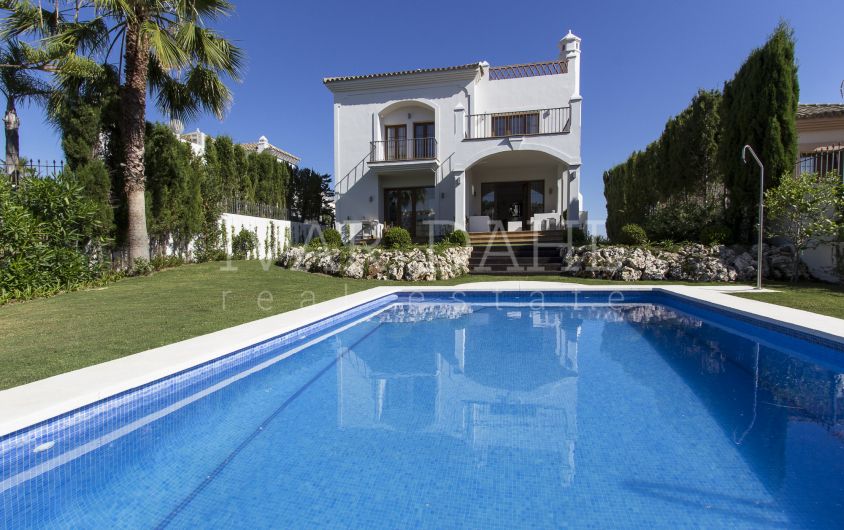 BRAND NEW LUXURY 4 BEDROOM VILLAS WITHIN A GOLF RESORT WITH STUNNING SEA VIEWS.We are pleased to present these brand new luxury appointed Costa del Sol villas located in the prestigious residential area of La ...
4

bedrooms

3

bathrooms

321m²

built

504m²

plot