New contemporary Villas in Estepona, Malaga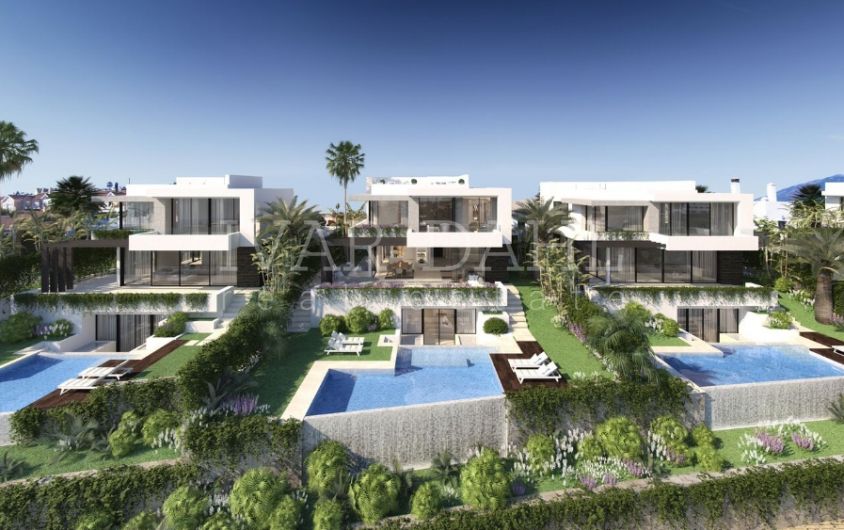 //media.inmobalia.com/imgV1/B8vEv5Xh8DZJ8zA8HsKlVQQovHvPS2nS1REiasNjjf37J7WfKOkiQxSIhRrnU2OBFkknCXNFUkYS7Hh9o9IZ_QJ9eIkyovPQxh3WDMFKc1aYfDI3BzWWVBd5CSbs6sNuGZ9KT~0QfQ0YxrZPt20fGpkGkNKsIbpNJ_pgHbmchjnNr73SVaFsja8hz1lrutX8_v622jdc3FHBjdttMAAYLKAMf7TyWcKnX0EaR8~vOoG6DQA4ITaU8XwoWZZFGUJUQ6inJdHpL4nOU2AwKLSziLWxddoXG2wn2u7lvh7c.jpg
//media.inmobalia.com/imgV1/B8vEv5Xh8DZJ8zA8HsKlVQQovHvPS2nS1REiasNjjf37J7WfKOkiQxSIhRrnU2OBFkknCXNFUkYS7Hh9o9IZ_QJ9eIkyovPQxh3WDMFKc1aYfDI3BzWWVBd5CKZkKwbAIXsyY7jO6DqtfToz_0PFRx34Z3pWz5326SbxHOdkXwFm4o4w63C7lHXWanCrcW4MZEad_RY9mZgOiuMLqsQ2rx8s_4IUacVzamYCZv36PAZx~WT18SNT7qk0DEb8ygtq1r7eQ7Jy3leG5SGTtTUiGrrT0rasP3uremcEvNj1.jpg
//media.inmobalia.com/imgV1/B8vEv5Xh8DZJ8zA8HsKlVQQovHvPS2nS1REiasNjjf37J7WfKOkiQxSIhRrnU2OBFkknCXNFUkYS7Hh9o9IZ_QJ9eIkyovPQxh3WDMFKc1aYfDI3BzWWVBd5CKKqA4fvASgOwA_MQIpPl6M_DJ~VrtIQvsD~oX0xrGWQ_NK~8tfb_z1ycQX9UzwqdImOedl6K598pw7yrMMHf19n4f6~Ii1oU5tcnA6Ank~ebWRIMDabgvrVcvvWaFHUxzGdMttHSHwMmcz6xiieQNIOhbo5m9Yn3f46wlnUd0Hkc4bw.jpg
//media.inmobalia.com/imgV1/B8vEv5Xh8DZJ8zA8HsKlVQQovHvPS2nS1REiasNjjf37J7WfKOkiQxSIhRrnU2OBFkknCXNFUkYS7Hh9o9IZ_QJ9eIkyovPQxh3WDMFKc1aYfDI3BzWWVBd5CKMnCNs9eKD4XZbFfdaDTuWBmn9i2Nx0Wctj2no4L_NKw6obngwGo5FpvCdGJ72jaLdrPu25ppI7LNtkzj_EMCWHW~NUWwvEhiotlpgPqLGHcSv5ozj4sX~2PVyXBgHPo_qSkaYh_SgsETw4lpcLjyD2EEy~OypcGFUilv4wHFHdIJwC.jpg
//media.inmobalia.com/imgV1/B8vEv5Xh8DZJ8zA8HsKlVQQovHvPS2nS1REiasNjjf37J7WfKOkiQxSIhRrnU2OBFkknCXNFUkYS7Hh9o9IZ_QJ9eIkyovPQxh3WDMFKc1aYfDI3BzWWVBd5CSn7ArvamNxrPmFzFwTuuIm~XbL7cUM_85~0d5~aN3WCxnFKFrl_6K6V41zWe9zuAv4OwL~TqEYflk9IRZg3JjueJvI1Mv92EU1mFY30Nu6kknnwVgPWjhdp9EplSgU7BvLypitzZwEA242xxlz_RbZigQ1B7IIx_B0mM9KrPIpylfgS.jpg
//media.inmobalia.com/imgV1/B8vEv5Xh8DZJ8zA8HsKlVQQovHvPS2nS1REiasNjjf37J7WfKOkiQxSIhRrnU2OBFkknCXNFUkYS7Hh9o9IZ_QJ9eIkyovPQxh3WDMFKc1aYfDI3BzWWVBd5CSguNx_3jAE_CKYqLHlq7tlvhhimFzq5gexSzpvzxd6z4WM4PuSea9FrxSqGN8YagW~TQwBf0GCCb7u6UuOQAcDx0niBCye7XShMDdzSWCSl7kIJCnHLLjQVjXJJP1keNZYd0pQHvAtBznrD2xQvlMverDq5rBFizKGJOcRtS~dqCZ~k.jpg
//media.inmobalia.com/imgV1/B8vEv5Xh8DZJ8zA8HsKlVQQovHvPS2nS1REiasNjjf37J7WfKOkiQxSIhRrnU2OBFkknCXNFUkYS7Hh9o9IZ_QJ9eIkyovPQxh3WDMFKc1aYfDI3BzWWVBd5CSdX9WcRnP8JDVabxg09hFZ67Pd21xXfOyZCCEGIFRoOIMdB~eckn4WqlCjJuzC~tmwy1RmzYuRptu8s2lWBRkTglelSHocEWEHqStyfZhAgwDlAu12Eb0NKcvxrU2wgWaBBq5snYEc4z~JkWI3MGx6rwV3_BX19MKXV9TPvwulEcXMb.jpg
//media.inmobalia.com/imgV1/B8vEv5Xh8DZJ8zA8HsKlVQQovHvPS2nS1REiasNjjf37J7WfKOkiQxSIhRrnU2OBFkknCXNFUkYS7Hh9o9IZ_QJ9eIkyovPQxh3WDMFKc1aYfDI3BzWWVBd5CKBC8qPmqVmoml7tl8gZ1F9ULnLTDYCwB~GLfGfyICPTrfBxZY6aF50OExJO9EQZNpO4tu~4w6kGBGm5aOBLZPPLRWIlPipoiI6Ydr2bWdhKU6ZRNC07JPG7mfWs7_LMQPM5UMdJpfeiX6_bLHwl0_ULVsuPGrqijZGHah86AboQS_ib.jpg
//media.inmobalia.com/imgV1/B8vEv5Xh8DZJ8zA8HsKlVQQovHvPS2nS1REiasNjjf37J7WfKOkiQxSIhRrnU2OBFkknCXNFUkYS7Hh9o9IZ_QJ9eIkyovPQxh3WDMFKc1aYfDI3BzWWVBd5CKHSUW45PF_8jlaFhsCVSlkxK3yEjN5l2UqRNPrQuH7nFN8xMtSned~8s~PBU5sRHoAQDkdQy1s4bqOszDmWwtbGXe_OTIckItKp1LRXhHarS~t3_Gdx2zjyrXsLox6Orhz2n3mfkCh5TtF2v1NU_jZbilNf8MY6RaODHjx0sQjO9NS6.jpg
//media.inmobalia.com/imgV1/B8vEv5Xh8DZJ8zA8HsKlVQQovHvPS2nS1REiasNjjf37J7WfKOkiQxSIhRrnU2OBFkknCXNFUkYS7Hh9o9IZ_QJ9eIkyovPQxh3WDMFKc1aYfDI3BzWWVBd5CKQ8MX9NgQ7Kpb7zP7sJtllMMcNHEv9XTWUJnXsH4XkzvTxNmNUNP5UQvcnGlJCwpq8q4ivCaiU80bRjDCcnAjMknWt1L7PvDjbsnGfgrcb~4fqu~D25Xgf_LdSB~qRJ2S29DfVVtUNe8a~N7r~aYDGJzxbLAQJ8q0p8nbp5jL8L3Qv4.jpg
//media.inmobalia.com/imgV1/B8vEv5Xh8DZJ8zA8HsKlVQQovHvPS2nS1REiasNjjf37J7WfKOkiQxSIhRrnU2OBFkknCXNFUkYS7Hh9o9IZ_QJ9eIkyovPQxh3WDMFKc1aYfDI3BzWWVBd5CKVtiUELf5QEX5fw27WcsIisUFPH2gAlZ8dr2AmwZs_IzY8Qe8mUrHw5NHg1qfFrsSLQEJ34a1ZG40ovE4aFf4RhwPTK1llXiAMqNS1l5mMWb8qcBV_v78I6VJwTQ~XtEoLku791p8D4Yv_0ts77Rfg5VQlG4vJJY40noNWMnnXH_8vd.jpg
//media.inmobalia.com/imgV1/B8vEv5Xh8DZJ8zA8HsKlVQQovHvPS2nS1REiasNjjf37J7WfKOkiQxSIhRrnU2OBFkknCXNFUkYS7Hh9o9IZ_QJ9eIkyovPQxh3WDMFKc1aYfDI3BzWWVBd5CKcyLi15d4Md~3A~OcnLagIeXATLQeP7QEOmsYSWpAQYto6LTgPsTRXjyg3WqR9~tZHzTHW52teLsEXRY2DDccLJbhU0Hpv72jxknEUBQxOSqvosx9l_7jYd5GM7gkBSYPK6C~s7CNehsg9G09PH5U0Ml86J4zT3wu4u~hgxSyUFqZkX.jpg
//media.inmobalia.com/imgV1/B8vEv5Xh8DZJ8zA8HsKlVQQovHvPS2nS1REiasNjjf37J7WfKOkiQxSIhRrnU2OBFkknCXNFUkYS7Hh9o9IZ_QJ9eIkyovPQxh3WDMFKc1aYfDI3BzWWVBd5CKhqqBLDgh9LlE_3cNdlnav0JOZ6GLtk6dE9QaT~oS0XeMoRf_sNAB5VUa2xbnYbKsqM40hA_btQT8_jvHaQSJrqESvN9C_wefy9ZXs21z5s_36~lLSqrtmKztsWUQj9InOEuMXpGJumgZO5iUADQs5FqjlHOBjUBLbAHLp~VQAyZT51.jpg
//media.inmobalia.com/imgV1/B8vEv5Xh8DZJ8zA8HsKlVQQovHvPS2nS1REiasNjjf37J7WfKOkiQxSIhRrnU2OBFkknCXNFUkYS7Hh9o9IZ_QJ9eIkyovPQxh3WDMFKc1aYfDI3BzWWVBd5CKmfjOoPMrnDyQeV7jzy3_zTp39xMERJAxi5fZfDPQ11Ds75LPZKyW6HhefPkoeHYZkOivowGce_McdhagSMTKFUJjBfoElHyapHkAOAs5WcF7JOav~SPPtvVxlElfHzpsECoDSU~xr4zkshEN0ZEF4KX9gRPExPBdm~QE74ydOmvoFo.jpg
//media.inmobalia.com/imgV1/B8vEv5Xh8DZJ8zA8HsKlVQQovHvPS2nS1REiasNjjf37J7WfKOkiQxSIhRrnU2OBFkknCXNFUkYS7Hh9o9IZ_QJ9eIkyovPQxh3WDMFKc1aYfDI3BzWWVBd5B8mVPW10e4plIBqeBAvXroDISO1SfCaCRaecKx6jCodpOkMpf1tPyPW~cLV2jyXCT_owknZtWZXRqyRvvU_5KELzrbMhNpXGrjZlqHZrgZCUv06kuBWLZid_so8x_r_rm~HWZL89rctcTyFyIFcGoQjXpilSr4W40IMKr4Wp3L~weFwk.jpg
//media.inmobalia.com/imgV1/B8vEv5Xh8DZJ8zA8HsKlVQQovHvPS2nS1REiasNjjf37J7WfKOkiQxSIhRrnU2OBFkknCXNFUkYS7Hh9o9IZ_QJ9eIkyovPQxh3WDMFKc1aYfDI3BzWWVBd5B8gQ239ZhDzMjD6sqpR9vHqWIJ~4Q0B8_ueNbihnZzX2W_JP1_i98rkVJ3tUgE4jSFH7bjnC4R~vDk_Ce0b3G4QqO52Ez9ukOi3Exxn4Q0MMih5El0a8tEy~T5I8a~xuAjZjmGsNLsweb3AQB03ZCkM8e1W9QZUPmv2FoAE7moU0YQOP.jpg
//media.inmobalia.com/imgV1/B8vEv5Xh8DZJ8zA8HsKlVQQovHvPS2nS1REiasNjjf37J7WfKOkiQxSIhRrnU2OBFkknCXNFUkYS7Hh9o9IZ_QJ9eIkyovPQxh3WDMFKc1aYfDI3BzWWVBd5B8v1MachKGK_scQqRhXgModQbQ_mj1WUBkUGrqfLN9HgBicN2CtdbUb7~anivgqKtCuZq44lBjNAdkn2gXO58GaR8MuILzeq3UzBZAfUr1IymsyKm5d2Wpb6n3uTD5eSoyY835UggReYqTUqrBb1GZrsWiVz48ZCzHrMTbzNVVe6lXJV.jpg
//media.inmobalia.com/imgV1/B8vEv5Xh8DZJ8zA8HsKlVQQovHvPS2nS1REiasNjjf37J7WfKOkiQxSIhRrnU2OBFkknCXNFUkYS7Hh9o9IZ_QJ9eIkyovPQxh3WDMFKc1aYfDI3BzWWVBd5B8rayt3uDhQuskkCvB2~wM0bvHR2kjHT9wr~vDnA78JsYsB4lG3nXanGVedidOt58WlDBrX2R1g7CPb711G8y5xf~iY48pm0_aZjtRFj9S3mIG48NsL9pv~LKAhul6wPSD8cY0aZenZUbnDzgwdL8juHdgfM7JxTfKc3YqJD1q83wHrQ.jpg
//media.inmobalia.com/imgV1/B8vEv5Xh8DZJ8zA8HsKlVQQovHvPS2nS1REiasNjjf37J7WfKOkiQxSIhRrnU2OBFkknCXNFUkYS7Hh9o9IZ_QJ9eIkyovPQxh3WDMFKc1aYfDI3BzWWVBd5B82FRoOEcJycykmWOrQyWcJtnaQqDUYgyjKQLjZjCTHxYGwEUOjjRaNUD8GlWTx7Zso1dGYI1sjgva5bgMMDktFJuZ0p~SJmA7m_zGOE1K~AKSDTUEa9TJ7mxOPVw2fmGqGfGe~tNPCG6wmWyQn9MSQtMC11g7MFXGEd~rPpS94Du2SN.jpg
Price

990.000 €

Ref.

4851

bedrooms

4

bathrooms

4

Built

391 m²

Plot

630 m²
Villa in El Campanario, Estepona
This small boutique project of 10 villas have been beautifully designed and are of a high quality finish. The Villas come with fully finished basements and solariums. The basement has full length windows that open up onto the pool area. These offer unlimited possibilities as the solarium and basements can be personalized to suit the owners personal lifestyle.
Features
Air conditioning
Central heating
Similar Properties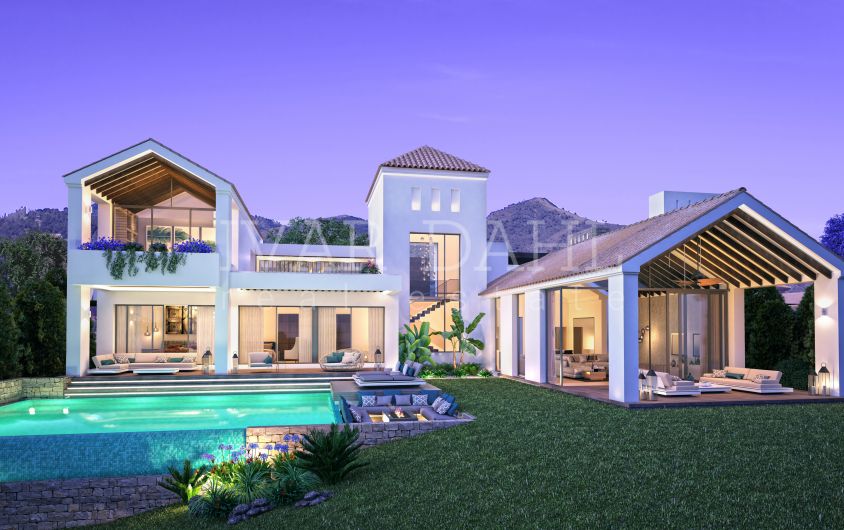 New front line golf villas in Estepona. This is a luxury development of 11 unique private villas in a secured gated golf and country club estate. Each villa has uninterrupted views of the Mediterranean and the ...
3

bedrooms

3

bathrooms

491m²

built

1.058m²

plot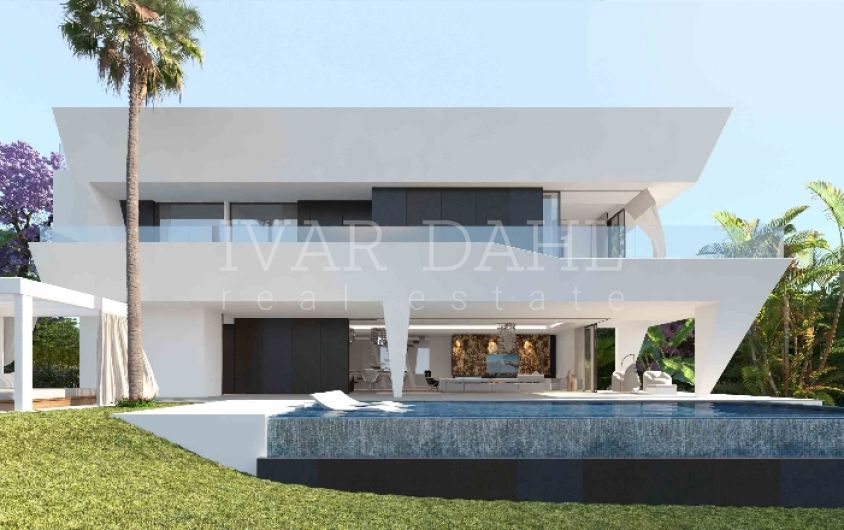 Detached villas that can be set from 2 to 7 bedrooms and 4 to 6 bathrooms. With individual swimming pool and 24 hour security.A project where you can design your home by customizing it without limits as we ...
4

bedrooms

4

bathrooms

364m²

built

552m²

plot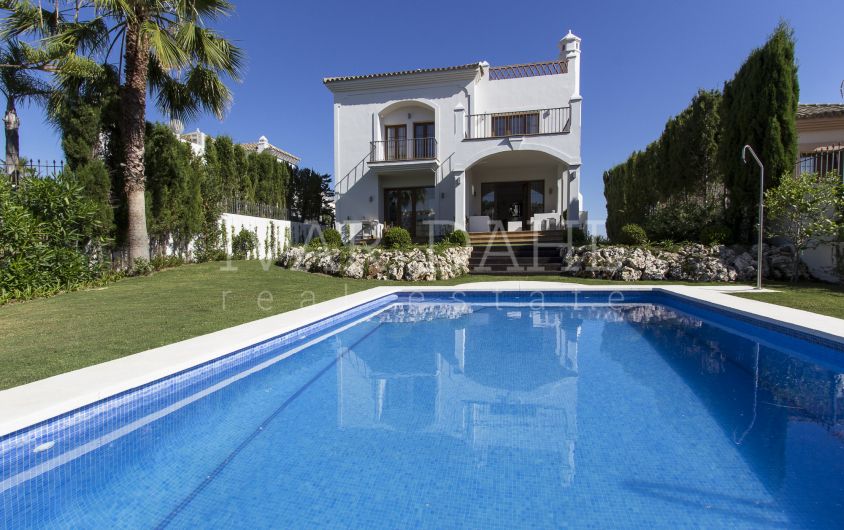 BRAND NEW LUXURY 4 BEDROOM VILLAS WITHIN A GOLF RESORT WITH STUNNING SEA VIEWS.We are pleased to present these brand new luxury appointed Costa del Sol villas located in the prestigious residential area of La ...
4

bedrooms

3

bathrooms

321m²

built

504m²

plot