Villa in La Alqueria, Benahavis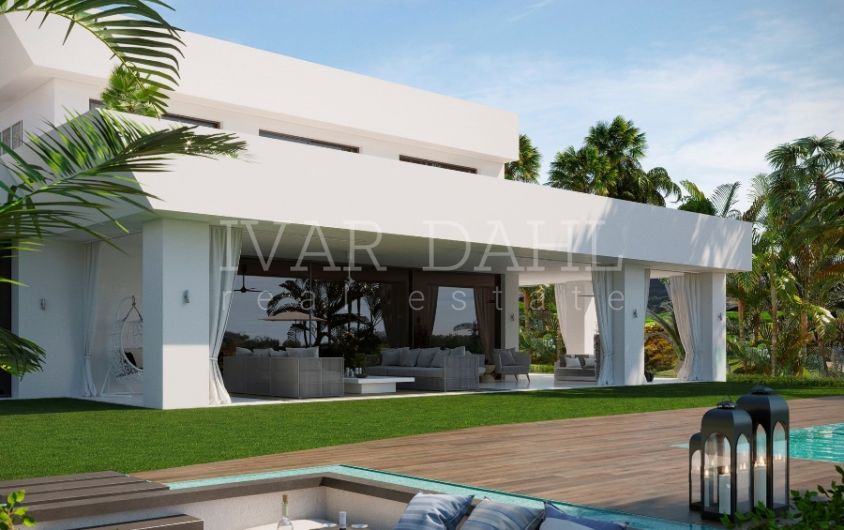 //media.inmobalia.com/imgV1/B8vEv5Xh8DZJ8zA8HsKlVQQovHvPS2nS1REiasNjjf37J7WfKOkiQxSIhRrnU2OBFkknCXNFUkYS7Hh9o9IZ_QJ9eIkyovPQx_JrdLEbwWq~RSLhnTiku7QQk8F4QbNCvlXVqIDELg4VU_BiysvIMRggl~8k3~~5W1f8~U6bBTKMt53dwpkSy4rTA0E1fCGWxu_XJcb9tpENmaN0el0WN9cdy9MgM0zijBOUGnEayc3zCHjL8aphuDDoA5YGXC1L2TZnwQBTpltOm2o2ZWTBnf9ah99dqF3LTmTHriEC.jpg
//media.inmobalia.com/imgV1/B8vEv5Xh8DZJ8zA8HsKlVQQovHvPS2nS1REiasNjjf37J7WfKOkiQxSIhRrnU2OBFkknCXNFUkYS7Hh9o9IZ_QJ9eIkyovPQx_JrdLEbwWq~RSLhnTiku7QQknASIxOdbNnFK81bvki3PISStEioWuxqBjx4hMTBevppS7U5D48eVDwkcM87xGpfPlvnIOVJnHH4CN2hAYLevDh3BNfujZkhGVHmDXv1J3F3pdHZPM8OPgPLVBkQljWWqP7sOJg6QfichP_uhMaURdhxnjbf6XmGZSTrHcdZQL2pslGZ.jpg
//media.inmobalia.com/imgV1/B8vEv5Xh8DZJ8zA8HsKlVQQovHvPS2nS1REiasNjjf37J7WfKOkiQxSIhRrnU2OBFkknCXNFUkYS7Hh9o9IZ_QJ9eIkyovPQx_JrdLEbwWq~RSLhnTiku7QQknFHq1ekmxV5Hz0pMZ2H1R5Efo6hyW_YSA~if2RtQipHPEPlXcuI7BQsDmJhlhIJTD44r8gY5UUrPJAYQW6HUfftcXBF8CnlVo~2b6SFRip_v86JJ62h~U1m12USBaXIbgCoZsT65KOwZQY7WnRXukgOcWBnEVPsr0oomksmamwgw3PE.jpg
//media.inmobalia.com/imgV1/B8vEv5Xh8DZJ8zA8HsKlVQQovHvPS2nS1REiasNjjf37J7WfKOkiQxSIhRrnU2OBFkknCXNFUkYS7Hh9o9IZ_QJ9eIkyovPQx_JrdLEbwWq~RSLhnTiku7QQknLEST4sUeQ_stN0tKWXOXD9Yyd94yfuxrswoAIS6UZlT2wi1YtK4PNDkNpMp7ZEhXuXtV43NfSmjGql_DemJRUpRvsISqB9k2WZf8_rEpTr9~tLnCj7XMFP7c~_Jl5QmmpGF6uqfUTeD8pDOAuw~fQvnMg8KDFm23rj2U5FgQ_QXqED.jpg
//media.inmobalia.com/imgV1/B8vEv5Xh8DZJ8zA8HsKlVQQovHvPS2nS1REiasNjjf37J7WfKOkiQxSIhRrnU2OBFkknCXNFUkYS7Hh9o9IZ_QJ9eIkyovPQx_JrdLEbwWq~RSLhnTiku7QQknNlNS9fpLCzOJ8ZuHttxAwx0zdtGL40lXF7MUPUUkuH0tUCoA0zEFJqEYGDjYNggqhhNghltSzPIWpDgF4cKmxAKSbdxg2ueZzLXZTvPx6CZi4skmm_obFWu~833f6bJAMtgKOfiAmRc2ZVp7_dBWNPVfvh77bXzravzpUDsBtiwFr4.jpg
//media.inmobalia.com/imgV1/B8vEv5Xh8DZJ8zA8HsKlVQQovHvPS2nS1REiasNjjf37J7WfKOkiQxSIhRrnU2OBFkknCXNFUkYS7Hh9o9IZ_QJ9eIkyovPQx_JrdLEbwWq~RSLhnTiku7QQknQqhnstry3SBCpAU~Hsx3uqlLs2y61qSXq7GI5IBzGD4vDKiUR0GOdi91XRxsOE5YxKgnlBMKx1OORqebJDY1wSZCHTqX5N2Ja7bl5T~NP0Ms930j53M8DqDS664xmWxnaEP9wZth4CxESkw8SDOMnyIsVdRpw4ytCW6TW~Pq9JqtRK.jpg
//media.inmobalia.com/imgV1/B8vEv5Xh8DZJ8zA8HsKlVQQovHvPS2nS1REiasNjjf37J7WfKOkiQxSIhRrnU2OBFkknCXNFUkYS7Hh9o9IZ_QJ9eIkyovPQx_JrdLEbwWq~RSLhnTiku7QQknXxbGQu54h0v1cILH0FNRdieGWq36Wkn2MjbAPryzt7FM6mHA_wdolm2okMDVge7U74A5nNi7AjQ4~qw5YsVaQ0GWctYq1RHWNA7rYbD7Wd3xEB18YeR9SnGBijNyPTT1b4Eabxf6Z5QoUcDSig6Wrxtm6l79uxALvyq_cwGL0trgwM.jpg
//media.inmobalia.com/imgV1/B8vEv5Xh8DZJ8zA8HsKlVQQovHvPS2nS1REiasNjjf37J7WfKOkiQxSIhRrnU2OBFkknCXNFUkYS7Hh9o9IZ_QJ9eIkyovPQx_JrdLEbwWq~RSLhnTiku7QQknZLgKsPsgK5iq~qFkaGUh9uQeRzMO8FFhoAwpxDbJpPeIbEJTJ7Kqi_7BjaN7ykybRAoWapYWjarrz75lnp~Xd1PEoQCqmPPK6wb6S~zW0pOBkB1RJKEL8oVtn3F7MvQ7nmJ1uO5_o6q226C~c9dSBiFBLKLh0ALTcQ_yTXPCgdIIIy.jpg
//media.inmobalia.com/imgV1/B8vEv5Xh8DZJ8zA8HsKlVQQovHvPS2nS1REiasNjjf37J7WfKOkiQxSIhRrnU2OBFkknCXNFUkYS7Hh9o9IZ_QJ9eIkyovPQx_JrdLEbwWq~RSLhnTiku7QQknfN4fhcQPTVMaTnruoH0Ie~PnWsOILgjgD5wkmVFzdg6d8eQquDxnbKmwurZHgXYkIWcxgZ3OQFKSc8FpLr1icmxXSFaqCUyLbTsnMRKCpOA3r3ZcFLDkp8gIWExm5jec7WaleDgO_zkaqh0gK_JRq9NgOOL_iEIgEFgWvfH33sRjU7.jpg
//media.inmobalia.com/imgV1/B8vEv5Xh8DZJ8zA8HsKlVQQovHvPS2nS1REiasNjjf37J7WfKOkiQxSIhRrnU2OBFkknCXNFUkYS7Hh9o9IZ_QJ9eIkyovPQx_JrdLEbwWq~RSLhnTiku7QQkngVx_rijh~EWwSg16ASHer1pm7t2nIqwfxV1XwLaHR~omSmXJPmSherf8AZx1QBrtB0fPVLEBAdasuthvfZ_CrewOa3DIUlj2PLr6E7yzv4HQ~trDcrKl~_VLIStRsnbWiiGVqf9pa3nNT~DUtzbJj8pvSkZJvMf05_W1TjWcTaynNd.jpg
//media.inmobalia.com/imgV1/B8vEv5Xh8DZJ8zA8HsKlVQQovHvPS2nS1REiasNjjf37J7WfKOkiQxSIhRrnU2OBFkknCXNFUkYS7Hh9o9IZ_QJ9eIkyovPQx_JrdLEbwWq~RSLhnTiku7QQknkyIw78Qz0K14lz5uYeTNrpFWaF0zOOxheCTZhKxzAL8gWr5mskRsv~GmaXQ2_PST12qzrrtbgA0Sw_zU8WCLXaIjLTXvPttbeSHEKw4QIoAgdCZqVq7SnVYYEh0XO7Vcycq8l9ihIPoh6~7AQunAKR8oD~WcRb4gOUrAQ9iQ79jfwk.jpg
//media.inmobalia.com/imgV1/B8vEv5Xh8DZJ8zA8HsKlVQQovHvPS2nS1REiasNjjf37J7WfKOkiQxSIhRrnU2OBFkknCXNFUkYS7Hh9o9IZ_QJ9eIkyovPQx_JrdLEbwWq~RSLhnTiku7QQnTL3XaYlMMb0mLs2oAcilV4eEGEdlGgXuXP47j3Z5bVd_wkjsfkjDFkJfEpQ1eD_lvsLb7s6Rn7r2kGM9CV9DSQD5FvAbSCrP0nlAfKThvIctcIvP5qJtnoxvvmyDBB3nomYD8ZLcpggbr~qEWfM2HcPbqbc_XjQXSSjytOjoaB94m5m.jpg
//media.inmobalia.com/imgV1/B8vEv5Xh8DZJ8zA8HsKlVQQovHvPS2nS1REiasNjjf37J7WfKOkiQxSIhRrnU2OBFkknCXNFUkYS7Hh9o9IZ_QJ9eIkyovPQx_JrdLEbwWq~RSLhnTiku7QQnTOL2d9MxwDzvY9m1DX5B090tOq855zBhUJcWGEaIJktOGzspR5hteyOkyEANVu26m5hiVCflb32RKwr6r2ZjcGksMa3uCk1N7Isf~hpTsOWw~YVtXEP9OqvH4zpDg9v87ZiL6k402UA_L9VnIk8d1Ja7ZTq728OGl_ViOIUA_3UtNXO.jpg
//media.inmobalia.com/imgV1/B8vEv5Xh8DZJ8zA8HsKlVQQovHvPS2nS1REiasNjjf37J7WfKOkiQxSIhRrnU2OBFkknCXNFUkYS7Hh9o9IZ_QJ9eIkyovPQx_JrdLEbwWq~RSLhnTiku7QQnTDHhqJIJsyiw1FOgoAG4VURsE8k7brNYdOe1jiQntkqR8ez7bdQqzLMOfWyHuvdOIUdV65R_uJXXeRiVPZa1~xGeeezxb~RcBe91rD8MOOisKYq1ac3IYZaw8oNt0QAnMtWy6PKPWMFcc0ACYYK~6ze0dr1Pv77RAmHODdHaRz6ciHw.jpg
//media.inmobalia.com/imgV1/B8vEv5Xh8DZJ8zA8HsKlVQQovHvPS2nS1REiasNjjf37J7WfKOkiQxSIhRrnU2OBFkknCXNFUkYS7Hh9o9IZ_QJ9eIkyovPQx_JrdLEbwWq~RSLhnTiku7QQnTF7Vvnfxz5Ne7X9zKVLLMvB67MiEBrsTaLhI~lb1rlcCp8EZtzlVebzrdznaToL75BDTdfOUkUy_Dub9KIbKFtJHoloEYiVS6hjmyvojMD2pm17tOQ2fP0nCD7MiyiVraNmgv9HyXfgRz~I6bpxRsr_r9468MVMiST7euvgqwB2bugc.jpg
//media.inmobalia.com/imgV1/B8vEv5Xh8DZJ8zA8HsKlVQQovHvPS2nS1REiasNjjf37J7WfKOkiQxSIhRrnU2OBFkknCXNFUkYS7Hh9o9IZ_QJ9eIkyovPQx_JrdLEbwWq~RSLhnTiku7QQnTaeCa_J3W161QqDdC~bB9tFl7Nv70ElFjTz~jxv7YWq7PNU~BmVS3bcvCHwqUkh~gP7O7PfUV1AK68okkciLZ3HhTXRlKTcx88nSxt34U_d8cL1Ah95ps44zcf2BgSzZKjTXnE444vjc2Ibgp5jARgPYSElgbx9bV7d_77~sFXozE9w.jpg
//media.inmobalia.com/imgV1/B8vEv5Xh8DZJ8zA8HsKlVQQovHvPS2nS1REiasNjjf37J7WfKOkiQxSIhRrnU2OBFkknCXNFUkYS7Hh9o9IZ_QJ9eIkyovPQx_JrdLEbwWq~RSLhnTiku7QQnTdDuwK4kBFFXh6f1LTnmd37AiXHHBosubD2igkzu_A~wSlL_WAh2Lw4mQm~rEFsm7MG~ZA_NZ_oKBnMQJDquey6AAcZk9nt1lu6wYhLItzJwcIaMy1se6DfjG9y0m2C6VuRcozfC7SMAFIRzEDAXwXgqewfGooBg2sYuuX06HqPLGsf.jpg
//media.inmobalia.com/imgV1/B8vEv5Xh8DZJ8zA8HsKlVQQovHvPS2nS1REiasNjjf37J7WfKOkiQxSIhRrnU2OBFkknCXNFUkYS7Hh9o9IZ_QJ9eIkyovPQx_JrdLEbwWq~RSLhnTiku7QQnTRUuaxqHwfgZbSS4RL13RqW8o3aF807WF8XkISLcP1RpNVOdhqRx3Qm~pHg2aRl~9kN6zIrepatf9YQkifAPNHXQJJEo5seLhmsWQoAs4X8UzUeHeweK0JJWxj_MK4A1_9TQQQomC5yf2kRL9XRpWDl2LWwrkyITflBBL9dNZ_YIxgc.jpg
//media.inmobalia.com/imgV1/B8vEv5Xh8DZJ8zA8HsKlVQQovHvPS2nS1REiasNjjf37J7WfKOkiQxSIhRrnU2OBFkknCXNFUkYS7Hh9o9IZ_QJ9eIkyovPQx_JrdLEbwWq~RSLhnTiku7QQnTWT7pssz8Q6bse2avuA6DMhFpJOUkgHkNEM1oRfTMh91KxFiwFTmVlPakjrGLx3wDwlhgMsicrxpcFNxteTfzDMDAPDiQmTteVZXgEhNvaWR~~P4FysS2RxQUCpZGnm8cjNcariBWzwbyv7TWWIAsD4pg29fgvbxjGC7h_x6CLxvofH.jpg
//media.inmobalia.com/imgV1/B8vEv5Xh8DZJ8zA8HsKlVQQovHvPS2nS1REiasNjjf37J7WfKOkiQxSIhRrnU2OBFkknCXNFUkYS7Hh9o9IZ_QJ9eIkyovPQx_JrdLEbwWq~RSLhnTiku7QQnTpjU0BszlPFXGbguK4GzDXfYRcgrlYRGKmTl0Fc8ZQXMVec5R6hgsXUAjrK4km7_6kIrQSLRK5WTu9E~yNqEhWL5xOhTwk6M75cXIObYskf2XE3eox442y2y2MxZXxti1NszcJaLiM0XpkNbTr53VHZa3nRCyl~Dtsel8SayUA4QOHX.jpg
//media.inmobalia.com/imgV1/B8vEv5Xh8DZJ8zA8HsKlVQQovHvPS2nS1REiasNjjf37J7WfKOkiQxSIhRrnU2OBFkknCXNFUkYS7Hh9o9IZ_QJ9eIkyovPQx_JrdLEbwWq~RSLhnTiku7QQnTucM8_gl7oyERxzXGldQCAr16UDAeF7But4Pdaa4bXbjfEFeZBqMtMBv4S5hcyQ8qm0elQKJV3Efgn8yxz~bSaUO43BO_lA0ZKXLx~CvJf2h4d2Gtj2XJ8Ub9~Ihy6y3tTDPiDAypZcg8LneiWYpDfIlN~kaHCbNJcxtJX~QXqEFgki.jpg
//media.inmobalia.com/imgV1/B8vEv5Xh8DZJ8zA8HsKlVQQovHvPS2nS1REiasNjjf37J7WfKOkiQxSIhRrnU2OBFkknCXNFUkYS7Hh9o9IZ_QJ9eIkyovPQx_JrdLEbwWq~RSLhnTiku7QQnFC5EEL8fm6PCa_8erM01Jde24gpqlOQ6bVLuY_8IXkNMVnTJxJ6qhU2fljH6TaLTHqUv1C~6Av4p3ytC1pLuR4_Yh4UVGc0yjGSH6BTtCXvla5l0CkeOIJM~n72ETEJ4zUbBifEzV2VEJf~NWL4pIcB6Rbw_oLZnrLB0IYLymK_P_Yo.jpg
//media.inmobalia.com/imgV1/B8vEv5Xh8DZJ8zA8HsKlVQQovHvPS2nS1REiasNjjf37J7WfKOkiQxSIhRrnU2OBFkknCXNFUkYS7Hh9o9IZ_QJ9eIkyovPQx_JrdLEbwWq~RSLhnTiku7QQnFFHQV~9jl0k1W2Tw7o9jJbYF6daUVXu_4s~UOSNIsSn2QYOX1LDzb0Qpi2LS7PVujyb0DGStW79yEKF_PpRsf6OpU2WVV5Q4gmNFFkjx5RiiW6IWY03YZTZnGf0QcTDRtdfVlDeX6ncjLupeZuv2u1FlxLd3zj0L7Vkyu4qru7CZhVF.jpg
//media.inmobalia.com/imgV1/B8vEv5Xh8DZJ8zA8HsKlVQQovHvPS2nS1REiasNjjf37J7WfKOkiQxSIhRrnU2OBFkknCXNFUkYS7Hh9o9IZ_QJ9eIkyovPQx_JrdLEbwWq~RSLhnTiku7QQnFLiff4bmlDDz7PXjtVo6lKNHhAoSUqMRLPSpQAoNXg6pgeClfnHFZcpD_sCjadnePNYe4lH~9oH0m1c~PRkAuaEwxA2QAPgZgK8CBQl68YJlhwXkPoeQC0UUHiRID4wcrVwdo8paE3dOiXmrbJzIbD~lhCbAFeHydOlKC_E24HxRNtq.jpg
//media.inmobalia.com/imgV1/B8vEv5Xh8DZJ8zA8HsKlVQQovHvPS2nS1REiasNjjf37J7WfKOkiQxSIhRrnU2OBFkknCXNFUkYS7Hh9o9IZ_QJ9eIkyovPQx_JrdLEbwWq~RSLhnTiku7QQnFOC871k73RCM5zu~9AnaSaRBIXu8d2llJQE8ttZs5Hbdz~2P49HQP7_XcbzdJJOQnzPCdPjveQyTvn6TpTJpams29fjYFjjfqu4WzRMAQ5V0Ipbi1~NI~G5iUTNgbHBWOg9VQfPmMXA5ZAfyDGuJpUCg1jlkBivL_lET1zvwKiZxZqw.jpg
//media.inmobalia.com/imgV1/B8vEv5Xh8DZJ8zA8HsKlVQQovHvPS2nS1REiasNjjf37J7WfKOkiQxSIhRrnU2OBFkknCXNFUkYS7Hh9o9IZ_QJ9eIkyovPQx_JrdLEbwWq~RSLhnTiku7QQnFTcxd2yMwY4ezwGktLiERc~sCIZdW6YxeHOXEnTQN951j3avdp1oUoBA0hMxqt~Tv8t6gqXfFQ7UYoMMvOLa37ZAzfdlGaWFURUv65i54OhkG6SCAFEcDIvJhS~RjVXQz3iEAk5tn7mcRUT537vE0vreKOk0mA1DAaQiqomHhxWmOWx.jpg
//media.inmobalia.com/imgV1/B8vEv5Xh8DZJ8zA8HsKlVQQovHvPS2nS1REiasNjjf37J7WfKOkiQxSIhRrnU2OBFkknCXNFUkYS7Hh9o9IZ_QJ9eIkyovPQx_JrdLEbwWq~RSLhnTiku7QQnFWRcdXq9iAg~UAy1Z8dQE1allxzoWgzeRshlgizxO_UfY~CZ5RWDf0i8p4PkLPpy_3UHqZWeJlu02rLFnw7NIgaDNBHq~XFuu9peqYhUd7ooXC1SapDh_UWPpLXFv4A5NeWNRGURz~bRZCuYi4mn9tE3ikCYSH_Ydo6TtCWrlKqVk9f.jpg
//media.inmobalia.com/imgV1/B8vEv5Xh8DZJ8zA8HsKlVQQovHvPS2nS1REiasNjjf37J7WfKOkiQxSIhRrnU2OBFkknCXNFUkYS7Hh9o9IZ_QJ9eIkyovPQx_JrdLEbwWq~RSLhnTiku7QQnFYCtAqYxZZscRs6pKL2fJRZHvNXwi2hSw0jAAK_tdkLRFHv5B0wETiKbwzWevk1Ymqrqids4MjU7HhUf1UJZXc6ZRDV4kpM4B1sQK5O9_AvKenFnFDnwzjLDfMANxGTtzBsVbLToj~lbDyfrhvgBfu7UuASbK5rrru23_oHJsDWw093.jpg
Price

2.550.000 €

Ref.

4859

bedrooms

5

bathrooms

5

Built

545 m²

Plot

1.239 m²
Villa in La Alqueria, Benahavis
Brand new south west facing, five bedroom villa in La Alqueria, a luxury residential area only a few minutes away from Puerto Banus and Marbella. This modern villa is near to completion and will be built to the highest standards, as you enter the property there is a spacious living area with glass cavity sliding doors leading to the private terrace with beautiful sea and golf views and garden area; fully equipped kitchen; a guest suite and a cloakroom. On the top floor there is the master suite, two guest bedrooms and a shared bathroom. All bedrooms have direct access to a terrace with Jacuzzi and an outdoor shower.On the lower floor is another guest room with bathroom and a gym with sauna and steam room. There is also another area on the lower floor which could be converted to a cinema or games room. Other features include a garage for three cars, hot and cold air conditioning, underfloor heating throughout and surround sound music system. The property is unfurnished, the pictures you see with furniture are renderings.
Features
Air conditioning
Central heating
Similar Properties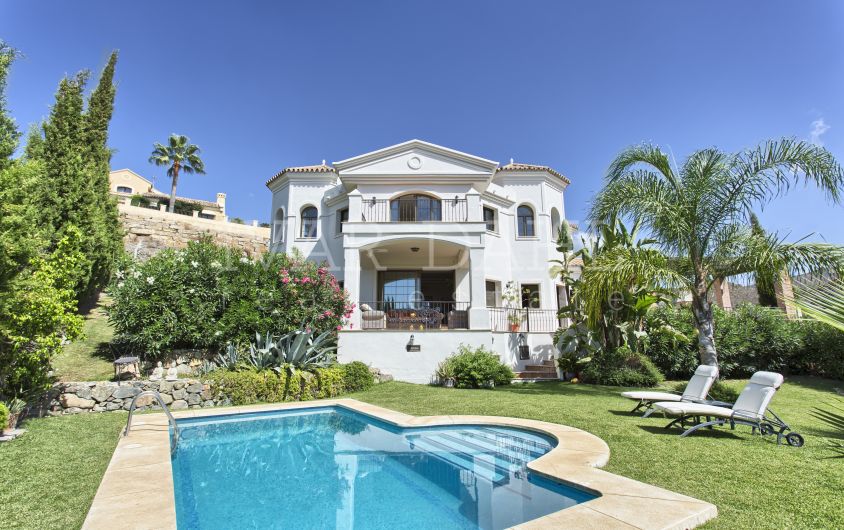 Villa in La Quinta, Benahavis. beautiful and well presented villa with 4 bedrooms and 4 bathrooms. Large covered and uncovered terrace with BBQ area and private pool. Nice views to La Quinta Golf and the sea.
4

bedrooms

4

bathrooms

293m²

built

1.100m²

plot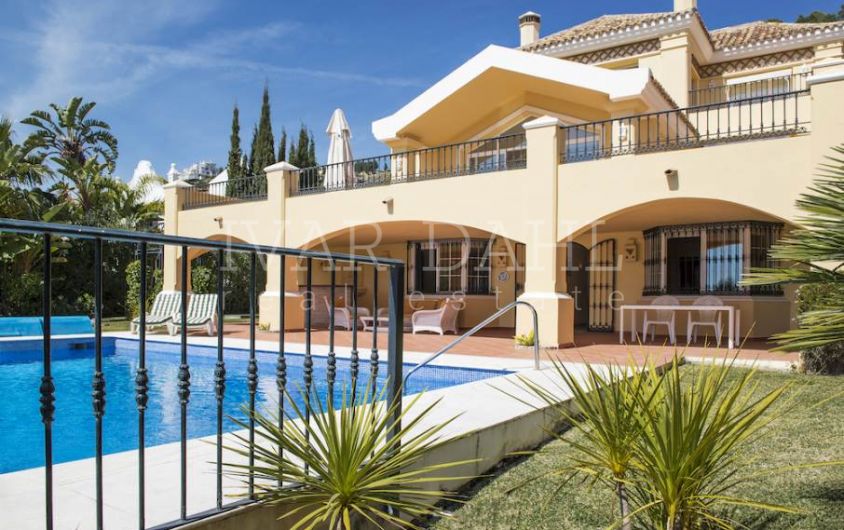 Frontline Golf, Large villa with garden and heated pool, aircon, underfloorheating etc. From the entrance, you walk into the large lounge with stunning golf and seaviews. Intergated office/piano area. Dining ...
6

bedrooms

5

bathrooms

503m²

built

1.000m²

plot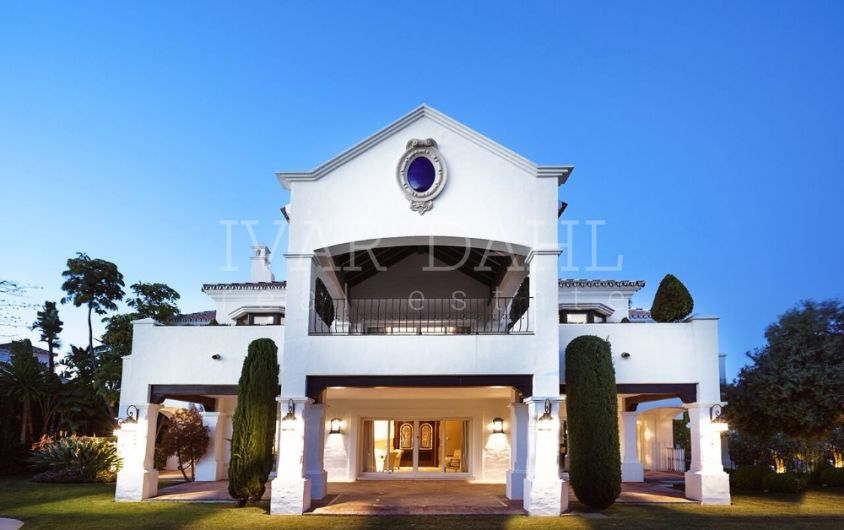 NEW QUALITY VILLA IN BENAHAVIS WITH SEA AND GOLF VIEWS! The Villa has an elegant entrance hall, large living room, separate dining room and sitting area with chimney, guest bedroom en suite, modern kitchen ...
5

bedrooms

6

bathrooms

531m²

built

1.539m²

plot