A charming townhouse with sea views in La Cornisa, Sitio de Calahonda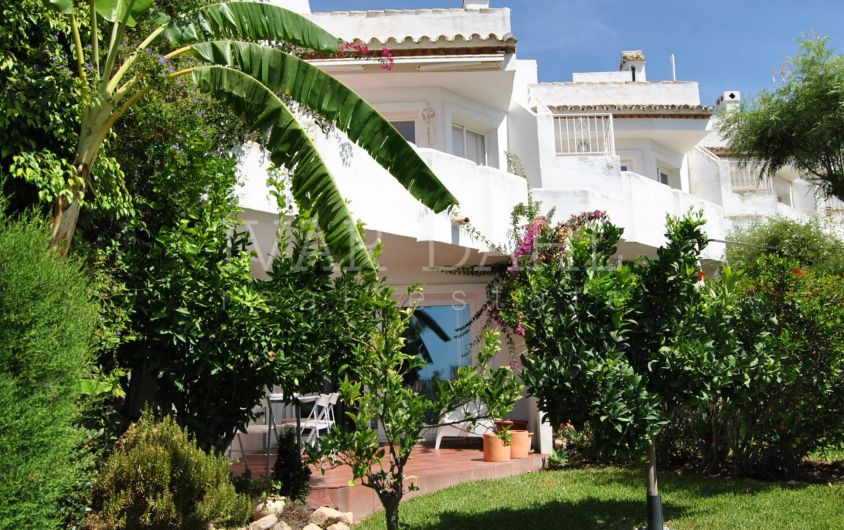 //media.inmobalia.com/imgV1/B8vEv5Xh8DZJ8zA8HsKlVQQovHvPS2nS1REiasNjjf37J7WfKOkiQxSIhRrnU2OBFkknCXNFUkYS7Hh9o9IZ_QJ9eIkyovPQwIBh1cOyvaoqDVCwpbnwGgjtZNWsskH9ea0~cN3p7znLAnD09g_9v0BT6mmWr4WKKxxmikwcL3tlXWcCaowXTWOCLbZ9Qh2PeGZKIegxNa5DjaSd_IKHzNHqpRkr9LRPDvAWioGVzLXsc~CX05HC9hqz4lCrGDeAeWd6IZijEZpKVfBqC6rqWXoyjsGUhMmn3iWzrK83ByhtTF1Gax9RsZulNFupXMV_csE-.jpg
//media.inmobalia.com/imgV1/B8vEv5Xh8DZJ8zA8HsKlVQQovHvPS2nS1REiasNjjf37J7WfKOkiQxSIhRrnU2OBFkknCXNFUkYS7Hh9o9IZ_QJ9eIkyovPQwIBh1ZN_nFfAedEdn9JVT1rmbF969Q3xo8cynekYRnFFGwURHhl7MvxZopIfCFSAo6VamYOJAYcWS0uhzfpal_QCiBU5KbQjiRLO5pRykQb5b38iJ7jLznyesVLs1W9ySSDYB9ztKpQflFkUmHdVfJjMboyhVEp6LQBlMvCXMBwDyY3SXVzlqS350oRVWaH_8KpwAL7KRMiaz99G_9tR4lDa5mekeZ19tLA-.jpg
//media.inmobalia.com/imgV1/B8vEv5Xh8DZJ8zA8HsKlVQQovHvPS2nS1REiasNjjf37J7WfKOkiQxSIhRrnU2OBFkknCXNFUkYS7Hh9o9IZ_QJ9eIkyovPQwIBh1ZTv_YvAGx~bLj8k9il~wBUA0ulmt1nUHfGi6xkkmaVie0IRskTigSwFCc_roEGLbycFo9_kWQXY9opWcwU50iOsQ53eq4XabMzKx9wE5gUujPqhwbNIorsI6jIpo2wrDbTalFvfNmqG0F5teCdOHeTMNAX~N4mSCxmxXQej6qRoa2xOVQQkX4FUxPv9byqz1UIKwnOWSIaifQT~El5Kvl30Z3MKhEk-.jpg
//media.inmobalia.com/imgV1/B8vEv5Xh8DZJ8zA8HsKlVQQovHvPS2nS1REiasNjjf37J7WfKOkiQxSIhRrnU2OBFkknCXNFUkYS7Hh9o9IZ_QJ9eIkyovPQwIBh1cS5SgGvMRQMWdFRtmUICaJ35GEs2aoE~n4cJhO~DKzkcSXax2h6X_b28mZszuefGFh7e6xSL6WvFuwfwHsI7vNt4gvHVt~fBjO968viZP0cxrQPSUSfw9CuntL6B~7Aorxgbq1q25I8j6bhS2UJhYr83Xh9kJt3RCawyr9KqZMqzWcFYMrJzVChvHzHObBa~JQ0r0A4tVnl_imWI9t4k63tPZ985Bw-.jpg
//media.inmobalia.com/imgV1/B8vEv5Xh8DZJ8zA8HsKlVQQovHvPS2nS1REiasNjjf37J7WfKOkiQxSIhRrnU2OBFkknCXNFUkYS7Hh9o9IZ_QJ9eIkyovPQwIBh1ZS5jQxEYtyDhTnxyYq4LeCy4N5gJ9q4zcTCSiJjEnuC9VkM6R6H8VU8wHrC5w0kviGv18R9zkbJ2vWbm6eqbklD6pGsoCavLeUX7VlV~7aP98IGIipugoGntI3Z5LOZ0SF8NW5OfL8tO25DVoUVVEa26IIRRe5aPQmomVp4IYopGEoIaTHGNNz6SVqtKLPgDXGFgB9jMd02sAID~RIAaxBaXLfDqW0-.jpg
//media.inmobalia.com/imgV1/B8vEv5Xh8DZJ8zA8HsKlVQQovHvPS2nS1REiasNjjf37J7WfKOkiQxSIhRrnU2OBFkknCXNFUkYS7Hh9o9IZ_QJ9eIkyovPQwIBh1ZAIVQmmxWqwCdL9PgxocjNKIQKt8iOoK817og6w9D8Nl6cGoE4isL8op~NI~FSMwD3PnLjPucdVDbYuiAgoFTOy8hX60Ox70Q64GojQ9Osgo4YHFxPnuRoNbvsCp9XfvLfTTehOp5y4mR_~CusQjv301Bd7WmvnqGWusqt7fqm2DMHAIGZ2m8oSRRCkzsqHkpbxorxLWsX8OoGASIClnnNdXbafWLw-.jpg
//media.inmobalia.com/imgV1/B8vEv5Xh8DZJ8zA8HsKlVQQovHvPS2nS1REiasNjjf37J7WfKOkiQxSIhRrnU2OBFkknCXNFUkYS7Hh9o9IZ_QJ9eIkyovPQwIBh1cLvLraHWOcQcTCIeJsZSA3JKNvmJKV~XW0lqBWy7X9kg~Xe_68M4NqIRX61Kx_XfdQzp1QZDVaGJTWNzDygLJ~DDUy7r8cRm3CeehUgMeUEaDmxrb1zMy~6pSMg5JjrYoPX_8DU1qW9EKAGQ~2JK2Tl0xzTUg7iFSuw1xp9OKJpZguzjZ~TsIlj2xc0UKR1RQd5yTwL4Is_k9KB75HKCgmofXqIGBg-.jpg
//media.inmobalia.com/imgV1/B8vEv5Xh8DZJ8zA8HsKlVQQovHvPS2nS1REiasNjjf37J7WfKOkiQxSIhRrnU2OBFkknCXNFUkYS7Hh9o9IZ_QJ9eIkyovPQwIBh1ZgoDKeszGDTMC4dMEm8T5sVIxQJDGddSnwkUTycz3z2rtZbDJuTdlGdL85b8V9U9Z7K6ksdEh1SwmG8MWqCXJwjOoygLTtrlI5lBsBeTtw0P~KQhl8AHjtCk5H1zzIE8FFJPe58LM1ErPZ4xIEH1UETASmD4moMRw8lH6Dhp~NHdSU5PWJn0cjSt8~8dwsoDkBzmOXT6UgLgPBtTLPlX8382Dt_esE-.jpg
//media.inmobalia.com/imgV1/B8vEv5Xh8DZJ8zA8HsKlVQQovHvPS2nS1REiasNjjf37J7WfKOkiQxSIhRrnU2OBFkknCXNFUkYS7Hh9o9IZ_QJ9eIkyovPQwIBh1cby1vrQZg4OxrLyiG02fiM0nOKPqHjPaxmVvBMmtvflFr028rfDfeOH5IEMIWnv5QN89LbshOEm04hxIAxsGICUn~csgzgS5OiTxxDYReY7a2iwjBb0H~MH9diU71MkMRoklNsIz036BDK7epbxKxT45uQaEmjfHIPWAcuC0_rYVxYjv1upMiyoEHOqYhhLR8N1g_qIj95bgjJhq1T9rog6WK9I8aY-.jpg
//media.inmobalia.com/imgV1/B8vEv5Xh8DZJ8zA8HsKlVQQovHvPS2nS1REiasNjjf37J7WfKOkiQxSIhRrnU2OBFkknCXNFUkYS7Hh9o9IZ_QJ9eIkyovPQwIBh1ZXESJ7hg5IDz0~DBnWfM_W1nFbFevw_qTRctwjyIyTq3Ew6eQHtgkG6udvFdT34leEcvp~T4sISXdUAUObwLopR7~MdqvNL~9vK6nsfjCrN45ePIvcV9m1CoNENViPeMIUioJM9dW7nWDMFMpjN_3XiPtWwQtwBJokrmdo39See20tACzE~3dek9iXF_u0WMdauystfeaZuOMdJ7qfrWyqDzRI_JAA-.jpg
//media.inmobalia.com/imgV1/B8vEv5Xh8DZJ8zA8HsKlVQQovHvPS2nS1REiasNjjf37J7WfKOkiQxSIhRrnU2OBFkknCXNFUkYS7Hh9o9IZ_QJ9eIkyovPQwIBh1ZnRHSrnVpj6cw1HjYWqmt4XAo77kIsk5qTdySsfFN36NHS8Tn0H7g9Yua3QNQPC_Hqvx7vKRQ3xTudTjnIpv9fu_jRjbeiJ7N~ctZ0OcoUnNTHMkWB06bW2LK28WvhT_dF7geuYvgYoKcBqb4GKRzQYSY33LLnYYB3HtAF21ctdbVcojt3JnZrg60~Se5HSAZeFTAQyUsj5vuGzEaeEFqGhmK4_fl4-.jpg
//media.inmobalia.com/imgV1/B8vEv5Xh8DZJ8zA8HsKlVQQovHvPS2nS1REiasNjjf37J7WfKOkiQxSIhRrnU2OBFkknCXNFUkYS7Hh9o9IZ_QJ9eIkyovPQwIBh1ZToDAmLb2PnV2Y~G07BVGAm1Xiu1LKhLGIjzn2GKQ7hkHt9BGqJYyLxWGXp5hYAzcS~QQdSAPhMfzpASAcNhUFrP32IGMobYX3Cs6ZrKoCEmKO_Nddca24gFgg3Ax8_8Pfw7ULnaoXF5wQe4bDEB667wk_BeNjJMAxu4X15pLYGxVOI82AkddvkUQAgmbNSTR7jR0x48lsp234YZY_TZPtOjkM6Wp4-.jpg
Price

240.000 €

Ref.

4874

bedrooms

2

bathrooms

2

Built

150 m²
Town House in Calahonda, Mijas Costa
A very nice , popular complex La Cornisa with several swimming pools and lovely gardens. This south facing townhouse has a lot of character, many terraces and a small garden . The home is furnished.
The property consists of a lounge / dining room with fireplace and access to covered terrace and own little private garden, kitchen/laundry and guest toilet. First floor 2 bedrooms and 1 bathroom, each bedroom has its terrace. Top floor sunroof with panoramic view. In the basement there's garage for 1 car, 1 and 1/2 bedrooms (no windows), sauna and shower.
Local restaurant in few steps away. In the close neighborhood there are several restaurants, 9 hole golf course, Club del Sol tennis club/sport center. Marina Puerto Cabopino and beautiful sandy beach around 5 km distance. In Calahonda there is motorway access. Airport 30 minutes drive.
Townhouse in La Cornisa, Sitio de Calahonda, Mijas-Costa.
Features
Fireplace
Marble floors
Sauna
Basement
Solarium
Guest toilet
Private terrace
Kitchen equipped
Living room
Amenities near
Sea view
Mountain view
Covered terrace
Fitted wardrobes
Air conditioning
Garden view
Panoramic view
Street view
Close to Golf
Uncovered terrace
Fully furnished
Similar Properties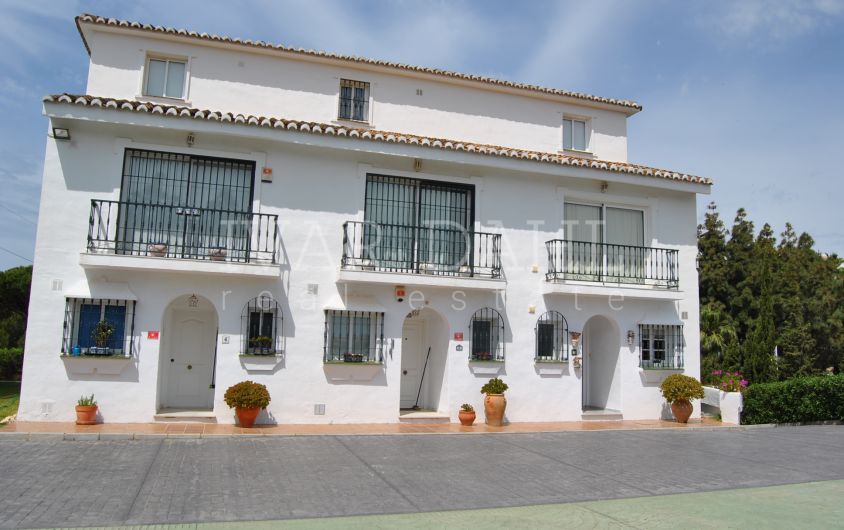 A beautiful townhouse situated in a small complex of 6 houses. West facing with sea and golf views in Mijas-Costa, Urb. Sitio de Calahonda.A luminous house on 3 stories. Ground floor ; Living/dining room with ...
3

bedrooms

2

bathrooms

114m²

built

41m²

terrace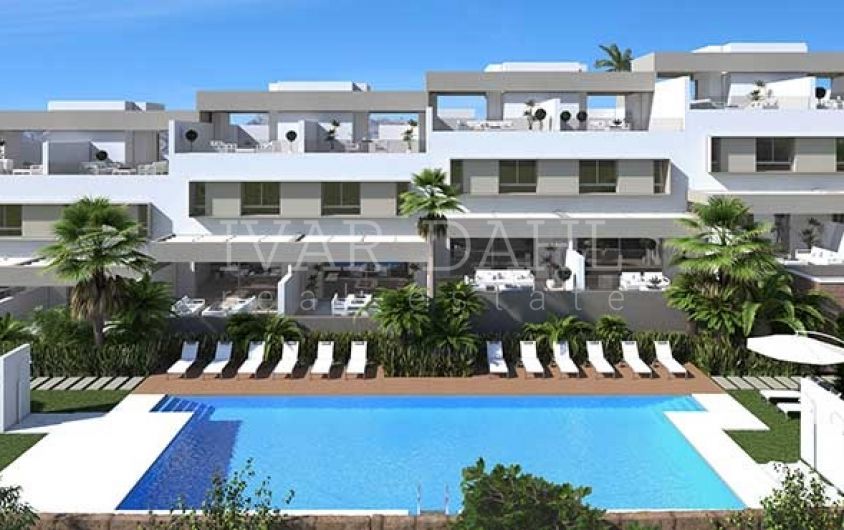 This new complex is situated in La Cala Golf, in the Valley of Mijas. It has 55 ample terraced homes, with 3 bedrooms, 2 bathrooms and a cloakroom, with panoramic views over the golf course and La Cala de ...
3

bedrooms

2

bathrooms

268m²

built

91m²

terrace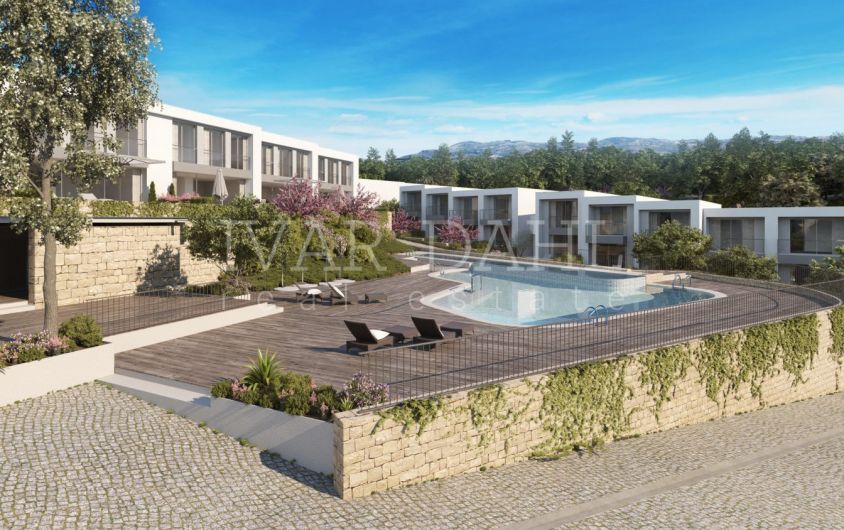 Town House for sale in La Cala Golf, Mijas Costa with 2 bedrooms, 2 bathrooms and with orientation south, with communal swimming pool, private garage and communal garden. Regarding property dimensions, it has ...
2

bedrooms

2

bathrooms

147m²

built

34m²

plot