Marbella East, new modern villa project
//media.inmobalia.com/imgV1/B8vEv5Xh8DZJ8zA8HsKlVQQovHvPS2nS1REiasNjjf37J7WfKOkiQxSIhRrnU2OBFkknCXNFUkYS7Hh9o9IZ_QJ9eIkyovPQwQbhG2fgjY0_KfyhXVX6EiG_GGhrS1oq1tOSn1R3YbEMNj1W2Hm4d4ykXydr9jOGLajoJfyfrqxA3E0zEKLpfIGoLEyK_gSJ0Fzb9ke8runCkdT5IFZSia0vww8ZgQfvYo6QboK5uSgwYPwQ2NrFak024kgbqhJSgmdUO8_W7UUQDXQtkOR1j_JWyb5JnBR5JteETqoeUh9lYS2JC~aAolAVAmJnW~x6yJY-.jpg
//media.inmobalia.com/imgV1/B8vEv5Xh8DZJ8zA8HsKlVQQovHvPS2nS1REiasNjjf37J7WfKOkiQxSIhRrnU2OBFkknCXNFUkYS7Hh9o9IZ_QJ9eIkyovPQwQbhGzRdpEBKflv6YebsS_xAZsybGXGea04s71qih79pTkK1caWkVnwMy4kin5QNrwuv~kIq1zGfBfEeXVpJFASiHH7fwx~bRKQ3QA1DCOuMyEDQdaSgiz5B8VfEIiPjQWYR4mvABHcVfZqTTPBUv1DU9XQjwCZDGU6HIg19W1rMo5uoXMdgXhl9gJ7BFgiK8Fkb4qtHumPxXOogL0TUSYfx8_qCeKzjT_4-.jpg
//media.inmobalia.com/imgV1/B8vEv5Xh8DZJ8zA8HsKlVQQovHvPS2nS1REiasNjjf37J7WfKOkiQxSIhRrnU2OBFkknCXNFUkYS7Hh9o9IZ_QJ9eIkyovPQwQbhG2ezLftQv9nQBXfVFNGlJiESVWtQWxX26hCtetGRKTKEsgg6n7fsQ73TF5VivxsWABJFBP53GID4WZJj3O7rSs24EFgBNGK05pUCpXmxS6_8EU6zqY2f10klGlluVALRqtWGdMMDotTEVeVgTD5ERk5BcE14hOfCVi4XwXe8GsvcurcISApgvomDT74TlDjO~LKoPIeNTIAeqkFX61htwqw1jk7gr40-.jpg
//media.inmobalia.com/imgV1/B8vEv5Xh8DZJ8zA8HsKlVQQovHvPS2nS1REiasNjjf37J7WfKOkiQxSIhRrnU2OBFkknCXNFUkYS7Hh9o9IZ_QJ9eIkyovPQwQbhGzFvR5M71lobd3D~Hdql0QR~2JEtV~F2KBGIKUibAXJvpl00Z7ON20U0y5Ei91tYrp9Nn486eSSojLFvG1C~rUR6Pck~vnIHxDAlidAlNhvvOCjD31xEk09i6InsLOGIEaIcFDDv3tysJccTtSWCnD3tHRMhhWS~bJZL8~lh_0oSuw6KGsiEnE3yP95rIKecpWWX542d3xyaqNS0rLsnxGwolsXZmHk-.jpg
Price

1.200.000 €

Ref.

4888

bedrooms

4

bathrooms

4

Built

415 m²

Plot

899 m²
Villa in Santa Clara, Marbella East
Positioned along a gentle rise overlooking golf and the Mediterranean shores that lay less than a kilometer away, this is an exclusive new residential complex that has distinguished itself for its concept, architectural design and lifestyle features. The latest phase of this boutique gated development of modern Marbella villas. The 24 properties are beautifully styled and finished with the finest materials, offering a choice of 3 and 4 bedrooms with 230 m2 plus terraces.
In addition to creating visually impact modern villas that are also practical and easy to maintain, the painstaking attention to detail of architect Rodolfo Amieva has produced gorgeous open-plan interior living spaces that spill out onto the terrace, salt water swimming pool and garden. Combined with clever orientation that blends impressive sea and golf views with privacy.
This truly special project created with vision and passion also enjoys the full range of concierge services available as part of the concept in Santa Clara Golf Resort, Marbella East.
Features
Close to schools
Utility room
Pets allowed
Basement
Solar panels
Security entrance
Double glazing
Brand new
Dining room
Security service 24h
Guest toilet
Private terrace
Kitchen equipped
Living room
Sea view
Mountain view
Underfloor heating (throughout)
Laundry room
Covered terrace
24h Service
Fitted wardrobes
Gated community
Air conditioning
Garden view
Pool view
Unfurnished
Close to Golf
Uncovered terrace
Open plan kitchen
Similar Properties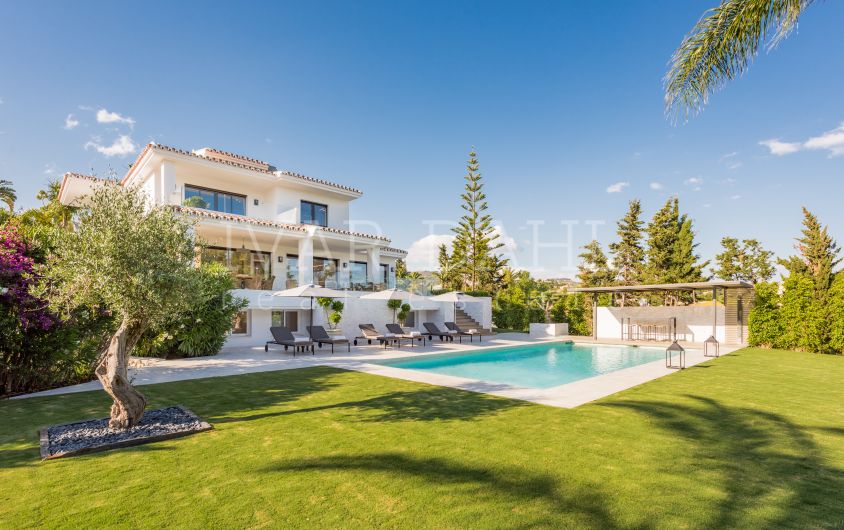 This Villa is immediately inviting and radiates happiness. The swimming pool is large – bordered by a decked chillout area, the plot allows plenty of room for an impressive garden. Quiet, residential area. A ...
5

bedrooms

5

bathrooms

467m²

built

1.780m²

plot
Villa for sale in La Mairena, Ojen, Marbella.This magnificent modern villa was completed in 2008. It has 5 bedrooms and 4 bathrooms and is situated on a large corner plot within a unique vantage point and is ...
5

bedrooms

4

bathrooms

479m²

built

2.000m²

plot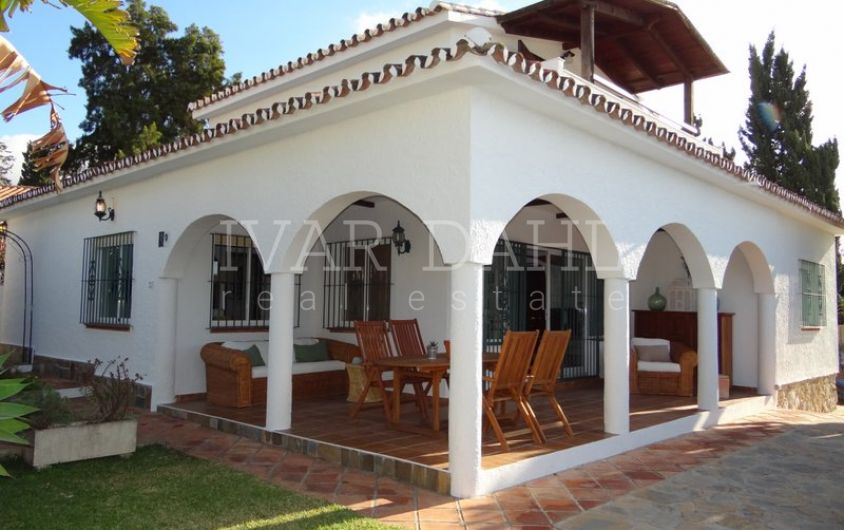 Villa for sale in Costabella, east of Marbella, just 3 minutes walk from a wide sandy beach. Costabella is a 7 minute drive from the center of Marbella away. In the area there are all kinds of services such as ...
4

bedrooms

3

bathrooms

211m²

built

622m²

plot