Villa for sale in Altos de Puente Romano, Marbella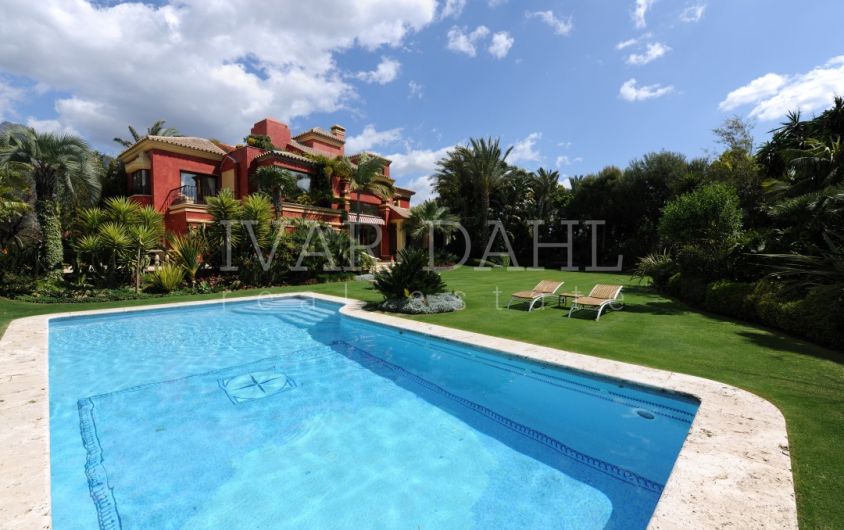 //media.inmobalia.com/imgV1/B8vEv5Xh8DZJ8zA8HsKlVQQovHvPS2nS1REiasNjjf37J7WfKOkiQxSIhRrnU2OBFkknCXNFUkYS7Hh9o9IZ_QJ9eIkyovPQwQkEcfv3RXkl2aG3o4rTUjygNnclTDtFMJPqSjaHP8_DOktK120hei5BWzJaMynZYcjyDuUqU53q5Ll35iGe6R6yi9qI_9i_vXzqh8tqrHLXk4B~6P3VTtNncC4sres6Oy33JgBYIA_hnInLbzt0OeFGjjzGSEeWmS5ySTRYWuXTQ4Olkelhg_d4N6DQ20Jm1EF8T~MvU7S86t5~E66FnxJBMigIJFxdx8s-.jpg
//media.inmobalia.com/imgV1/B8vEv5Xh8DZJ8zA8HsKlVQQovHvPS2nS1REiasNjjf37J7WfKOkiQxSIhRrnU2OBFkknCXNFUkYS7Hh9o9IZ_QJ9eIkyovPQwQkEca68egBCa9CfoSuTeWqvF_Kh1aklQsqR4r_xzBUBUCOEYQYFVrr3N_K4afdDah_XbPFAOpHomNXtsNWDpus1JPhLIDudmstPhWNBLFA9FfFU6j~RvOdp0nkmF17LLV4mExsnpqhHGbuXnDRLmqra1Kk4X68S6c~ZZp4RF9PAZ~O9uvNO7wW_gwFgehYqEoP5p91FGF__EKOTjkm6yN~CWQkGe~1vOXI-.jpg
//media.inmobalia.com/imgV1/B8vEv5Xh8DZJ8zA8HsKlVQQovHvPS2nS1REiasNjjf37J7WfKOkiQxSIhRrnU2OBFkknCXNFUkYS7Hh9o9IZ_QJ9eIkyovPQwQkEcaDC6aNIkwKM9sVA_Pk5gnNsOhhtQ_wm6MNEHvK_P63T049YZmmDoM7mW3PHBYgmSR0UyoroxmulpQkz6Y29YFA6ISXwxIFt9HyxDflMm_7ZYRfhKJOdjSa6PpPfGBBrko26iE__ST1Ijtd1gS6OdamFR_FcvqKFy2yEHjH_9nSVwueSElXsuDjvJG6rY022sZ81ZpvciXfSXEqPMXoDgb0xuyCJGuM-.jpg
//media.inmobalia.com/imgV1/B8vEv5Xh8DZJ8zA8HsKlVQQovHvPS2nS1REiasNjjf37J7WfKOkiQxSIhRrnU2OBFkknCXNFUkYS7Hh9o9IZ_QJ9eIkyovPQwQkEca6_49JmdzUZWIqtvOCZQvjV98ugcAUpP1wo65fqPnDt0Aar2vGNp3G1hYg~kR~xcXVGoUFQv6EodbjO_N5rrx6DYWr1Sc5mBstK9rhILlvQwN3LjMTm8AWABaicWLGmYe83J9BiqIAAk8KEdYPms0mSlU7bekqaOay05Qrp2lZgTo6qZA09_FTIMJydSbndNA4GLL2WcUUY~w4NisHZKYLhd6~EFLs-.jpg
//media.inmobalia.com/imgV1/B8vEv5Xh8DZJ8zA8HsKlVQQovHvPS2nS1REiasNjjf37J7WfKOkiQxSIhRrnU2OBFkknCXNFUkYS7Hh9o9IZ_QJ9eIkyovPQwQkEcfoW11LxNIaNT9aAHMBXN4eSAzpmKERqyYBH25_Jg5HmHIzuvRlVrxRZi91VZgJlpSo5O52jNLVRJLEXpbc2_W0BgkR_C487uaqzoqqBOcDVNq4ILkuVCE~KFnlmvNhi_gKbLG0fvjSfZU0lY0cFP03j4ekXFjdAIkZWiwTcAf6Z8vdHOAdl9SIC3ARMb2wFavncY7AFGUxWep37Ght64lCZFJCl4lc-.jpg
//media.inmobalia.com/imgV1/B8vEv5Xh8DZJ8zA8HsKlVQQovHvPS2nS1REiasNjjf37J7WfKOkiQxSIhRrnU2OBFkknCXNFUkYS7Hh9o9IZ_QJ9eIkyovPQwQkEcasaOmMbZlnhsqwgQ9SjvJFRBXUfgWucBEdpXBqg_jzT2USfY0De8Weq4JGcGVNHuXv7rWW_J~u_u5thamkhpTBf9ev7sphaFATLE~G_AEha~HxCilRoyHGN55eG1Ksa7oDCtlduyEYLyUvf~89mKbY6AZwkNxNe1wudDIF4iXpncg7nqlTLzcbd18e_Fdsr89PbouysZWgiW1UMvyDWK7GPlfLl7_s-.jpg
//media.inmobalia.com/imgV1/B8vEv5Xh8DZJ8zA8HsKlVQQovHvPS2nS1REiasNjjf37J7WfKOkiQxSIhRrnU2OBFkknCXNFUkYS7Hh9o9IZ_QJ9eIkyovPQwQkEcfv1nt6Gze~agrBCdsS5V0niZ4RVWEFRzlSYODbq1QeH46oES1u6sPiroEp718I62o6ogUG88OEUOAmfPBxq4jQDqs4p2kxbTbuZBPI9o02dRS7PEr0~5e1xN~1r2gC1lixbLJcV73pVwk_3GrmrQGhjhtycv17YyA5slqeyBXPGYCjA3QdBrkj2Absu9JvykCFo8y~kkg5GPRMLcVneohYPSLhQR2g-.jpg
//media.inmobalia.com/imgV1/B8vEv5Xh8DZJ8zA8HsKlVQQovHvPS2nS1REiasNjjf37J7WfKOkiQxSIhRrnU2OBFkknCXNFUkYS7Hh9o9IZ_QJ9eIkyovPQwQkEcatKUbqyEvC0_loiBQT1mO3WZseZFlfRfApnIbodwwvW1Ox23QgXwyduUwWfto_13f0grv64Eh1Tf6G2NDedpfUEO6ZpPXt90zlGWckShJ2PSDi_UoaJPMlEgkOhMMnKx2stDoowsbHZunuAIH65X_s1U7tNiq5qsUZ6EauP_X6JqtH_cQldhOcFr9KW~2v1~sUBB57lkgnEcSyk_sbLlgWG5_3_l60-.jpg
//media.inmobalia.com/imgV1/B8vEv5Xh8DZJ8zA8HsKlVQQovHvPS2nS1REiasNjjf37J7WfKOkiQxSIhRrnU2OBFkknCXNFUkYS7Hh9o9IZ_QJ9eIkyovPQwQkEcazDWNQfstwyWY~6g~GmjFqcCjNdsG_RTBKCqIhMu3MrmH7~w_wcs2iaWXuhsdjdjrumXMrj0ptg69JMZiKSUa3M8v8Cz5Bm6XSyUUd~1QjIA0_Po9VFslYSzytF6XdcZ~NZXcmAx7scDrmsmbzvZfwijjxU120CYra6W5bhBRfnCuzfG6nwvCJxnKWZtiF4QkxfoeSn1GmlNk3r2GQIa5sEfrYPPo8-.jpg
//media.inmobalia.com/imgV1/B8vEv5Xh8DZJ8zA8HsKlVQQovHvPS2nS1REiasNjjf37J7WfKOkiQxSIhRrnU2OBFkknCXNFUkYS7Hh9o9IZ_QJ9eIkyovPQwQkEcahoHnCT_HNbL4KxSt8AeOJcN4ir48Zs~oFjiAydgUzZZ1autmeAIBZmKgzacdc~R6PfRgC0TzUVgH8d9MJ~Ck3zmG5su5Vd6nK_Vc_Uu7DQFUNiwJ8DaywSxpwnTTENOYITYr~oavUwlTp0lR7PiSYWkWP7xGB0vsQsJFhMTbEr_dzwzDdiYafsiOr0Xy2ljJjLD4mMYYDO04FSo0e3WVTm4G7AQK8-.jpg
//media.inmobalia.com/imgV1/B8vEv5Xh8DZJ8zA8HsKlVQQovHvPS2nS1REiasNjjf37J7WfKOkiQxSIhRrnU2OBFkknCXNFUkYS7Hh9o9IZ_QJ9eIkyovPQwQkEcfkWPpHf1lAl3yOZU_x79W1wSFN_E9WqFJkt9JcEwp4K86wNW4XshmyykuxVFoMTwbFHbKK019gHn~sgRI76XFZDMZWBszsRMUOV5lw3SpgVoNjTkoA9BjACYkclv3FZ3utzi3I2tu4Dv3avpnOfdlZxtySqMcr0uebPiUDsHrm4qJpilGz6XE_wVXeAYxm64rYPx6CLvExRrop83Veaju9LDqISnKk-.jpg
//media.inmobalia.com/imgV1/B8vEv5Xh8DZJ8zA8HsKlVQQovHvPS2nS1REiasNjjf37J7WfKOkiQxSIhRrnU2OBFkknCXNFUkYS7Hh9o9IZ_QJ9eIkyovPQwQkEcalW88yUAH3G72RMS_mntWVO_NXFd3pQ7dfKAj2YbyLECYbI~uDUM__aQbrh4FDTVOG0d~Cae3xCW_KS~C~vflXlWkGty~NgCgeRLb8xmgohNgCx7HB8Wy2dDYguiFYSIXIugq2YfvUXXG3k7eM5WcsduiVfqHTefAJFDdVB5YtfqnSJUug0jNl4q9gno0OafOsV_8Qmw2t_4dna~oXlhSVRzYju_5Y-.jpg
//media.inmobalia.com/imgV1/B8vEv5Xh8DZJ8zA8HsKlVQQovHvPS2nS1REiasNjjf37J7WfKOkiQxSIhRrnU2OBFkknCXNFUkYS7Hh9o9IZ_QJ9eIkyovPQwQkEcalXBDCHt27lJiyRBUNRq8hINyPCKC0YzdFTu6TNOxxjgnshKkQWbomtwbjAlaN4ELwdV~3dAoyszHB5vJGeCjp6ksDcLvQ6BklSp1Xq11gzqxg7PLG9X8NoqBnwb_OHBs54tfcGr9hI1ocOomCyCcxeEhIn4Q1BYPv9KihrVNC83c_EadEDwrqgtSv22FYwpU1~CB8ANP1KNLN1F0~UEoY90jkmVWw-.jpg
//media.inmobalia.com/imgV1/B8vEv5Xh8DZJ8zA8HsKlVQQovHvPS2nS1REiasNjjf37J7WfKOkiQxSIhRrnU2OBFkknCXNFUkYS7Hh9o9IZ_QJ9eIkyovPQwQkEca8NRKyeWwM2tNLJlyo9lTQ_cfV9NNrxGbGQS7tFX_a1YfclQ_V9z~7CxsKD9Hj2V_3Oa5VYWKP5l94xJN81CiIet0pyhEVWMqq4j4E5wblP2gFsnCnj2ifbTRNsBTXwjNaw3Nimnu1T2tYM7RyImEY_C9aQFqOLb9~OxGEUMXeFfI0J3tC8SVYvHymtaSK_3ZVyKXygl2U5NCHLVccMjaxrw9AQhPI-.jpg
Price

4.200.000 €

Ref.

4889

bedrooms

5

bathrooms

5

Built

1.229 m²

Plot

2.029 m²
Villa in Altos de Puente Romano, Marbella Golden Mile
Villa for sale in Altos de Puente Romano, Marbella with 5 bedrooms, 5 bathrooms, 5 en suite bathrooms, 1 toilet and with orientation south, with private swimming pool, private garage and private garden. Regarding property dimensions, it has 1,229 m² built and 2,029 m² plot. Has the following facilities pool view, garden view, close to golf, close to sea/beach, close to town, close to port, close to schools, amenities near, good condition, air conditioning, underfloor heating (throughout), alarm, pets allowed, fitted wardrobes, lift, guest toilet, sauna, basement, marble floors, covered terrace, uncovered terrace, dining room, separate dining room, laundry room, living room, utility room, kitchen equipped and unfurnished.
Features
Close to town
Close to port
Close to schools
Utility room
Pets allowed
Marble floors
Sauna
Basement
Alarm
Dining room
Guest toilet
Kitchen equipped
Living room
Amenities near
Underfloor heating (throughout)
Laundry room
Covered terrace
Fitted wardrobes
Air conditioning
Lift
Garden view
Pool view
Unfurnished
Close to Sea/Beach
Close to Golf
Uncovered terrace
Separate dining room
Good condition
Similar Properties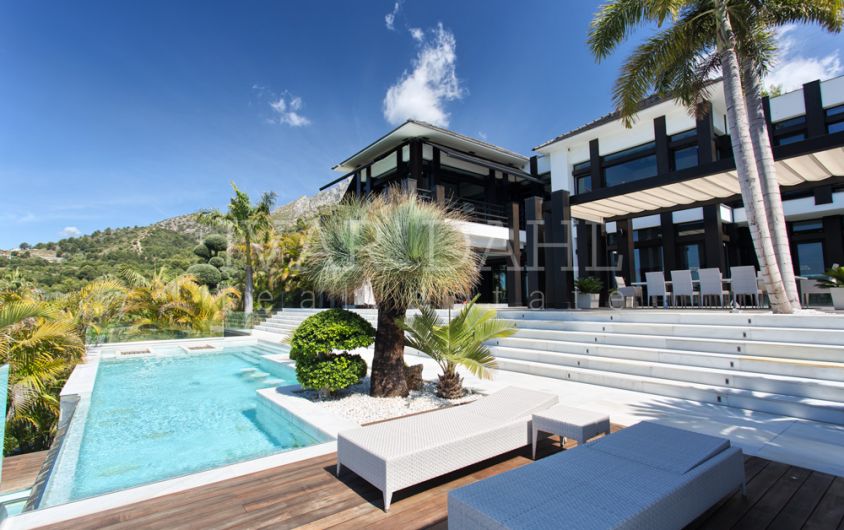 Wonderful property with excellent sea views, very private and quiet area and surrounded by nature. Top quality modern design, nicely situated on an elevated plot. The Villa is located in one of the ...
8

bedrooms

7

bathrooms

635m²

built

2.169m²

plot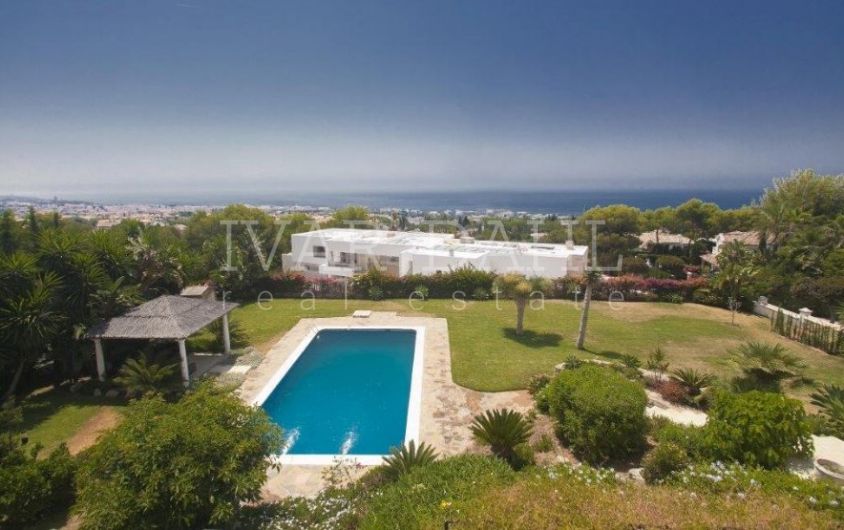 Stunning villa situated in one of the most prestigious estates above Marbella´s Golden Mile, in Sierra Blanca, in a privileged position offering breathtaking views to the mediterranean sea. 7 bedrooms, 7 ...
8

bedrooms

8

bathrooms

1.094m²

built

3.118m²

plot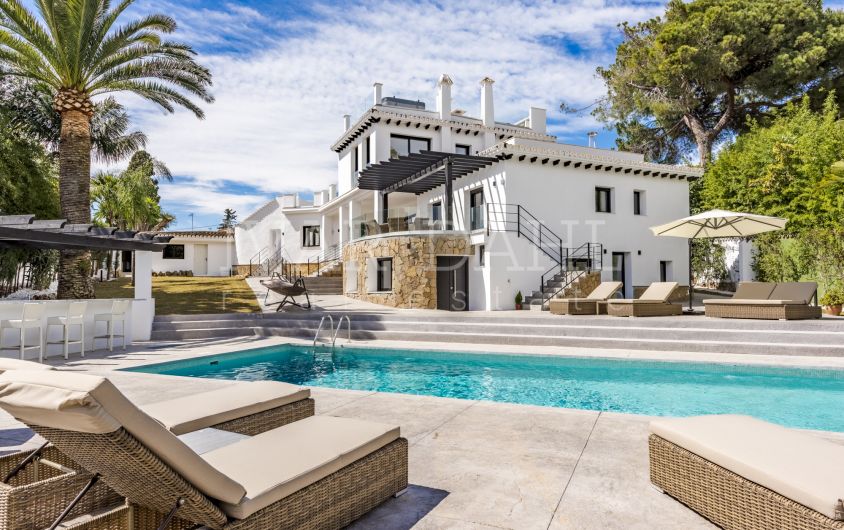 Villa - La Carolina, Marbella Golden Mile. A completely refurbished villa in the popular urbanization of La Carolina on The Golden Mile. With walking distance to The Marbella Club, restaurants, shops and ...
6

bedrooms

6

bathrooms

688m²

built

1.573m²

plot