Villa in Bahia de Marbella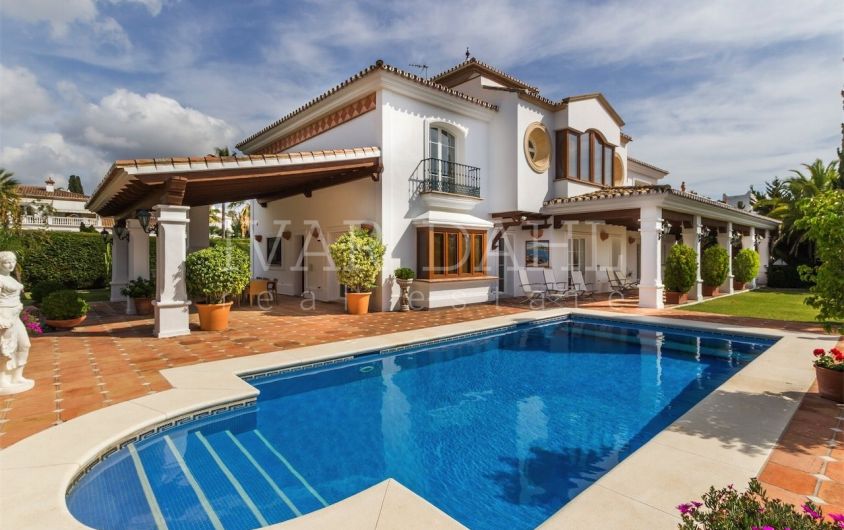 //media.inmobalia.com/imgV1/B8vEv5Xh8DZJ8zA8HsKlVQQovHvPS2nS1REiasNjjf37J7WfKOkiQxSIhRrnU2OBFkknCXNFUkYS7Hh9o9IZ_QJ9eIkyovPQwpGGpwKT3yVDYIapLjljhWYM00iKj3nNPN2JAoMke1hJBN4Pt5B7aX5Xp1asxN66~MVyBs9xqtYF39ZFyt4au6rYXuwf7FKDPQNRiz~MeZYSgyLEdOhlPfJMJzxhnUEJ5_xRn~qekmrd8YiwfN3Wj_0~2DQNwPUcFP3CEmtrKk9u95wMUAEFzQ5oFb~W03nA6LI2kMTV3eBZRdBFN4ZJ8a_Ydr4SoACRM6k-.jpg
//media.inmobalia.com/imgV1/B8vEv5Xh8DZJ8zA8HsKlVQQovHvPS2nS1REiasNjjf37J7WfKOkiQxSIhRrnU2OBFkknCXNFUkYS7Hh9o9IZ_QJ9eIkyovPQwpGGp1nEoWQ9jxEIpXO0OemRBd2c0R0XiAW00M4ufUgqQ14qR_waVzeztpwmfqpZN5WfKM6oCvHgWfxecXK6edhb4YIV0k6pIvm0T2F~ubTY~ZkCTeAgfyDwMdKi2vOGYGFwgGRbUmX5ZVO5QC1RdT2g2PudwISahORi8O_jjwwI4WcfLNDHc1iSSDFfT7IZ9_wGFtU1hbn6VGlx57Wl~zP12N3KWpT316I-.jpg
//media.inmobalia.com/imgV1/B8vEv5Xh8DZJ8zA8HsKlVQQovHvPS2nS1REiasNjjf37J7WfKOkiQxSIhRrnU2OBFkknCXNFUkYS7Hh9o9IZ_QJ9eIkyovPQwpGGp1EfXZRdSybblToOpbS5jKBNiGyXfYUItahEA2clDLlNbj~9~k2blwVB9jAfkHePtzD7FX7Tmbk_V0Z4yCOZ93YKYRGR2iO3tJ4mEAe6lFxm1rub5nn6UoEoeLEuf3ml0D62MJ4chyeQ7mR6Hevk2c1kVPeD2nZIU5I5ExhjMC2NriahSLDBpyhN1IyYHNFrEL4YoA2~XE13Ibv37Vw0Q1nxKPDKEXY-.jpg
//media.inmobalia.com/imgV1/B8vEv5Xh8DZJ8zA8HsKlVQQovHvPS2nS1REiasNjjf37J7WfKOkiQxSIhRrnU2OBFkknCXNFUkYS7Hh9o9IZ_QJ9eIkyovPQwpGGp1ioo50FG68KyWlnoq5na3oVGA8T9jcx743jfftOxQi4Moo_o1c6CTLqlnoscug8mTLmQpVHUEO5k4MD8De559uEGn4kKd3bG8dVFQZ59Fg8RETubwPp6FHfhaxb4kMaWXUEVzRZhxLwWHTDvIKJW8C0WcZHHS5zgFNF2Zq73bzoTbSfE~gKN8sXxQGTFcjHskXGb8ipj6dqzGm_1VbkDaHDCJXWjyQ-.jpg
//media.inmobalia.com/imgV1/B8vEv5Xh8DZJ8zA8HsKlVQQovHvPS2nS1REiasNjjf37J7WfKOkiQxSIhRrnU2OBFkknCXNFUkYS7Hh9o9IZ_QJ9eIkyovPQwpGGpwSUH~7a9H078KkBrEYo0RDEbEDvAEMWJKtRI90uNZMbT9brzN2uAKUFv8A8Ce3pp14R4dJrIsHv53VNDdc6SVK71IZBMCkn9v_p5HBeIQ71EjA~OgPD2svPBi53vVQBXgTh8MJTFNMzYFrRoHPgIaEFi0VU0W169jRpVc71pjSrzr15k15gf6xZeZiaS_8RW~xUmsAh315tFYDrqyL6sbRNkXKsSHU-.jpg
//media.inmobalia.com/imgV1/B8vEv5Xh8DZJ8zA8HsKlVQQovHvPS2nS1REiasNjjf37J7WfKOkiQxSIhRrnU2OBFkknCXNFUkYS7Hh9o9IZ_QJ9eIkyovPQwpGGp1V3fG5R8WaKwOxfgibT9o2pThS5Hm4Cvk4XAsX1oETWkJkPapOBiAu8bySBPHWeAeWfhB~o4QE0csWn7at6MD6AZxBzZDBCqNclPhOzIx22COu~3a~ftfKQxEMjkHsR~EYYmaQE9zgP3eIjR7rX6OUFIqgT9H_GpaYk0T2MSnpvvlSajGSgfy0IlME_Bom9tCUazQWPiCesMccP0kamTCV4FmILsGU-.jpg
//media.inmobalia.com/imgV1/B8vEv5Xh8DZJ8zA8HsKlVQQovHvPS2nS1REiasNjjf37J7WfKOkiQxSIhRrnU2OBFkknCXNFUkYS7Hh9o9IZ_QJ9eIkyovPQwpGGpwCLnMVHQtJaxjbN~udH3D5suQKG9EVl8jNiialkh4XWpeSWbwCxsooXs5pemSe4oOzdxLLUC4EIAqT5BIsuSI6TFlrrUvh2AD3dtMWcRxmFUE66Aod6GwuG2dqd4yQIzfi190z2l_I0C2QRCN5gHT8sLqMSHOnvR2r1ty5JNn2ZAZfa3x6kFbCVxvfVboKQrSs5mZJUQ9AuQKv346NjyzPy7CfJRKY-.jpg
//media.inmobalia.com/imgV1/B8vEv5Xh8DZJ8zA8HsKlVQQovHvPS2nS1REiasNjjf37J7WfKOkiQxSIhRrnU2OBFkknCXNFUkYS7Hh9o9IZ_QJ9eIkyovPQwpGGp1Dba_ggrdNzi5YvD7np6a9U5TXL63u_bsa8UJe5oc2ymU9cW~TXX3p70f6JqzpUTyB~T_dnm7hEYUp_NO4K~c9Cf2GE5lQekkAwItF_ZDd~kP2DUeW5Pn0WdIxm58uwpFDigdfPnS2JXlJLz3aupSay59foLXR2Y9q4UwL3p1j9gTGrRfSogwiHNkQlCPwA6O1vbpMnFsBCeMzgTZCvduFRty9TW2E-.jpg
//media.inmobalia.com/imgV1/B8vEv5Xh8DZJ8zA8HsKlVQQovHvPS2nS1REiasNjjf37J7WfKOkiQxSIhRrnU2OBFkknCXNFUkYS7Hh9o9IZ_QJ9eIkyovPQwpGGp1Uvpa9j82TlUPA8DwswlWemHoR6rCyDCLwlGjO~vcvfh0dNowBODFnpZF1h4SQj9q6d1N16h2mJEBr9MwIokwvfyiWMxeTl8gIm9_nHJpzHBexf2nAMdsGjxFqdsWPKEoLEE_T5GHAQkg8DaeyNLSh7bowIOP8FXPzXCz~Pjvrypk1jw3WGJ4A4~0ZrYdZtq9RohP1Evfr6OKQBjftDhwl9hfrld~U-.jpg
//media.inmobalia.com/imgV1/B8vEv5Xh8DZJ8zA8HsKlVQQovHvPS2nS1REiasNjjf37J7WfKOkiQxSIhRrnU2OBFkknCXNFUkYS7Hh9o9IZ_QJ9eIkyovPQwpGGpwMUin7inZe6Da6LPTndPF1xu01Uv5zJvX7KSu1rkEEo4TiZ8xQpVC3k2EjNaDCiYctNco~SIKffh8xkQpv6RX1STmX~M7KUxSP1O1NWkDjlhdmmwrnQzsSj_SaXlDQmjsy1jfhNsZy2kEqOkE0dvamg_kiIQw91rwrrExU8V2z3KDGl1cFtpv4xp6T8ndVr8p3wpxM_sdI4PCX3l9eIMvm0ucfE5No-.jpg
//media.inmobalia.com/imgV1/B8vEv5Xh8DZJ8zA8HsKlVQQovHvPS2nS1REiasNjjf37J7WfKOkiQxSIhRrnU2OBFkknCXNFUkYS7Hh9o9IZ_QJ9eIkyovPQwpGGp1INZQfMVDCPCUmMTXpt_~Dq1wtBXWJCM38W0IpVC_l41im6ElX8X4rdAYqykDuesFAdJe92X8egWBHztHXnew9Kqu7JmpCO6fiyEAiZiBkFkrC3FR5ni7b_VDJbeN7aMrQLxof5vzi_6tOASu77LqoOJnlqnqZkJu3cisTCp7DqC9VZeHRlLqlju0b8LjEUWFkqAlWvna7m53c5A79XXYc~gAjhEXQ-.jpg
//media.inmobalia.com/imgV1/B8vEv5Xh8DZJ8zA8HsKlVQQovHvPS2nS1REiasNjjf37J7WfKOkiQxSIhRrnU2OBFkknCXNFUkYS7Hh9o9IZ_QJ9eIkyovPQwpGGp1SNCvgSWmTqL_q0ccCIN3G1ItsQRXVSPDASnJb3b~UHRFba6Meol2pmkaCWZMMPIgphEBsCMRvOihLvp12vA~KNZoNiFIKgPrMwrW~dXrOP3BziPpDAoiXN~iznvwOz~aO~IitP0uVqIoDCdDgv52VkftOdXdkiFAA9SN511vywueroTtjxheB0A7yKMMpqzV4zO3iGbV0FSkj07eO_LFZIrUb_s60-.jpg
//media.inmobalia.com/imgV1/B8vEv5Xh8DZJ8zA8HsKlVQQovHvPS2nS1REiasNjjf37J7WfKOkiQxSIhRrnU2OBFkknCXNFUkYS7Hh9o9IZ_QJ9eIkyovPQwpGGpwXPSb~uhaKLO71MF8I2B0QgJpbRkHoNjTRnNXQ9by6wZSmTLn0wZ8fqa_6~Q74uvj9nLGpxRpK4z7LrJJDezDQExpPFEpmhMiABmJlsqlwa0Ymg~rCUygKzDh05G8AKC0igsWp8JgBFwVEFrv9g9Eqdtzwpuke7CqnVIp_XclPossZ2FPwAHNA6k02Sq8GGD8q1pwAcqqCxNqxo0z6jpH0qvVQitAw-.jpg
//media.inmobalia.com/imgV1/B8vEv5Xh8DZJ8zA8HsKlVQQovHvPS2nS1REiasNjjf37J7WfKOkiQxSIhRrnU2OBFkknCXNFUkYS7Hh9o9IZ_QJ9eIkyovPQwpGGp1UnTWXH32BBmoEAbcO~a~J0C4tbP13SRw9qxM80LnkNkVETvUyn~2gxgLgTb1k4MNNJvZWKn2t~4avZekq0siI2pk329DOpk7D3wH4pEqxuJs1YhT36sYhYznJwl_~ljfID9UPhuvTKikL6aBK7dHAxAeZEYvdzLIeUFKX7oc7DZvaMlh1V~3k5ljtzGadp6bfe2EFD~48Ac2iwZYiVIqEUUV80zeI-.jpg
//media.inmobalia.com/imgV1/B8vEv5Xh8DZJ8zA8HsKlVQQovHvPS2nS1REiasNjjf37J7WfKOkiQxSIhRrnU2OBFkknCXNFUkYS7Hh9o9IZ_QJ9eIkyovPQwpGGpwXMiXnIyRK8TGe2xS_1ZIApQPvzLXyIL6iAhGDsVzYkTonlDuwMiuOq8nYZfduTMWb3tvZi8O__EaN8hX3Xu_sFM5Ot6pOrAK7Wq0RaGjD5tkBSuPK2ICUzrYERq2bvZfmyDbmZXgzQrKAJV8qOhfHlYpbOxOFSlOt9~npN7lIw_mIm0~cAEJAy8LmCKX9gAVCEcFnEAqPQowrYNlVeU~I5Paq07Ac-.jpg
//media.inmobalia.com/imgV1/B8vEv5Xh8DZJ8zA8HsKlVQQovHvPS2nS1REiasNjjf37J7WfKOkiQxSIhRrnU2OBFkknCXNFUkYS7Hh9o9IZ_QJ9eIkyovPQwpGGpwXAMhNvnoZ_juxhJgpB~Emo7ipCBij9YRBTeilk_RbMG5cTe_OIX4F6J~foDonwcKDufkexk95B8mct1ArH09iVICIVpEGktPl8EENA9a_jFZTmQE~4AuQGwpxrLw5qQgH~K79ZmyTSI2BazYKrKuCwfcsL8Z6gUi3fM77M0E39BOyAB5qMRjKmnmXXyCmNt9yQjkkCzrBRVZTMRsnDqMTQ94QtrcU-.jpg
//media.inmobalia.com/imgV1/B8vEv5Xh8DZJ8zA8HsKlVQQovHvPS2nS1REiasNjjf37J7WfKOkiQxSIhRrnU2OBFkknCXNFUkYS7Hh9o9IZ_QJ9eIkyovPQwpGGpwNGn99YEOIodz61maFPvFv6QaRKQeBLwTTmlhDU6PYCYtmVXrMhv2Ra~DVccKR_2GDc~P1rF4J9ue9CjidXi~z2bCDixIzgYFQR8cpmvxhGAhZaspuhy0e9Grm~_vrS2MZyPlT8aYzhsFTHUo2Pe_K7vKFUEGLpS2Ofepvc5MiLHXGWt8C3TatI8yUb~PhFifZwHBEcNxiQGEH3KFW~ESEaA1lypf0-.jpg
//media.inmobalia.com/imgV1/B8vEv5Xh8DZJ8zA8HsKlVQQovHvPS2nS1REiasNjjf37J7WfKOkiQxSIhRrnU2OBFkknCXNFUkYS7Hh9o9IZ_QJ9eIkyovPQwpGGpwc58f8ABWwsCKiNQY6SHl_9ZsXG0dx3_KGgpOzBPCLR86f_Q1pemZWQvKVcSdU6VjY5Wf3ejhRxlfVL9dZvqnDPHyjZNa52rTs88NfE0WfFo~ziGo~ZLoXAH~C4hArCq6in4airnTR0txghhyKGrRVrxYXpt~yiI5cryCLrXM~fAbHkZLj_QYpMtadITDd3kRfn2~eXnvRCSSa3wC10MSo97iSinbw-.jpg
//media.inmobalia.com/imgV1/B8vEv5Xh8DZJ8zA8HsKlVQQovHvPS2nS1REiasNjjf37J7WfKOkiQxSIhRrnU2OBFkknCXNFUkYS7Hh9o9IZ_QJ9eIkyovPQwpGGp1cY07ixRck_8xSJww~uuNbKIqAAzZ6fP7Qbv4ibsioqhQdpA9Cbz9U~823hDTvWyik8szbs4sDr5FYmW82fY2diFmejNJ6LfRt5Vs~ic1fGNk22e0gEsDMqWUjEjaJQ5XOvDpwXro5T6MNlkFt~DZORlBLKM9Ey0k3LJAU3KCTeDLV7zZp4JCu67ImD_aJHhQgPUivDO~ojMNvPZTRvSgSkQLylVR4-.jpg
Price

3.300.000 €

Ref.

4899

bedrooms

5

bathrooms

5

Built

960 m²

Plot

1.800 m²
Villa in Bahia de Marbella, Marbella East
Elegant villa in one of the most exclusive urbanizations of Marbella Bay, in a very private street, with sea views from the master bedroom, a very mature garden, large covered terraces with barbecue area, heated pool.
The house is in excellent condition, has been built with an Andalusian Mediterranean architecture, with spacious and comfortable rooms and magnificent qualities. Marble floors, double glazed windows, underfloor heating throughout the house except basement, air conditioning hot / cold, alarm installed.
The villa has 3 floors and faces south. On the ground floor there is an elegant entrance hall, a lounge of 100 m2 with different areas, fireplace, office, separate dining room, equipped kitchen, pantry and guest toilet. Bordering the house there is a large porch overlooking the garden and private pool, with a nice barbecue area. On the upper floor there are 4 bedrooms with 4 en-suite bathrooms. The master bedroom has a dressing area, large bathroom and a private terrace with fantastic sea views. From the upper floor you can access a tower with a terrace, from where you can enjoy panoramic views of the sea. On the basement level there is a bar area with a pool table, gym, toilet, service bedrooms with en-suite bathroom, cellar, laundry and engine room. There is a garage for 4-5 cars.
The house is 300 m from one of the best beaches in Marbella, with dunes and natural sand. A 24 hour guarded urbanization, with a controlled entrance and exit.
This fantastic beach side villa is very well located, just 10 minutes from the center of Marbella, near the Costa del Sol Hospital. It is a magnificent family home or a great investment.
Features
Office room
Utility room
Fireplace
Marble floors
Basement
Gym
Alarm
Solarium
Security entrance
Dining room
Security service 24h
Guest toilet
Kitchen equipped
Living room
Sea view
Laundry room
Covered terrace
Fitted wardrobes
Air conditioning
Garden view
Pool view
Underfloor heating (partial)
Wine Cellar
Unfurnished
Uncovered terrace
Good condition
Similar Properties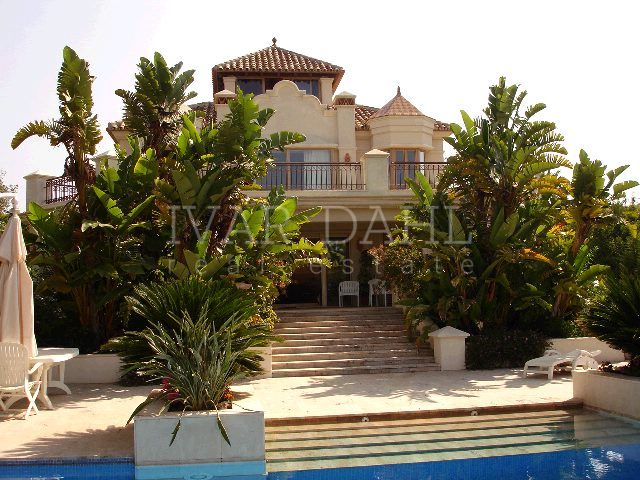 Las Chapas Playa, Marbella. Prestigious Villa, 250 meters away from sandy beach. 4 bedrooms, 4 bathrooms, 1 guest cloak room, spacious living room with fireplace, separate dining room, chill-out or reading ...
4

bedrooms

4

bathrooms

382m²

built

1.000m²

plot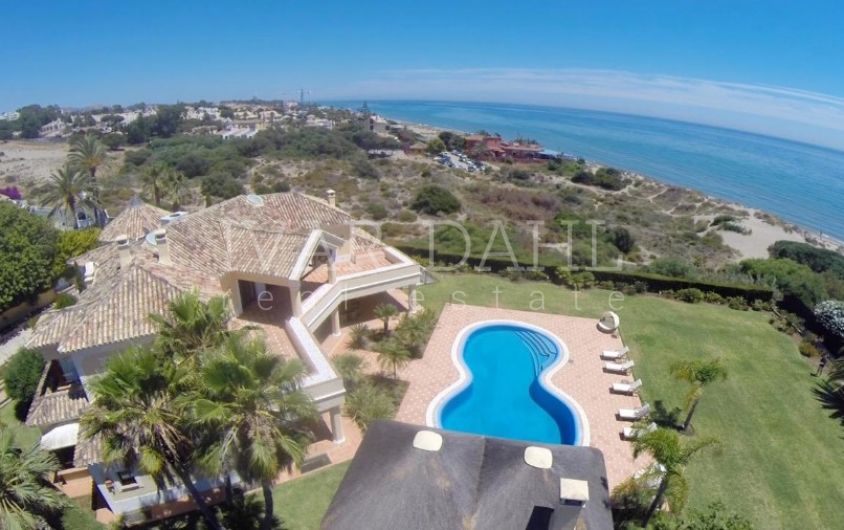 Marbella. Luxury VILLA on beachside. Prime location.Plot of land : 3.000 sq.mtrs.2 6 bedrooms Built area : 1.300sq.mtrs.26 bathrooms, 2 toilets Built on 3 floors with internal lift. Garage for 5 cars, Gym, ...
6

bedrooms

6

bathrooms

1.300m²

built

3.000m²

plot
New, modern villa with sea views in La Mairena, Ojen, Marbella East. 4 beds, 891 m2 built, 315 m2 terraces, 2616 m2 plot. Garage .Lift. South orientation. Ready to move in the springtime of 2018.This ...
4

bedrooms

4

bathrooms

891m²

built

2.616m²

plot