New apartments and penthouses in Atalaya, Estepona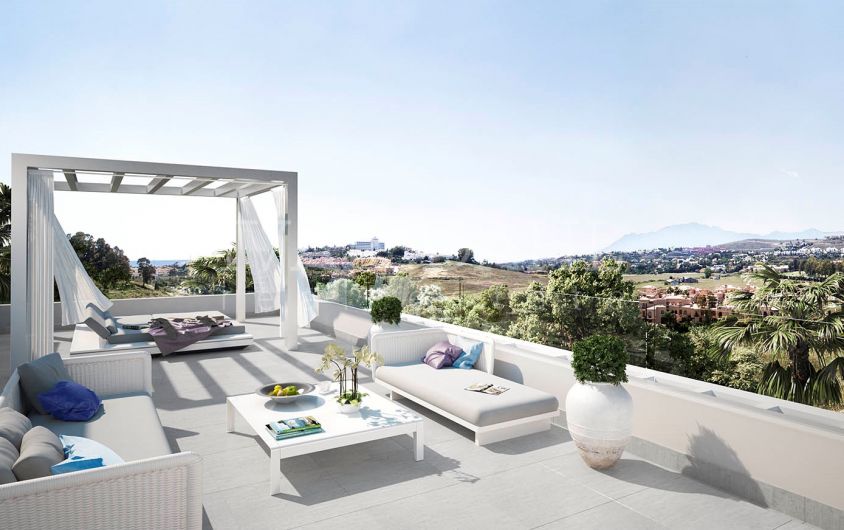 //media.inmobalia.com/imgV1/B8vEv5Xh8DZJ8zA8HsKlVQQovHvPS2nS1REiasNjjf37J7WfKOkiQxSIhRrnU2OBFkknCXNFUkYS7Hh9o9IZ_QJ9eIkyovPQwp5u2JnXcO_PYzJgZuqjsqdnoWZm_CR_0xEmKGK37J8aF6HT4fwm~XUsWux2MYu4jF_C8SHcMVCgHJomG7GJLwa6CAmEDlrEWyzXbf9~0uuqdJpC6A4n3qnXY5BUNDjAHCFg6orGQiQcjomBQJqBWoPIiWQsbtH~BS6ladWTbQ6M4pKils4se1WgtoH16sEsCyYryFRZZQ8MKuWoFhdM1i2o7MM1doMASvQ-.jpg
//media.inmobalia.com/imgV1/B8vEv5Xh8DZJ8zA8HsKlVQQovHvPS2nS1REiasNjjf37J7WfKOkiQxSIhRrnU2OBFkknCXNFUkYS7Hh9o9IZ_QJ9eIkyovPQwp5u2M11N5n~hypY96ZbcX_tXD1D4PVkYFF1LnGaRv6cDx1xZ8AQz9I8ctBA76K_nZ0OvTD8kXzSuCb1Ep371gLs16RUWnOhIOsO1AulfkbXbOIBO1LGl734thVqAZQfoNCeVwSAVyTIwYVZ0XGTlne5G3FLogH9bPx58yR8iHTjuMFeR2vxN9P2XjV~2dyVl~M7VP83dliLoIVL4pWh7Du~jM81skNigcU-.jpg
//media.inmobalia.com/imgV1/B8vEv5Xh8DZJ8zA8HsKlVQQovHvPS2nS1REiasNjjf37J7WfKOkiQxSIhRrnU2OBFkknCXNFUkYS7Hh9o9IZ_QJ9eIkyovPQwp5u2M5uEIsi_wKAaF3_sVxbkewN7nVhglI2CxPsdrBQHl9FZZWyaj0B~I04jtAulokjriWkAXejMBojvgccEoJdbHxbzRMU9w7bKOc5vY6j4mGUUj511EB6t8kXKe5IS3uuSnRqmHm6Whdgxy_qpk47McYI9CIhTRFzcfDmfMIgKgdLFf_NXGU8748xbPw9v4A2x2wkpFE5AZFKPMUGu2W64RiXc1tFmAE-.jpg
//media.inmobalia.com/imgV1/B8vEv5Xh8DZJ8zA8HsKlVQQovHvPS2nS1REiasNjjf37J7WfKOkiQxSIhRrnU2OBFkknCXNFUkYS7Hh9o9IZ_QJ9eIkyovPQwp5u2MuLRXPTfefDQD530sL2HN~zQI4nwNDzUOH6ABssKy5z34k1rhl3q_ahLQGzFgdxMOI5kIWWExnSFUhgIX4wBk_OqszxvoB3aT_cuJuTQX~PIZVEqKxHxePE~nXsVQrR1jFl2cPENlQSSto5xnBUI7aHzb_~U_2T4hBvqdsthFL_nigudU3s~h712d27pfXqQLVsAKC3~2MqVP5YgnzkQF5UWBpkk90-.jpg
//media.inmobalia.com/imgV1/B8vEv5Xh8DZJ8zA8HsKlVQQovHvPS2nS1REiasNjjf37J7WfKOkiQxSIhRrnU2OBFkknCXNFUkYS7Hh9o9IZ_QJ9eIkyovPQwp5u2JhVahCiF2QkWs_sv1tXifb9k~w3MpmtyCPEf4NkGdEa2tuiiDDqSZr65SNar9ZWCa57x8foTW2OkfCFOYDukCW4deq7QqksLUp0jQ07neeVLLPFldt1wCzSn1_hQn7FYQ1mSEy8aOPx7clWDvD2qAYcS5ixHP0KQxaajbEW8ndxD1in8VL8yfqTIRdC2BocMxGwyPpQytg4TYhLpnL_dLpuq7AzrVw-.jpg
//media.inmobalia.com/imgV1/B8vEv5Xh8DZJ8zA8HsKlVQQovHvPS2nS1REiasNjjf37J7WfKOkiQxSIhRrnU2OBFkknCXNFUkYS7Hh9o9IZ_QJ9eIkyovPQwp5u2J~Rm~43I0i_8~gHK7YIyrfTfVO8vrvx9GgqH_UxHCx_ad60q_qTbSTLppNK1lh7GS24wqB33qADeVM0x~bTsdcPsoKqkMtfRJFBh5Lp_nk3WWi8qHxs8uwYOuKEjdwPfXUc3GX6IOsKCcn11shO433FKAqn~B7AiqLL1G0b4ipyv_h_Qaxv_mb_CPz2VBET4LQ0NXLt8QcdnbOneAVJmz7ooPoqYmY-.jpg
//media.inmobalia.com/imgV1/B8vEv5Xh8DZJ8zA8HsKlVQQovHvPS2nS1REiasNjjf37J7WfKOkiQxSIhRrnU2OBFkknCXNFUkYS7Hh9o9IZ_QJ9eIkyovPQwp5u2JnXJ8mog6Ahy554dNnjI3GiIoiBFlctXgprZBaqnYqg~cyFf7AGkOVzGa6LThIew9sWycXHDJz5V7i1pVb6DXzIFfSr8ZZeBvvAWX9AQDTiL8uom~Os2KDRlDw1VBW2YEPf4V9ezx7kL1OvpS~NKziUHkMn~R2mEOy4RILVlpI76ZTgop4GGbEQTnsiWb0n9YXZ4isBKVk0tsb0ZxPjqzkv6oMuV1E-.jpg
//media.inmobalia.com/imgV1/B8vEv5Xh8DZJ8zA8HsKlVQQovHvPS2nS1REiasNjjf37J7WfKOkiQxSIhRrnU2OBFkknCXNFUkYS7Hh9o9IZ_QJ9eIkyovPQwp5u2J1E6cjtWTKCvd48Xrz_2XLELgvONnNo_bNEjtSJ3SZbh5Nl0pQzlBUaMxfHRjPTpZEeLNpVmpDes~2xP1hA8_lwLCMtWjBdoMojV~CQ5b88dBZgWPqv2jr4mfh7OOya7mOv08_RhZcYpoX0TDOa4EoXP3eS_Bh0ZXx162QIcKC1fv7MYm2tjGBXcVsjL9shtrhzx2S3WVQEZ4vW~MdRO7lWpd8XzFA-.jpg
Price

760.000 €

Ref.

4901

bedrooms

3

bathrooms

3

Built

279 m²
Duplex Penthouse in Atalaya Golf, Estepona
Luxury apartments and penthouses in a contemporary style in one of the best areas of the new Golden Mile on the Costa del Sol. Located between Marbella and Estepona, in the heart of Atalaya Alta, this new complex is located in one of the most incredible enclaves, totally surrounded by nature, but just minutes from all the necessary services, restaurants, beaches, golf courses, schools Etc … It is an idyllic place where to breathe pure air and tranquility, enjoying a natural environment without giving up the luxury nor the services that the area offers. This is a private and closed residential complex of apartments and penthouses, of superior quality, spread over 4 low density blocks. The more than 10,500 m2 of land have made it possible to have impressive gardens, a saline chlorination pool and a revolutionary new concept of "Outdoor Sports and Recreation Area". In short, the size of the site, the low density of construction and the careful study of the design of the buildings, have made possible a new concept of residential, surrounded by nature and fully adapted to a modern lifestyle, without losing the charm Of Andalusia.
Features
Front line golf
Utility room
Sauna
Gym
Alarm
Security entrance
Double glazing
Brand new
Dining room
Security service 24h
Kitchen equipped
Living room
Country view
Mountain view
Golf view
Indoor pool
Heated pool
Laundry room
24h Service
Fitted wardrobes
Gated community
Air conditioning
Lift
Pool view
Doorman
Central heating
Uncovered terrace
Open plan kitchen
Balcony
Reduced mobility access
Similar Properties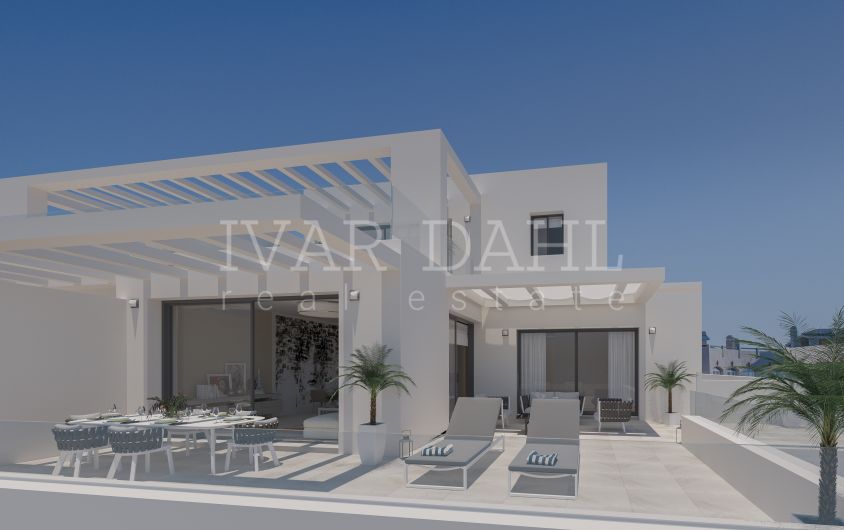 New modern, contemporary apartments and penthouses in golf area of Estepona. A new Real Estate Development of 64 apartments of modern and exclusive design, located in the area of Estepona, but adjacent to ...
3

bedrooms

2

bathrooms

305m²

built

163m²

terrace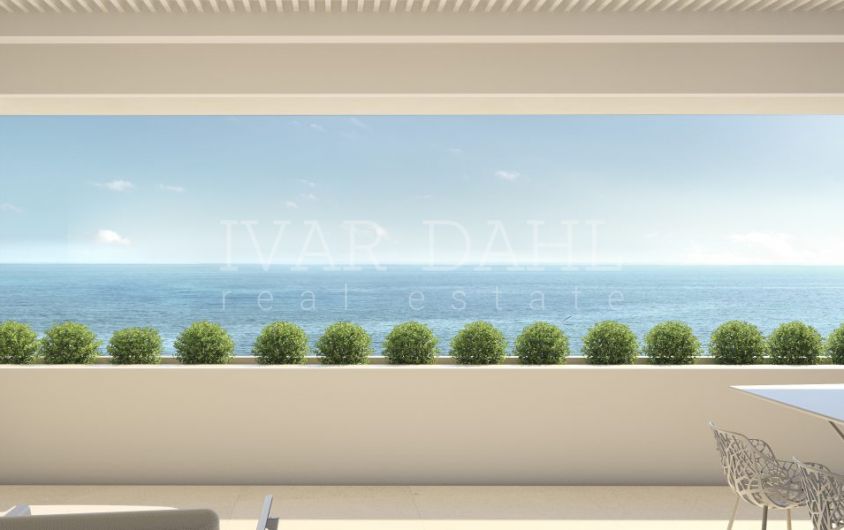 Estepona, 32 new front line beach luxury homes. Modern Contemporary style. Sea front location. In walking distance to all kind of amenities, old town and marina. Spacious terraces with amazing sea views. Homes ...
4

bedrooms

4

bathrooms

227m²

built

34m²

terrace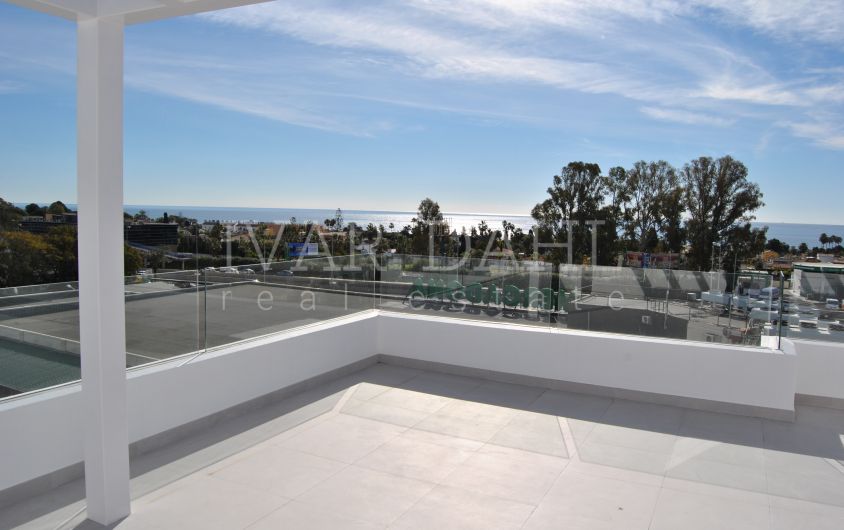 New modern penthouse in Estepona, Costa del SolBelaire is a new modern development consisting of 63 contemporary apartments. The community is gated with private swimming pool, landscaped gardens and ...
3

bedrooms

2

bathrooms

140m²

built

89m²

terrace