New modern villas in Elviria, Marbella east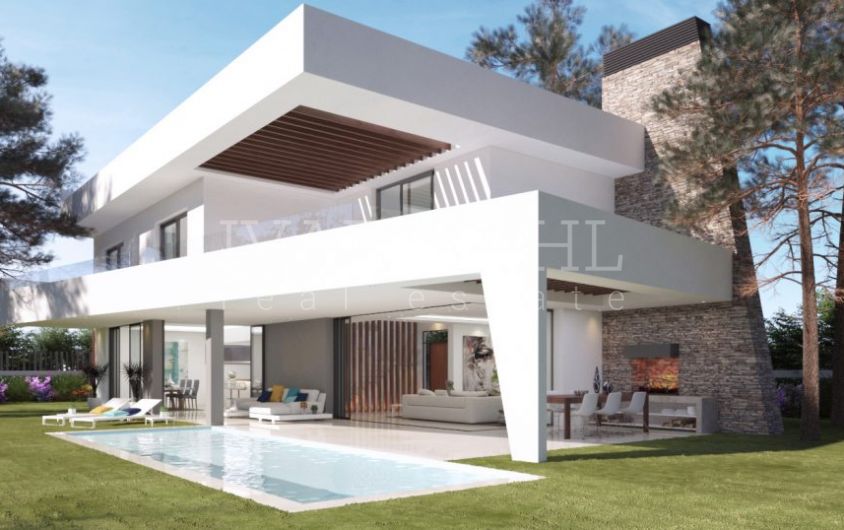 //media.inmobalia.com/imgV1/B8vEv5Xh8DZJ8zA8HsKlVQQovHvPS2nS1REiasNjjf37J7WfKOkiQxSIhRrnU2OBFkknCXNFUkYS7Hh9o9IZ_QJ9eIkyovPQwxwR7vFzxF7wW1nFLAJwDE2OrfIuF04umVsiUlMTHQFKr2HZpfCAzB_CMXCCdtxQzfcxrllSGG5SqC50NGSxXOaOse24VNjvD~_mISh_1E4MQYL9lQLrEfddWMEaZR_eWZi_3q0D7wP4MS8td35GV7FCsSWDWlxxWR8edpBxiZ3LQwYlcTQNdfXeOX2kHnL2q17Py~Mcj2IZ0EJJm9Wlcnq9B6LRe_jd6Co-.jpg
//media.inmobalia.com/imgV1/B8vEv5Xh8DZJ8zA8HsKlVQQovHvPS2nS1REiasNjjf37J7WfKOkiQxSIhRrnU2OBFkknCXNFUkYS7Hh9o9IZ_QJ9eIkyovPQwxwR7qG3l_zgJvqyoLU58~GuR15jFi_EjMmCC9iwIGxAPUAhRprKB5ArJj8_g90bh2KtwDM7fEpcBL_mXahW~NE42g6XrtiaXOHFdEOeEmXBRBKMoBo7uusm4V8tWciey8pWJIBvoROxmkxlFzhHkcPaUWVPgtM0P4NUlx4LVhapcL_eDgyt1HhKQhHJjPpyyX4hXkLb2fIfSrjlkIBTseemhVRvGkRuWUo-.jpg
//media.inmobalia.com/imgV1/B8vEv5Xh8DZJ8zA8HsKlVQQovHvPS2nS1REiasNjjf37J7WfKOkiQxSIhRrnU2OBFkknCXNFUkYS7Hh9o9IZ_QJ9eIkyovPQwxwR7vAcIgMmGbK7o8JjlSNqv~kw3ScgcuiJusyA7q_ou3cztZY3VliRrfYWXRbr82oT2xGu35tHk7LkTX3rgEgz_hVnvRT3VOQpMdf4lshgz2QhHtzqUGAV_4PAMrdac6nYWddcCrEt2DwGOb~jvi4LTiMR2dfQsojmeLhYZfwAVbIavpSB12YuFB8KKy4NNriAWfJACxNVxTeQQ9Rd95waXmms73l3zLI-.jpg
//media.inmobalia.com/imgV1/B8vEv5Xh8DZJ8zA8HsKlVQQovHvPS2nS1REiasNjjf37J7WfKOkiQxSIhRrnU2OBFkknCXNFUkYS7Hh9o9IZ_QJ9eIkyovPQwxwR7vJ4X6dGwa0Un9mYGbZ9~VpucHXGA21PSUmONTfQXjXcryPRqu8oN1xjrvWFPrOkHfcVD83JLdCsUfF_mB71o65H0il~XXtcITUHBl5jNe5pTVFj3n3DqHoShdOO0VmfIN7FNcihk1B4~qvOb7v3KHhDCmV9hkpUXW71OwnBw_GjTUeJ~k6fX9YBsrEEY4SbV1R8a8gYXIloySkpLAguCJe1n7BDiVs-.jpg
//media.inmobalia.com/imgV1/B8vEv5Xh8DZJ8zA8HsKlVQQovHvPS2nS1REiasNjjf37J7WfKOkiQxSIhRrnU2OBFkknCXNFUkYS7Hh9o9IZ_QJ9eIkyovPQwxwR7vbjMiigHOtY8ZaHyF284hbZhIwfuY2BLPMnsIAGogu~PzsAvFNH1aKsm_vB_~zWQbQzAxIZEpH7lcDZdM2227VsjbkyWIklDlYaUDFw2LMl4UOPdwLzDPeadNSCO_xQLZZF7LCnKOqmBDh8XvXowf54lwWIJ~1cIx5Zeupy7IPyyxHsWjT15OJFilJPja~SjgxNXhMqRx~zbdE2gjZxMhijN1FCeQo-.jpg
//media.inmobalia.com/imgV1/B8vEv5Xh8DZJ8zA8HsKlVQQovHvPS2nS1REiasNjjf37J7WfKOkiQxSIhRrnU2OBFkknCXNFUkYS7Hh9o9IZ_QJ9eIkyovPQwxwR7qe8~QhqeB7BH7KjDqVs7RpQuJ5ZhFSIjPesoB5E~JKC31yNotqwn7MS4EqDBuAK1I52Wr5irTbBfJCtnubYVPfgWqpwWKNeQ1ca9f7Z1GUsuY5piq9Lm98hC2tZSFPvpicsjG20VjQbsIfj~19q68V8KdNpqjirHcuRcWhloO2mjseUyJfpgM9Pa3Ac_tTPJmhOwVg8zqMLl73~WGYXL0YL4stueso-.jpg
//media.inmobalia.com/imgV1/B8vEv5Xh8DZJ8zA8HsKlVQQovHvPS2nS1REiasNjjf37J7WfKOkiQxSIhRrnU2OBFkknCXNFUkYS7Hh9o9IZ_QJ9eIkyovPQwxwR7vbhPQL6LAR2j4vhDvE8mWlIXeb~PsZOazGLOiwZ7M~tKytHkA5gykFR~H_UzKKi6Kz~yiUE6XJIUPMG5m2~QaoaktOEFZhSSmUhMy8mgIzA1rLMNAOthnOoNhGdHJvHEwHEousSliFVj6DHJtmbowatIVG1FSwVIg0oaV0D59hQE2CN7HsPYMdeWv19pEUEi6wLlxj7ODbdTrISS7P7Sx4nWmXkisU-.jpg
Price

990.000 €

Ref.

4904

bedrooms

3

bathrooms

3

Built

341 m²

Plot

1.091 m²
Villa in Elviria, Marbella East
The Villas are wonderfully designed and feature 3 Bedrooms with 3 bathrooms, large open plan living areas that connect the best of interior and exterior living spaces by the use of large windows, natural stone and top quality materials throughout. The addition of a basement and solarium are optional allowing homeowners to add a further bedroom and personalize the basement to suit their individual requirements.
Features
Fully fitted kitchen
Close to shops
Close to schools
Double glazing
Brand new
Dining room
Guest toilet
Kitchen equipped
Living room
Amenities near
Laundry room
Covered terrace
Fitted wardrobes
Air conditioning
Garden view
Pool view
Unfurnished
Close to Golf
Uncovered terrace
Open plan kitchen
Similar Properties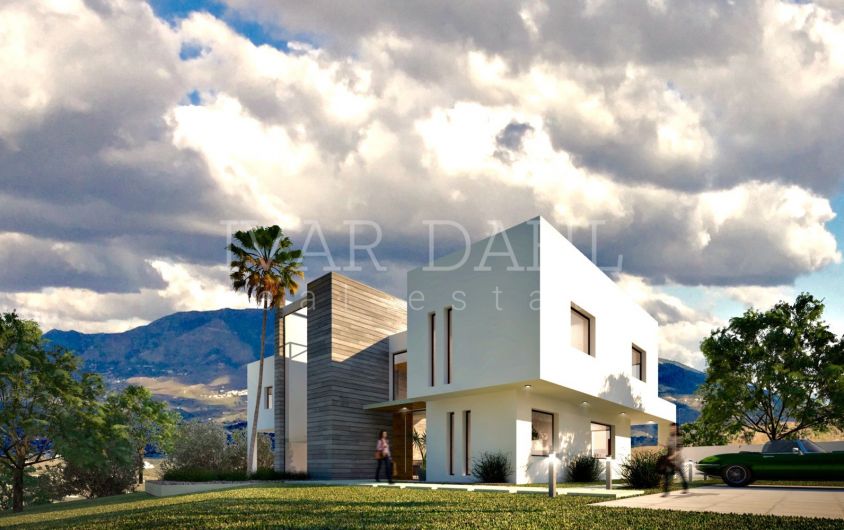 This spectacular villa under construction has fabulous views of Mediterranean Sea and Mountains. It is constructed with high quality materials and technology in a contemporary style with large panoramic ...
4

bedrooms

4

bathrooms

594m²

built

1.710m²

plot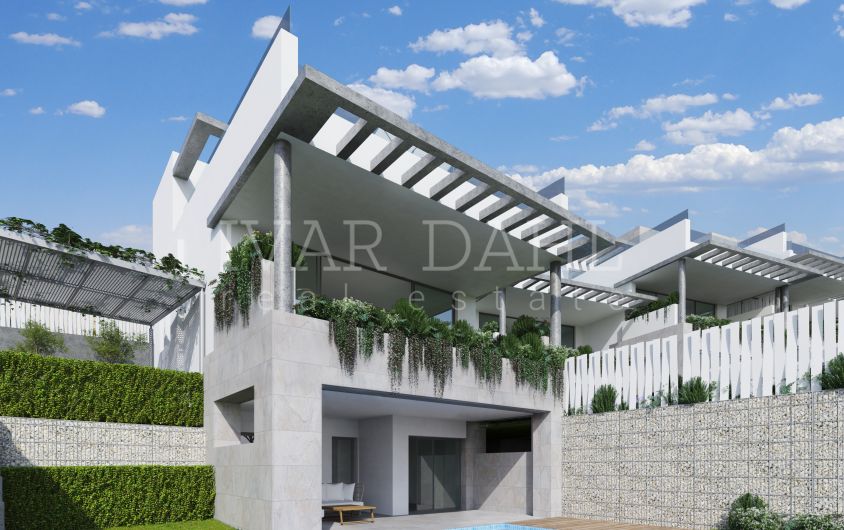 Villas with a view to the Mediterranean. This is an innovative residential project in Cabopino, Marbella, one of the most beautiful spots in Costa del Sol. The properties are situated in a front line golf ...
3

bedrooms

3

bathrooms

311m²

built

122m²

plot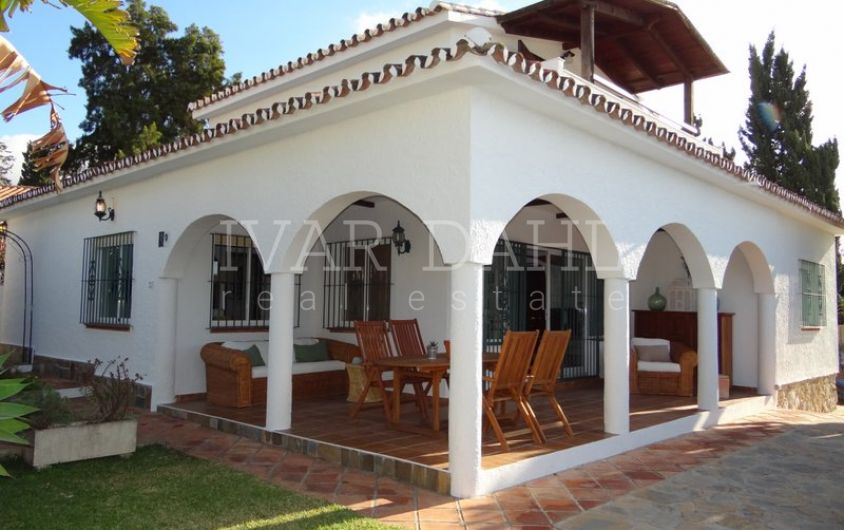 Villa for sale in Costabella, east of Marbella, just 3 minutes walk from a wide sandy beach. Costabella is a 7 minute drive from the center of Marbella away. In the area there are all kinds of services such as ...
4

bedrooms

3

bathrooms

211m²

built

622m²

plot