New villa in Elviria, Marbella east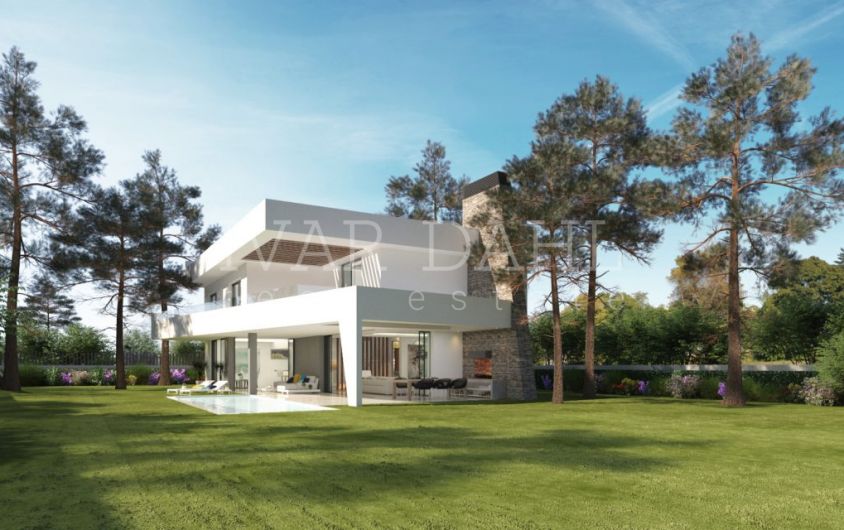 //media.inmobalia.com/imgV1/B8vEv5Xh8DZJ8zA8HsKlVQQovHvPS2nS1REiasNjjf37J7WfKOkiQxSIhRrnU2OBFkknCXNFUkYS7Hh9o9IZ_QJ9eIkyovPQwx38eB4gMPWOgt8Q_ipnvQ54sowqvttPnRBUiPLW7zBIPg4CmRJdp9RfQGBoQSnWUoLSRR9NAwhcgUKHGiLq99itW4unEHLrAhvjuKbMv4q6E8AfYqtUKKizK8_2pxfOMjwU5pBxxeEc1iNUawCqOY~QrBHyT0CyDOgvJ3uu~GM6TuLXOLiog1ZxOL9YrrWZBrbpaVrwYXaxEhqPE_zCP_7CwCK_UFhA3BA-.jpg
//media.inmobalia.com/imgV1/B8vEv5Xh8DZJ8zA8HsKlVQQovHvPS2nS1REiasNjjf37J7WfKOkiQxSIhRrnU2OBFkknCXNFUkYS7Hh9o9IZ_QJ9eIkyovPQwx38eEiDAdvoZ7ChPED6tNM3IISTz7PSj_b0bRwVnW22vbPcAFfAXbie3d3KwlMgicJ0t~kcGY40twnovwY~luVATRT8AjiNNOKN9T1Vb6QIcVSITqGKlq~I8ypy07_gdC2qRXXWItCAZXpcNgrYz3eeMPqPKH_IO~b6PZTK0z6h55TcN9vIljH7bat4nSH8ZESJj0hPlFp8NegOzMq8TnPLEVACmY29eVk-.jpg
//media.inmobalia.com/imgV1/B8vEv5Xh8DZJ8zA8HsKlVQQovHvPS2nS1REiasNjjf37J7WfKOkiQxSIhRrnU2OBFkknCXNFUkYS7Hh9o9IZ_QJ9eIkyovPQwx38eBu4RklFn198uIJbybNBKun_6VQGP2qgSQYpuJ~Gho5AUvpfBhjqqqAYV3SVrTj9kOzaQNIRkboirkA27iLKsMKrrdnGdVqYbZYmDJi15xi1ZPtCikxW~~qRdsEKo~IT1O47_wKXOO0~D_EYDMEVV66zFgggNitUQIWB3K3NQQ2ZTbog~UK3Q5w09w9LDR3uqUzTqNFo3QXE4iMzyM5Khie5RFw1EBQ-.jpg
//media.inmobalia.com/imgV1/B8vEv5Xh8DZJ8zA8HsKlVQQovHvPS2nS1REiasNjjf37J7WfKOkiQxSIhRrnU2OBFkknCXNFUkYS7Hh9o9IZ_QJ9eIkyovPQwx38eEiENpwhYuKsPPQ05uvCJFAofhQbTasvfV8Sx5NlwykX4Q~yAkApiphzcOfjtdEV0CDp0GvPML7xRwNyepFlsdQdxfff0~xqZgAQVtpXa_lFOW9gZPk4ylm1B5SqUxX53IoE2UtqrqrrALpmMoEIoXcBs~fwV9ZXD2keqxMhQgZomadTn8FpN61V4WOG5RSg0ImcOlQJUUt6FVDZmxVuMd9YuJ_oko4-.jpg
//media.inmobalia.com/imgV1/B8vEv5Xh8DZJ8zA8HsKlVQQovHvPS2nS1REiasNjjf37J7WfKOkiQxSIhRrnU2OBFkknCXNFUkYS7Hh9o9IZ_QJ9eIkyovPQwx38eB4opAFPoEg1kKNH0vfvRrt7lpN9lPeOcZtH3H7MuHwNagnpsCxu57ui~4NciMWaaLMlEYoE3Za1pXF8Mp8k5ltxMzeTr15FJcQHlFpIVRGOG6mbTdS9f6kJJNwXSw6bflMiCMq0VvaKKsmY5h5g81oqQHhTtGy4rHfWCAofPpYjzLS2uKgnYXEosvSXSutuip4D6PG3j5~_jLceNkgXJ8YfMAF3N2o-.jpg
//media.inmobalia.com/imgV1/B8vEv5Xh8DZJ8zA8HsKlVQQovHvPS2nS1REiasNjjf37J7WfKOkiQxSIhRrnU2OBFkknCXNFUkYS7Hh9o9IZ_QJ9eIkyovPQwx38eEIfL61xvFhshsN8PIxQUXLmdn55jxD~let0XhfoOnjQDDOHIODQLOZxA9F3_uYtM4CkQ7Wa~JWYAM79SoAAZ8jfYE4f_WHTjoEIUOSlnPUVqsoA47ln7hfpJT_HypmihwbDvNxsQicQydOsJl3BowKVs8iuMcD5L~rCU_dCTJB~FJNNA_U6VSkCUVZxv_ahHK_8PqvfqT8mz_UppKEiE4HCRaR49cA-.jpg
//media.inmobalia.com/imgV1/B8vEv5Xh8DZJ8zA8HsKlVQQovHvPS2nS1REiasNjjf37J7WfKOkiQxSIhRrnU2OBFkknCXNFUkYS7Hh9o9IZ_QJ9eIkyovPQwx38eB8qEAB3U10ZUtxFgLeVAZNe7WQ7cgTRP77M6datT5AgJ_SlNAlRlWtyYqwM2LHmMMKkdQHvcZHW2SXrS~2iPkQhuYKvRxN_r_YshK9FbIoTivK5yd~D9EaY1h03ercsp2FJ9nmGLy2dHbZSMxKgITHk3uVQ7RfZ~lFIuS2wClr8lOE5XilVJFjfhtTAcG3DknVD0U8i8NuxOdnZ9mviI18o4TfyCMQ-.jpg
//media.inmobalia.com/imgV1/B8vEv5Xh8DZJ8zA8HsKlVQQovHvPS2nS1REiasNjjf37J7WfKOkiQxSIhRrnU2OBFkknCXNFUkYS7Hh9o9IZ_QJ9eIkyovPQwx38eEJEkHv9f_detcnQJhwMBcS~Snt0DZfm4MHo4MuDDJPb01Fh3Y62BsSbCjNTy80U~nWO6o_Ckyva3U4oFBmF0rTVEAnzcKRxnBMcnvWuj95IE4a7Cf6g2TakYT6VIG1JRiaDYvNTjox3hadneWiKsKLmTLYwHbHBRU0iRwltzzlAe_TvCI5DciMeFARMtv0Ji_l6Z5yALJJDVwwZ78kYTkfK_YtVlr0-.jpg
Price

1.180.000 €

Ref.

4905

bedrooms

4

bathrooms

3

Built

450 m²

Plot

1.091 m²
Villa in Elviria, Marbella East
The Villa is wonderfully designed and feature 4 Bedrooms with 3 bathrooms, large open plan living areas that connect the best of interior and exterior living spaces by the use of large windows, natural stone and top quality materials throughout. A basement to suit ones individual requirements. Solarium is optional.
Features
Fully fitted kitchen
Close to shops
Close to schools
Double glazing
Brand new
Dining room
Guest toilet
Kitchen equipped
Living room
Amenities near
Laundry room
Covered terrace
Fitted wardrobes
Air conditioning
Garden view
Pool view
Unfurnished
Close to Golf
Uncovered terrace
Open plan kitchen
Similar Properties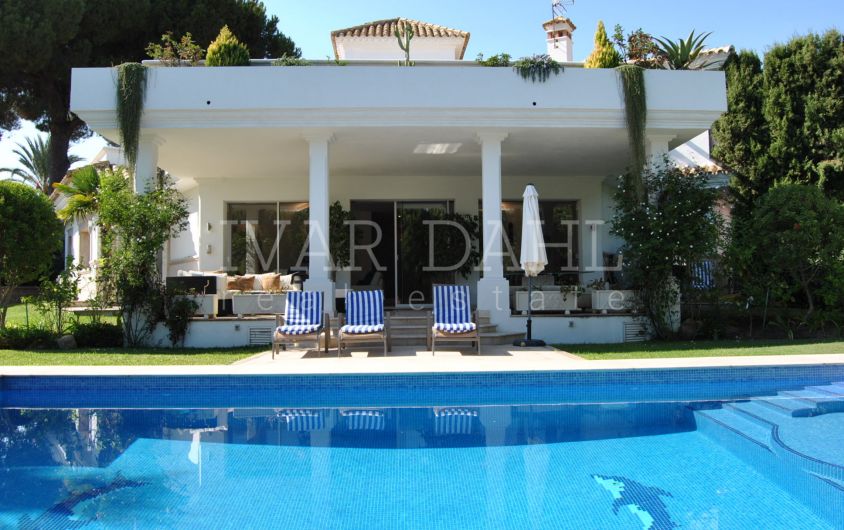 This lovely home situates in walking distance to the sandy beach. Quiet, residential area.Property with completely private walled garden & swimming pool. Totally reformed home.4 bedrooms (one with large ...
4

bedrooms

5

bathrooms

493m²

built

1.215m²

plot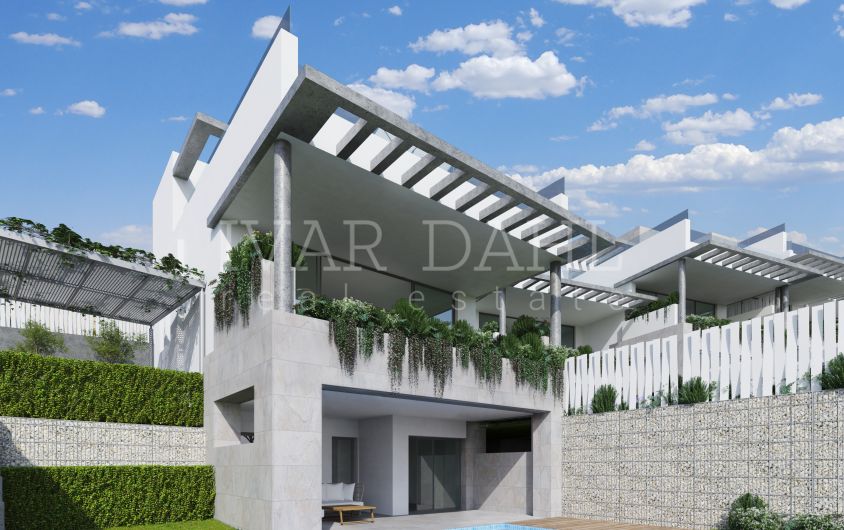 Villas with a view to the Mediterranean. This is an innovative residential project in Cabopino, Marbella, one of the most beautiful spots in Costa del Sol. The properties are situated in a front line golf ...
3

bedrooms

3

bathrooms

311m²

built

122m²

plot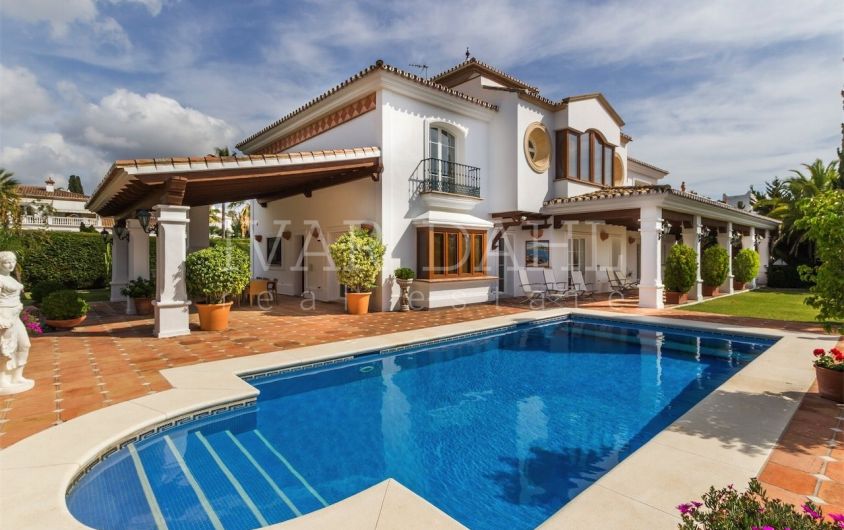 Elegant villa in one of the most exclusive urbanizations of Marbella Bay, in a very private street, with sea views from the master bedroom, a very mature garden, large covered terraces with barbecue area, ...
5

bedrooms

5

bathrooms

960m²

built

1.800m²

plot