New luxury front line beach homes in Estepona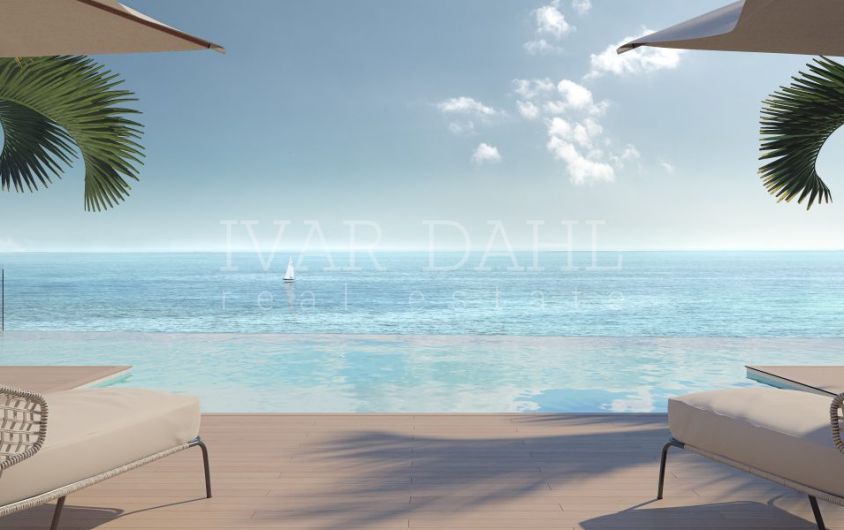 //media.inmobalia.com/imgV1/B8vEv5Xh8DZJ8zA8HsKlVQQovHvPS2nS1REiasNjjf37J7WfKOkiQxSIhRrnU2OBFkknCXNFUkYS7Hh9o9IZ_QJ9eIkyovPQwxbsQYIBPlk1yn4qGq9PjH7r1vH1A23m0pStuDAfFnTlBsARe5DFiQWH7UNSDOcvklXc_j6A6cJ~rfoPquYFTXlbacM3_4k55tmPDc8l2afN_Qe2d9MsfuIb~waGjsoj7wS39qGoEfohPDLkXnBZUPrNYJX5PkdOiloGGqYYFo4pfj_fFLVx0z0wpEKoHRae2KzApamxEn2DaboRrOoJIcuIYwXlVS09TD4-.jpg
//media.inmobalia.com/imgV1/B8vEv5Xh8DZJ8zA8HsKlVQQovHvPS2nS1REiasNjjf37J7WfKOkiQxSIhRrnU2OBFkknCXNFUkYS7Hh9o9IZ_QJ9eIkyovPQwxbsQdHd~rnk1UYDixrS6qQIWK_rrhUIN~OrGFUSDNL8iWQMBfktUGVxHu3p_sylpG3~abrLVijhbBlhLjHNqZub30x3rJwUlUDKTMSszNm1VZkbV8GUevx26i5JfZ2kViclN_VpZ8uOtswiOg758Jtf2u96S4jXI1dLV8Tu9~zwNKUremXwvJV7X7R9lctvdtHpK2Va0otKo8Y537PeqZEWGggJ9Fl_qsI-.jpg
//media.inmobalia.com/imgV1/B8vEv5Xh8DZJ8zA8HsKlVQQovHvPS2nS1REiasNjjf37J7WfKOkiQxSIhRrnU2OBFkknCXNFUkYS7Hh9o9IZ_QJ9eIkyovPQwxbsQYPprnsiNQDiH930A_PxVbVUHOxxbwflH4pRvyzpG9KuN9kUCQozs2OWasywvBPwSG745zOU4KSaj60RIAU888bTGnkOpKyhMuf~nabdxRy3JaoYUke2C_iPAxSm68po4JsORIpcQOrCvTfqtMJjMUDSyo7GrgmxEQXKiDOwojLf7yZJDfy_cj5G7Mfoh9X4G5UlJB_coBh_~w4ikgIyfMJCup~0OUo-.jpg
//media.inmobalia.com/imgV1/B8vEv5Xh8DZJ8zA8HsKlVQQovHvPS2nS1REiasNjjf37J7WfKOkiQxSIhRrnU2OBFkknCXNFUkYS7Hh9o9IZ_QJ9eIkyovPQwxbsQdJdNxjVnpKXzpWvwQekcORQwsBtbCwdycca5u3SDM11C3WgDAzW3eTVX7ZQ~CEOGY_ubih3HqMktJx27531fP9UDAbkRdJdjwvgWMA1Dp4APelZZrRhy2Noj_eZKPE9ja1IPteYBZydRGxnfl_qomPs098vZ~4lFLL0ddZ1X9MRaWsMZll~5Mb6ZpwVYonZuMgw3ekaTwLiPtDk7WRoMBgBIiIGWu8-.jpg
//media.inmobalia.com/imgV1/B8vEv5Xh8DZJ8zA8HsKlVQQovHvPS2nS1REiasNjjf37J7WfKOkiQxSIhRrnU2OBFkknCXNFUkYS7Hh9o9IZ_QJ9eIkyovPQwxbsQd~oanCxdv31u9M_Xmq_91vjKJO06Bn2tbRR0_XNOQO8P8duMhks2zb45vQcZt4FDl2gfkB5qc7Ys9DZXoL~vzwyZnl~H85ZPWMne4cLo82Vz310anZiKslnF3fb3AGXxIUIr~h7TJMi5_eT2aeUttrZviaJb5byEI_oa91uRHFh2q6VtuTg1QPMgjk545y9_fQtRO2CTT45SizywqSwyLA2AYYi_lg-.jpg
//media.inmobalia.com/imgV1/B8vEv5Xh8DZJ8zA8HsKlVQQovHvPS2nS1REiasNjjf37J7WfKOkiQxSIhRrnU2OBFkknCXNFUkYS7Hh9o9IZ_QJ9eIkyovPQwxbsQdP6WwjMJ9qRplEmxLmGGts~Ny8n2qIbdWDIAIrZEraUNoKDjVufw7jqk36CM4PAI~SvAjftfFNWR~zEZ3kcZlDujhrk2ZRKas58sXAPTASu20R_VcxPvLmpXERO52ZajTYbtNrN_wuxss3DnfWtHZ0EnmHPTZiF~8D1uatSQbSAPOzzSrJVMRajjBYh44Te_C5VP3lwaTnkVdJPHrCHnp5tIMEJhXk-.jpg
//media.inmobalia.com/imgV1/B8vEv5Xh8DZJ8zA8HsKlVQQovHvPS2nS1REiasNjjf37J7WfKOkiQxSIhRrnU2OBFkknCXNFUkYS7Hh9o9IZ_QJ9eIkyovPQwxbsQYIDrdcIopduR96ZeVALMZRZvuSYShGyp~DTrAxKMefcismF4GnIbPV8XrUA6nkWjAwZSeb_lrx2ZWABGzTN9_Xt7Kvj_Ri5_huxBQ0yxhzTOTPrXS2m_Jdf3n_O62cg8QS6vO_SFqaDfzUTQrLX0IUeJTXGOvJQbMOrSzzY~PPxnoA~rVmnAC5t5Qz93lP5In82tJCwITDsUhLo4FL0GQkT5b10zWE-.jpg
//media.inmobalia.com/imgV1/B8vEv5Xh8DZJ8zA8HsKlVQQovHvPS2nS1REiasNjjf37J7WfKOkiQxSIhRrnU2OBFkknCXNFUkYS7Hh9o9IZ_QJ9eIkyovPQwxbsQd5Kvugr_E6UX_Ll_rFNCSv0H_ylrx9DUNJyxDWkhXryBCayCfieSII0HZHKznkeZpk64S7iEq4yA8drX~UlfoxYy8GhsdDAWIgjNkArNS~PyRgOo1wL6Evg7a0ikVPrMRcfQ59Fj~felD5Rk2osFSrqngOAbKayzp1QUpR_y8EbTh8ff40qzx2HWUQYpr3WlPcWdeSqZvEuEdOIGEpQ_dY6e6LErFI-.jpg
//media.inmobalia.com/imgV1/B8vEv5Xh8DZJ8zA8HsKlVQQovHvPS2nS1REiasNjjf37J7WfKOkiQxSIhRrnU2OBFkknCXNFUkYS7Hh9o9IZ_QJ9eIkyovPQwxbsQdGJJV9~eF3Horrx4nFDK5aYfZ0N6vilD0P3_nvG4uYhtVv_MuZtcbPTlzm1ZXAswvTR7FQsTMr7Ly8Xf1QWQwPT9dkQwS5aKPYc0vZb6BNDBKKNVKckcCkcJlnW0FNWvAb_adotjUQkNSdhddFJkvMjqIY9IMLKO13agD8RVmn2vK2UxlifswmEN8UAVKvJb9_1xRMNeAkPCFi~6U5WlQ_EZAj~El0-.jpg
//media.inmobalia.com/imgV1/B8vEv5Xh8DZJ8zA8HsKlVQQovHvPS2nS1REiasNjjf37J7WfKOkiQxSIhRrnU2OBFkknCXNFUkYS7Hh9o9IZ_QJ9eIkyovPQwxbsQdbKa4oaTh_H7msj9riVA4fRriH_OYhFxMko0s3JAhHB3ruBDdvqzIswZy_XTr7lkXs5r5Ja211iaWm41V6csCaKudhnTAyJrQ~sK89IzRgkLdohjM2pXzdUGY96WWfgRLm2qvzaPlnajyQlse9Y0yJivH2wc7xaE9dZzayG8bprl1OqBsYo6H0oFuK5urq6OxugykSH~wQ2eFqt_XEywUu_DcEpPRE-.jpg
//media.inmobalia.com/imgV1/B8vEv5Xh8DZJ8zA8HsKlVQQovHvPS2nS1REiasNjjf37J7WfKOkiQxSIhRrnU2OBFkknCXNFUkYS7Hh9o9IZ_QJ9eIkyovPQwxbsQdWvKkhseh7VN_mqPn2gaVD496ydLnyAci56qnRUDlSW~jTAarEBlquxNJi7M~t3y8Ou_lD4V_sBLRq_F05q~0flq71rQoqzaDhMiCIIb5jRqS7PPjss5bH6yPJnVLkAf4tZuSEkXImlIS5rmCY8gpgWYKGUbAuqfL2qp94N4S04PBI1Pjr~BVY4zw02xwcJpo~x85sPh1j9HrwIIYx71IPVyC9jq2k-.jpg
//media.inmobalia.com/imgV1/B8vEv5Xh8DZJ8zA8HsKlVQQovHvPS2nS1REiasNjjf37J7WfKOkiQxSIhRrnU2OBFkknCXNFUkYS7Hh9o9IZ_QJ9eIkyovPQwxbsQdSG_OFT2ZbhdqaKpNIzmjA4QFdbd0gDtlrTau~GbXndCefxbUzUj4fUZyKFBDCbLG~F2sPatthLUhjGdu0agqrtXf8lWs5BTMsb1ECc67Z7Hl3clXpN2PzcIS6tbjbxZBLiPbl7T5cLKDGNT4ghwAEqJaHx~~8audN4fVMdSvsArPmLBHpDOXwCQz7QaORDjXGNZwjFMKjdgVkrOSlvbbLaj34_1eQ-.jpg
//media.inmobalia.com/imgV1/B8vEv5Xh8DZJ8zA8HsKlVQQovHvPS2nS1REiasNjjf37J7WfKOkiQxSIhRrnU2OBFkknCXNFUkYS7Hh9o9IZ_QJ9eIkyovPQwxbsQdHezEOa1X3ME4wVcfMOh0J3nlWrvyw7tY~8s8o~qjENxTvBXRoK5vyruHS1YXVxdtdZpV4CelsLesP2MKbf8NAlEQ87PjNKpZ11gpZSGH7cng~hmR04lmxgiKk1BMDCV1wVg3GwzJwUaAcxRwD_yL4OkaEP3NXIivSRGwRRUQ7I4FY2AlqpJL_tQXK_QBrtRB45GbiV3cXFEz~rnomt_zTrk_SSq~Y-.jpg
Price

908.991 €

Ref.

4911

bedrooms

3

bathrooms

3

Built

193 m²
Apartment in Estepona
Estepona, 32 new front line beach luxury homes. Modern Contemporary style. Sea front location. In walking distance to all kind of amenities, old town and marina. Spacious terraces with amazing sea views. Homes finished to high-quality standards. Floor-to-ceiling doors, large-format porcelain floor tiles and wooden floor in bedrooms. Roof top terrace with infinity pool, Jacuzzi, gym and children's area. Private parking and storage rooms. This is a great opportunity to acquire one of these very few exclusive 1, 2 and 3 bedroom apartments and 4 bedroom penthouses , right on the beach promenade.
Features
Fully fitted kitchen
Close to shops
Close to town
Close to port
Utility room
Jacuzzi
Front line beach
Gym
Solarium
Double glazing
Video entrance
Brand new
Private terrace
Kitchen equipped
Living room
Amenities near
Sea view
Transport near
Covered terrace
Fitted wardrobes
Gated community
Air conditioning
Lift
Panoramic view
Beachside
Close to Sea/Beach
Wooden floors
Open plan kitchen
Reduced mobility access
Similar Properties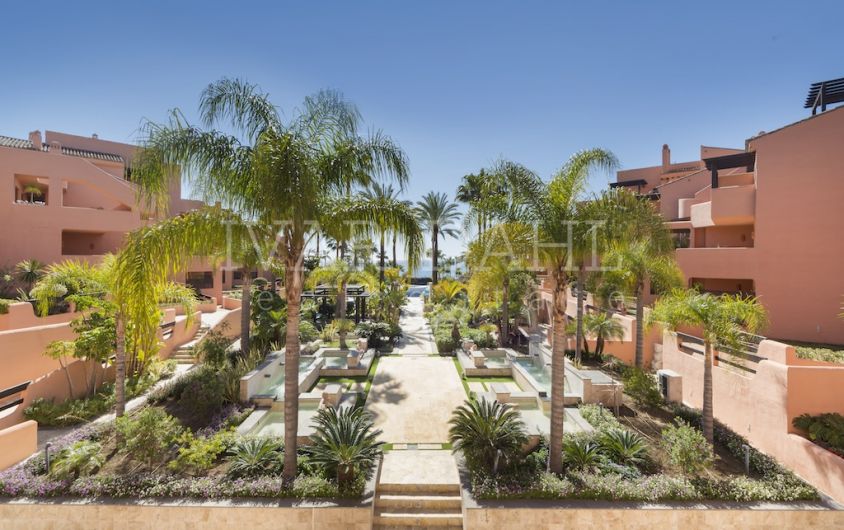 WAKING UP TO THE SEA!A truly beautiful complex, in a wonderful oriental-style oasis of peace and tranquillity. A residential area with direct access to the sea and joined to Estepona by a long promenade. With ...
2

bedrooms

2

bathrooms

167m²

built

36m²

plot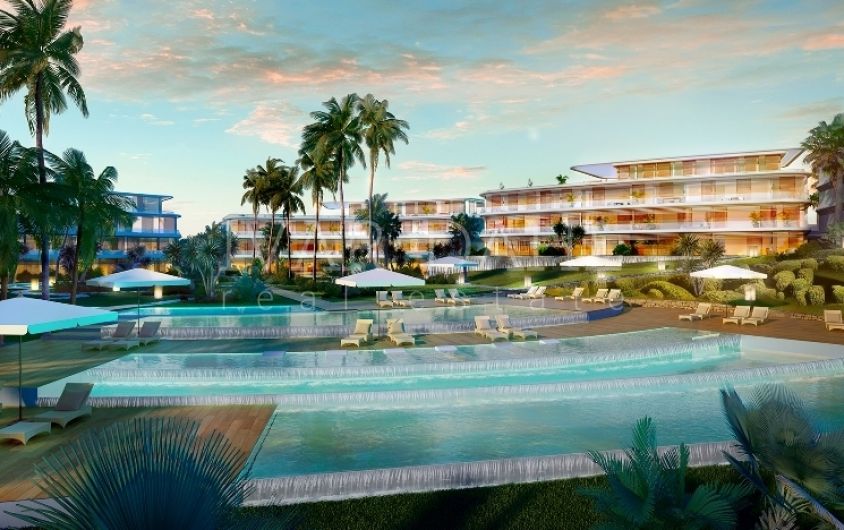 Estepona - Beachfront, New Contemporary apartment project. This is a privileged project of almost 10.000m2 in a unique beachfront space, where 68 apartments and exclusive penthouses and 2 unique and ...
4

bedrooms

3

bathrooms

187m²

built

49m²

terrace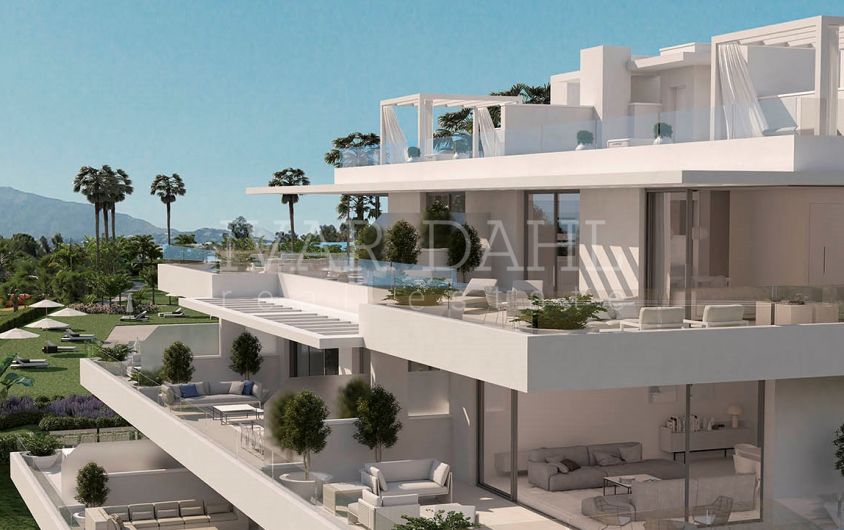 Luxury apartments and penthouses in a contemporary style in one of the best areas of the new Golden Mile on the Costa del Sol. Located between Marbella and Estepona, in the heart of Atalaya Alta, this new ...
3

bedrooms

3

bathrooms

191m²

built

78m²

terrace