New Villa for sale in Mirador del Paraiso, Benahavis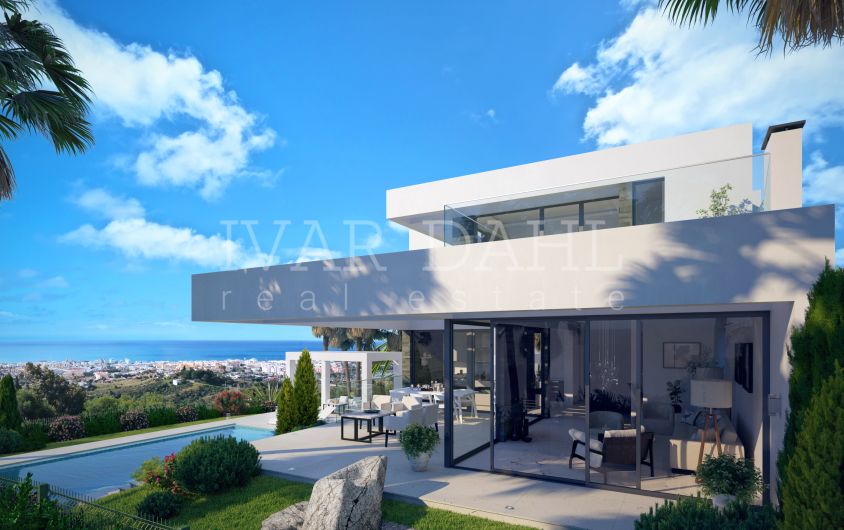 //media.inmobalia.com/imgV1/B8vEv5Xh8DZJ8zA8HsKlVQQovHvPS2nS1REiasNjjf37J7WfKOkiQxSIhRrnU2OBFkknCXNFUkYS7Hh9o9IZ_QJ9eIkyovPQzMUJRi_QB5kfVXUFVTc3v9VNn0ZymKJrpLam0vAu1BaRP6Eg3WYQE2K8y4it74z7A8jMa6B3UHpYTZb4emGD7Rbu3v6U7DBC_Y2jNdLGHkkPIDsW9ylIG6dkVDR6qpTl2v9IN8vR8iPyzuBVBLr6X5uE5nRS9As57AuQyT5M8NL7vKFv4FRQwLSyC4KrS4Lr7tP_1zJGFIaI3VKpL7~C4Ktr2JuAxTwgaUQ-.jpg
//media.inmobalia.com/imgV1/B8vEv5Xh8DZJ8zA8HsKlVQQovHvPS2nS1REiasNjjf37J7WfKOkiQxSIhRrnU2OBFkknCXNFUkYS7Hh9o9IZ_QJ9eIkyovPQzMUJRixxPzJaE8JA0fb9pFJRjILhNrffwOg047ayf6vPOYCe1sTu_1B1PSafh_4lacap3xx3_KVw0hIwOO7H6AqV0f14eA0IEhtz_OON5_B4a4BRKaBwDdIkwbh0S~vUeIewdK2NMpA1O2CTM8GRDzrzycaydlsfD864Q7731ZuOhvpMBMTZc8XrDHA2k6LoXSachxEobmW~dcffZS5BAb0VaMa_9rRKZPc-.jpg
//media.inmobalia.com/imgV1/B8vEv5Xh8DZJ8zA8HsKlVQQovHvPS2nS1REiasNjjf37J7WfKOkiQxSIhRrnU2OBFkknCXNFUkYS7Hh9o9IZ_QJ9eIkyovPQzMUJRnpgFSjCG8vXjXDzjDK2GVL4JRRNuMhnIGmNvqQLRfxx2U4BQ5iOEmETcsRtOVzbuzLYgYLqzPBMtm5cdrG5qRIL8JubkKOA6wOcwobZfHSjuk2OD8VDOJ089Z785EqaExTy8mjn8vqTbq8ZpUZEKLkU3DQahrcqAGeBzIYZl3XlD4CPJwikrKoByMVrsR9BkClmEeniNUJo_gO8IShkEtChDXWmfg4-.jpg
//media.inmobalia.com/imgV1/B8vEv5Xh8DZJ8zA8HsKlVQQovHvPS2nS1REiasNjjf37J7WfKOkiQxSIhRrnU2OBFkknCXNFUkYS7Hh9o9IZ_QJ9eIkyovPQzMUJRn2suOJyZRYkJzO~Kxepv9Iepx4sCkvZa61IX0wufaUJ~pcnfh1IGOhOnw1E1XtvwwF7HhnbAz9p0tUncXxHlllA5~UOn28I_Df6K9_9nMMRNpAmmWUmcFW2HQHnFYFZxOy_RupRuuCxsTngV~_pmS3VrthpSXlkqRFtJcivDlYCfhqxiXjN5v4EvvggiWVP2viUXWAQ6x~nnc82yZ0rGRL8EKUYcbI-.jpg
//media.inmobalia.com/imgV1/B8vEv5Xh8DZJ8zA8HsKlVQQovHvPS2nS1REiasNjjf37J7WfKOkiQxSIhRrnU2OBFkknCXNFUkYS7Hh9o9IZ_QJ9eIkyovPQzMUJRnynq_nPYVtmYVpbI5yBZyw3DnAt1kJ8CmAZItceh5N1F_RXz9b9A5XUclFHXRp9Z3W9QdMAW50qQEu3Um6CPLSBl6TzT8w3xV0enNDmTw56XUJlh01hHCoU6rG8pKE8GkKDgnBwXHrdFiKYU7nOVSlTLRViwCKehe6OTq_hGtRk5RbDZs1SngH8WTnx5OWrc2CK95iMG2v9nS8yt7T1t0jGHx3PZQU-.jpg
//media.inmobalia.com/imgV1/B8vEv5Xh8DZJ8zA8HsKlVQQovHvPS2nS1REiasNjjf37J7WfKOkiQxSIhRrnU2OBFkknCXNFUkYS7Hh9o9IZ_QJ9eIkyovPQzMUJRnjubR91HPhKzW6j853eXceZQvOrBA3HD7hzZmUxNv3uv_nBuy0sS2cmUAYCRUBhR4rXvda4fmRA7KFlVpR63sTOr2gD~EcMR5HFnYztnCdySR4NTqdX2FWPdzDXmx9W5ERsTysU~mERNhTNvw3WB_grWlhxB2QS0peYaJKCWrl2~1Qb5RxU8ea6CajzRoVJPsB9lMdcsnwq5kTiA6CrIJlCKxS7nYM-.jpg
//media.inmobalia.com/imgV1/B8vEv5Xh8DZJ8zA8HsKlVQQovHvPS2nS1REiasNjjf37J7WfKOkiQxSIhRrnU2OBFkknCXNFUkYS7Hh9o9IZ_QJ9eIkyovPQzMUJRn~4Htk_l2vYGkYE3saflNQgjLSReg1tVwFa~yrxFkxCLvEB_VhTuESk6MIC4Xi2_fnugSKfVzqvr_sNJJY3gARBXrcyoMZAdokJX98pvaTvyT3vzkWTRsc43SgWIWzZ8sqDbWRsCVYd5L0KFreFfQyFj7ZG067xfr0_lS_HvjlUOpGyKZBQNvGuxGrzmQWSBe0ZablzDgTRn0yKdXyWHN515BgFbdE-.jpg
//media.inmobalia.com/imgV1/B8vEv5Xh8DZJ8zA8HsKlVQQovHvPS2nS1REiasNjjf37J7WfKOkiQxSIhRrnU2OBFkknCXNFUkYS7Hh9o9IZ_QJ9eIkyovPQzMUJRnz19vSKEcJb06VjTt48aXlBKJlirpQElfm~O4fMTydisKteYrg9lllolAWykKgm0pdebON3bbssbnUVBJfPibrYZFyKj0kz~7VDiAEbGUeAiX5UuvJrEK_H2Z1vogQpOyl5K5djHQQk4mmqYl_uTHzo2PI71IUw2a842CHnymF7NU6WiEBzLQErQp9PSsWgssswy8MoCJtNzfhIUwthKCKlthIq64I-.jpg
//media.inmobalia.com/imgV1/B8vEv5Xh8DZJ8zA8HsKlVQQovHvPS2nS1REiasNjjf37J7WfKOkiQxSIhRrnU2OBFkknCXNFUkYS7Hh9o9IZ_QJ9eIkyovPQzMUJRi2RmT0WCKaXHj4AVFuTYnuP~gONIb8CEjXaQSfXAj_mPjbou3nyRKV0c5GGXqfwhWn2dLcCxelxP08TnTim~PCnSVdMDLGYScU0Ez_kRsQemU_bleQsnGsuS4X2TywSo3jM76kQ~3XkYJMln5nTEj6m3ISdixwbJko82g~CgeLelT8wiM4TmtIftB~AYUxe4mO8KGhNm4S0bBdHfenYHOFpWtqRO1I-.jpg
//media.inmobalia.com/imgV1/B8vEv5Xh8DZJ8zA8HsKlVQQovHvPS2nS1REiasNjjf37J7WfKOkiQxSIhRrnU2OBFkknCXNFUkYS7Hh9o9IZ_QJ9eIkyovPQzMUJRnpms8jS567jUhGbMzRgjq9TO_DH2TsCQm2V1YOuwW8k7Zii2byuvj4QsL9Xfl2zKoQpI6kKPfJLwLJYC~kUgYuKbTIWmtKDXken9nW5srdWzayj2_X6vzCADzSf1tBmsUj6es~uodiSYmxcVK19BLzJNQ~N2qHry1fZ_RjQtT_u5SKRvYwGhrSnJK3abBO7IX7JDZhBN7xIUFVrG7LpizzQDfdNSlQ-.jpg
//media.inmobalia.com/imgV1/B8vEv5Xh8DZJ8zA8HsKlVQQovHvPS2nS1REiasNjjf37J7WfKOkiQxSIhRrnU2OBFkknCXNFUkYS7Hh9o9IZ_QJ9eIkyovPQzMUJRi_W2xvLYrRF0F93TnVgEZwi15W8Js1oP8rrw7sLaqpuw6QlpUrHKc6pfBeVqPjKLikDCOhIMXzuZvSsyOz9Z76eFv6lEyhUew7LQbEj2x6pIbHFA08fbL_5wdBgyUjFtEmR54jPvHU85~uJ78xV37RA2pjLQ4whr6DSfSEp7elLXR6XeXvaSbgGZJAu0gUNsXdFySjxghvs2Mt_pYJU3Gnxx55wz8E-.jpg
//media.inmobalia.com/imgV1/B8vEv5Xh8DZJ8zA8HsKlVQQovHvPS2nS1REiasNjjf37J7WfKOkiQxSIhRrnU2OBFkknCXNFUkYS7Hh9o9IZ_QJ9eIkyovPQzMUJRnH6QueGcCzboB9KftgZmXBFrFdDs_sME66lH6tCM5bfMvVvxvgV1wRYRodS1jigpjznjBH_cACFUPwzRQE5cs2Lm~SgwLP3UL7Riv3gpjGeWFNTTGE_sxrw7qns3vvADsHXqq~mo0MyKcj9Sbj5WrfnACOH6vYDYwPr4qRcL28TZXLqvykb2ZUprTsa3k2SGfwebpPl5Xod2LOXajUSJE1bamGlfo0-.jpg
//media.inmobalia.com/imgV1/B8vEv5Xh8DZJ8zA8HsKlVQQovHvPS2nS1REiasNjjf37J7WfKOkiQxSIhRrnU2OBFkknCXNFUkYS7Hh9o9IZ_QJ9eIkyovPQzMUJRn7ym4Q7g1V_FlhxlpfRiu7IKm5qhoLzodWcNj1HXuaetIM4EWqoQ9~zDt6aL_tzvxwQ0VFcPgX6zsNb0YtzDnxPKu0Ut4ZO4G6iwQCVbtgrw6Wyq2_P~USeoe3Lo95LOTcG5O3A5bMYZApNZPZH9DgA0_wldwYH~kzHhJji55x7GHaoPgFfMwtqa5Inns~FAz7Jutj~qxR80QI94l2~KRIPhl2n2nw-.jpg
//media.inmobalia.com/imgV1/B8vEv5Xh8DZJ8zA8HsKlVQQovHvPS2nS1REiasNjjf37J7WfKOkiQxSIhRrnU2OBFkknCXNFUkYS7Hh9o9IZ_QJ9eIkyovPQzMUJRnt7zbizX2aDDQV3UEi6t5T4_vNEOGX38W4nEwpi06uud87y5ksDKrPG3~RbhpIVkc7J7qC0L_Kzj6qsWcZ0uN8N1ssFQOVAEjNLJ3y1j_lJxhB8SPEdInRnsx2lnnTN_5mOUxKOCmwYxla3oxkvU98bJOKskAhND7ShuTLGqoVyUJ5YhhyjDyhXjZJR0btce8tFn2wCL73dY0WgtZhl6d70d8K78zs-.jpg
//media.inmobalia.com/imgV1/B8vEv5Xh8DZJ8zA8HsKlVQQovHvPS2nS1REiasNjjf37J7WfKOkiQxSIhRrnU2OBFkknCXNFUkYS7Hh9o9IZ_QJ9eIkyovPQzMUJRn36f5Cua3~NqNQeoJ8yc31Yh26Ja5QCprtRvLUV~a6ZP~~JJDuFn9CfIHTMIiSdhpx6EduBqf6AUh55nsQBDJbiEG7IDrS~6F7OEbmEhKr0oIxZhOtAQ~vGmPTp3jZ9Oh1LwiSlGThJnev59PIXIwm~k7EqdRywTHAP8iynSOtbQ4Ld31LPV6yH7OWGq1zrYPS95RIdOgc0Un9nxhhYSkAwOKtJpmc-.jpg
//media.inmobalia.com/imgV1/B8vEv5Xh8DZJ8zA8HsKlVQQovHvPS2nS1REiasNjjf37J7WfKOkiQxSIhRrnU2OBFkknCXNFUkYS7Hh9o9IZ_QJ9eIkyovPQzMUJRiwg~w0SZgLatnSS61z~wWlRK_3mfGHkjRhZiJEwD2grNpCLP~q2pDHXh1AVkoxypbIseiqxvFrFhDo6pOUGof6qQF~CDf4l9Tb22WUCnyzc0mSoJErvU9lTiGcOjYdFfpkiErQvMMbVDDzYBzFqYgNuJiGyybbV~YxVe~LPSGZtO0Ik5ZxOwOP~NY5CV1ftzW85kx~2AnqDARBNc4GvxoyLquRU9rc-.jpg
//media.inmobalia.com/imgV1/B8vEv5Xh8DZJ8zA8HsKlVQQovHvPS2nS1REiasNjjf37J7WfKOkiQxSIhRrnU2OBFkknCXNFUkYS7Hh9o9IZ_QJ9eIkyovPQzMUJRnn9CkSF4wP9iAprYJWsCWQVJW1QJFCCMwgXiqjquMONgk2rotreG7ZAAmByrRVgNUE83gPrWnbp7feLbqFOhtCiEkHVw7563F_lJTVbXsFIrGqbWrv_FaEdjxWg2b0Mq2P1VcYVwY16qVtv7p~npBWJrb_4nVAvXPTGkS1_ya6lhIvU6NKp3ZYo0sGcMjo8NMhxnHtkuyhW9iRTo05u4Tvn6W9qgvc-.jpg
//media.inmobalia.com/imgV1/B8vEv5Xh8DZJ8zA8HsKlVQQovHvPS2nS1REiasNjjf37J7WfKOkiQxSIhRrnU2OBFkknCXNFUkYS7Hh9o9IZ_QJ9eIkyovPQzMUJRnmpenPlg~yqJ7fo6ImJDKWS6a72T_6c3XaAN5CLyOpHas3sdYjrlkjlmy6OOcWVVY5I7LqjMchej~lLR3VwwPRUAf83eDTZUptJ30D9D1GW_wkASNA3fUwD9~an~4DYc3FMM5r2FfxyabPW5jz_p1PBGl4hCKHgKLpe3G8JoUSiHOnvrxUjR0U2ZvPGYHnjbsDwbE__~01T9gWCGT8pIuLdow4w4fU-.jpg
//media.inmobalia.com/imgV1/B8vEv5Xh8DZJ8zA8HsKlVQQovHvPS2nS1REiasNjjf37J7WfKOkiQxSIhRrnU2OBFkknCXNFUkYS7Hh9o9IZ_QJ9eIkyovPQzMUJRnGvv_5z3NJU4MBFD3h5Y6VORT_7FgwZGwfw4RPEL0H6xUSwXIddEKDC4D6F~G06XGHrd_5qY2D0cvZagwvCG6I8_qjjoZtThgWNLShKa0LZiZlmAjxRaDS_n1XpErD3SHYGVym5V9fpTr5XkKr7wR87YJhf4WfEXie5U8OF2DXAW9iRY1FEoQPPUcTingeFPS02NP3B8RxRQCpejcA70Hrmf_RNGbY-.jpg
Price

1.498.000 €

Ref.

4976

bedrooms

4

bathrooms

4

Built

300 m²

Plot

800 m²
Villa in El Mirador del Paraiso, Benahavis
New Villa for sale in Mirador del Paraiso, Benahavis. Exciting project consists in construction of independent contemporary villa with stunning views to the Mediterranean Sea, green golf-courses and Gibraltar. This villa is designed to become your ideal home: spacious, with plenty of natural light and made with materials of the best quality. It will be a really modern project with the under-floor heating, energy saving installations and spectacular design. The main idea of the project is to take advantage of the great panoramic views and sunny climate that distinguish this zone and make the future owners enjoy them in top form. Villa has a plot of 800 m2 and a built area of 300 m2, 4 spacious bedrooms of 30 m2, 4 stylish bathrooms, a large and cosy living-room, a fully – equipped kitchen, 2 beautiful terraces, a porch, a storage room, a garage for 2 cars, a laundry room, and a gym. The villa has its own swimming-pool and tropical garden, from where you can enjoy the picturesque and unique views. We guarantee you that there is no other project that could offer you the same quality, price and location. The Villa will be finished by December 2017, so you are on time to book the villa of your dreams!
Features
Close to town
Close to port
Close to schools
Utility room
Fireplace
Basement
Gym
Alarm
Solarium
Double glazing
Brand new
Dining room
Security service 24h
Private terrace
Kitchen equipped
Living room
Sea view
Country view
Internet - Wifi
24h Service
Fitted wardrobes
Gated community
Air conditioning
Pool view
Underfloor heating (bathrooms)
Close to Sea/Beach
Close to Golf
Uncovered terrace
Open plan kitchen
Underfloor cooling system
Similar Properties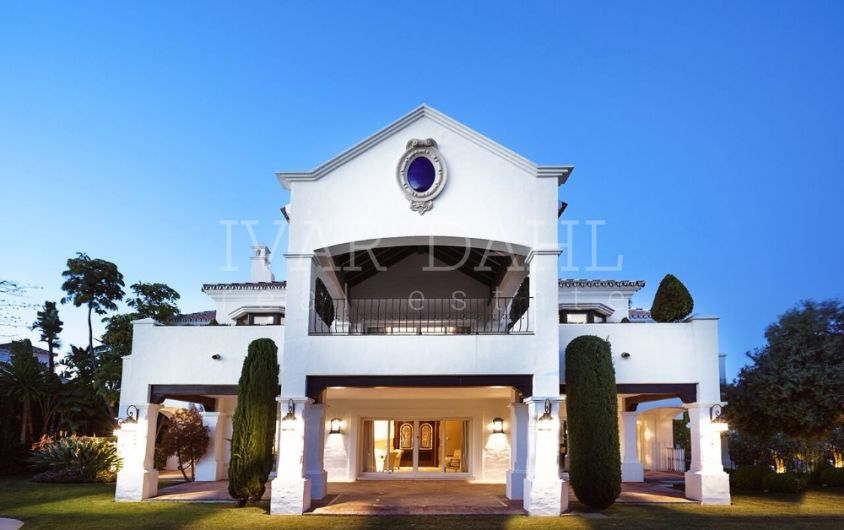 NEW QUALITY VILLA IN BENAHAVIS WITH SEA AND GOLF VIEWS! The Villa has an elegant entrance hall, large living room, separate dining room and sitting area with chimney, guest bedroom en suite, modern kitchen ...
5

bedrooms

6

bathrooms

531m²

built

1.539m²

plot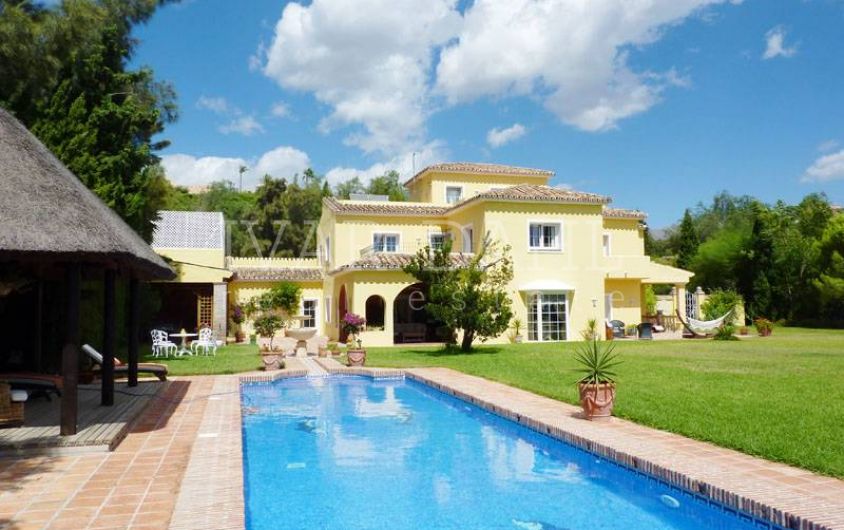 FUENTE DEL ESPANTO. LARGE VILLA ON FLAT HILL TOP PLOT WITH PANORAMIC SEA VIEWS TOWARDS AFRICA AND GIBRALTAR. Ground floor: spacious entrance hall, guest toilet, living room leading out to covered terrace, ...
5

bedrooms

4

bathrooms

700m²

built

6.000m²

plot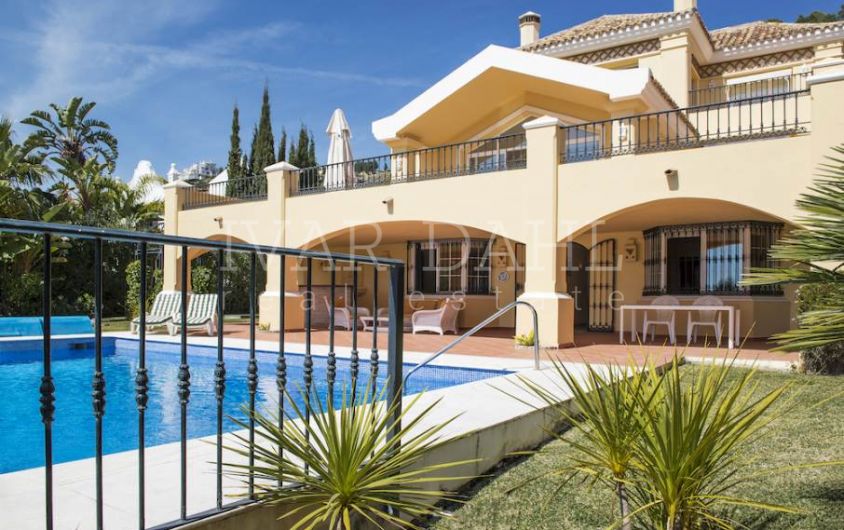 Frontline Golf, Large villa with garden and heated pool, aircon, underfloorheating etc. From the entrance, you walk into the large lounge with stunning golf and seaviews. Intergated office/piano area. Dining ...
6

bedrooms

5

bathrooms

503m²

built

1.000m²

plot