Villa - La Carolina, Marbella Golden Mile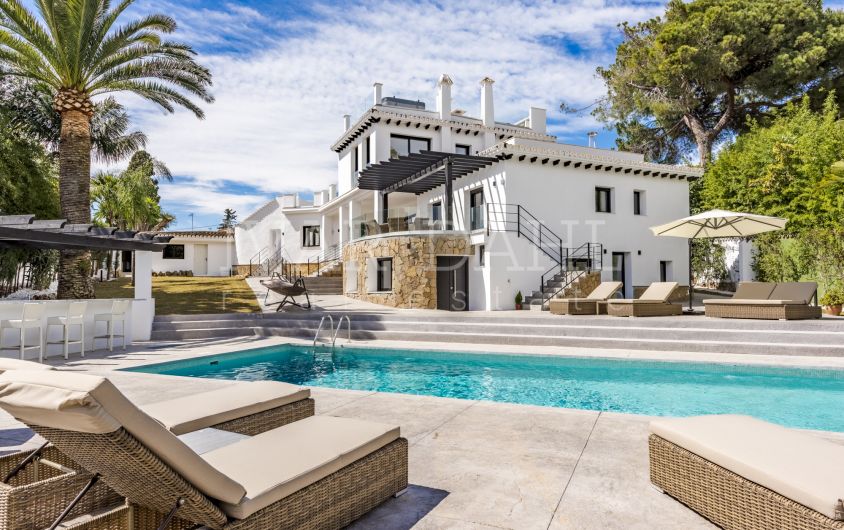 //media.inmobalia.com/imgV1/B8vEv5Xh8DZJ8zA8HsKlVQQovHvPS2nS1REiasNjjf37J7WfKOkiQxSIhRrnU2OBFkknCXNFUkYS7Hh9o9IZ_QJ9eIkyovPQzMAJbYnBZoVPolIfAvNOTkuKWyFJApd~04Y9P3ZJ6rjZXi7w8orAmCPD0SMktuNN8Aj2KOKbtZXeTMaI8eNCRTzbB1QoPPBeNrWOqL_aYoOFpFuHwQkfjdsnA2kAqMOmU81pI_jntfm~nmkVY_zyOmPuqiJKVEz_Ue~r2fmKtP6iniHfUTWzbMPh0zrRyQ~hhZSOmcIQj6hXo7k2m_liJhszVMVQIZbASuU-.jpg
//media.inmobalia.com/imgV1/B8vEv5Xh8DZJ8zA8HsKlVQQovHvPS2nS1REiasNjjf37J7WfKOkiQxSIhRrnU2OBFkknCXNFUkYS7Hh9o9IZ_QJ9eIkyovPQzMAJbYmUAgWZtrlNiE~pF~czQ35c1i0jzcdcBdliOQv02lELb8A4SUhOqMMa_vMZr6uGDdViYA2JlDOr7kb4UX9J7BMot96WvULPvsksjpeNKNryWwvk_Z6MkwZexmI2lDVP6uF2OiH1wXmkHI9dyfGtTK2AxPAJ8bgs852rEaSYmzazrqCmojIaOO7z_PdpsAKTivtGztTEYpbyzIy6jZUph0g1ixThVi4-.jpg
//media.inmobalia.com/imgV1/B8vEv5Xh8DZJ8zA8HsKlVQQovHvPS2nS1REiasNjjf37J7WfKOkiQxSIhRrnU2OBFkknCXNFUkYS7Hh9o9IZ_QJ9eIkyovPQzMAJbd8_G6vP4R8eJYpC0~qEUPOG_EmIGThgiAJbxvmATxlUW1y5AVa2xQHjjcwd6QuI0L5G74diMx9um_iMLQQpXc8hMYXALS_knvkJpCRCZLbZBMSIH6rz42F_mu8merqtTskJ4Ru1YtfNIgQ~KUo8gQa1WJwFN3MDLmwFDt~OoaeiUtSgNnxcYlRvGER0dJM66Ex8fycyOZjl10kbDm2LQh_IC~EEUFM-.jpg
//media.inmobalia.com/imgV1/B8vEv5Xh8DZJ8zA8HsKlVQQovHvPS2nS1REiasNjjf37J7WfKOkiQxSIhRrnU2OBFkknCXNFUkYS7Hh9o9IZ_QJ9eIkyovPQzMAJbdhiP3a3oOREM0MR7sNdtXutmaWuGdCAIc7lB_VzC_JHbbpCHOHBd3ePTK9suZCLaZxF3vNzgoGva4Yg9burExOtl2TFq5Nca8QyNx0KREB_Cj558DEi2Zdols537zr7GV88Qgg2QuQsABzORZgIeoCrhP9vsdv4GhtrOau~qng7uezD669AXBvVRMkHv~CCIJAwX~BjJV2ilrzOz4Y1fs18w76FBiE-.jpg
//media.inmobalia.com/imgV1/B8vEv5Xh8DZJ8zA8HsKlVQQovHvPS2nS1REiasNjjf37J7WfKOkiQxSIhRrnU2OBFkknCXNFUkYS7Hh9o9IZ_QJ9eIkyovPQzMAJbY4BKU3lyB1h9tpdqfpgbVzvPhEdKTmlPzvw6hMVHOEm2Eyo6OEIp87jyo2nt5Ie3kK4BC1eKrxMxdwe1Ab7m6DCHwEEErQDpw7Z5bcS8LA7LLb8L2S69qzWDabUaREh9_e6R4ckz_kiPARO1bK3GDpWH~3D0j_LRF2GJ6nSJgp3DNKVAgZlpl2oZH_l0hUmvtb5r62hrM7R6WKCP63lyyKXhWr6eOU-.jpg
//media.inmobalia.com/imgV1/B8vEv5Xh8DZJ8zA8HsKlVQQovHvPS2nS1REiasNjjf37J7WfKOkiQxSIhRrnU2OBFkknCXNFUkYS7Hh9o9IZ_QJ9eIkyovPQzMAJbd0oZ2J6uiuVCPwFBFX4UZh~UC7ulvMNqJAv5uujBC74f3bPikgUjeVTfkOLZryED7Mc7IQcEZwQIuEKePEqVLYeqm5eiiX5m7_gj69uRySS3O~o0FRWfvuikEU2BbjkXi5eLz3KtcWTbK9x6_x0tyiXlozpcYEqUYb1CtkPecUB7rCc2ysJx2_~WJDaaYw38562bLG_gkRwcs8800DhVetP5uxs7hE-.jpg
//media.inmobalia.com/imgV1/B8vEv5Xh8DZJ8zA8HsKlVQQovHvPS2nS1REiasNjjf37J7WfKOkiQxSIhRrnU2OBFkknCXNFUkYS7Hh9o9IZ_QJ9eIkyovPQzMAJbdoYGnkxOd2fIe1_hpU_mOdbfhBO6lysLMO6s75snXmZr3H~EDrviuvRcw4q1RIl4stEvXA8Chnz32NwVW4Vqluq1ZD3AV6j_FyfAHhkkWJjVOYJNjZXK3_y5TQkoeSMC2L38L_e4wjBC2blMxWYjvyJyooeRbFQSZPey44fyAKar7VrhNXDLHkxIMJeS969ff61gIQPgBixP4kQqPiKYb1wGusrbSE-.jpg
//media.inmobalia.com/imgV1/B8vEv5Xh8DZJ8zA8HsKlVQQovHvPS2nS1REiasNjjf37J7WfKOkiQxSIhRrnU2OBFkknCXNFUkYS7Hh9o9IZ_QJ9eIkyovPQzMAJbYWoYB0gpYnqQm5SultdCRm0motjam8D2qLhs3rqGIBtEizdjtt~N1Qr_rJiSYYo_aVKcMXUg~gnWHfZUOpgmwSmIvOdB1IQWzP2gKwuRQsGpT4Yq6WKm1HOyYy8QeluSplV_bUIH8kov_KSS0wQoFUTbratqfOA5Lin1EcZOC79JvPOCzw~~kctdoKQL0M1UxKFKKonZGm9ixZtlVNLcflvRxB2JqU-.jpg
//media.inmobalia.com/imgV1/B8vEv5Xh8DZJ8zA8HsKlVQQovHvPS2nS1REiasNjjf37J7WfKOkiQxSIhRrnU2OBFkknCXNFUkYS7Hh9o9IZ_QJ9eIkyovPQzMAJbd7JkYZAs~heX3Jn1m8uzGk4TeaTeLo44Snhik8mxfHdrUT48MyAUboXL8ZNGspUclMTowZoTO6pwMYvy45tXms63eozTIHajKEDajFTzdyi3ydRlfhuBbcsOLDn_gvSG2os0GuU1LMPkUnKWQdfjUCJZ6Hyn~z8YBwSqgCt_fxadfyf8Y6Un874I2sFkxgedQRqTfeNGabCsIpwNMga~NCAYCTLATo-.jpg
//media.inmobalia.com/imgV1/B8vEv5Xh8DZJ8zA8HsKlVQQovHvPS2nS1REiasNjjf37J7WfKOkiQxSIhRrnU2OBFkknCXNFUkYS7Hh9o9IZ_QJ9eIkyovPQzMAJbd1_wn2WwE_ddNqto5vY2PZT_2T6Hw1TTs6OUoBaSfMeSf71Gz9lbC9~prpuPVm1wP~Sg2bthwiVnYGL0noJGbc3oUStTKJtBz4Onsa_6qhkye5A5ACGxsp3Oedq3oJtD1NBFMCBuQWhdlWK7s52mMvHuRx2rkTymvInciOcbR9FT__KtJkxpkfYkLEofQy0EC~f0EMwwSfUhuUKco1GNueAO~kurTo-.jpg
//media.inmobalia.com/imgV1/B8vEv5Xh8DZJ8zA8HsKlVQQovHvPS2nS1REiasNjjf37J7WfKOkiQxSIhRrnU2OBFkknCXNFUkYS7Hh9o9IZ_QJ9eIkyovPQzMAJbd9jlrCo5yi_lmhN9F_dbh7MsDA4QyOybs7~sBM1EXx~PL1YKBJNJ_aC0WJ7vKpWxtrRXW3w5BPMpn_Cnn6VO__kvlDLczvu2Yhn0DXT4y_NVOGM~zLb63y5005TKliYqCkX6YfO4nQ7Pz7LqkK1b_Ke6OGn4qmY96A4qNWDDqWTc1CvBPURGhzBqi03oLwlEICLYVoIzf2cSFApXTBUr2Kk5eBirng-.jpg
//media.inmobalia.com/imgV1/B8vEv5Xh8DZJ8zA8HsKlVQQovHvPS2nS1REiasNjjf37J7WfKOkiQxSIhRrnU2OBFkknCXNFUkYS7Hh9o9IZ_QJ9eIkyovPQzMAJbY109shgGs7WF1BEV_Pm7CwHoBTSsMxr0mO5cesIClhmNyg8MMnnl4TjxfwCRjaF8kN5HjeRP50FuAVtVQDJOPz2TkfKjCBiQTwxTp7C2oL2iOW~FQkQLH4ugjTcB5z6UaA_MPH693GAR1B3MQu3cvMeehfZ17INAfcoMXcBeXs58QH5wzM49deyHb9E_EWBFW7Y_QVXoKg0ZVkWuLwL61U4VT09DuU-.jpg
//media.inmobalia.com/imgV1/B8vEv5Xh8DZJ8zA8HsKlVQQovHvPS2nS1REiasNjjf37J7WfKOkiQxSIhRrnU2OBFkknCXNFUkYS7Hh9o9IZ_QJ9eIkyovPQzMAJbdoRc3ONcT7y_wJOSn3o32rzjxbR_MA859JIYo7_4K9yqLp~Fa1ItrloYm9Cpp2rv2Mgiqzp2Npj1fI2jhV~0Pj1~FygJUIs9AD7gMIcpljJOCDZrSC2Z6YjSGKsS9HDs15EsamZeEVd9spI~ek~fcHUUhz0nvjHBXzMVptBV2ZEggmEa7RUbT5rDELwftsAooYHuL8vLl_A1Duf9~giaEYTEIADEFI-.jpg
//media.inmobalia.com/imgV1/B8vEv5Xh8DZJ8zA8HsKlVQQovHvPS2nS1REiasNjjf37J7WfKOkiQxSIhRrnU2OBFkknCXNFUkYS7Hh9o9IZ_QJ9eIkyovPQzMAJbY~gLsykrKvgjKcjsfb6uH~pkkg3GS_VZHHazuE3gZ5rRO7jOyFEV52bjdQGsCkyvGY5nBrXzqJ3mLlVCkzFHEmDvO8Dvnyj~Ef8ia0Ary2fdVUNeyy6IGQjadbD_WVFrpJt99qybzfki~~s7eWoxgK98A5fBerZoLruOR2yF9weQcJb6qKHHtKu88twbb~RiDqPzrbWozl26VZztTKQ_tioJG4Db0c-.jpg
//media.inmobalia.com/imgV1/B8vEv5Xh8DZJ8zA8HsKlVQQovHvPS2nS1REiasNjjf37J7WfKOkiQxSIhRrnU2OBFkknCXNFUkYS7Hh9o9IZ_QJ9eIkyovPQzMAJbY4G~VMlM0MjObbxou1ja6S8b9J_Eetlr2excCWkMEjadA0~Wn2eK~bSXWWGcC~eh_2WLdQ84Rqbsgql3WzHdZtAFZ6hFNLhkrcr99LWwJzeIbYK9N9sqVAoXDs~RMlI76UXAxLdHDXW_rs90C5sw5ff77tMyLaC59PkOxs65Z1fequR_da~3mhkAWBYj6m9vmcLosFCxx0x7TPfb776P3j_JJYqoSc-.jpg
//media.inmobalia.com/imgV1/B8vEv5Xh8DZJ8zA8HsKlVQQovHvPS2nS1REiasNjjf37J7WfKOkiQxSIhRrnU2OBFkknCXNFUkYS7Hh9o9IZ_QJ9eIkyovPQzMAJbYWuwMQ9CpWtgomaV6UOZ6mlfyvQyCDaONMzUf6MoVwSJ8J_TwS7~lYalfxG1FAlocJJvVfIhwCjPxQJGZ9mecYbaIpzRve44m3tw0bC~z5juwiKfa~1Sig_BlBVfMRE2ZGORxhBYPGVt3MLhcVU3JCvs08RCC5dX0g63hWYTtP6hcRGubgey72wIdDU9ypfYE~8i~9mPV~56tba~UCenf6q4AZ0eZo-.jpg
//media.inmobalia.com/imgV1/B8vEv5Xh8DZJ8zA8HsKlVQQovHvPS2nS1REiasNjjf37J7WfKOkiQxSIhRrnU2OBFkknCXNFUkYS7Hh9o9IZ_QJ9eIkyovPQzMAJbYs~KRRVbTxanJtYP2Q5w9XmuW_xLnnxyPE4XvhOsv66DflN1xWGn6BcVGePPNkDU6ik2pp2rBd2EIBLjM5kmn94eTtaUFu9F9UrIvWfGSA5DvXvCo18khreAXa7Ng_dHjwF1EtsrwPKQ5pcELIVQcZxoaELM4ZhNPSN71ajng9ekciEhNb6eAXhJEXuYyekuEo762xd_tDExPp0~JkjQZUVKzaIKJE-.jpg
//media.inmobalia.com/imgV1/B8vEv5Xh8DZJ8zA8HsKlVQQovHvPS2nS1REiasNjjf37J7WfKOkiQxSIhRrnU2OBFkknCXNFUkYS7Hh9o9IZ_QJ9eIkyovPQzMAJbY0nON7IbNUxJqAR71AG~FAs~Z5G29fAvWMJK1nWkM4emtMyqYzZz3LbQX5AHwnmStO60ro8yvml1hcDvhwMXhyuYVxjD~tutweOun~OMqPp9RKZzkX86z8owGi~wiopah1Ico2RHMdf46HKSAFtJcBzdnVtBZNQvv4hqgnDcaiaCh3Rxl2mwsttOChj7gr1C0Vywgz8daJXrmE7lyV_d~OcI3nf6sA-.jpg
//media.inmobalia.com/imgV1/B8vEv5Xh8DZJ8zA8HsKlVQQovHvPS2nS1REiasNjjf37J7WfKOkiQxSIhRrnU2OBFkknCXNFUkYS7Hh9o9IZ_QJ9eIkyovPQzMAJbY~vCIl3QiB2pduvKsv0BGxZiz0g60VRqjlF~UhQuk3M8K0ftfYxqOFS71n6qw1JQejBzKtBkH5tf5Wp63EViz59Zue90RSQ6qXpxI4Xfw5oEot~mCG1oNfOAkWcgYxyII7CGcpSl5P6DyOwoDgRJ6qg_l2zDLaEUExT_OrmRIa41PFFdo3EkI_UidfSiVrYYNw6WY24jSentv4d~jWwTC47iZkBUAA-.jpg
//media.inmobalia.com/imgV1/B8vEv5Xh8DZJ8zA8HsKlVQQovHvPS2nS1REiasNjjf37J7WfKOkiQxSIhRrnU2OBFkknCXNFUkYS7Hh9o9IZ_QJ9eIkyovPQzMAJbYttUPbK2x9b39IOrE~YzDfBvzsgM1~cfL9aDU7BvoSudOrJwLjEl~CgS8s9MnnSaqSL754hH5BihEcbcqF9c4pDIS~2HI1qlmtVH0HO2wVKc5kqSu6iu5EBa4tSDlI_XKDZ9RL2s6e8Yw7lQtsoSqERy80RiG9jrl97aQC5eUMSQu9iqrT3Et~6bsZdxhQPNAniF9gmdcPBy_gga5pk3BRYTlt93fE-.jpg
//media.inmobalia.com/imgV1/B8vEv5Xh8DZJ8zA8HsKlVQQovHvPS2nS1REiasNjjf37J7WfKOkiQxSIhRrnU2OBFkknCXNFUkYS7Hh9o9IZ_QJ9eIkyovPQzMAJbdoZ2vv1kB1zgNBflueuFzGyR81dwQYa5OiLyi1uSJuZO1Ao3aEu4yiwpRBs3o8Hh6mK9lOL5mohXSka~OA4bPbn_4LK57t7IvOsgcx06CUKyzlDlGcFhLaxY_6DEi3_YHY7ORC9V4rz_~OgEa0GF21dDYo2mp87vjKywpDEcR72afmCriffFDE_uAHYB6LDKcjbw3I_jkckpuUmXcy1IlZ1p2Y_0Do-.jpg
//media.inmobalia.com/imgV1/B8vEv5Xh8DZJ8zA8HsKlVQQovHvPS2nS1REiasNjjf37J7WfKOkiQxSIhRrnU2OBFkknCXNFUkYS7Hh9o9IZ_QJ9eIkyovPQzMAJbYR9y7kPbjAFMni~vivvS3VAl510ksBrT0~jVooUIj7WZJiJ_od64_UyHZP7Ju6UpySctI7KxTK4pKwL42DaY2OWV8eeZAZLgoV08LxoEc5sG70WTZEQBbzT9HY3iRIDQLt5W1vwqFMyeVpzQmmtqwRrE2bj0MSDc03QaoWa6jEewnUr4_6os1thyzYuIcilqjnncA7RxkhOqeQUixwNLQVGnOd8Az4-.jpg
//media.inmobalia.com/imgV1/B8vEv5Xh8DZJ8zA8HsKlVQQovHvPS2nS1REiasNjjf37J7WfKOkiQxSIhRrnU2OBFkknCXNFUkYS7Hh9o9IZ_QJ9eIkyovPQzMAJbd1_xag2xC~yTspnYjFMOw1HGVQ5psLfQroaFoG13qZeYE9eUoR5hWkQ4m_y08Dw~qmXKgNM_N5xqv6TaI44w7Z0Qs4pzjoYjQIxaM7AHCH7ktI_FhPzqttXjnBdNBj3KMAZJGOt5p6dFMpK9YSq4jb7vKcdFT_Ls_JCi7OlCG9z4bzVOG4HWAIOVZWaUy3BCVyStRk0AeGlUyCuFyfz01P7vNXP~3s-.jpg
//media.inmobalia.com/imgV1/B8vEv5Xh8DZJ8zA8HsKlVQQovHvPS2nS1REiasNjjf37J7WfKOkiQxSIhRrnU2OBFkknCXNFUkYS7Hh9o9IZ_QJ9eIkyovPQzMAJbYhXX7DtcCa4~WnyAQ349G978LS84sQiauaq4m3mnco0MAHFB5Vv5kQXif1vuzC02hxT3E31lPQM4Zr0qUIsyfuiKBMbD96tiYLb9eoZIY1OvER48j5mCvBkPW9hu8dxYUdvuJMNWM5slCVkSyGLzx~Vj_rGquu5rhZy4YYnGmPVlRPERo0pClkarZHd5J9U4RLwFbF_a3JlHsRuV2sANugpAzo_ST0-.jpg
//media.inmobalia.com/imgV1/B8vEv5Xh8DZJ8zA8HsKlVQQovHvPS2nS1REiasNjjf37J7WfKOkiQxSIhRrnU2OBFkknCXNFUkYS7Hh9o9IZ_QJ9eIkyovPQzMAJbY~gLYowcMU9rjiZg3poIQu6VSuEjYwHvJsKx_AenkGQ12C1lGPTTQoQPOmgqwLQl20drpFc7fUU5oYn3H0d2j4oK4NR4iaR~5P1mMAff5CDAGZtVLONC5HbuRxoF9qHGxZyUvc1AAild4AciY5cJzTnUlC~j7l4KvuIHtMSzKnEddcwUq6XHDF1~po828WQ__39PfP2vZYpITNNtPiZKLZlJ4Nq9Yw-.jpg
//media.inmobalia.com/imgV1/B8vEv5Xh8DZJ8zA8HsKlVQQovHvPS2nS1REiasNjjf37J7WfKOkiQxSIhRrnU2OBFkknCXNFUkYS7Hh9o9IZ_QJ9eIkyovPQzMAJbY~q3CeWtcQM4EmGex3ZQE29u53Kg8iTCfz0wlhnurZBZZeOex5VWnmtx~wLDCko6cCYcCd83EQi73P_znwC5FVrjojKuR96SQmXhrez0PyIFLf3EwQngAYkPKfblGYJzHvY5RIxFO3~7qhHTN4Eeda2bdEM~AVFUywCLGBD1YjqQV7lSBVkbnCaYEPHFr29P5QM7lbNNm6KRpYYU8PYJIGnAh80yFk-.jpg
//media.inmobalia.com/imgV1/B8vEv5Xh8DZJ8zA8HsKlVQQovHvPS2nS1REiasNjjf37J7WfKOkiQxSIhRrnU2OBFkknCXNFUkYS7Hh9o9IZ_QJ9eIkyovPQzMAJbYR_hvJWaot8K~srzPZrJsIR7EoD8oS40ehlGKLg~EszRA75s6lj5OWg0wTbOIFG9AQ5G8YltTwLoQsDSXoMxGs8FFhXgP9CJur0_dZhevYvlf~HXQ3VTZbQNivQLZeKtmi3qpjuPQTkqbsIajdVkYLOCwNxnD5mTfFiXle7Jc2h~K7dW~lePdSnoet7K0glOb9288cMPtlikXh1SIEL~RK2f6CS~io-.jpg
//media.inmobalia.com/imgV1/B8vEv5Xh8DZJ8zA8HsKlVQQovHvPS2nS1REiasNjjf37J7WfKOkiQxSIhRrnU2OBFkknCXNFUkYS7Hh9o9IZ_QJ9eIkyovPQzMAJbd6TXud438EjVnXuVq5QnTTZx8zKpN6Fp5BQKoZZnCbsO8ugPEPB5tuguNvfnhiL96lpEIE~FXLaALI7r5dmRhE2ocHloofT4BsXNfvynK5YOqzoXJRyglNDBys9Gu1rCrry0GvJ2WK5nehYrJSmAICdwdpUMCSoiq2vcOaDEral67PN84TC2fyqgYA5v69lQW7qwruulyir6ryIFL~UAcX2PRIXGkQ-.jpg
//media.inmobalia.com/imgV1/B8vEv5Xh8DZJ8zA8HsKlVQQovHvPS2nS1REiasNjjf37J7WfKOkiQxSIhRrnU2OBFkknCXNFUkYS7Hh9o9IZ_QJ9eIkyovPQzMAJbdhlnte83U9I6K13G9M7fQMHsf7LfM8iwBsRgtBQbZcijwzXWAOv6QEB52_4otU~dsXqRG_zWURoZ~U_S3FjLS1JkGozXzvWaEzvgBAM~~w0UQm5x51qRrCi2sDAM3nM6GRurhXTqOsclE_hO2r~G1PDAS6BEesFvEpq9Tpxx3Y82Z3iscbwJ5fnHKwYguUs5EMl0oPjkAsQHF9Ooy8eOjamZ2SI27U-.jpg
//media.inmobalia.com/imgV1/B8vEv5Xh8DZJ8zA8HsKlVQQovHvPS2nS1REiasNjjf37J7WfKOkiQxSIhRrnU2OBFkknCXNFUkYS7Hh9o9IZ_QJ9eIkyovPQzMAJbYxYiLfUR7uYgm08AIy7MR3~66dcKInsbXUorCc27pzt~v4VwgM1VmC4~GH0T~UEvV9kCNxGxXo7y4pu4HyhAnMq4mkStO5iGueZm1kktmyGICbpFMG698ex~JPrjFw1bGCFEBIhwLhbuvvFJsdgA0wQC_f6jYRFaNu2iCBUYpBdD1NotWjcbd4dApDne0Tu~LB80PSXrHSvxjWd~d7JVJR16Clk0BY-.jpg
//media.inmobalia.com/imgV1/B8vEv5Xh8DZJ8zA8HsKlVQQovHvPS2nS1REiasNjjf37J7WfKOkiQxSIhRrnU2OBFkknCXNFUkYS7Hh9o9IZ_QJ9eIkyovPQzMAJbY11Oy0UF2CeZgeWrfsQCjImKPL2mGytuLRIP52VCZ2RBzBhz~vLIFpEP8IttuSSunqCE_J41jw7CcoWMRF8rhAWHvMDbHiP3DMI~ik4DV679Ow23x2Zr6rZ0ZfFFACPVDsBcsxmPFWsqRGk2oUP32k3Z4ZnlAUglJPazuvNW75Rf357fQao78yhMt31mRgmovqjxi_K0h356R~tRkVBbb0QQ~lxr4Y-.jpg
//media.inmobalia.com/imgV1/B8vEv5Xh8DZJ8zA8HsKlVQQovHvPS2nS1REiasNjjf37J7WfKOkiQxSIhRrnU2OBFkknCXNFUkYS7Hh9o9IZ_QJ9eIkyovPQzMAJbYWqX6m0mFgrWNnfUVifTsCCcBPN1tMW~GIaUqanecvYT59pVpaYnPu60aOOz~34CCnvFzNQFWt4~vcu156wwOvcsXPzLHl~aeay~AAxBhDRr6clWsGQxjPjgcXoLzxDbXmDUug9tiCHBtqHSML5A~xLbpgepuiQsMGh3dep~ibTYbG_5jDzPmqUg5_yntc5MkulZPlVk9TBTAuMVw2Sl0YrLjMy~F8-.jpg
//media.inmobalia.com/imgV1/B8vEv5Xh8DZJ8zA8HsKlVQQovHvPS2nS1REiasNjjf37J7WfKOkiQxSIhRrnU2OBFkknCXNFUkYS7Hh9o9IZ_QJ9eIkyovPQzMAJbd8xL7KHy2ygUPbpMs1obJHv_QmyyWEyBdM~3fIXvY9HX9kj8YREVOejnq8XA3t_8Pz3ivIK~pkkSm8DueP9yGXTVEwaMCiyGlIcU8_eNBEuVVzavf58SZXQ~OJYQEPg2xzXf~MAWo7wVTHASPoasbE~ALYzAZVa3266VdMJ80cfnDiDKhCp0F_zZH7bZkCYGG6NCe4AVDlrFBsWRmvRgQc47zcHMEM-.jpg
//media.inmobalia.com/imgV1/B8vEv5Xh8DZJ8zA8HsKlVQQovHvPS2nS1REiasNjjf37J7WfKOkiQxSIhRrnU2OBFkknCXNFUkYS7Hh9o9IZ_QJ9eIkyovPQzMAJbYtuP6G6a4JuiIpoewgYP~94ch6lFAsxYELGzsm54efB5U9GH9vnA_9naXNWb3HrIXnEazapnH8XAV64_4aVfrbctYJU8P7M71EjYvjLaNaWXl0N_6L7Cntf1cz_RrjwPqUYm658~apS6QHIBzuAaWA91wcYoei~cZvn_kzM4qXsQiwAlgi08UkXB_oj5rUopWN9V0yWBDNwAOcPcoBtka6U7k45510-.jpg
//media.inmobalia.com/imgV1/B8vEv5Xh8DZJ8zA8HsKlVQQovHvPS2nS1REiasNjjf37J7WfKOkiQxSIhRrnU2OBFkknCXNFUkYS7Hh9o9IZ_QJ9eIkyovPQzMAJbYQqs2WiPtLYfYeTPz5NU_rj5wsqvqnKsagrsztCcEhWe2jlrQClUluTMlb8CNQRVfhsQkY6d6Fk6gCwdbqO6oyp1QVIm6AhQJHOgX31Q4vCXNQxVzWRysCGv3C74SPQCUlOT4CbehyNb~CN7ltSTGoeZ1o_knq5FvijWn7s4CM3GuiyfGgA5lH2Zy00RD7R8rIY3QROJhf5dYfgQ~9XZBQwnaf2EXg-.jpg
//media.inmobalia.com/imgV1/B8vEv5Xh8DZJ8zA8HsKlVQQovHvPS2nS1REiasNjjf37J7WfKOkiQxSIhRrnU2OBFkknCXNFUkYS7Hh9o9IZ_QJ9eIkyovPQzMAJbdoQJ4Eaq4gKW8QoruGM~z4_6xCdC9kKR4xI5L_uUB~dgAMrpM2VziomTEEMbx6feMojLVIlFRGkB11hGqgTkGhDzG6R_yRlUi~Drb41ovlOLeNccunP3W4jrLJXgjdV5dK~HbeYyirnuvUCXtrH7QmJpMnF4kh2jXDi80olHCOMhWDtUPw~8IeSrPbA9BofOTf4EIwe9Hxt_LNVBVT7~t2EPiOW8v4-.jpg
//media.inmobalia.com/imgV1/B8vEv5Xh8DZJ8zA8HsKlVQQovHvPS2nS1REiasNjjf37J7WfKOkiQxSIhRrnU2OBFkknCXNFUkYS7Hh9o9IZ_QJ9eIkyovPQzMAJbYX4hehJ9BLl~tDWQcF3OvIIH7h0p6Bjfj1ikoSzW2e43RJqG5zfQkTZCT6YYr2J4bditESbbWNb8lf9tSMlUFph79mfSo8suA9r8edkqHqCnCIk37VT71aiybdaSZnlWxWYO_0cK4llBfBYvLHSvNHMtsqZegGLLWUap7VMcjOqCmLjRu57zhFnFDdFlbI0KyQQwBNLScSMj0ZvyQt1IQibZLWhcCM-.jpg
//media.inmobalia.com/imgV1/B8vEv5Xh8DZJ8zA8HsKlVQQovHvPS2nS1REiasNjjf37J7WfKOkiQxSIhRrnU2OBFkknCXNFUkYS7Hh9o9IZ_QJ9eIkyovPQzMAJbY~qhaf2CiDy5D9kMIjRs5JR9jYe4JRbu7~U31i26mM78cUSQu_cOcDM_wQ~vo4u1j~RyHfo_0vDFoJZs4JIlDL~vW~Aj__ZxpLN_~If0ornRuhdYsqkccn4~CZShCsS~qZbsPixRTy4YOIkI_h34dTusupf5vzWOAZX5KgIHroSAFIb_HsZU89aTUe9kbcm2Q5NL~LQshvhQ9QNd2W8zpatNdLQr~I-.jpg
//media.inmobalia.com/imgV1/B8vEv5Xh8DZJ8zA8HsKlVQQovHvPS2nS1REiasNjjf37J7WfKOkiQxSIhRrnU2OBFkknCXNFUkYS7Hh9o9IZ_QJ9eIkyovPQzMAJbY4CjqgWr1KM17h8rLofGtpaRNBlb1okskv3jyRtvGa79EdGC1APadlgR_QusnS6oZ~qghvSNsDWo~uOlnmyhqm3IOYzxsidw66HDgNgnAaecx7TLMt7vlM_gATmLRvZhCpTL5Btq0b17RBZgxjdO6s3SQoMmaxLhvmG34V8j0K6pJwfNj_Rz~F3FJo__jvyCmMUkHH7g5Di99Vzowjmt9CCXe88zS4-.jpg
Price

3.750.000 €

Ref.

4980

bedrooms

6

bathrooms

6

Built

688 m²

Plot

1.573 m²
Villa in La Carolina, Marbella Golden Mile
Villa – La Carolina, Marbella Golden Mile. A completely refurbished villa in the popular urbanization of La Carolina on The Golden Mile. With walking distance to The Marbella Club, restaurants, shops and beach. The villa has undergone a complete makeover using top quality materials throughout. The large open plan living room and kitchen both lead out onto 1 of the many terraces in a southern orientation enjoying sea views. The style is a contemporary Andalucian with dark wood, glass, white walls and dark window frames. There is a complete separate guest apartment with 2 bedrooms, 2 bathrooms and living room with direct access to the garden and pool
area. There is gym and a small private Tv/Cinema den as well. The roof terrace with bbq, jacuzzi and gazebo has commanding 360º views including fantastic sea and mountain views and is perfect for entertaining.
Features
Fully fitted kitchen
Close to shops
Utility room
Fireplace
Marble floors
Storage room
Gym
Solarium
Security entrance
Double glazing
Private terrace
Amenities near
Sea view
Transport near
Laundry room
Covered terrace
Fitted wardrobes
Air conditioning
Garden view
Street view
Steam room
Close to Sea/Beach
Uncovered terrace
Game room
Excellent condition
Recently Renovated/Refurbished
Similar Properties
New villas situated in the gated community with 24 hours security withinh the walking distance to the beach. Villas offer a contemporary and functional architecture and design . High quality finishes.Located ...
6

bedrooms

6

bathrooms

475m²

built

618m²

plot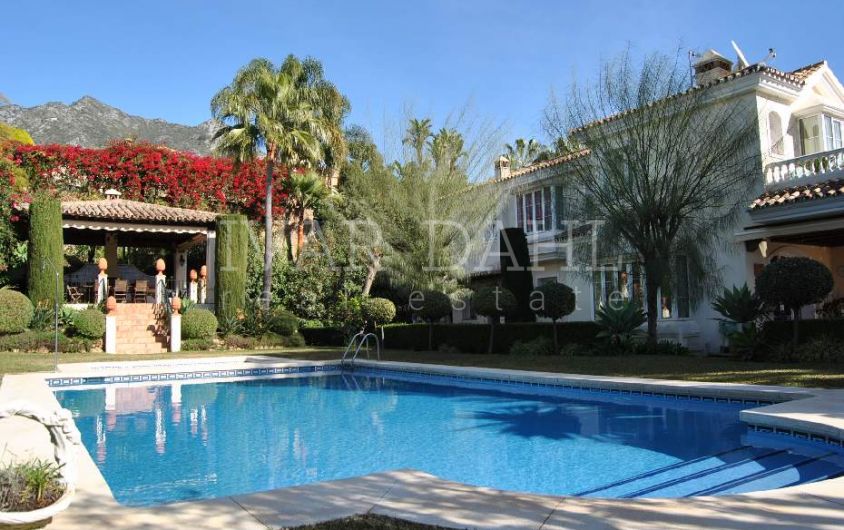 Elegant villa with sea views in Urb. Sierra Blanca, Marbella. Urbanization has 24-hour security. The Property is accessible from a wide driveway leading to a large carport and garage for 7 cars in total. It ...
6

bedrooms

6

bathrooms

1.058m²

built

2.357m²

plot
Villa in Urbanization Altos Reales, Marbella. A beautiful Southwest facing Family Villa with lovely garden, pool and mountain views. Gated urbanization, 24-hours of security. Community park/gardens with paddle ...
4

bedrooms

4

bathrooms

343m²

built

1.169m²

plot