Townhouse on the Golden Mile, Marbella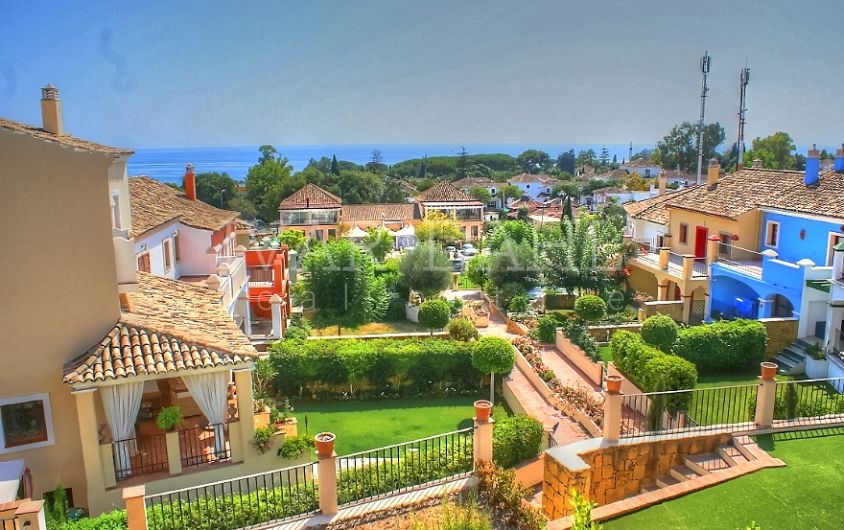 //media.inmobalia.com/imgV1/B8vEv5Xh8DZJ8zA8HsKlVQQovHvPS2nS1REiasNjjf37J7WfKOkiQxSIhRrnU2OBFkknCXNFUkYS7Hh9o9IZ_QJ9eIkyovPQzdiPBZLVFGVQiT9Q_J71n9ueYO3bHy8UQqJGILFupoKt0Kc1dyyFnuCYVC3_FAULDY7eSVrHIVYEDePfCewxz2qjcsMpGFTuGAySu0BTHXFiOa7TqcIdwi1nmS2gJeKINxzwoMLVDelQbXXNxckO5EJhxhwYz2oUjcEey7HkRmHYsweNH~~4STxBdwo9Jxl1zeBDTUYnkof_rZopRONt_wg3fyc66FUFP50-.jpg
//media.inmobalia.com/imgV1/B8vEv5Xh8DZJ8zA8HsKlVQQovHvPS2nS1REiasNjjf37J7WfKOkiQxSIhRrnU2OBFkknCXNFUkYS7Hh9o9IZ_QJ9eIkyovPQzdiPBcRQJ~aV8bceFxPdkbTVMkyFTZfEL8Jx63Cfflsg1r_3U9YXL1JKO27w2piaI0O~4f2UlyfYMBx1lfl1O~4aWofIaOSIkmSw9CKr4q8STbBGlUD8V5P41nA4Hw8X9bIjKZPA_h9uelje5B3OndQfcJxODBHV8hodvD7At~7eEbzlJRzdqp3mAmy7UxSk20zzE2h~M4eisKFKwyMG0aT5~w6K_GGTuUI-.jpg
//media.inmobalia.com/imgV1/B8vEv5Xh8DZJ8zA8HsKlVQQovHvPS2nS1REiasNjjf37J7WfKOkiQxSIhRrnU2OBFkknCXNFUkYS7Hh9o9IZ_QJ9eIkyovPQzdiPBZEx8Kjq6N42s3fJnJbFcn8IuZd5cvdqLpILu6f_p~z8ahJlBN8r0EN7FnwKaGwwIYN~mhAX3oJt1MgD6z1dmuPCQkaVv1qWI1w~KRQpBVIFESJXiDANvO8aqUrUoCtboMoP5sgaeknrXzkKkCFDA~vvf5Sd2hM3v3V87MhNWgoJLcUgeA7loxV8gWbnANv1gFY24EK35SAyylY1UCj17XNqNxBpIvg-.jpg
//media.inmobalia.com/imgV1/B8vEv5Xh8DZJ8zA8HsKlVQQovHvPS2nS1REiasNjjf37J7WfKOkiQxSIhRrnU2OBFkknCXNFUkYS7Hh9o9IZ_QJ9eIkyovPQzdiPBZNdrm4TEDSp_dV4A9yKGgPeCHsaLqEtOHNK69u5zvB3Wf8ADcRGfzDUWCazoHoARwvOiRA~OJ3_WQQ9E8q5ntQKpQpFjElTJ1HQdia_fO_2Mv8FTzSwj50_lgOSC~2sNMrFMqJOWVWsos63hmBo9gkv4B1GE6z2q_HDvPAUvqGK8AYyoXnGQfkosrJR9na0GxY0vZLiLtHaRPNQUMAHDTQTEa1jV8Q-.jpg
//media.inmobalia.com/imgV1/B8vEv5Xh8DZJ8zA8HsKlVQQovHvPS2nS1REiasNjjf37J7WfKOkiQxSIhRrnU2OBFkknCXNFUkYS7Hh9o9IZ_QJ9eIkyovPQzdiPBZMGuNqSgGt5mI54uA_o2ytVp91hguzAwLbHEsHCtlemHxrTm7hZETab4bBUWS0kLGIjG3VPz~7F_M8z8BKSAqdk~brHd_60kK0_tINTPUG0wRZrPUvm5T71ebqsdSImKWR20Q2NbCjh1z5TRomrMvV799BXmQKq4E1M8WMmrwG44qEDJAUvdum5smJL6cQl7j21codDRKP1dW0woxAhzEZXl3rlMbk-.jpg
//media.inmobalia.com/imgV1/B8vEv5Xh8DZJ8zA8HsKlVQQovHvPS2nS1REiasNjjf37J7WfKOkiQxSIhRrnU2OBFkknCXNFUkYS7Hh9o9IZ_QJ9eIkyovPQzdiPBcQBrjlMqdoMg0x3tVzeQcW03m8~C28g3kXOQvmLJLDyqQ12EbtHiIHXDfvKs2d0ZU8Y4qsNqlM~sNVRPlVbvnAJuXc4~rReQiy_byjlIUEwjCavUQE~uWSn7Sgz8ZCDLxrRt1OCm3B9YQU5Kirh0AdASTLQEI6CF9ZVOJGK__qrQ4pml4KFQUYABl4tjV1N_YJd68gMP53xJlnQtQMf0FyhICK2BTU-.jpg
//media.inmobalia.com/imgV1/B8vEv5Xh8DZJ8zA8HsKlVQQovHvPS2nS1REiasNjjf37J7WfKOkiQxSIhRrnU2OBFkknCXNFUkYS7Hh9o9IZ_QJ9eIkyovPQzdiPBZU0C46KXG2f~iEPg9JQG4Y~LvXEC27SQg0dYvG3IiuQT7lI14~sV7KUxI0~dpKpr~gm1HjLR21N2jDwtjz5ngZTFiNUiT55_bzBvya90jDzY3nSokYagxMXG72eld1E8Kqx1qIel~y9p~XA7tGQYcLTUC2qsUYSZYBLB2VDQ7wB5el~e1WLaBJA2DA3jlgHE7eAe32wQVFYFdSXhR56dZQudWYDlBE-.jpg
//media.inmobalia.com/imgV1/B8vEv5Xh8DZJ8zA8HsKlVQQovHvPS2nS1REiasNjjf37J7WfKOkiQxSIhRrnU2OBFkknCXNFUkYS7Hh9o9IZ_QJ9eIkyovPQzdiPBZKNBigJsl6m1Eah3IHkGXhGxWfHKFV9ZjOGqFkkOgd7JpGMmXbYW9BJWrJ8cFwlL2HzkV7mYdSmIudHQ3mfiBAVI50D6nLD6UgdR21KmulISbv3bCfaNS96oTXZVyVOqIqkbNnFz5i1gK3WZzo3w39fAD~7SiMAMRWgiIXCg2m_zpjvfxgIUM8zK~95Oa2_VPXH2wzBX4K8HljyJjo1PzVDNXBqFwg-.jpg
//media.inmobalia.com/imgV1/B8vEv5Xh8DZJ8zA8HsKlVQQovHvPS2nS1REiasNjjf37J7WfKOkiQxSIhRrnU2OBFkknCXNFUkYS7Hh9o9IZ_QJ9eIkyovPQzdiPBZTlr4nar_3RjTpp31dUXiNWyOTh1nIgNEoKEUCPvMjLXvDLUrlr7xDXEyNyIrs3wRynA7Cx2uow7n4Ws5OIwEFXqHErWDJwMRf7W8KQxQob9BPxMuFPVljSE5U~av~oxxUqCtJbExzhmSS8tZ7HX2QpBiulsQl0dqVv8pRUJcYDAe6rN2X7G~L0cZV1UuZtAxnsqQrQHAm8dCZZI6kWsRF_66DmrS0-.jpg
//media.inmobalia.com/imgV1/B8vEv5Xh8DZJ8zA8HsKlVQQovHvPS2nS1REiasNjjf37J7WfKOkiQxSIhRrnU2OBFkknCXNFUkYS7Hh9o9IZ_QJ9eIkyovPQzdiPBZfCGkeEayrsTwcE9VX1mo8_g~9mvE83EF_bgg~0IAA_0lXrwMMZr6N9ach8CypfuJxrc_H2HbNHtDsIOvpdeLimWrGVFgJqSDwn_uvcyaeiHPxkMrNyozgLVTsYdKdzqIDCOFiHVtabMccWrTCqxuNz4IitUtwUufHiJzmTYePdjzy0Z4TTjjvi4i9hLTpNqvtG7yR8kgqMWAcfcSQchlUsDMzdBRo-.jpg
//media.inmobalia.com/imgV1/B8vEv5Xh8DZJ8zA8HsKlVQQovHvPS2nS1REiasNjjf37J7WfKOkiQxSIhRrnU2OBFkknCXNFUkYS7Hh9o9IZ_QJ9eIkyovPQzdiPBZeSed3cE~eZ2b8XF0Bq2wt2idJ6Qpvec9YDw7ag51k_X_UYSQwcVN8PVLRvkgZ0eLZNUTjCW8W6NE5VHtjJk8BvRj72aNaJAT2ai0tBne6_62_VQf8LzGnCy_zwCFW8KGWen9gTZbBCHcj6WM_vdgO5lhtGTVVocS9z2SXks2ilfw6GBluWxsZ_RacCIdak5MkcIN1Qe3pZhPe7ubCpb~x_83xZAN0-.jpg
//media.inmobalia.com/imgV1/B8vEv5Xh8DZJ8zA8HsKlVQQovHvPS2nS1REiasNjjf37J7WfKOkiQxSIhRrnU2OBFkknCXNFUkYS7Hh9o9IZ_QJ9eIkyovPQzdiPBZNX~n6wT0jhb7SLOStY~lBHHYbKl5JbwqyuF78piEK5qqkpOTPCLJN3HwWRc~nPCIiniyHP0VwRq6zWETVXX1aa1AG3jroTMRAIYG9vf9wiYYbwAFu79PCcWUkCyMSYGnEwPYytJzLIFpFpGOwhlyoR_iycsIuD2~v1JKLtaXHVV7ea42XXb0EB9Bggbh_TY1jnoFlnVqFxCkLmjOubGVOtSaUUJLY-.jpg
//media.inmobalia.com/imgV1/B8vEv5Xh8DZJ8zA8HsKlVQQovHvPS2nS1REiasNjjf37J7WfKOkiQxSIhRrnU2OBFkknCXNFUkYS7Hh9o9IZ_QJ9eIkyovPQzdiPBcVUTSn9zoHMdaAaP4ANxbSCaO64ud2bP2M8giuAH4vjXIqJbKkQli_lT6pcKnzwaEaaElT1QqquIYZ~ZXkAfitwb6Xu~E~7y4E4ns~v_~SaklYtrICL5hCSc88BMC7K4XF5Cql58ph7kkZjpsd4Mcgj3MfCGSj5dDP3rqVZr1VtiiEuSJycwnV2xM2OxHB7ISetEPDuzg00L~Rt8ijGDqsa6CInmQY-.jpg
//media.inmobalia.com/imgV1/B8vEv5Xh8DZJ8zA8HsKlVQQovHvPS2nS1REiasNjjf37J7WfKOkiQxSIhRrnU2OBFkknCXNFUkYS7Hh9o9IZ_QJ9eIkyovPQzdiPBcKgm14RGNHrtgDtmam6onFk4URSryqwb~Y1agNmggzz2HEvLeauRDR3iFD7TEdX95tjbO5cm4yY334Mn8GTKpMMCQJa0Ea~1GEucfP3pmKla_YmPxfWujzr0U3oC7tgpO0tRjQmjjQSq6amy567VUjeadyvW2nADT7WSFuIc8stSril8cVWo8Oe4HzAgtMlm5ncV2eFr6ycGoPYYzzcEt3UfM~b~6c-.jpg
//media.inmobalia.com/imgV1/B8vEv5Xh8DZJ8zA8HsKlVQQovHvPS2nS1REiasNjjf37J7WfKOkiQxSIhRrnU2OBFkknCXNFUkYS7Hh9o9IZ_QJ9eIkyovPQzdiPBZeQoKpgdZv1DUAw8lu_JFBhUOigsZlrNLQAPK4OqLk1PVMIXir8BIEtCHA4421whn6XybkTVkzJXLqUb1IFD1OSrlKy_VlUHCrlaCjQKaej2qXY9f4b0vVBqy7_nZVT7D5Bk5W3y2JaQSb7j0uIQsc6F6iewcljPnO2xHnfGK8k225K6j9FHFemzThm7OvtVex7_aoCCBjxwrW7nYyF1ELgn~TJ1c0-.jpg
//media.inmobalia.com/imgV1/B8vEv5Xh8DZJ8zA8HsKlVQQovHvPS2nS1REiasNjjf37J7WfKOkiQxSIhRrnU2OBFkknCXNFUkYS7Hh9o9IZ_QJ9eIkyovPQzdiPBcKkOIvhwfq~FCfEwIa3a1M1qnYKbSlhuTE3ZawtxbEfMRGb2JplD7ZyGdTvVVAl03iIKLvMWAAj1IQYk3w2NlGrEvJEjtniBzbAUOX6vhVgJ0EAdmy4LMvw3H2a6NsfM1hH6yq2YSbWoI2jHwRpJfddhUemNjMgyzrl1vntSO2kNVhFpQt3e1Ip5d8Hv0kFCTK5HNqhY5F7NOfI0A15bf_GiefyQWY-.jpg
//media.inmobalia.com/imgV1/B8vEv5Xh8DZJ8zA8HsKlVQQovHvPS2nS1REiasNjjf37J7WfKOkiQxSIhRrnU2OBFkknCXNFUkYS7Hh9o9IZ_QJ9eIkyovPQzdiPBcVZyf5DkEkVr2iiqZBpCXqX0ys7vGm0tHNAwijPFnjI4GbxzESLA~9VCt7zL8uqDZZlyHzF7w8ERNnXuYYkvNggDsjF09LNrKjvwNZB6mQNr8hbjfNNcKtXgtgBr58PPRKNPRQuySTIFo29CxboIuh1bFf5ezsDpcXxWgMTfSorkA_aVocRkZqcGnvj5DuyFzIA~5fSceGIiiawNvEO3EIj7OWYDMQ-.jpg
//media.inmobalia.com/imgV1/B8vEv5Xh8DZJ8zA8HsKlVQQovHvPS2nS1REiasNjjf37J7WfKOkiQxSIhRrnU2OBFkknCXNFUkYS7Hh9o9IZ_QJ9eIkyovPQzdiPBcQHcNBcnqoNLL~Ew_NwgzQK7H0mjeMMhxkjYUHc_9xeg1DEc8MB7HYO4sRKmE1WPgib9VeM~0PdIh0WWFyCHFv93904CZYodmQiGHMtmjUtcnFzCUKwUj0HKA0TEQ~fJ1Pzbsdd2A_p77iBJ0ofCDZHNb_wr6iSPhgLWOXgwziQfIxeLXQfX8THpskpFuLq5Xq0V3PmjXQhjEjyqO8lQFp~fvdJh9U-.jpg
//media.inmobalia.com/imgV1/B8vEv5Xh8DZJ8zA8HsKlVQQovHvPS2nS1REiasNjjf37J7WfKOkiQxSIhRrnU2OBFkknCXNFUkYS7Hh9o9IZ_QJ9eIkyovPQzdiPBZKCNOpZujbUwqWyCMPepvuYIgydf88TFJmFk5Vn3QnZymO0yBceBs2KU0pWrYXELjzYbf33lJJAq_x0kIW0zusEcrcxt5FxyuZtmccf4pcTGbtiNRRwEttH~KP1LdB_vTJXqf0Ie2_kPSliNJtU_faKsg4lKp9T6FZRkuy98Qb8TCQ4qOl69YSEYmjUU_hPmiFwrumdnNiMns_Xo2Bkf8K0vIo4njo-.jpg
//media.inmobalia.com/imgV1/B8vEv5Xh8DZJ8zA8HsKlVQQovHvPS2nS1REiasNjjf37J7WfKOkiQxSIhRrnU2OBFkknCXNFUkYS7Hh9o9IZ_QJ9eIkyovPQzdiPBcQGcNo2uFO9HA2FogMIq4HSnY5e~FbtQpitcEPHmf7wAyBfQJftC~A1fvw9imT8IRoVZei1c1SS4K1SMNG1rcbbInJIy_OUmcyk8I4JJYmYx0WKjpMkpwM8~N3zssS00zT1phVQmoNjubGGI0JBLAQH_YxgPf9N~uEzkKEHiGEkGkOjrzDaWiKuX7U7TnvV_yQPvGTU1oyA0rDDTRA8WJMRsbCxdVE-.jpg
//media.inmobalia.com/imgV1/B8vEv5Xh8DZJ8zA8HsKlVQQovHvPS2nS1REiasNjjf37J7WfKOkiQxSIhRrnU2OBFkknCXNFUkYS7Hh9o9IZ_QJ9eIkyovPQzdiPBcE7g4YqFSEM5juVt~2pgurpBuzwdJCJM6qGf8ZEPD1m5yE5V963fOeA_RoQ450_aUamwsLoGo7UdmUNB_iA9_t5oMH2Utn7bk6bD1UExjJ~hiFZZlp2YFMYVeCzZYaEFmDlTALGy3U37p8BaSXrFuJDWqKHkwvfclPR2oMlHYQbwC4~~JKQaAsyt0~hCiouBVI3qhu~Y2kDmIMVqCE0_OQmqYcGkyk-.jpg
//media.inmobalia.com/imgV1/B8vEv5Xh8DZJ8zA8HsKlVQQovHvPS2nS1REiasNjjf37J7WfKOkiQxSIhRrnU2OBFkknCXNFUkYS7Hh9o9IZ_QJ9eIkyovPQzdiPBZ4xh00V1MqoO8wxaChJlEBOJBQxmMNYSRHm_FZnl7QiiNdTDZpqoZXgTEHtKRqxlY0abE6MTx5ZYJizKmLWaaLwgttybZd60Xb4ekSRRbSq6PeUK1mmDJBam~JaKgRWWbcSa2uMQ3cziaLm7V24hcGULINEa0OV8j3aJPSBpq6P4aOAC9VytZKhzvWWRQN8~mTZAClLsR~Dx8csdgPJPRqM6f_SDX4-.jpg
//media.inmobalia.com/imgV1/B8vEv5Xh8DZJ8zA8HsKlVQQovHvPS2nS1REiasNjjf37J7WfKOkiQxSIhRrnU2OBFkknCXNFUkYS7Hh9o9IZ_QJ9eIkyovPQzdiPBZSwRpE0AC_7vTbuhTxf~DpP~2wtK6sy5pahA8xtGT1eDBPlrXWJdsHUhfwUpy8nTx3oq4N5N4B6bmg_~DecNl317YJUYqgDawS_TAsgGctImJBBDAxrdQ2h5VuzQ8RC08e7vTDMvpW5XpORjp10BQJCBpoRTS1MnZL0c6fXBGy2HI~HbpjlMTcVJkiNOLsEkbQWbJ0Q7knu0fq1q_IpPg5f8YlFgtk-.jpg
//media.inmobalia.com/imgV1/B8vEv5Xh8DZJ8zA8HsKlVQQovHvPS2nS1REiasNjjf37J7WfKOkiQxSIhRrnU2OBFkknCXNFUkYS7Hh9o9IZ_QJ9eIkyovPQzdiPBZFk84rgylfe7Ohyu3wy0lx0jiGInBQndkVZiH7WpvvkfSAyz1jJAfaGfHte6nbPHH51yu5gFIXnW_p9K2td7KNF54O5atEKAYxCt_WNHp3OQ3BeSfeLaTXATwaMDfYBh1jlR4q3z8v~X6jMJ_LP7nHVQ0Y8LpGGjGd6HhNbehJUSG779Bm8BdTg3MQPsLGciIbTM1GF9b4iZwGowRaGdmi9YcYKglY-.jpg
//media.inmobalia.com/imgV1/B8vEv5Xh8DZJ8zA8HsKlVQQovHvPS2nS1REiasNjjf37J7WfKOkiQxSIhRrnU2OBFkknCXNFUkYS7Hh9o9IZ_QJ9eIkyovPQzdiPBcMNpR0~wvVQwJtpRoyeiANHpKnW4UX3YT3cAGDx8VLLUa1fBpVGzxDqixIKfyhsfCqomyfmGoUoH4tJZH12IK~or4L0lUxkYavoZgheYBE~zWIl2lPsyNXyW28WqW2bcc~UN7V1U3z1ya5MQ9VUKh~YGnEPtTC1Iygrk102lRwqu7NW8vdVy1hGoH8bKTj1Ph7011_RQy3bXm9Bx8ghdvnf~XBW3To-.jpg
//media.inmobalia.com/imgV1/B8vEv5Xh8DZJ8zA8HsKlVQQovHvPS2nS1REiasNjjf37J7WfKOkiQxSIhRrnU2OBFkknCXNFUkYS7Hh9o9IZ_QJ9eIkyovPQzdiPBZKHyOlzs2yKoQ2oQ2OdZOI9XPavh7RNhArGATcgvI_zobQ8AgyIfwvsgjvc42sB5vsPh~yCxX4nMjVDc8izqXRISMZJOze~UF32RIzh16X_v0sp3p_2RiirYYUGVmxGHG6aiVDzt05kL6YLJWVqADzEhKzowMhs8IOUIhoyt7AV9apwXs_JEb1iZdl4ohSgWJpditgQTUKnff9nHV3KvBzFCI9dlFo-.jpg
//media.inmobalia.com/imgV1/B8vEv5Xh8DZJ8zA8HsKlVQQovHvPS2nS1REiasNjjf37J7WfKOkiQxSIhRrnU2OBFkknCXNFUkYS7Hh9o9IZ_QJ9eIkyovPQzdiPBZeVPVoG39955B7_FS0zTJrLoirYV4nGGimmR7vivYGKvJj8eFlpe8fXWn9Jd3cQcQs5f7hZhFKlhvmAkg_Oaw6dvZ0Gz4QodvM_dx~DyPgEaPXV7eY2aBY1zfRJA7PvIlDHcIx5CLWlDEdYLrwPGIHuqn~3PbobUwJ6EsGuBwovTsvdpnzzGUwF6KisLV4qOYjNPlXMTm5b_oIMudNsEs7y6j3cn9E-.jpg
//media.inmobalia.com/imgV1/B8vEv5Xh8DZJ8zA8HsKlVQQovHvPS2nS1REiasNjjf37J7WfKOkiQxSIhRrnU2OBFkknCXNFUkYS7Hh9o9IZ_QJ9eIkyovPQzdiPBZLVH1bYAPPWpNh~zzydWSBQf5k9p_eJ84xfjU2bbpGKCRqQZEqsYPcOXzzQffTw1qWVoPLQdPOBnAMunlOe1VF5HfNiTIit97SiyfCsI2vSMyqkOywBZFy5o4lbAsSSDzaY5q9K1OUSjUdHS88M4OZhVE1IQw_bKmCE1atZQ6FggR1rPzjaWCVq~M_65QGqWsVAhP48CSQXw4egZIgEYYQu2g9D6jk-.jpg
//media.inmobalia.com/imgV1/B8vEv5Xh8DZJ8zA8HsKlVQQovHvPS2nS1REiasNjjf37J7WfKOkiQxSIhRrnU2OBFkknCXNFUkYS7Hh9o9IZ_QJ9eIkyovPQzdiPBZAV2w6NomgfxPZ1~w1dLnGUoXd32V_QYnQUabhAL6OyoABZUZs5CI7Y9yClDzuFTQk3lerKs19m_uPl8xK2O0XjqLS~OoKcTXh84s9NGOL3IVWn3LcSwOMTO2oZyocHjGwTEy3qebovp0F_mj6jxInBfxl7KvZR9IWPjqgYnJaIs8sxu~S1eADKXHNDt54eLJBxM4dBCyBhfP1Srt0qc6pApQdAR0E-.jpg
//media.inmobalia.com/imgV1/B8vEv5Xh8DZJ8zA8HsKlVQQovHvPS2nS1REiasNjjf37J7WfKOkiQxSIhRrnU2OBFkknCXNFUkYS7Hh9o9IZ_QJ9eIkyovPQzdiPBZAWLp2cDe4q~_Hzkgy5RWVGbaQHKre6r1lsSTP6FcR77wnA35G3MAMNWdYAOncD98BWPuP6aGv3m1D6qtnH_7aNVolTUKbcCL_IE9YId9D_N2ggR5DiQtwvPm8258y9~unxrhZpt3WRXnwgmOMwq4np3UCtMBx4tb37bfPrIMOQbIcNBddbOAL1iTzkDwAcnKXKiOBy70eiCQrTzweOCg9_0zWlV4I-.jpg
//media.inmobalia.com/imgV1/B8vEv5Xh8DZJ8zA8HsKlVQQovHvPS2nS1REiasNjjf37J7WfKOkiQxSIhRrnU2OBFkknCXNFUkYS7Hh9o9IZ_QJ9eIkyovPQzdiPBZMG4fzGH0nfxmYRmDpJHBB8LEB7wUOZYeaEtSJ~JLZQhxgDOcT1GD6iMAGfN7aEWATF5aWoRjYNLWf1oyXPeAvA_71n2uPwVA1D0dzHtS3W9Y0wKyec8I2mdF0OgqDnaKSj6kAYNoE9nARWCNLJpeZZPerVAhr3~H5Vd7VmeZdoGbqsKWjKiNqyZpTMUjpra84QV9rBKVs3Blajd7U_jmuncICz_JE-.jpg
//media.inmobalia.com/imgV1/B8vEv5Xh8DZJ8zA8HsKlVQQovHvPS2nS1REiasNjjf37J7WfKOkiQxSIhRrnU2OBFkknCXNFUkYS7Hh9o9IZ_QJ9eIkyovPQzdiPBZ5gTLj~7mSTXY32RuyR~rXZfLW5K8TIvZqZuG1DnH9JGMMomCryfhBemsa9wCdgEYd0Mk5zK~uudcrD7I5htXJS4yH5GmP3Cxp3vzQtOWrbcCQ7zB5O7oee29i75ooMyQTrXhyj_CPmsbarMyHaFtenMWbDfHwinEgJJz7dAN6ghTaGa98U6S~uvuGW_xkUrs9maAkHDjZyZwWzr2z_g8SfynxRnes-.jpg
//media.inmobalia.com/imgV1/B8vEv5Xh8DZJ8zA8HsKlVQQovHvPS2nS1REiasNjjf37J7WfKOkiQxSIhRrnU2OBFkknCXNFUkYS7Hh9o9IZ_QJ9eIkyovPQzdiPBZSzAftvpbKGXylPU9gLyaDM~u0qfiU6cA9Nz8ARU6_QwlqTwP0hhtWp9gc4xmaqwDOaD0rqC5U1CZYPwCyCECxHm4SbfV_~krdLZdSxjfm~zMTy2lqEqeJRab8A0PEFg4polGoXKx~EarvxbGwiZ5Stc5E4kSPFi_MYymK5~BLVA4uHDs_jCcDWARnNC9LAp16Op5xKs8IOnW~c57fLeBcGMBHhgRU-.jpg
//media.inmobalia.com/imgV1/B8vEv5Xh8DZJ8zA8HsKlVQQovHvPS2nS1REiasNjjf37J7WfKOkiQxSIhRrnU2OBFkknCXNFUkYS7Hh9o9IZ_QJ9eIkyovPQzdiPBcKuR~skPpuzHKQG2H8mqUj0YY1RMbMDHl4l4oDFTkHR6Pc5IOfOYfQ05aVnPre0czQGmeS~En8eIGt7Xdks~1tSgwhmLw8iHKpvoubWedzuRychuapAEOaqny5ilbw0nWOFoWQsIEEMfvA4wzLuBH5y~nKpjg~n4iLYnNKQ48e3pyHykZYhrm3EHNzbf1pZxoUBsyIDyniQgNjAPf_Z5PZohfHZGb4-.jpg
//media.inmobalia.com/imgV1/B8vEv5Xh8DZJ8zA8HsKlVQQovHvPS2nS1REiasNjjf37J7WfKOkiQxSIhRrnU2OBFkknCXNFUkYS7Hh9o9IZ_QJ9eIkyovPQzdiPBcY40miMhpnYdQogiR4zQpaGNcXI1U3mKR7g_Zj86jd2XeuRDSICMAAyYe6114qGkKtXdhtRtHMHejt_2pWAI1Dtk1jO1MHMjXG6ZYx68pASCQXXvCURRvOJ074xtKdC~tM0_uv4EB2JKFYBzbbwlXn161pE6ry4t82P2g~E9YrzoW_cUU~gnfXXtCawp5GMpSyrt8bOomU4MHFVLpwjZfhwNuEgl_g-.jpg
//media.inmobalia.com/imgV1/B8vEv5Xh8DZJ8zA8HsKlVQQovHvPS2nS1REiasNjjf37J7WfKOkiQxSIhRrnU2OBFkknCXNFUkYS7Hh9o9IZ_QJ9eIkyovPQzdiPBZ5noGFj83cjv7dximKUkq4qJLFygnJLaB797GYdyoutL4OmPNL~UBvxjzv5v0yALU0t0eycMa8qGfTGDSag4NY5uaQPchuHUyvbNY~dAoN3~cS~jy1RgFwIF6pq97bht6Lc~8R9QlINyqF~VfD0xJhG7esu~XPgjXNq5e~Sc1RAsAWVQeNkEdgxCVGGlv9e3U8AlbpXxD1pvIwhBrLyiVGGo1SMhdw-.jpg
//media.inmobalia.com/imgV1/B8vEv5Xh8DZJ8zA8HsKlVQQovHvPS2nS1REiasNjjf37J7WfKOkiQxSIhRrnU2OBFkknCXNFUkYS7Hh9o9IZ_QJ9eIkyovPQzdiPBZAfyq_OvAMz7jpX3qGRrnTVLfwMQMGB4FFeuJtx3hvtis90TdUTaM1054Gr1Lxhj7v8LK4WTKX_xXf3Vj_zBjYVguEssH_xT9aiviQxD9YkeqrwtQttCcf23MuWfdqDl6vMAmZ~GFyGVQLreAhGbzFQVg7dzzKbvx2Jmije0NuDdkbNy~OpDmXRqq7T3ki6xWsp7VgLfQBiAs19Pdl~T3vveI3umMQ-.jpg
//media.inmobalia.com/imgV1/B8vEv5Xh8DZJ8zA8HsKlVQQovHvPS2nS1REiasNjjf37J7WfKOkiQxSIhRrnU2OBFkknCXNFUkYS7Hh9o9IZ_QJ9eIkyovPQzdiPBZ~OhBWoc0aaZAcOVehWuiyolaMkRkPOWkU0uLWSTGCdeecZz_ovVeIGkkfUUFFOhWUZGGo1upzVffvf7MLZlmqAAlku5_BraJEL31_56dI5LloTYu0zZmGerAyOFhcN264yp6Ir9k8cUDcfK1s0_Ea38I3YfqyIEBxxLN1Th_kvKMXPW1Y~uD5TrxMGQKjfMkAeuOZtF4kJEbjzKfNrgy4zzcw1BkI-.jpg
//media.inmobalia.com/imgV1/B8vEv5Xh8DZJ8zA8HsKlVQQovHvPS2nS1REiasNjjf37J7WfKOkiQxSIhRrnU2OBFkknCXNFUkYS7Hh9o9IZ_QJ9eIkyovPQzdiPBZU0C4lUs18qVzfEAJMcjUaYlGXwi7_svgz93XUnbUNsL~fLEsTq4uEnhq4HFr7SugRk11z_2PRX1~HOsKueMOnli0iF5GKHLnXjPn9k91w_PZypGMpTxOgmJkb2rfWRD24QJqF2Wj8q9thxlPNIkHf4JHNitOcU5Tn52yo9NzFlczm89ktx1bUyij87j50FQvIMefa9PFftQe6fZBrB0Ih7XSZKuBY-.jpg
Price

750.000 €

Ref.

4984

bedrooms

3

bathrooms

3

Built

225 m²
Town House in Marbelah Pueblo, Marbella Golden Mile
A beautiful Andalucian style townhouse on the Golden Mile, Marbella. South facing, large terraces, sea views.3 bedrooms plus one in the basement. 3 bathrooms and 1 guest toilet. Storage. Car park in front of the house. Under floor heating heating and cooling. Air conditioning hot/cold. Gated community. Amenities, public transport and beach in walking distance.
Features
Fully fitted kitchen
Close to shops
Close to town
Utility room
Pets allowed
Marble floors
Basement
Dining room
Guest toilet
Private terrace
Kitchen equipped
Living room
Amenities near
Sea view
Underfloor heating (throughout)
Transport near
Covered terrace
Fitted wardrobes
Gated community
Air conditioning
Garden view
Pool view
Close to Sea/Beach
Partly furnished
Uncovered terrace
Good condition
Similar Properties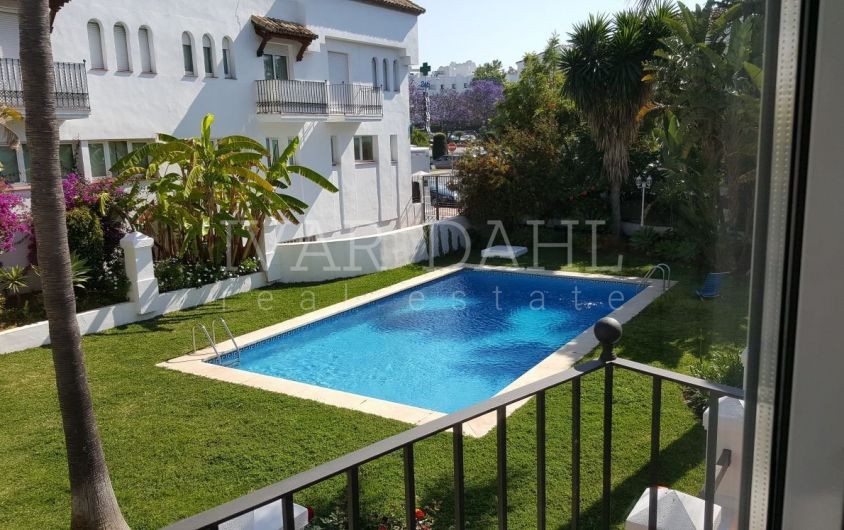 The house situates in Urb. Casablanca, close to amenities, beach promenade and beach as well as town center. The property consists of 3 bedrooms, 3 bathrooms, 1 guest toilet, living/dining room, terrace. 2 ...
3

bedrooms

3

bathrooms

158m²

built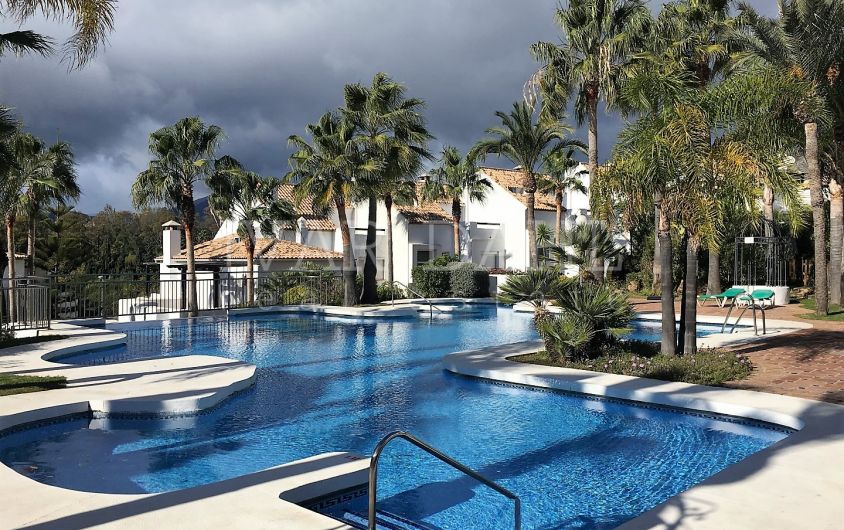 Townhouse in Altos de Salamanca, Golden Mile, Marbella, Malaga.Spacious 4 bedroom house situated 750 meters from the Puente Romano Hotel on Marbella's Golden Mile in a small community sharing a large ...
4

bedrooms

3

bathrooms

270m²

built

257m²

plot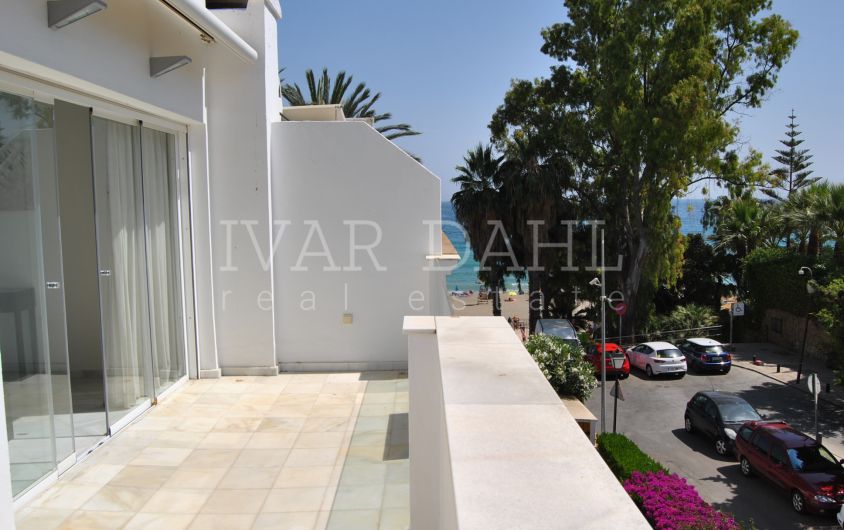 Like new , totally refurbished townhouse in an excellent, very popular and family friendly urbanization Marbellamar.Beach, restaurants, all amenities in walking distance. The community has llovely gardens, big ...
5

bedrooms

4

bathrooms

225m²

built

69m²

terrace