Villa to renovate on The Golden Mile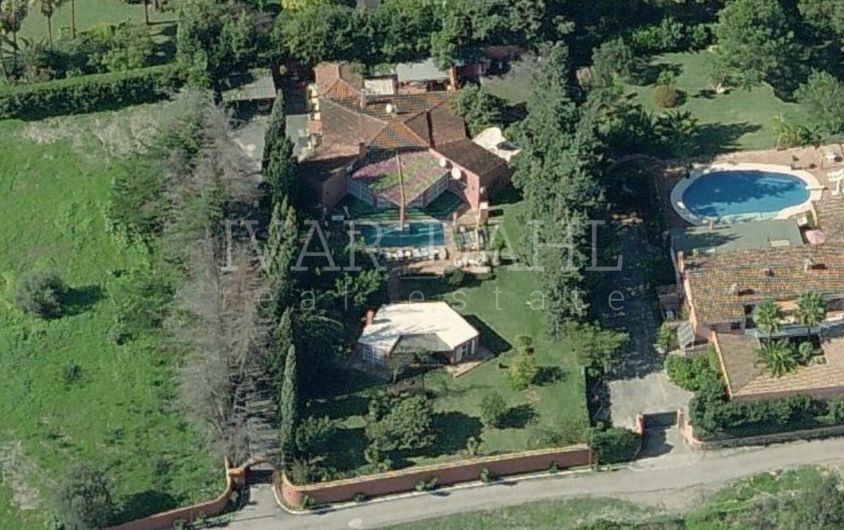 //media.inmobalia.com/imgV1/B8vEv5Xh8DZJ8zA8HsKlVQQovHvPS2nS1REiasNjjf37J7WfKOkiQxSIhRrnU2OBFkknCXNFUkYS7Hh9o9IZ_QJ9eIkyovPQzdBnLl34ax9CYjE4tseyTpCa2PuqH1b3BR46WUloVgklk3rUH1StqxtKVdEwMMi_7VNZ4Iy_hvaeluTLrzck3Mq9_nd99WiLsH50JHDaGgZ7ymcjRWLVBmxDcyZHsMoMHE9H8sZgR_sZe1CdlVDXTraTHBHgJ3q9T7t4VTL6yWD2mlZLe4w2xeXo8Z4tAzLJ1fjLWf3915go0iwsuNWEY~y6iuXTtzWW_DVO.jpeg
//media.inmobalia.com/imgV1/B8vEv5Xh8DZJ8zA8HsKlVQQovHvPS2nS1REiasNjjf37J7WfKOkiQxSIhRrnU2OBFkknCXNFUkYS7Hh9o9IZ_QJ9eIkyovPQzdBnLga~RsH2b37C0tY3mGIC321K8YdtyhCMFLyP7XfCgiH6qx_mV4523BNt8in1I6IGjc2SFp30HAIRzAGSql_z23Px8dTE9Ev5SJ59wBEivgW8pgAxBT1zyBpWw~2QOX2Pj16j2SfFB5H12D03es4XVYwZY2Axyl8OMc0EeRxLftxgHagrwdTuJKWSE622mEZka4rb53R3tqCdeBY8lgtuA0rbtenA4zxD.jpeg
//media.inmobalia.com/imgV1/B8vEv5Xh8DZJ8zA8HsKlVQQovHvPS2nS1REiasNjjf37J7WfKOkiQxSIhRrnU2OBFkknCXNFUkYS7Hh9o9IZ_QJ9eIkyovPQzdBnLgG8TOGAUQopTxpUIqLfMds3yQL2YylNrQbfr4zUh7PKKbh6LkE3jDvxBVXIjeonsJgDrSyQS88TVXOkeVAtrr7gUrYSZlN~Nr5UlBNjKRXv2NiuJ2Lh2OYhtrR0BtJP9KQX6lwnzClpWm~OlLb4zh9gBE0krsuIw7jT1WwTi~XjbL2uyJVbWZwMKFAw1GoeWJMPgE9ESG3KMTo9n63wPK6jJCX9CeFu.jpeg
//media.inmobalia.com/imgV1/B8vEv5Xh8DZJ8zA8HsKlVQQovHvPS2nS1REiasNjjf37J7WfKOkiQxSIhRrnU2OBFkknCXNFUkYS7Hh9o9IZ_QJ9eIkyovPQzdBnLgHuK~jxWkJc9YIU8~T3hu5uh4L3xP3M_kkt_3mUDnVs7hKn1pMp~9mXnatS0n6PeCWheumRn4BwPsmFXCzZCbo3cKJJ4rk6ycY3Y2BgslhdTus7HBBfLvokT8khtG2BL4hTSdTsRB6FOf4bXeseLvuIYmfNQuDoUrKmDIFtuG0vKJ~kYSDUJ4EfQjGqIU80PIV~ClMq817KaAlrFX~sTGBxVsNlzk8-.jpg
//media.inmobalia.com/imgV1/B8vEv5Xh8DZJ8zA8HsKlVQQovHvPS2nS1REiasNjjf37J7WfKOkiQxSIhRrnU2OBFkknCXNFUkYS7Hh9o9IZ_QJ9eIkyovPQzdBnLgMuYtqCWYJuvGBXmHnZBy0nSG9yWfJMtHJUYsR3VbQDY64KEnKyLS0spehGYQfONd4V7SqWnXesoZ_WfdrdaTsRP5w9y0DJOznPdXR5ljUrZqt6voS0Nx6yEqHIoLjtbhf5IYnL65fQzA_J1thtZwa4q1KtbsTqA5Yirmkp7oUvIcR6ERSd~mY8TgtpNXN3WMXDWk7Uh~PIg1W~TIdrXHViPevvE0t3.jpeg
//media.inmobalia.com/imgV1/B8vEv5Xh8DZJ8zA8HsKlVQQovHvPS2nS1REiasNjjf37J7WfKOkiQxSIhRrnU2OBFkknCXNFUkYS7Hh9o9IZ_QJ9eIkyovPQzdBnLgG~utoYOxMIF9tAAaJaNwGKo0V0xnsMZ_ckkQLOyJHKldVPhSw36d3qTBjMPqdob9eoaBNC6UwK8RwvOlFjFCsuEpYd0KORjmk9RBqRotqz48WISXU1sAesLMdGY7texc_OptnvuvGkobWlMDDvTKj1M4_rg713vharba4P8uEZnZGecqxf17kIa5DKFB1twMxeQ1S_HRDK5MEMZdcf4SZmSgtrZ7JT.jpeg
//media.inmobalia.com/imgV1/B8vEv5Xh8DZJ8zA8HsKlVQQovHvPS2nS1REiasNjjf37J7WfKOkiQxSIhRrnU2OBFkknCXNFUkYS7Hh9o9IZ_QJ9eIkyovPQzdBnLgCg_o5C_SlhLFkhSAhcDRSxbcc85c6BhyscHszEhMQ2j7r6BUCdMz5QsqETGOSYvn7PSk6hRTkqDlG1QiTwY8hzPrqjwKZgebS1K0jbBINZZVkgg9g3c4WUQMbhIrGHeCAr5hG0lPHKjN9m1hMmj2y3QagqEculUhm6QR6xCAW~VLtVhHyFZBnK0N2O7zKKK27lS2dPkrTz5ta0PiC~sQt_AfTND4Do.jpeg
//media.inmobalia.com/imgV1/B8vEv5Xh8DZJ8zA8HsKlVQQovHvPS2nS1REiasNjjf37J7WfKOkiQxSIhRrnU2OBFkknCXNFUkYS7Hh9o9IZ_QJ9eIkyovPQzdBnLlUWn4410Ib5~9i9720bTK4SCspyAwPg02nYoJaSaTmHK2EXuOkDoDjSonugEzvxev5MoMj50zeku4onUwIAzNn6VJGE_JXlMycZlSj1OJztIJQzgC72uKzjdslKBWeUu6arDSGaxs2dccxsDIlgmpm9uMy7gVY48qpRBOLHN7mCYF1WwQ6QrtOLm~tLiYbu_E3ZvnfvFf5e0sWeA92M7fP81kQG21Li.jpeg
//media.inmobalia.com/imgV1/B8vEv5Xh8DZJ8zA8HsKlVQQovHvPS2nS1REiasNjjf37J7WfKOkiQxSIhRrnU2OBFkknCXNFUkYS7Hh9o9IZ_QJ9eIkyovPQzdBnLlVGjcygf7XBq8i6CHQ_ZUx8jCCPqC91FfjyClHq8aI60DmSbFM270uI5riq9SFmioXqj~TMwoZQpdxXUT8e96W6vUMsaH9N5t2W2D8zfrRzlSOjeIwD3rsWGtrfA~ggslSC5qcQhDs~1XtrceJZIebp1j4dw~5Najy9panmUNeTZkCpLjUGg6LKrCOH72o6INAXHUPia1~AQJgRsYt~ocIT0pv1Wo8-.jpg
//media.inmobalia.com/imgV1/B8vEv5Xh8DZJ8zA8HsKlVQQovHvPS2nS1REiasNjjf37J7WfKOkiQxSIhRrnU2OBFkknCXNFUkYS7Hh9o9IZ_QJ9eIkyovPQzdBnLlIBgjoJqm9vgaOs_8OzjlVLGgyMlzEfnlWqvhUCqH3hrzyyNOwnyThimjJMbeZ3NiXFdh7Ip7qQTKERg6edEAVn75FoA~y_fLb06wAaF7TG3iHnSc0VTaWMWmgeMoQZK5_qGQ~99izImG8Rr5kGKhc4cmV23I0qoOYH0yly1n5HezAWUPpMW2TyLsRpYLYPU~PcG4jlahAi_3ohoT3orVAtFChhZOI-.jpg
Price

1.750.000 €

Ref.

4992

bedrooms

7

bathrooms

7

Built

481 m²

Plot

2.532 m²
Villa in Marbella Golden Mile
Villa to renovate on The Golden Mile, Marbella
Quiet area.
Spectacular location in the heart of the golden mile:
only 5 minute walk to beach, 4 minute drive to puerto banus, on a huge plot.
The property is comprised of a main house with 5 bedrooms and a guest house with 2 bedrooms.
Fiber optic internet available.
Full renovation/modernisation project available upon request.
villa with licence to refurbish on The Golden Mile
7 Bedrooms, 7 Bathrooms, Built 481 m², Garden/Plot 2532 m².
Features
Close to shops
Close to port
Close to schools
Living room
Amenities near
Sea view
Transport near
Garden view
Pool view
Close to Sea/Beach
Renovation Needed
Similar Properties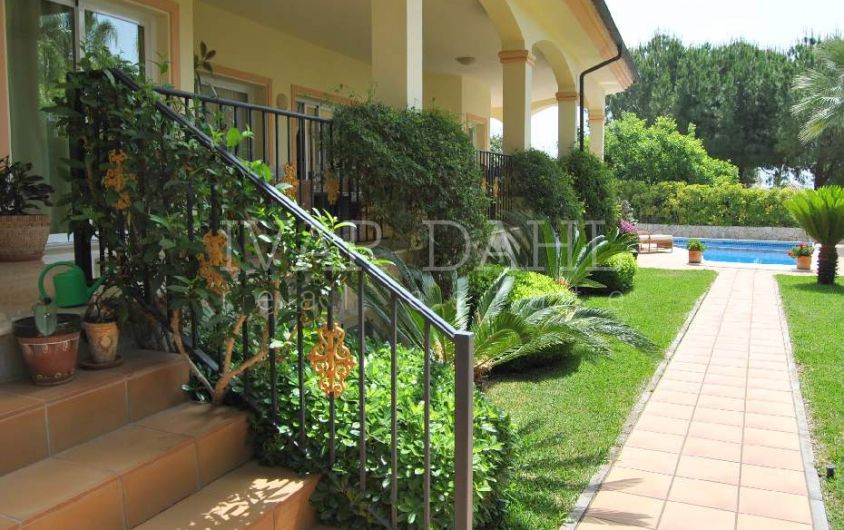 A beautiful South facing villa situated in a gated urbanization, 24-hours of security. Park like community gardens with paddle tennis and small children´s play ground. The Villa consists of entrance hall, ...
5

bedrooms

5

bathrooms

540m²

built

1.042m²

plot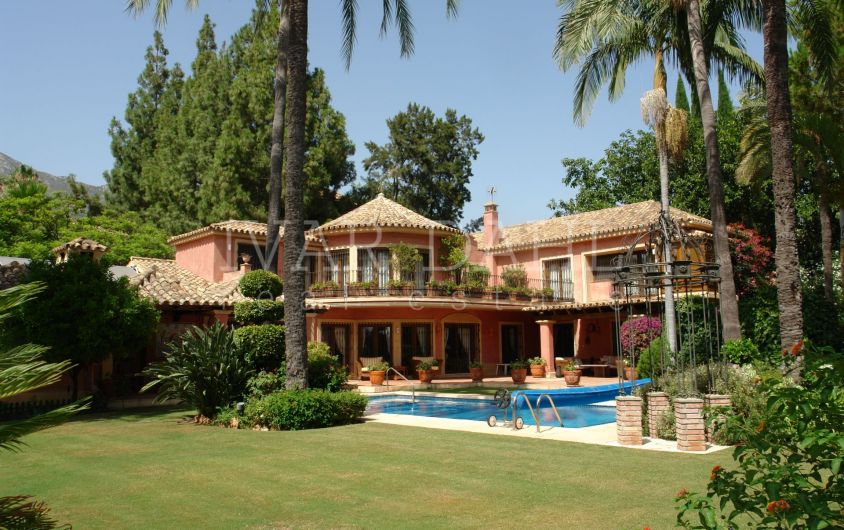 This classical villa is located in a quiet location of Marbellas Golden Mile in the established, residential urbanization Rocio de Nagueles.A spacious entrance hall leads to the bright exclusive living area ...
5

bedrooms

5

bathrooms

658m²

built

3.564m²

plot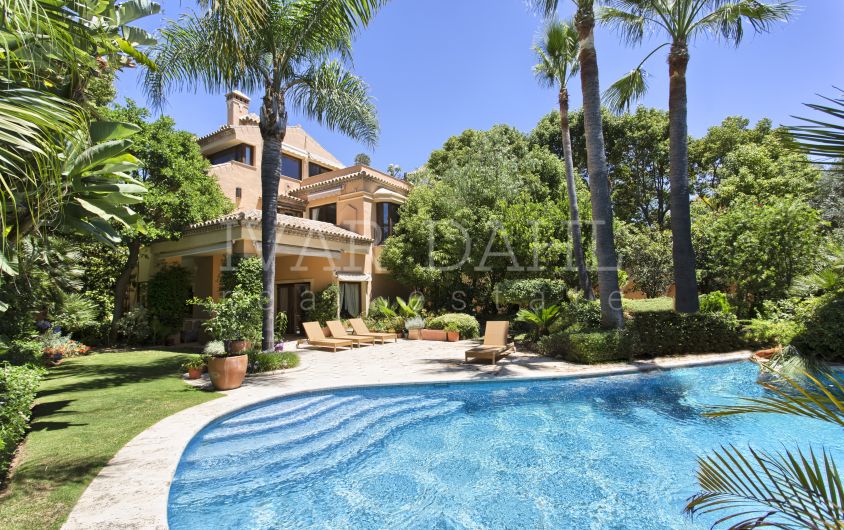 Villa in Urb. Altos de Puente Romano, Golden Mile, MarbellaBeautiful, classical style Villa, build to the highest standards. Located on the Golden Mile, sought after location and close to all amenities, ...
4

bedrooms

4

bathrooms

1.012m²

built

821m²

plot