Semi Detached Villa in Nagueles, Marbella Golden Mile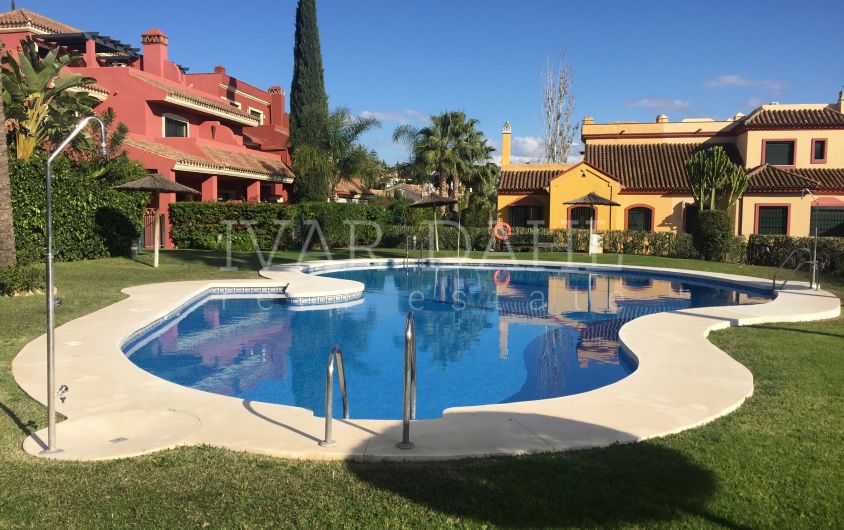 //media.inmobalia.com/imgV1/B8vEv5Xh8DZJ8zA8HsKlVQQovHvPS2nS1REiasNjjf37J7WfKOkiQxSIhRrnU2OBFkknCXNFUkYS7Hh9o9IZ_QJ9eIkyovPRDjn4rg3q3LMaRN3fr~g2~H1XIxTyuE9kO16_ZRv7jSSkn2EuQgvsm36lJGkRyxLAV4YTVYUEe5iHMDR4af7HoDhpt0ljySC1v5RNA6xgLvi7IFQ3n4mr~gwZQAzwAkeJZEVxclZn5k2k5LRKaNMq9AxmYn3iH4IhThDyANgg9AM4d3VHKg4z1XiY892dgIbg3V9BE6bJP5VART9fyvunOCP1XDHtcG5RhEw-.jpg
//media.inmobalia.com/imgV1/B8vEv5Xh8DZJ8zA8HsKlVQQovHvPS2nS1REiasNjjf37J7WfKOkiQxSIhRrnU2OBFkknCXNFUkYS7Hh9o9IZ_QJ9eIkyovPRDjn4rg28g2i_bzZPxu2cdc0v0CJHylrLNp0J8VvRoB_SfQqa8zNxy9AoBB90_yYsOgFRC6rmdJEC2CBNNnyZUK~ZBG26Ng2g__7D9vhxi5VYTB5l~7xNr8mR5v8OUv8vJGOBezXoExzY5mW6U9gNKVuK7TS6Pqb801MeZxFtA9XZvzCbR~e0EfULasbUHPXG3sbplsfWzdA25JARfG1Tu4wwHbpQz_xj868-.jpg
//media.inmobalia.com/imgV1/B8vEv5Xh8DZJ8zA8HsKlVQQovHvPS2nS1REiasNjjf37J7WfKOkiQxSIhRrnU2OBFkknCXNFUkYS7Hh9o9IZ_QJ9eIkyovPRDjn4rgB2BAHb4GPB4SYz8_32IafdoI8QPJCHwlXCX7j9DWIvQc2wIYpmpatcGZlIPXkqjGqNdkD437LFzi6QNBPKmNrB07FHJScBOiVdaAGejycFn4M8QZ7OQ9kG69OBhaVOIOCaQCvYt0wJQiX3qJtX2fS_ltAr5SzxfVoEkZSHlrowxiUwHgIeIniPyuwaxHI4NZTSZYRKJtk~a1w~gNh5A3y7yowuFgI-.jpg
//media.inmobalia.com/imgV1/B8vEv5Xh8DZJ8zA8HsKlVQQovHvPS2nS1REiasNjjf37J7WfKOkiQxSIhRrnU2OBFkknCXNFUkYS7Hh9o9IZ_QJ9eIkyovPRDjn4rg7cP6mfANake3JYygy81GqUg7OQXMf~EyXKdUsVuhxvHCdJe1QpwlZp_H0KqMKsnPf4eC3o170xtFtlnD~6AiWuaXvv1KfIfgki6K0VZpZnvr8LQca61XUgLn5KByyBk0P_AZVHxU16KUq8B7oiFk_RtBx0ekruVwK1O7jv3b4dP3olSp5nDexzjjZBQ8vRPdHs57Q8CBXKvzQir79A0js8GnsEW_I-.jpg
//media.inmobalia.com/imgV1/B8vEv5Xh8DZJ8zA8HsKlVQQovHvPS2nS1REiasNjjf37J7WfKOkiQxSIhRrnU2OBFkknCXNFUkYS7Hh9o9IZ_QJ9eIkyovPRDjn4rgmXdJClUW2P~u4rg7brt77EDcYqBLC4M4psEhccWk7enhKza6Mapfize~bH5owJ_ybk96DTtKYspNLa8pgN__1vR5WU5PcpErYGnu4wm6plbwsCNmiKv3GA_daqyDgLUdlMwf2j9MgX3MX0zLpxgZIRG8SU~nS7EYJb9~UaE2Ot6QRQVSLc0X_DVkGvuOc5wyjaJT3yyOidsZ1OC6YpKP6Vkyu6x5E-.jpg
//media.inmobalia.com/imgV1/B8vEv5Xh8DZJ8zA8HsKlVQQovHvPS2nS1REiasNjjf37J7WfKOkiQxSIhRrnU2OBFkknCXNFUkYS7Hh9o9IZ_QJ9eIkyovPRDjn4rgifj~kUv5e95af4Qil_nEf5y_HQ9btgwqEnzJKZNfkFsBszm_D8aN9zTzvUyotZ3WdTLAEcPEa~1u7~rpXnscEZQ4qr97BNt8CJWhWfj2ltq7ybaIWk25XqPc3SdoCRZL4HIEd4d86dRqPo59hLNT~lADUWHbF0APZNn_dQvb4YsQspBzCqNHitqntu3NkRGN5kz_VuWSi8bPeChaR_JmMc3g~npAI-.jpg
//media.inmobalia.com/imgV1/B8vEv5Xh8DZJ8zA8HsKlVQQovHvPS2nS1REiasNjjf37J7WfKOkiQxSIhRrnU2OBFkknCXNFUkYS7Hh9o9IZ_QJ9eIkyovPRDjn4rgiVS4UOGB8R6ZJ0wCzgXWnoAihTZ7225yIUCl6yDhMKIqRbzPnZp7RbG3vwL6dbmeL8_o1KqYqlDZbKLQP45kDl5Nu8Dr9bTugfwwgtnEOFNc3RrbMDoc1A7B_cLGsexUIy~V~6bBfWl7fnjFxe8OkJw5IzGjCPyZWQyW_zsySWqtIof_ObOXoFCZU6lB6aJlBHnvUZ4aoFXpueSwsH67TuBDpdMwc-.jpg
//media.inmobalia.com/imgV1/B8vEv5Xh8DZJ8zA8HsKlVQQovHvPS2nS1REiasNjjf37J7WfKOkiQxSIhRrnU2OBFkknCXNFUkYS7Hh9o9IZ_QJ9eIkyovPRDjn4rgtK0EzAgTWWeDZZZmzI6bgV6zbIWUyiLngAiyeKjtXMB35z5zjktiKKt8yL~XUoBAEN5S9z0eVL88gB3EYvBFumj8eoLFl4fRDY9FzISae_MbeQNydJ~LU1u4Ayk0VZa~QjdfMWzt0TCsugh1brT_VTIAHO3IIhdLuX6hDwpNnV6ddjxsqIIh0L1Du_68bIUIkUCpdusPp2_YQEbc3DZVdpvrJbIh8-.jpg
//media.inmobalia.com/imgV1/B8vEv5Xh8DZJ8zA8HsKlVQQovHvPS2nS1REiasNjjf37J7WfKOkiQxSIhRrnU2OBFkknCXNFUkYS7Hh9o9IZ_QJ9eIkyovPRDjn4rloqrZX9syO1PW1csDCUNft6Oq~VxxUwM90VbLyVru9prYlrp84tfc1ESBuXV2LyrjAomkDGohAsbDx9ujTNqByGDIz_UABl9ytnpYysYCZz8QwGaO9mQi_slzTj55QjqR_bU64blTyimlC_2j3~fx1OqY1aAIk1lVqCUDNVZQdRqeTpYrF5W09Mon54Cu7SOCTsTPjh6plzhHrxKx4ilYg_xKidhRI-.jpg
//media.inmobalia.com/imgV1/B8vEv5Xh8DZJ8zA8HsKlVQQovHvPS2nS1REiasNjjf37J7WfKOkiQxSIhRrnU2OBFkknCXNFUkYS7Hh9o9IZ_QJ9eIkyovPRDjn4rgqKX163KWgSvqyelTC2QIHG9fsypAIHC7Gxpv_UJZItgemun2d7IUEmG4S4fvtjRGG2sBoeFp~iVk2RzHwVa0XxU~43WfXebddwLSHbzK~dK0ha0nuc17PeRX_S_bK7Ha9doSQsLDrLOJ9yw4Nu_66ScKp2zAdKUS6h3px6EeZ2hywQQXPwWg9EwOPfQqp~6QEEXvW7kvEUTLwrRBFy1KlRWqCz6n4-.jpg
//media.inmobalia.com/imgV1/B8vEv5Xh8DZJ8zA8HsKlVQQovHvPS2nS1REiasNjjf37J7WfKOkiQxSIhRrnU2OBFkknCXNFUkYS7Hh9o9IZ_QJ9eIkyovPRDjn4rgxTTfsLVBMfDjLOgaB6tBIKvxH3YNSlCE91zGzpAR3VEbssnr3dL9xpQ3JCGvpkgTA2TAKYPMBRVnyfGGpTCImWVQkiHSU9CwPPYND9DGqWJfxwzQwI3GGZIgZKw0BapqoL94J2Q4louM84exDQ9s2NOPz2ctos~0mhljRD92OHblqU~qUUC8tw3diTYM8AROIj~Xl7Daa3IASfp_tCrOoRXZjDxf4-.jpg
//media.inmobalia.com/imgV1/B8vEv5Xh8DZJ8zA8HsKlVQQovHvPS2nS1REiasNjjf37J7WfKOkiQxSIhRrnU2OBFkknCXNFUkYS7Hh9o9IZ_QJ9eIkyovPRDjn4rlsRdTqlSypN5qAYQUOMCHbJGDbtNNjM_25UaqMncmcukaH3tpkDjFU8AskzFVkOBSJ0seyTMjXnz_yxSZyRH1vp1_KQp7fMIfwlL5vk~vuU6KnyoHaKWNYdNwcXVkh2d1110TmoOhEtEGR2g8t~4E~J0xT96tXqo_wSdDX3DtsBlDXdkeUF~irGlxoIduM3Xh84O0lw6qvh4AKJoyAkl~RuT6N2PbA-.jpg
//media.inmobalia.com/imgV1/B8vEv5Xh8DZJ8zA8HsKlVQQovHvPS2nS1REiasNjjf37J7WfKOkiQxSIhRrnU2OBFkknCXNFUkYS7Hh9o9IZ_QJ9eIkyovPRDjn4rg88Lpu_C9~VAERJ4pSX6890UL5byh_m7U02AcEX_QZko_vNRfnvv3VSRBflIO1vCPr2kNBkQrzvEgujRrLr~kNvAube_DF1CwWVvLslrDM_FEWF1R25JgZ~CA4wVW6kSb27GY~Lj3UqU8i6FsWbP3yTZkFVEiLywmfpD6NTYyYCiZeqpiEYy92_PpTKz8KX2TEyK3RivfRd_ajXNvtWWJGBRHGAebA-.jpg
//media.inmobalia.com/imgV1/B8vEv5Xh8DZJ8zA8HsKlVQQovHvPS2nS1REiasNjjf37J7WfKOkiQxSIhRrnU2OBFkknCXNFUkYS7Hh9o9IZ_QJ9eIkyovPRDjn4rg7cbQKTPDuYVoXSg8rB~jdmsTPGfMprjzoI4V0mzomRl9RkmyoBUnk7jOkdHisOCV8V4JYHP2VrSGrYRW8DYbhuan1J_apRxyWbdXWkZncvc_J_VGi6b~JkitGzUrIt1aE2aed1~DgrHYypSonKgWNXJ17fx4KsV5cqJ_ly8Yxj~gbD1giITignQeKAKa82D2N2fNhBRuj~MQFeMabZlF7r~62xYpA-.jpg
//media.inmobalia.com/imgV1/B8vEv5Xh8DZJ8zA8HsKlVQQovHvPS2nS1REiasNjjf37J7WfKOkiQxSIhRrnU2OBFkknCXNFUkYS7Hh9o9IZ_QJ9eIkyovPRDjn4rgqFa5HgoNBwE0KA0kiLXEDjYMPjt3Vkugg3I3TjIP4bxrzx~EUOR6umRUULY552xZKXdA_RrYUEACy9hcK_DIS9yLbT_DSz5gyLFYiwGldcVhZgMZsN6zZSS7ivl6uMoL7cGW179J4uRxbraPMsE_2L9Dr~cFm7hTaz~vRlMfQS2_GZ9o0eiJTKJjg_ls~A05GVSYmKGhGBx5AKhfES6BsmhPTr1pI-.jpg
//media.inmobalia.com/imgV1/B8vEv5Xh8DZJ8zA8HsKlVQQovHvPS2nS1REiasNjjf37J7WfKOkiQxSIhRrnU2OBFkknCXNFUkYS7Hh9o9IZ_QJ9eIkyovPRDjn4rgmQcQ0r9vnX7wh_OJFpVf6JOswzpNZ9caDJWlTEYY5V4CvXthWsPCEaf_4OzBKS4jEo4BUA6FVwttSIqIeElKNgSBwzJFgVFnKiMM2FrJwpGkOn_tXnB_zcxjqHsx6vVzdq3041DPJ1ITZcsIZo9a~sM04V0LD~1_tIrdIptgPxkWx1nAWNmEW5Af41KyLjXnrUurmQzpy1hkow1T3Le9aqo8SWg7M-.jpg
//media.inmobalia.com/imgV1/B8vEv5Xh8DZJ8zA8HsKlVQQovHvPS2nS1REiasNjjf37J7WfKOkiQxSIhRrnU2OBFkknCXNFUkYS7Hh9o9IZ_QJ9eIkyovPRDjn4rlp8A9tDBIm4j_q6~8ktamsB9lq4o4kls3DOhXoGB9eujbi1T_RSXPtRidSz23uacbuZmJG6tFZwpinVREU39D2AonZEuJf80I3sPLh7IVhQeT5JBxjsshK7nGnxCcuDfjr2Oksfvp5LmXFKhNk6zIRVoVJulUI2S6AqzoHcPN1ioXVuUmWeNY6gZ_TQE9NLTT9xwed_U39THYrS4Uzz7ElcHpYSfek-.jpg
//media.inmobalia.com/imgV1/B8vEv5Xh8DZJ8zA8HsKlVQQovHvPS2nS1REiasNjjf37J7WfKOkiQxSIhRrnU2OBFkknCXNFUkYS7Hh9o9IZ_QJ9eIkyovPRDjn4rl2tJiAu3~_xuNCnvGFK5W9jaPX8AdWOB73rMOBJmKorFRJwnHkp0lxf5SkwrODwqvqNIj5SSD4Gs_Ma14YRNb7l_d7RC3YCWS4eaFj0k2WI0hlcwnc6eW3PAwgi0BnQ9yHNLDPeY8YWoAjdr6VffHzit_Aue9bXmXVSVdvGohI7LcpAEET~J3f2BMtAEa1dFQVTDX8kOpF5_CfBGAyh708xME00_ew-.jpg
//media.inmobalia.com/imgV1/B8vEv5Xh8DZJ8zA8HsKlVQQovHvPS2nS1REiasNjjf37J7WfKOkiQxSIhRrnU2OBFkknCXNFUkYS7Hh9o9IZ_QJ9eIkyovPRDjn4rlyCGafTx8iOxtlYWenOYhEP~MnLl5LwwTjUJuVx_QXWNJpvGGvBq6Kue9rdguqq08~ol~AVujo69yO_iEWHrn1uN3yeFzd6G~x~dP4z4q7dusaohnlhuwNzk0aR2eQORul1tEjmDvhTjxsvR0CV338EtWr84fVXfLueEF2n8YqE3j3Wf_nOGvbItf8xDrxigX9RMsQw8~qp01wQEZYawuS_72qTtWM-.jpg
//media.inmobalia.com/imgV1/B8vEv5Xh8DZJ8zA8HsKlVQQovHvPS2nS1REiasNjjf37J7WfKOkiQxSIhRrnU2OBFkknCXNFUkYS7Hh9o9IZ_QJ9eIkyovPRDjn4rlyCHEJmZP4Buu~rWWjYGFxUh48JXazqWrZ~ayzNPsakIcXMOtFkASRCU6JxYNvJDB2sumDlPork_CnZwEljH4R1owHPjLhgAgOnjcfzYeYXNkpFXYI4snioWg4E5q6Vl36EuwYpGMEcQELqf2BnctpgHCyIurZdjljv9e8uwm8G4JzaG1H~FZUpT9Qgkctw0NRtRoTRfaCTsrNzsXy4SHsrPH9SrHc-.jpg
//media.inmobalia.com/imgV1/B8vEv5Xh8DZJ8zA8HsKlVQQovHvPS2nS1REiasNjjf37J7WfKOkiQxSIhRrnU2OBFkknCXNFUkYS7Hh9o9IZ_QJ9eIkyovPRDjn4rliQRhJUEvVy4EonKy0CLO2oifpEoKIsSJ3wIGwy_H67JCe18lOYgL~g7F9bx7wxV3k4n91H~FDkcgSL1aKHeV~QMAaELA7RGiqnb81GD7Uc7dclavWfEFeXU7g9KB6uBRVutqdb_rOJLWLRvv2Jl5dfrOzvTUbFwDx7dvpVenUE~GQCOXI7QMGM7V2PeeGIDPCeWj2Pl9Pou41chchCWmxmE0IlBpc-.jpg
//media.inmobalia.com/imgV1/B8vEv5Xh8DZJ8zA8HsKlVQQovHvPS2nS1REiasNjjf37J7WfKOkiQxSIhRrnU2OBFkknCXNFUkYS7Hh9o9IZ_QJ9eIkyovPRDjn4rg9sLkC3XBOs_qDf2Bm8ykxkdMpnOJwdwAcPdZpptFPSRoP67lc7Bwt6MddR9__KTCKpPH4T0IdI4iuBIk3M72qP~4o3xc0R23mBIkpOyT2B4SjwZbecV8HBuLSBmIj5AToFr7WCY4vP6JdlF0jlgSVDPUcenGnHYmcqGo__8HcuMiir753dnUPGxODVOtMtPVy4oohQqNvYirK9RO2CM3UQ_Sn_1Cg-.jpg
//media.inmobalia.com/imgV1/B8vEv5Xh8DZJ8zA8HsKlVQQovHvPS2nS1REiasNjjf37J7WfKOkiQxSIhRrnU2OBFkknCXNFUkYS7Hh9o9IZ_QJ9eIkyovPRDjn4rgFzmvYMmzO6h8eN_f3KCCfvJxFv4OKjbNGjkfoDghK9Tz_2guhOE1dGFueYv6Nv0K3SZY3ptSnwP19ViNsrcMz~RAPxdFwH~PXPuUWuVUa_vdDrV5Qk~oJKL5JKKyhbzuYzixDK8rI_mAkz4BbDsUUZmtYcbyiJ8L4SXb_iYxXwWfDi33VM3rj9zj_k_XcJ0ePcl6fcTnO_70JdLwwFJ6cEeZTi1FA-.jpg
//media.inmobalia.com/imgV1/B8vEv5Xh8DZJ8zA8HsKlVQQovHvPS2nS1REiasNjjf37J7WfKOkiQxSIhRrnU2OBFkknCXNFUkYS7Hh9o9IZ_QJ9eIkyovPRDjn4rl2q0JYf1G_LMe0gBbApttht_SqEvgse2rMLhRtgpLhdROPiL4BdiKWLVkem_0qizNXH~X5zFvU~Rx6b~HOiClnNOdrs7PNF6gsZWOWBKv23cmj25w0I2IR6viZRoZZ3CQngQ8dW0HknHlZzxg5S5JmYO3oPuW30cks7~zx~yOlsbS1eWAJkhsgIXJg4nxZFZRSlBFf9I5XuHdOt5edx5kuiWWkkZBg-.jpg
//media.inmobalia.com/imgV1/B8vEv5Xh8DZJ8zA8HsKlVQQovHvPS2nS1REiasNjjf37J7WfKOkiQxSIhRrnU2OBFkknCXNFUkYS7Hh9o9IZ_QJ9eIkyovPRDjn4rl2n_q0hi4qku4ya0yqw~3pfQD6ajLS71_BdMuaV~Z7a6rQk2eouXAiIkQF315Wpx1t3w0D5xzuQUvpn6WdJh2I6I4PJs7gzFKq6KxmHzQcCdesIHETKi4Tl7NrA3iqZCLVNir3JfzBMxSDdfhAWWxyq5t7tQWzrwSpEpR8mE~_vJIoHF7yKC5PqX5WJzeLKNpToY7HEVck8US0gkfRmz3eEKn_Asiw-.jpg
//media.inmobalia.com/imgV1/B8vEv5Xh8DZJ8zA8HsKlVQQovHvPS2nS1REiasNjjf37J7WfKOkiQxSIhRrnU2OBFkknCXNFUkYS7Hh9o9IZ_QJ9eIkyovPRDjn4rljAf4RN~_DScLtrFlwlf8kPyuWcWoLKDBAwCF88CvNJZcDu4b40J5knNHOGwNKm4Yanxg7xXWy5PsPqS0CDtvARVUPD4~MBo0AGADrzCJUYQH2TZXC8gVfG~EIHnKBpttB9onvfFioy8f_oyakTHai_6w11gDzjtoelPcQwl2VEKepH7ZHIBgJ_WA6xf~nWOB8rSOhqZQQmLjUPqYAGGAfuCEdVMBw-.jpg
//media.inmobalia.com/imgV1/B8vEv5Xh8DZJ8zA8HsKlVQQovHvPS2nS1REiasNjjf37J7WfKOkiQxSIhRrnU2OBFkknCXNFUkYS7Hh9o9IZ_QJ9eIkyovPRDjn4rg87b6J~Hjh381SIzCYBy9GODeH27iv7H2m_I5jNlW6Jw2qVem2OMNr9yUKthZaS5lE9YIG1_AzWj7SE8gN8LCtSkPS5L5Ge13a0eYlrW12FI_CXOhONi4jaxM3Zeg29NhkqiJcY_m9WulI6Nel~ZxaU~81Cnr4zWn7ustHbkrS9rO0zU5bZ3SkljMpBeGvmSlKpYD75aLsYt5XWPTtGMlny2IMhE~g-.jpg
//media.inmobalia.com/imgV1/B8vEv5Xh8DZJ8zA8HsKlVQQovHvPS2nS1REiasNjjf37J7WfKOkiQxSIhRrnU2OBFkknCXNFUkYS7Hh9o9IZ_QJ9eIkyovPRDjn4rg3pbcSvaS~4HfTUFttP0z743TA9UvQTkfYX8_SwMaH4_XJ7q9HhW0zvbmFyeAc_EhwqpeCBjHEVa_llgpV5NN3dUo8r7ny0bc8Yezh~dpimxiWHRDWq2wQuLXn4U3mcXmRDZWESibMSOhuk_SVWDF9U_YYkomJg3Ly381vAqoVPid6bEUyNWzwHKWi6KQHcR5Gi6tDZAMhXaNef0iddygZayAhirQQ-.jpg
//media.inmobalia.com/imgV1/B8vEv5Xh8DZJ8zA8HsKlVQQovHvPS2nS1REiasNjjf37J7WfKOkiQxSIhRrnU2OBFkknCXNFUkYS7Hh9o9IZ_QJ9eIkyovPRDjn4rgrezMiy77D12mgquD13GQiyFbFOGprXmPSjubbtqAVvbq_jZ26Odd3Bcqz3tU8YEYsRyPNaaRJK1SlIqEfoNd8QcOOKLamiHn9e4MJ0~Ej0qcDGsI6GgAd_Pc8nh45euHud3WJfdQMqXzaT95VeGCVjs1ipS1RHFiJrMzUXjgOg6O5mMtMsHpH4W1X77GxSN1wgrt0W2F9PV9oNigh~2_ozWLEi9Xo-.jpg
//media.inmobalia.com/imgV1/B8vEv5Xh8DZJ8zA8HsKlVQQovHvPS2nS1REiasNjjf37J7WfKOkiQxSIhRrnU2OBFkknCXNFUkYS7Hh9o9IZ_QJ9eIkyovPRDjn4rl_ALm1sWXFw_c98m0LXUWYxoKJeXUJ7VQ6q1bRsxmjO37pYoHE8oGWFsm8B5ltwsY1Q1gLAcmTZuA_MvMaIEe_a5aZWdfzZhK9vpAxsOtGICyC~h0KxYhV9xr4_ZBozH7fBMd_Ch7xKYkVMlanYCXqUHoADnPxHD8V0UnhiVOUWC5caR5J8vnskJ7oTuWD7~pSrGVGupFiSkJdOSfqmAbTFiyU9mu4-.jpg
//media.inmobalia.com/imgV1/B8vEv5Xh8DZJ8zA8HsKlVQQovHvPS2nS1REiasNjjf37J7WfKOkiQxSIhRrnU2OBFkknCXNFUkYS7Hh9o9IZ_QJ9eIkyovPRDjn4rgmQKldDWlzNl4rCYlI8DczVJPK11hJw3uA~QJsNRzVoyETuZ842kiEhBgGqUaQJG8agAuSyQdRA7K0KinmeG74Mi67XBj8VOVQK8MtZw_XEYwVMEuiRtEf9MVnOL6hTOetc~83sH4jaFUbIeOe~xE0Cf7d~kasA6sepdD21LC~JhUduTuB~MvlbziKClqRBl1Kz~6PUT9Ec2EejazhtvcmXmCDCvy8-.jpg
//media.inmobalia.com/imgV1/B8vEv5Xh8DZJ8zA8HsKlVQQovHvPS2nS1REiasNjjf37J7WfKOkiQxSIhRrnU2OBFkknCXNFUkYS7Hh9o9IZ_QJ9eIkyovPRDjn4rgwAPzIMuypOthQY~Gu9O_0VFIXGwS4kT~zCXHuqLkLqL_AA8fuFLGQwVBBa_L3eL_hhh5r~ZHm7tQ2XKr1X95zjGwxdKflQc9LayhS3TP6Di2fjdgKkKLlS~FJ2fqyCDKtAJS1LOtzHP~J3Mbr_1vMWIpzsjfG0irC9p85wDd1pEGVVBULiz0qjXYdDNpbvy_PwXPZk1hrACYrO49NWGnLknf5MH9Q-.jpg
//media.inmobalia.com/imgV1/B8vEv5Xh8DZJ8zA8HsKlVQQovHvPS2nS1REiasNjjf37J7WfKOkiQxSIhRrnU2OBFkknCXNFUkYS7Hh9o9IZ_QJ9eIkyovPRDjn4rg8~vERQcasEgg~ID2fmKv~hEq7HM_Pakmf2JvhhurR88Xg8OKGZQbvRXQJQnlWdYKrT_WnNvx7BZaAqX3A_yTUkFn2U4hSrFCuj4mAH6eAiY0pADEM0D2zeblbdpvQE2quF17m~Peh7r2WedlARzGQ24IyGbb~ebBOYZfrMF2oH21tzXad~XFVX3NH~K5jGWt_Rw6u201rE4tq1UeKPVenvPZIe7sg-.jpg
//media.inmobalia.com/imgV1/B8vEv5Xh8DZJ8zA8HsKlVQQovHvPS2nS1REiasNjjf37J7WfKOkiQxSIhRrnU2OBFkknCXNFUkYS7Hh9o9IZ_QJ9eIkyovPRDjn4rlsT8P7kYOVV1Rh1wdEREwDFM564ANRYrm8PqXLU7K7MK7IRDpYC511BUfyeS3_Q48dMyVy09IebzeA1NuTqbx4jarFxYCUkqIdiIbXgeaGdpUO5SJdqd0nlzRErrVbdVN2FH3TBqj6P78Y~BmwdZjvzCAy49DI3FhVQw32ThIHoKTlQbZiMNOCuXePV92JCmJcBYTD8VARxy_FI4Rf43EwQmuKl2NI-.jpg
Price

695.000 €

Ref.

4994

bedrooms

4

bathrooms

4

Built

310 m²

Plot

110 m²
Town House in El Tomillar de Nagüeles, Marbella Golden Mile
Villa Pareada in Nagueles, Marbella Golden Mile. Magnificent corner townhouse located in a gated community with gardens and communal pool, a few minutes drive from the center of Marbella and Puerto Banus, in a safe and quiet area. The south orientation allows you to enjoy the sun all day on the terrace and a bright atmosphere throughout the house. The property consists on the ground floor of a large living room with fireplace and direct access to the terrace and the private garden, independent dining area, very spacious kitchen fully furnished and equipped and a toilet. On the first floor is the master bedroom suite with another large bedroom en suite and the third bedroom converted into a dressing room, on the upper level we find another bedroom with its own bathroom. All bedrooms have terraces with magnificent sea views. In the basement there is a guest apartment of 110 m2 independent, with living room, bedroom, bathroom and a kitchen. Completely reformed house of the promoter with very good qualities. The property has three parking spaces and a storage room. It is the ideal home for a family to live all year. As an independent villa located in an urbanization with pool and sauna or as rental investment.
Features
Fully fitted kitchen
Close to town
Close to schools
Utility room
Fireplace
Marble floors
Basement
Storage room
Security entrance
Double glazing
Dining room
Guest toilet
Private terrace
Living room
Amenities near
Sea view
Mountain view
Transport near
Laundry room
Covered terrace
Electric blinds
Fitted wardrobes
Gated community
Air conditioning
Garden view
Wine Cellar
Close to children playground
Uncovered terrace
Separate dining room
Good condition
Similar Properties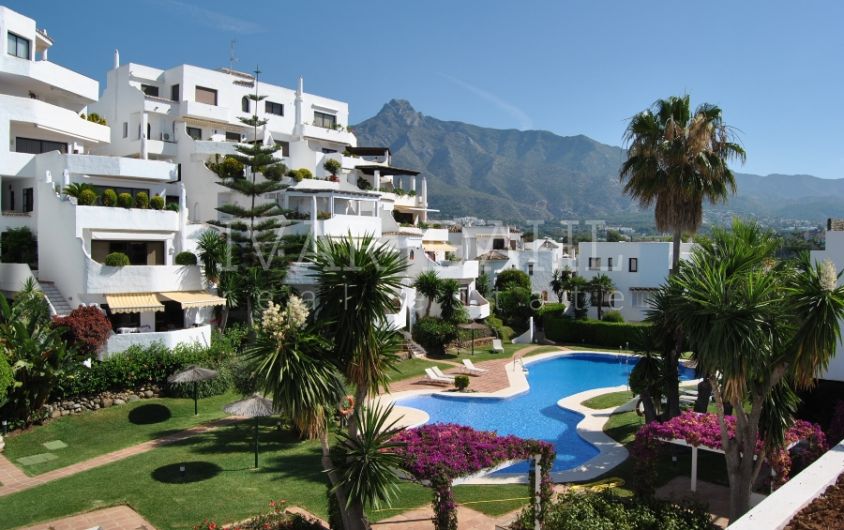 Large townhouse for sale in Coto Real, Lomas del Marbella Club, Golden Mile, Marbella. Built on three levels. Ground floor: hall, guest wc with shower, fitted kitchen, spacious living and dining room, terrace ...
5

bedrooms

5

bathrooms

241m²

built

163m²

terrace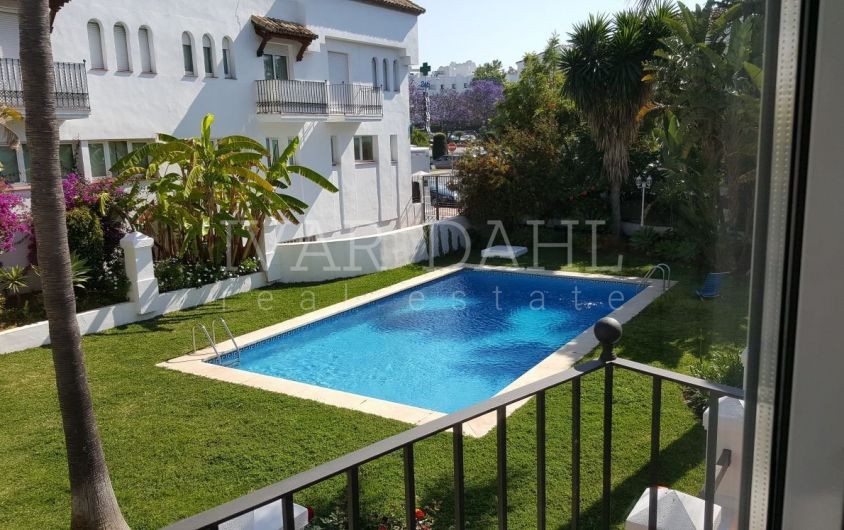 The house situates in Urb. Casablanca, close to amenities, beach promenade and beach as well as town center. The property consists of 3 bedrooms, 3 bathrooms, 1 guest toilet, living/dining room, terrace. 2 ...
3

bedrooms

3

bathrooms

158m²

built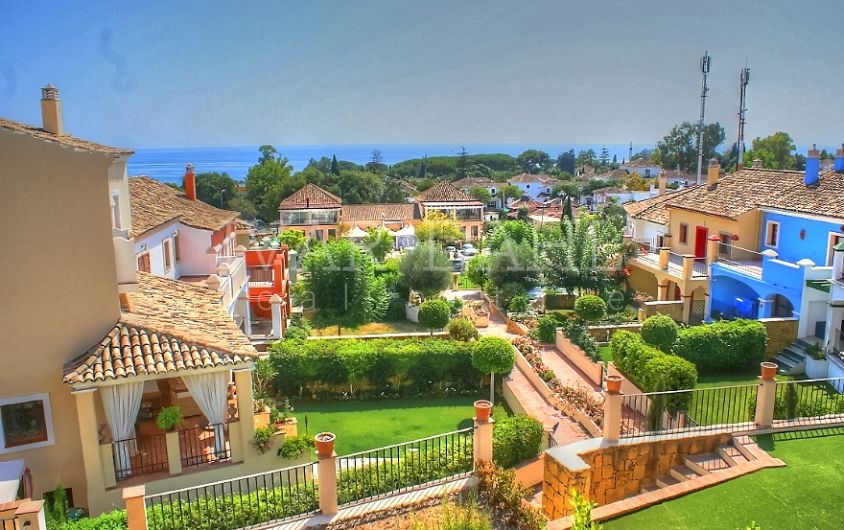 A beautiful Andalucian style townhouse on the Golden Mile, Marbella. South facing, large terraces, sea views.3 bedrooms plus one in the basement. 3 bathrooms and 1 guest toilet. Storage. Car park in front of ...
3

bedrooms

3

bathrooms

225m²

built

25m²

terrace