Penthouse close to Sierra Blanca, Marbella, Málaga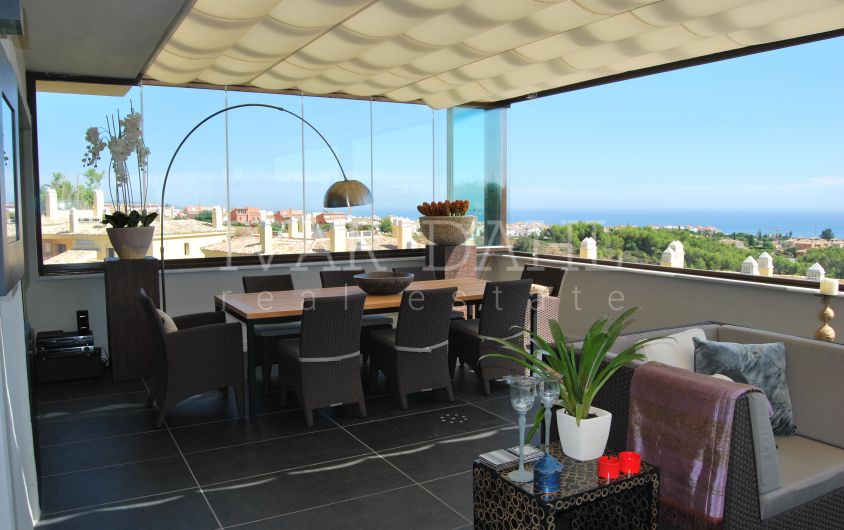 //media.inmobalia.com/imgV1/B8vEv5Xh8DZJ8zA8HsKlVQQovHvPS2nS1REiasNjjf37J7WfKOkiQxSIhRrnU2OBFkknCXNFUkYS7Hh9o9IZ_QJ9eIkyovPRDj0Yrmwl2QqPEgUuJmjYzClr_qW3M_EVX3bjLvVAJp6DTdsbgnnGWOPCCXBRbQTrc4DkPC_ypLEvBPAmv6kKkd_NQGVojhcaZJRUUGZURQjHoXT0Phs2fgfs2WoYAWcYzaWy~SlFOLt3sClGiAHpWxZVhy_Zdf3DM7J_gjJvYF5aEL~BiC0tCbLKldaEGKJKBqlM2zIcusRDB4_iCBxIk0GYtCJqxZn0ink-.jpg
//media.inmobalia.com/imgV1/B8vEv5Xh8DZJ8zA8HsKlVQQovHvPS2nS1REiasNjjf37J7WfKOkiQxSIhRrnU2OBFkknCXNFUkYS7Hh9o9IZ_QJ9eIkyovPRDj0Yrj7lPJcMmO9tqaNMY6cQxmHGE3BkWM4JlotkrMzMERranWrXKmG_0ZZHsx_CNq2A_2VR3u6p6drDUP7KXVlIDWXtrLYZq6pmV~00IYCrePvxUeIV15XuvtzwJdWniZkMFkcFjhQxyxe1TCXhN5Vzuxh5fjDFWrYfThWFvzrPJMz~xAxCct_WVZzUHBc65G5gOj7lMQ7GFw2U7wk5DEiVRihBivB_Lk4-.jpg
//media.inmobalia.com/imgV1/B8vEv5Xh8DZJ8zA8HsKlVQQovHvPS2nS1REiasNjjf37J7WfKOkiQxSIhRrnU2OBFkknCXNFUkYS7Hh9o9IZ_QJ9eIkyovPRDj0YrmlFPttwnq9XjfXg0MGMmxhosi0rMQoOcA3_0CeDO3H7dLMF1aZDBT4prlXQucSiQmqH9ulhoGcx7nkf66x7_q~jTe9YvuCDGnkRNL4~xfpAHntwijlEP4g9ffZ3clNKUucZbERSiPmIroTUhev9HBCCxd8V8Lr6maTcYBKaa3Y4G6dJRHoJgBY_W0dww37Wtj9DF9YCnx5yAQzFe3X0XzzJ4_DW5x4-.jpg
//media.inmobalia.com/imgV1/B8vEv5Xh8DZJ8zA8HsKlVQQovHvPS2nS1REiasNjjf37J7WfKOkiQxSIhRrnU2OBFkknCXNFUkYS7Hh9o9IZ_QJ9eIkyovPRDj0YrmGUOlqhgw8JAL8ko4pX0Cq5_9sxgd7u9RegD196TB8wZ904znPiBlkPI0z23xkOHNhG6Z5BcRo58a~CpEGfd71ZIRnssTaHmYAyw7gQ2bs8ADTEHbHCdHptFjEsxdhD0w~1Ym3BJ7Pnc7MTA8B9xOV4bxYCU1olHqr3tiYRLMiSTY_mnKHMnPl3FnBbni98Eck045nX3Tfyex2B37wy5acVhcnLbp4-.jpg
//media.inmobalia.com/imgV1/B8vEv5Xh8DZJ8zA8HsKlVQQovHvPS2nS1REiasNjjf37J7WfKOkiQxSIhRrnU2OBFkknCXNFUkYS7Hh9o9IZ_QJ9eIkyovPRDj0YrmgEMAAan4iqazUWTS6Vk_vbo09BY05W6Dt1RJ2hLQC0ZE1sxhp39vP2o4wik6nMdTKPu9PXho7zeNYxUxEW41TeNCOxmeMg1ghl7vmLGhMVy~km56LGZYyqEvYuJc3EesRsYE7APp3cf2u4xiKumSC62SxxksDCMPJ3vZJE512H82CfTRemQQMqkzbn6eAgu6aiLJDUbIW7wWl_nom6s3V5cxxXvdA-.jpg
//media.inmobalia.com/imgV1/B8vEv5Xh8DZJ8zA8HsKlVQQovHvPS2nS1REiasNjjf37J7WfKOkiQxSIhRrnU2OBFkknCXNFUkYS7Hh9o9IZ_QJ9eIkyovPRDj0YrjuigEAlPIpVPIrZHV7pFJ~y3eGqR_k9h50kruOnpsysx9YcwpGLqJSN0Syv~WVhjQUY7nlu1yUQfMOpuUUeS60dvfEU0wMn6nRuKqqLDjYojOMZjQy0G_eykYYI~CCAPcnXdBuhsBQwcoRCBl8RB1tyqYBxaNfwydfBNwBLMopss6Yx5OCd3Eyg2hpPVHb1XnV1KOsHbAUx1Z5ngm5JJDWfEq5C3i0-.jpg
//media.inmobalia.com/imgV1/B8vEv5Xh8DZJ8zA8HsKlVQQovHvPS2nS1REiasNjjf37J7WfKOkiQxSIhRrnU2OBFkknCXNFUkYS7Hh9o9IZ_QJ9eIkyovPRDj0YrmpeIveXNSWHPgHTcL9EK_0jAsy~3eYJY5UuUkaCCRn0ktGTzG~Mew6D8hQq2lYO5AUNeFBfvtK4zeoffWNZhgjKj0q7tPAUQViMFLz8lqJTXkhE~Avk67yVwAwvQD0Lua2s3chLBgbMlrEROjqZe9TjnNfHdvG_SQEdwaRcOz6PjSlcz6hKxENBW4prEdY_9tTpwZJBKj_sQsOhL3f77u0gclklQjU-.jpg
//media.inmobalia.com/imgV1/B8vEv5Xh8DZJ8zA8HsKlVQQovHvPS2nS1REiasNjjf37J7WfKOkiQxSIhRrnU2OBFkknCXNFUkYS7Hh9o9IZ_QJ9eIkyovPRDj0Yrm0wEBpYkfQ6R_qtiZxXzD3KY12tz_5o4b7YeCuDlq38WpvZPfJ4vBIk4qN3QQDdw9bCiZTnYLKYx1HItELS7wufFEnRPtSIc3agv~kIIRO4K60PicGhKbvMrUBKBUgj5xxVgbQ7nXfGHYB6UVuLuRj3ECiy4PDS4p5rNjsk63DXZf8a2s1fq3AAnQmsbfixwU1fyVeB1Zi22c~KHCNv4FTD42k19JA-.jpg
//media.inmobalia.com/imgV1/B8vEv5Xh8DZJ8zA8HsKlVQQovHvPS2nS1REiasNjjf37J7WfKOkiQxSIhRrnU2OBFkknCXNFUkYS7Hh9o9IZ_QJ9eIkyovPRDj0YrmvKpmqQ616HLhGocTuhVbFQiUxMCzuylchr9I8oXg_MSOb38B5U6lGd7v06wwh4_uVvNXCGvk_fhOLjFJlZ7HlWd_3w6MTF8o82I8VII0_zQUjye0jM0BWmeM1v8un0Lke8v8x7k7qetik6JfW3NLV7D0xIREfpWq3UCvtNZFatHNC7QI7edqEA1fTTK0cXA~_OIxE3NsZteKzZsn2vJrlzmxGQXSA-.jpg
//media.inmobalia.com/imgV1/B8vEv5Xh8DZJ8zA8HsKlVQQovHvPS2nS1REiasNjjf37J7WfKOkiQxSIhRrnU2OBFkknCXNFUkYS7Hh9o9IZ_QJ9eIkyovPRDj0Yrj7iCOycoDY_k_vUK0lOt5257O6~K~o2EfgrCcPQtRoy7ujduwqn4OzHGUx~ydN8pLicMdiR5wzl5cALkGSopr8kzz4xhIJw1OzCqr7Wc6Wdi7D1xZVTc~NzTpKK7N8UaDpUiLqgqPwSPjSi5PG5c6F6UKfhekc4~7wIWBIW8mU6TiTz0Gqbwzeybv2ntcJVkfACaejm1s3uAjJSehi~y2ZZsqSAiWk-.jpg
//media.inmobalia.com/imgV1/B8vEv5Xh8DZJ8zA8HsKlVQQovHvPS2nS1REiasNjjf37J7WfKOkiQxSIhRrnU2OBFkknCXNFUkYS7Hh9o9IZ_QJ9eIkyovPRDj0Yrmufew7vbF6IQE_DTM00CaSTJTxRWtJsbxPDQr6r3nK6e~HvpWZYSDlURR6cwf8dq2_wVkhLy3dZjjtCmAOb9KCXfZ~d4nyTZGgYb8v9aFIf72Cn8DZwE83yDNbNHoO6~x4j3tsxOyU3_uUQRfWTpdTEQk5aGc81f3Lw8fYlZzRIK7GVgUNlw76R8IYFPafCi5tfGMosQp_Px40qm~Y_a~k3EyovdB4-.jpg
//media.inmobalia.com/imgV1/B8vEv5Xh8DZJ8zA8HsKlVQQovHvPS2nS1REiasNjjf37J7WfKOkiQxSIhRrnU2OBFkknCXNFUkYS7Hh9o9IZ_QJ9eIkyovPRDj0Yrm8_U2uiDlMIMJusCgjlrrK4gQ5hwu~Y8upyMaFj8xmHbVW~WVqH8DsLuqV3UcVKHjP1IYiQZyTKqhp4JLcn7DEzELW7NBu7x3Teeu~QYT4uLbac5clcdQW756oQa~YauReBsw8n11txRx7te_z93xc_d10Yvu4Z2WWHOZeIuz61sDsu2G11JTaraUaHabBX~Ru7~N8XGDgL2l6qL3CjA8~cn61zNnI-.jpg
//media.inmobalia.com/imgV1/B8vEv5Xh8DZJ8zA8HsKlVQQovHvPS2nS1REiasNjjf37J7WfKOkiQxSIhRrnU2OBFkknCXNFUkYS7Hh9o9IZ_QJ9eIkyovPRDj0YrjxHJCF85S~tKfn1o3Ckl9nm8IqkySIJ60iWBUJJb8voM1xodIWlmdeGKZ3tqzJNIVYCWZosJvNUPhNrytUQMJVsiWo~YSMHg7T5yVBYPUhubkCLfYQAw3~B~SxZXqEXOfwu6obqgovmIsTf7BAIh7Fh~3_VS~ymtaamzPjq~xSUMgOcpwwkcamrFI5eSYpfvfwB2F_Q~OCPY~K~wZuJLcnTVL65i~4-.jpg
//media.inmobalia.com/imgV1/B8vEv5Xh8DZJ8zA8HsKlVQQovHvPS2nS1REiasNjjf37J7WfKOkiQxSIhRrnU2OBFkknCXNFUkYS7Hh9o9IZ_QJ9eIkyovPRDj0Yrm9vQ_6Upld6~NRrFgKVbHZSrLAkc3zG_UXe0_g9Q3cMcUpQpngl50_DalQxWarp9HTBr8cPy4nWyn_i4s9_7G0trFydoTLvMw5oSETtfSKUoFxTUzRsAAtR_IdYQYoMuyRyp7CXNRH0ROq_nMYSZm~jcbReovUCJc8otVOK~o1zf_grJ4BXCWrkZqwRJs0hkkNmdQ7PUjp9jBgYILPx6CxxKda_QhU-.jpg
//media.inmobalia.com/imgV1/B8vEv5Xh8DZJ8zA8HsKlVQQovHvPS2nS1REiasNjjf37J7WfKOkiQxSIhRrnU2OBFkknCXNFUkYS7Hh9o9IZ_QJ9eIkyovPRDj0Yrm5TJyHJa4EK9PSYp0yRPu5EdRHpfLOW9y11RDiyS8O_X4JxFi_0XDTBnJeMfY07B56jgPzbKD0ywl1Q6idvneQ~kOFMlKxFkRkyrtdCpWAJtfoczYU70z2kB6Wr4qWLukvoXg_D3sia~LP_HvtP8ro7bEgdhNlIsheG6BO7atLW8PQwQCmJapUDuB0vCDcFYWhZoJz~~7F09MmRUF1w43jKwpieXa0-.jpg
//media.inmobalia.com/imgV1/B8vEv5Xh8DZJ8zA8HsKlVQQovHvPS2nS1REiasNjjf37J7WfKOkiQxSIhRrnU2OBFkknCXNFUkYS7Hh9o9IZ_QJ9eIkyovPRDj0YrjnYcVCYfs1DJ1dnYr8if0ykCtQ3XBIsx5XzPNyiNg8rQNqFwk3x_qGe~BvPYjUGBCVjDFmPwVHvbLZLIJzMtvNGXw7DVjSPiEcXSV_bnXqExJlbnJZe7pt2ZB~qxigGCXl2FqTYNJ6Mcw~mcUMTFhPoT6fJzJloeyotaOHVBY8kZoyp7D~QvzJ263~EGUr6f2bo8CM153VNwIIHDroWcPXXURLpcY4-.jpg
Price

1.290.000 €

Ref.

4998

bedrooms

4

bathrooms

3

Built

318 m²
Penthouse in Condado de Sierra Blanca, Marbella Golden Mile
Penthouse close to Sierra Blanca, Marbella, Málaga.
Gated community with spectacular sea views and excellent accessibility to both Marbella and
Puerto Banus. This penthouse has two floors. The entrance is on the main floor which also has the
kitchen, guest rooms, living room and a spacious terrace that can be open or closed easily with glass
windows. On the top floor there is the master bedroom with an en-suite bathroom, changing room and
another sunbathing roof terrace. The apartment is south facing, however from the kitchen one has a
impeccable views on the iconic Concha mountain. The apartment was featured in interior design
magazines because of its unique style, its decoration and luxurious brands used. It is move in ready
with all furnitures and decoration included as-is. The terrace on the main floor area is covered with
window curtains and is basically the living and dining area.
Features
Fully fitted kitchen
Close to town
Close to schools
Utility room
Fireplace
Jacuzzi
Security entrance
Mountainside
Security service 24h
Guest toilet
Private terrace
Kitchen equipped
Living room
Sea view
Mountain view
Covered terrace
Fitted wardrobes
Gated community
Air conditioning
Lift
Underfloor heating (bathrooms)
Close to Golf
Uncovered terrace
Wooden floors
Fully furnished
Good condition
Similar Properties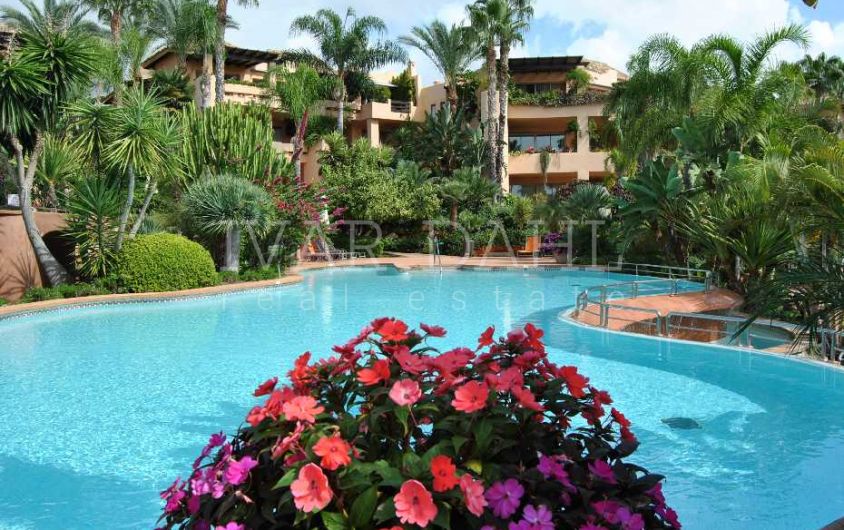 Elegantly Furnished top floor apartment in Mansion Club, on the Golden Mile, Marbella. Sea views. Outstanding three bedroom luxurious apartment all on one level situated in the beautiful gated complex with ...
3

bedrooms

2

bathrooms

180m²

built

40m²

terrace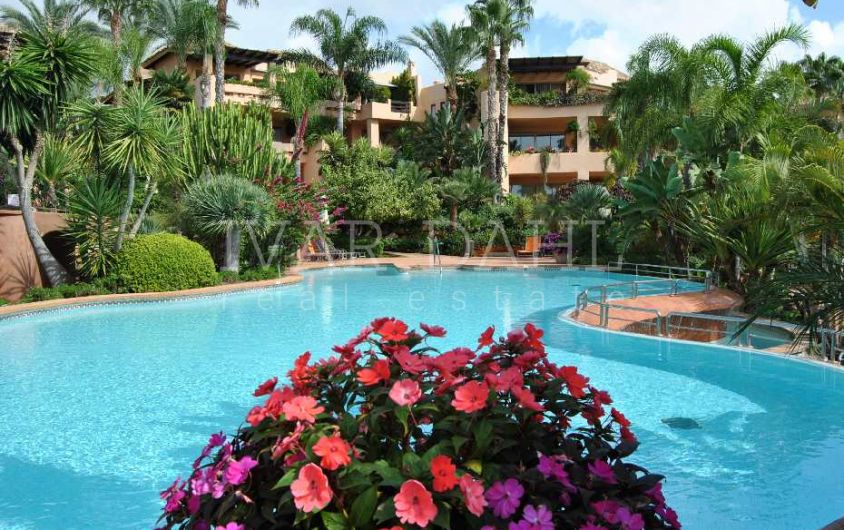 Marbella, Mansion Club. Exceptional 3 bedroom Penthouse on one level with wonderful sea views. master bedroom en suite and other 2 bedrooms share a bathroom, living/dining room, fitted kitchen and laundry. Air ...
3

bedrooms

2

bathrooms

164m²

built

45m²

terrace
Ultimate qualities, perfect situation, penthouse with panoramic views, comfort living in walking distance to the beach.Fantastic modern penthouse with latest highest qualities, all thought to enjoy life with ...
3

bedrooms

3

bathrooms

160m²

built

155m²

terrace