New luxury apartments in Benahavis, Costa del Sol, for sale
//media.inmobalia.com/imgV1/B8vEv5Xh8DZJ8zA8HsKlVQQovHvPS2nS1REiasNjjf37J7WfKOkiQxSIhRrnU2OBFkknCXNFUkYS7Hh9o9IZ_QJ9eIkyovPRD5Rsr_hPvTfK0zb8TX4eoEJ5SmfDL2fM_Dnlj2rs8wOtgesvg0ST2zWyMOWSeWtF7~e8UcZorMzTM0t2q6vwKdNEi9snunbme8joq9toqh9p20GkeV0AoDHqn5YHBEgJTFH7m6Zxth~MM7D2zcrx2TgfDqygsXhOuDlWm5SHQGKHlNjkUqhUHSdfQIzGTgXVYaJwW0K0p~cnb1GYF3ZiC6mrDJmtHetbu_Y-.jpg
//media.inmobalia.com/imgV1/B8vEv5Xh8DZJ8zA8HsKlVQQovHvPS2nS1REiasNjjf37J7WfKOkiQxSIhRrnU2OBFkknCXNFUkYS7Hh9o9IZ_QJ9eIkyovPRD5Rsr7l2Z~ybAmeQylsUjO7UF15RwhuNVO8nFW2xe1toNcDlRrzYAPZbHDqvQZcN_dSddPRshBqVUCYg~1shWSe0smxr~zYh~jAyKQmLB~rAEhIhZpIF3iauMP0r6q~pZM_DP6VVMGs_anReLbc62xQOhjgQeepsLhycVroCSQ23837gvf~YKB~PRdpHlKkNlw6vu5wUg0b_9omoPE89v102tNMf3QCpJHw-.jpg
//media.inmobalia.com/imgV1/B8vEv5Xh8DZJ8zA8HsKlVQQovHvPS2nS1REiasNjjf37J7WfKOkiQxSIhRrnU2OBFkknCXNFUkYS7Hh9o9IZ_QJ9eIkyovPRD5Rsr77obGDpKZuY6x6qh20jNZ8TFPr_h6AlrIK6JjNk7wQOk1ac~pJmdW7ScQ_iV1pe9WVcaBMP_EIbKqmSPREZUDGqcSBRn3cSkp29k9yCgQ_OZuKs04N0IUSkuV7jc7VFteUXmJuHdc5KprPKEMfxpAdFPQ6i37cf9Zup1R~x4rijUycUAJpwUr~WSU0AdkIXn5De5CkHYjFIJme5IXSvZIaZp5VaoPE-.jpg
//media.inmobalia.com/imgV1/B8vEv5Xh8DZJ8zA8HsKlVQQovHvPS2nS1REiasNjjf37J7WfKOkiQxSIhRrnU2OBFkknCXNFUkYS7Hh9o9IZ_QJ9eIkyovPRD5Rsr7svJn1GMRrSdvKn4ZV_kx3w55T9GyZTel3Vhh~ZRvuSqf1K34X6XobxmDaZ0I021tvqFGY7rP9SnDrPAc~3CL4zK3~paxFhPji7SrTZdgUh_MJ1kbe6Te3ANJZ1tg69nCzxQubCkYeOR_Lxth_xEBXyYcqeTzKqZtVdxl3EtsZ9x3KrfAFIMSsrFbK_21N~q4pkHqptLpkGUrzIoH553sDIhLq7JoQ-.jpg
//media.inmobalia.com/imgV1/B8vEv5Xh8DZJ8zA8HsKlVQQovHvPS2nS1REiasNjjf37J7WfKOkiQxSIhRrnU2OBFkknCXNFUkYS7Hh9o9IZ_QJ9eIkyovPRD5Rsr_uisryfOD4mQ8gXI89Lo34ysQTC2iKsJMisIwun_Pi6uwF9cLQoIunHXlqXtEHsrlyq5Tt5sWCyCmKg7bWfz73FVO488qrPjXlWiLRzu0IR95_IVNpm3mj0M6~wsq8Snr9wl82eEckdVDNVk0t1RNf4J6IUQ8NfAWOCCBsMHR1VUUJ2LSfVYku6SbzSelR3eSLqn11qnRp66w0QBvGzEpfGXzyK8hQ-.jpg
//media.inmobalia.com/imgV1/B8vEv5Xh8DZJ8zA8HsKlVQQovHvPS2nS1REiasNjjf37J7WfKOkiQxSIhRrnU2OBFkknCXNFUkYS7Hh9o9IZ_QJ9eIkyovPRD5Rsr7l7xs4ssT6~HWiV2AZyqdDdc9G7J0tVfxSqRXT1d2hN~acLJvjNvRzg0FbouvNC3Dh9jBrtdF3qqsYufRaAzSA9D8l5B4gGAMyWh7lM5ByqINRD~YudNPP0FwK0ekRCdMrqmeyHCxE62E5BmhwB0yblvpjxqVN6tWJ7F306jxKXciNFWAmPcds4N1hOORVCWE7iaR_URd_x8UZVRij9hYh1lu4AQTU-.jpg
//media.inmobalia.com/imgV1/B8vEv5Xh8DZJ8zA8HsKlVQQovHvPS2nS1REiasNjjf37J7WfKOkiQxSIhRrnU2OBFkknCXNFUkYS7Hh9o9IZ_QJ9eIkyovPRD5Rsr72F80Hr1e3LroQFcqil7nSy9MZgpbB5woIgDIJVMJkK9jqap394J55NGRA_NmSQY~L20PIsMq3glf3WeCK9RjOyeyrdwul6PnHgT576UQ7erkANO1zcLhIKc_Nkke7Dkg73Q6Ov29hOZ0nwzmx6lQFTQ_3wiR7atvkK7sfyZe_SKgnUJEwoQfDc1a7nAH169KdFxmggNokY_n_K41D8XetCgaIoRtc-.jpg
//media.inmobalia.com/imgV1/B8vEv5Xh8DZJ8zA8HsKlVQQovHvPS2nS1REiasNjjf37J7WfKOkiQxSIhRrnU2OBFkknCXNFUkYS7Hh9o9IZ_QJ9eIkyovPRD5Rsr7kq6BWZDTw7ApUZy1wHNdeLHStOpskRqWIRJYCrr5_ja_Op3rBK_SbiqNlQjjgxYUPBkydfpc~L~uNlsJ_AARSlxNxayQnSFrU7vHTdD4O~37NIMd5ODRMQoeMGJ0R5m4NfHjvFTwQXRF0ntf0V~mAVKxF2jDAi0IKvG9bjP~~HIH82bC4Nz96ZUVellsR2jmqezXYWu_oSbua4rlymc06W0DSGUSw-.jpg
//media.inmobalia.com/imgV1/B8vEv5Xh8DZJ8zA8HsKlVQQovHvPS2nS1REiasNjjf37J7WfKOkiQxSIhRrnU2OBFkknCXNFUkYS7Hh9o9IZ_QJ9eIkyovPRD5Rsr_yxDyq~huDk7FdOO~_O5K7RkFGjc7wXyW3i3GD4H9aiRQaknuYiA2~2x9Q7xlPnKXFE~tFA4io~dVZcZXfOYds_H1u038E4c9rSIBi67L7ZKhNT5rWGFmN78RsUf1eIo2qJrzrjwuHnCQY3u75X5K9t7aen4XynoSd_rUCUinochL~1jUrWcENLHc0NfEdeMYDmI7TFvH~0zdSnQH5H2zQrIiu3BbQ-.jpg
//media.inmobalia.com/imgV1/B8vEv5Xh8DZJ8zA8HsKlVQQovHvPS2nS1REiasNjjf37J7WfKOkiQxSIhRrnU2OBFkknCXNFUkYS7Hh9o9IZ_QJ9eIkyovPRD5Rsr_mqyYC7AqDQTvz0yoT1OiHbGH_IGLjIafEIOhcjyGF2i6tTAAO8ELmyQyTbSmGNR6Pj8WdqW5xbm1RHAS~WnyvmtbUG1Qv0v_E~yxsFdwMtD02ptc~_rCA_lMZ_B9zCdEaQRt0lLX4y3FEs76dgL719MD19O7a4rkgOwlj_NM1rMQL2_7627TNFhmWdkQHMBg0kNPoLGZlsDyRARjlwTIzc4TSFsB8-.jpg
//media.inmobalia.com/imgV1/B8vEv5Xh8DZJ8zA8HsKlVQQovHvPS2nS1REiasNjjf37J7WfKOkiQxSIhRrnU2OBFkknCXNFUkYS7Hh9o9IZ_QJ9eIkyovPRD5Rsr767h2yeKjAhIe_USPzNpWqgmTlrUhl2aVY82uUuKoyyVsNZtzxG_b~UgF9srWH~ypt5a7~L3CK1jiAP5xUjbOTQuovsQBPnQ01A7uflBktTFSYHPqZFkSYMj3aPbydQ7f0PrNkIYFuZP1FEL7mAHoVla1hT_MA4_aNsUVkiLR1IpV_~621W0llMLX94j99ExD0aR3ZF9OtRT7gpClqtfAVWynYMD40-.jpg
Price

580.000 €

Ref.

5007

bedrooms

3

bathrooms

2

Built

246 m²
Apartment in Real de La Quinta, Benahavis
New luxury apartments in Benahavis. This project showcases merging the latest word in design into idyllic natural surroundings to create a beautiful, exclusive, mountainside 12-building enclave of low-level 2 and 3 bedroom apartments with manicured gardens and pool areas. Each apartment is south or southwest facing and offers beautiful views. They make maximum use of light, space and natural beauty, harness the year-round sunshine and engage the senses with carefully considered, innovative design touches and an abundance of bougainvillea, rosemary and olive trees. Bespoke interior and exterior finishes embrace and reflect traditional materials and designs including Arab tiles, stone and wood. These are set in a modern context where concrete, glass and 21st Century technologies are effortlessly incorporated into both building design and the landscape. Sustainability is central to everything we do and BREEAM certification is a key goal.
Features
Front line golf
Fully fitted kitchen
Inside Golf Resort
Utility room
Marble floors
Security entrance
Double glazing
Brand new
Dining room
Mountainside
Security service 24h
Private terrace
Living room
Sea view
Country view
Mountain view
Golf view
Covered terrace
24h Service
Fitted wardrobes
Gated community
Air conditioning
Lift
Garden view
Pool view
Panoramic view
Close to Golf
Uncovered terrace
Lake view
Similar Properties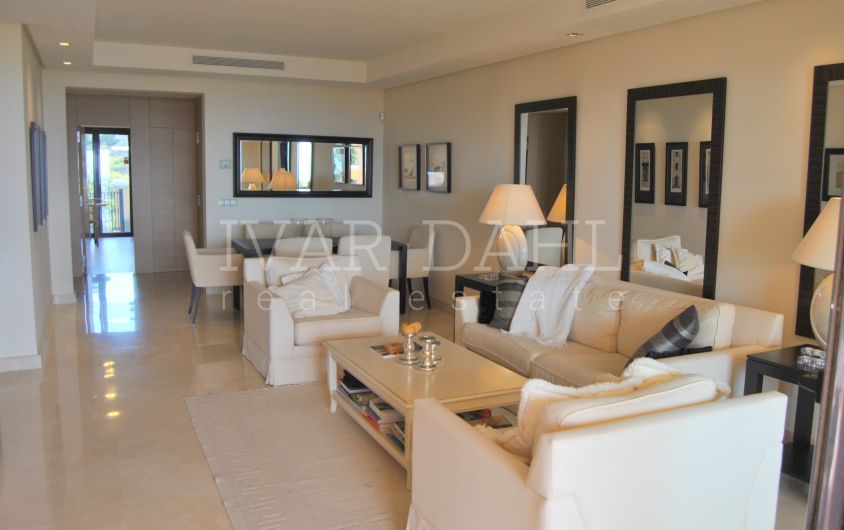 A beautiful South facing apartment situated in a small complex of Buenavista de la Quinta. The property consists of a large living/dining room with fireplace and access to mostly covered terrace offering sea ...
2

bedrooms

2

bathrooms

139m²

built

35m²

terrace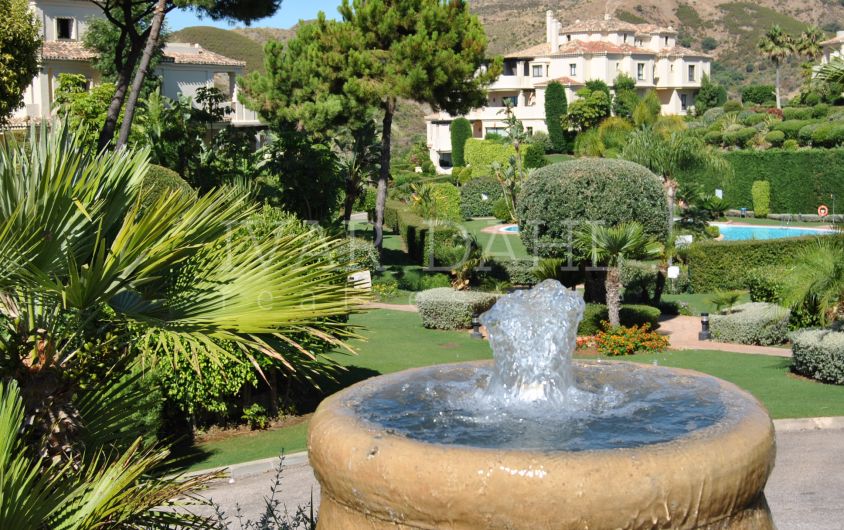 A great place to live permanently or for vacations. Set closed with 24 hours security, a large pool and 4 small plus a heated and covered pool plus there is sauna, gymnasium and jacuzzi.Apartment is on the ...
2

bedrooms

2

bathrooms

118m²

built

51m²

terrace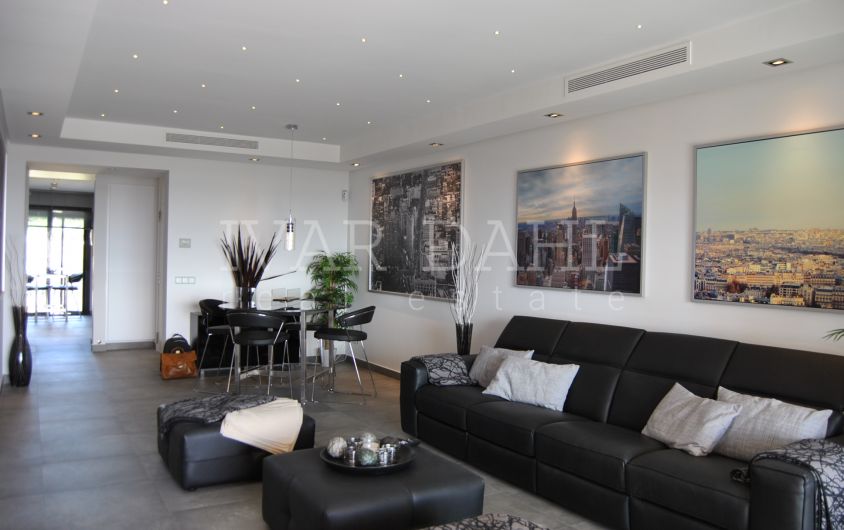 A superb luxury top floor apartment offering the most spectacular views over the area and down to the sea. Built to an extremely high specification, this apartment has underfloor heating in the bathrooms, high ...
2

bedrooms

2

bathrooms

157m²

built

34m²

terrace