Villa for sale in Las Lomas del Marbella Club, Marbella Golden Mile, Costa del Sol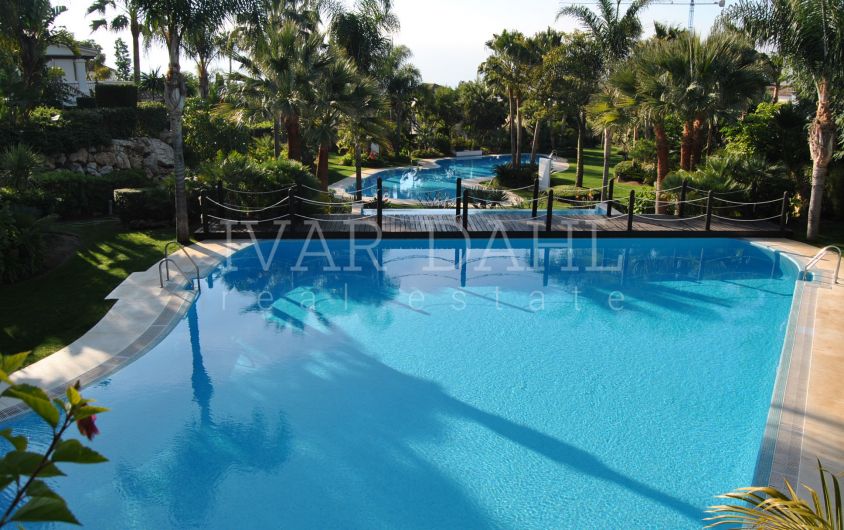 //media.inmobalia.com/imgV1/B8vEv5Xh8DZJ8zA8HsKlVQQovHvPS2nS1REiasNjjf37J7WfKOkiQxSIhRrnU2OBFkknCXNFUkYS7Hh9o9IZ_QJ9eIkyovPRDMrHqQ~NqrgQQ4_u6xBPMla3H6iy90zXsxZ~vZ3Q0yyrAdYu1IlXilmhYkWEV86YXjaji1YGHut1WxUQgKCaGfAnRsCSn~F5Dp83Pdx7TXzumLihxaizpr9nW72MiJGMRNNryK6NztYIwRXSBuvBWq0hmqrIkanEIKCr2eikj22BaUdcrF4m201DJb4Uag677llTJ~9NrHRnqCnrbVS4w1PS6qZfIi6HAwc-.jpg
//media.inmobalia.com/imgV1/B8vEv5Xh8DZJ8zA8HsKlVQQovHvPS2nS1REiasNjjf37J7WfKOkiQxSIhRrnU2OBFkknCXNFUkYS7Hh9o9IZ_QJ9eIkyovPRDMrHqQm8hpU5n_mtw6jE_woBqx38PgcOAqKtCwKiW7FxZGuBZ3Kptg6PTM0FdrcCKHa8y5ACOnNvPsdPglHIlI374vbk8lFko1139ZS2nLh5C1ao2kqKwpy1BR5E0gpV8dPdhqX4ydrKrI9wbWw3eeeYEan36h~LgXKs5~WK2hRJ4_I_spfQK249KBeb0LM03ldIhWmIN~9aro2RDExFMgzrYKhxk9SY8OA-.jpg
//media.inmobalia.com/imgV1/B8vEv5Xh8DZJ8zA8HsKlVQQovHvPS2nS1REiasNjjf37J7WfKOkiQxSIhRrnU2OBFkknCXNFUkYS7Hh9o9IZ_QJ9eIkyovPRDMrHqQ4ZFbEEO8F6o129YB_KVJEYT5UCR2~4O3pdi60tbG~rS6m0Io2t4XWZ7Zhz3kSpYKJtEFC9MtHfj~Bn5jnlo96r2JdtzkgKeCzGh60PCpyrpsXU6TI3U_u7~bgTFcFR2uZV6SRWAtFbOU4dvCRwCrxeDVQo3M4R7xLYpUx4Te1oOTZ7jZYDwrezaLG8dfiKqR8_v~lCT_hnGZ0Zu0Dp2nx7Cb8ec3s-.jpg
//media.inmobalia.com/imgV1/B8vEv5Xh8DZJ8zA8HsKlVQQovHvPS2nS1REiasNjjf37J7WfKOkiQxSIhRrnU2OBFkknCXNFUkYS7Hh9o9IZ_QJ9eIkyovPRDMrHqQm_FGiYPPAWUvKluHBV~Gu_wzjn5J4CtXvXp2M8QvL4wjdnbGM7tp6Noaz~gagsd0hDqVNLN1rquz5G3xxL75xnRWcfDyrphv8cB~FNlu_zQP7ZVCE~kqxk12eu6ih4rxGC998pYoRZYZMHptgo9aaFwNX0yLt3DXdbp5NbO1~j5lZTZFA_vKRavvC~65n9Jr1naCl7zaDvfMPoVB9pnOp9IEuRQH4-.jpg
//media.inmobalia.com/imgV1/B8vEv5Xh8DZJ8zA8HsKlVQQovHvPS2nS1REiasNjjf37J7WfKOkiQxSIhRrnU2OBFkknCXNFUkYS7Hh9o9IZ_QJ9eIkyovPRDMrHqV5KLDRxiliSIbaBkxjobVgzNm_P7yfO7eb4dUVFosfTah_kLJxV9al0wcyhMOp1k~SZw0IPUkF79f~WdkUG9CvpgpYZbvhHkV47DVsFuu_h1xg1MQyCuBqU88MdsDlHSIrBh_1mEySRoJoMPLZrhJEFqJHB3m_QNsUno3qlPxK3CYX6v9JvCMmajyvuPT3235zA02bZj_o8Q_WhXL6QAyRhtsZ9r0g-.jpg
//media.inmobalia.com/imgV1/B8vEv5Xh8DZJ8zA8HsKlVQQovHvPS2nS1REiasNjjf37J7WfKOkiQxSIhRrnU2OBFkknCXNFUkYS7Hh9o9IZ_QJ9eIkyovPRDMrHqVl8rnzxn9KX3FPdFB4R8SlzGlXKjQRizWynL_u10YbxJOZhGn2Sl0d~VTPOnlLsI5zKh2WqxM5XAu74kk1EXGHrAhamfbmiNZfzKjc~KThui~A4o1frLdRJW0etZHBligx9nvMYCoqfWIasu1ava~M2MDDES6c2Vfjn40NqUpY~ivneI1lCH6ojXSUEi9cpkbnQbO9ZKxLCMco6pzN6o3wyZnc~DFI-.jpg
//media.inmobalia.com/imgV1/B8vEv5Xh8DZJ8zA8HsKlVQQovHvPS2nS1REiasNjjf37J7WfKOkiQxSIhRrnU2OBFkknCXNFUkYS7Hh9o9IZ_QJ9eIkyovPRDMrHqQ_XL~OYGsSMuxrl6GELf~IlJu6GPqXqotDbW1~puwwlg6Zj3Iz~q3Pj9y4tItb_oLR_q9E0cZMJXUkCibMwBWzofgV4tk1lChQwGpAmfIJPJTPl3Kj~aBSkwn~H03~Sq9R1sa~ixU0Z5Betmv5bdpzKwYag5ACCTSZ2u_zmY3B~w72yDEozexDZ3HGf9~hvpd_p236Y0dSAXtRcAZtdfVn06x976f8-.jpg
//media.inmobalia.com/imgV1/B8vEv5Xh8DZJ8zA8HsKlVQQovHvPS2nS1REiasNjjf37J7WfKOkiQxSIhRrnU2OBFkknCXNFUkYS7Hh9o9IZ_QJ9eIkyovPRDMrHqVheXaRbrebSN45nAwouAN7ZI~dBd6l0IRaEuDLUDlfTc0BNKMsdKGan2pm_l~0_~Uk8Rad8k25BM97_iIxhNViAAlyailujXFKIXOTnJt_VTTd48fcX~SndyK2usRu0DyccTEVBagqgSmy0fYDvHOp1KkM4BEjmHGLbHsx2E8K__J03I6r8lgHfkJq0Jrq0ux8jEiRnhFwayhbj2IL9XhJQBzJ4luY-.jpg
//media.inmobalia.com/imgV1/B8vEv5Xh8DZJ8zA8HsKlVQQovHvPS2nS1REiasNjjf37J7WfKOkiQxSIhRrnU2OBFkknCXNFUkYS7Hh9o9IZ_QJ9eIkyovPRDMrHqQ4ZEtSRaKoGH__fLG7y4shK56bHgVgnrjwyKHCLZW8RmIgcIbvau3ZfP5HUZKthLjq2kLT8k9hDnlyC3SXBlqt8EaoccormodoFJI8DAMSOUiQvcLvc36bu1_pPitCwkSHjwP7XI17w002j9llitzbPq4g5VwYwvnGRZU_ItAjPcqa09TDW5PAnUiB5I5Xkcq5R2pSTQx2SgL~A5O~LA_pPbQ66mL4-.jpg
//media.inmobalia.com/imgV1/B8vEv5Xh8DZJ8zA8HsKlVQQovHvPS2nS1REiasNjjf37J7WfKOkiQxSIhRrnU2OBFkknCXNFUkYS7Hh9o9IZ_QJ9eIkyovPRDMrHqQ4cuEb9hJYSIi~8yeycjcIguNVEz7iUtHExb5y6YLvayVUgv9yGJTg4XUmkd_GEVuRwOXxaXGtahI1BDHQGIxgzfCfI~5mHp0CA_kEl70m4vRSP02BA9Y2PbJUuQCwcEe1L1wSkCpGrlA7laMHskOvUrfqhkkv6akkOFsEmZ4DsJ3Ju7rwi6lvoFs_UsGe_VuHdsi8maAH~XvYlKQH2e55IVWQgU_c-.jpg
//media.inmobalia.com/imgV1/B8vEv5Xh8DZJ8zA8HsKlVQQovHvPS2nS1REiasNjjf37J7WfKOkiQxSIhRrnU2OBFkknCXNFUkYS7Hh9o9IZ_QJ9eIkyovPRDMrHqQsPuPcusLuQEBHRhrkelWm2t7e_MvT9FswEFvt57q6MWUGaO0ije3YyCd3BpFelKmv6fMRrH_b9ZacQy145hqo9nnn1mmu3Y3EhvW~YzNcnBlm7bjFEdeaGQNA1B5YeW28B1QFP2igZyEqt8SIC8jbpb~FulZP_D31Ucrz5m8uOVpXj0CciNvWe0~d34QYIntVXJlgS1z4gNpqtk4RpuILYOO4tLfE-.jpg
//media.inmobalia.com/imgV1/B8vEv5Xh8DZJ8zA8HsKlVQQovHvPS2nS1REiasNjjf37J7WfKOkiQxSIhRrnU2OBFkknCXNFUkYS7Hh9o9IZ_QJ9eIkyovPRDMrHqQiqp_DEHS7_461Z_OJgE7m9HVlUkTcNeaapXc4GlW3qSgQBsJh1A_9fH6rwRnrgb_iMvOQ8JSMyTLJGDlZNRByN_VBO5ICllXUrunCg4WLYSLycsXues~yIxNdkykl08~j_CnUnPtHXdMNAQRP1lHHfoQWqRpdtFpMOAT0rGYbhvxZBudaaaiqd4U0Qf0WJBZtAA~0SsaGP8iD4AyVOHTpnAThtnTg-.jpg
//media.inmobalia.com/imgV1/B8vEv5Xh8DZJ8zA8HsKlVQQovHvPS2nS1REiasNjjf37J7WfKOkiQxSIhRrnU2OBFkknCXNFUkYS7Hh9o9IZ_QJ9eIkyovPRDMrHqQ5BU5_Veqz1af8RHF0953U~fmeKU3JDntb1GTQQlRnfSpIp_2JOHUDSZXtBvpCFS7hJyjkpdtVrjbKWHIhHEckuOajnDWOPUpxce5wCzz7ZeTWYx9VUJGLjxGC6vDwU1cN9ysdMuOhoGvGIOBbiNSMYZVMQ20Y8uI1cY5Jk6onZiKt5wHb_Cu9Gxh8BBKlQtNqYAB_v06pm9tkQJimcHgAWbHVUVpc-.jpg
//media.inmobalia.com/imgV1/B8vEv5Xh8DZJ8zA8HsKlVQQovHvPS2nS1REiasNjjf37J7WfKOkiQxSIhRrnU2OBFkknCXNFUkYS7Hh9o9IZ_QJ9eIkyovPRDMrHqV2WEWylSxtR0n2u~7N2~nPZq36kQZDaO8K~oiUWS7~lyfHdQor~H3EdXHmv30oXG5G6GU7QgGOh0BkLNQpjt0aDhtCn6CwSK~QI~dPFXwEIuqIp6gbC_I1aRj7JByt~Jz4RTH0NoaY5IMKJADnbxYycgi3KEwRJYrRlVPAD1ZLiPaLzyH6qJ7vGQzuJgX8bIoEqRZa4ZMOTuA8OGRsF1VOUC~9U3OE-.jpg
//media.inmobalia.com/imgV1/B8vEv5Xh8DZJ8zA8HsKlVQQovHvPS2nS1REiasNjjf37J7WfKOkiQxSIhRrnU2OBFkknCXNFUkYS7Hh9o9IZ_QJ9eIkyovPRDMrHqQ4cuaYYeM7bpz4GXzs8kCantQZzJu5wX4rodXAUxVEO1~SJNp8h8UsIY5NLaBCCy9m7UsktsO5xIGh9Sq6AfRirI15x2kcKITQAT2L8kDQJ5dF9Str2QbuHQ1bxLBrhx_LQF~hZmR67Kw8DX63SMrnxKck8FfWyzvnQKLpcjNB8wjNWosWcK7xuwhUXRK0SAyHDb2ZgAJPUlCjprrFyDINWElVK6ng-.jpg
//media.inmobalia.com/imgV1/B8vEv5Xh8DZJ8zA8HsKlVQQovHvPS2nS1REiasNjjf37J7WfKOkiQxSIhRrnU2OBFkknCXNFUkYS7Hh9o9IZ_QJ9eIkyovPRDMrHqV8erz~YJLkp8Ugqw~HULoF0sbmp4ipolLMfYVV6wDMQopsIta_qGw4d4EuSAtdsZvdXpfMq7xdCoMfccAkfisrBgUzGziwxVKkgPCXvYVv8SJ4bMrU5KsUtP5tR5C8VSobk0C4i7fIRS6O_MA5kit7FPMR~Sm5mHVWoj8XFv56SyXGiOnUX7XxRKERuoN9HgDsrivXctfY_5Z~uGSuT16nZMrAezew-.jpg
//media.inmobalia.com/imgV1/B8vEv5Xh8DZJ8zA8HsKlVQQovHvPS2nS1REiasNjjf37J7WfKOkiQxSIhRrnU2OBFkknCXNFUkYS7Hh9o9IZ_QJ9eIkyovPRDMrHqQ_XJ8k8yp1T9W_lWk6uHCjTon61ABS~sJAecPMjrgwyJFHerSaIrMG0ewwoz7hFL7RyEZKWe4bYLMww_9E5DHcPY2mddEl7lBX3TSdIbn7aUp1U7M5rmjdFUjPuWVikle1lrb2yJpBTB8Bh4sBfJrrvrBul_HnqokYnl3sq6AyX7aWNE_WRKoU7zfVNcIFkqxJuR48yG0bq_M3V_dBla6VZYhqqIcg-.jpg
//media.inmobalia.com/imgV1/B8vEv5Xh8DZJ8zA8HsKlVQQovHvPS2nS1REiasNjjf37J7WfKOkiQxSIhRrnU2OBFkknCXNFUkYS7Hh9o9IZ_QJ9eIkyovPRDMrHqVtNhaicuVDUyrVf2s~iV8kO9QURCw0yinYLF_lg8Rhd9w4Dcebh5~ARBxnOnRrG4KYX5OOOncVd78Ylri14LjnQm3OQZH50Qw26vdNlrtC02hfRqbc2cGro00p91~cQHxeDfQBcKNqBZABaZmKSbt0267DLuM62kxtQfeaWgtGsMT5GAFGb05tPu0XUfcRXZpP3yoatJhpVSS3HOQwwQFxaRd_yALg-.jpg
//media.inmobalia.com/imgV1/B8vEv5Xh8DZJ8zA8HsKlVQQovHvPS2nS1REiasNjjf37J7WfKOkiQxSIhRrnU2OBFkknCXNFUkYS7Hh9o9IZ_QJ9eIkyovPRDMrHqVsRxvcpHNrImhz3G~bMxOocbRrTz6f7AUolXpS2e4OIEgyw2DEUA~J4onDH4wRu~1tIPOQGV34_54VmNDBcg_yuRpyElj6tayMd4p69sNmJxJFuZPryt7st2ScajaEx3X0o92opYm2acLr3B~I3fL4TeQeINNJKPZNLfoEHHufA82DVdZdas3y~8FzL_6stdOuNeFQmrsxZr8KX12uu6q7xB1isiT8-.jpg
//media.inmobalia.com/imgV1/B8vEv5Xh8DZJ8zA8HsKlVQQovHvPS2nS1REiasNjjf37J7WfKOkiQxSIhRrnU2OBFkknCXNFUkYS7Hh9o9IZ_QJ9eIkyovPRDMrHqQsIA6bXslb4xRdhuDcBLyED9Iyjp7RrS9RVzQexEO2S99xmm1~d2pL7I_Vs5AZkBOUWVsa2DKcU5aJYLjM2bdcYt0VsuMO8lSijdJ2defDNqABw3mzAgJqbdv_up_WW6HbgETM3sVA_WsKHKAk6UV4Saw8HnDopbZODMIp0G2BaPnOxd04UWLpYrw66gxFhuXSb6Z0hv2PYHtPqHV~ropLz2wL79iY-.jpg
//media.inmobalia.com/imgV1/B8vEv5Xh8DZJ8zA8HsKlVQQovHvPS2nS1REiasNjjf37J7WfKOkiQxSIhRrnU2OBFkknCXNFUkYS7Hh9o9IZ_QJ9eIkyovPRDMrHqQ4ZEoPHp5IONRqI981G1zNcRDNxEZXAo4xBw3qAozuWSeFEcrC0Dy93z5ip_Vh9~voYthBNGaTTvrfqAw_tuoLg~ZMUAfAP1cWoSDmvTlTPwKWwQnUgU3lCcLqS26V~IF1297Diugx1EQwMyrCdlc8rnWQ1SbmW7fbBBRRWcO0cEGTzshv3hAwQwblc1FbkYRp9XXy5XUgh4NgFGGl9uJaOBTNtRes-.jpg
//media.inmobalia.com/imgV1/B8vEv5Xh8DZJ8zA8HsKlVQQovHvPS2nS1REiasNjjf37J7WfKOkiQxSIhRrnU2OBFkknCXNFUkYS7Hh9o9IZ_QJ9eIkyovPRDMrHqV5P2go9F77AMGOaIJkPXPWLcZ7Pf_QJsfUBhi3kdMPxkEyBpVfNgCoKMeG_r~9xbrVNheVZHML3Ipvu~GAs8xxLftpGmjDLiVtHQAFKIQd3_gI_0R~5Jg33vkuK2unY1YfAuBD8fRlz0KZQNuSwS69GZWDCiToZrfNF8eKo9kST_erRPlry68gRQ0NcUG6fqwetxugHzE2cukrY6pyPN_aHdcSJVD0-.jpg
//media.inmobalia.com/imgV1/B8vEv5Xh8DZJ8zA8HsKlVQQovHvPS2nS1REiasNjjf37J7WfKOkiQxSIhRrnU2OBFkknCXNFUkYS7Hh9o9IZ_QJ9eIkyovPRDMrHqV9NEN4z~7IFwVKd8KoOB55QBpFtzOlgIpentfD2CRTQz8uBaRz8_Ngu7n_cucPlx~77aYWocezv0SZWbU28jnGXIu4CvLaQ0wz2eTFB73YODbfIXMfFh4VpqCrQZKPSgXzPQ_NWhC7UhTMBRQxHyGLLea75yOwjNpK2fMDL8OtC2s~j32WobPpWcGSz5F9PlCJk6RLZbkNAhUVLM78Z~JU1dpOlWjI-.jpg
//media.inmobalia.com/imgV1/B8vEv5Xh8DZJ8zA8HsKlVQQovHvPS2nS1REiasNjjf37J7WfKOkiQxSIhRrnU2OBFkknCXNFUkYS7Hh9o9IZ_QJ9eIkyovPRDMrHqQ4exxO7A0JHkKmXpuQ5Kkp~r8vx5~k_DYAkziQEDdwABw0WQmEYSHYan4U~45cmSQhzS_0ci3v1y4~f0Xjjihx7~baEgHtKZE8i8E5jpPlkhX_BTdqJbAWtNEw4h_QgInqZtOyemY_bx~gB~d5KQz75nzlGAvjgEm7OwJxOoxAaixGKEa2CvISuCen4ClIJPmB_C4TgVWxEs0yj3Bunx253POsbMd4-.jpg
//media.inmobalia.com/imgV1/B8vEv5Xh8DZJ8zA8HsKlVQQovHvPS2nS1REiasNjjf37J7WfKOkiQxSIhRrnU2OBFkknCXNFUkYS7Hh9o9IZ_QJ9eIkyovPRDMrHqVl4vB4hthfIE0s_KZcUsu4hi_48gR6lFQbOsS2RBQfrOHIdhu6WDmPO~IKaH5g0DJoWXVCndIGza5mK7pKQOIJ5ptYVgXDB~0yFI91UCgDNGq_bgda~AGBiP4mmglAKipRRjxDYDxMVNSBgw9MHSpuk0SCvwQHvWPMHma0ye8uJuuZzHNfxVPCHZgVQJd_mXPzi0ptAL9PZHzI5fRupz31_G3EG4UU-.jpg
//media.inmobalia.com/imgV1/B8vEv5Xh8DZJ8zA8HsKlVQQovHvPS2nS1REiasNjjf37J7WfKOkiQxSIhRrnU2OBFkknCXNFUkYS7Hh9o9IZ_QJ9eIkyovPRDMrHqQ5OlHg4R23nQIwKOEABMwZ97Zsnjmi0dDlhT_7TWXIKRYUX7yh2aweOv636jGTJa7UUa59ta4vaRZg0geB1HQ94HU~AsTRWNIG2VIY8LEJp~AQ4shxAihoOFFbQtFbVk_9Q~5ArIcaVBP~7MqGBzqNl91FW2aZZ_AKMC9pTmmb1tue4KgPbzhRBXjS5IpuY4TWed2QdZyP4XKAPn8qZ9jYFjmAnWss-.jpg
//media.inmobalia.com/imgV1/B8vEv5Xh8DZJ8zA8HsKlVQQovHvPS2nS1REiasNjjf37J7WfKOkiQxSIhRrnU2OBFkknCXNFUkYS7Hh9o9IZ_QJ9eIkyovPRDMrHqVl7VPkMTDBwjlnDe0ixBAEd4qH0XXrPUeVfl9ihszvscZP0noNOUo7VrOxeuevL7amNplixQfw610SlbAyNAqthnax7Zmmkt3~rd9NJStW3sYYEPvVKm_s9qrAY8wjd6xbcU0pZp_xU8uAktshBJYLNXkXrwacQZw6DCY1z0oZoCQiD7twtH~jo5MvGYkIk4iACcZ0uMND5MzOP6feqW1pSHkntMQQ-.jpg
//media.inmobalia.com/imgV1/B8vEv5Xh8DZJ8zA8HsKlVQQovHvPS2nS1REiasNjjf37J7WfKOkiQxSIhRrnU2OBFkknCXNFUkYS7Hh9o9IZ_QJ9eIkyovPRDMrHqVr88B68O5N5CkD8zmJXDDMON1C1cP8lQjst9cIqKY3gVaqO_CdLlAdhQ4zONt321Mrwnv1s4wpqOpXtV7xIskdeXFbjSu6mAwHa1eMPNIFwzKVGwhy6b59SlFBXSdNEZmTfolEyXh716cCYHXIBvoSQxMojtG3zJ2oSjsxdk_pcp4Lv0YE8dil_PE7grbLeKVJqZndUSYzXXBqdu9YiZVTqHxLVYrc-.jpg
//media.inmobalia.com/imgV1/B8vEv5Xh8DZJ8zA8HsKlVQQovHvPS2nS1REiasNjjf37J7WfKOkiQxSIhRrnU2OBFkknCXNFUkYS7Hh9o9IZ_QJ9eIkyovPRDMrHqVqtDePtiRp0N8WbJ8RUEe5FONJIR48rliko~YFzicLHpgteSFTDXpnDpl0l5s5OEKEFb3Lwhkljxa5WWt3Sn~nMT5jh9BmO9N_cZnyAKTYvMeAyQanR4jHZzsnLKK~hqP4S~cqVzN_ScpuRbvjjiWJ0XQGOkpWzGKM65AnTD5SUdro8Q8hTZ9Zp0WDk89IEKHpc1598UsUF2hW6ypoaM7y2fYYCy4c-.jpg
//media.inmobalia.com/imgV1/B8vEv5Xh8DZJ8zA8HsKlVQQovHvPS2nS1REiasNjjf37J7WfKOkiQxSIhRrnU2OBFkknCXNFUkYS7Hh9o9IZ_QJ9eIkyovPRDMrHqVyxvjDh4Se12MnADmLsxwintPg4en30rENmkNZhRigRHlh8u7Eac_aqyxQyQB4EzZAehcHn6Vp1srapPLNPZSbGCGwsilu3x89wBs0GckXkCf1w22EatjhYxJ0uZ_H5HE~Zze0vGvM5f0YD_CiyvcaJeeJwkBCbY2uylBHbL1NBt_Jlhiikbphxu1jaZY4USp75JFkqoynaIMw73msn0fNWLp6u5bA-.jpg
//media.inmobalia.com/imgV1/B8vEv5Xh8DZJ8zA8HsKlVQQovHvPS2nS1REiasNjjf37J7WfKOkiQxSIhRrnU2OBFkknCXNFUkYS7Hh9o9IZ_QJ9eIkyovPRDMrHqQm7jjw5BZ2cJGoUfILGjH3FGW4tOGh0w7UkTjd5G_w7yNmA9~2hRgBwWeeiwdE6WrCYqq_gwk3VrHrNLzoHpLfubgbeEaKKwubhdMLyOvF7sEIJ_AVR0mFN7lSnanKTpMbCpBR5vMGEn_vUegOGvhEIUV01eNE7PD25a7Fix2~i2GVU7F3SusC0Fxkp_HgLzl0Bia1ZbDV5f2uKY_Dqk9qmuba145c-.jpg
//media.inmobalia.com/imgV1/B8vEv5Xh8DZJ8zA8HsKlVQQovHvPS2nS1REiasNjjf37J7WfKOkiQxSIhRrnU2OBFkknCXNFUkYS7Hh9o9IZ_QJ9eIkyovPRDMrHqVkkPiOQznDXJmqL1WiUUIbLLwyZXEwKbLz_XNq2XLUmneoGNAkUVg3GhiFFTWg6V0_uXn9NjdB68A159y4ZEu2e9GXhrpAvYUtl7HfnF00yTKIeKuZ0lGzRbmUBooxRO0OSlO83sQNqmwCmlnx3fkEn89YDiUoJCOPYgOqE1C33tRSOj7oV8KeNiZo9RQQ29SvbWbzNhPKV7NiVwpEjCQc5EQN1rOY-.jpg
//media.inmobalia.com/imgV1/B8vEv5Xh8DZJ8zA8HsKlVQQovHvPS2nS1REiasNjjf37J7WfKOkiQxSIhRrnU2OBFkknCXNFUkYS7Hh9o9IZ_QJ9eIkyovPRDMrHqV2bZNtgA9ujBVeDb9~1QYcXYnIvBWaFPOWk5liSaV~_4sLos10abO4ThLurGSOdEdENB4vfKXpYFaLBBAzc5AIcfWC6FaM1e3pJz5pkhjaHEJoQ3eKkl3itSnjEaJQ7bo8_~lROsBdAUhnFX6vEb8ZBORLj8zTWy8XPnza0kR7eC8JiUEqLbARUH9aunxwpwf1vBuPI0rqxv2FBTTg0PtPR3mQ9bcE-.jpg
//media.inmobalia.com/imgV1/B8vEv5Xh8DZJ8zA8HsKlVQQovHvPS2nS1REiasNjjf37J7WfKOkiQxSIhRrnU2OBFkknCXNFUkYS7Hh9o9IZ_QJ9eIkyovPRDMrHqQ~AlDAFc5CDlKG84QYA7_3QWrotTTTvqqbgTljpS2MHiF2nytPbCJi8c8fyn5VvlFRM0rl3Xr9uOUFJFw8Um2JSn9PB3dO4j9NRMVlIK9DHvi9jFoHjmnWiZ5pGBzcOcHoeYREFs1k0sq1BZjYFlIhbOwl44zTgdJdewWZBO5S1yF4b1cwtRUXdeIXA9skUuls7QVPyIJzcQ3fC~t1OM9BUPpX_9PU-.jpg
//media.inmobalia.com/imgV1/B8vEv5Xh8DZJ8zA8HsKlVQQovHvPS2nS1REiasNjjf37J7WfKOkiQxSIhRrnU2OBFkknCXNFUkYS7Hh9o9IZ_QJ9eIkyovPRDMrHqQj~GHmpJhBi08v6K__xITOhQyXxMn7eU_9uhRss_ywQW4OcEoWC1AZHayPiIUQ8Qv_NukhJOkW62udZ_VzQaeERB2eoYsR60C7KuPq0lK3f2KbDK2~d2kA62M3R84swE8XoEcrn~E3iijm8QGNI1LI~BbxJpcmOXvl95wKfbhrcD5yTy9_HDvy8fGR3kcOihRWgFx9aeTX9nEcUAcDP2R67PubcfmQ-.jpg
Price

2.000.000 €

Ref.

5022

bedrooms

4

bathrooms

5

Built

522 m²
Villa in Las Lomas del Marbella Club, Marbella Golden Mile
Villa for sale in Las Lomas del Marbella Club, Marbella Golden Mile . Lovely family home in urbanization Las Lomas de Magna Marbella. A gated community with 24 hour security, total of 18 villas, with beautifulcommunity gardens and a spacious pool area. On the main level; entrance hall, large living room, separate dining room, a large, covered South and West facing terrace, fully equipped kitchen, a guest toilet and a bedroom en suite. Upstairs master bedroom en suite and second bedroom en suite, large sunny open terrace with sea views and views to the beautiful gardens and pool area. In the basement there is another living room with kitchenette, bedroom en suite, bathroom and a multipurpose room, laundry room and garage for two cars. The villa is equipped with air conditioning hot / cold and under floor heating throughout the house. Marble and wooden floors. Living area 342 m2. Enclosed 393m2 and terraces 129m2.
Features
Close to port
Close to schools
Surveillance cameras
Utility room
Marble floors
Basement
Storage room
Security entrance
Dining room
Mountainside
Security service 24h
Guest toilet
Private terrace
Kitchen equipped
Living room
Sea view
Mountain view
Underfloor heating (throughout)
Automatic irrigation system
Laundry room
Covered terrace
Fitted wardrobes
Gated community
Air conditioning
Garden view
Pool view
Unfurnished
Close to Golf
Uncovered terrace
Separate dining room
Wooden floors
Good condition
Similar Properties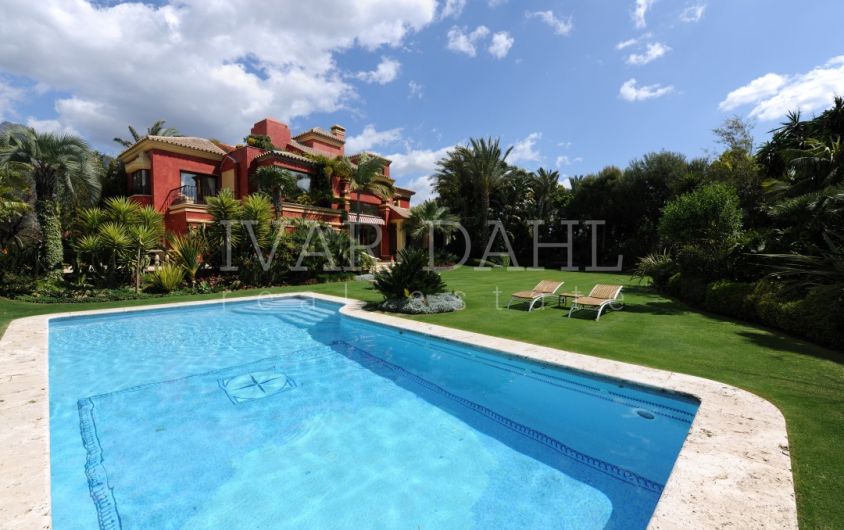 Villa for sale in Altos de Puente Romano, Marbella with 5 bedrooms, 5 bathrooms, 5 en suite bathrooms, 1 toilet and with orientation south, with private swimming pool, private garage and private garden. ...
5

bedrooms

5

bathrooms

1.229m²

built

2.029m²

plot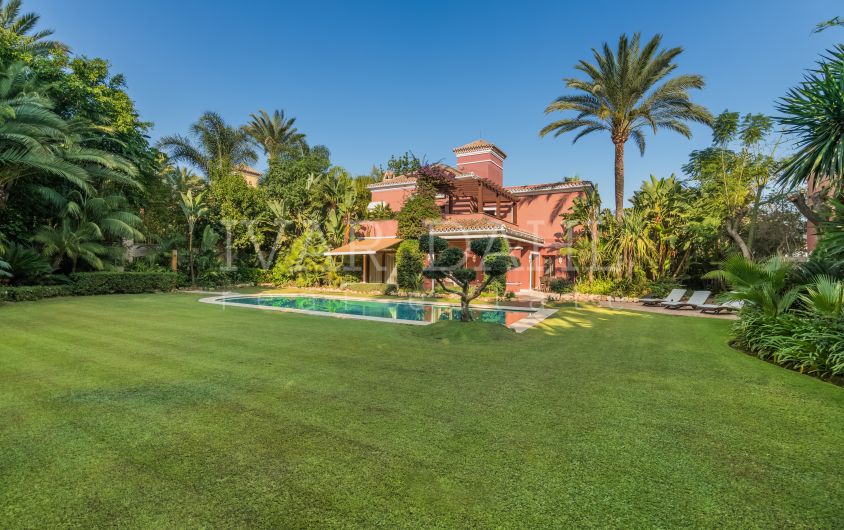 This is not just a magnificent property set in prime location with exceptional sea and mountain views. It is a privileged Mediterranean lifestyle in the fascinating natural environment.The architectural beauty ...
6

bedrooms

6

bathrooms

918m²

built

1.365m²

plot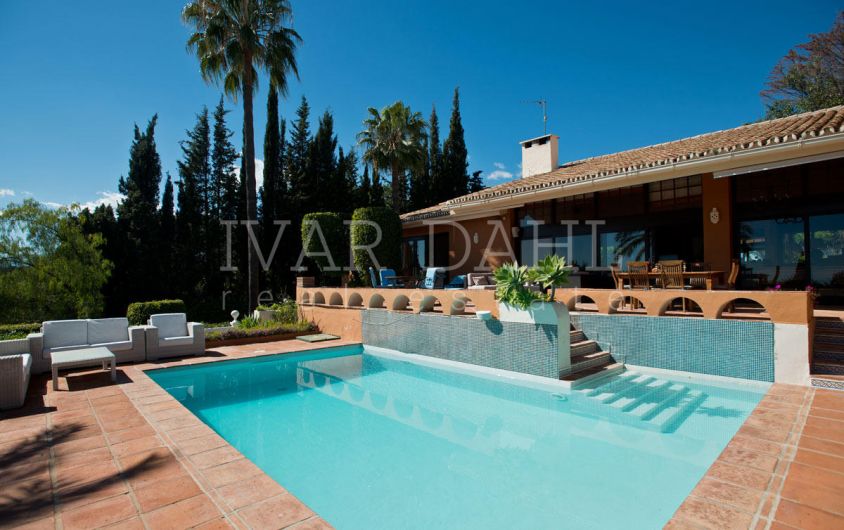 Villa in Marbella Golden Mile with 4 bedrooms and 3 bathrooms. Lovely family villa for sale in residential urbanization located on the Golden Mile of Marbella within 5 minutes´drive to Marbella centre and ...
4

bedrooms

3

bathrooms

315m²

built

1.058m²

plot