Penthouse with sea views in Calahonda Golf, Sitio de Calahonda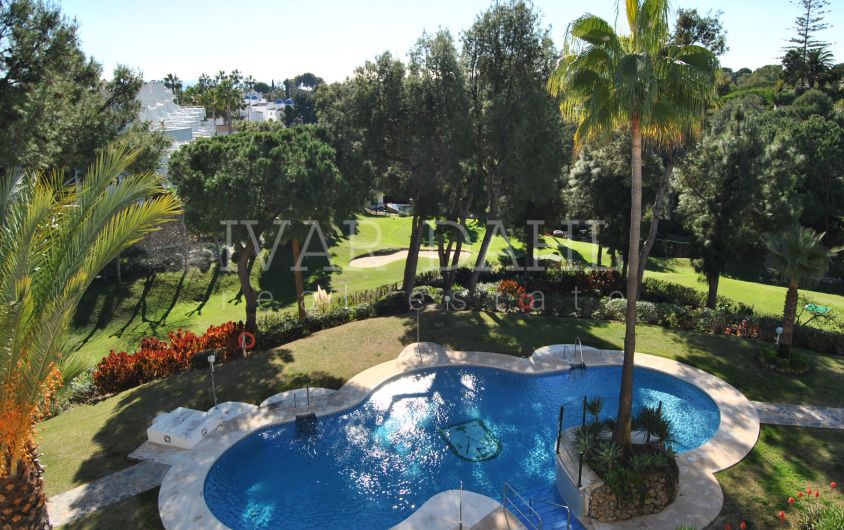 //media.inmobalia.com/imgV1/B8vEv5Xh8DZJ8zA8HsKlVQQovHvPS2nS1REiasNjjf37J7WfKOkiQxSIhRrnU2OBFkknCXNFUkYS7Hh9o9IZ_QJ9eIkyovPRDR4t2kYWWzoD3hNYybV81mtIFf3c0MqJrld0QnYIAas2vuoPgbQnBX5BsfjAe9~5REmtcXtc_F6jUFnazWU8KXteN_U94QYx8_uTkN7eTH8nstL~2UjsrXvk_heZtu1HEhsKdzmuea3PzjXeM1RYpUbuPZY2RgffzXdKn9rFhBxjKyFnETJ_9mXIWlaA46BkH0ak~h1qWJBXGGAG8RvOcTyfCXpE81fbdj8-.jpg
//media.inmobalia.com/imgV1/B8vEv5Xh8DZJ8zA8HsKlVQQovHvPS2nS1REiasNjjf37J7WfKOkiQxSIhRrnU2OBFkknCXNFUkYS7Hh9o9IZ_QJ9eIkyovPRDR4t2kXT1M4eD3oO3sh4DRDTJUVwOwBEOdT2X6MZolAkeK3eOi1cxm33quVuNYuO6oK2C1BNzUUDc4WI~lHtO0rsIDkCHnueHWnGNhbYRu6x95oT9s~RUDNIjAKxWGQTWYN1h7ZhNXD~~EZ5XOrpB2EmNpLhfVWzUcMrn8f53Rl3KqARVil~nOeZd7YQCiAbABREzjFisAY9RCVDBJIvzEluUc0QsbiX7EQ-.jpg
//media.inmobalia.com/imgV1/B8vEv5Xh8DZJ8zA8HsKlVQQovHvPS2nS1REiasNjjf37J7WfKOkiQxSIhRrnU2OBFkknCXNFUkYS7Hh9o9IZ_QJ9eIkyovPRDR4t2kIEKSNrr6eHEWfBTnNFP9bL4azUw9oFfTWY7qWCj1S_YkUIrdFMBOToIhRtE6oT4BIAsJoi6g6RCpZ5uaG34k9k~roqnn4TctE4bnzBoqbdpTwrhZzkLBIsY~vbxkaZJPJYJwf0UVQxCpzoe5T0aN_SxYnfsb3txahafUQ3u2ikeKo5P8iuXdG3TAZciDl~x02_l2fN7e~KWnm~JQETpXVu7C17Ra4-.jpg
//media.inmobalia.com/imgV1/B8vEv5Xh8DZJ8zA8HsKlVQQovHvPS2nS1REiasNjjf37J7WfKOkiQxSIhRrnU2OBFkknCXNFUkYS7Hh9o9IZ_QJ9eIkyovPRDR4t2kWFr9cS7mgcOP5SdSQPcAL41wPqzPIgRvCx~JwGaFxg7aklQ4q_RpXqHsnFo21KbLLxI_SZFVY7wzB5nUaTaQePNdue313slafq6D0ExqZZeyYEEszlQ_bG1HhHaapmsX2o1IV_01YCTLkJjg7G14rEE~65IIGV8fDh~EboWlE_~mwUcCL632F51pmfKKhgSj3yEvC5O8yfu8SeLwQVUMtck24l6Kw-.jpg
//media.inmobalia.com/imgV1/B8vEv5Xh8DZJ8zA8HsKlVQQovHvPS2nS1REiasNjjf37J7WfKOkiQxSIhRrnU2OBFkknCXNFUkYS7Hh9o9IZ_QJ9eIkyovPRDR4t2kF08hwGdTPaITmHZmFzTNGD2WL0aHt857uU9KFrCaFExZcGvUNVbk7uZyqqGrQqV6uXlheAecHfT6KcFhKHkjNAeo4gzTsoESyjqw94QCCUuOTskFqyUQCj92I0Wd95Qr0qbJGW2SgvR61eEPCMNY0dqmd7ipytfbXviHPNBs~pPiHfLjWSIoR~ox3BWKQ7H0mpLEZoombLy1N2VCTLvpnmK~~A3Yo-.jpg
//media.inmobalia.com/imgV1/B8vEv5Xh8DZJ8zA8HsKlVQQovHvPS2nS1REiasNjjf37J7WfKOkiQxSIhRrnU2OBFkknCXNFUkYS7Hh9o9IZ_QJ9eIkyovPRDR4t2hO_PrXO3s1WlDeVQnKlCuNkRugUzhm1s37GZiY_MHjY9xrkwjWyUEs9b~JfEWmdgdOAuiuUrMjhUgawfcQFZbh7nQPNz64Th~RGYt_xcklUsrAJqxt57nz6d~bTFXmntf2YYNRlYjVucgyULInCuvnx33CTHz0NSyYtlGL27i7uBdPy~cAp2xowWa81_otOojwUvw2PYVERyMvmmYmWV3isgJpb_As-.jpg
//media.inmobalia.com/imgV1/B8vEv5Xh8DZJ8zA8HsKlVQQovHvPS2nS1REiasNjjf37J7WfKOkiQxSIhRrnU2OBFkknCXNFUkYS7Hh9o9IZ_QJ9eIkyovPRDR4t2kEtrDehU5WK_3HjgW~8OQsVo~bZ4Rsl0ycwGIW9yymk5dwxAk~0J5ve0OBDMHEJ8J8~WCElaBfHeLTfCL3bLElZUH4WSAuT7hfgTFAXgXjsgkwBidQkXojgVvuqzIDKYeqLff94e5s9VaBvyAqOXCnWKGMXtAf_5ryebdtMv6hNuXMJ~ND8WaI91fm50Z3A3rHKtdqs~n13u514pUy6vGUSvfamZC8-.jpg
//media.inmobalia.com/imgV1/B8vEv5Xh8DZJ8zA8HsKlVQQovHvPS2nS1REiasNjjf37J7WfKOkiQxSIhRrnU2OBFkknCXNFUkYS7Hh9o9IZ_QJ9eIkyovPRDR4t2hcfZA8OrVfsjJChCqLn1~SlUxLPzNN_Lsuv2opziQpgzGE4lRTpDG93TaS7W~uE_hW46Q_KuUi0LtLeC8OGKY3pZv7J668aAxAhrn34rKmXBWfjKpukVoy1Hc8VIZQbGQE_fi3oxFEJzfxceoeBalmZFyaqy_QQCqYg4crFzXEM~ft~zTz7mUev2oVv8kcb4UWOB939KkjIzett~o9rzQXZMz0zmus-.jpg
//media.inmobalia.com/imgV1/B8vEv5Xh8DZJ8zA8HsKlVQQovHvPS2nS1REiasNjjf37J7WfKOkiQxSIhRrnU2OBFkknCXNFUkYS7Hh9o9IZ_QJ9eIkyovPRDR4t2hT5IsJvERwIJ8nNX57wQAHFDx0_bnEDLz_qdC~2~Dc8EouOpVxoHqIc63bDfP0pNtiuz27z5y~V9YioiEQKWcdg8VZzL83OsbwUd2fLWjJSwu7v16c64TLz6UclwIV6NxrMDzGDEgdY40p~eB62Zw9SJ_1a~ns1dog_toLKl19hKwfdZcSuRsvHmfTiFClJ0vW3sIg0YxFhMzCu5CAZ697_L72Ue3k-.jpg
//media.inmobalia.com/imgV1/B8vEv5Xh8DZJ8zA8HsKlVQQovHvPS2nS1REiasNjjf37J7WfKOkiQxSIhRrnU2OBFkknCXNFUkYS7Hh9o9IZ_QJ9eIkyovPRDR4t2keSg6JI7CsI6tLvMvisBJkU07heJh3obV00_BHd8UFlvqYPy8n9T8a6mDOJUfxEaV4ayeEvM5U~gKJZDCcazOS1~FId9CECp3vmNJ2mhQAzGlIUQ3RKVWt2GB3O4JycpLX6RioqrNrJ5ytQQ5bAl4t9bud5w1F738tlbDLbXbqJ~60uczXCtS9r3L8cpP340KvKPGvnxpqghuJn3qtvYK6ev3m9wV0-.jpg
//media.inmobalia.com/imgV1/B8vEv5Xh8DZJ8zA8HsKlVQQovHvPS2nS1REiasNjjf37J7WfKOkiQxSIhRrnU2OBFkknCXNFUkYS7Hh9o9IZ_QJ9eIkyovPRDR4t2h1hWjh8irOgPvLtZxJEv3szoXG2TwgM2gaDEDrajqlCRGPwq4jxTZ1KXf9THCFBpMS~kKop8wV_eXYmEJPGBBlfwNyPcM1N0_Sb6tdMfmcgXlNBGjsanx3hunu_d7QPNp5ACzdZTOuHNcII7YLT_Q9xqyzZmOEF6a~_zYZVZru33yWo3dY4EtwKM_yoC8fSpKnTtPQMhf5~3YFchdo3yjQbZw0Gk2A-.jpg
//media.inmobalia.com/imgV1/B8vEv5Xh8DZJ8zA8HsKlVQQovHvPS2nS1REiasNjjf37J7WfKOkiQxSIhRrnU2OBFkknCXNFUkYS7Hh9o9IZ_QJ9eIkyovPRDR4t2kXQl9aafUR9U9pziQPFJCwqi62DOAvbumG9moakL7xaB4M9wwkpsXxjlgSgHBHyMzQs_BEXTN9uZhx2aLGmOuQXlzI_rEXAwhnPWsYneFK1DJ_g_5Qwk_xtNDOHyidgoV_Sdksm5MlOHCckgaEkzp25ZtQT_680WG4XwI1xnAGpcszaXZQx~xNXMt9Ot~SXjXKCgMXGL6G2bouCvNo8i1QHfS7Lbn0-.jpg
//media.inmobalia.com/imgV1/B8vEv5Xh8DZJ8zA8HsKlVQQovHvPS2nS1REiasNjjf37J7WfKOkiQxSIhRrnU2OBFkknCXNFUkYS7Hh9o9IZ_QJ9eIkyovPRDR4t2hO4o4Iv2EY1R7Y_80Ix8RFGMlQUAO7R77ovI3p8MzN8k0_zcUVyPtIoQcgxM1CXvSM~8p_n3qJByf5FdXBOba76auen1DN49ZmWlsegb3FlqBsKQG2e4~05lts82fRirLaJMPC8YBZPsVnTvp5HVAF2o17nw7BFyuuCVB04ZFfQmXgpyy3VwGMsLg5dPcvsh9v6oEJC1n92BvtAk3JgKAbf_V_RCNg-.jpg
//media.inmobalia.com/imgV1/B8vEv5Xh8DZJ8zA8HsKlVQQovHvPS2nS1REiasNjjf37J7WfKOkiQxSIhRrnU2OBFkknCXNFUkYS7Hh9o9IZ_QJ9eIkyovPRDR4t2hULiX4E~lOY8p2Wz76AR6yShF0WH_6vtop2ujFiYRpr1t6QoYyl4kkM2_OZ0GJr2bh7OUsqsmiPvJz_aOVboyfZA5iGvvNErMjHAWfJ64Jhn532KCqR0T6FV5sUaVs~E~jTX6GjTQyo~7~uECNzjghM9dorfASEXbzuvgMpbJnKzSUU9621qzOR19Oo5R7rJWGNn_B1atAuh5HlTyZw4Tl2uKiGe2M-.jpg
//media.inmobalia.com/imgV1/B8vEv5Xh8DZJ8zA8HsKlVQQovHvPS2nS1REiasNjjf37J7WfKOkiQxSIhRrnU2OBFkknCXNFUkYS7Hh9o9IZ_QJ9eIkyovPRDR4t2hVX9FIr5yK_RlrS564IXT1k0bHLRUTnyjsH0zb0axswExGliC9cA8O8O67Y8sKvSSdaooXrIjnJ9uijpwkmMw_h6k5gjAc~0mU~EDQ7J~7QgWeCwA7eidsf31P47zQlyU4GZdARyX5AGRHZrqS5dGsq57WzEg91tcms5DwmofIjSRRgVbzc7Xnsm1xT6XPoMAQYv0_WASH44Yew0Rs4rLNQQeOqAr4-.jpg
//media.inmobalia.com/imgV1/B8vEv5Xh8DZJ8zA8HsKlVQQovHvPS2nS1REiasNjjf37J7WfKOkiQxSIhRrnU2OBFkknCXNFUkYS7Hh9o9IZ_QJ9eIkyovPRDR4t2hKBXBNqbfB9VBLtMU_NUjgCAHw971x_XNjI5oX3Pxn7P6v~8GuAIMu8tZq3FHlct14jKezIUs3~oArHJiOqu37~QSLzB_4M9kMpl92FK4mWXx2RMp_vxK52ZLSFFbkOvC73KsPCTvJLMbWTcRsN0XSCRgcAS7R6~5qM~r4ZPbNOV_56HUo0LFcm_uPihCQOYX4d3yeOWvQLHqdKoVZNfHMe6VShjUA-.jpg
//media.inmobalia.com/imgV1/B8vEv5Xh8DZJ8zA8HsKlVQQovHvPS2nS1REiasNjjf37J7WfKOkiQxSIhRrnU2OBFkknCXNFUkYS7Hh9o9IZ_QJ9eIkyovPRDR4t2kZO2PIiHsRaDA3d1_cx3avICJETmZ9N1CGAJu2VHJoCyUgtKMagaF9OpkDGOnEzMRIN0RwTVuxrKOY9aMN9jdUnUPheTgMjNArjiExxAugn1vGEBScKRFXE~gg2Tl__GXTU49cM2QWNLJfcQP4Ja4yNNxEdXNn3f6_YWAszkppijg0VAic9Z1UW2Q~8Gnu5G6NK8KWdAIIp36qZe52Z2iXQxDgv1Cc-.jpg
Price

285.000 €

Ref.

5033

bedrooms

3

bathrooms

2

Built

121 m²
Penthouse in Sitio de Calahonda, Mijas Costa
For sale a cosy, South facing Penthouse with beautiful, peaceful sea, golf and green zone views. The complex is surrounded by golf course. This is a 3 bedroom, 2 bathroom apartment, nicely decorated. In the living room there's a fireplace and large covered terrace is a extension of living room with plenty of space for outsiden dining, BBQ and sun bathing. From the terrace there's direct access to sun roof from where the views are panoramic, green areas, sea, Gibraltar, Africa. A place to enjoy the beautiful sunrise and sunset. Master bedroom en suite with wardrobes plus 2 more bedrooms sharing a shower. Kitchen is functional and refurbished. Central air condition hot/cold. Marble floors.
The complex is surrounded by golf course. The community have well maintained, tropical gardens and 3 swimming pools. Open car parking area inside the gated community. Calahonda Golf complex is a very pleasant, quiet and beautiful place for residents or holiday makers.
9-hole pitch and patch golf course, La Siesta Golf and Club del Sol tennis-and paddle tennis courts and gym in walking distance. Bus stop close by as well as few popular restaurants. Urbanization Sitio de Calahondahas several comercial centres, harbour Puerto De Cabopino is a nice place to visit aprox 5 km away , beautiful sandy beaches to enjoy the beach life . In Calahonda there's a motorway access, airport in easy reach.
Features
Front line golf
Fireplace
Marble floors
Solarium
Barbeque
Kitchen equipped
Living room
Amenities near
Sea view
Golf view
Covered terrace
Fitted wardrobes
Gated community
Air conditioning
Pool view
Panoramic view
Close to Golf
Partly furnished
Uncovered terrace
Good condition
Similar Properties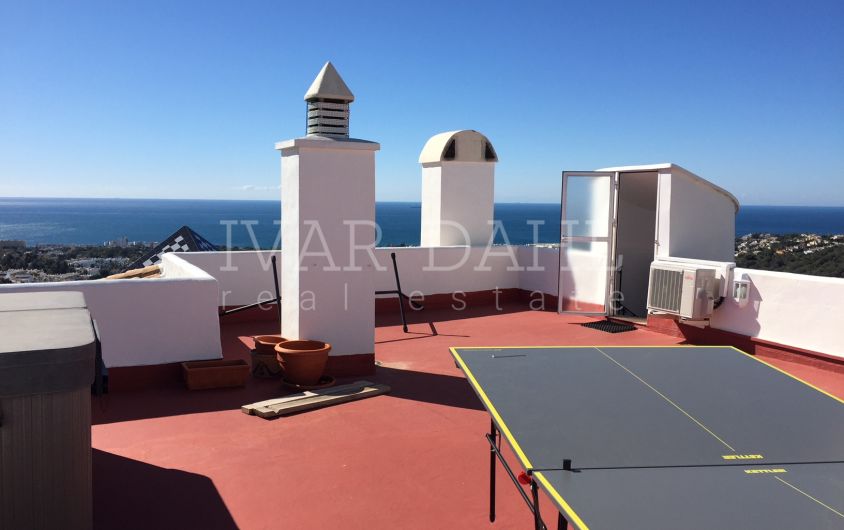 Penthouse in Urb. Sitio de Calahonda, Mijas-Costa. Corner Penthouse with fantastic views to Sea, Africa, Gibraltar and the mountains. This luminous apartment consists of a large living/dining room with ...
3

bedrooms

2

bathrooms

106m²

built

95m²

terrace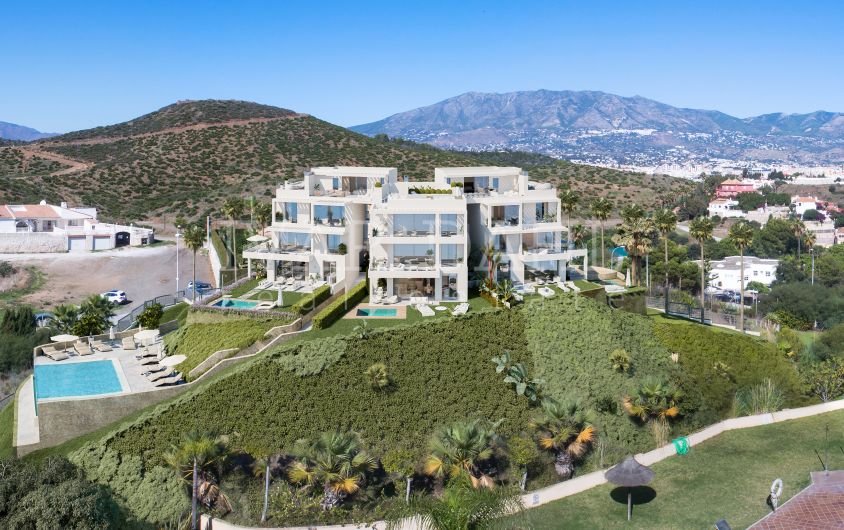 New modern apartments and Penthouses with sea views in Mijas-Costa, Malaga. Views and Privacy. Sea and coastal views. Duplex Penthouse, jacuzzi in the solarium with panoramic views of the Coast of Fuengirola ...
3

bedrooms

2

bathrooms

201m²

built

74m²

terrace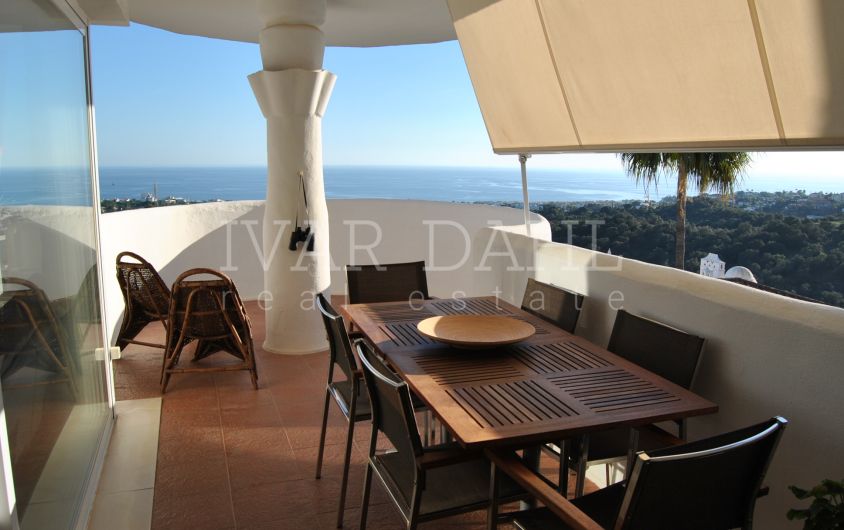 Penthouse for sale in Calahonda, Mijas Costa, with panoramic sea views, with 3 bedrooms, 2 bathrooms, 1 on suite bathroom and with orientation south, three communal swimming pools, communal parking and large ...
3

bedrooms

2

bathrooms

154m²

built

29m²

terrace