New front line golf villas for sale in Estepona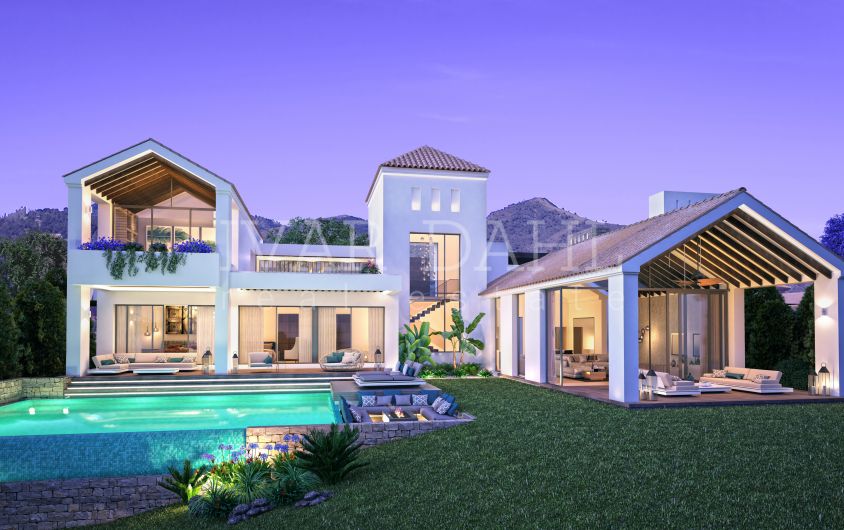 //media.inmobalia.com/imgV1/B8vEv5Xh8DZJ8zA8HsKlVQQovHvPS2nS1REiasNjjf37J7WfKOkiQxSIhRrnU2OBFkknCXNFUkYS7Hh9o9IZ_QJ9eIkyovPRCgnt2E1Hx1wxRryRMXFpn~NhUV4p_9UTFeSq42gpqDhH6VfZVy6b1XxC5Jc3p2AK6WBSFRiF0g1zov_VA5gNAx3Zuqya00BbOF92GRk52fdIwsbsn7_L5zKOpqz0vw16qIUBuR3dq06WOuWuQhJn1cKArBtUSOH~cdLJ4K9ns7nCLWMxiha6EJ_ZDP1BHzx0EAiBm2JJsEBqiS3Ykde0TpWhRi1zxAhC3Zk-.jpg
//media.inmobalia.com/imgV1/B8vEv5Xh8DZJ8zA8HsKlVQQovHvPS2nS1REiasNjjf37J7WfKOkiQxSIhRrnU2OBFkknCXNFUkYS7Hh9o9IZ_QJ9eIkyovPRCgnt2Em4lyrEGCxSuyeVae_RvaCm8pUM5mGc0Zg3HL4ZfnxddhTAeTopNwIEIvWcfASe6JyMGpidADdaP0SnjNDR8HjLQywiiPb~TChRAXh07NH6z2oQ2oGKEelVoy3xdnz5QclJ6ymJCmwj3HLeTk1wyPuCSibL4y2ikUntv1gxIKOUFOF7aLfSv8ZVMw6cDSR300wtWYmRxcbzqYVXvOnS7bEpntA3muk-.jpg
//media.inmobalia.com/imgV1/B8vEv5Xh8DZJ8zA8HsKlVQQovHvPS2nS1REiasNjjf37J7WfKOkiQxSIhRrnU2OBFkknCXNFUkYS7Hh9o9IZ_QJ9eIkyovPRCgnt2EqXty0FT2c2vVqpjIkEtldFlmfC0SnwKilXvt5~VHBCZdfPgkzXNxKYSqnGDYf1_dF2Y2kd6Vnr0ftVa4r~V_8Ci4flNgxRupX~lYWwsQ3oOCgBAaw0iRQ7WUQhCHsisbRlPt3JtgYrA8st7pE0OOWR1qe3c7mAEmE3J2fKJK_zdZFsPnzAg1mUuY_eW7WZIfPwq1_M~YrXYOBudo44gd5Rbh1uTAc-.jpg
//media.inmobalia.com/imgV1/B8vEv5Xh8DZJ8zA8HsKlVQQovHvPS2nS1REiasNjjf37J7WfKOkiQxSIhRrnU2OBFkknCXNFUkYS7Hh9o9IZ_QJ9eIkyovPRCgnt2BCXwR8fEnw0IS_hUuGr_1DCFZGPZewGPVCbb2Zg72BNzflYjiJ9HmaNxdbPy38KaDqAlPhi4aEKKLdU~YmgoKkRsQbrvRj~Y2_1Mq0oc38pIlE3ItaE8GFt064cTwO4RoNvhszxeIAas1V1mqQB9TyRBOMHaPad4zvPAdAXW~aJHPOssLEJcF89vfYbnVi_aOOn6~kreneAZOEETu4f7sN1TxKDehc-.jpg
//media.inmobalia.com/imgV1/B8vEv5Xh8DZJ8zA8HsKlVQQovHvPS2nS1REiasNjjf37J7WfKOkiQxSIhRrnU2OBFkknCXNFUkYS7Hh9o9IZ_QJ9eIkyovPRCgnt2BgchWc6Xi6q88WsAwFwedCsfAiNkpoplo4IEZkUMKW93oBn8NcjMf_hPmM1BQOORboTtO2YI3saDsD6TAAIPANY9V6FYz9S_wDILYS91H3M1~EqVVxp2~NsFRe1KpLkRm5K8CVT6bxefGFxUJ2jwLQOd~haHmPP_21inJzQw8dLDlKz12fyO9ExXdGMR_ssS5rrjfvj0yl2n~0xJCuxvzFoE3QjRjo-.jpg
//media.inmobalia.com/imgV1/B8vEv5Xh8DZJ8zA8HsKlVQQovHvPS2nS1REiasNjjf37J7WfKOkiQxSIhRrnU2OBFkknCXNFUkYS7Hh9o9IZ_QJ9eIkyovPRCgnt2Brg7DTqDaxmyrXvutUfEikZXAwqQThssAlX4wXRlF3~RovEDNtCCn_42Gzfo~8wvQFMS~hUVAk_c_1SACfRDQu5fpLIjeczm16p_g3wyTLaZx7c4cRZDfKsH_d2CY78ORBlM_1~nWXuA1AgJk_FLHwTf4P9v~BjWXZeMt65uaTPRfD8Dn639WrPRJu66pxNyVJwKxNBSbjioM9p3DW5qUL4hITx9H4-.jpg
//media.inmobalia.com/imgV1/B8vEv5Xh8DZJ8zA8HsKlVQQovHvPS2nS1REiasNjjf37J7WfKOkiQxSIhRrnU2OBFkknCXNFUkYS7Hh9o9IZ_QJ9eIkyovPRCgnt2Bn5yAXfxvrfcKL7LR5LfCK29hL4Egao3ALoIZz1YJU1SrtE2rbfmPHWO6B1d~rxTXcqhvl8mr5Q8DD~TIJ9sFcaPdYYt002N40o9DyeRntvuiHFn7l0AcWVzH1PRaXkqBEExcWfTIUxWSbRWRFSHXAk2FwqL6tQCoCdd74O0Po2sK4~AlJtVc2EMBCwO9dWpwlSHjivubItJm_wFrQzhmcTMSeGvu4-.jpg
//media.inmobalia.com/imgV1/B8vEv5Xh8DZJ8zA8HsKlVQQovHvPS2nS1REiasNjjf37J7WfKOkiQxSIhRrnU2OBFkknCXNFUkYS7Hh9o9IZ_QJ9eIkyovPRCgnt2B6tQss4xqz45gz7GfwSK_FhSiyBHjQFh5ZhbEh5O1jw7MzrO4P2Uw8tM1nDcrGfVQFOuoBpMJXw5Td0HFKVqMuUk7cS_f6vMpa_soCPSGJgHWc9CLjdd6bYZpuWiH~N7DecWiRW2nnXC4zX7nc2JillV9yyXxHAhgyYJEh37AR5VS0DXBgAojY7GK_4MMVQ2eRNqQ7xEcdta~coaZ7qqYxsTUUTQ~w-.jpg
//media.inmobalia.com/imgV1/B8vEv5Xh8DZJ8zA8HsKlVQQovHvPS2nS1REiasNjjf37J7WfKOkiQxSIhRrnU2OBFkknCXNFUkYS7Hh9o9IZ_QJ9eIkyovPRCgnt2B7_AnnwiBjbf1Y6Wf1xe0urOdOkGHOHI_0ssBcCkWGFDzQBIq9hRV6MuBy3PSMJ3vr1~yK_qfE_68BxwdQFn6Sa0IleOM0FMPsTkCsKUKkDtOd696D7VQBcL42TEv~UT2F0BpS6_g_msSfS4u7QeLPlmK2ZG8DLL5aEOca3q_1vLKcdUAzErJmIfjsludtKrhZ1tWb89J9VrnXvtUNdCJPy9NsyMXg-.jpg
//media.inmobalia.com/imgV1/B8vEv5Xh8DZJ8zA8HsKlVQQovHvPS2nS1REiasNjjf37J7WfKOkiQxSIhRrnU2OBFkknCXNFUkYS7Hh9o9IZ_QJ9eIkyovPRCgnt2B3FeuZbcz0lJqYsPqH~JjdZcxqm9ic1GjRDNldoHsRSwK_sz2lgl3pkwsZhlEDn1xUPNaMu9qnOLLzlh4zZCfvP9uOKKZ52TDpXg0j7H0g2e00r60HGYfl9mLJsjRBCGgCwB9~UWMWkQTYBWIMBd8OgH3o~AFjDkdqlw1gIXuM4ziTP7L_c1rlPGzovvRkzPBzQruFyX73vhXPElIZHHTF0adonGw4-.jpg
//media.inmobalia.com/imgV1/B8vEv5Xh8DZJ8zA8HsKlVQQovHvPS2nS1REiasNjjf37J7WfKOkiQxSIhRrnU2OBFkknCXNFUkYS7Hh9o9IZ_QJ9eIkyovPRCgnt2EyxcPJ49s9NJiKPDvoS5QXtCUcEwVCK1XCwysWHsjwWgvXy7DFHrcOG7jleRLg6ID7_w0FaZdzMi7gOcBtiU68j85tvdHnaWUd36yijcccbl1B3MC0~8Wl0kfsd9bqgkx7wxFfuTd2mE61kDTarwIZmRpKVtnzIhJ0rEpc3Wvw5CLYlTzA1U6fF0~uNUsAASx29yuRUosdxvzeumHTx7qW_EsIsMps-.jpg
Price

1.480.000 €

Ref.

5034

bedrooms

3

bathrooms

3

Built

491 m²

Plot

1.058 m²
Villa in La Resina Golf, Estepona
New front line golf villas in Estepona. This is a luxury development of 11 unique private villas in a secured gated golf and country club estate. Each villa has uninterrupted views of the Mediterranean and the coastline of Africa, whilst situated front line on the 4th, 5th and 9th holes of the Golf Course. Each villa has been meticulously designed to adapt to today's lifestyle, combining the latest home domotics, a private lift as well as six exclusive entertainment areas and additional affordable packages available to achieve your dream home, including a gymnasium, home cinema and a full SPA.
Features
Front line golf
Surveillance cameras
Inside Golf Resort
Utility room
Security entrance
Brand new
Dining room
Private terrace
Living room
Sea view
Golf view
Home automation system
Fitted wardrobes
Gated community
Air conditioning
Pool view
Panoramic view
Uncovered terrace
Similar Properties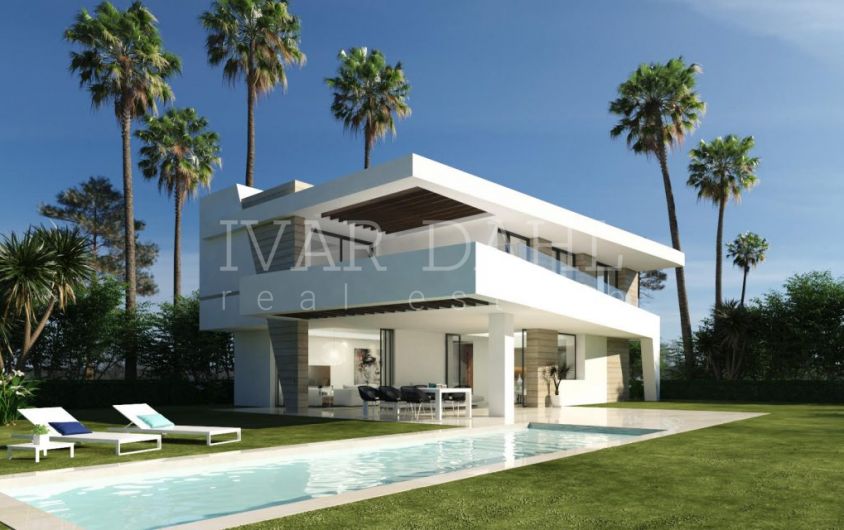 New contemporary Villas next to golf course in Estepona. A haven of peace and tranquility in an enviable location close to La Resina Golf club on the New Golden Mile. This small south facing gated oasis of ...
4

bedrooms

3

bathrooms

354m²

built

802m²

plot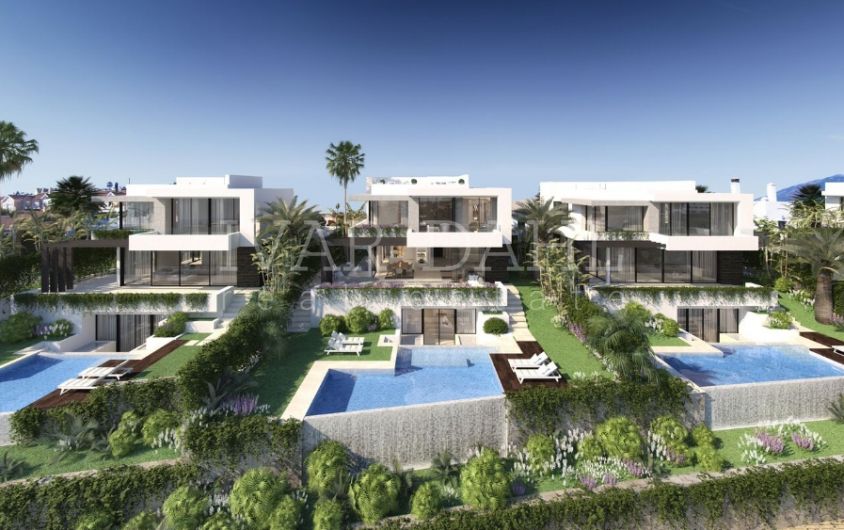 This small boutique project of 10 villas have been beautifully designed and are of a high quality finish. The Villas come with fully finished basements and solariums. The basement has full length windows that ...
4

bedrooms

4

bathrooms

391m²

built

663m²

plot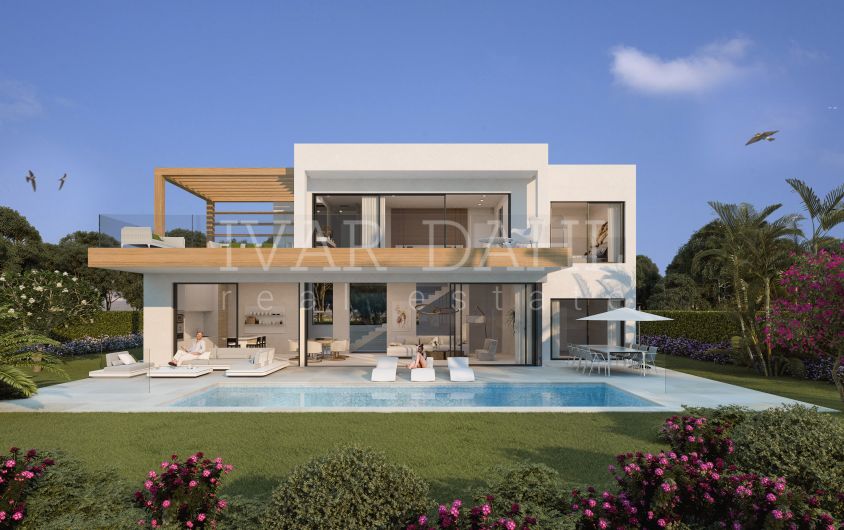 Estepona, new residential project of contemporary style villas. Providing 5 different types of villas, we allow diversity in size, style and use, while they all have elements in common to create harmony. ...
3

bedrooms

4

bathrooms

332m²

built

610m²

plot