New modern villas for sale on golf course in Estepona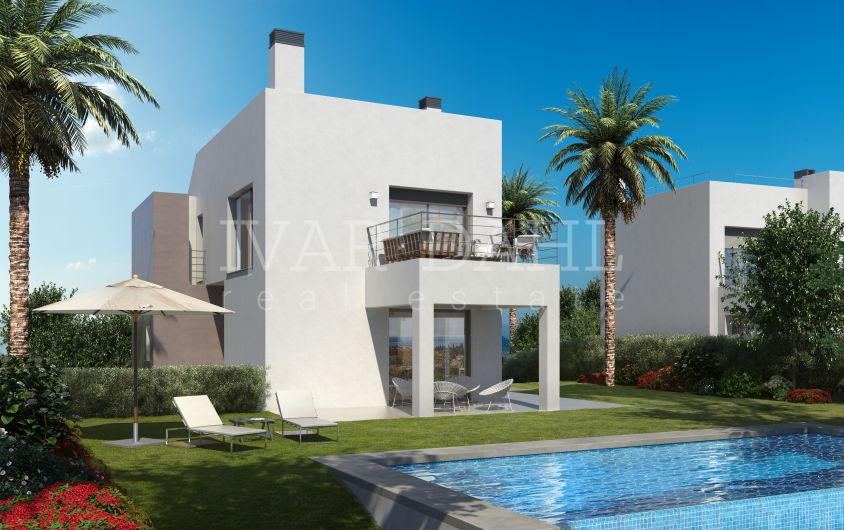 //media.inmobalia.com/imgV1/B8vEv5Xh8DZJ8zA8HsKlVQQovHvPS2nS1REiasNjjf37J7WfKOkiQxSIhRrnU2OBFkknCXNFUkYS7Hh9o9IZ_QJ9eIkyovPRCghO3Dx8SQXgx0DtPYsZbu4ZrZ88nT_Q5ggjqjy7_ehxdnsFjhtziAirULQ0JRLxF6XhiirvOBe4_R4uvK~X~Gf6a3hlOSkKfxLqwCSuIsPI_olAv69XLRL4B29lgxRvF5E2qtlUISlEenfiE7W9z1QZV~cgQj1UWPi5id1H6UiabbjqsyjT5sFcxDfuDQwq8hEaEfZx_n1SfVFLbXuOBItBExFNDvdgD~M-.jpg
//media.inmobalia.com/imgV1/B8vEv5Xh8DZJ8zA8HsKlVQQovHvPS2nS1REiasNjjf37J7WfKOkiQxSIhRrnU2OBFkknCXNFUkYS7Hh9o9IZ_QJ9eIkyovPRCghO3D_NiLrauWnQOIJZJYpN81yB5NaC5MsBZeRUjJM3_Cwm6yN8z_zmtjComo8NwBOd03Vug19J3L2lY7Zhk2IpZgbpCMjjaq0g7BkYYxyatQdrrIX1sa5OjqfcNB5irgvE8Xpyg_pt9fVhAk~rIqd3WMi0ZocJ0jMoM_dEgdLxo3HQAV6gve4IUpIO2meo~cv1QYBKo7WIlAC64soEEoBl4SB~PATlTRs-.jpg
//media.inmobalia.com/imgV1/B8vEv5Xh8DZJ8zA8HsKlVQQovHvPS2nS1REiasNjjf37J7WfKOkiQxSIhRrnU2OBFkknCXNFUkYS7Hh9o9IZ_QJ9eIkyovPRCghO3Dk7~qjk5M~WnDoWf52h3lcqH1PkFGQtydAw_RU_o5lJct2E9SU58gJYDT_Cz7JhDEAeCoIfn99YCxwFrEie0U6YvxqaqyVUF09CXGcB5Y0h271lFiHt7Evoulj7N1mvLooT2eOyfS~0vuXRfTSPHsYxH9fd84rUsBajHDuwKs4Y3OejvgfjiY2rmlXnpHkG_a77jD9E8iOQxE4wedf_T2bIfD0HFJ0-.jpg
//media.inmobalia.com/imgV1/B8vEv5Xh8DZJ8zA8HsKlVQQovHvPS2nS1REiasNjjf37J7WfKOkiQxSIhRrnU2OBFkknCXNFUkYS7Hh9o9IZ_QJ9eIkyovPRCghO3G3wC1G1ndB3fwt2O7fSQWNAthwmX~72BOwDF9ZzWWn3i0wAnA9yHXElyfsr0ORS0v3DU8J0eoQyWGS0ms8T3LC9F0WYMYKpCBiKt5~R3DtMlKWdzr3Ezl9prdQ_09kHqSprFl6bEQqJfI00TlcEs08S7vyrrn_CuDDSkRCkrGu03yJicjLofUDznFNvpmKyLfZ8TozqwRf8ZU0S10KQQR4YSFRNmDg-.jpg
//media.inmobalia.com/imgV1/B8vEv5Xh8DZJ8zA8HsKlVQQovHvPS2nS1REiasNjjf37J7WfKOkiQxSIhRrnU2OBFkknCXNFUkYS7Hh9o9IZ_QJ9eIkyovPRCghO3Dk_C5pw7bZgWa~vF0zfZtHUb4WKQJ6OtlV5gououlgyM_eE7Bv~lH0PdhwviAZDrnTAt7NOwOfOh4Fo6S_gs9S1aVzgdh_OmgWAtROiD6bwamLZsR_CWz9gmq6py80MO9l6_~MYsSXcgu~JxJGzWwkWcgU8wPVaG167C0BH29_25Gl3Uzo~pVh9cnPYmqm_s1pRcz0A0E8CIFPdxSBdboWZXjTAzoM-.jpg
//media.inmobalia.com/imgV1/B8vEv5Xh8DZJ8zA8HsKlVQQovHvPS2nS1REiasNjjf37J7WfKOkiQxSIhRrnU2OBFkknCXNFUkYS7Hh9o9IZ_QJ9eIkyovPRCghO3G3x28UlyK3GhnH~ZGpJ4p3jVVVrA74MHbpV88cmld1sP67bWquiR5hoyhfG4PqvRCNqKzsTcn6jRkthejRKVteFn7zxRO_L2fnHkBIwptpvfZvfXj9dR6DJ2QOMlWd_j2NbEbltHFDf3ff8VlvglKtqrZ18BewC5dKdCfJvjN2zdJOlpZpJzxe9v0i9qtZB34UuThK6lRPhICrP77ZdxU7HgoLqz9k-.jpg
//media.inmobalia.com/imgV1/B8vEv5Xh8DZJ8zA8HsKlVQQovHvPS2nS1REiasNjjf37J7WfKOkiQxSIhRrnU2OBFkknCXNFUkYS7Hh9o9IZ_QJ9eIkyovPRCghO3GnpE3x2LgdG~Cz8FdOXjyGScewnGw3ls5ublAmJqBxqCUWxnMioNPCXAwxSkBkjozy7_48nF5CxYtqELUarzselfYvtfPxdnm93Cv_Y8JfTuRiX3KSIZQd6lrs9yDROyxWaB4oXJ0VIIkXzbmlLxvND5sW3vuHfhPia8~V833cy7UnScLP96_p2ovA6bRRK201uSIId3rzMsvUl~iUYacRxOSqgXKE-.jpg
//media.inmobalia.com/imgV1/B8vEv5Xh8DZJ8zA8HsKlVQQovHvPS2nS1REiasNjjf37J7WfKOkiQxSIhRrnU2OBFkknCXNFUkYS7Hh9o9IZ_QJ9eIkyovPRCghO3DlhIpdirFLB503f~iv58RZo7rQOeJSUj7oJx0bzQhTDyXdITvfmZpyL2aFEnhHnpJKefZ3Or7Ytl22fHOJv~gP1yi9QdM2Kp7D9yxsZem4NuvUWYfvQgEg6eNboK2o8uPUkXXjHCcWOBU6Agza3H6TP62WhLm7wTB0hyUGU~7YlTK7NBOBWshqr5eGuOrVW970yyH8HbadwoD8VOoA5ws0qmn8xfVk-.jpg
Price

710.000 €

Ref.

5035

bedrooms

3

bathrooms

3

Built

356 m²

Plot

612 m²
Villa in La Resina Golf, Estepona
New modern Villas in Golf area of Estepona. Villas of 356 m2 average, built with top quality materials and finishing. All opposite the 7 and 8 hole of the golf course. Plots from 612 m2 to 766 m2. Modern design, high standard, several types, sea and golf views. The villas have a Semi-basement / Ground floor / Top floor / Top terrace
4 bedrooms / 3-4 bathrooms / 1 toilet / integrated dining-living room (with possibility to be divided). Furnished kitchen and wash room with top brand electrical appliances / air conditioning /underfloor heating /indoor garage (2-3 cars) + outdoor parking (1-2 cars) / private infinity pool. The villas are currently under construction and will be delivered in the third quarter of 2018. Prices from 710.000 € to 792.000 €.
Features
Fully fitted kitchen
Inside Golf Resort
Utility room
Storage room
Solarium
Double glazing
Brand new
Dining room
Private terrace
Living room
Sea view
Mountain view
Golf view
Underfloor heating (throughout)
Laundry room
24h Service
Fitted wardrobes
Gated community
Air conditioning
Garden view
Panoramic view
Uncovered terrace
Fully furnished
Similar Properties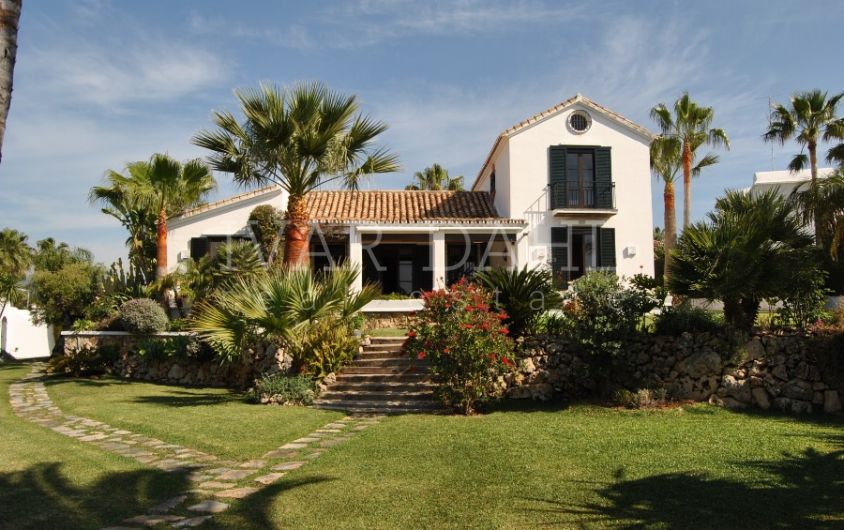 Villa in Monte Biarritz, Marbella - East Estepona. Rustic but elegant style villa designed by renowned architect. Situated in quiet residential area. 5 minutes drive to golf courses, shopping center ...
4

bedrooms

3

bathrooms

308m²

built

1.246m²

plot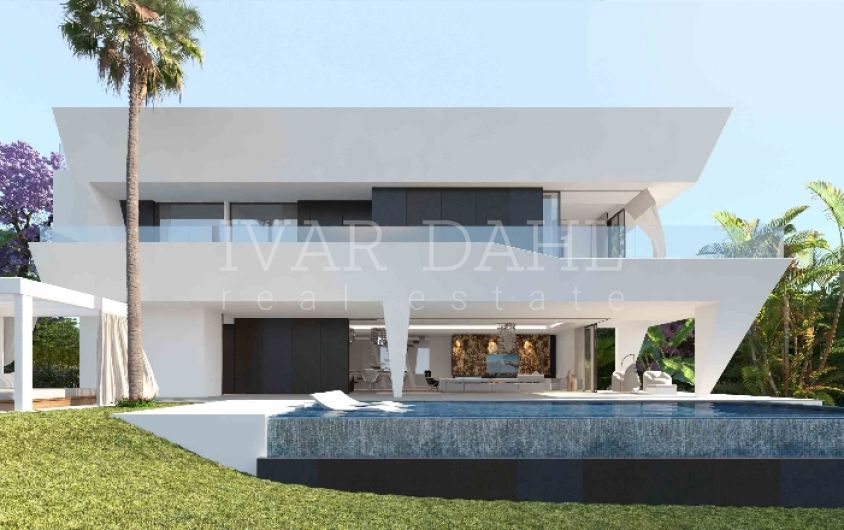 Detached villas that can be set from 2 to 7 bedrooms and 4 to 6 bathrooms. With individual swimming pool and 24 hour security.A project where you can design your home by customizing it without limits as we ...
4

bedrooms

4

bathrooms

364m²

built

552m²

plot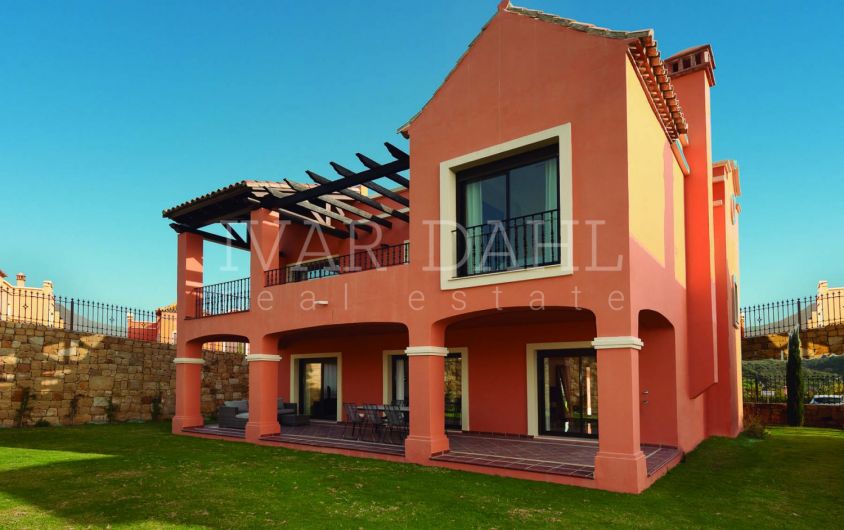 This is a new residential complex composed of 45 detached and semi-detached villas in a unique location, surrounded by lakes and greens. The design of the houses is the expression of style and modern living. ...
3

bedrooms

3

bathrooms

231m²

built

418m²

plot